Spicy Prawns with Green Beans Recipe
I am celebrating tonight. George sat his last GCSE this morning so my nagging days are over, until September at least. I feel exhausted in every way, it's as though I sat the 30 odd exams myself. I have shouted, sworn, cried, baked, hugged, comforted; every range of emotions have been covered, and that's just me, George seems to have been perfectly fine. But it's done, and I am celebrating with a fizzy water and a sense of humour transplant. Thanks to all the emotional outbursts, I have rather lost the will to cook so, in case for whatever reason you feel the same, then these Spicy Prawns with Green Beans are the way forward.
I am lucky enough to have Waitrose as my corner shop. It's annoyingly convenient, and probably the reason I never have any money. I must pop in at least 3 times a week and nearly always get distracted by their brilliant recipe cards. This Spicy Prawns with Green Beans recipe caught my eye a while ago and, once doubled, it made a brilliant dinner party dish even though the men of the group thought is was a little too spicy for them *eye rolling*. Having toned down the chilli flakes, this is now a beyond easy, beyond quick supper dish smart enough for guests or if, for some unknown reason, you fancy impressing your family. All you need is a wok or decent frying pan and some rice to serve on the side. I made this quite happily after half a bottle or rosé so quite clearly, no real skill is needed.
The end of exam season is clearly a time to celebrate, possibly with something more than a glass of fizzy water. These Spicy Prawns with Green Beans, at least, did bring a smile to even my humourless face. Until results day in August, that is.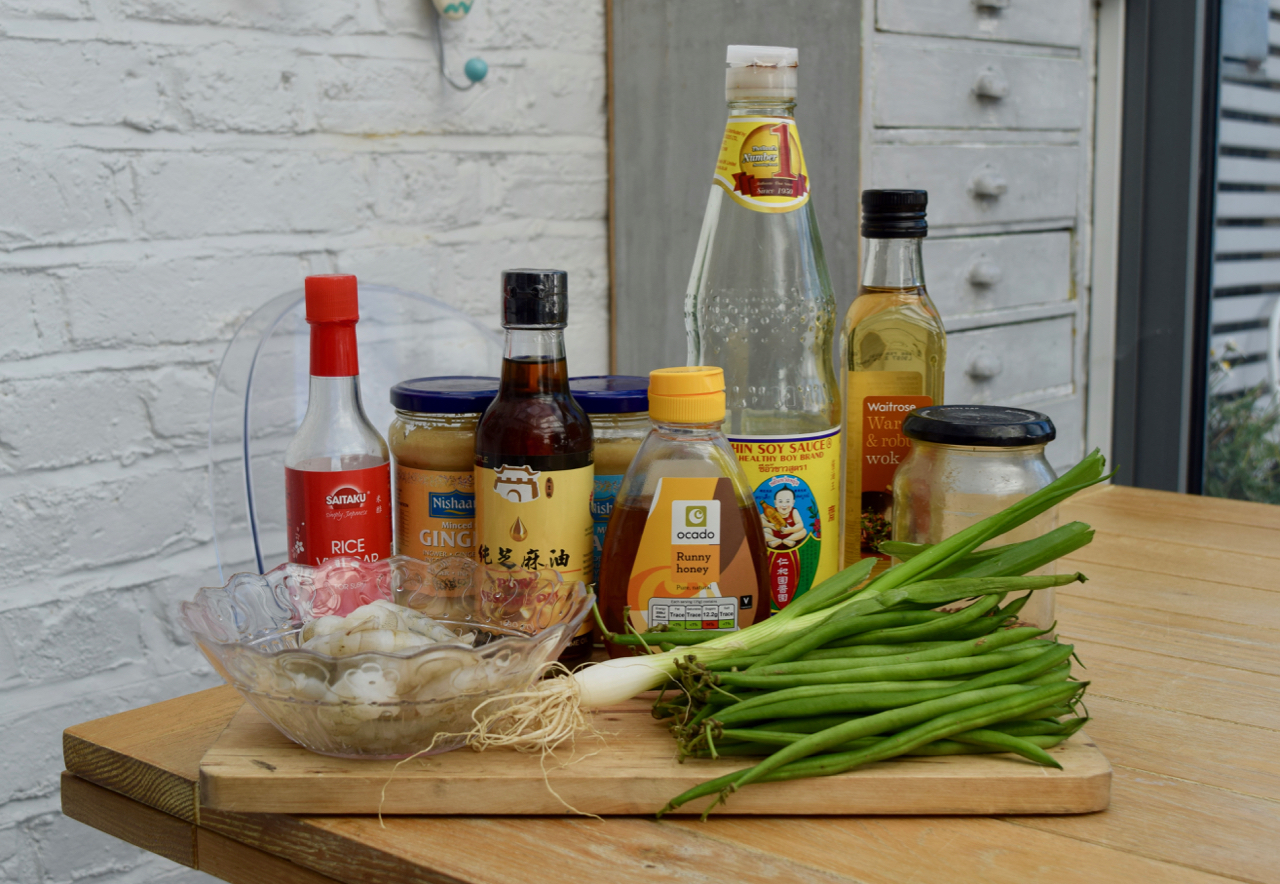 Look I know this does appear to have a lot of ingredients but I had them all in my cupboard and of course, Waitrose stock them all. As I mentioned, I am slightly off cooking, so took the lazy route and used ginger and garlic from a jar, but go fresh if you have them. I used frozen prawns, as they were on offer, just defrost before using.
This recipe is so quick and simple, make a start by cooking some rice to go with it. Next, mix up the list of sauce ingredients, including the tomato paste I forgot from the line up and didn't have in the first place so used Ketchup. Along with the chilli flakes, rice vinegar, honey, sesame oil and soy sauce.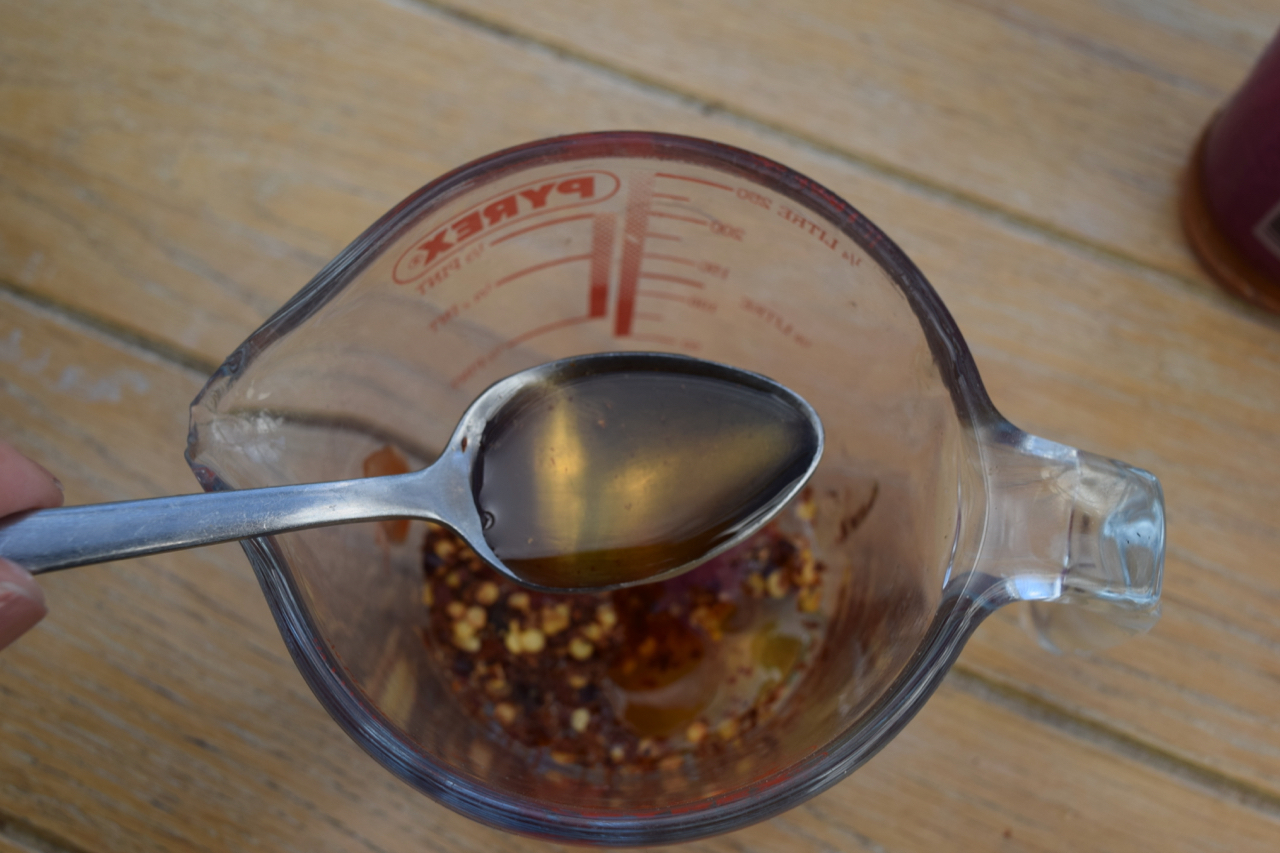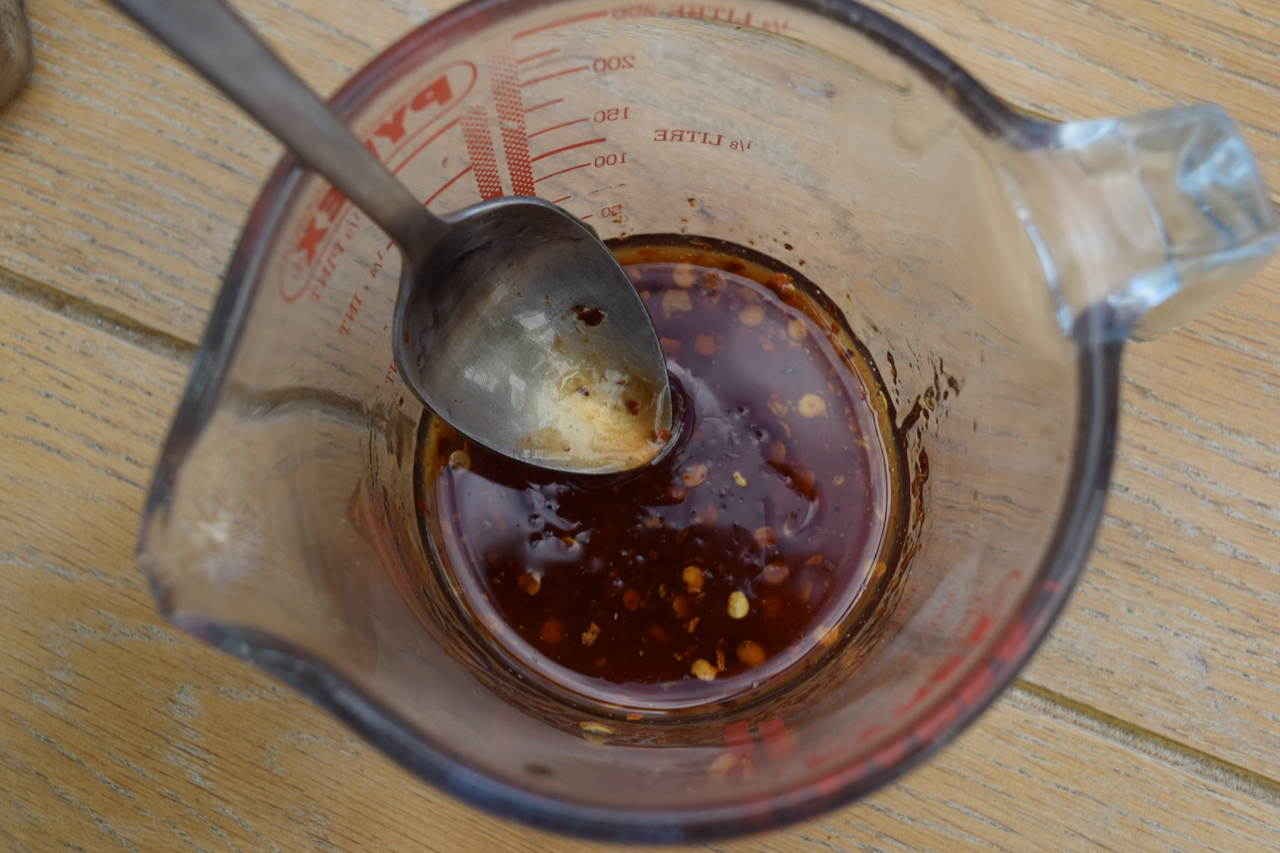 Give it a little mix then pop to one side.
Next, a little bit of prep before the main event. Take your prawns and pat them dry on some kitchen paper. Slice the spring onion and halve your green beans.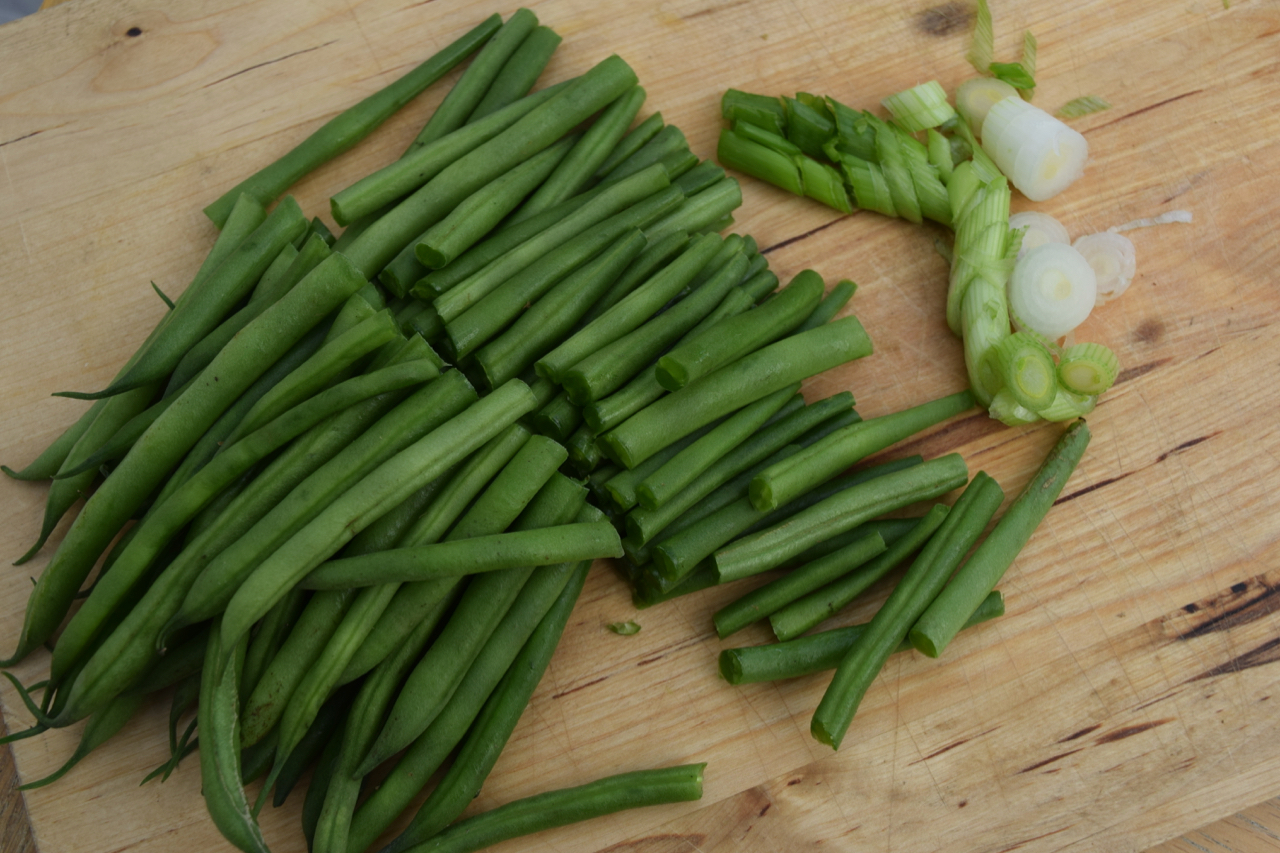 Take your wok or sturdy frying pan and add the oil and heat over a high flame. Add the garlic, ginger, beans and spring onion and give them a toss around for 30 seconds.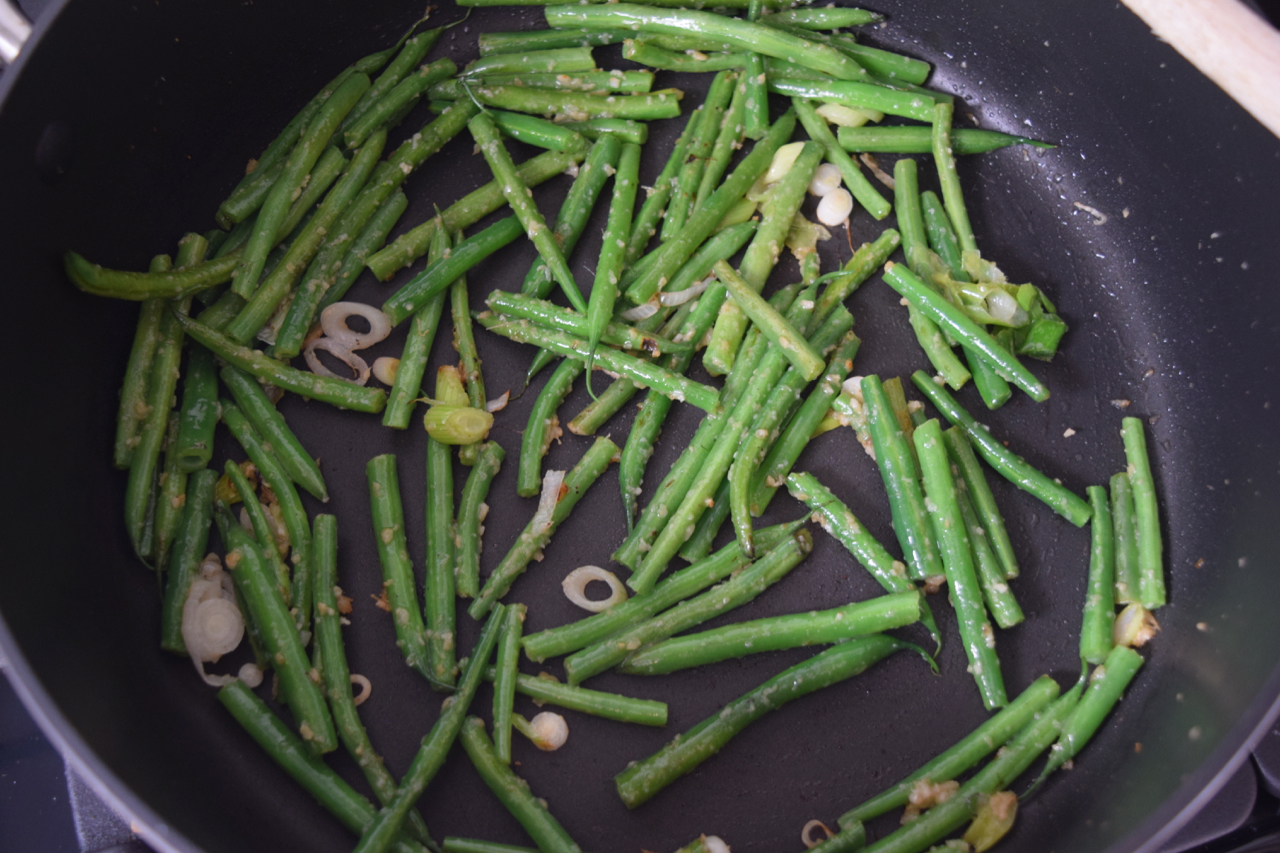 Now add your prawns and cook for a minute.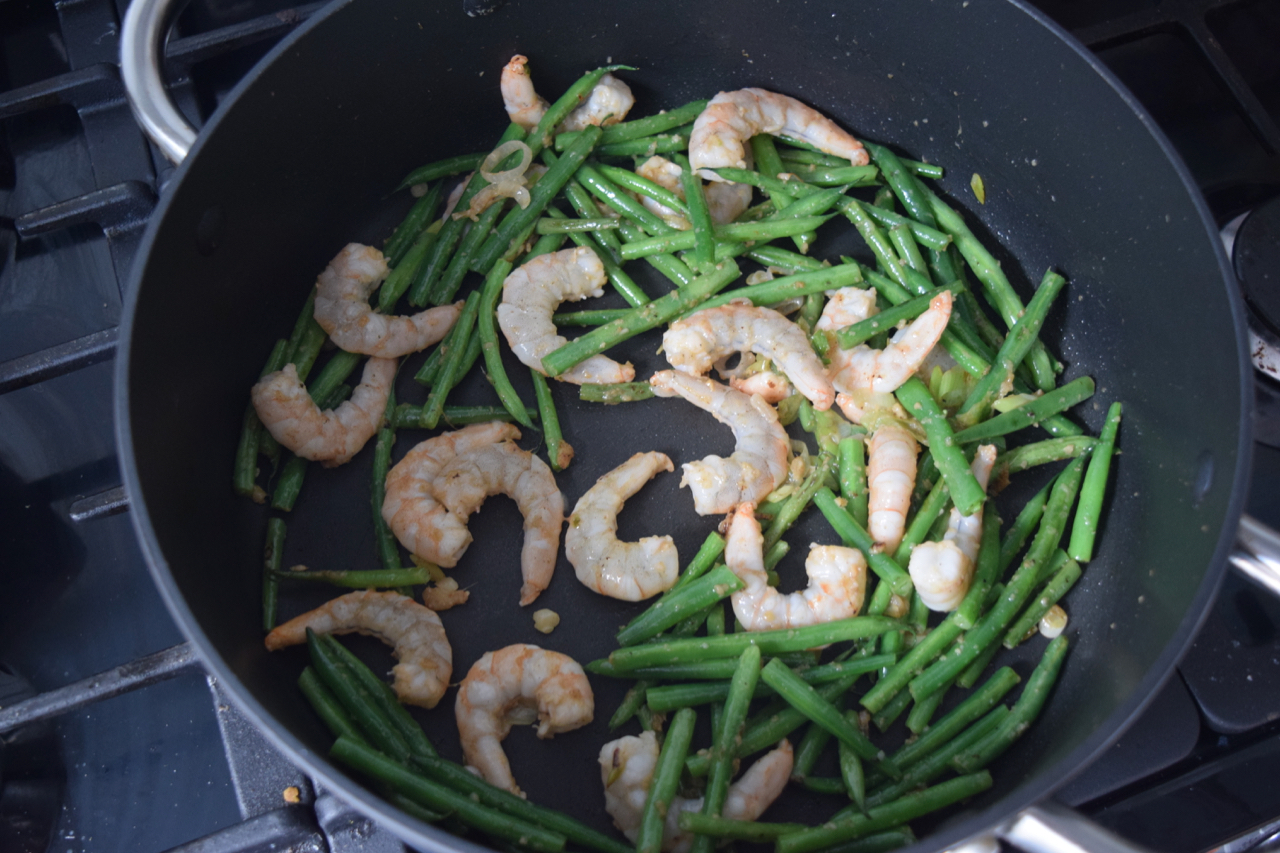 Pour over your sauce ingredients then cook for a final two minutes or until the prawns are cooked through and the sauce is sizzling and has coated everything.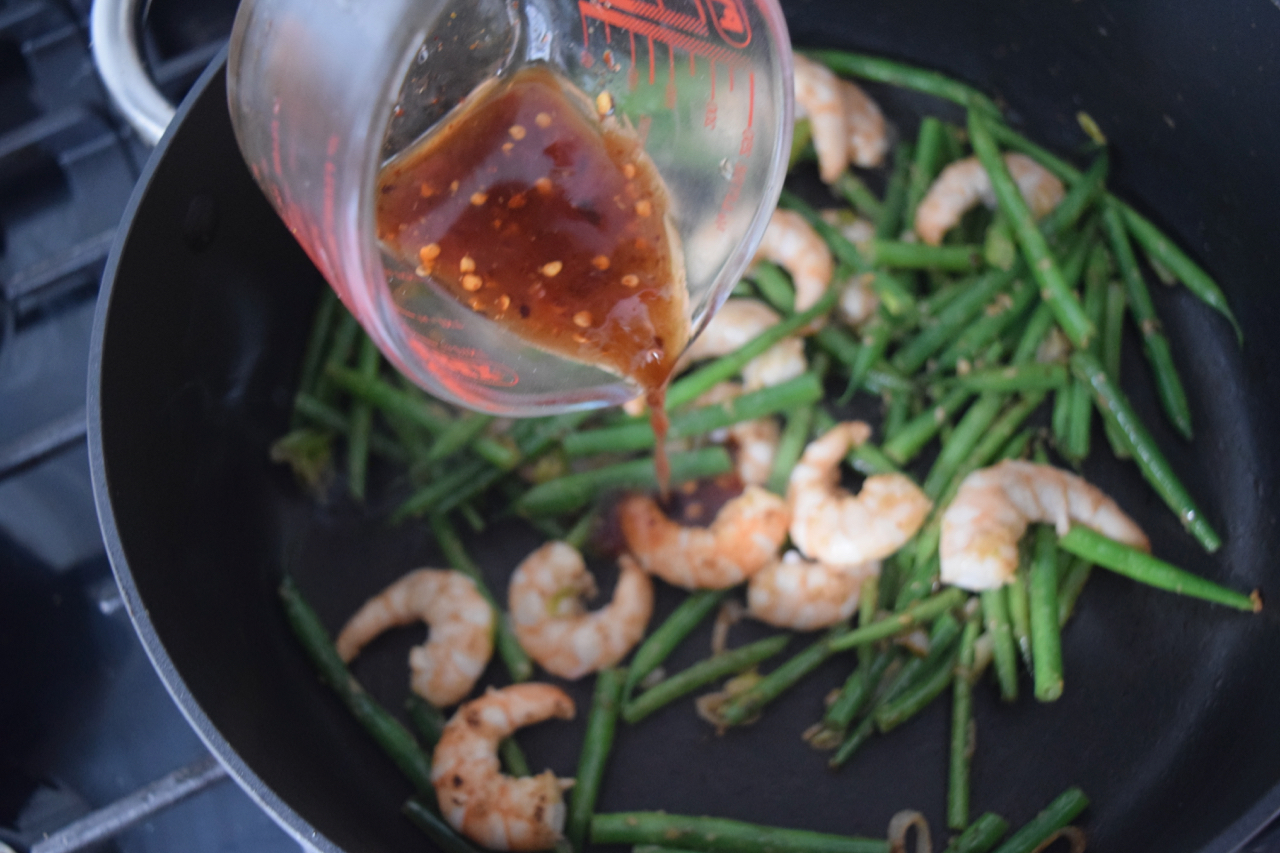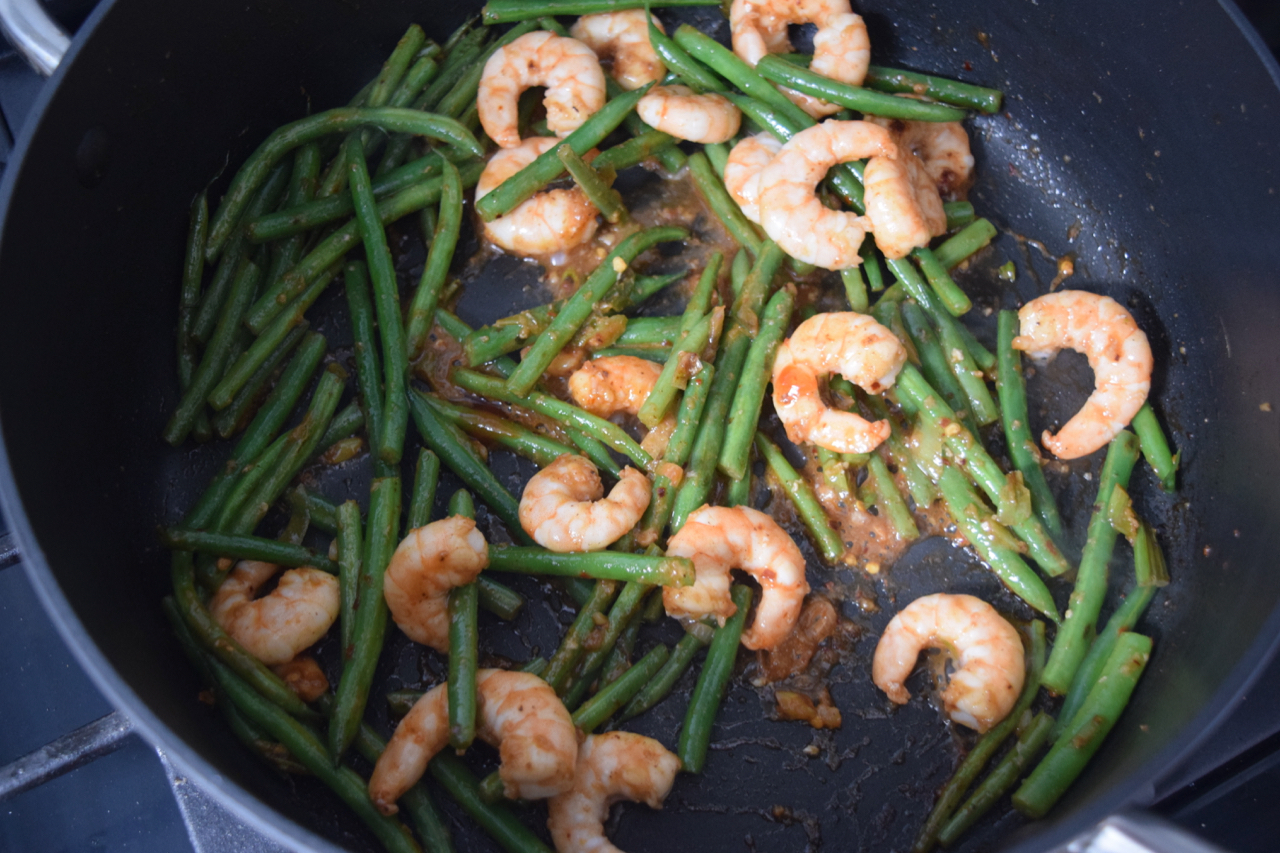 This is now ready to go. Spoon the prawns and beans over your cooked rice and garnish with a sprinkle of sesame seeds. I used black ones because that was all I could find in my annoyingly over stuffed spice cupboard. Devour and wish you'd made double the recipe just for yourself.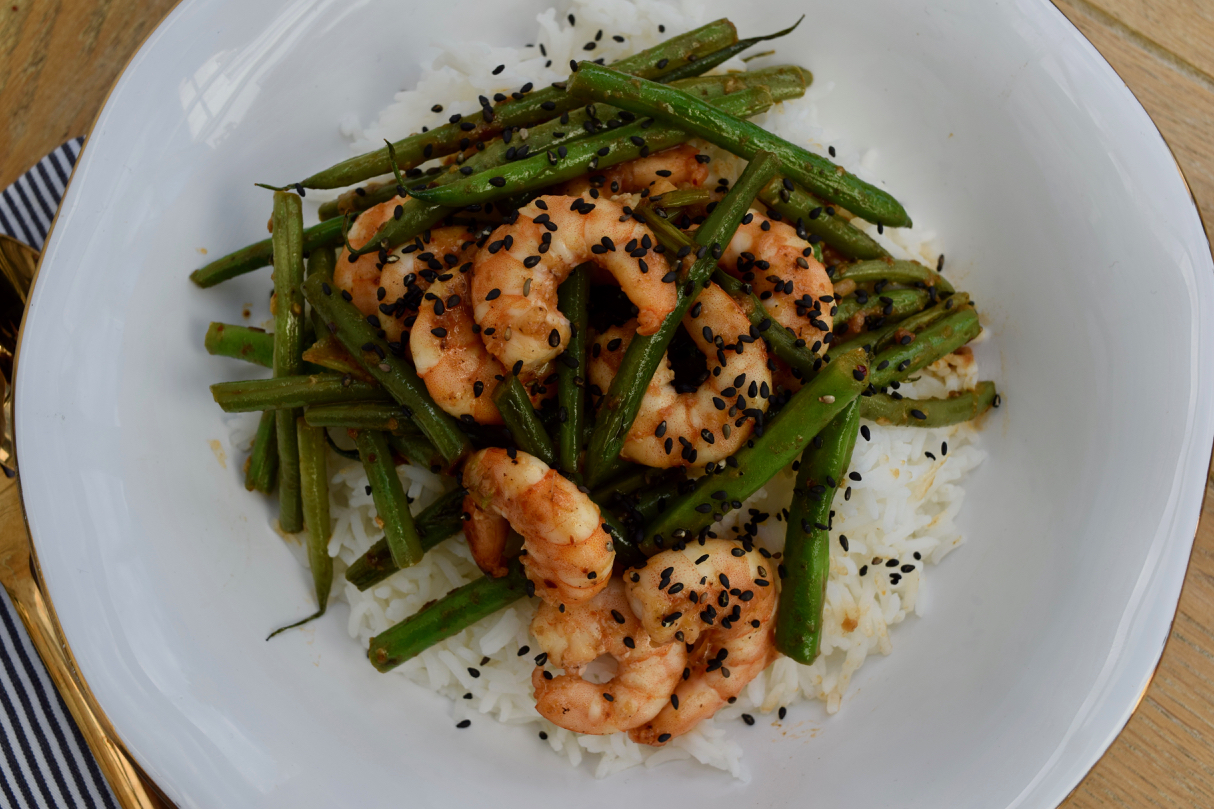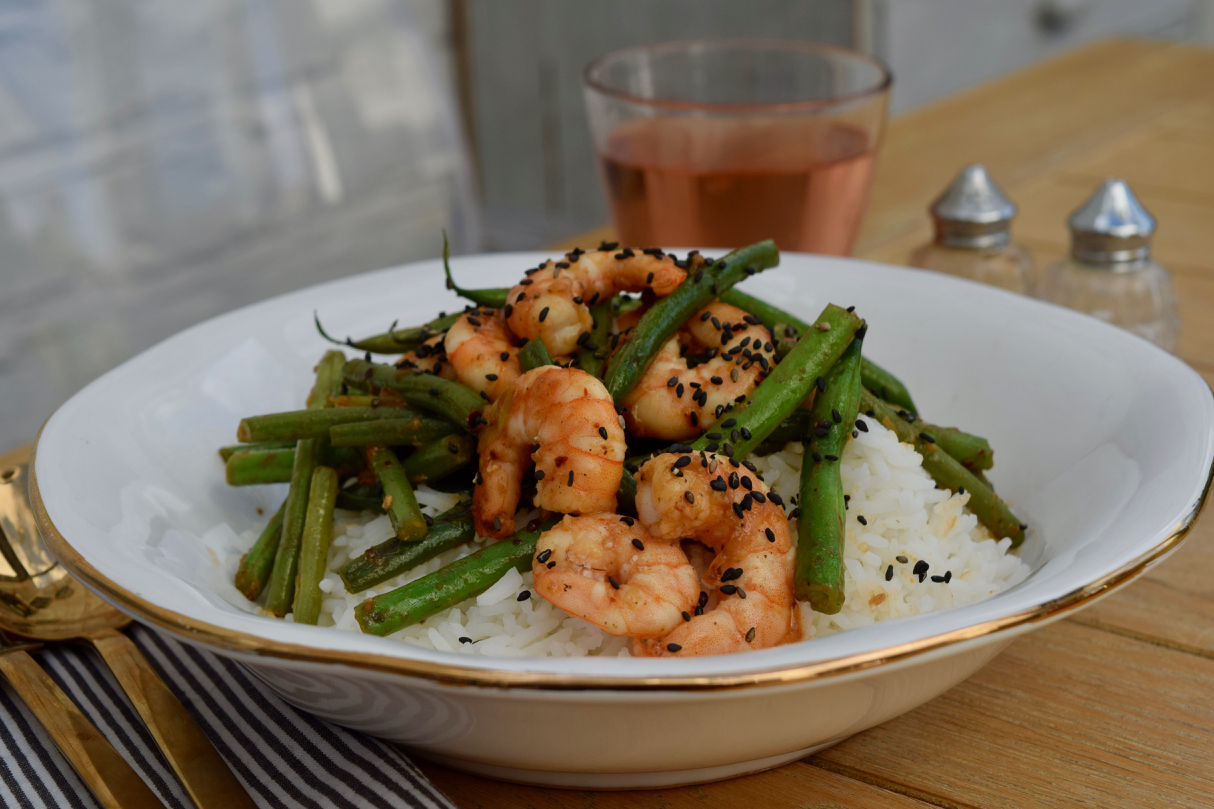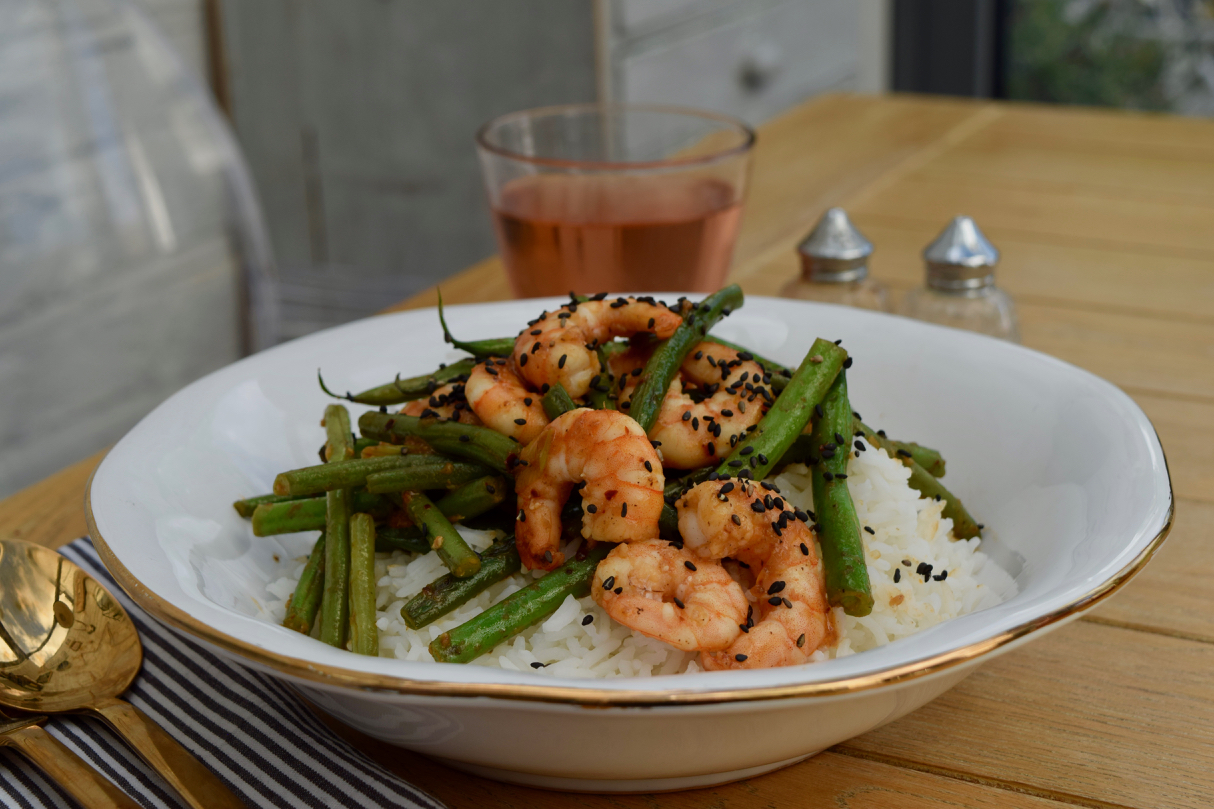 I promise not to moan on about GCSE's for a minute more. Mainly because I will be wolfing down these Spicy Prawns by way of celebration. Congrats to all those who have made it through the last 6 weeks, you have all my love and sympathy.
Lucy x
Spicy Prawns with Green Beans Recipe
Serves 2, easily doubled or trebled
You will only need a frying pan or wok for this 
180g raw king prawns, I used defrosted frozen ones
1 teaspoon tomato paste, I didn't have any so used Ketchup
1/2 teaspoon chilli flakes, go easy, they are quite ballsy
1 teaspoon rice vinegar
1 teaspoon honey
1 teaspoon sesame oil
1 teaspoon soy sauce
1 and a half tablespoons vegetable or wok oil
200g fine beans, topped and tailed and halved
1 spring onion, sliced
1 garlic clove, crushed or a teaspoon of lazy garlic
1 teaspoon grated ginger
Sesame seeds to garnish and rice to serve
This is a speedy recipe so make a start by cooking your rice. Drain when cooked and keep warm under a tea towel.
In a small jug or bowl whisk together the tomato puree or ketchup, chilli, vinegar, honey, sesame oil and soy sauce. Pat your prawns dry on some kitchen paper and pop to one side.
Take a wok or large frying pan and add the oil. Heat over a high heat and add the halved green beans, sliced spring onion along with the garlic and ginger. Stir fry for 30 seconds then add the prawns and fry for a minute more.
Tip in the sauce mixture, stir well and cook for a another two minutes or until the prawns are cooked through and sizzling.
Serve over rice with a sprinkling of white or black sesame seeds. Devour whilst piping hot.