One Pot Yoghurt Cake Recipe
Some times, only a simple sponge cake will do. Especially at this time of the year, when the last thing you want to do is spend more than a few minutes in the kitchen. I may as well have set up a camp bed in the kitchen I spent so much time in there over the last couple of weeks, so now, I am trying to avoid it like the plague. I love cake though, but cake doesn't appear by magic unless you buy a crappy shop one, so without having to lower ones standards, this week I am sharing with you this One Pot Yoghurt Cake.
This wonderfully soft cake is simple but so charming. It has a close texture but with a sharp but sweet vanilla flavour. You can add whatever you like to this cake to give it a bit of oomph; I went for sour dried cherries paired with chopped white chocolate but it's up to you. Dark chocolate chips, dried apricots, crystallised ginger, fresh fruit, this versatile cake can be tarted up at your leisure. The inspiration for this simple but wonderful cake comes from the Londoner, with thanks. The beauty of this cake is many fold. Firstly, it's made in one bowl, so washing up friendly. Secondly you don't need scales as the yoghurt pot is used as a measuring receptacle. Thirdly, well I won't go on boring you now.
I feel like pious mother of the year when I have a freshly baked cake in the tin and this one keeps beautifully wrapped for a week. I know it's January and we are meant to be eating healthily but surely this cake counts as good for you as it has yoghurt in it. Add some fruit and there's one of your five a day, you can't say I don't spend a large amount of time considering you lovely readers and your wellbeing.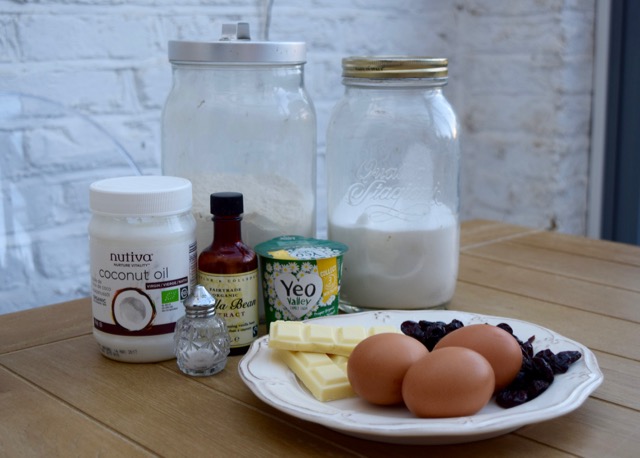 With that line up this cake does almost look like a health product with my addition of coconut oil. I love the taste of the coconut in a cake, and think this works really well here added to the potential health benefits of lower saturated fats. And there's my white chocolate and sour cherries used to enhance this simple cake. You can choose what to add, but my tip is to coat whatever you select with a tablespoon of flour to stop it sinking to the bottom of your sponge.
Make a start by pre heating your oven to around 160 degrees fan assisted and lining a 2lb loaf tin or buttering it well. Next, take a good sized bowl and scoop in the yoghurt from the pot. Keep the yoghurt pot.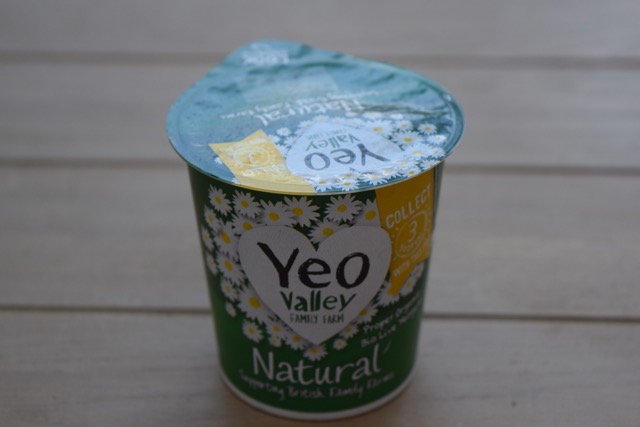 Measure and stir in two yoghurt pots of self raising flour then add one pot of caster sugar.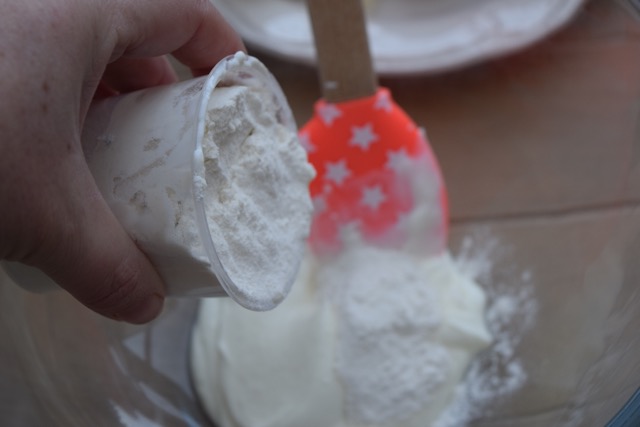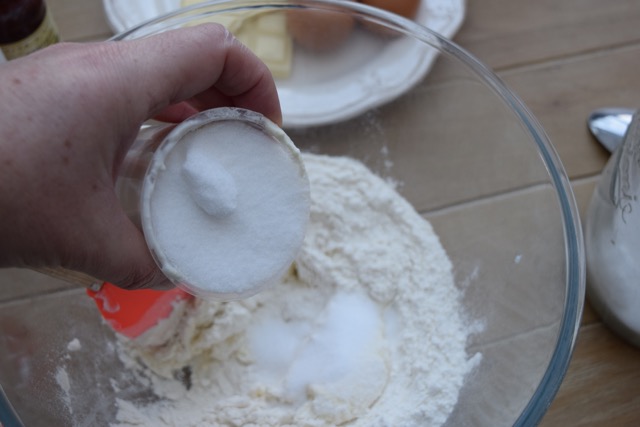 Ooh, apologies for this post being super handsy.
Next, beat the three eggs together then add to the bowl of ingredients.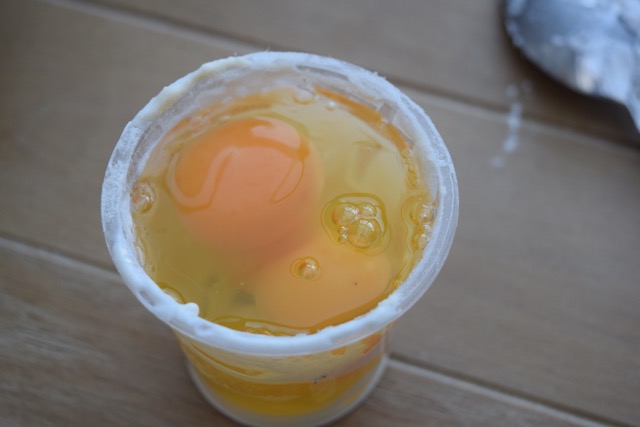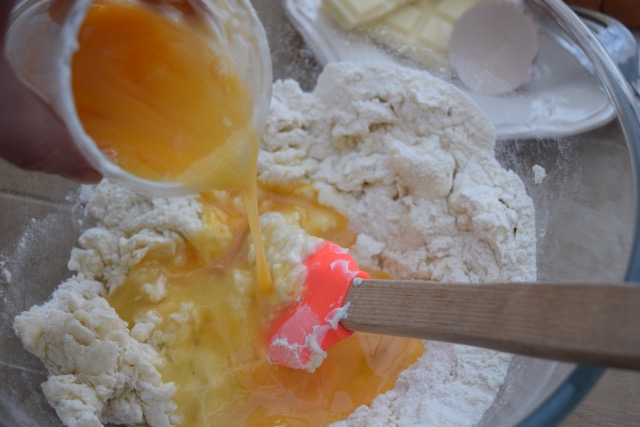 Finally add half a pot of the oil of your choice and a teaspoon of vanilla extract. I went for coconut oil, so I melted around 70g to get a half pot of liquid coconut oil.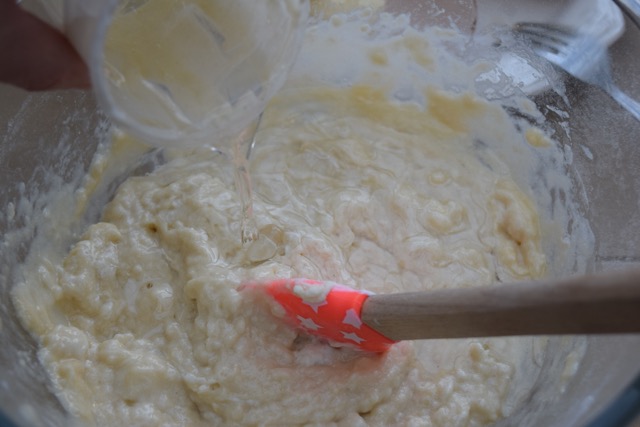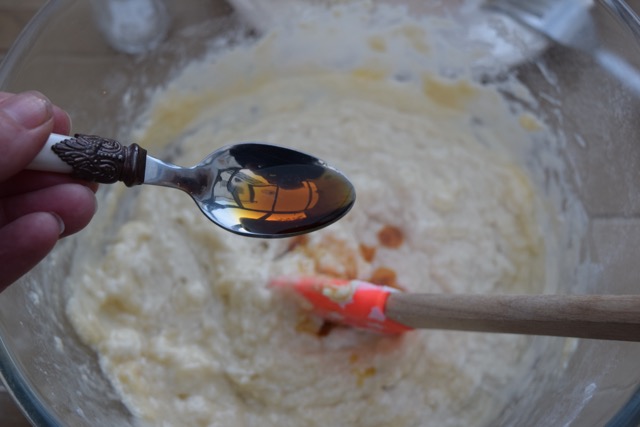 Beat this unpromising looking batter until smooth and delicious then turn your attention to the additions.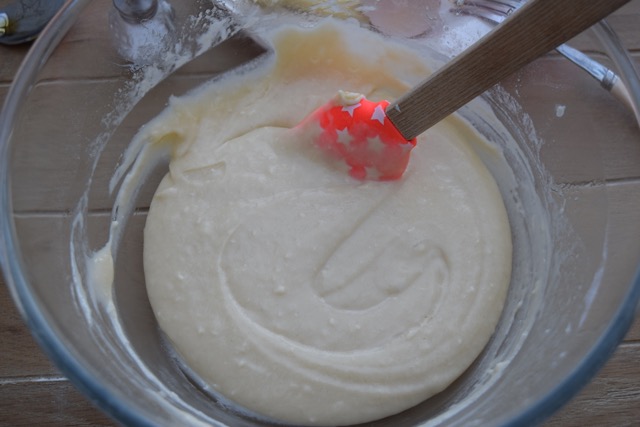 Dust any aforementioned additions with a tablespoon of self raising flour to stop them sinking to the bottom of the cake then stir these, gently, through the mixture.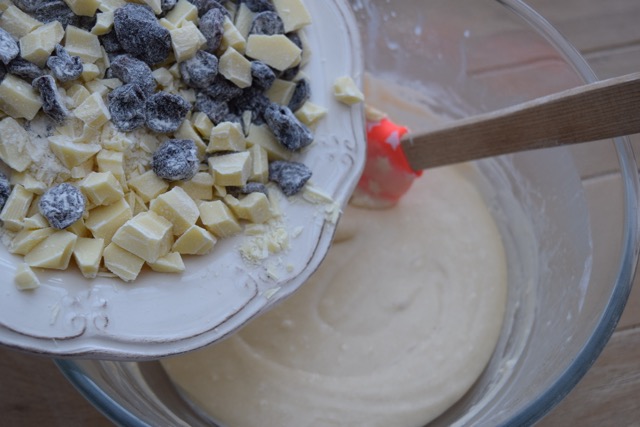 Pour into your buttered or lined loaf tin and level the top.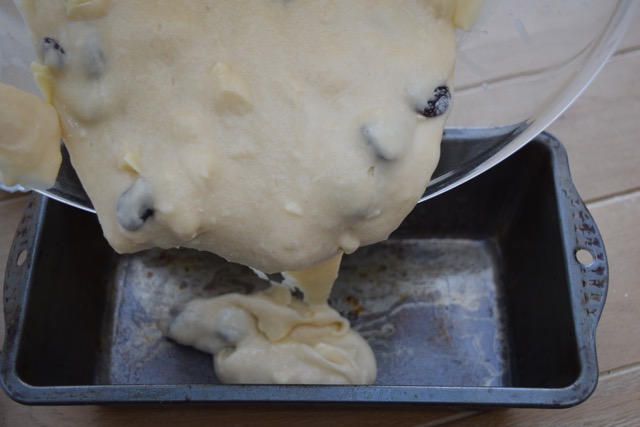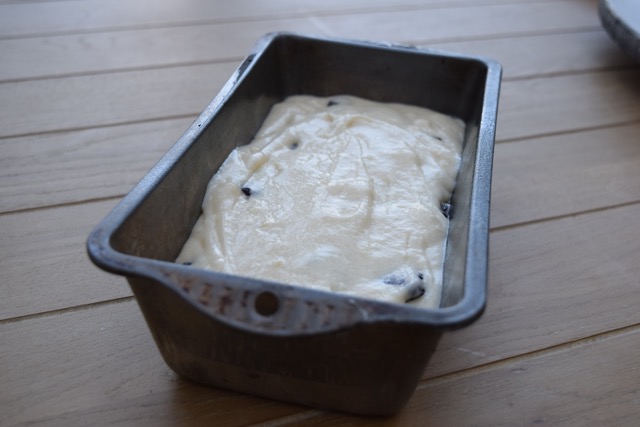 Pop this in your pre heated oven for around 45 minutes to an hour. The cake will be ready when the top is golden and firm and a skewer comes out clean when poked into the middle.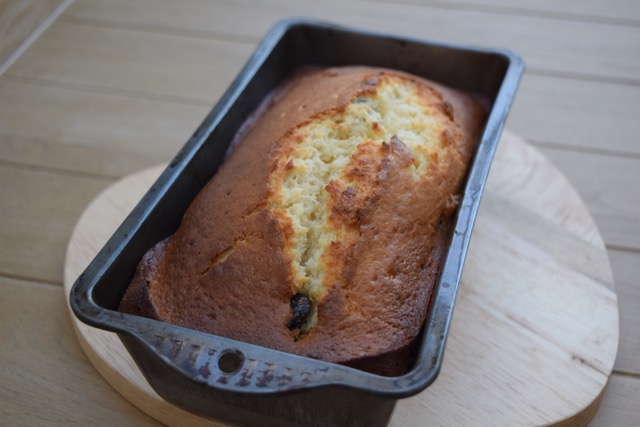 This is simplicity personified. But so edible and flavourful. Leave to cool before unveiling. Serve this, as always, in large slabs or with cream and fruit as a dessert.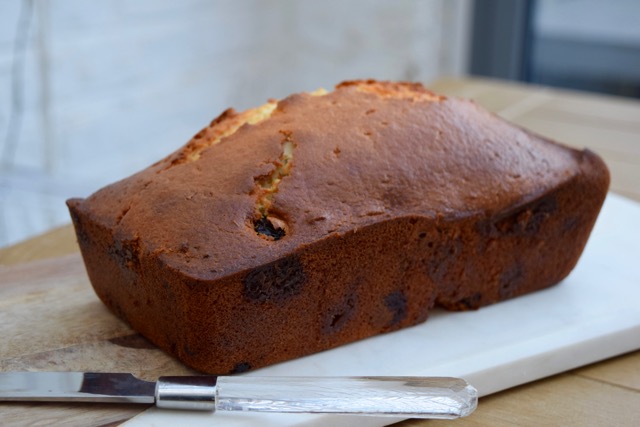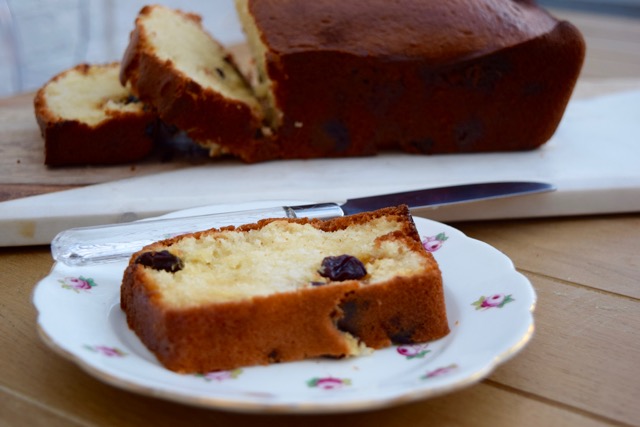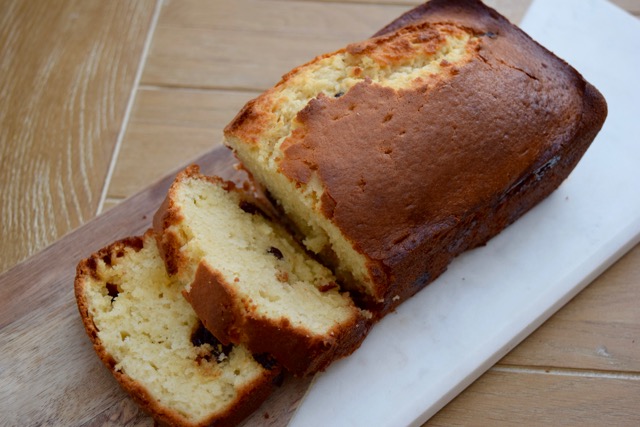 Light but *eeek* moist cake studded with chocolate and fruit, nothing not to like here. Sling in minimal washing up and no need to dig out your scales and this cake has a very full and impressive CV. And it tastes so good, did I mention that?
Lucy x
One Pot Yoghurt Cake Recipe
Makes one loaf cake
You will need a large bowl and a lined or buttered loaf tin, approx 2lb size
1 pot natural yoghurt, full fat is best, mine was around 160g
2 pots self raising flour measured using the yoghurt pot
1 pot caster sugar
Half pot oil, a light olive, vegetable or coconut oil (if using coconut oil melt around 70g to give around half a pot of liquid coconut oil)
3 eggs, beaten
1 teaspoon vanilla extract
a pinch salt
Additions of your choice, I used 100g chopped white chocolate and 75g dried cherries, but you can use any chopped chocolate, chocolate chips, raisins, dried apricots, the list is endless – make sure you coat any additions with a tablespoon of flour to stop them sinking to the bottom of the cake.
Pre heat your oven to 160 degrees fan assisted and line your loaf tin.
Take a bowl and add the carton of yoghurt. Keep the pot to use as a measuring cup. Add the two pot measurement of flour and stir together roughly. Add the caster sugar and oil followed by the 3 beaten eggs then stir in a teaspoon of vanilla extract and a pinch of salt. Beat together well until the mixture is smooth.
Coat any additions such as chocolate or berries with a tablespoon of self raising flour then fold into the cake mixture. Pour into your lined or buttered loaf tin then put into the oven for around 45 minutes to an hour. Keep an eye on the cake after 40 minutes, it is cooked when the cake is golden and a skewer comes out clean when poked in the centre of the cake.
Leave to cool slightly before removing from the tin and serving in large slices. Or serve warm with fruit and cream as a simple dessert. The cake keeps well wrapped in a tin for up to a week.