Oven Fried Chicken with Spicy Coleslaw
It's half term, which for me just means more bloody cooking. The boys are either lurking at home or out doing sports burning off more calories which just need replenishing. Looking for delicious ways of sating voracious appetites and keeping up with calories consumed only seems to become worse when they aren't at school. I flatly refuse to waste my hard earned cash on amusingly shaped pieces of cheese or individually wrapped bits of an animal which my children consume in one sitting rather than making them last the week. Protein, I am led to believe is the way forward. Chicken in particular is a well trodden and filling food path in our house and today I am sharing yet another way to serve it with this Oven Fried Chicken with Spicy Coleslaw.
Chicken and eggs are consumed by the barrow load in our house. Ben considers 3 fried eggs on toast a light post school snack. Likewise chicken is devoured at least three times a week, be it Katsu-ed, roasted, curried or fashioned into a comforting soup. This Oven Fried Chicken is just another way of tarting up what is a tasty and brilliant value for money ingredient. Accompanied by some Spicy Coleslaw, not only is this a delicious offering in itself, it could be tucked into tupperware or wrapped in foil and taken off on a picnic or other adventure, appalling English weather permitting. The lightly spiced chicken is crisp and tender and the coleslaw has just enough bite to make it taste fresh and interesting. I used some blackened cajun spices I had a huge vat of from Costco but if you have a blend you prefer, then please do season your chicken with that. Likewise, if you prefer more or less kick to your coleslaw man up or lady down the amount of fresh chilli or red onion in your mix. The inspiration for this dish came to me via The Pool, a rather lovely, informative website I have recently discovered, with large thanks to them.
Toss some seasoned homemade wedges into the foray and this is a lunch or supper dish to fill most hungry diners. Without the coleslaw for George, of course, as it contains far too many vegetables for his simple palate. For others, though, this is a great early summer suggestion and one I can't wait to taken it, packed in my rucksack, on a bike ride as soon as it stops raining.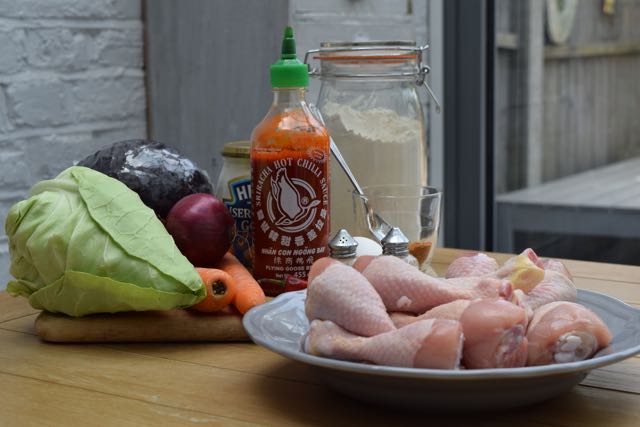 Nothing too alarming here, and so few ingredients for something quite so delicious. These particular drumsticks were on offer, but are ordinarily great value and in abundance. Do also vary your coleslaw ingredients to suit your preferences, I love the cabbage elements but it's up to you and yours.
Make a start by pre heating your oven to 170 degrees fan assisted and lightly oiling a baking tray. Now take two plates and on one add an egg, beaten, and to the other mix together flour, cajun or alternative spices and a generous twist of salt and pepper.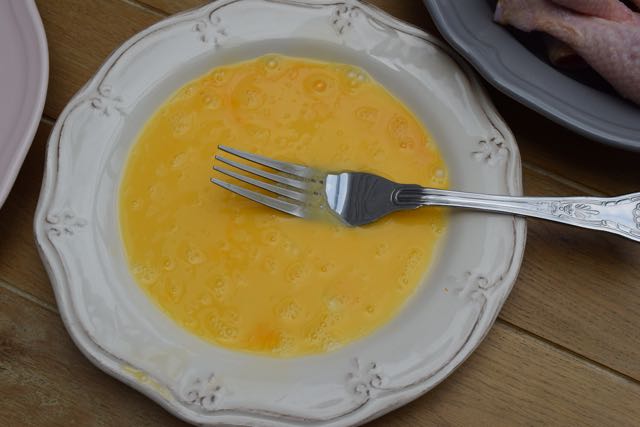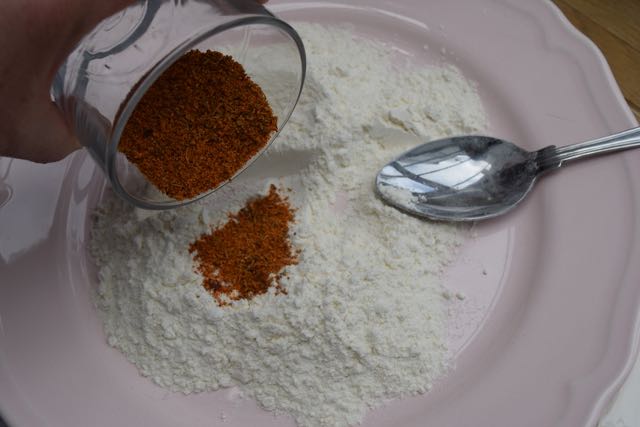 Then take your drummers and dip in the spiced flour, then egg, then back into the flour for a final coating.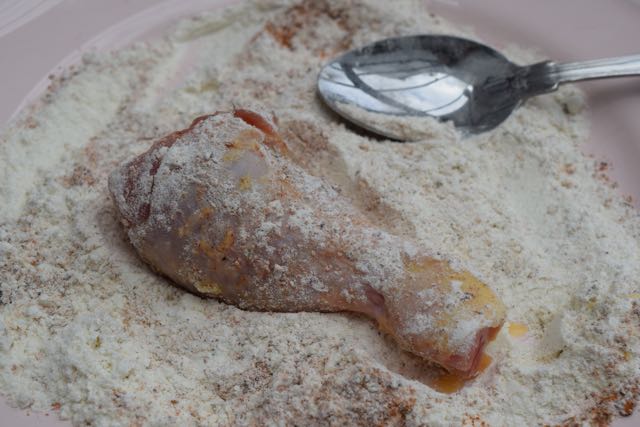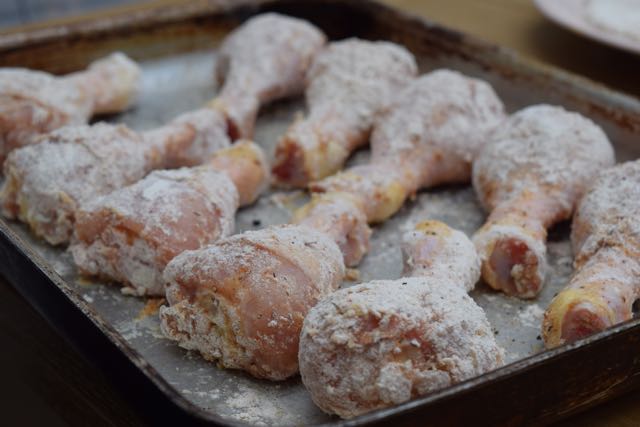 Lay all your coated chicken on the oiled baking sheet, give them a final spritz or drizzle with olive oil then pop into the pre heated oven for 35 minutes. Give them a shake or turn over half way through the cooking time to ensure a crisp and even coating.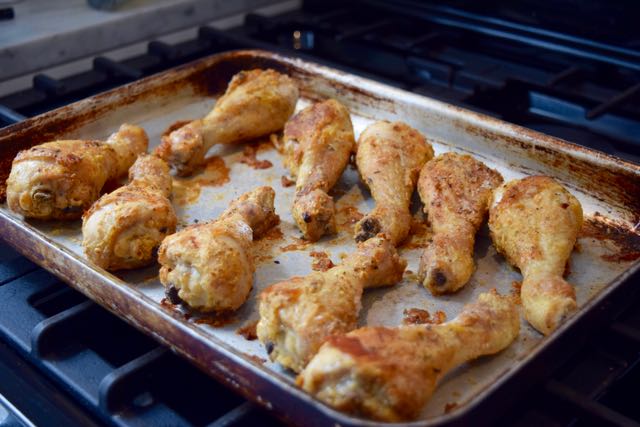 While your chicken is oven frying, crack on with the Spicy Coleslaw. I dusted off my spiralizer and used it to fashion the carrots into lovely curls, however, grate them if you can't find/never bothered buying a spiralizer.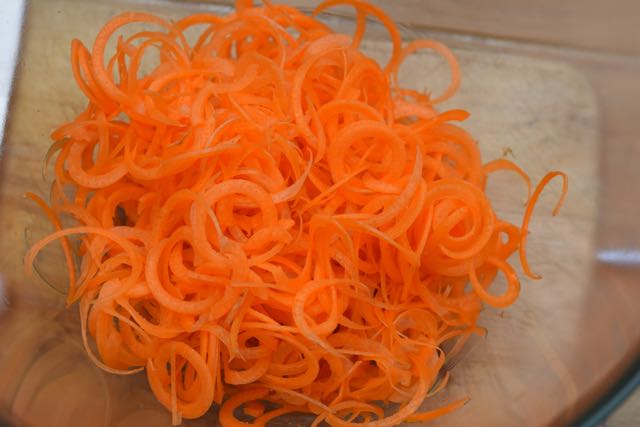 Add in the two types of chopped cabbage, red onion, varying amounts of, I always think less is more, and your fresh red chilli.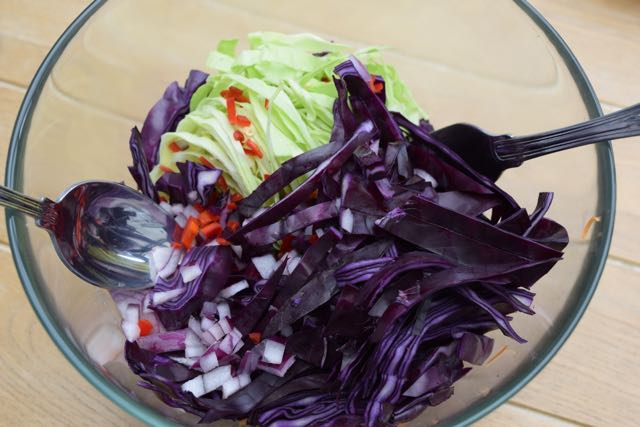 For the coleslaw dressing mix together the mayo, sriracha and some salt and pepper to taste.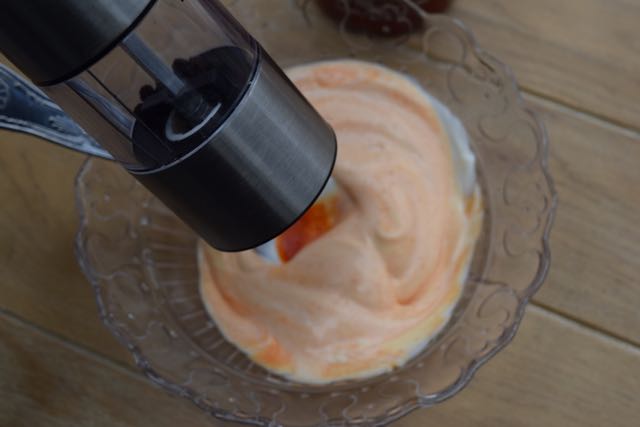 Stir this through your vegetables and ensure everything is well coated. Garnish with a little fresh coriander if you are that way inclined. I love it, others do not.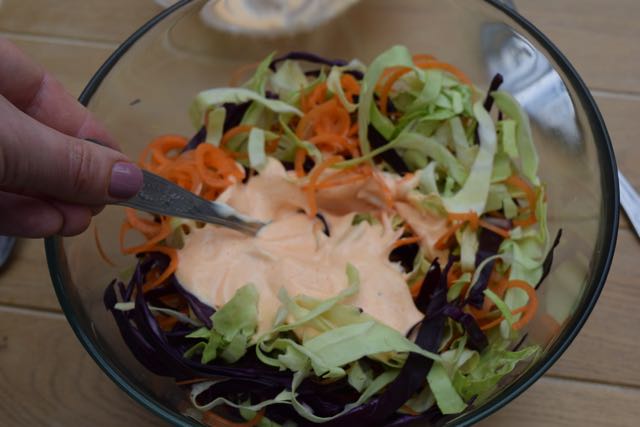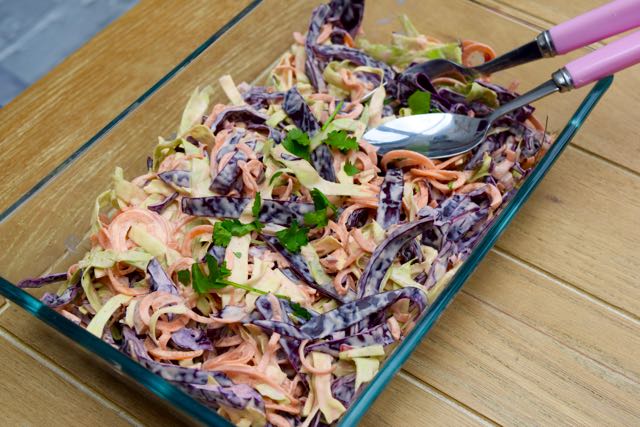 Serve this fresh and delicious summer fodder sitting on a picnic blanket or if it's being served to my children, gobbled from the table using their hands without so much as a thank you or a backward glance.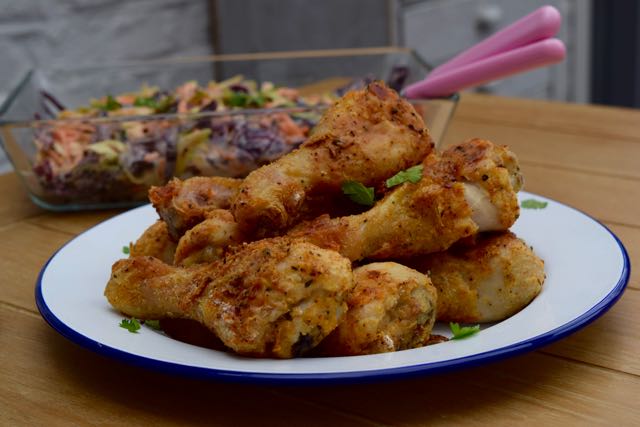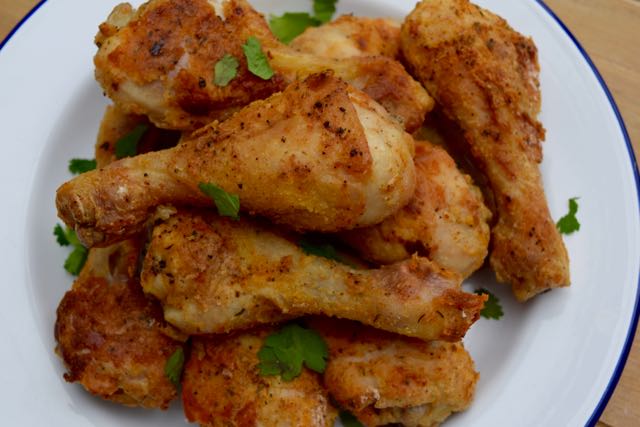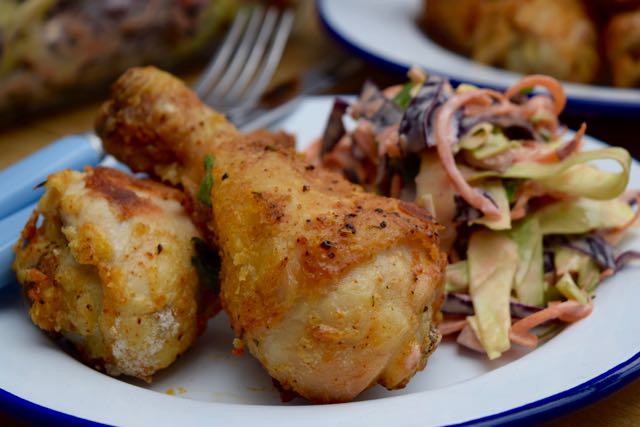 I love this dish, it's so fresh and has a tiny whiff of health to it as it's not dripping in oil. It's a total crowd pleaser with this particular batch disappearing before my very eyes before I even finished one of the drummers. You may have more luck with your portion if you don't live with a house full of locust/teenage boys.
Lucy x
Oven Fried Chicken with Spicy Coleslaw
Serves 4
No challenging equipment needed here
Chicken
8 chicken drumsticks
6 tablespoons plain flour
2 tablespoons cajun spice, or any spice mix you prefer
Salt and pepper
1 egg, beaten
Spicy Coleslaw
2 carrots, grated or spiralised
1 white cabbage, chopped
1/4 red cabbage, chopped
1/2 red onion, finely chopped
1 small chilli, finely chopped
3 tablespoons mayonnaise
1 tablespoon Sriracha
Salt and pepper
Fresh coriander to garnish, if you like
Pre heat your oven to 170 degrees fan assisted. Take two plates and on one add the beaten egg and on the other, mix together the flour, cajun or other spices and a generous grinding of salt and pepper.
Take your chicken drumsticks dip into the flour, then egg then roll in the spiced flour again, coating well. Continue until all the chicken is coated then place on an oiled baking tray. Add a spritz or drizzle of olive oil then bake in your pre heated oven for 30 to 35 minutes, turning once, half way through. The chicken is cooked when its golden brown and cooked through.
While the chicken is cooking, prepare the spicy coleslaw. Spiralize or grate your carrots and add to a large bowl. Add the chopped cabbages, onion and chilli. In another bowl mix the mayonnaise and sriracha and season with salt and pepper. Stir well then add this to your coleslaw vegetables and give it all a really good mix until the vegetables are well covered with dressing. Garnish with some fresh coriander.
Serve the chicken hot or at room temp with large helpings of the spicy coleslaw. Any leftovers will keep in the fridge, well covered for a couple of days.