Pineapple Whisky Sour Recipe
This week has been surprisingly balmy given the fact it's mid October. If you follow me on Instagram *if not why not* you'll see I have been indulging in pub lunches sitting outside, if you please, and dog walking in short sleeves. This is rather typical given the fact I have a lovely new cardigan to wear, but it's barely out of the bag, so far, as it's been so mild. So instead of heading down the mulled wine or hot toddy cocktail route just yet, I am celebrating the warmth with a refreshing little Cocktail Friday. Purists – brace yourself and enjoy my Pineapple Whisky Sour.
A Whisky Sour is a classic cocktail so I am not entirely sure how the cocktail police will feel about the addition of such a thing as pineapple. But, as usual, this is my blog and I'll drink what I like and this Pineapple Whisky Sour is bloody delicious. Super drinkable with a touch of warmth should the evenings start getting cooler. The lemon adds the sour and the pineapple a touch of sweetness. I love whisky, despite having a nasty incident involving a bottle when I was 16, I have managed to stay in love with it and adore a Whisky Mac when the weather turns bitter.
While it's still bizarrely mild the Pineapple Whisky Sour may be just the right combination of freshness and warmth we need. Enjoy it while you can, it's nearly time for the first glass of mulled wine of the season *eek*.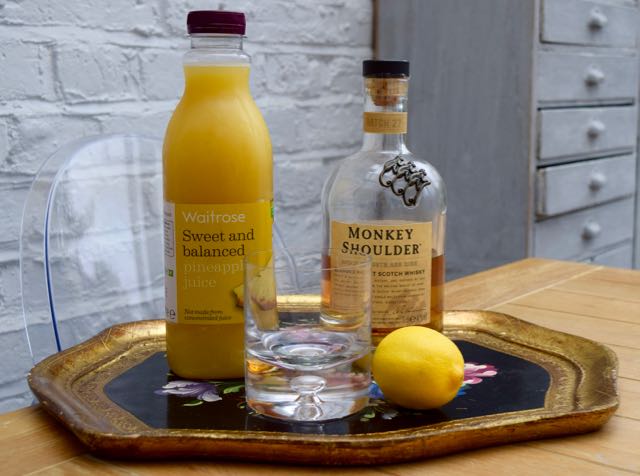 Look at how I am still stealing Clyde's fancy whisky from right under his nose. I do keep good whisky to hand as my Mother loves an early evening whisky and soda when she visits and I do hate to disappoint.
Make a start on this, as usual, with a nice big tumbler and a good handful of ice.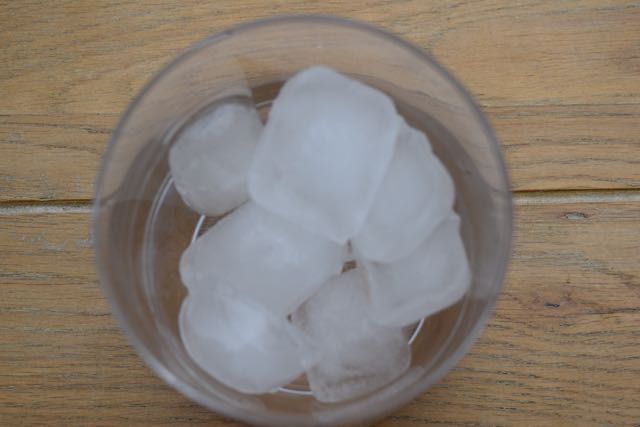 Pour in the whisky of your choice, just use what you have, it doesn't need to be fancy. Then add the lemon juice, for sourness and a touch of tart.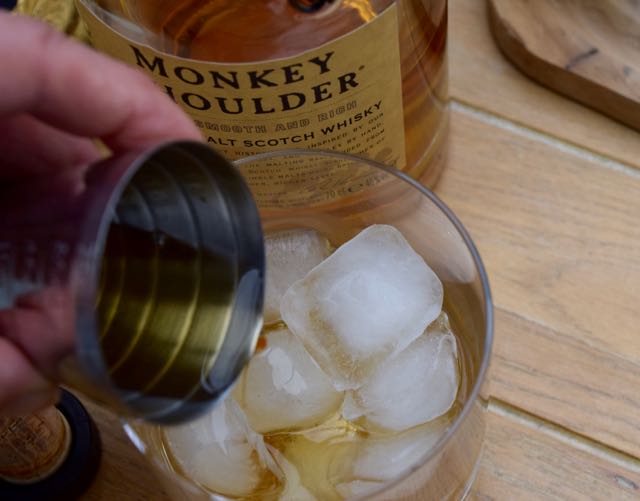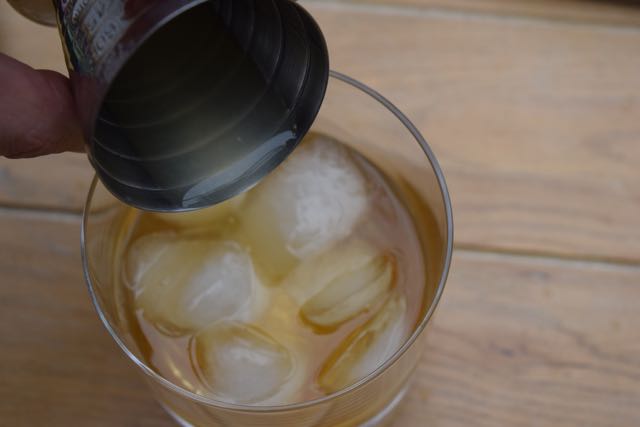 Now top this lovely mix with your fresh pineapple juice. As little or as much, to taste.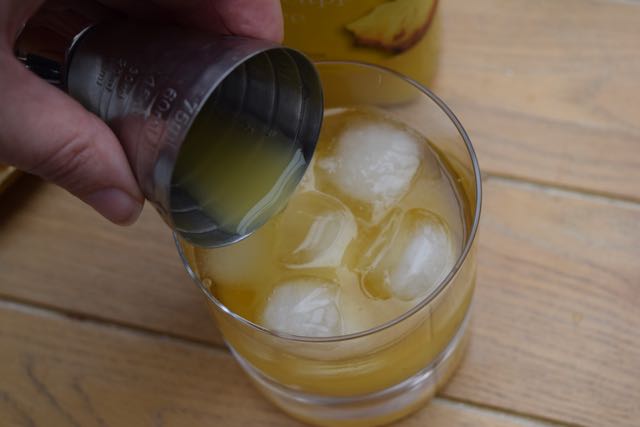 Finally stir, then garnish with a slice of lemon.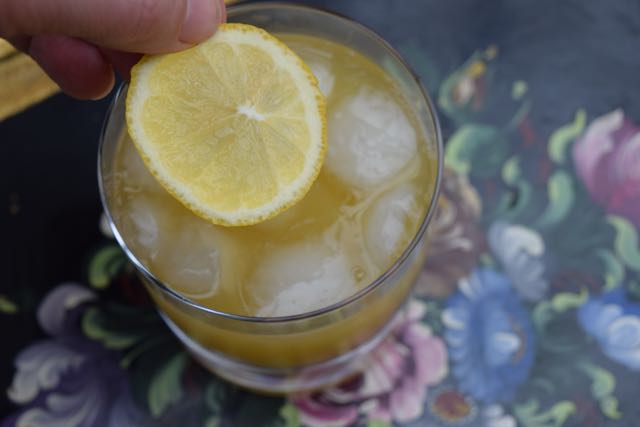 This barely lasted a couple of minutes with me, it's just so sippable. And perfect with a bowl of pistachios.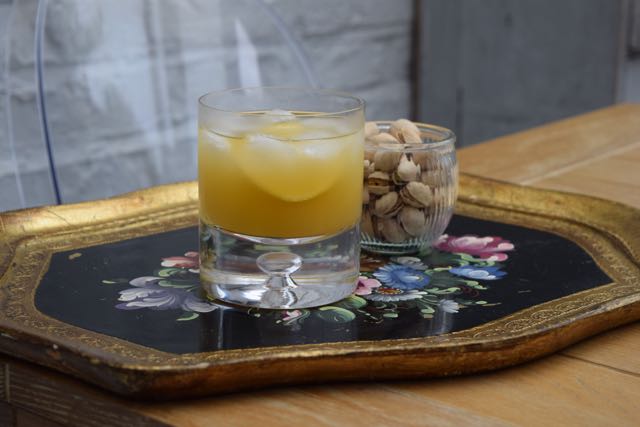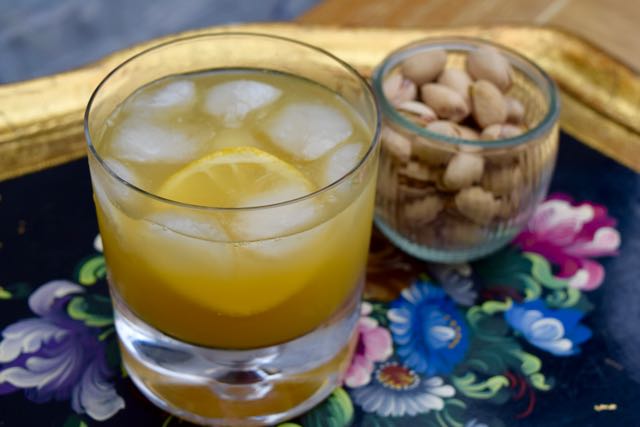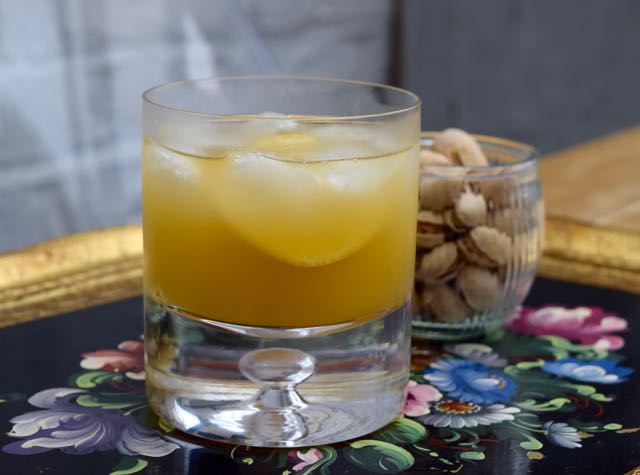 Pineapple usually only features in my tropical style cocktails, but it does taste divine with whisky. Pineapple is for life not just for summer. And not just with Malibu, although that is also divine.
Have a lovely weekend.
Lucy x
Pineapple Whisky Sour Recipe
Makes 1
You will need a lovely tumbler and nothing else challenging
Ice
40ml whisky
1 tablespoon lemon juice
Approx 150ml pineapple juice, or more or less to taste
A slice of lemon to garnish
Take a lovely big tumbler and add a good handful of ice. Pour in the whisky and lemon juice then top up with fresh pineapple juice. Stir, garnish with a slice of lemon. Sip and enjoy.
SaveSave
SaveSaveSaveSave
SaveSave