Quick Thai Beef with Basil Recipe
I really should clear my freezer out more often. However, it's a thankless bloody task and I always imagine I am going to find half a fillet of beef or some choice pieces of fish to make a special supper. The reality it quite different. I rather over did it on a trip to Costco last week, so in order to make way for 3 kilos of boned chicken thighs and a kilo and a half of salmon I had to bite the bullet and clear out the freezer. In a tedious turn of events I found 5 bags of brown bananas, 2 quarter full bags of petit pois and 4 mystery bags of brown business which could have been anything from rhubarb crumble to bone broth. What I did find though, was 2 packets of beef mince, the eternal standby meat of choice. Being bored rigid of chilli and bolognese I decided to scare the family with something new. This Quick Thai Beef with Basil is that resulting dish.
This recipe is a right result. What's not to like about a bowlful of spicy, salty, sweet mince? It's cheap and cheerful to make, but quite charming to look at, especially when it's garnished with a crisp fried egg and extra basil. On a side note, Clyde would eat a rat if you put a fried egg on it, so the fact that he said this was completely to die for, came as no real surprise to me. This Thai Beef with Basil is a doddle. Fashion a sauce in a jug then the rest of the magic happens in a wok or large frying pan. You are just a few store cupboard type ingredients away from something really rather tasty. Beef, fresh chilli and a large handful of Thai basil to seal the deal. If you can't get the Thai type, the regular variety basil will do, although the former does have a rather lovely aniseed kick to it. Huge thanks to the jauntily entitled Scrummy Lane for the inspiration for this dish.
This would make a rather stylish quick supper for friends or family, disguising what is really a rather dull packet of mince. If your freezer is housing pork or turkey mince too, worry not, this would work just as successfully in this dish. This is a 'bin dinner' at it's finest and we are not even half way through the month. It's always nice to save a bit of your hard earned cash by enjoying something you've already paid for. So get your head torch on and some gloves at the ready and get snaffling at the back of your freezer to see what you can unearth.
Marvel at this little lot as I had also had a good root around in the back of my spice/sauce cupboard too. I did have to go and buy a new fish sauce though, as the one I had looked fairly prehistoric and I wouldn't want to risk old fish sauce. If you can't find kecap manis, the original recipe did say you could use more regular soy and some sugar, so don't worry if you don't have any.
If you are serving this with rice, I'd get that going first as this dish doesn't take long to cook and your rice can happily sit under a tea towel while you finish up.
Make a start by measuring the sauce ingredients into a jug or bowl. Spoon in the fish sauce, soy sauce, kecap manis, oyster sauce and water.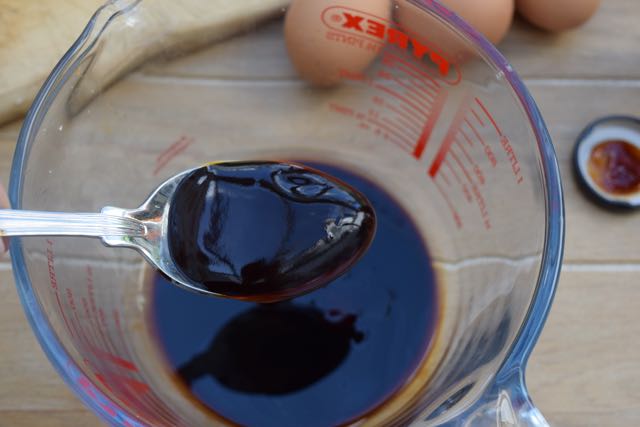 Stir this luscious mixture together and leave to one side while you get going on the main body of the dish.
Chop the green beans into thirds, roughly, don't get a ruler out.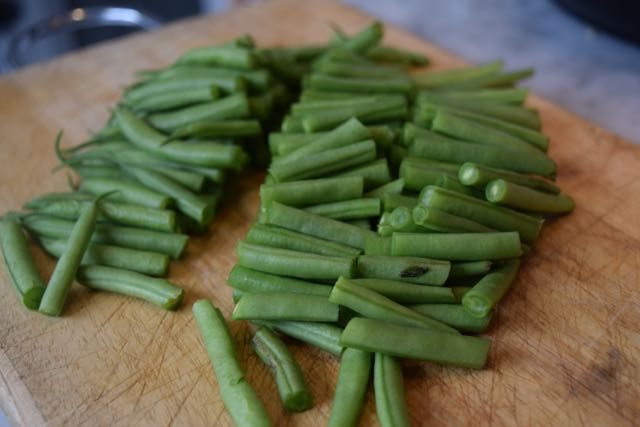 Now, in a wok or large frying pan, heat up a tablespoon of your chosen oil and throw in the beans. Cook them for 1 to 2 minutes then follow in with chopped chilli and garlic. I used lazy garlic as I had been cooking all day and slightly lost the will to live.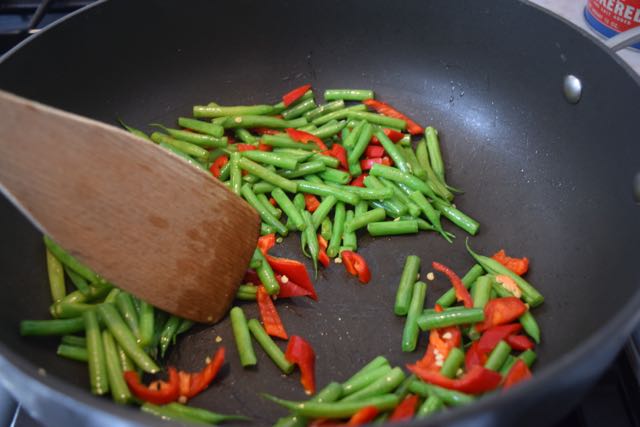 Cook for a minute or two more, taking care not to burn the garlic, which would taste quite foul. Add the beef mince, breaking it up with a spatula and making sure it browns evenly.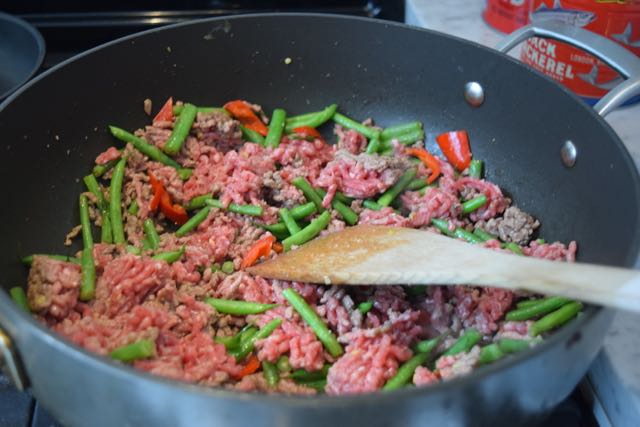 Stir fry the whole business until the beef is cooked through and browning nicely.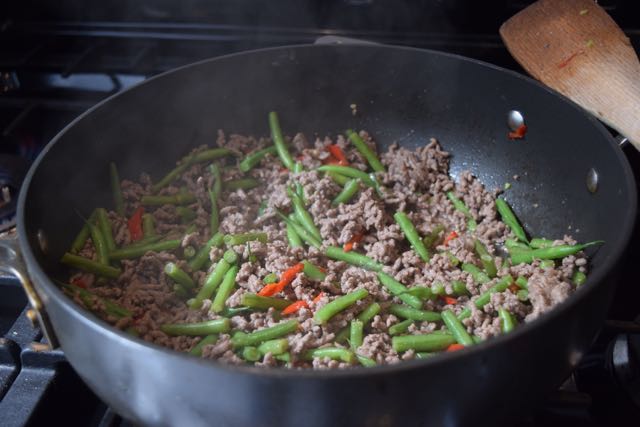 Pour in the sauce ingredients and let the dish simmer for a couple of minutes. At this stage, get your frying pan at the ready for your crisp, fried egg.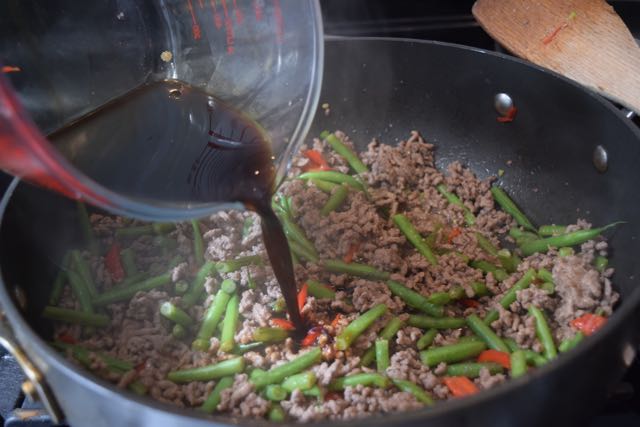 Check the beef for seasoning, I added a tablespoon of brown sugar, as I do like the extra sweetness to go with the saltiness, but this is optional. Finally, stir though the fragrant Thai basil, or regular basil, and cook for another minute or two.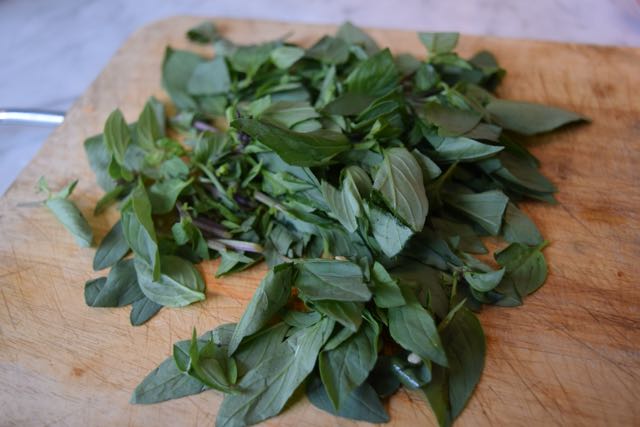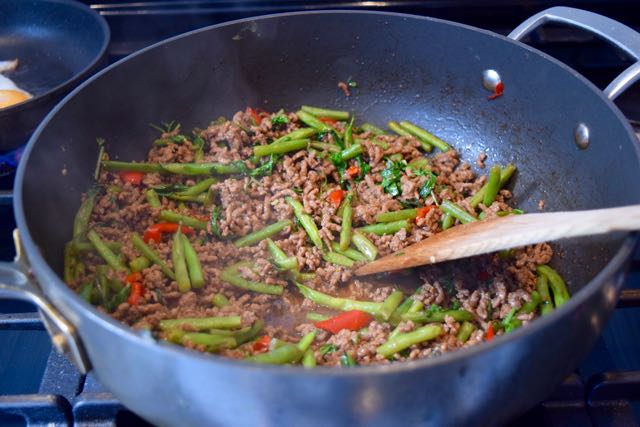 Serve this super speedy, spicy, salty sweet dish on a bed of rice or noodles. Not forgetting a crisp fried egg and some extra basil and chilli sauce if you like some extra heat.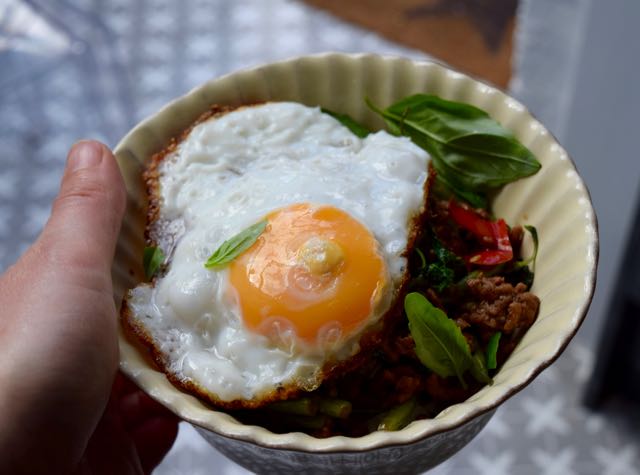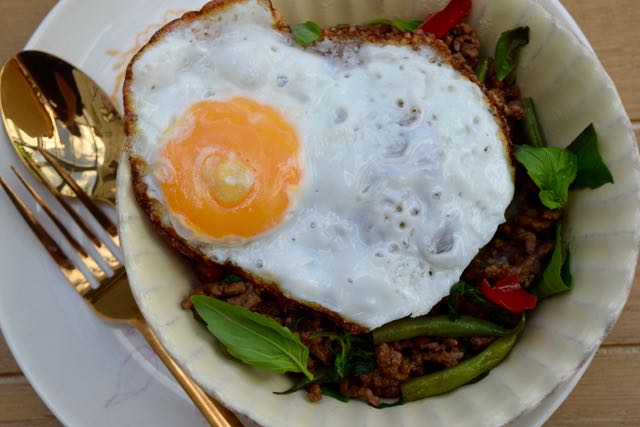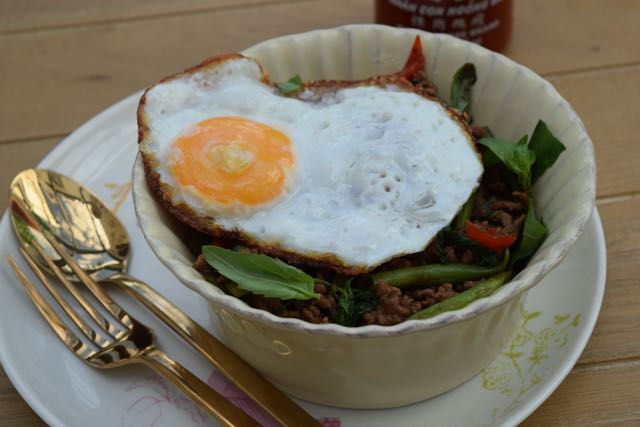 It was a right drama, wrestling with the iceberg the Titanic hit in my freezer drawers. However, the rewards were two fold. Not only did I fashion this wonderful Quick Thai Beef with Basil but I also discovered how to make ice cream from frozen bananas. That will have to wait for another day though, as I ate it all so there was nothing to photograph. Such are the perils of being a greedy food blogger.
Lucy x
Quick Thai Beef with Basil Recipe
Serves 4, appetite dependent
2 tablespoons fish sauce
2 tablespoons light soy sauce
2 tablespoons kecap manis, or use an extra 2 tablespoons of soy and 2 teaspoons brown sugar
2 tablespoons oyster sauce
8 tablespoons water
1 tablespoon oil
200g fine green beans, chopped into thirds
4 cloves garlic, or 2 heaped teaspoons lazy garlic
2 red chilli, finely chopped, or use Thai chilli to your taste as they are quite lively
750g beef mince, or use pork or turkey mince if you would prefer
1 level tablespoon brown sugar, optional
Extra soy, to taste
A small bunch Thai basil or normal basil if that's what you have, roughly chopped
4 eggs for frying, allow one or two per serving, teenagers love two
Rice, noodles, extra basil, Sriracha and lime wedges to serve
In a large jug or bowl make the sauce. Measure in the fish sauce, soy sauce, kecap manis, oyster sauce and water. Put to one side while you crack on with the beef.
Take a large wok or frying pan and heat a tablespoon of oil over a high heat. Cut your fine beans into thirds then add to hot oil and  stir fry for a minute or so. Add the chopped chilli and garlic and cook for a further minute, being careful not to burn them.
Add the beef and stir fry until it's brown and cooked through, around 5 to 6 minutes. Pour in the sauce ingredients and stir well. Allow to simmer for a couple of minutes before adding the thai/regular basil and stirring well. Taste, add the optional tablespoon of sugar if you like your Thai dishes sweeter or more soy if needed.
Serve with rice or noodles and finished with a crisp fried egg and extra basil. Add additional chilli sauce if needed.