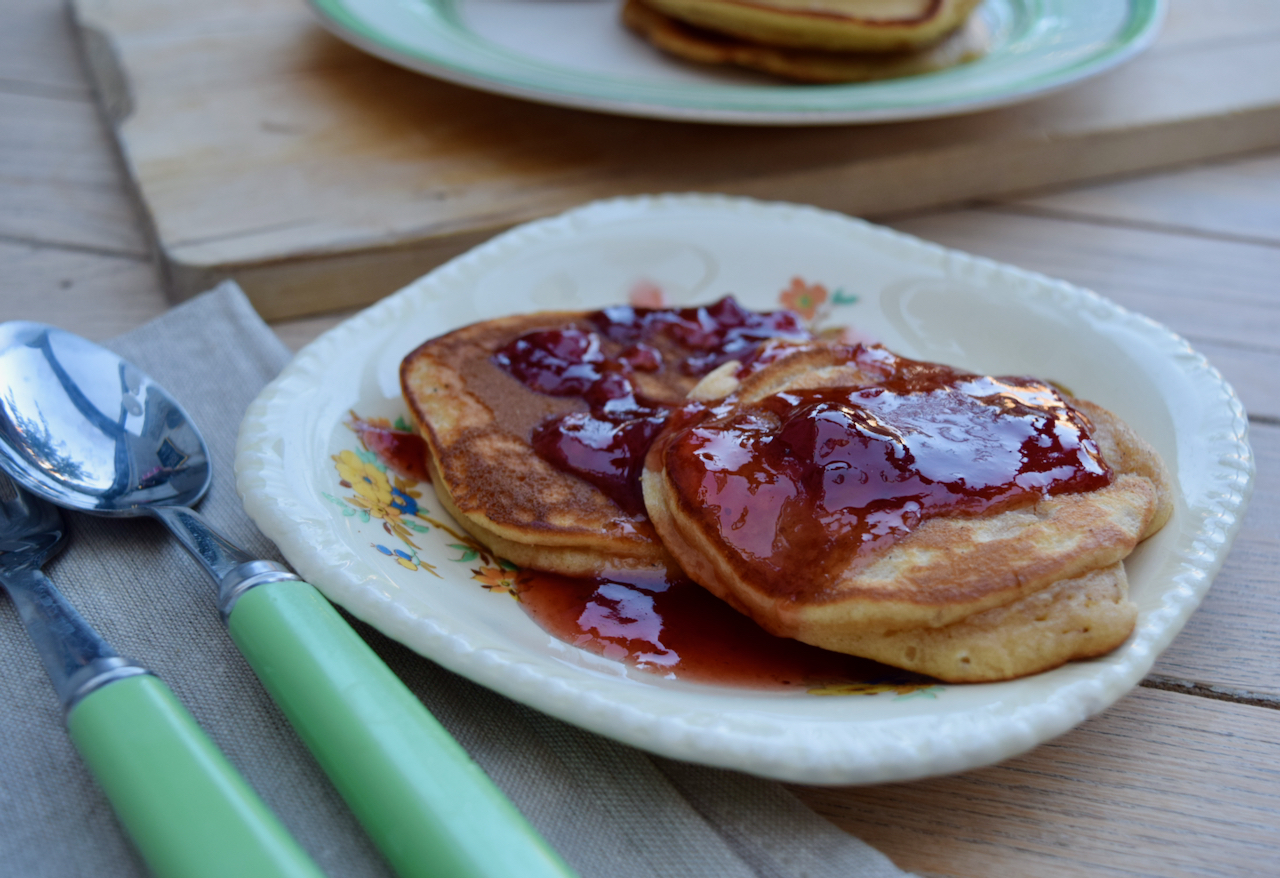 PB and J Pancakes recipe
Hooray, February is nearly at an end. It's been beautiful here today and there's more than a whiff of spring in the air. Shrove Tuesday has rolled round again which can only mean one thing – more Pancakes. We are a family of pancake lovers; breakfast, lunch or dinner, they are the gift that keeps on giving. PB and J Pancakes, however, are in a new league of their own; soft, salty, sweet with a slather of fruity jam, I for one, will be eating a truck load of these on Tuesday.
I know Shrove Tuesday pancakes are meant to be more of a crepe situation, but hey, a pancake's a pancake in my mind and these are beauties. Made in one bowl, melted butter is whisked with sugar, smooth peanut butter and vanilla for sweetness and salty heaven with some baking powder for a gentle lift. Fry in generous dollops until golden then serve with the warm jam of your choice. I went strawberry, which is the house favourite.
PB and J Pancakes are new for 2022 to the Shrove Tuesday menu. Man cannot live by lemon and sugar or golden syrup alone.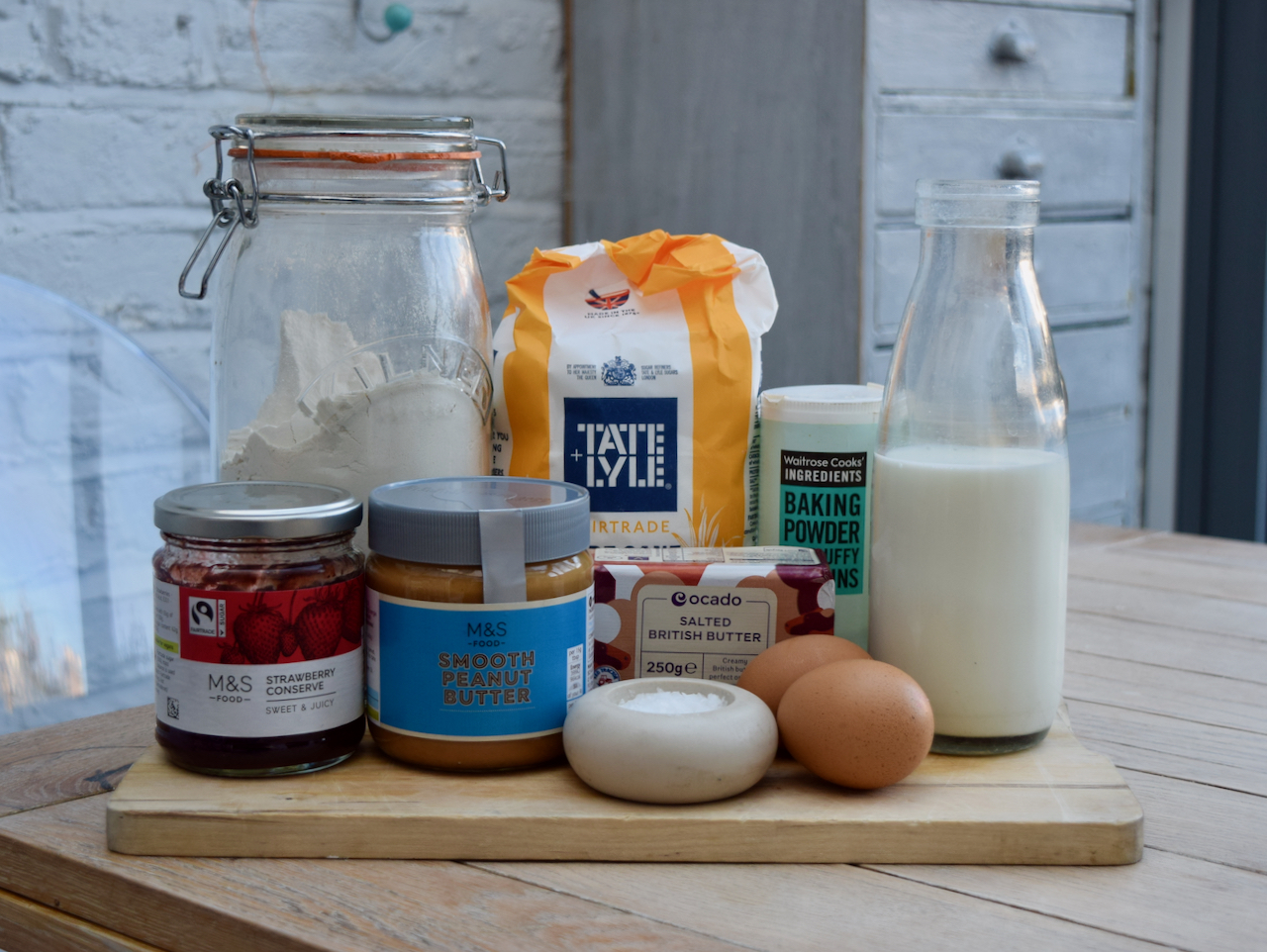 All the classic pancake ingredients here, nothing too alarming, alongside the newbies in the form of peanut butter and jam. These don't have tons of sugar in them, so could almost be classed as 'healthy' unless you eat 5 of them, like me.
Make a start with a good sized frying pan over a medium heat and your oven on low to keep the cooked pancakes warm for later. Add the butter to the hot frying pan and just melt, you don't want it to burn, then turn out the heat. Pour the melted butter into a large bowl and leave the buttery pan on the side for later.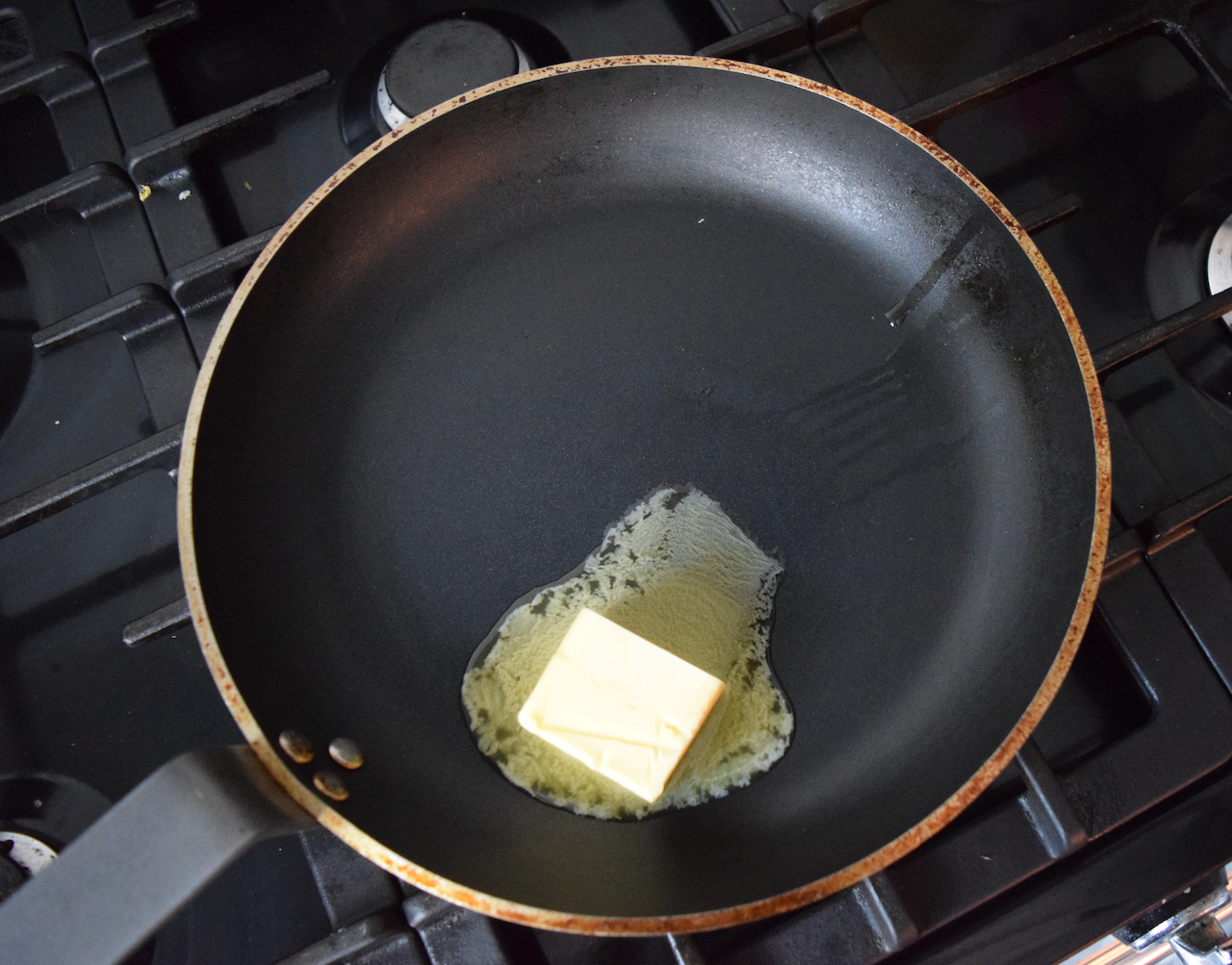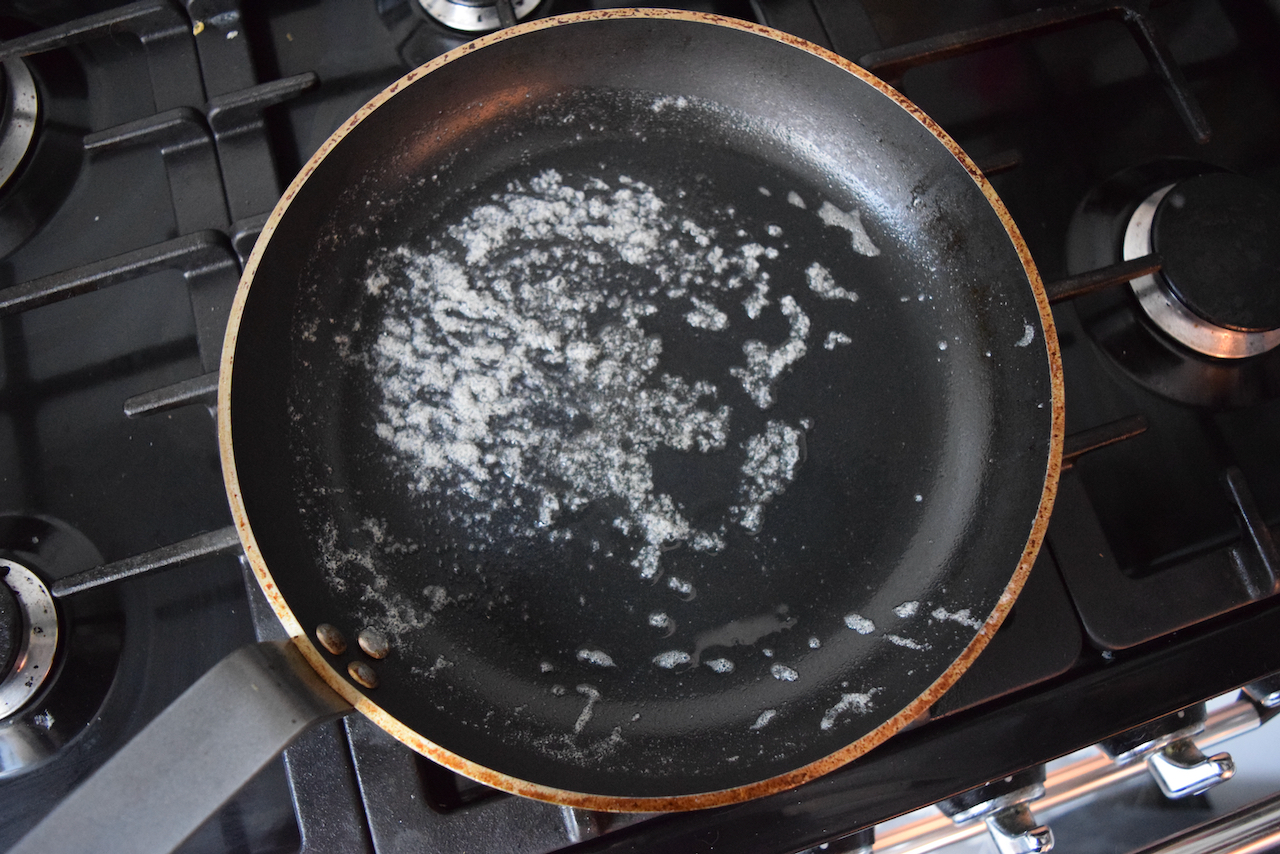 Add the sugar, eggs, peanut butter, vanilla, salt and baking powder to the melted butter and whisk until smooth.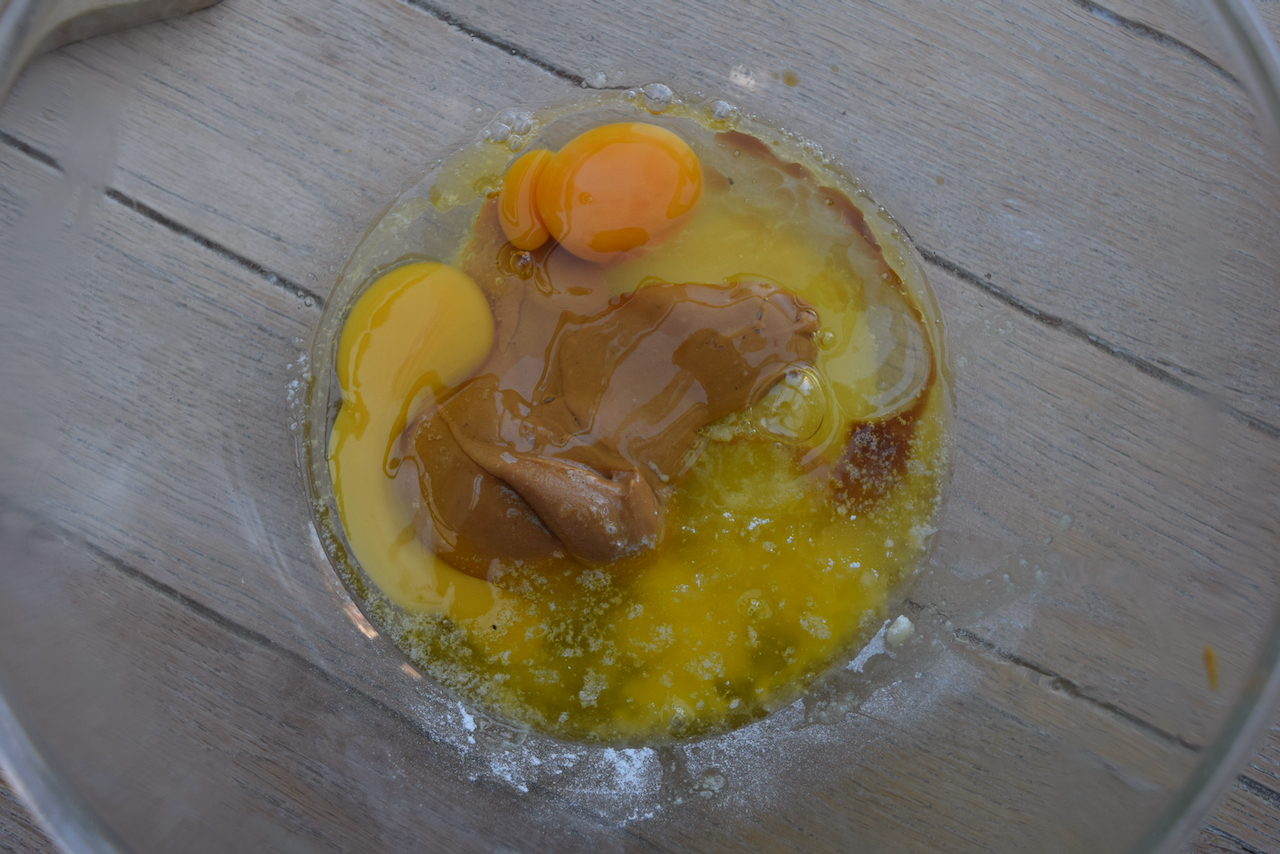 Gradually pour in the milk and whisk again until you have a thinner batter.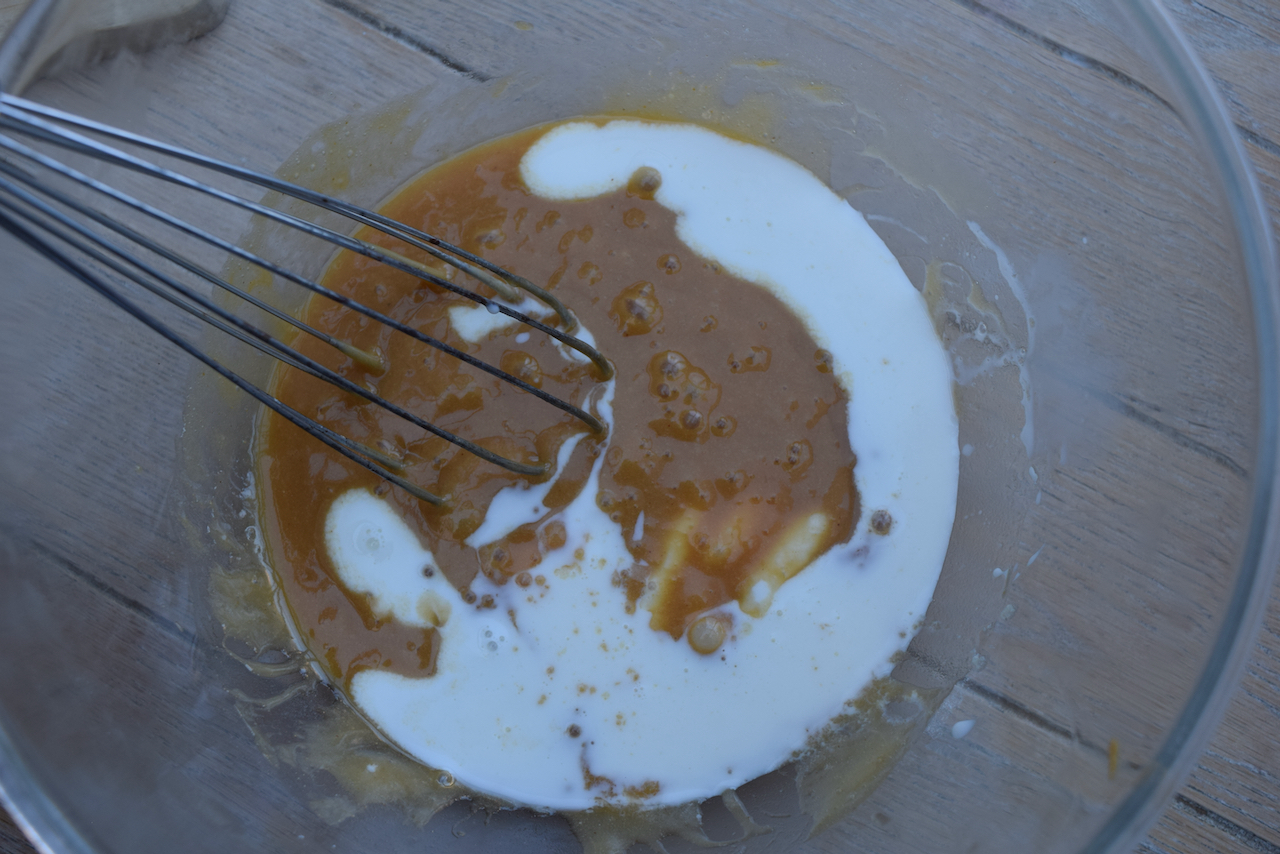 Finally, gently whisk in the plain flour, don't over work the batter, just mix until you can no longer see floury bits.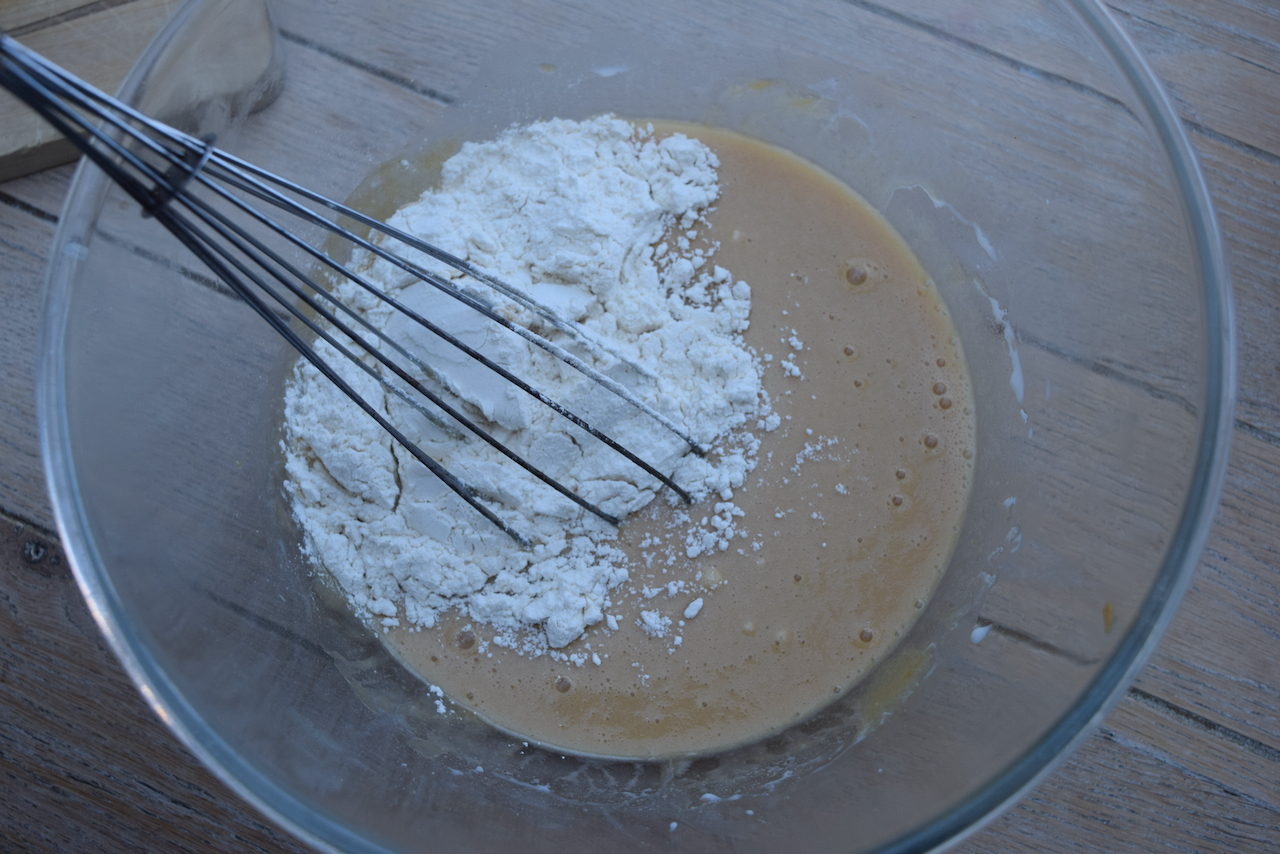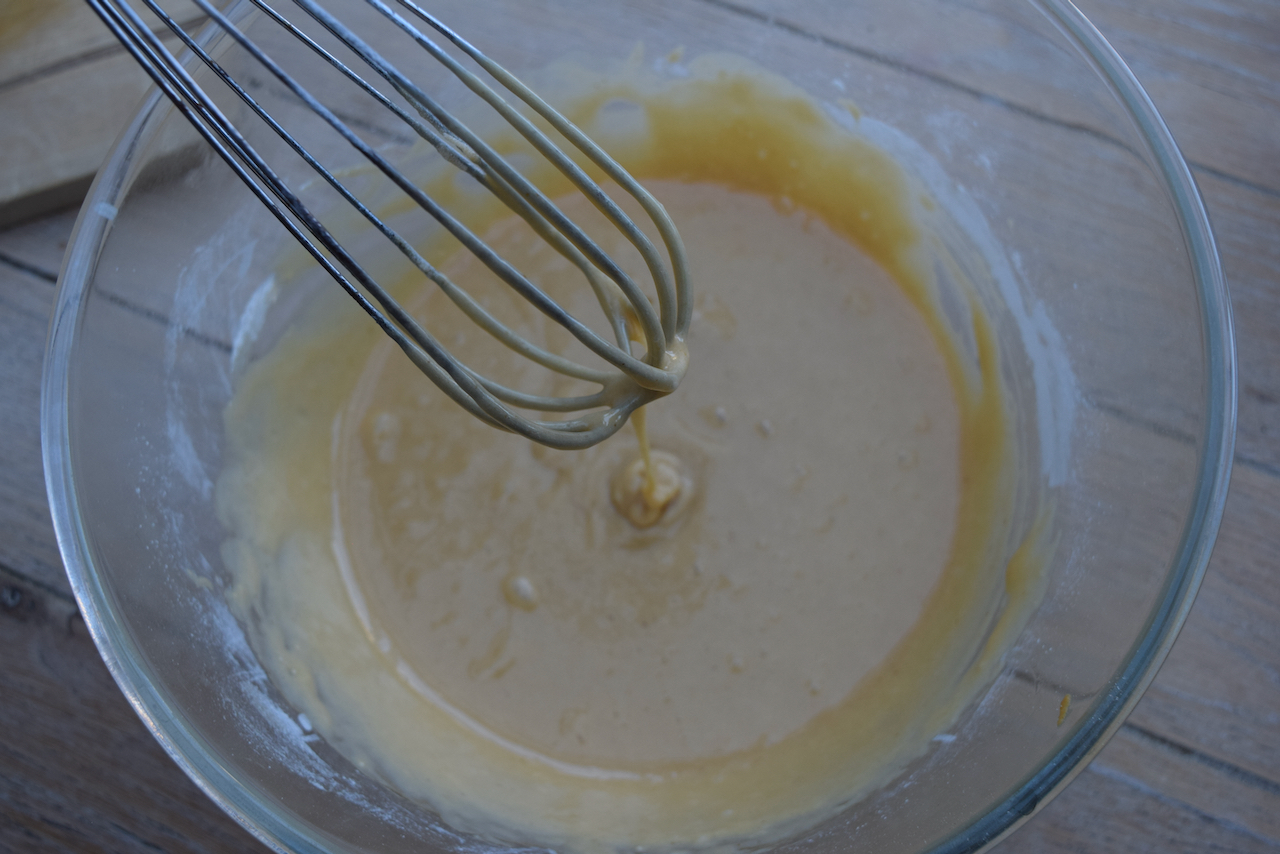 Put the pan back on a low to medium heat and add a tablespoon of oil to the buttery residue. Add dollops of batter to the sizzling pan; I used an American quarter cup measure of around 60ml but a heaped tablespoon or two would be just as good.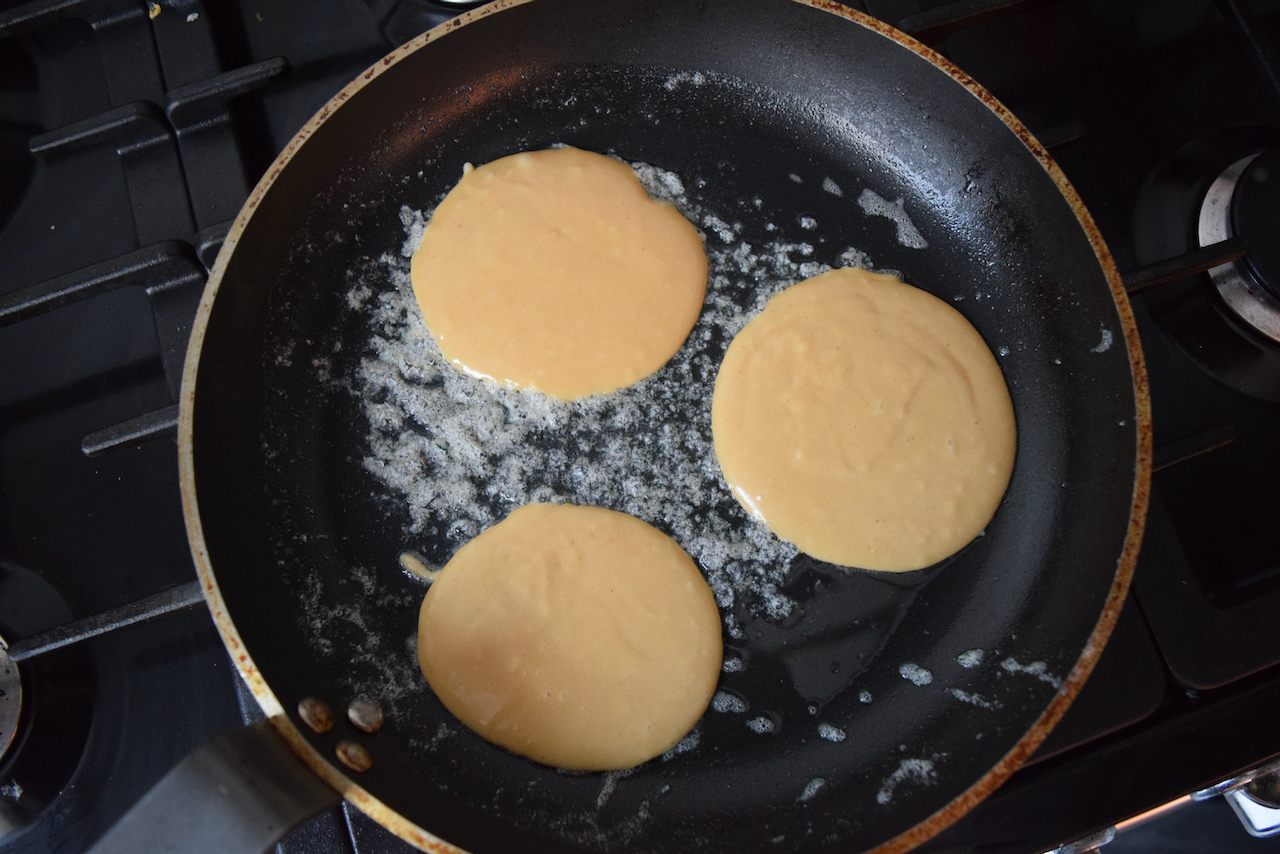 Flip the pancakes over once their bottoms are golden and the tops are bubbling a little. Cook the under sides until golden too and the pancake's puffed up a little.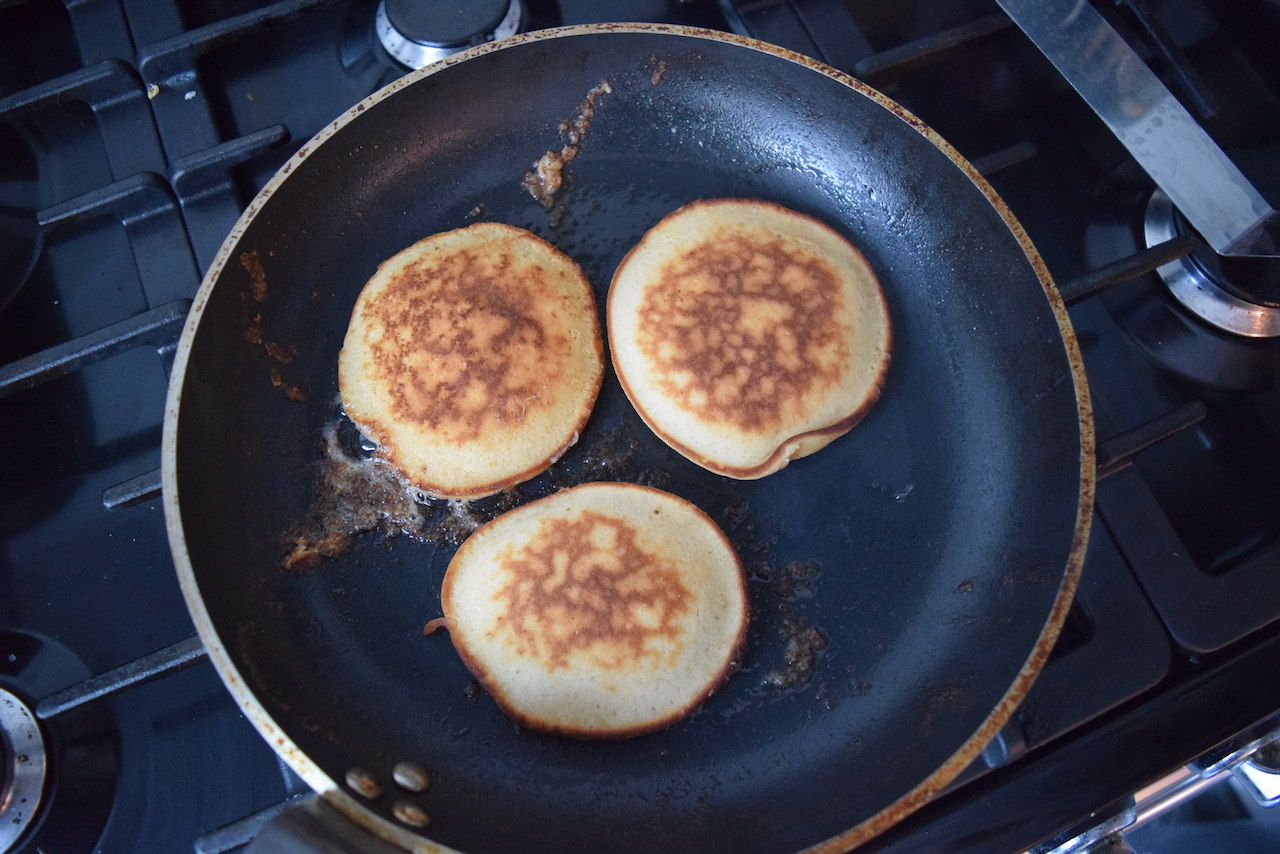 Pop your cooked pancakes on a baking tray and keep warm while you finish cooking off the whole batch. I made 12 pancakes, eating a few misshapes on the way.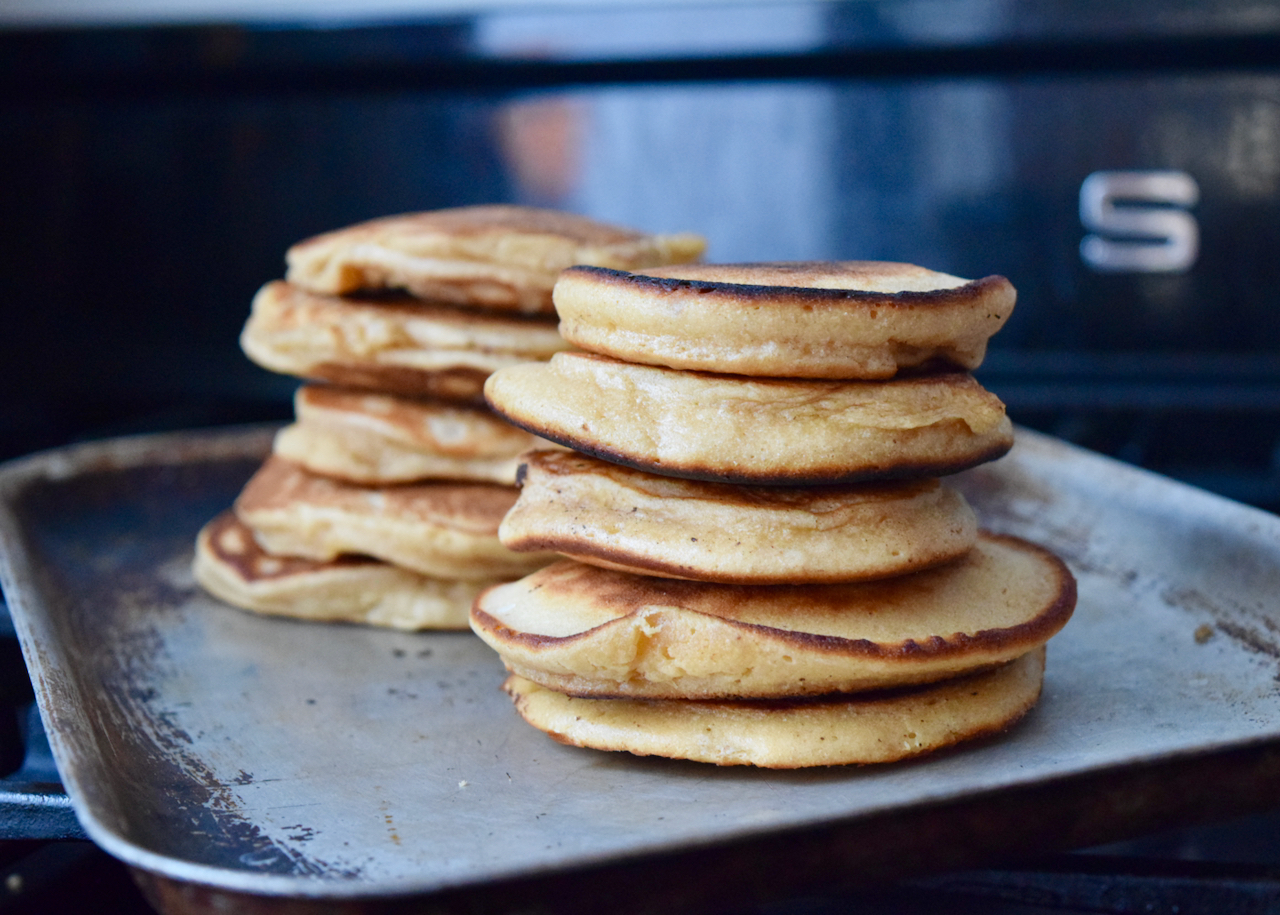 For the jam side of things, either in the microwave or in a small pan, gently heat the jam of your choice with a scant splash of water until it's warm and a thin enough to spoon over your pancakes. Then serve, spooned over your pancakes.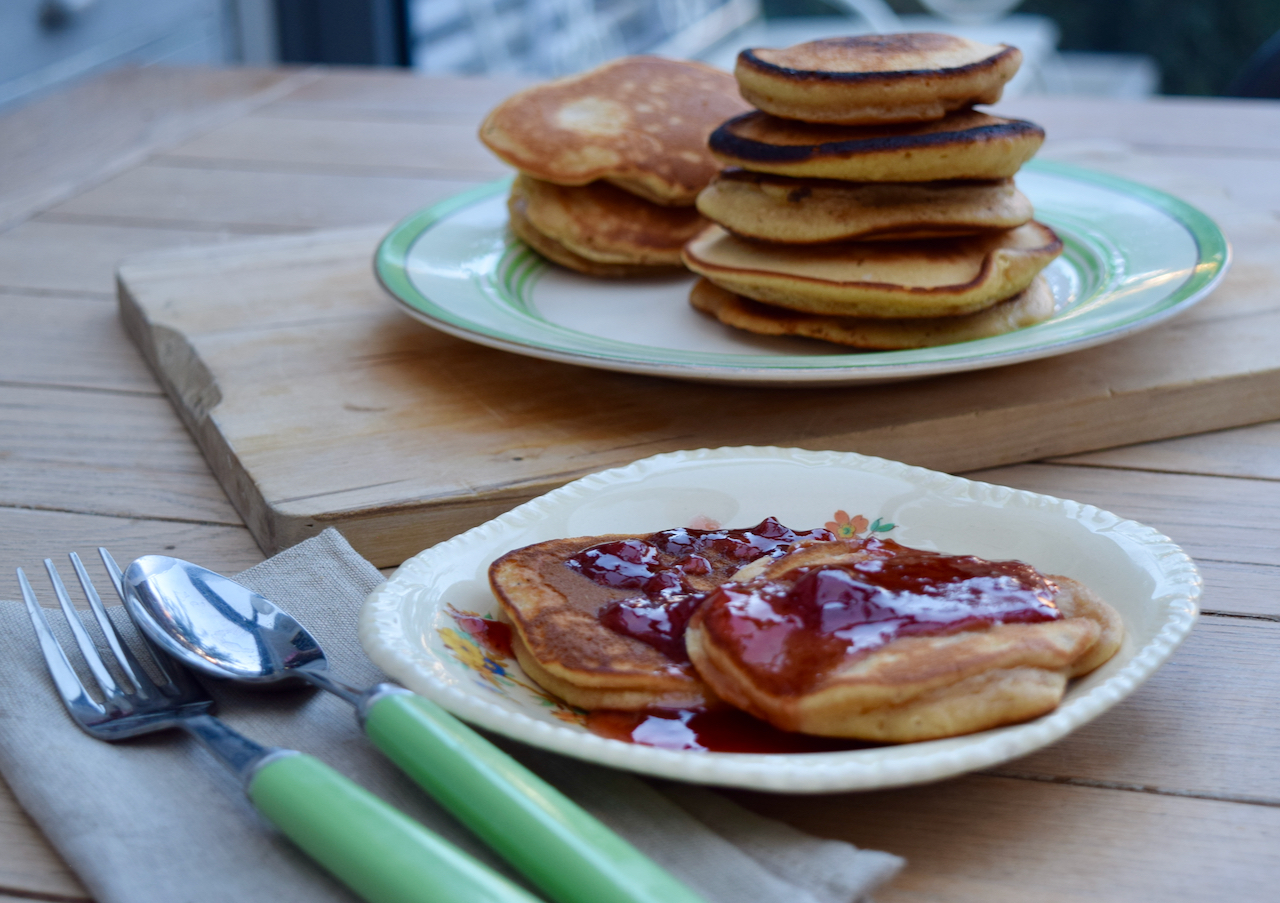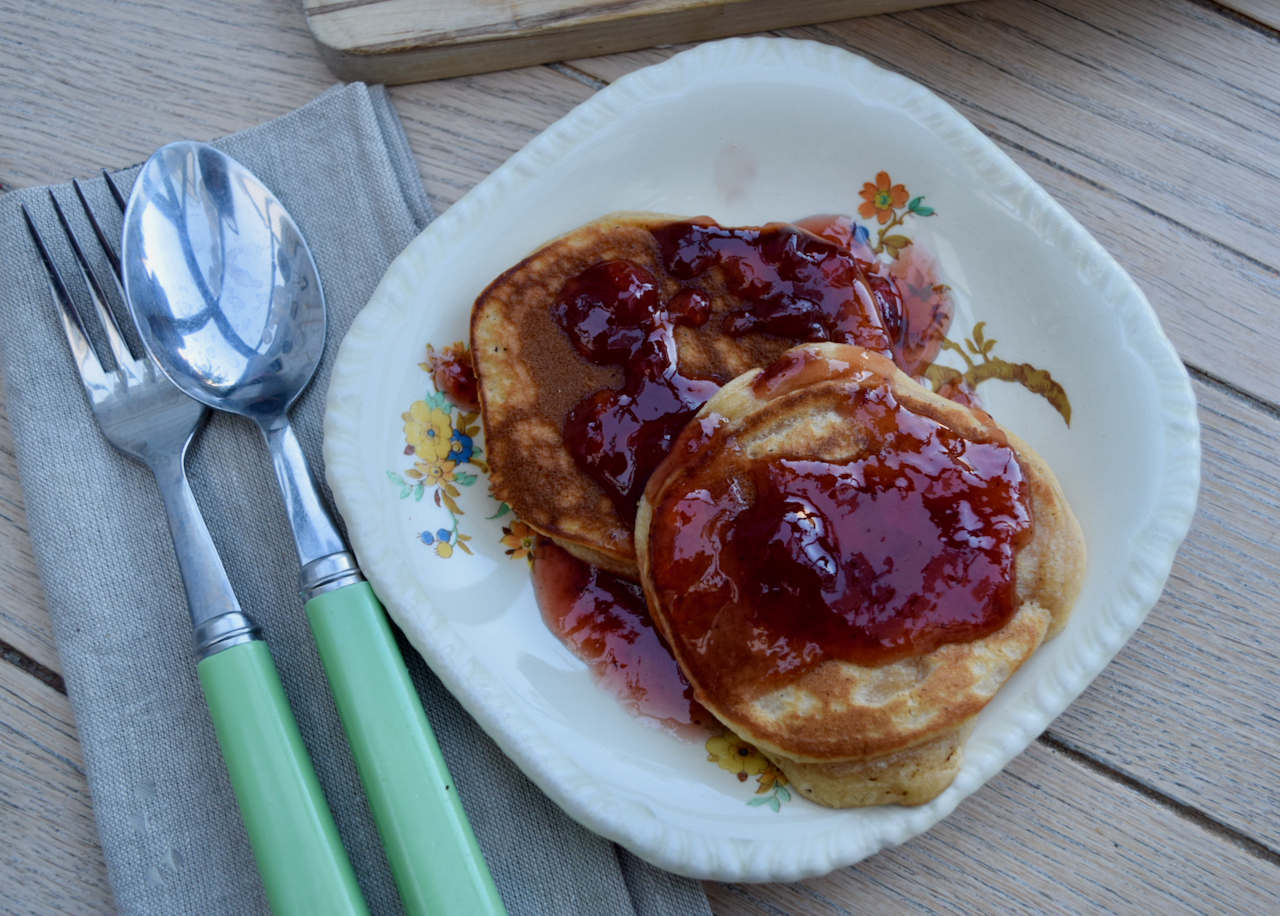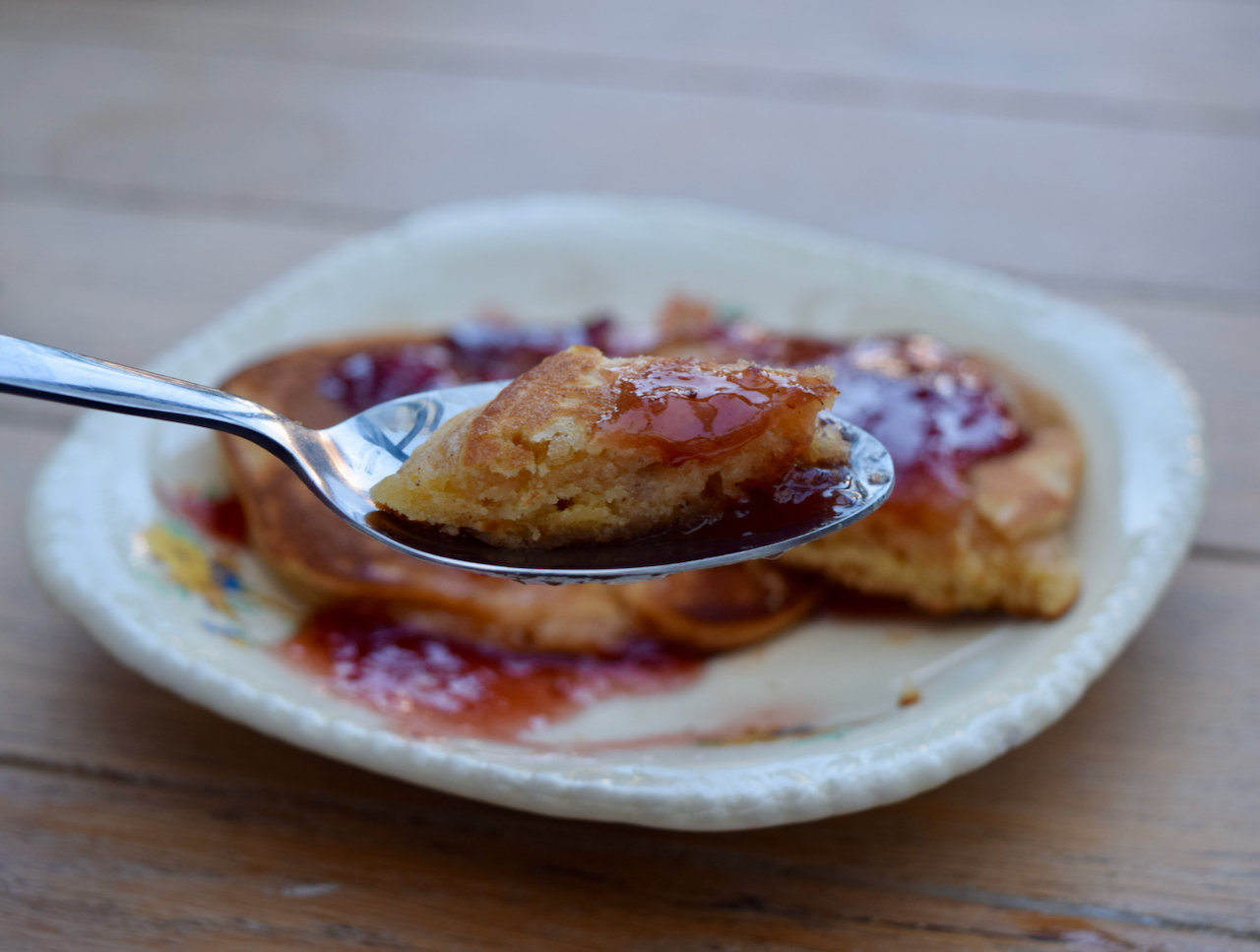 I love tradition on Shrove Tuesday as much as the next person, but there's always room for more than one pancake on my plate.
Lucy x
PB and J Pancakes recipe
Makes 10 to 12, size dependent
You will just need a bowl and a frying pan for this, hooray
65g butter
2 eggs
80g smooth peanut butter
50g caster sugar
2 eggs, room temperature
2 teaspoons baking powder
1 teaspoon vanilla extract
a good pinch salt
125ml milk
95g plain flour
Oil for frying, something flavourless
3 heaped tablespoons jam, flavour of your choice
Splash of water
Pre heat your oven to 100 degrees fan assisted, to keep your pancakes warm later.
Take a large non stick frying pan and heat over a medium high heat. Add the butter and melt briefly. Pour the melted butter into a large bowl then put the pan back to use later, without washing it.
Add the eggs, sugar, peanut butter, baking powder, salt and vanilla extract into the bowl with the melted butter and whisk until smooth. Gradually pour in the milk and whisk until you have a thin-ish batter. Fold in the flour, briefly, don't over mix, just until there's no longer any flour visible.
Put the frying pan you melted the butter in back over a medium heat along with a tablespoon of oil. Once hot, pour in around 60ml/an American 1/4 cup of peanut butter pancake batter into the pan and cook until bubbles are showing on the top of the pancake, then flip and cook on the other side until golden and puffed. Remove from the pan and keep warm whilst you finish off the rest of the pancake batter. You should have 10 to 12 pancakes in total.
For the jam sauce, heat the jam with a splash of water in the microwave or a small saucepan until hot and thinner in consistency. Serve the pancakes, piping hot, with a generous slather of the jam sauce. Any leftovers *unlikely* can be eaten cold over the next couple of days or reheated briefly in the oven/microwave.