Pasta with Broccoli, Lemon and Sausage Recipe
It's half term and I am in relaxed mode. The Bank Holiday meant I have caught up with myself, had a couple of lie-ins and had some lovely dog walks *gins at the pub* with Clyde. The boys are fairly self sufficient these days and I don't feel I need to lay on 24 hour a day entertainment for them during the holidays, but sadly, the holidays do mean vast amounts of food are being consumed.
When they're at home, the boys eat like horses. They get up late so breakfasts rolls into lunch, into constant snacking, then into supper followed by 'milk and biscuits' which is a final flourish the boys have invented as an excuse to shoe horn in an extra meal before bed. So, mealtime rambling aside, this week I am sharing my new favourite supper dish, Pasta with Broccoli, Lemon and Sausage. Ben is a prolific pasta eater, and would request it every night given half the chance. I am, therefore, on high alert to find new pasta recipes at all times. This new and simple dish is packed with flavours, one of which you should probably not bother to mention when serving this. The pasta contains a couple of finely chopped anchovies, which, if mentioned to my boys prior to them eating it, would have had them running for the hills. However, all these do is add a brilliant savoury edge to the dish which compliments the zesty lemon and the crisp sausage. Add some tender stem broccoli to cover one of your five day and this meal is quite the most tasty early summer supper. Ben proclaimed this to be the most delicious pasta he had ever eaten which is fair praise from the house King of Pasta eating.
In slightly stalker-ish fashion, this is another of the divine Martha Stewart's recipes, with thanks to her for the inspiration. Don't balk at the inclusion of a couple of anchovies, and don't leave them out, you can't taste them, they just serve to make this simple, quick pasta supper a new and great inclusion to your pasta cache. And if your family are anything like mine, you need as many pasta recipes as you can get your hands on.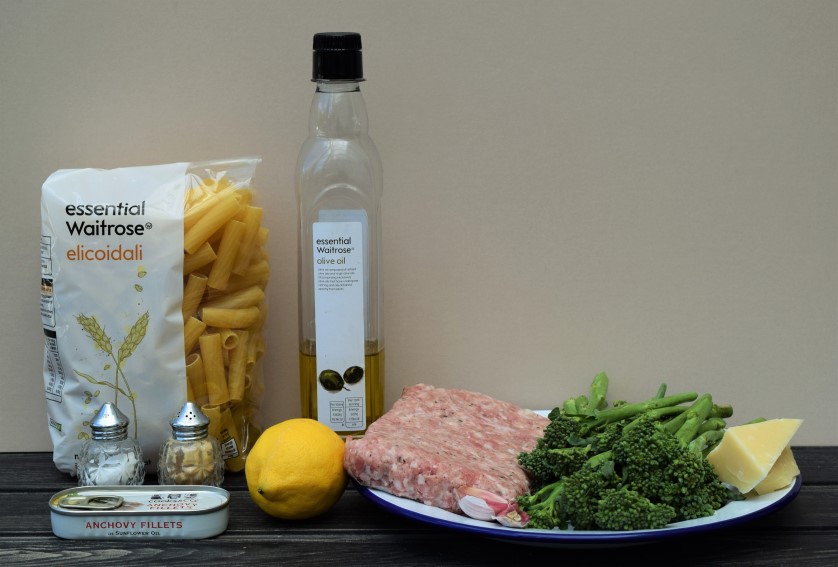 This is such a speedy recipe, blink and it's on the table. Nothing complicated in the line up either. I used my garlic infused olive oil, but use the most flavourful oil you have to hand. Pasta-wise, I used a tube shaped business, because I thought it looked good and rustic.
Make a start by heating a good sized frying pan and adding the sausage meat. I didn't add any additional oil as the sausage gives off plenty of oil itself.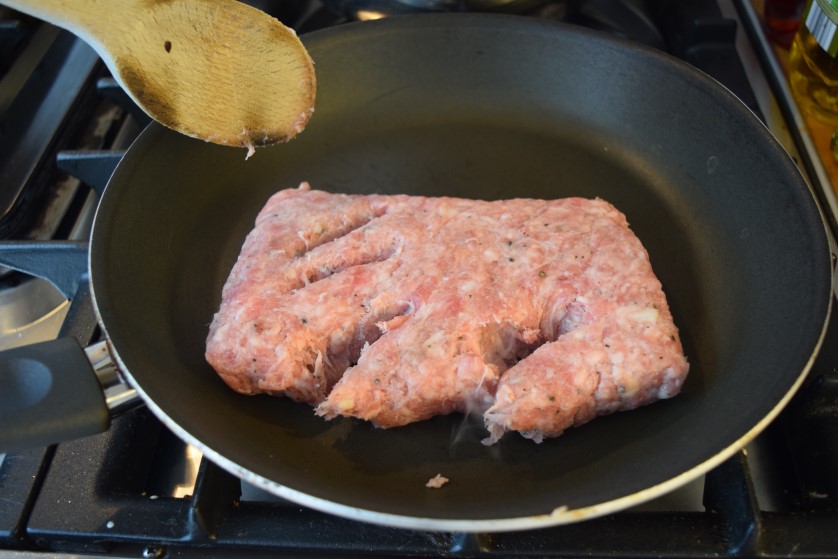 Break the sausage meat up into smaller pieces and sauté until cooked through and turning brown and crisp.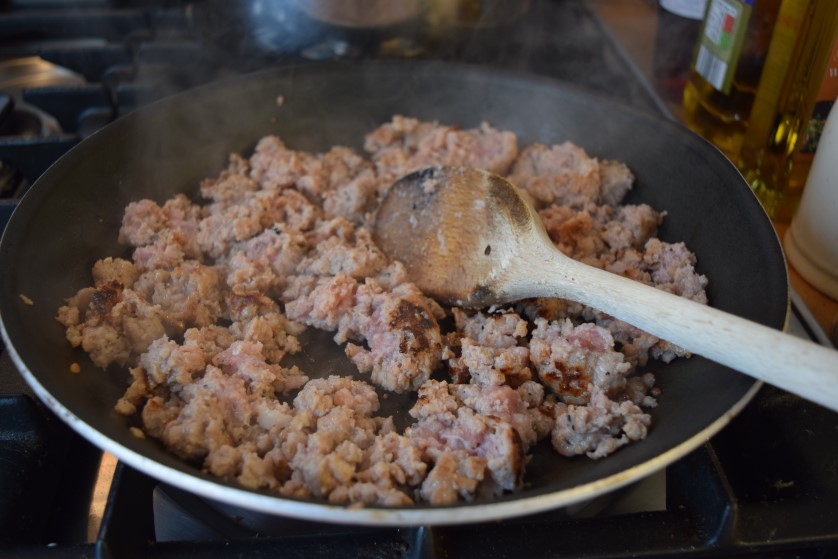 While this is happening put a large pan of salted, boiling water on the stove and cook your pasta choice according to the instructions on the packet.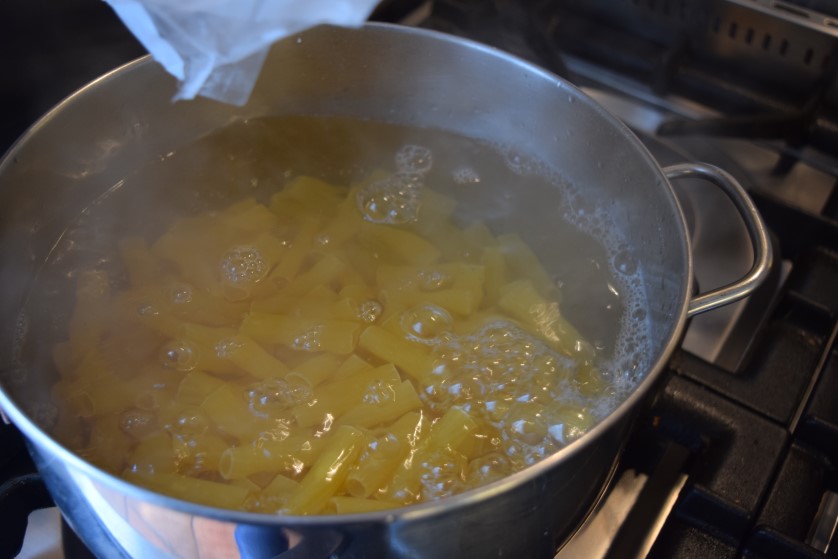 Two minutes before the pasta cooking time is up, pop the tender stem broccoli into the pasta pan to just cook through.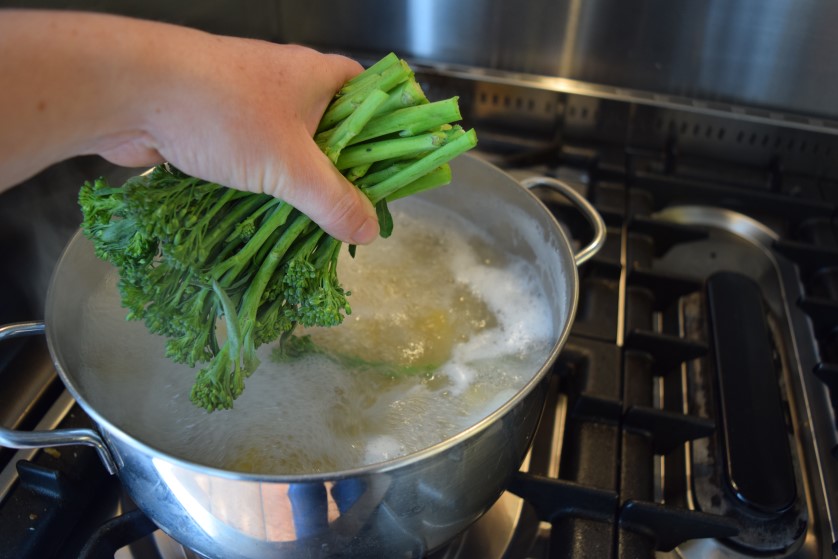 Before you drain the pasta and broccoli, remove a cup of the cooking water and keep for later.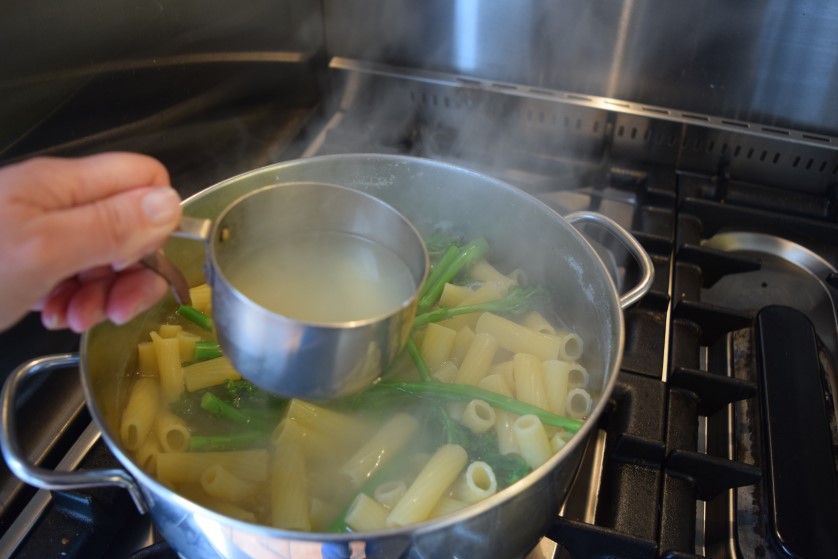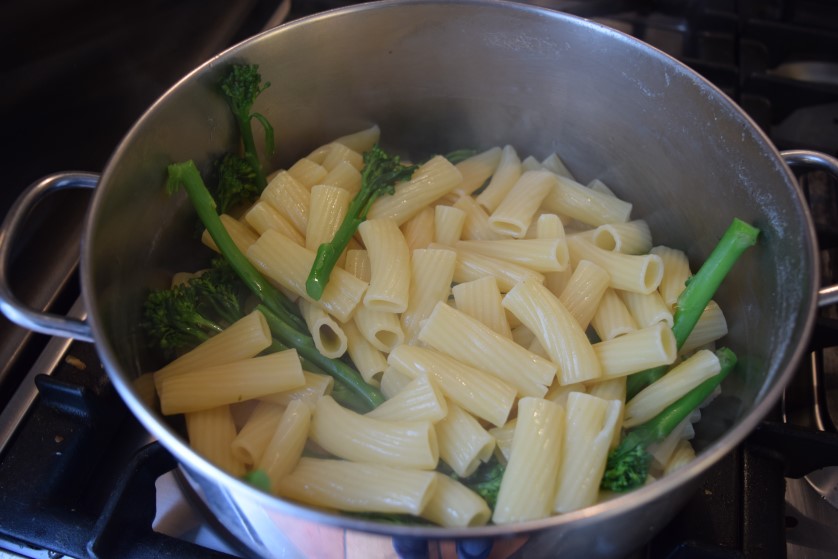 While the pasta's simmering crack on with the dressing. Mix your oil of choice with the crushed garlic cloves, lemon juice and zest.
Super finely chop the anchovy fillets and add these to the dressing along with some salt and black pepper.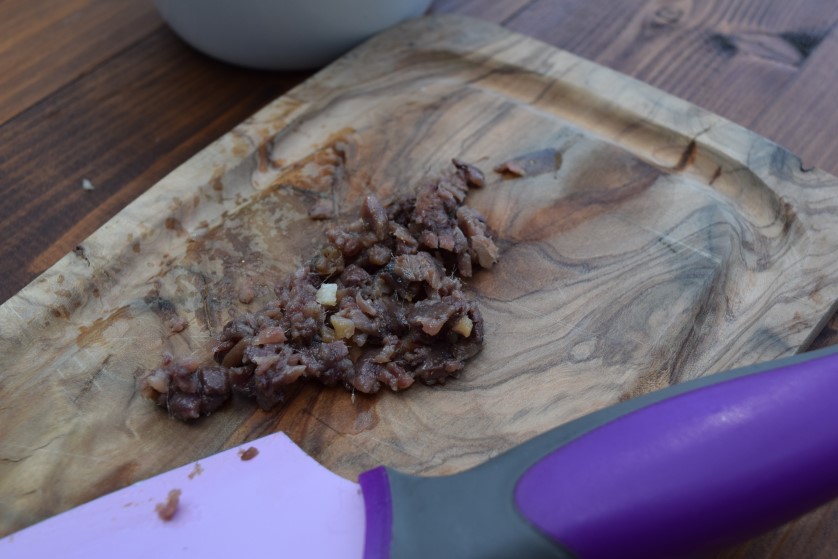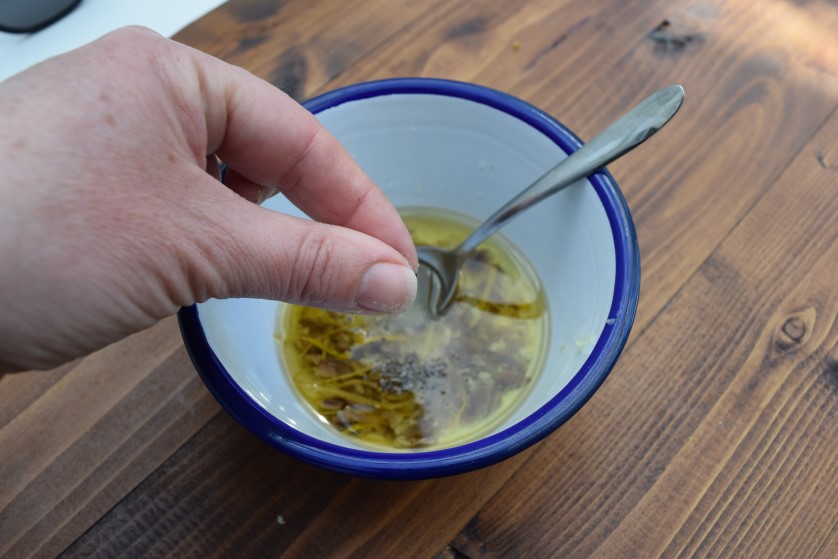 Now it's time to assemble this wonderful, savoury pasta dish. Tip the hot, drained pasta and broccoli back into the sauce pan and stir through the sausage meat.
Stir in the lemon and anchovy laced sauce and then an additional splash of the pasta cooking water just to loosen the whole dish up.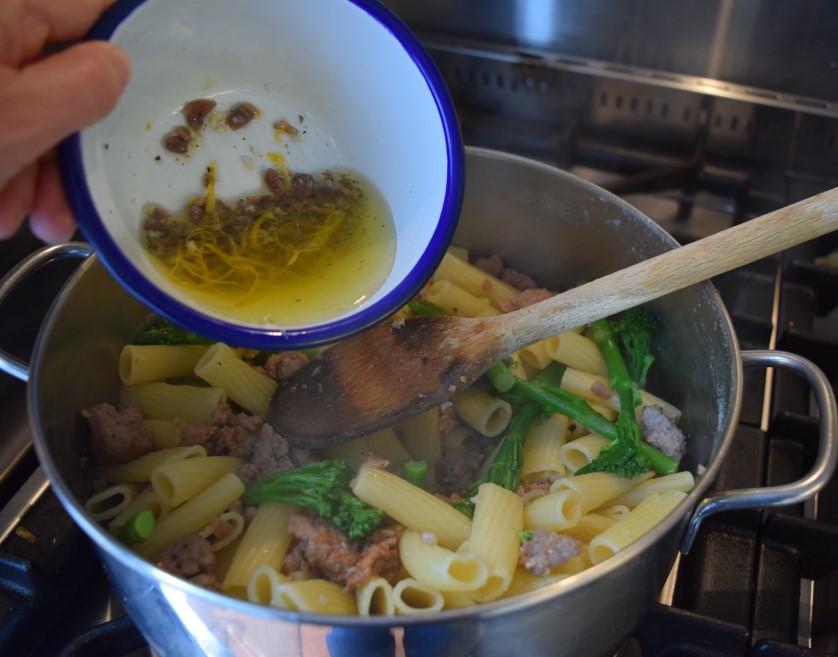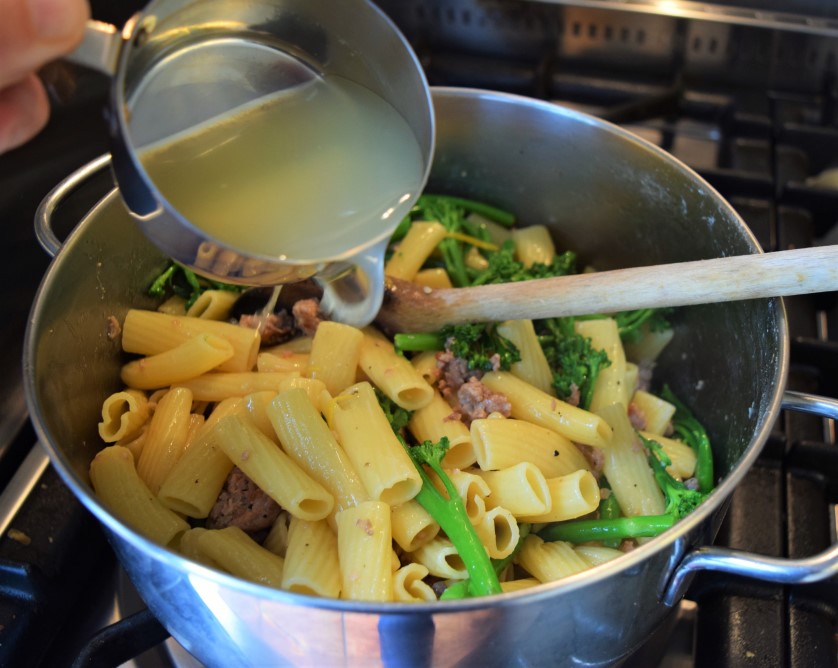 Serve this simple, rustic fodder, piping hot, sprinkled with freshly grated parmesan in large bowlfuls. Be prepared to serve seconds.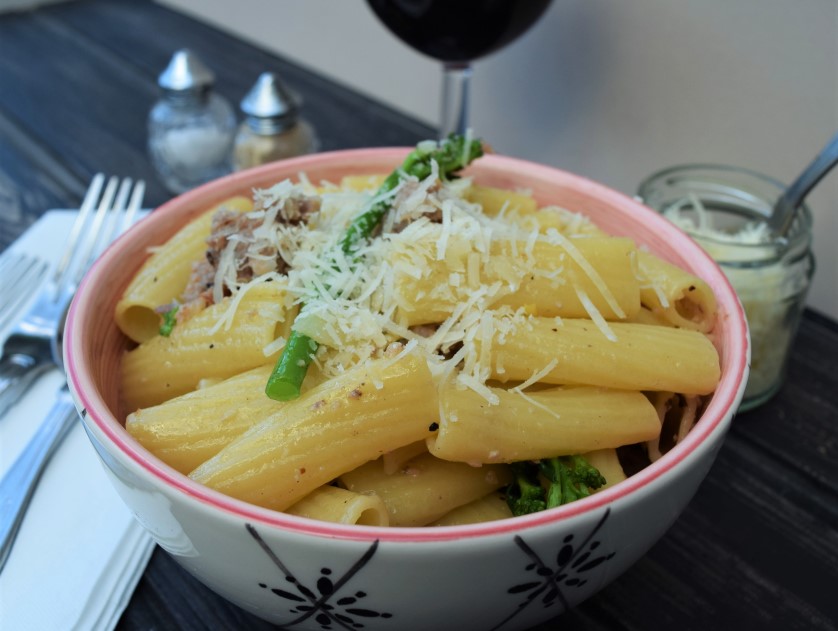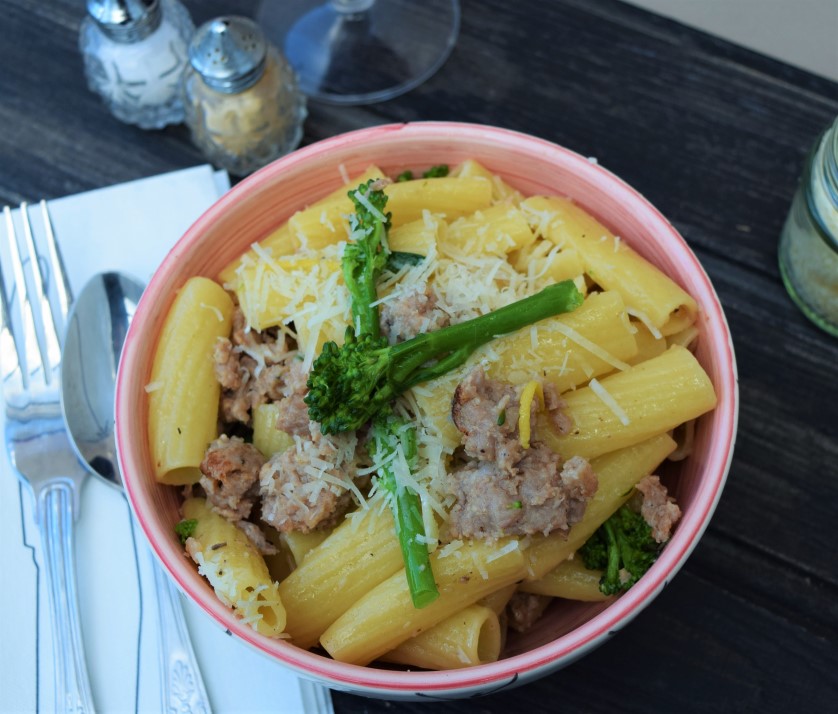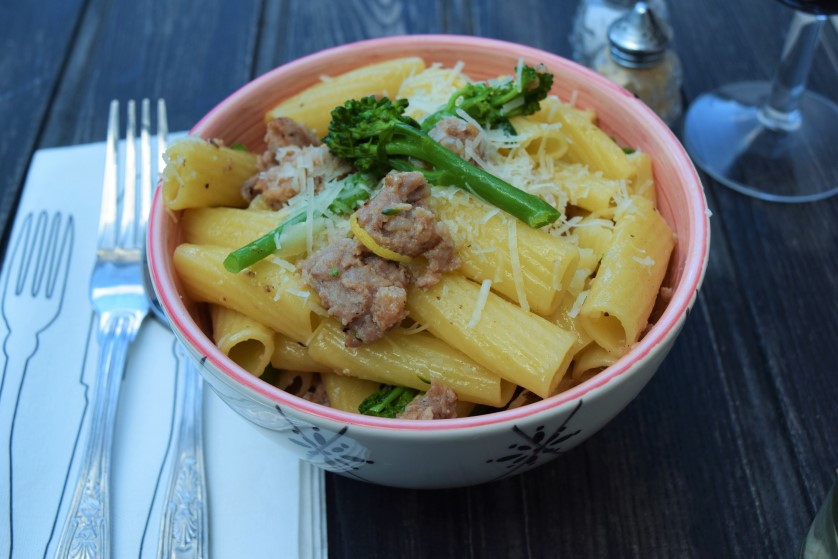 We all inhaled this dish and not even George spotted the anchovy inclusion. I am so excited to have found this piquant pasta supper, because a) I need to get out more and not spend my whole life on Pinterest and b) we get through so much pasta at Chez Lucy Loves, finding a new and original way to serve it is a total bonus. Enjoy this wonderful fresh summer flavoured dish.
Lucy x
Pasta with Broccoli, Lemon and Sausage Recipe
Serves 3 to 4, hunger dependent
You will need no exciting equipment
400g pasta, I chose Rigatoni
approx 200g broccoli, the tender stem variety is good here
60ml olive oil, extra virgin or something flavoursome
2 cloves garlic, crushed
grated zest of a whole lemon and the juice of half a lemon
4 anchovies, finely chopped
400g to 500g sausage meat, or sausages with the skins removed
salt and pepper
Freshly grated parmesan in generous quantities to serve
Make a start by heating a frying pan and adding your sausage meat, there should be no need for any additional oil. Break the meat down into smaller pieces and cook until there are some lovely crispy bits and the meat is cooked through.
Put the pasta on to cook in a large pan of boiling salted water according to the cooking instructions. Two minutes before the cooking time is up, throw in the broccoli to just cook through. Carefully remove a cup of the cooking water then drain the pasta and broccoli.
While the pasta it cooking prepare the dressing. Pour the olive oil into a small bowl and add the lemon juice and zest. Stir in the crushed garlic then add the chopped anchovies. Season well with salt and pepper.
To assemble this dish tip the pasta and broccoli back into the saucepan. Stir in the cooked sausage and lemon dressing with a splash of the pasta cooking water, then check for any additional seasoning. Serve piping hot with a good covering of parmesan if you are that way inclined.