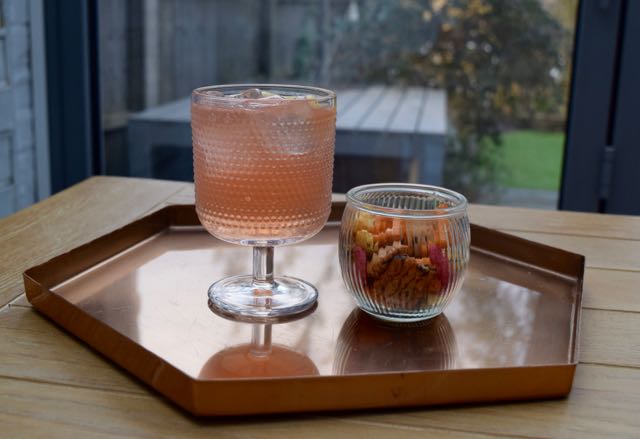 Rhubarb Gin for Springtime
I rather over did it on rhubarb some years ago when I was on a low sugar diet. The only fruit I was allowed was rhubarb because it is actually a vegetable not a fruit. That was a while ago, however, so I was willing to revisit rhubarb, especially where gin was involved. Several friends mentioned they had been given Rhubarb Gin for Christmas so I decided I would fashion my own, and thanks to Scarlett Pyjamas, I did just that.
The thing I love most about this Rhubarb gin is the colour. The pale pinkness is just so beautiful and fresh, mirroring the light fruit flavour from the rhubarb. I didn't go too heavy handed on the sugar, the best way is to add extra, if needed, once your gin has matured. This is so simple to make, no pre soaking, just a bit of mild chopping, shaking and then the bloody waiting, which I have to say is somewhat torturous. But, it's only two weeks, not the end of the world, then the pale pink gin based rewards are plentiful. The gin retains it's flavour but has the tang and fruitfulness from the rhubarb which is ready to be served with the mixer of your choice. I went for a Rhubarb Gin and Ginger, simple, elegant, nothing like me.
Choose a tasty gin for your Rhubarb Gin, if you start with plenty of lovely flavour, the fruit will just enhance this. I had some fragrant London Gin from Aldi, which I think has the balls of a gin twice it's price. Since the success of my Sloe Gin, I am all over the infused spirits. I feel I could go into a new line of business if only I wasn't such a boozer and wanted to drink it all myself. Watch this space for more seasonal tipples.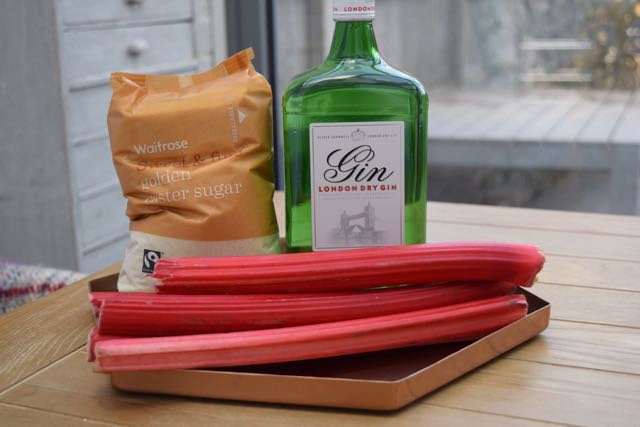 A lovely simple selection of just 3 items, and even then I managed to forget the lemon. Well done me, just pretend it's behind the rhubarb.
Make a start with a lovely clean, big jar. Then chop up the pretty in pink rhubarb and drop it into the jar.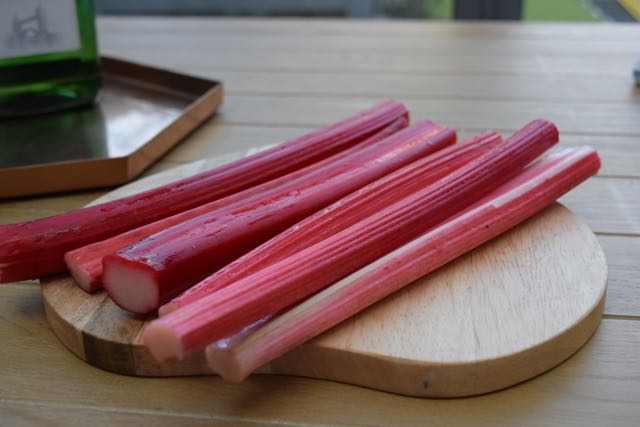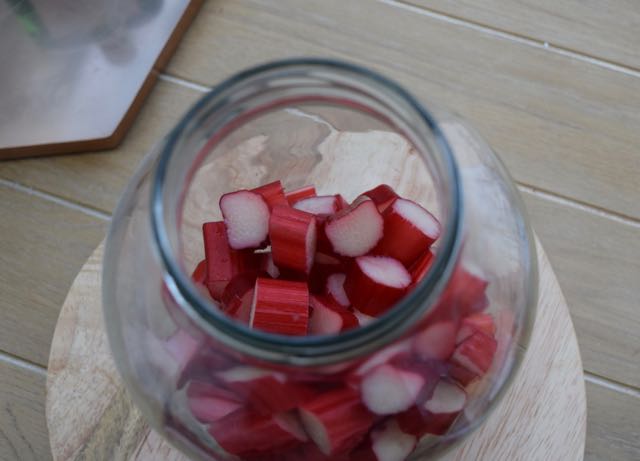 Next, squeeze in the lemon juice and then tip in the sugar. The best thing to do here is err on the less is more with the sugar, you can always add more once the gin has matured.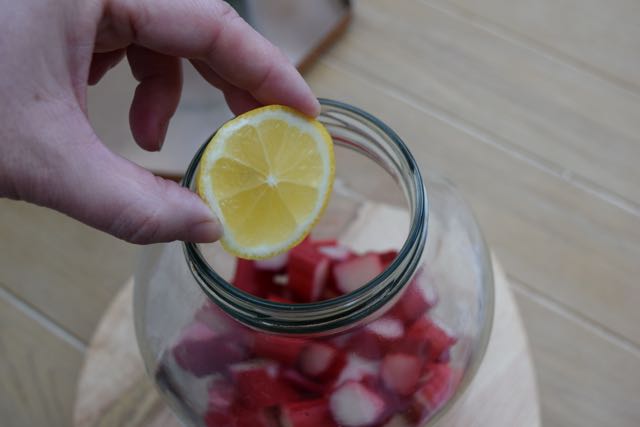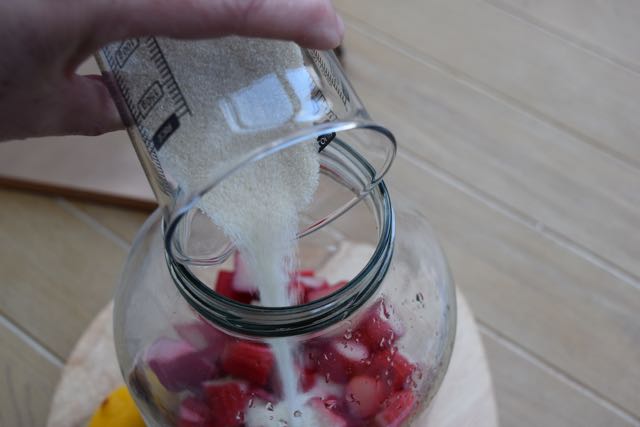 Give the jar a shake to cover all the rhubarb in the sugar. Then pour in the delicious gin of your choice.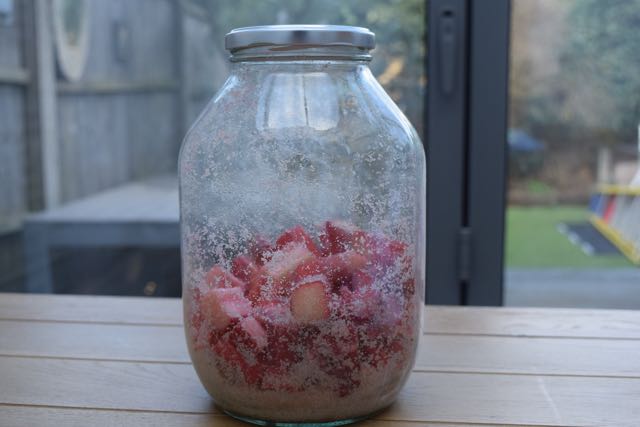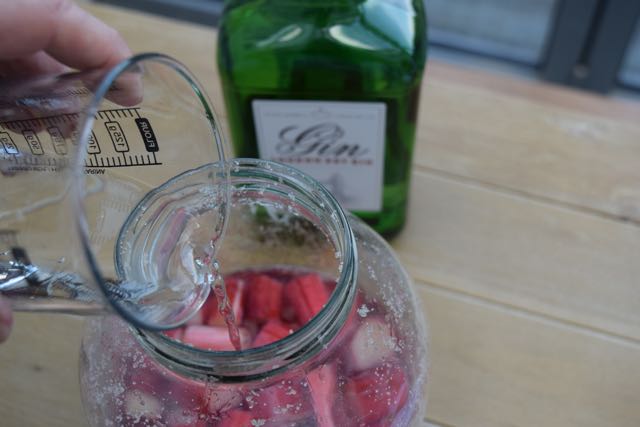 Secure the lid, tightly, as you don't want to spill any precious gin, then give it another almighty shake. Then pop somewhere cool for two whole long weeks, shaking every couple of days to ensure it's well blended.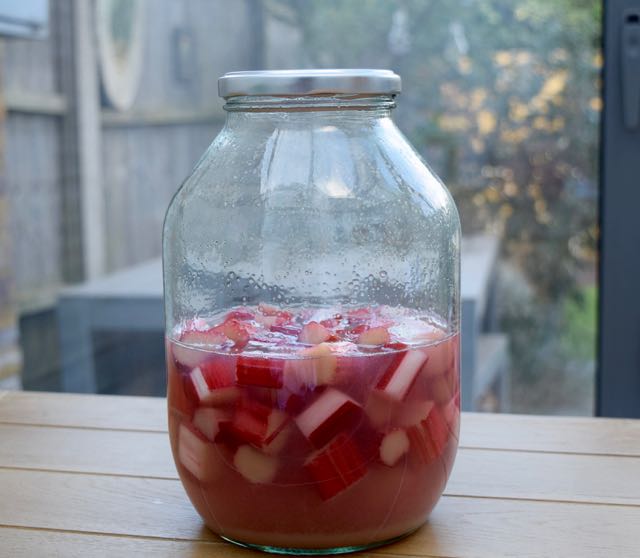 This is as pretty as a picture.
After two long weeks, strain the gin through a fine sieve then have a little taste *no hardship there*. If it needs more sugar, stir through another teaspoon or two depending on your taste. Mine was fine without any extra, but it all depends on your rhubarb.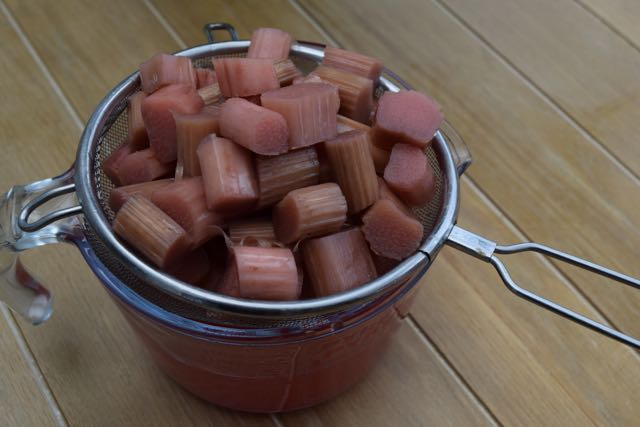 Discard the rhubarb, then decant the colourful Rhubarb gin into a litre bottle, or two smaller ones if you would like to give as gifts.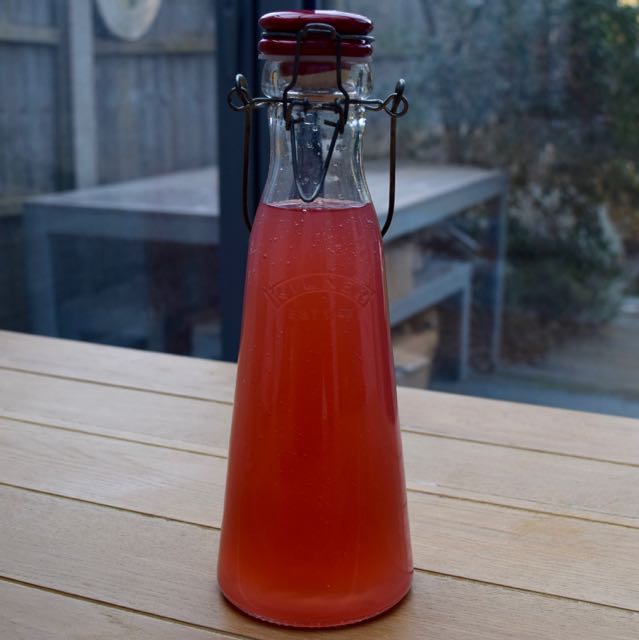 For the Rhubarb Gin and Ginger, add a good shot of the gin into a tumbler full of ice.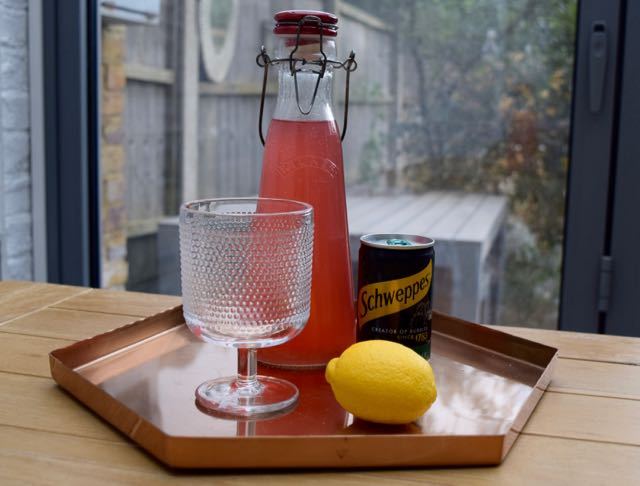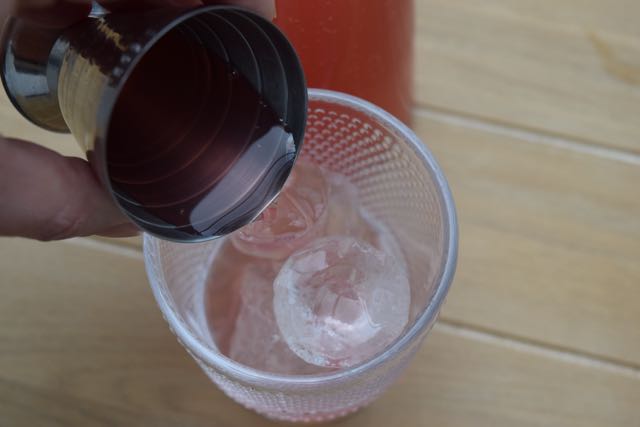 Pop in a squeeze of fresh lemon juice then top up with chilled ginger ale.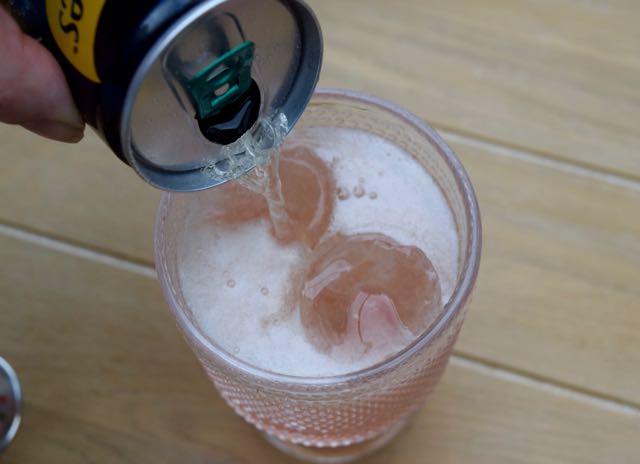 Garnish with a slice of lemon and enjoy every drop.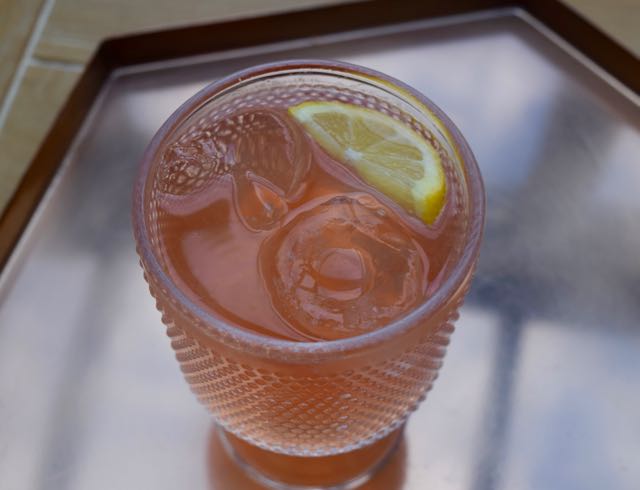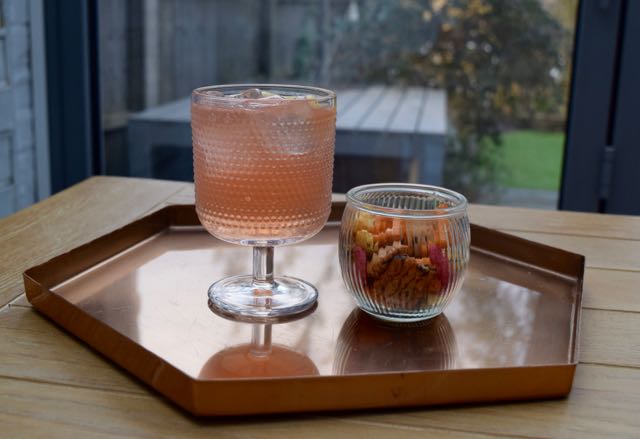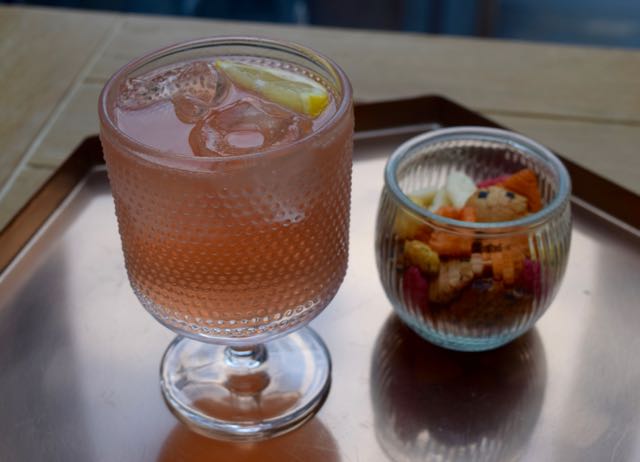 Mother's Day is a couple of weeks away, so I don't think it's too early to start thinking about potential gifts. This Rhubarb Gin is beautiful and I think would be loved by any gin loving Mother in your life. However, don't be too hasty to give it away, it's so drinkable, you may want it all for yourself. She'll also love a nice box of Lindor, I am sure.
Lucy x
Aldi kindly sent me the gin featured in this post, however, all opinions and ramblings are, as always, my own.
Rhubarb Gin for Springtime
Makes around 800ml
You will need a large jar and nothing else exciting
Rhubarb Gin
400g Rhubarb
75g sugar, you may need a little extra once the gin is ready
juice of half a lemon
70cl gin
Rhubarb Gin and Ginger
Ice
40ml Rhubarb Gin
a squeeze fresh lemon juice
100ml ginger ale
Slice of lemon to garnish
Take a large jar, clean well. Chop up the rhubarb into inch long pieces and tip into the jar. Follow in with the sugar and the squeeze of lemon juice. Give the jar a good shake and ensure the rhubarb is coated in the sugar.
Pour the gin into the jar and shake again. Leave to sit somewhere cool for two weeks, shaking every two or three days.
When the two weeks is up, strain the pale pink gin through a fine sieve into a large jug. Have a little taste then stir in another teaspoon of sugar or two if you think it's needed. Store in a sterilised bottle in a cool place.
For the Gin and Ginger, pour the gin into an ice filled tumbler. Squeeze in the fresh lemon juice then top up with ginger ale. Stir then garnish with a slice of lemon. Sip and love.