Salmon Coulibiac Recipe
Sometimes all the fun and excitement can go out of Christmas. All the shopping, squabbling, shopping, lists, illness, by the time you get to the big day itself you are on your bloody knees. This week is one of those weeks, it's been bad news all the way and I am struggling to even raise a smile for I Believe in Father Christmas by Greg Lake. George is poorly, work chaos with an ill timed office move and if I have any more correspondence regarding our appalling finances, I will cancel Christmas next year. So, I am trying to muster some Christmas spirit, rather than drink it, in order to at least manage a smile between now and the 25th. One thing that does always bring a smile to my miserable, saggy face is a brilliant recipe, so thank God for Delia Smith and her, and now my, Salmon Coulibiac.
I have had this recipe on my to-do list for years, having always been a huge Delia fan, and owning most of her finest cookery books. I love her, even though she is very tight on portion control and I feel I do need to either double her recipes or take into account Delia's family clearly aren't as greedy as mine. This Salmon Coulibiac is a salmon, rice and egg dish of Russian origins. These delicious ingredients are mixed together with dill, parsley, onions and the option of mushrooms, if your family aren't phobic about them *George*.  Wrap this little lot in crisp puff pastry and the result is a beautiful dish, worthy of any Christmas Eve table. Christmas Eve is a special evening in our family. We love to all eat together and I like to make a bit of drama over the food. This Salmon Coulibiac isn't a drama, but when everyone sees how wonderful it looks, they'll think you've been in the kitchen all day forking this up.
I really do need to chipper up a bit and try and feel more festive. Once work has finished this week and I get to spend some quiet time in the kitchen, just me, the Carols from Kings on Spotify and a glass of something warming, I am hoping I may find my sense of humour. Fingers crossed, especially if you are in my family and don't want to have to sit through lunch with me and my face like a smacked arse.
A lovely simple line up for this really rather impressive dish. This isn't complicated there are just several stages of deliciousness to it. And butter, I forgot the bloody butter. As this post goes on you will realise the day I photographed this recipe wasn't my finest blogging day.
Make a start on this elegant dish by cooking the rice. Melt 50g of the butter in a lidded pan and then stir through the rice. Pour on the stock, bring up to the simmer, turn down the heat, then pop a lid on and cook for just 15 minutes. While you're at it, pre heat the oven to 170 degrees.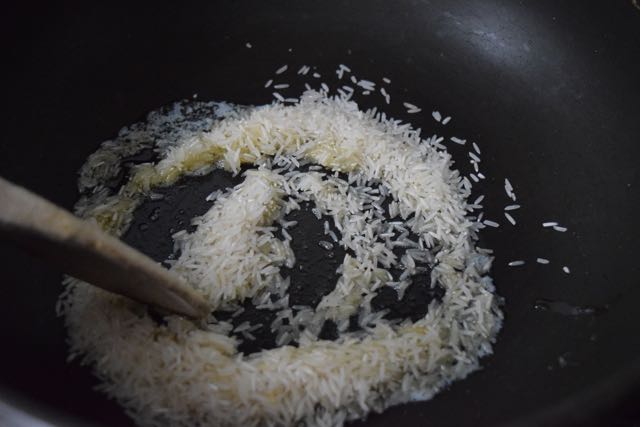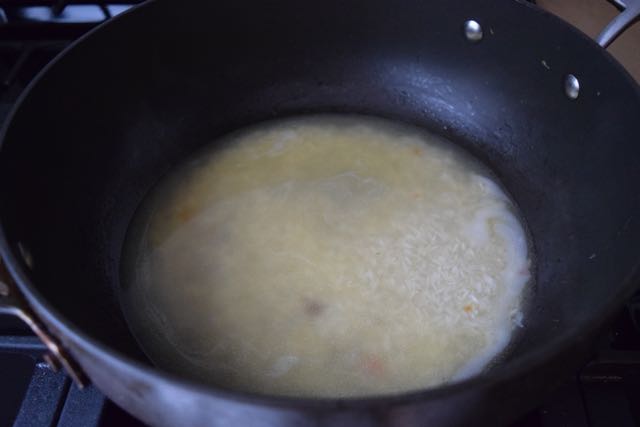 Once the rice cooking time is up, remove the lid, stir and allow to cool.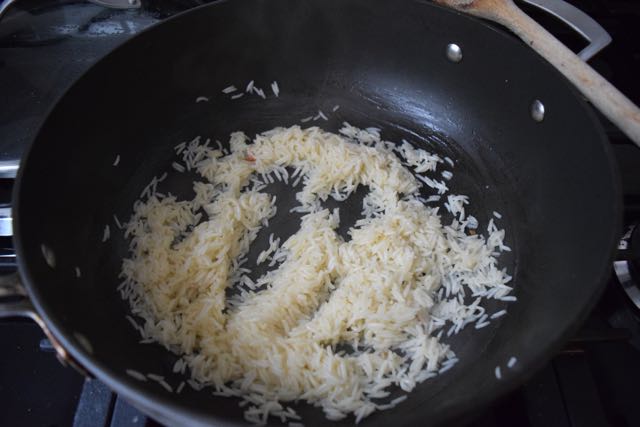 While this is cooking, cook the two eggs until hard boiled, I always work on 6-7 minutes once the water is boiling makes for a good egg.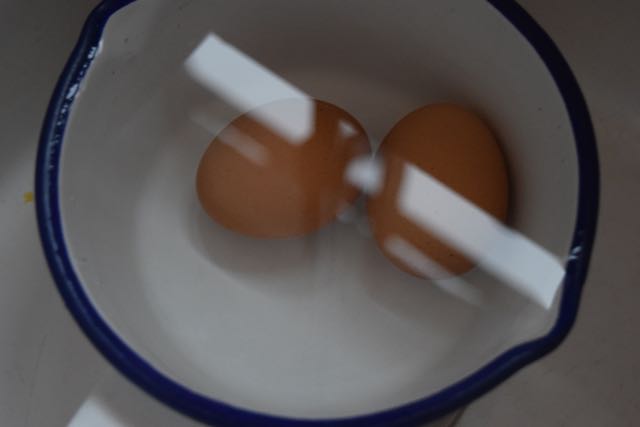 Once cooked, cool quickly in cold water then peel and roughly chop.
To cook the salmon, season your fish well then lay on a piece of buttered or oiled foil, big enough to cover the fish. Season well with salt and pepper then wrap the salmon up in a sort of parcel affair.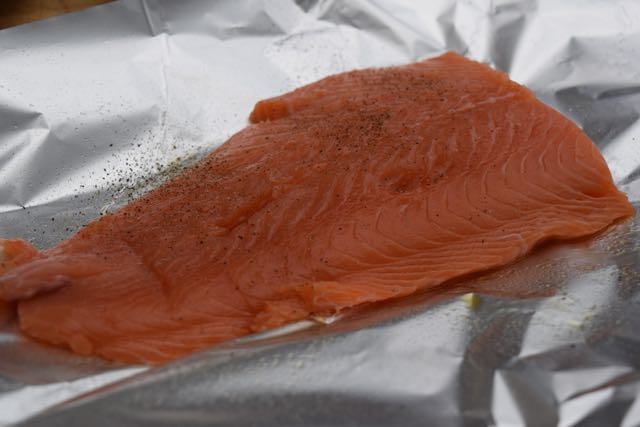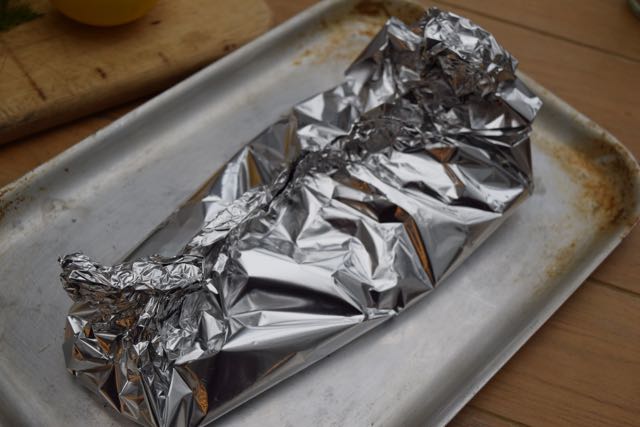 Cook for 10 minutes in the pre heated oven, you don't want it to be totally cooked through, just enough to flake nicely. Once the time's up, open up the parcel and allow to cool while you crack on.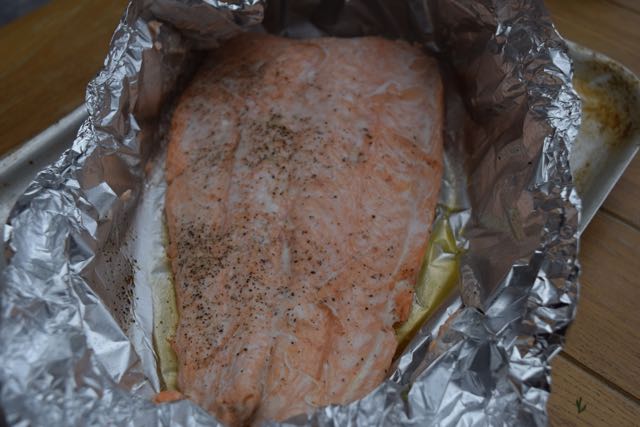 While the fish and rice are cooling, take the final 25g of butter and melt it in a small frying pan. Once sizzling, add the chopped onion and cook for around 10 minutes or until softened.
Next into the pan goes your chopped mushrooms, if you're using them. I sneaked them into my Coulibiac, but then George preceded to pick them out of the finished dish, so it's up to you. Add half the chopped fresh dill too.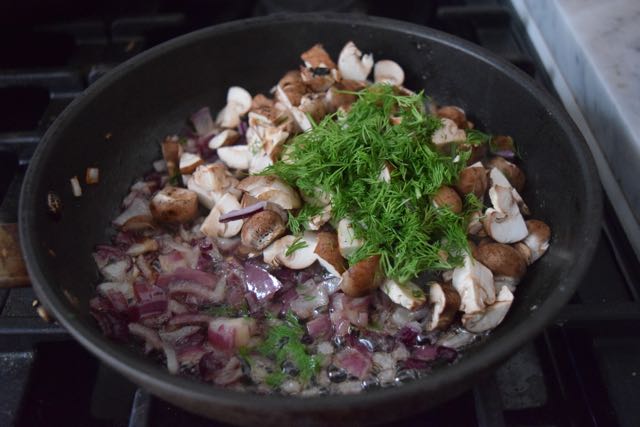 Cook for another 5 minutes then remove from the heat. Stir through the zest and juice of the lemon, season to taste then leave to cool.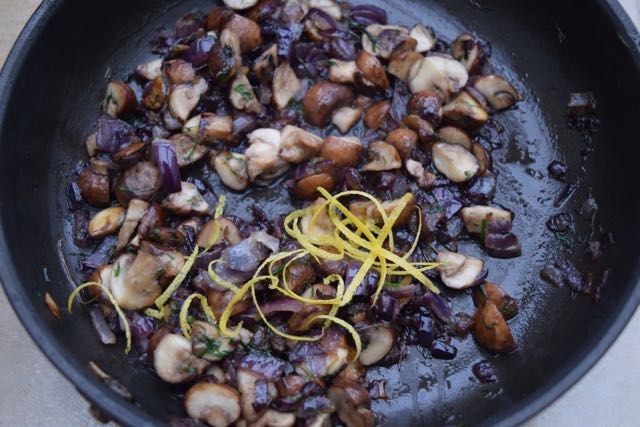 Now it's time for some mixing and some assembling. Take the salmon and place in a mixing bowl. Flake lightly then stir in the chopped eggs, the rest of the dill and half the chopped parsley.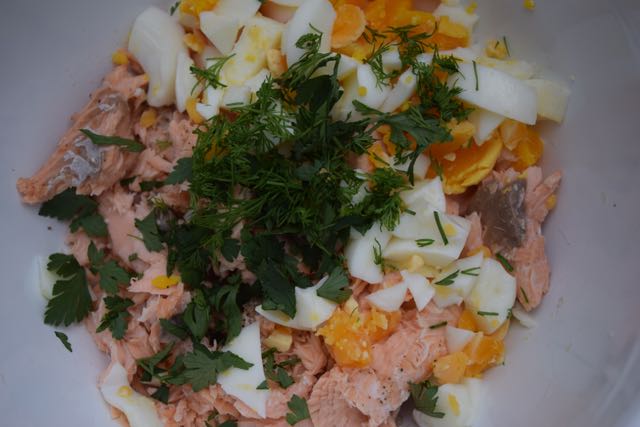 Stir this together, gently, so it doesn't turn to mush, then pop to one side for the moment. Bear with me, there is quite a lot of popping to one side in this recipe.
Now for the rice mixture. Tip the rice into another bowl then stir in the mushroom and onion mix.  Add the rest of the parsley and some more seasoning, then stir again.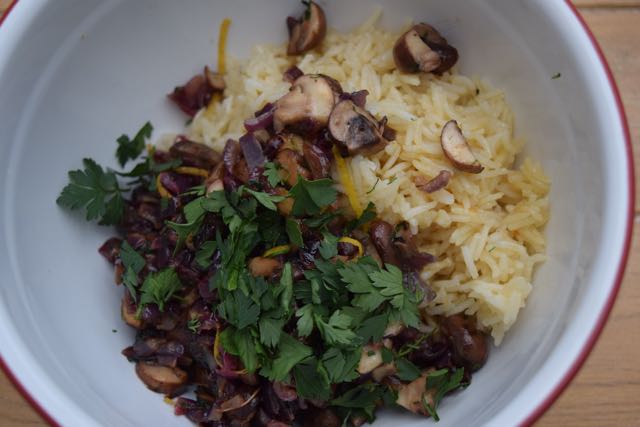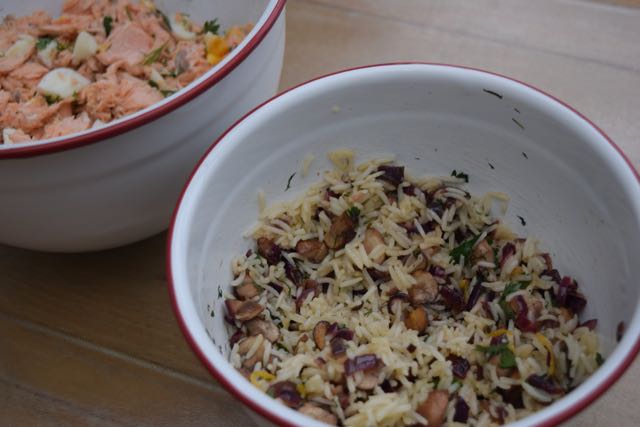 Now, at last, it's time for the pastry parcel business.
Take your square of puff pastry. Use the best shop bought pastry for this, all butter puff is perfect as the other sort it slightly synthetic tasting. Flour your work surface and then roll the pastry out into a 35cm square. I know this sounds a bit pedantic, but it's one of the only time's it's worth getting a tape measure out in the kitchen.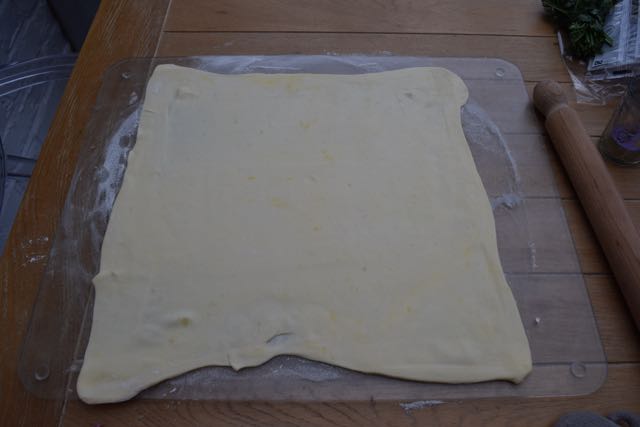 Mine wasn't exactly rolled with military precision, but it was a 35cm square, if a little tatty. Now, cut one rectangle which is 19cm wide and one which is 16cm wide. The large piece for the top of your coulibiac and the smaller for the base.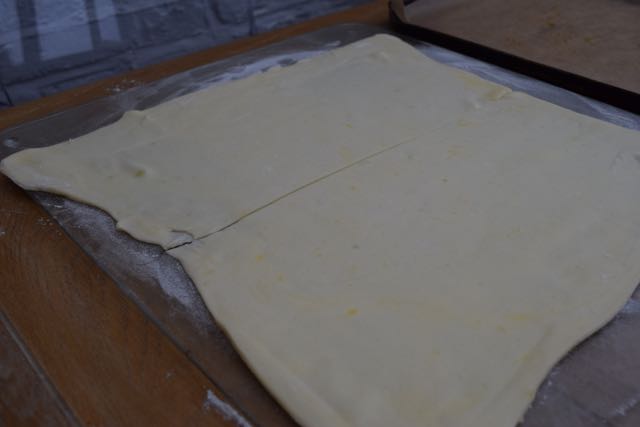 Place the smaller base piece of pastry onto a large buttered, lined baking tray. Don't worry if your's looks tatty like mine.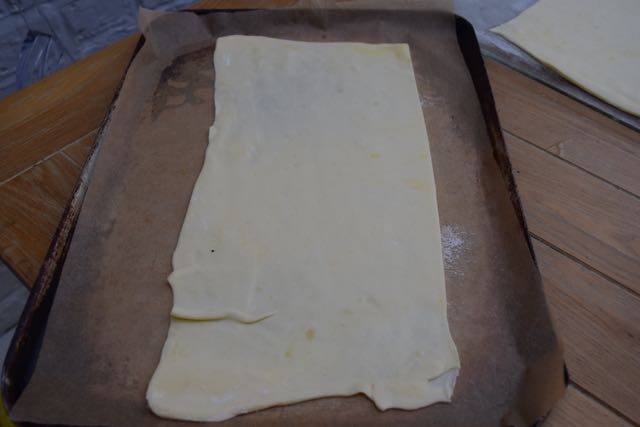 Now for a spot of layering. Leaving a border of a couple of centimetres around the edge of the pastry place on half the rice mixture, followed by all the salmon mixture then top the salmon with the last of the rice mixture. Mould the whole lot into a sort of mound down the middle of the pastry, trying to get as much height as possible.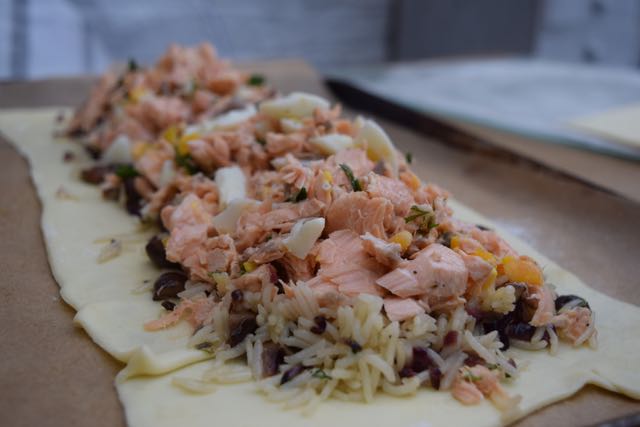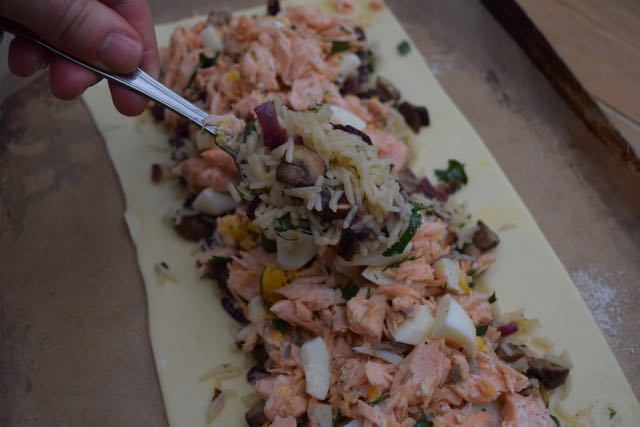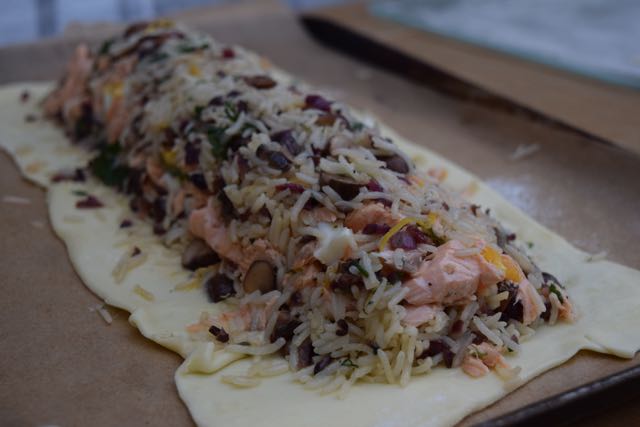 For the top layer of pastry, if you have a lattice cutter, run it down the centre of your larger top piece of pastry, like so. If you don't have one, don't worry too much, just add some diagonal slashes to the pastry to allow the steam to escape.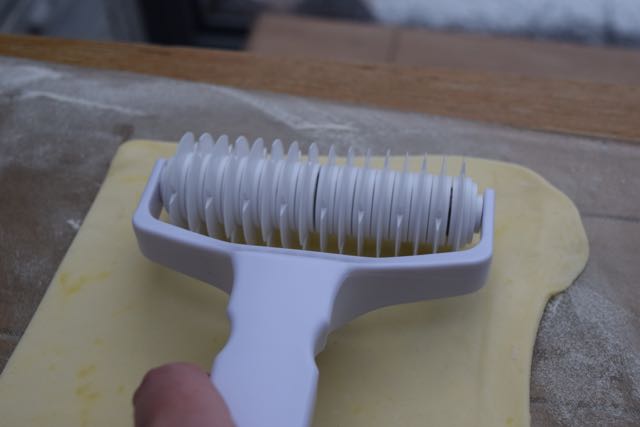 Egg wash, with beaten egg, the edges of the pastry base before carefully laying on the top piece of pastry and crimping/folding the edges of the pastry together.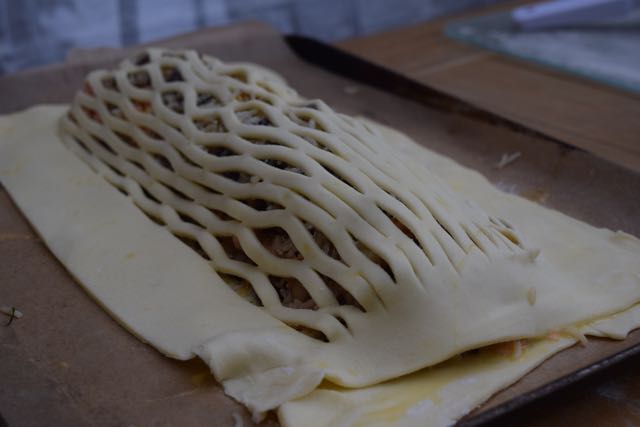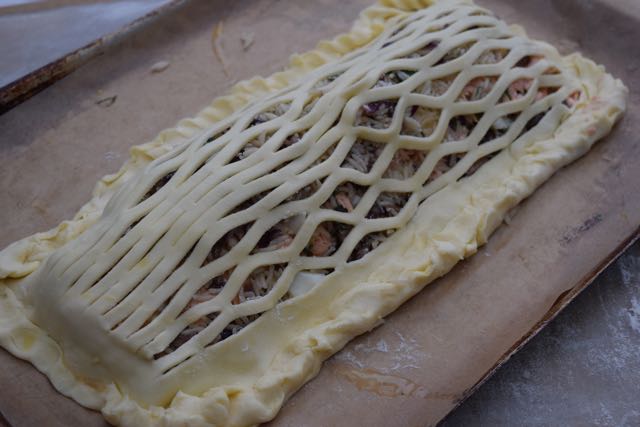 Finally, brush the beautiful coulibiac with the rest of the beaten egg before placing in the pre heated oven for 20 to 25 minutes.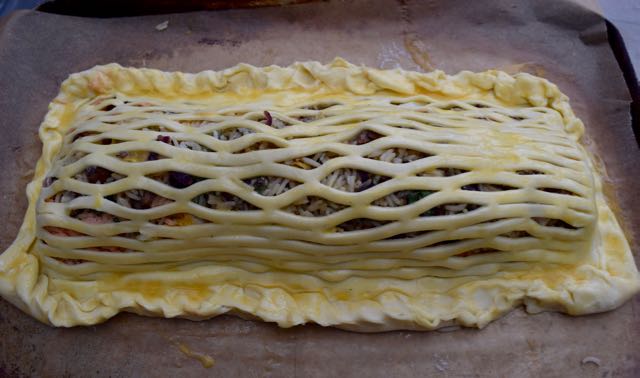 Please admire the beauty of my Salmon Coulibiac now, because when I went to turn the pan round in the oven, it slipped off the baking paper and half fell off the tray, and oh so nearly onto the floor and into Teddy's eager mouth. Luckily, after a lot of swearing, some meddling, a whisky mac, some more swearing and Clyde's helping hands I managed to salvage my dish.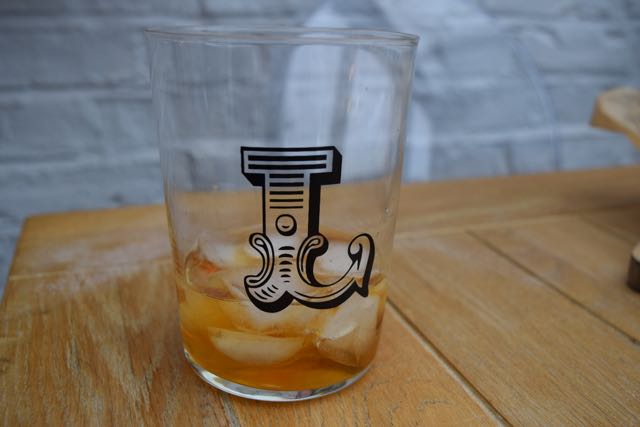 Insert the swear words of your choice. Here is my drink which slightly restored my lost sense of humour and soothed my burnt fingers.
Your finished dish will be well risen, golden, smelling amazing and not have collapsed on one side like mine.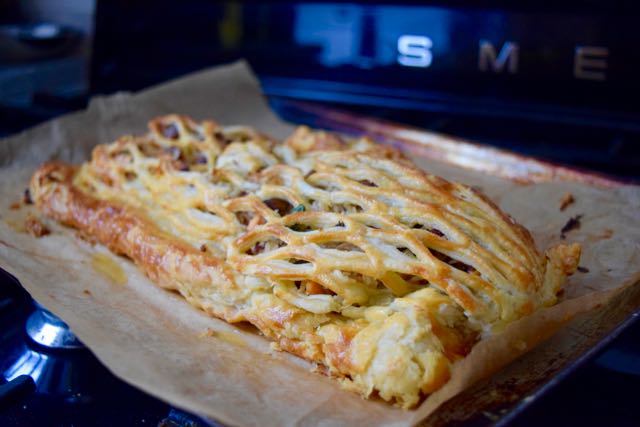 Leave your centrepiece to sit for around ten minutes before cutting into stylish slices. I served my slightly botched, but nonetheless, beyond tasty, Salmon Coulibiac with hollandaise and a pile of buttered, sautéed brussel sprout tops.
Amazing what you can conceal with a little creative parsley work.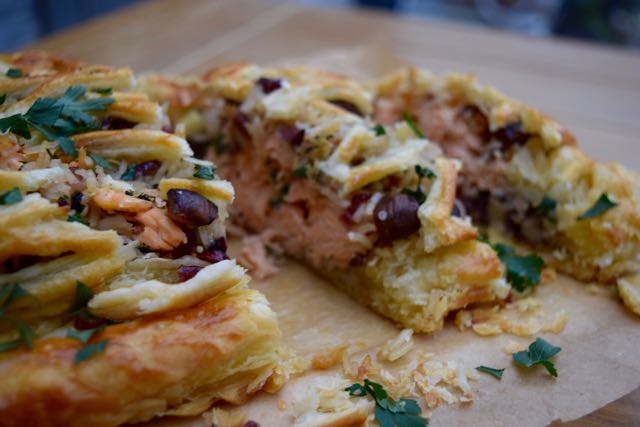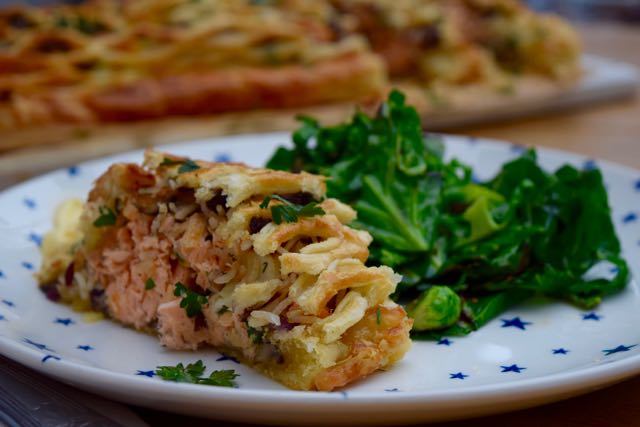 Just looking at this dish has bought a tiny smile to my face. Even if it was from remembering how I burnt my hands stopping the pastry from falling onto the floor and the terrible swears which flowed from my potty mouth. Regardless of any lopsidedness, my Salmon Coulibiac is still a wonderful centrepiece dish for your Christmas table. Just be a bit more careful than I was if you have to turn the tray over half way through cooking. Butter fingers and a potty mouth is not a good combination.
Lucy x
This post contains an affiliate link to Amazon. Should you buy using this link, Lucy Loves will receive a tiny commission, at no additional cost to you, to help fund my blogging.
Salmon Coulibiac Recipe
Serves around 6, slice size dependent
You won't need any challenging equipment just a lined baking tray and a lattice pastry cutter, if you like
500g salmon fillet
2 eggs
Half a small bunch freshly chopped parsley, chopped
375g pack all butter puff pastry
75g butter
75g rice, I used Basmati
225ml stock,  I used chicken but fish is good too
1 onion, chopped
100g button mushrooms, chopped
2 tablespoons chopped fresh dill
zest of a lemon
2 tablespoons lemon juice
1 beaten egg for egg wash
Parsley to garnish, green veg to serve, I used sautéed Brussel tops
Pre heat the oven to around 170 degrees fan assisted and line and butter a large baking tray.
Take 50g of the butter and add to a large frying pan. Heat over a low heat until melted then stir through the basmati rice. Stir well then pour in the chicken or fish stock. Bring up to the simmer then turn down, put a lid on and cook for 15 minutes exactly then turn off the heat, remove the lid and leave to cool.
Cook the two eggs in a pan of water, for 6 to 7 minutes once the water is boiling, then once cooked cover in cold water to cool, then peel and roughly chop.
Take the salmon and place on a large piece of buttered or oiled foil. Season well with salt and pepper then fold the foil into a sort of parcel, sealing at the top. Place this on a baking tray then put in the oven for 10 minutes. Once the time is up, open the foil and leave to cool.
Finely chop the onion then cook in a small frying pan until softening with the remaining 25g of butter, this will take around 10 minutes. Next, add the chopped mushrooms, half the dill and cook for another 5 minutes. Remove from the heat, add in the lemon zest and juice, season with salt and pepper then leave to cool.
For the salmon, remove from the foil, flake, then add the chopped eggs. Gently stir in the rest of the dill, half the parsley and season well.
Tip the cooked and cooled rice into a separate bowl then stir in the mushroom mixture along with the rest of the parsley and more salt and pepper.
Now for the final assembly. Take your square of pastry and roll out on a floured surface. The pastry should measure 35 cm square. Cut the pastry into two pieces, one piece being 16cm wide and the other 19cm. It is worth using a ruler here to get it right. Put the smaller piece on your lined baking tray. Take the rice mixture and add half of it along the centre of the pastry leaving a 2cm border around the edge. Next, layer on all the salmon and egg mixture, piling it up in a sort of mound. Finally, layer on the last of the rice, piling it high again. Brush the border with your beaten egg.
If you do have a lattice cutter then roll it down the centre of the second piece of pastry. Without pulling the lattice pastry apart, place the second piece of pastry on top of the salmon and rice then seal the edges before folding them over, crimping them to fashion a decorative edge.
Brush the Coulibiac with beaten egg then place in the pre heated oven for 20 to 25 minutes until crisp, golden and smelling amazing. Leave to sit for ten minutes before serving, garnished with parsley in elegantly thick slices with a hollandaise sauce and some sautéed greens.
SaveSave
SaveSave
SaveSave