Salted Crisp Cookies Recipe
I am sure I used to eat Crisp Cookies when I was little. I don't know if they were made or bought, but they are a childhood memory from the dim and distant past.  Or maybe I just ate a lot of biscuits and crisps in the same mouthful, who knows. I recently set to trying to find a recipe for Salted Crisp Cookies to assuage my longing for all things sweet, buttery and salty. That and, a friend, who is borderline crisp dependent had a 50th coming up and I wanted to make these for him, so today's recipe is not just about me and greed for all things sweet *it is*.
My Salted Crisp Cookies are so tasty and pander to my love of salty and sweet in one sitting. They are a shortbread style biscuit, so simple and egg free, with a generous serving of crushed crisps. It's half term in our house this week, so a batch of these will definitely be being whipped up by myself and George. And eaten by myself, if I can wrestle them away from George. I know this sounds like a weird combination, but they have to be eaten to be believed. This particular version of these cookies came via the ever inspirational Food 52, whom I love with all my heart.
These cookies are keepers. In every sense of the word, you will make then again and again and they keep beautifully in a jar for a good 4 days, if you hide them from my children, that is. They are soft, sweet, salty with crispy crisp bits. I love a new cookie recipe, especially one which has a sense of nostalgia and childhood. If you can't be arsed to make these just eat a packet of shop shortbread biscuits whilst chewing through a packet of ready salted crisps, it's a delicious combination, even though my Salted Crisp Cookies are slightly more elegant and easier to serve.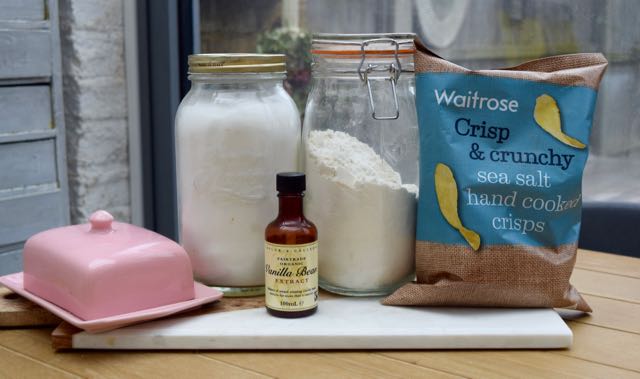 Easy peasy line up for these inspired Salted Crisp Cookies. You only need half the packet of crisps which of course led to me seeing off the other half.
Make a start on these simple treats by pre heating the oven to around 160 degrees, fan assisted, and line two baking sheets with grease proof paper.
Next, take a large bowl or the bowl of your stand mixer and beat the hell out of the softened butter for between 5 and 10 minutes. You want it to soften and become fluffy.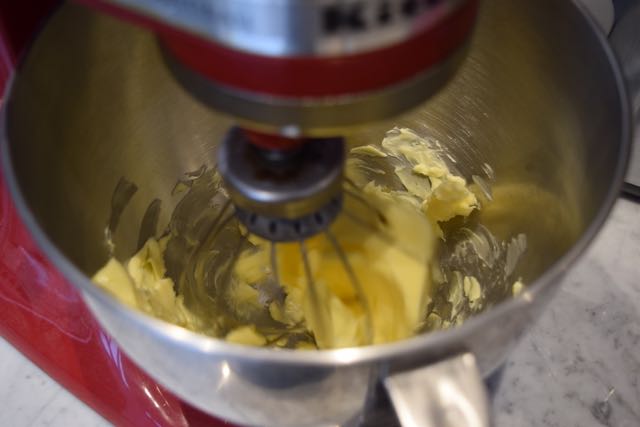 Once this time is up, add the caster sugar and beat again until it's well combined.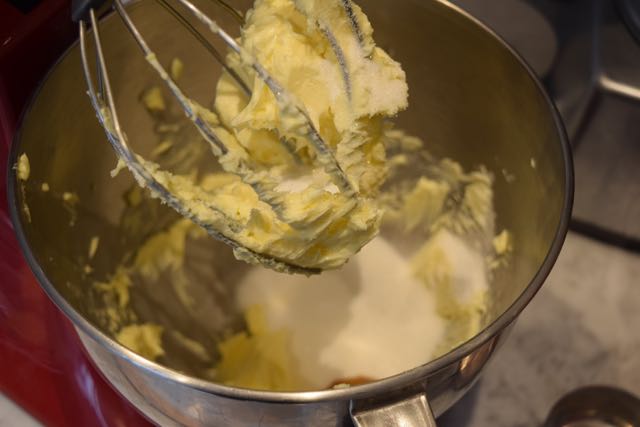 Fold in the flour and the vanilla extract or paste until you have a soft dough. Which tastes beyond delicious at this stage, so it maybe worth quality controlling a mouthful or two.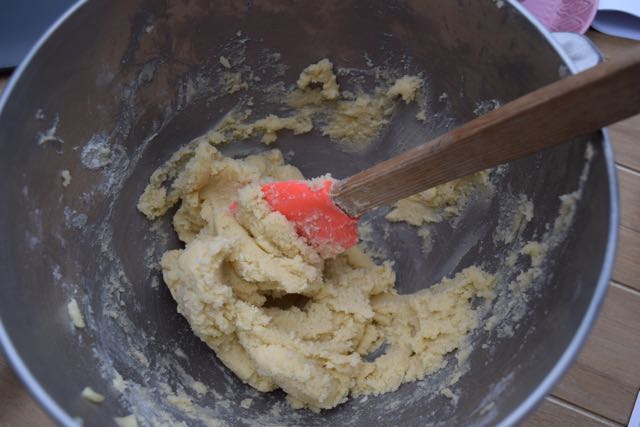 In a final addition, crush the half a family bag of ready salted crisps and mix these carefully into the dough. Don't annihilate the crisps, you don't want dust here, just slightly smaller crisps.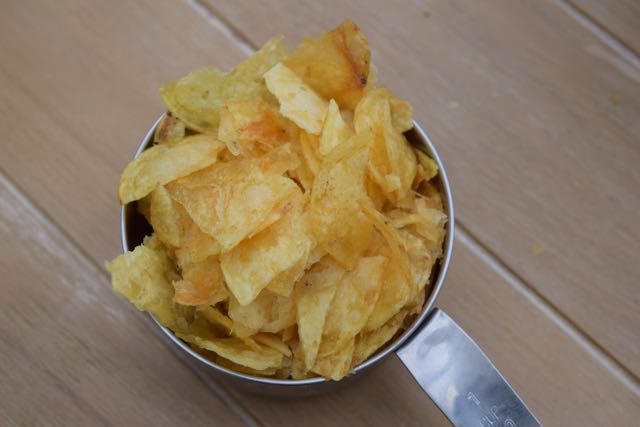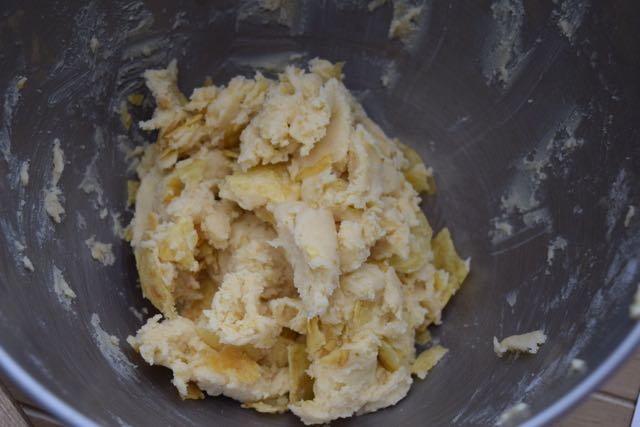 Roll this soft dough into walnut shaped balls then place them on your lined baking trays ready for the oven. This batch makes around 24 to 30 cookies, dependent on how much dough you eat along the way.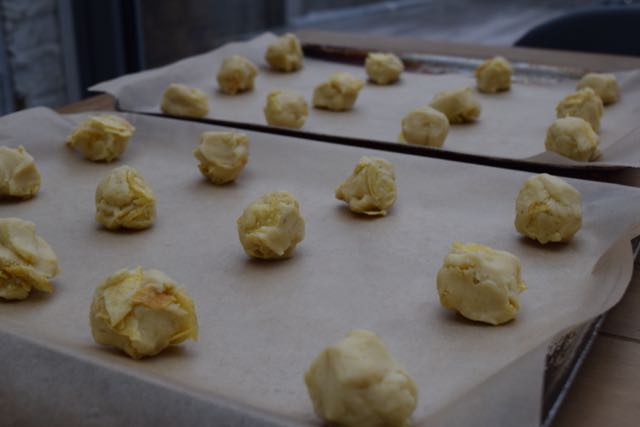 Bake them in your pre heated oven for 12 to 15 minutes or until just turning golden brown and crisp at the edges.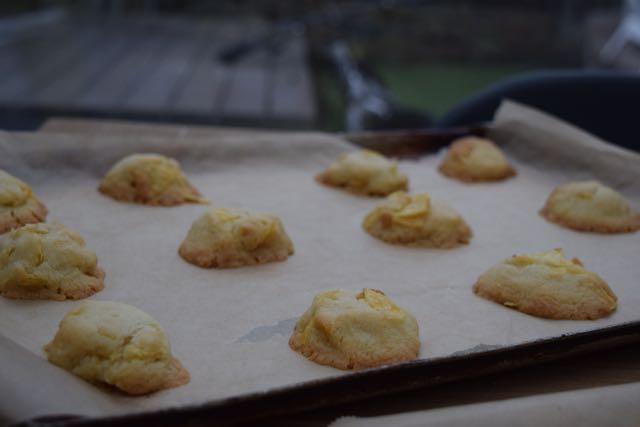 Leave to cool slightly before storing in an airtight container for as long as you can keep them away from eager beaver hands.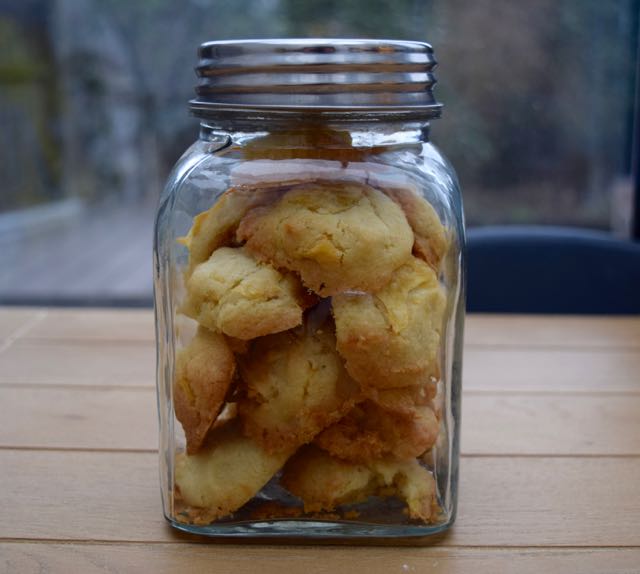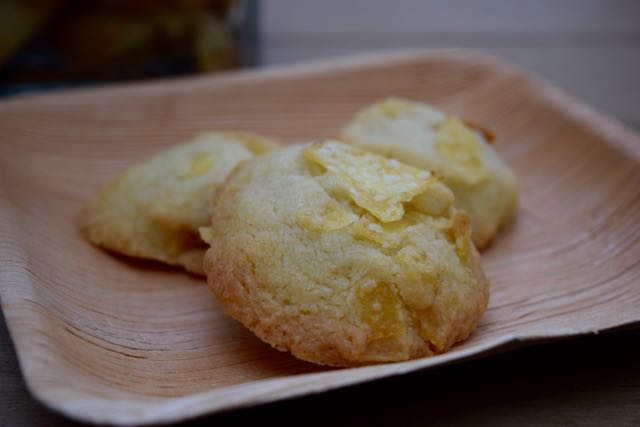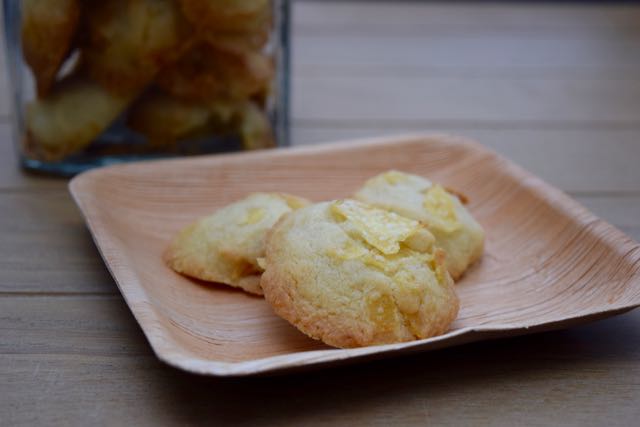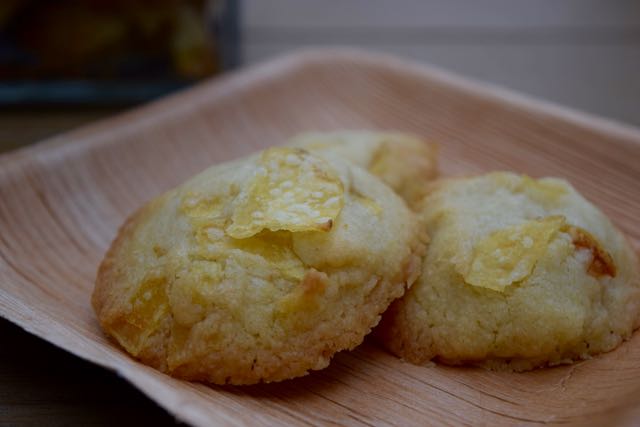 I have been meaning to share these little beauties with you for months now. Once I discovered the joys of crushed crisps in a biscuit, I felt sure you would love them as much as I do. Or, you will think I am slightly deranged but still love me because I am witty and hilarious. No? Either way, give these a try, you will not be disappointed.
Lucy x
Salted Crisp Cookies Recipe
Makes 24 to 30 cookies, dependent on their size
You will need two lined baking sheets
225g softened butter, no marg here please
115g caster sugar
1 teaspoon vanilla extract or paste
190g plain flour
1/2 a family bag salted crisps, around 75g, crushed by hand into large crumbs
Make a start by pre heating the oven to around 160 degrees fan assisted.
In a stand mixer or a large bowl with a hand mixer add the softened butter and beat for between 5 and 10 minutes to soften and become light and fluffy. This is important so do give this a good beating. Add the caster sugar and beat again until lighter in colour and texture. Pour in the teaspoon of vanilla extract, mix briefly then fold in the flour until a soft dough is formed.
Crush the salted crisps into large crumbs then mix into the biscuit dough until evenly combined.
Rolling the dough into walnut sized balls, place them, well spaced apart, on lined baking sheets. Pop in the oven for 12 to 15 minutes or until turning golden brown at the edges and firming.
Leave to cool slightly before inhaling in one sitting, or keep any spares in an airtight jar for 4 to 5 days.