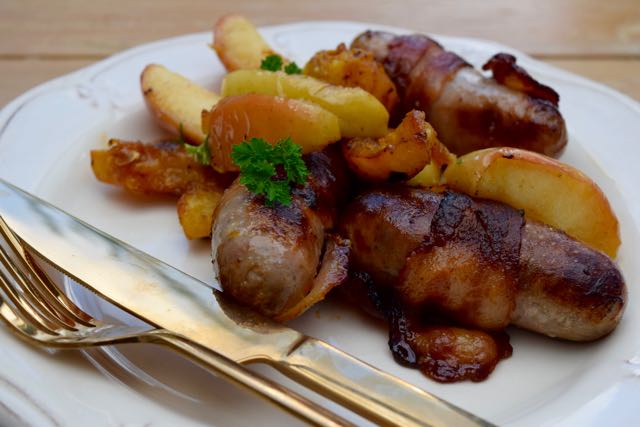 Sausage, Apple and Squash Bake Recipe
At this time of the year, it's all about the comfort. It's about rib sticking food and plenty of warmth and flavour. I feel I should be eating salad as I still have my summer spare tyre, but all I actually want to eat is stodge and deliciousness. It's starting to feel nippy around the edges now and it won't be long before the bobble hat's on. With Halloween and Bonfire Night around the corner this Sausage, Apple and Squash Bake is just the sort of one pot dish you need and just the sort of food I want to eat.
With all the trick or treat business that goes on at Halloween you need a simple supper which can be wolfed down with minimal fuss before your children eat their own body weight in Haribos. This sausage and bacon based affair is all cooked in the same dish and if you really can't be arsed can just be served with some bread and butter, don't even bother with mash if time is tight. Likewise, if you need to eat something wonderful and nutritious before a night out in the cold watching fireworks, this is the man for you. I adapted a brilliant recipe from the BBC Good Food website, with thanks, adding some squash for a autumnal feel. Don't however, do what I did which was buy a random selection of seasonal squashes, one of which was a gourd and for decorative purposes only. I couldn't even get a bloody knife through the skin let alone cut it into pieces so make sure you chose an edible squash.
This is by no means haute cuisine, it's warming, it's incredibly tasty, meaty and sweet. I used some really lovely quality sausages, with some super Denhay bacon I first tried at my brunch lesson at the Avenue Cookery School.  This is autumn food at it's finest, bugger the fact it's rustic, I could eat the whole tray by myself, sharing is so last year.
Beautiful, seasonal ingredients, and so few of them, all good and simple. Even the inedible squash, it looks lovely despite not being able to get a knife into it. It's now sitting on my hall table forming part of an amusing Halloween display.
Make a start by pre heating your oven to 160 degrees fan assisted and taking a hob and oven proof dish and heating a tablespoon of oil over a medium heat on the stove.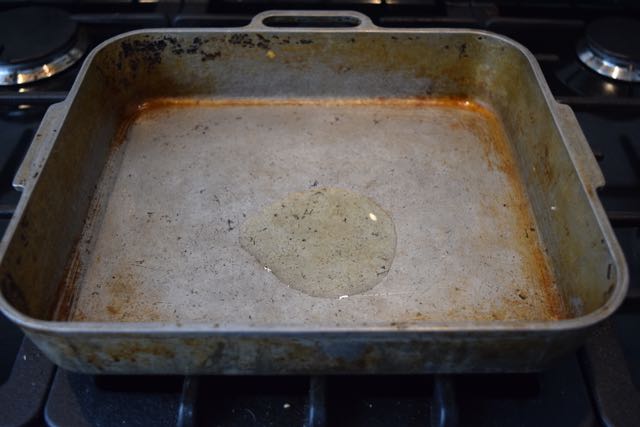 While this heats up, wrap each of your sausages in a rasher of streaky bacon then brown them off in the hot oil. Turn them regularly to ensure they brown evenly. The bacon may slip off the bangers, but just tuck it back around if this happens.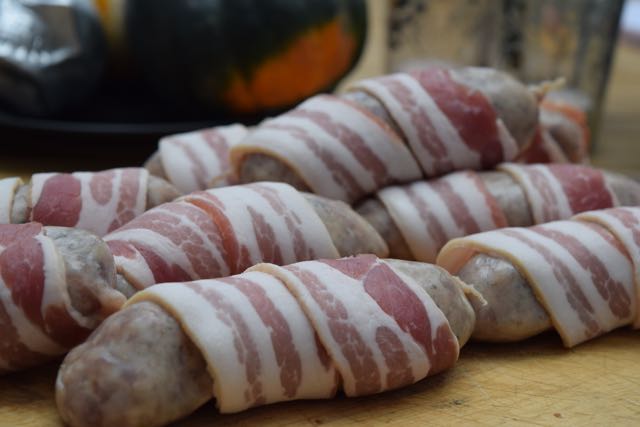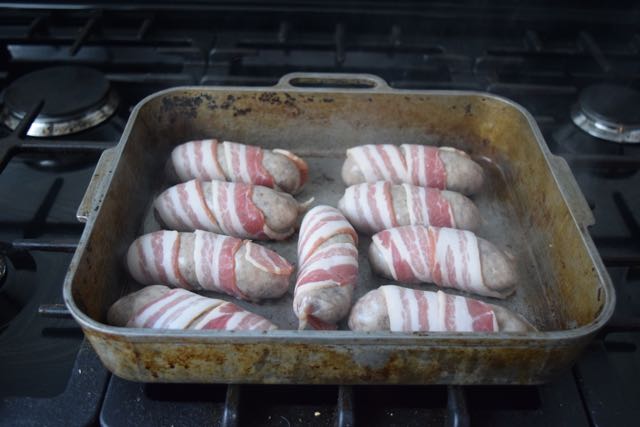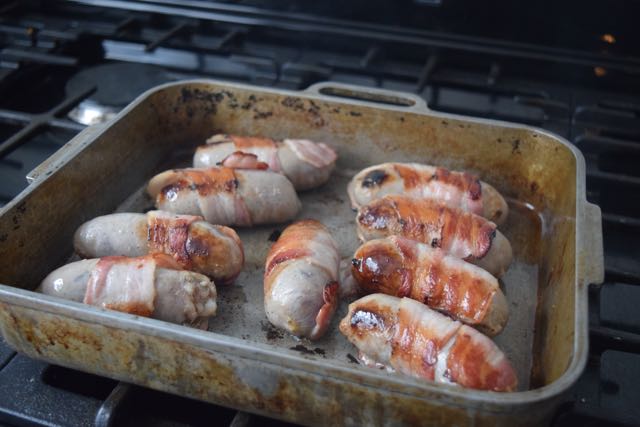 The wafts around your kitchen at this point will be beyond tempting.
Chop up your choice of squash into wedges and add to the sausages in the pan, stirring to coat. This squash was much easier to cut than the more photogenic one.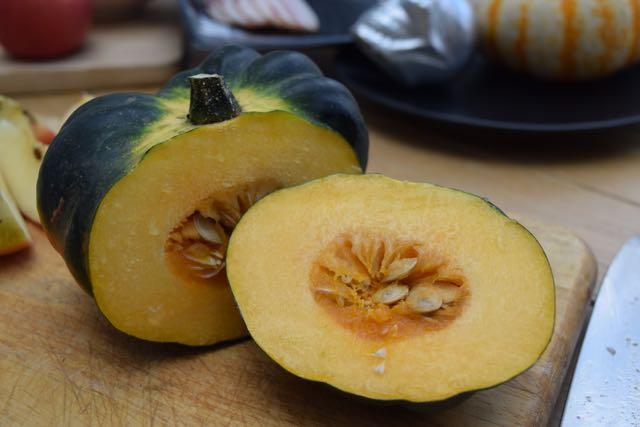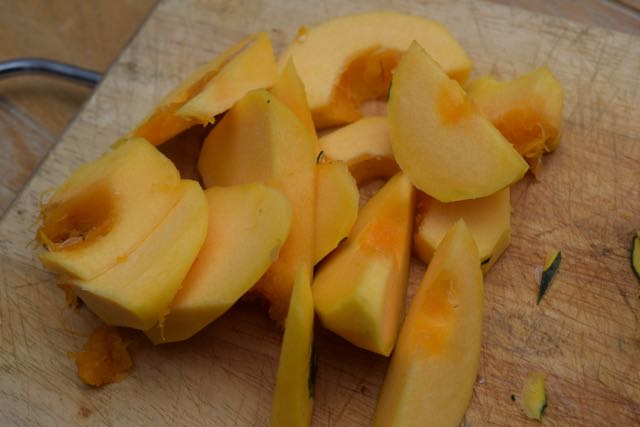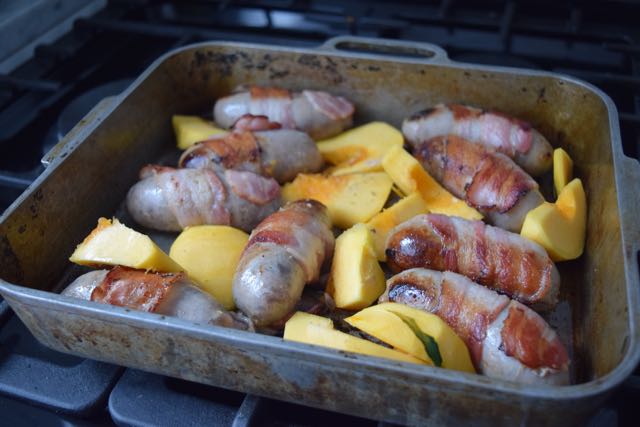 Season generously then put in the pre heated oven for 15 minutes. Crack on with the apple chopping while this is cooking. Cut each apple into quarters, then half each quarter. No need to peel the apples, don't add any unnecessary work to such a simple dish.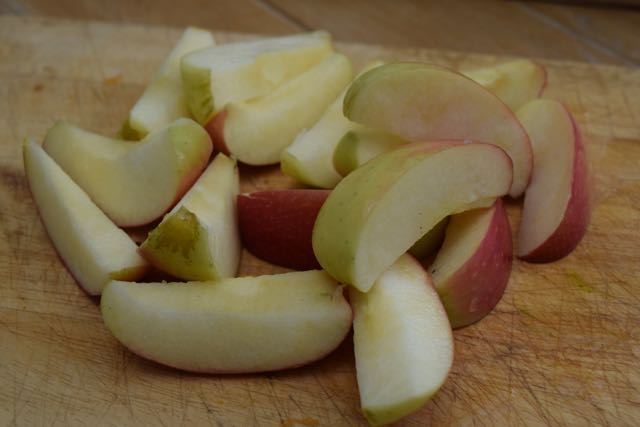 Give them a quick spritz with some lemon juice so they don't go brown while you're waiting for the sausages to be ready.
When the 15 minutes is up, place the apples in between the squash and sausages, stir around and then put back in the oven for a further 15 to 20 minutes.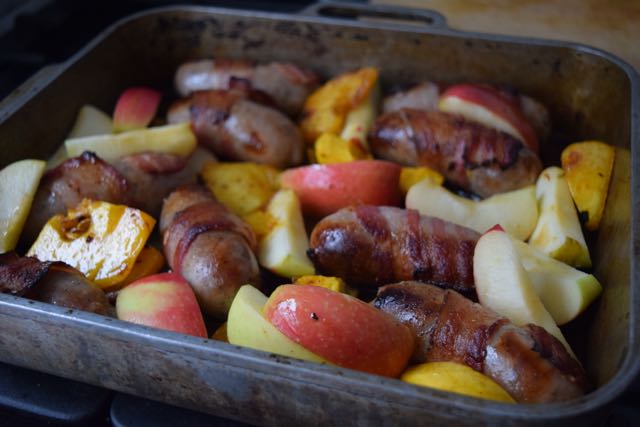 This finished dish is golden sausages intertwined with soft and sticky apple and squash slices. All that's left to do is garnish with some parsley if you like and any accompaniments you fancy.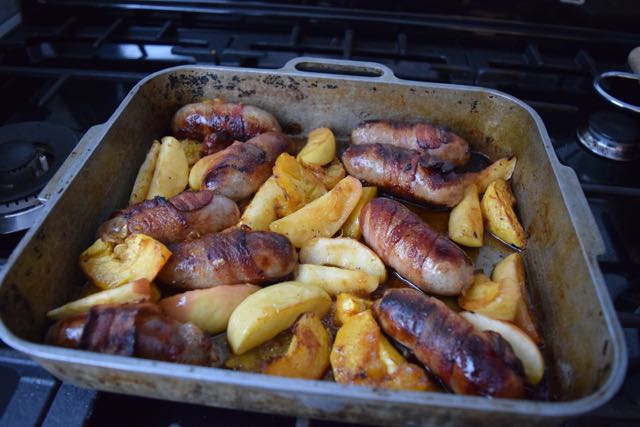 Dig in from the pan, no need to decant to a fancy plate on this occasion, rustic is good.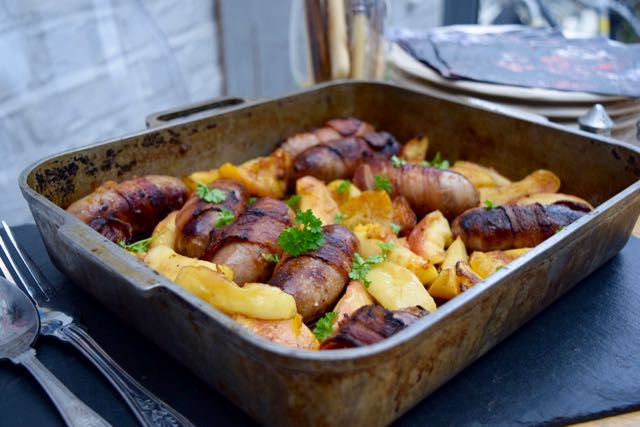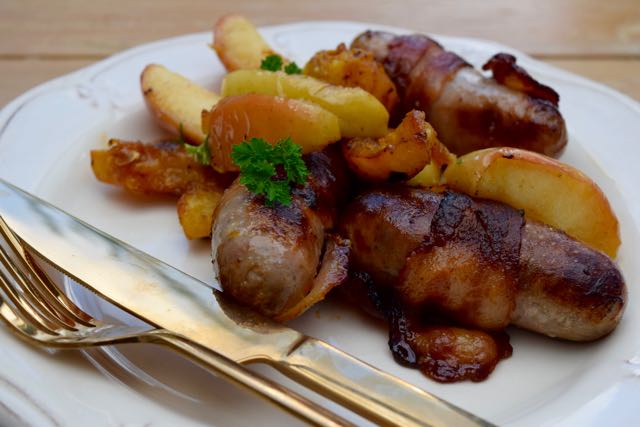 Bacon makes everything better. Add in Sausages, Apple and Squash and this is the perfect one pot supper dish. Get this in the oven before the door bell starts going and you are on sweetie handing out duty. You will not want to be disturbed while you're wolfing this down.
Lucy x
Sausage, Apple and Squash Bake Recipe
Serves 3 to 4
You won't need any special equipment
1 tablespoon oil
8 to 10 good quality sausages
8 to 10 rashers streaky bacon
2 eating apples, cut into eighths
approximately 150g winter squash, peeled and chopped
Salt and pepper and fresh parsley to garnish
Pre heat the oven to around 160 degrees fan assisted.
Take a heavy bottomed hob and oven proof pan and heat a tablespoon of oil on a medium flame. Take the sausages and wrap each one in a rasher of streaky bacon then add the sausages to the hot pan and brown on each side.
Chop and peel the squash then add this to the pan with the sausages, season with salt and pepper then put in your pre heated oven for 15 minutes.
Chop each apple into eight pieces, drizzle with some lemon juice, then when the 15 minutes is up wedge these in between the squash and sausages and return to the oven for another 15 to 20 minutes or until the sausages are well browned and the squash and apples are sticky and golden.
Serve piping hot with crusty bread and butter, mashed potatoes or just a big glass of red wine.
SaveSave
SaveSave