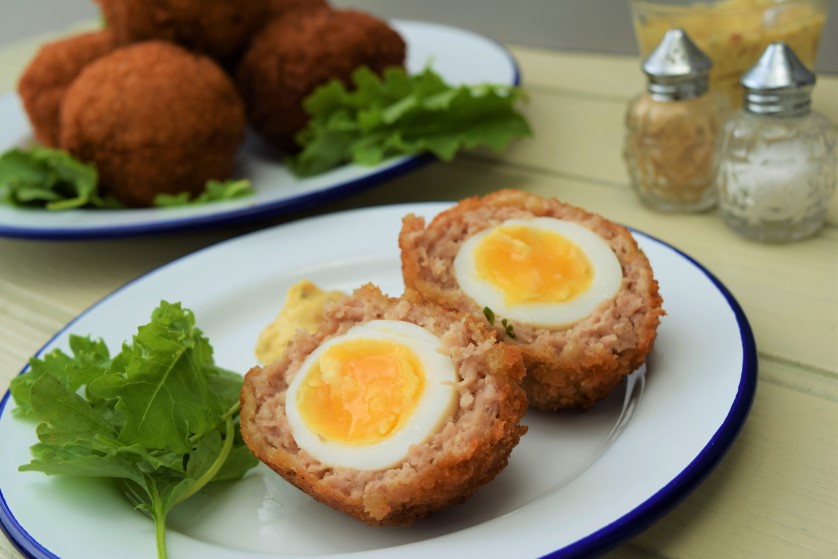 Scotch Eggs Recipe
I have been making Scotch Eggs for years. They are my most favourite picnic food of all time and I do get quite a few special requests for these from friends and family. I do remember making Scotch quails eggs for Ben's first birthday party, when I had the time and inclination to faff about making tiny food for tiny people's parties. These day's his parties now are more about the drink rather than the food and I do seem to have developed a particular skill for decanting vodka into water bottles with quite the steadiest of hands.
That said, I can always be arsed to make these Scotch Eggs. They are simple and no not as much of a kerfuffle as you would imagine. The only element which used to fill me with dread was having to retrieve the deep fat fryer from the top of the kitchen cupboards. But these days, I have cast that unloved appliance to one side and just use a large sauce pan as it's much less of a drama and so much easier to clean. Do be cautious when deep frying though, I always remember those terrifying adverts from the old days where your whole house would burn down if you turned your back on a chip pan for two whole seconds. The resulting Scotch Eggs are worth their weight in gold, and every time I make them I wish I had doubled the batch. By the time I have snaffled one, the other 5 have disappeared, so it may be a good idea to double up if your family are hungry hogs like mine.
This is my original recipe from years ago, from whence it came, I have no idea. The crisp breadcrumb coating houses soft, herby sausage meat and a soft boiled egg, utterly irresistible. Take your Scotch Eggs, nip off to the park with a flask and a Lemon Drizzle Cake for total picnic heaven.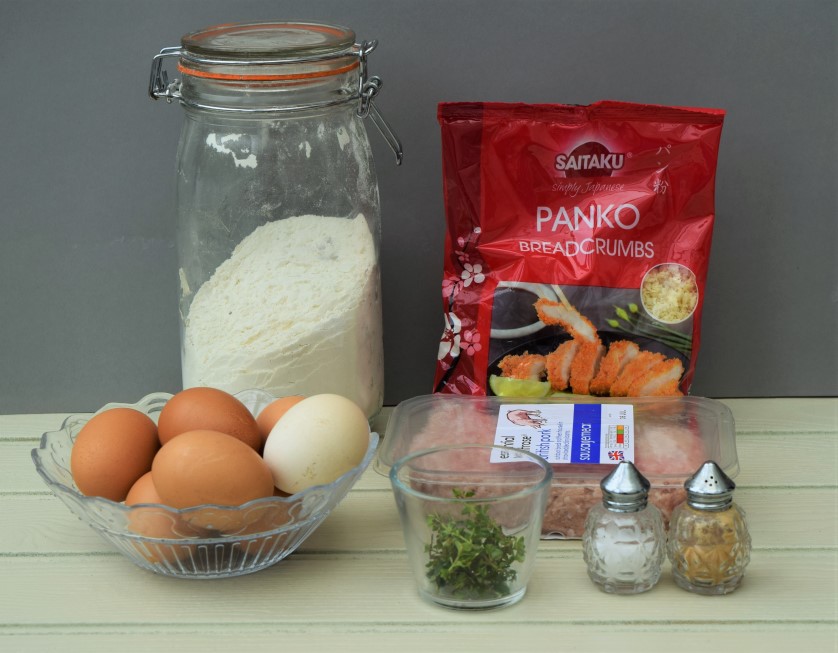 Such simple ingredients for such an iconic recipe. I fashioned a last minute Curry Mayonnaise to accompany these, but wasn't cunning enough to photograph it. However, it is simplicity itself so we can get to this later.
First on this egg based journey, take a medium sized pan and fill with water. Bring to the boil then add the 6 eggs. Simmer for 6 minutes only then run under cold water to cool.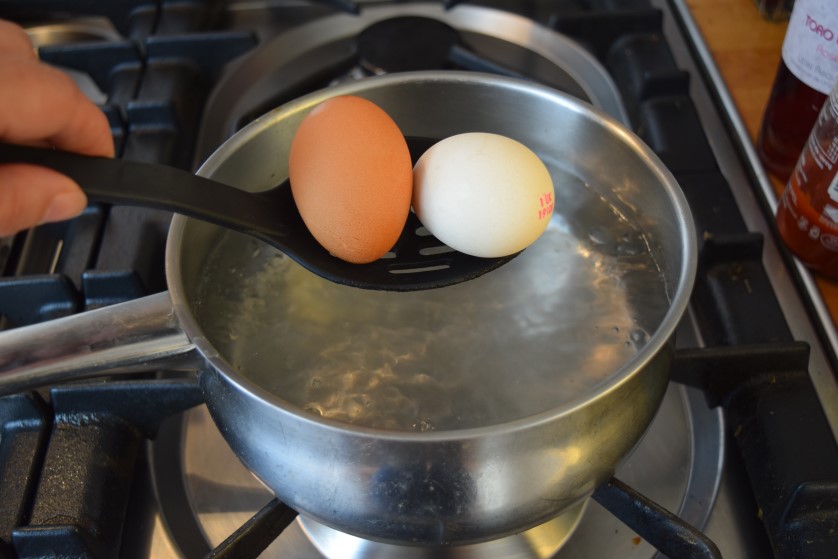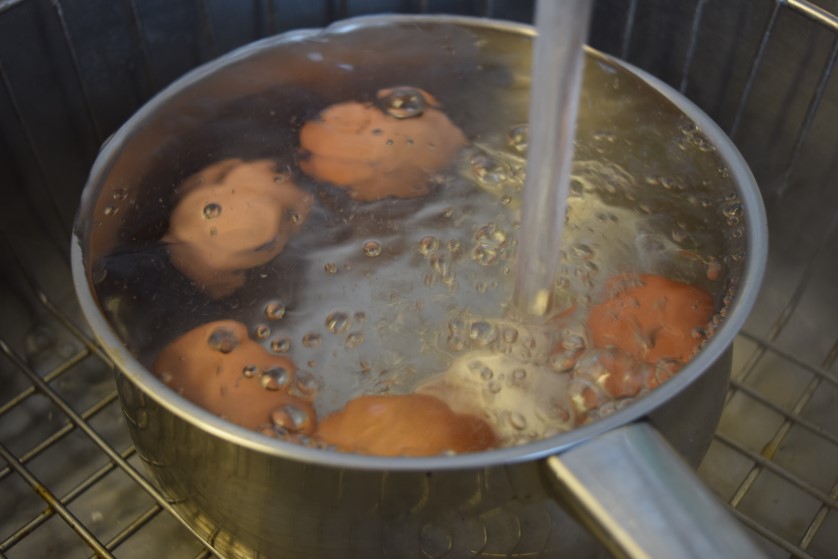 Peel the cooled eggs then pop to one side whilst you get on with the sausage element.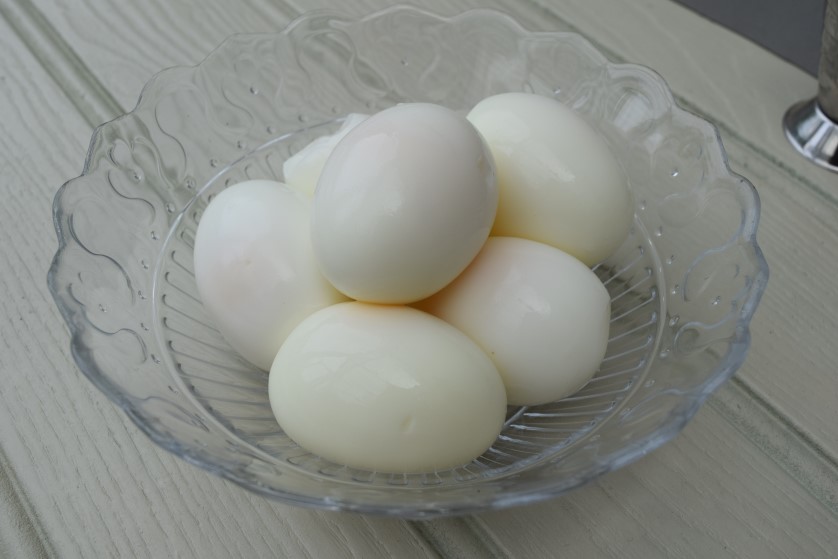 Take a medium sized bowl and add the sausage meat. Add your chopped chosen herbs and season with salt and pepper.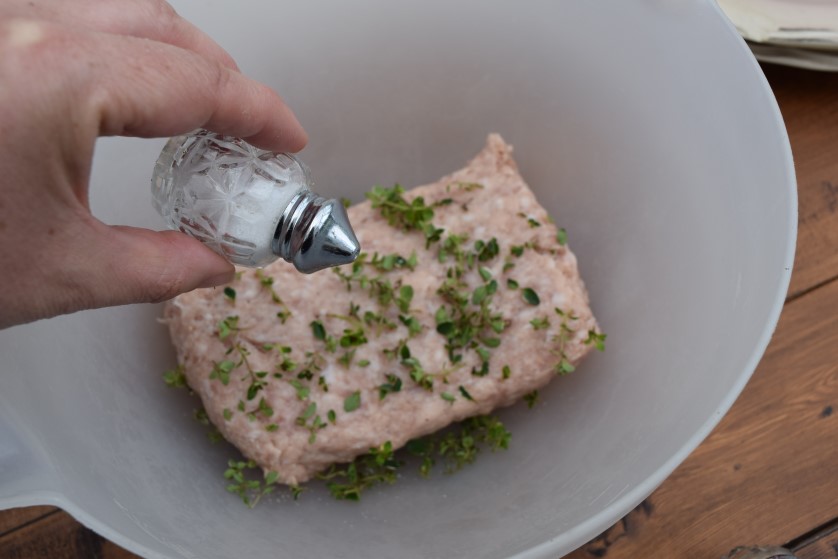 Go in with your hands or a spoon if you're squeamish, mix well and then divvy the sausage meat up into 6 even-ish sized portions.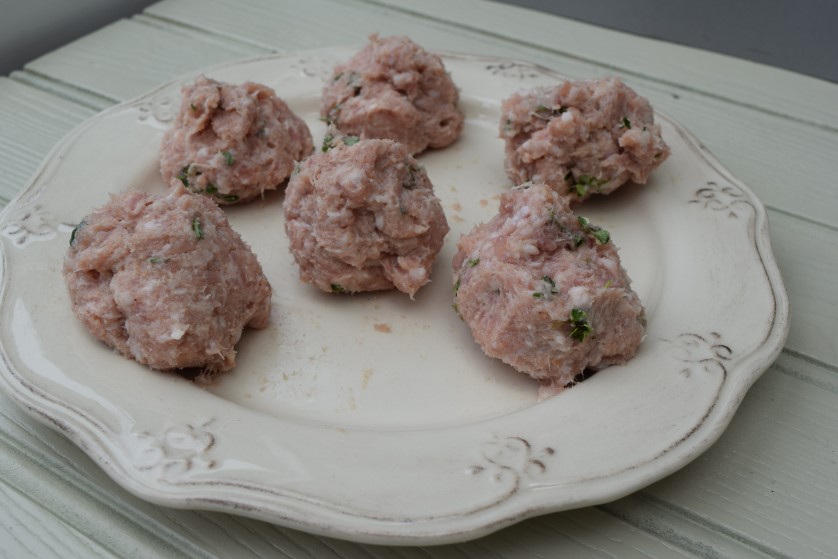 Flatten each ball into a circle then fold this round your egg, patching and moulding to ensure the egg is fully and evenly covered. It's not difficult, just a bit sticky. Repeat with the other 5 eggs.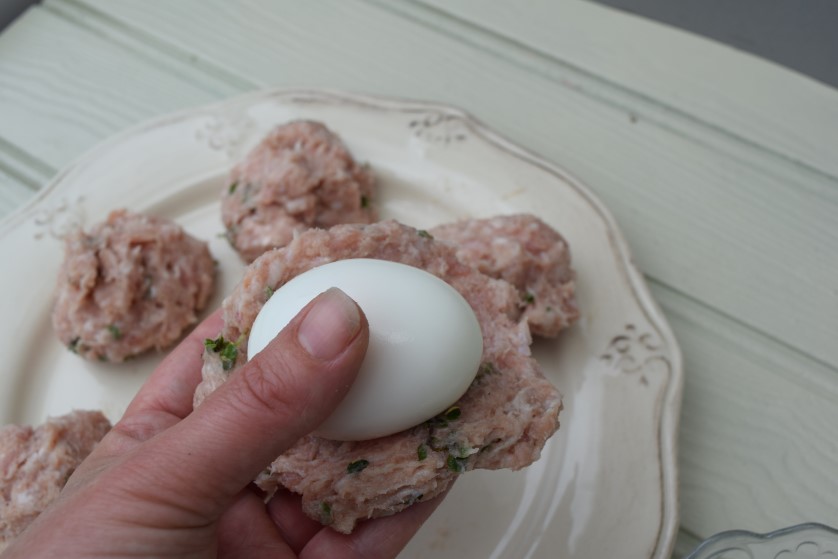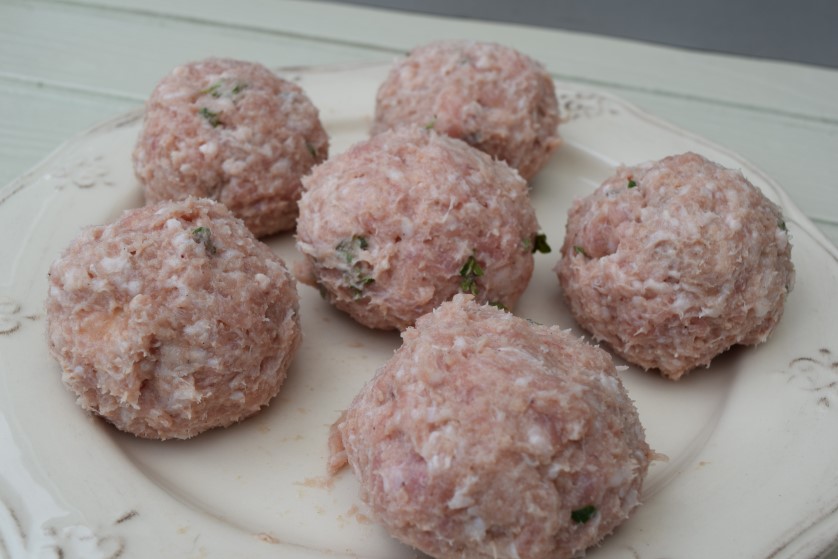 In readiness for cooking these beauties, take a large saucepan and pour in a couple of inches of vegetable oil. I used around a litre. Heat this gently, keeping an eye on it at all times.
While this heats up, take the remaining two eggs and beat. Then add the flour and breadcrumbs to two separate plates. Take your Scotch Eggs and get ready for the three rules of egg and bread crumbing. First up is the flour.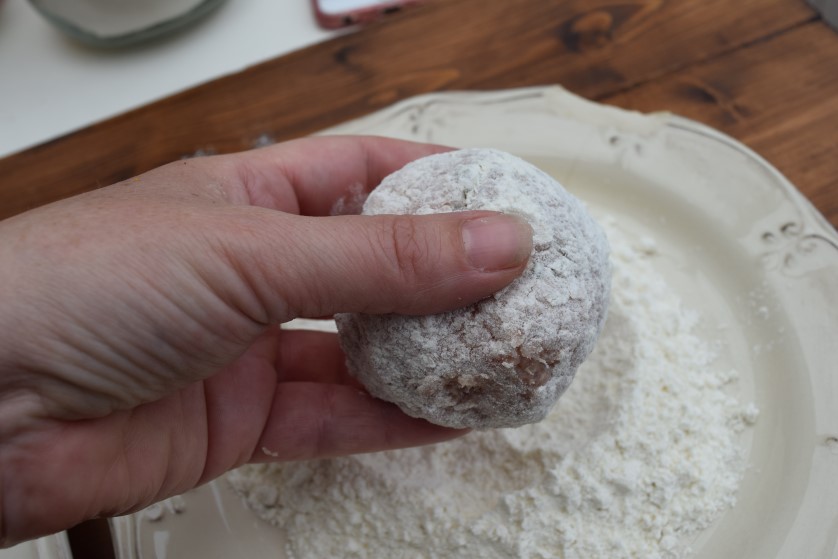 Then, once floured, dip your eggs in the egg then roll them in the breadcrumbs.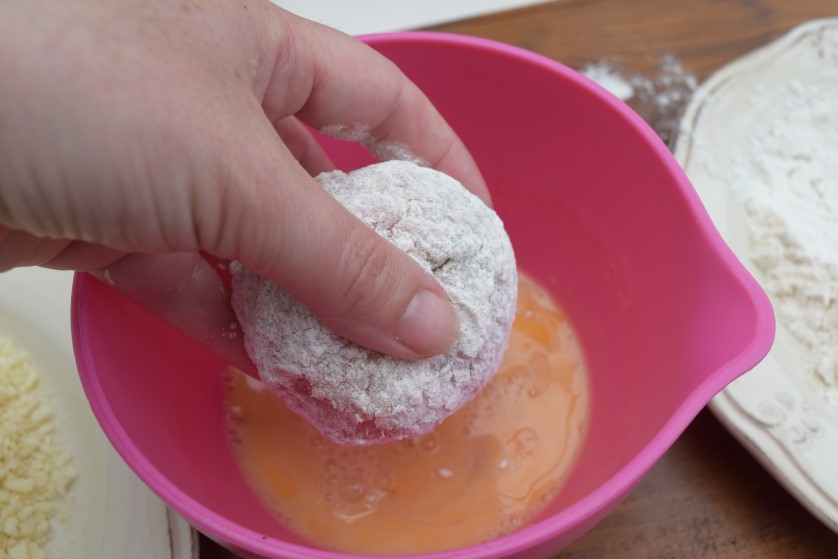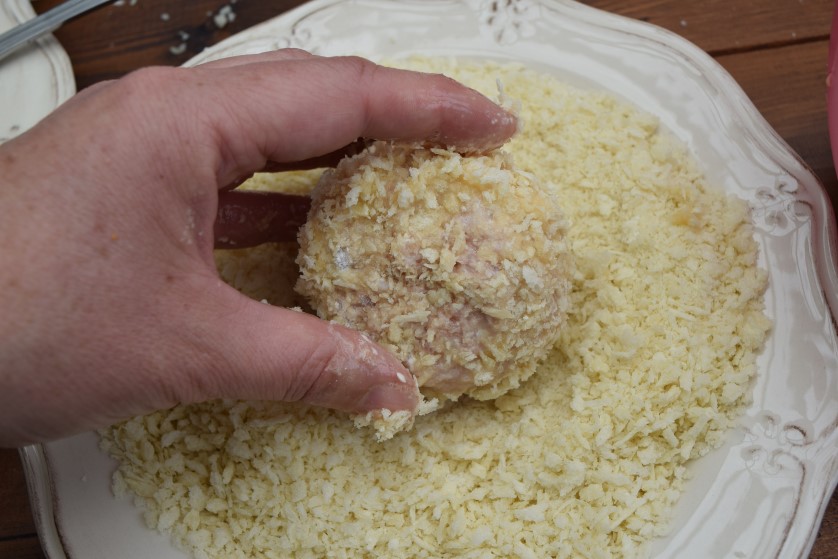 Repeat until you have crumbed all 6 eggs. This is messy, by the time I had done all 6 I was breadcrumbed up to the elbow, as was my camera.
Test to see if your oil is hot enough by dropping in a bread crumb and if it sizzles, it's ready. Then, carefully put the eggs into the oil using a slotted spoon, and cook two at a time. Keep them moving for 7 to 8 minutes or until cooked through and an even golden brown all over.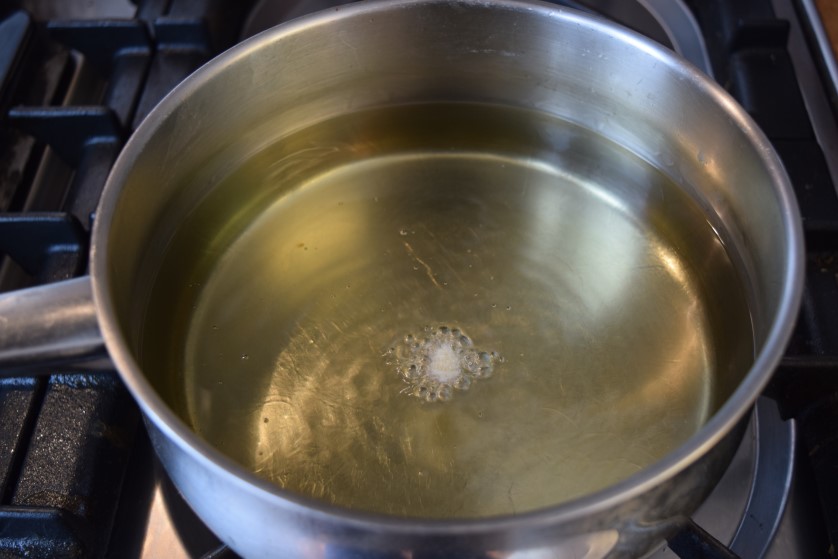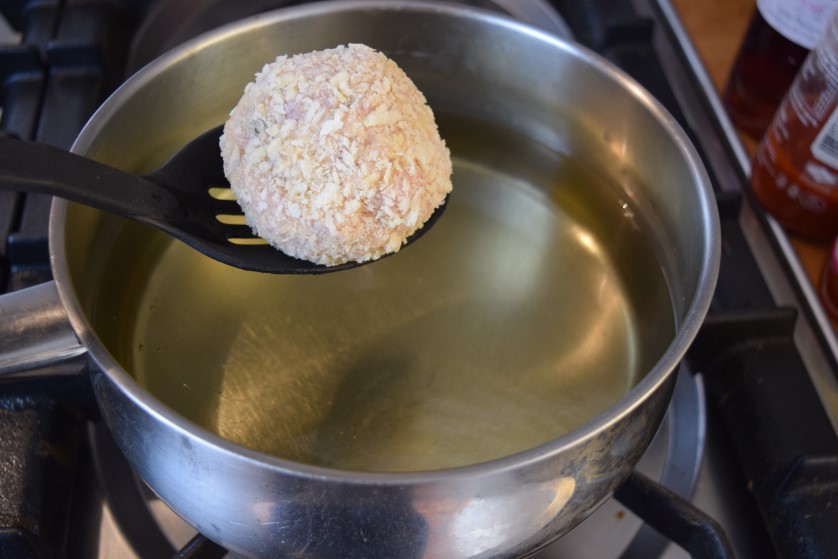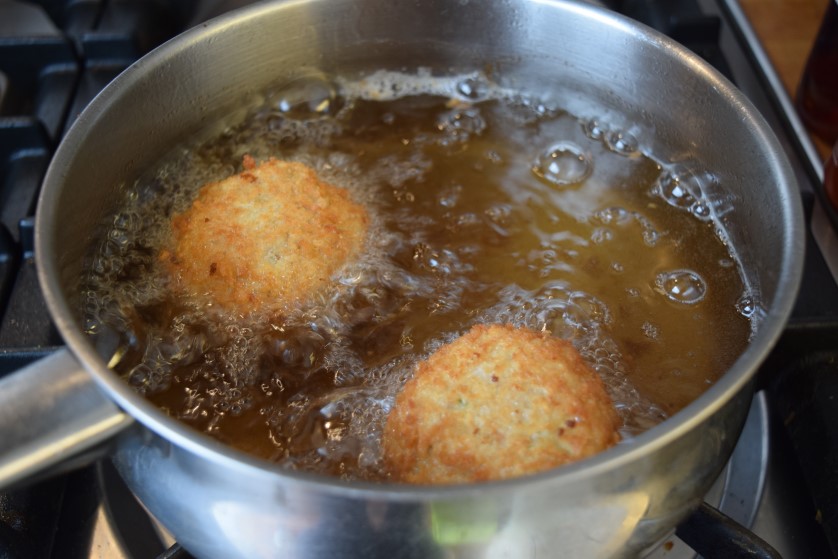 Place the cooked eggs on a napkin to drain then finish cooking the rest of the batch. Try not to eat the first two while you are cooking the other four, it will be quite the test of your will power.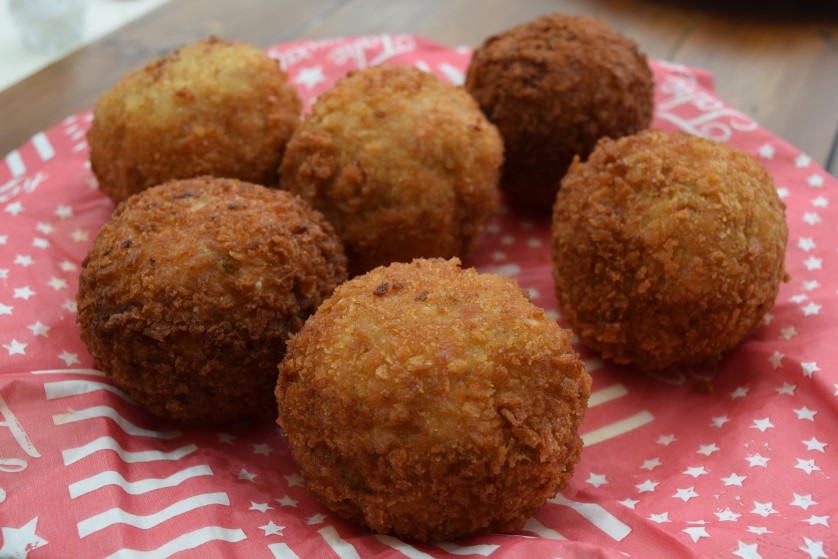 At this point, make your Curry Mayonnaise. Mix together 3 tablespoons of good shop mayo, 2 teaspoons of mango chutney and 1 or 2 teaspoons of curry powder. Serve this alongside your warm or cold Scotch Eggs, if any of them make it that far.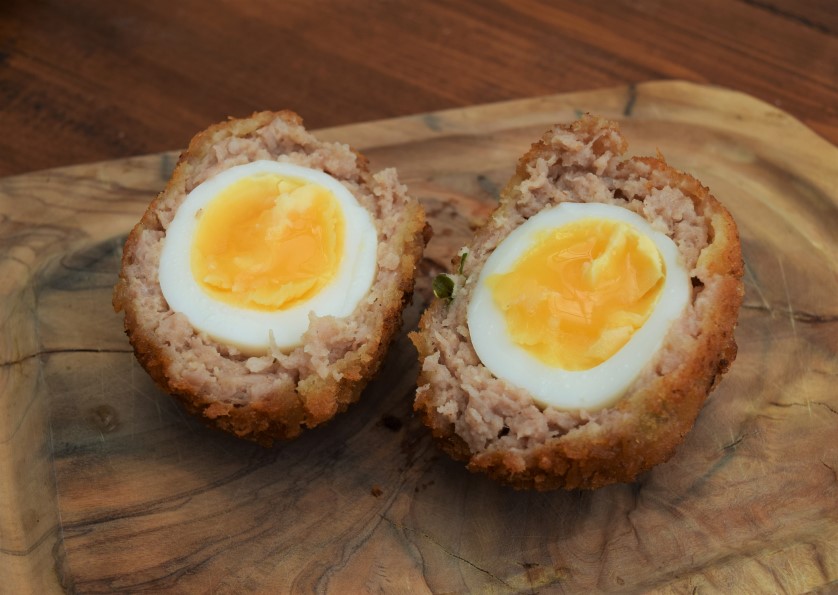 Deep fried sausage and egg heaven.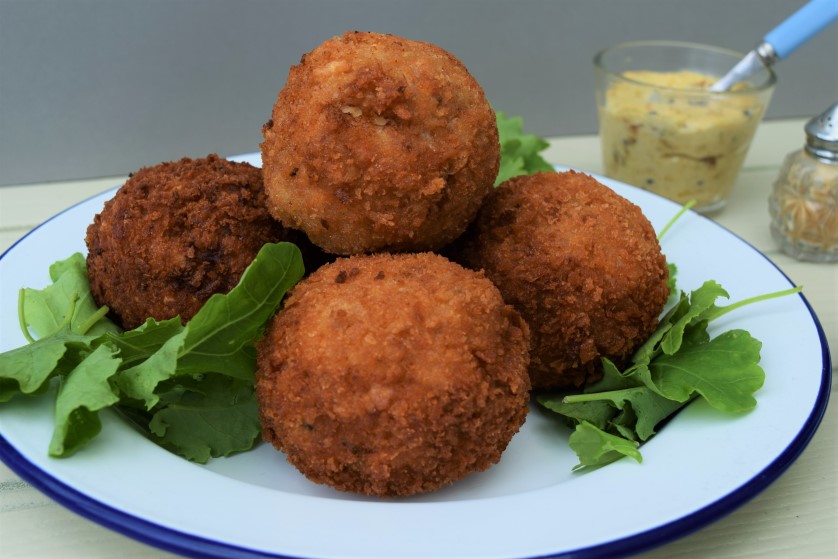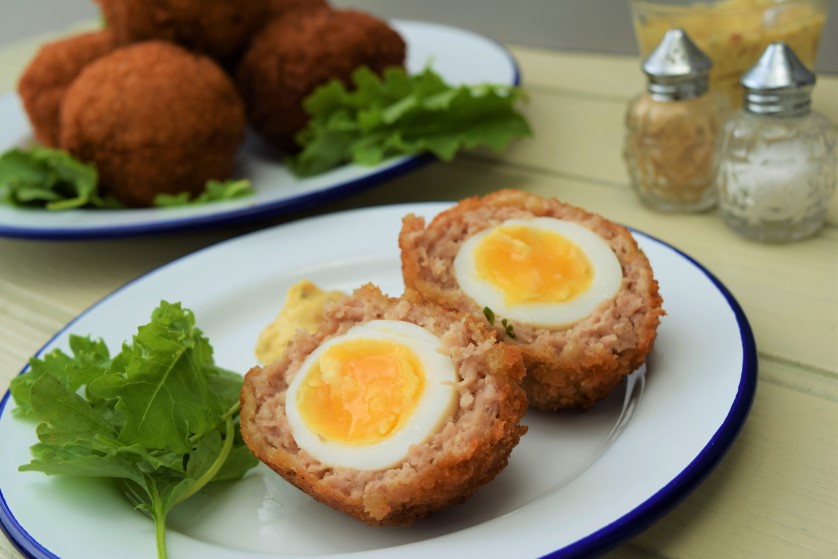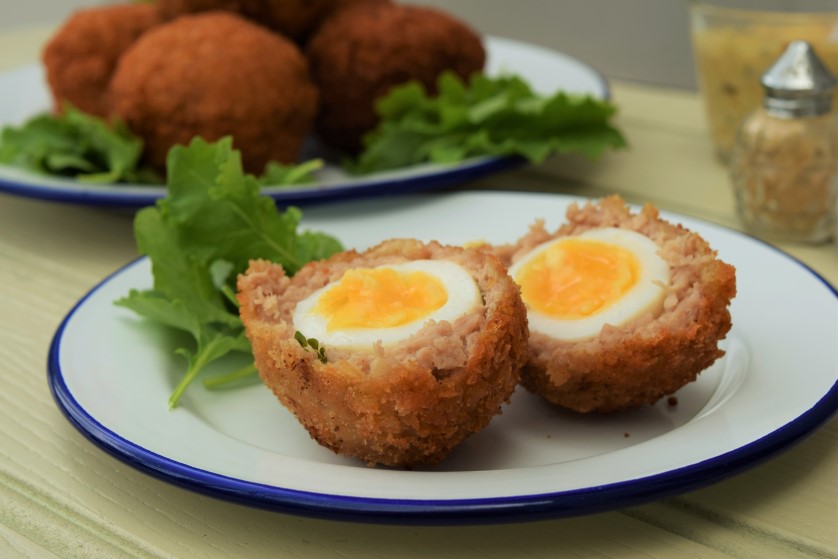 I have waited ages to share this wonderful recipe with you. The soft egg swaddled in hot, crisp sausage meat it the best food combination ever. Clyde paid these Scotch Eggs the highest compliment. He said he can no longer enjoy a shop/garage Scotch Egg again as they will never taste as good as these homemade ones. I am glowing with pride.
Lucy x
Scotch Eggs Recipe
Makes 6
You won't need any exciting equipment
6 eggs for hard boiling plus 2 eggs for coating
450g to 500g sausagemeat or skinned sausages
Two tablespoons fresh herbs, parsley or thyme are good, finely chopped
Salt and pepper
3 tablespoons plain flour
150g breadcrumbs, panko would be great
Vegetable oil for deep frying, approx 1 litre
Curry Mayonnaise
3 tablespoons good mayonnaise
2 teaspoons mango chutney, a nice spicy one if you can get it
1 to 2 teaspoons curry powder
Leaves or parsley to garnish
Take a medium sized sauce pan and fill with water. Bring to the boil then add the six eggs. Boil for exactly 6 minutes then take off the heat and run under cold water. Leave to cool before peeling then popping to one side.
Take a bowl and add your sausage meat. Tip in the fresh herbs and salt and pepper and mix well with your hands or a spoon. Divide the sausage meat into 6 equal-ish portions then flatten into a flat disc. Wrap this around the egg, smoothing the sausage around the egg, making sure there are no holes. Repeat with the rest of the sausage and eggs.
Put a large sauce pan on the hob and heat around 2 inches of vegetable oil. Be careful here, keep an eye on it and never leave unattended.
Take a bowl and beat the remaining two eggs. Then take two plates and measure out the flour on one and the breadcrumbs on the other. Take each Scotch Egg and roll in the flour, then the egg, then the breadcrumbs then pop on a plate whilst you finish the other eggs.
Check the temperature of the oil by dropping in a crumb, if it sizzles, the oil is hot enough. Carefully place in two Scotch Eggs and cook for 7 to 8 minutes or until golden brown and cooked through. Keep turning the eggs in the oil. Drain on kitchen paper whilst you cook the rest of the batch.
For the Curry Mayonnaise add the mayo, chutney and curry powder into a small bowl, mix well then chill until needed.
Serve these wonderful Scotch Eggs warm or cold, dipped in the Curry Mayonnaise, if you wish.