Sloppy Joes Recipe
As I type, it's the start of the half term week and for once, I have managed to take a couple of days holiday. I am looking forward to spending some time with the boys, hiding from the builders working on our kitchen and generally just having a bit of a rest. This will, invariably, not happen and I can already envisage my dog walks alone, where I have not managed to persuade either child/man-child to join me and the carnage that will be George and I going to buy him new shoes. However, I am at least looking forward to slightly less fraught mornings and more relaxed evenings. And what with Hallowe'en looming next week this Sloppy Joe recipe is certainly a supper to road test shortly.
I had only heard vague mention of Sloppy Joes on American tv shows, and had never really deciphered what they were. So when I stumbled upon this recipe I thought it was time I gave them a go. Basically a Sloppy Joe is a savoury mince, with a hint of spice, served in a hot dog roll and topped with cheese. All pretty delicious. The minced beef has a slightly burger like taste with the addition of ketchup and mustard all topped off with grated cheese. This is a quick and dare I say it 'fun' type of dish, which would make a great pre Trick or Treating supper. And if your's, like mine, are too old for robbing poor neighbours of their Haribo supplies, Sloppy Joes make a great pre party dish, with plenty of carbs to sop up any Hallowe'en imbibing. This recipe comes care of my idol, the Pioneer Woman, with huge thanks and admiration.
This certainly is not haute cuisine, but who cares. It's half term, time for longer lie ins, less frantic meal times, mince and definitely a mid week glass of wine or two.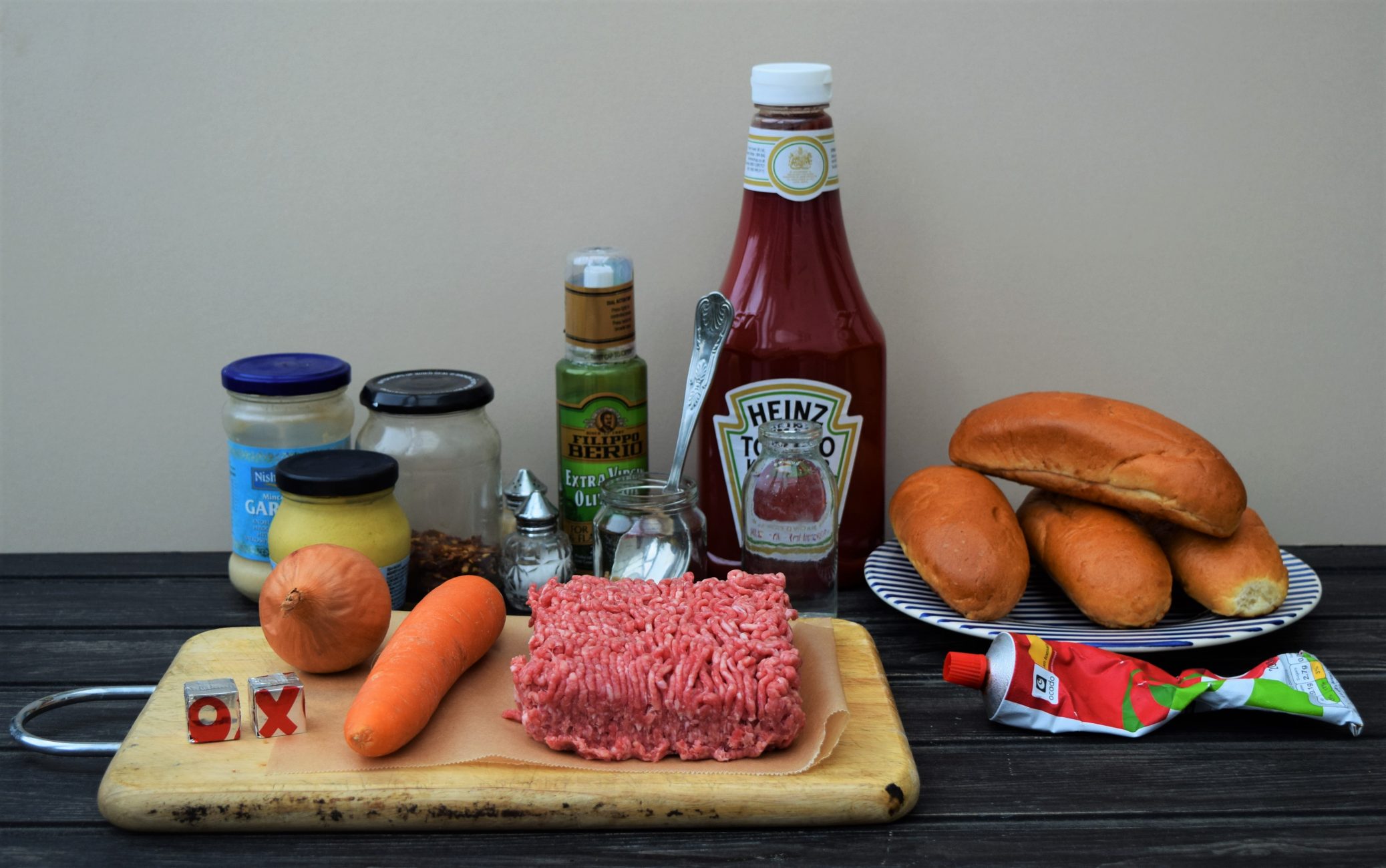 Here's the classy line up for these Sloppy Joes. I have modified the recipe slightly from the original as it was just a touch too sweet for my liking. Plus, neither boys, or myself are huge fans of a green pepper, so I have left this as optional.
Make a start on your supper by heating a good sized frying pan with a tablespoon of olive oil. Add your minced beef and cook for around 5 minutes, or until starting to brown.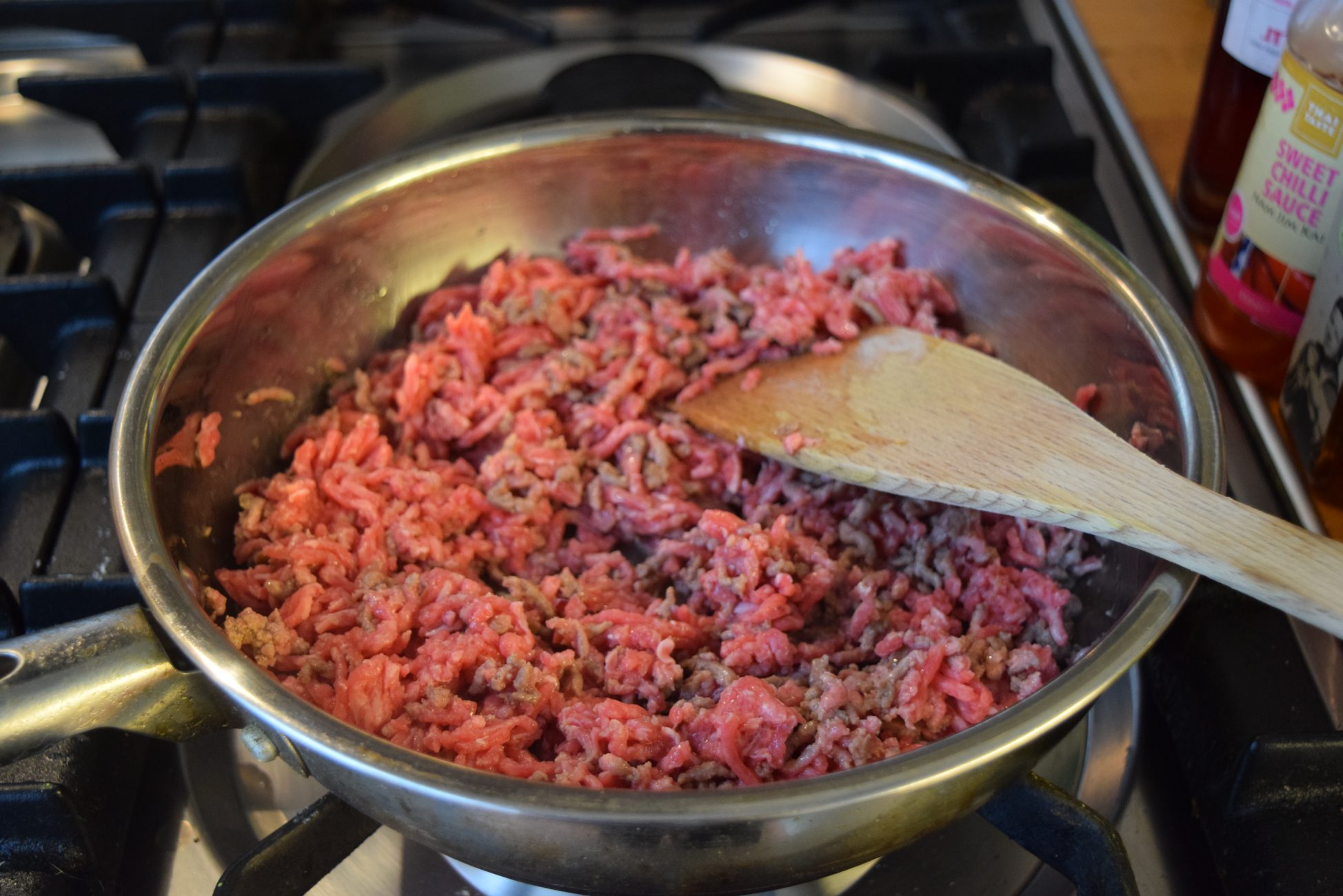 Once all the pink has gone from the mince, drain off any excess fat, then tip in your chopped onion, garlic, optional green pepper and carrot and sauté these until just starting to soften.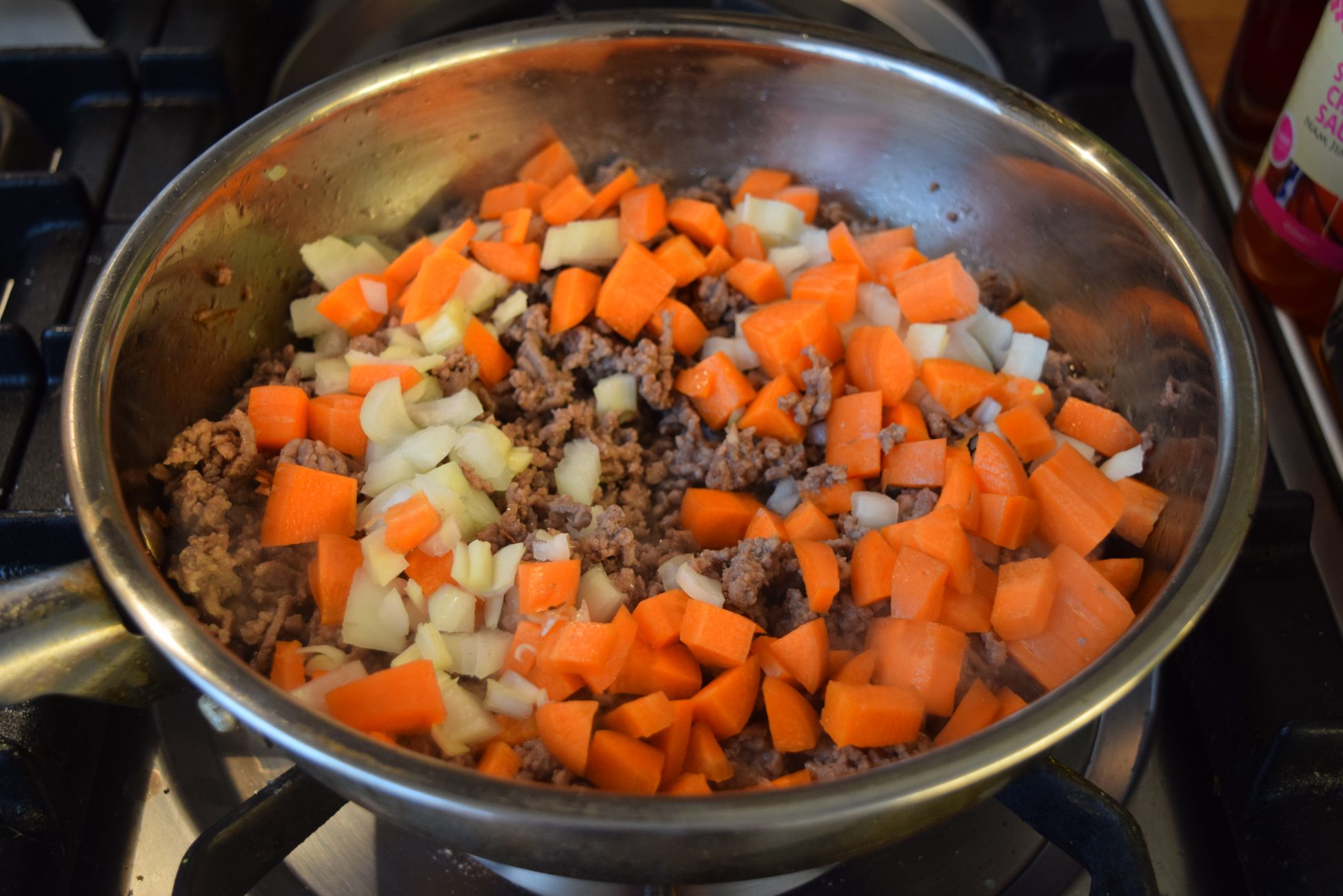 Next in this simpler than simple recipe add in your flavourings. Start with the ketchup, chilli flakes, mustard and brown sugar.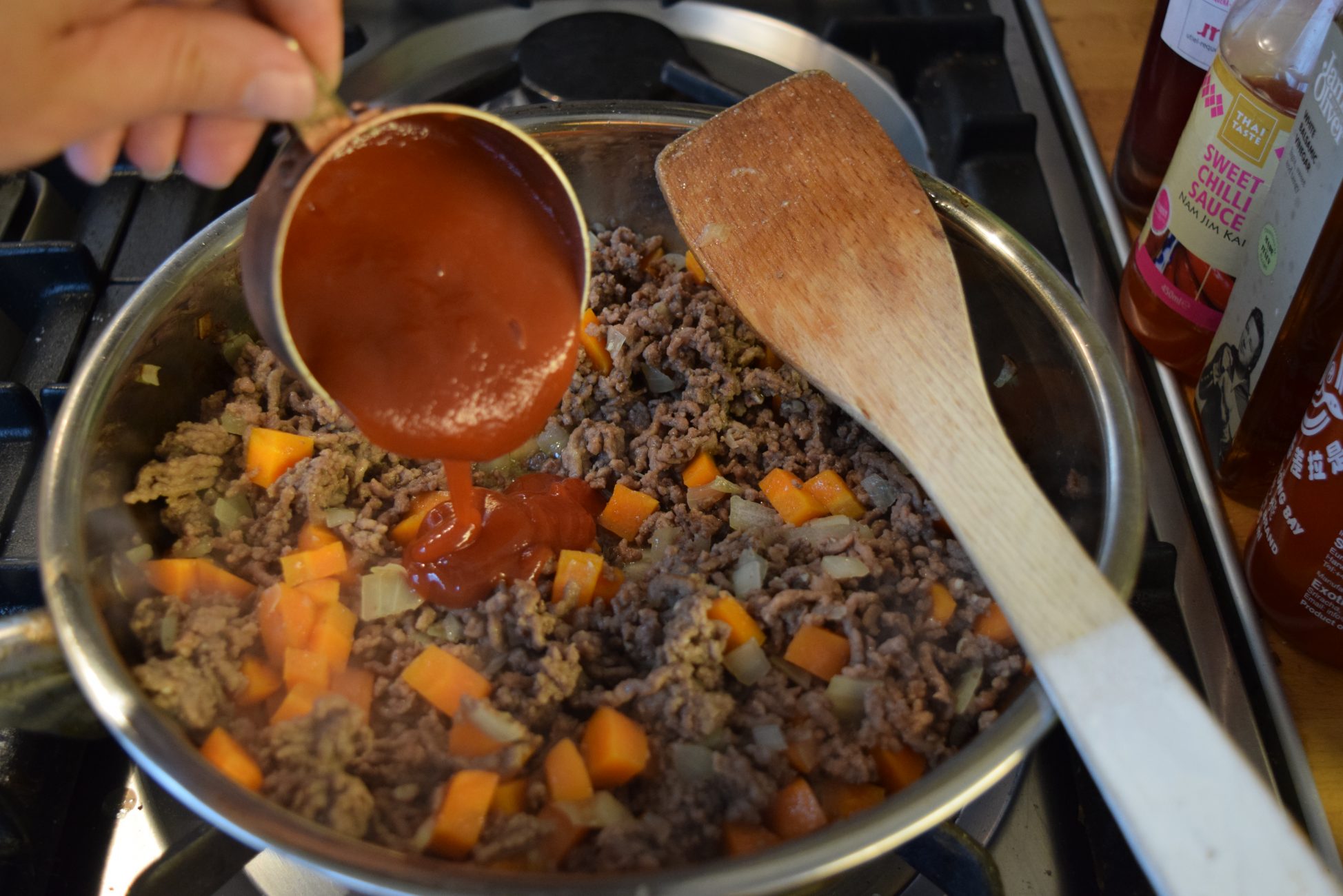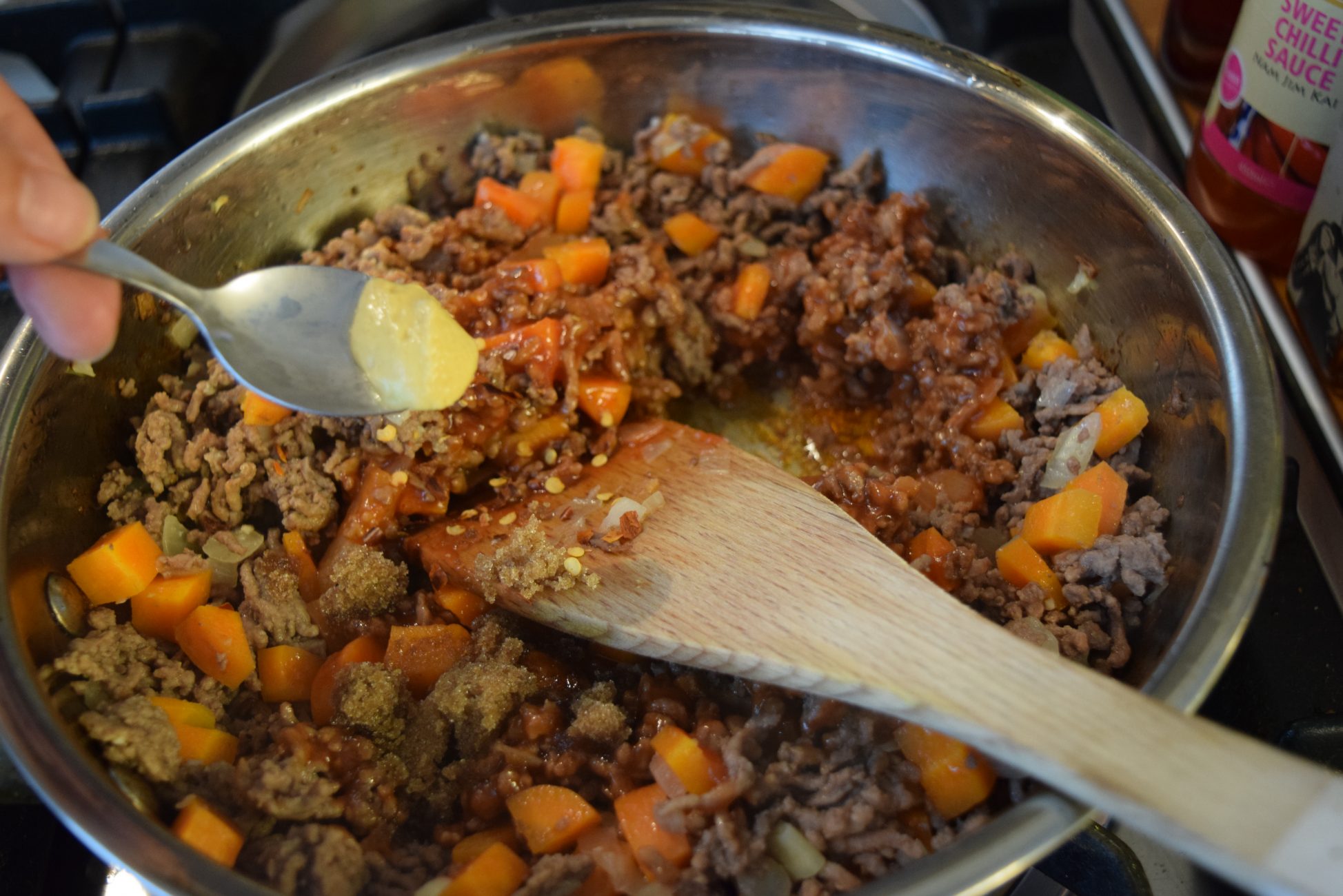 Follow on with the Oxo or beef stock, tomato puree and water to fashion a bit of a sauce for the mince.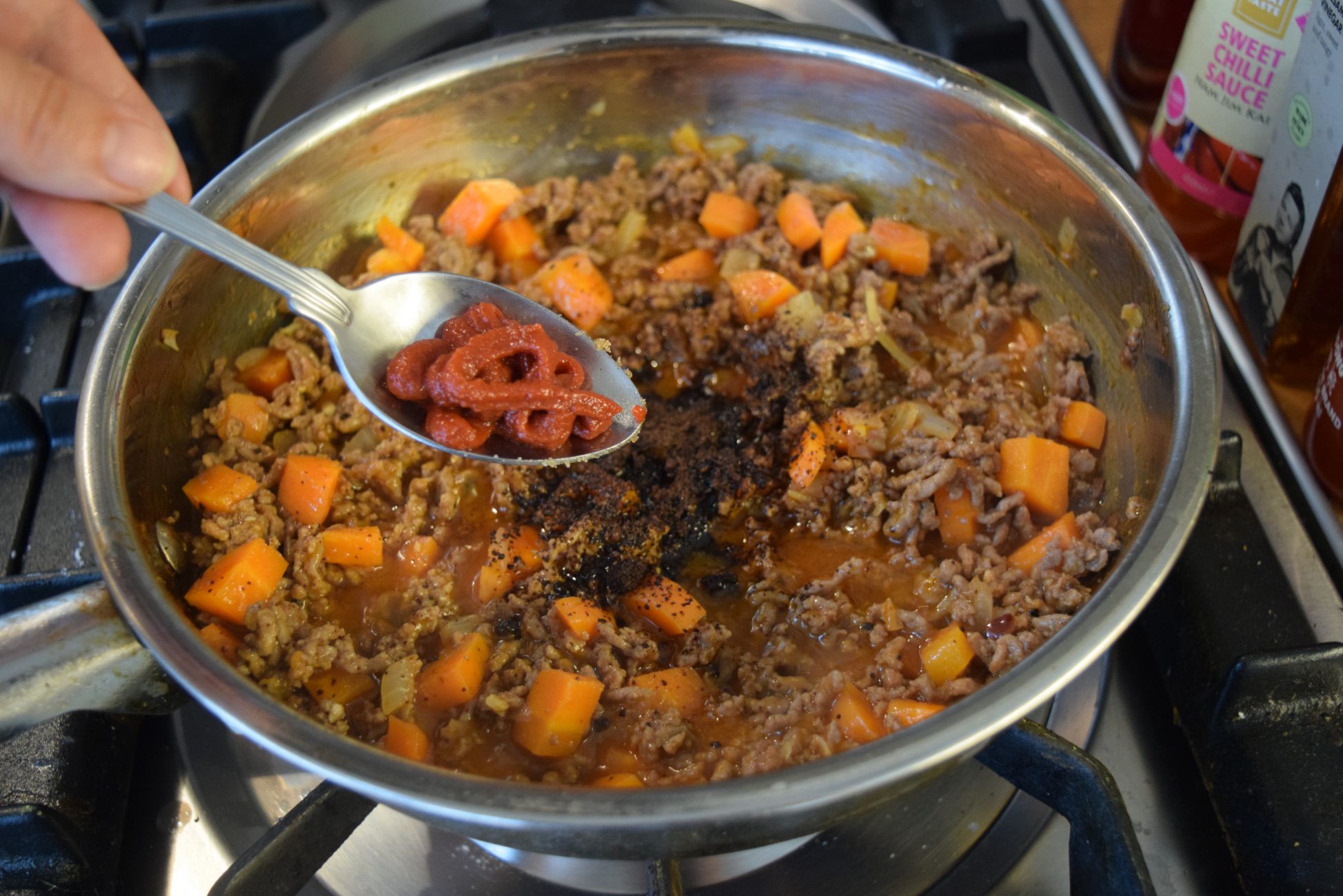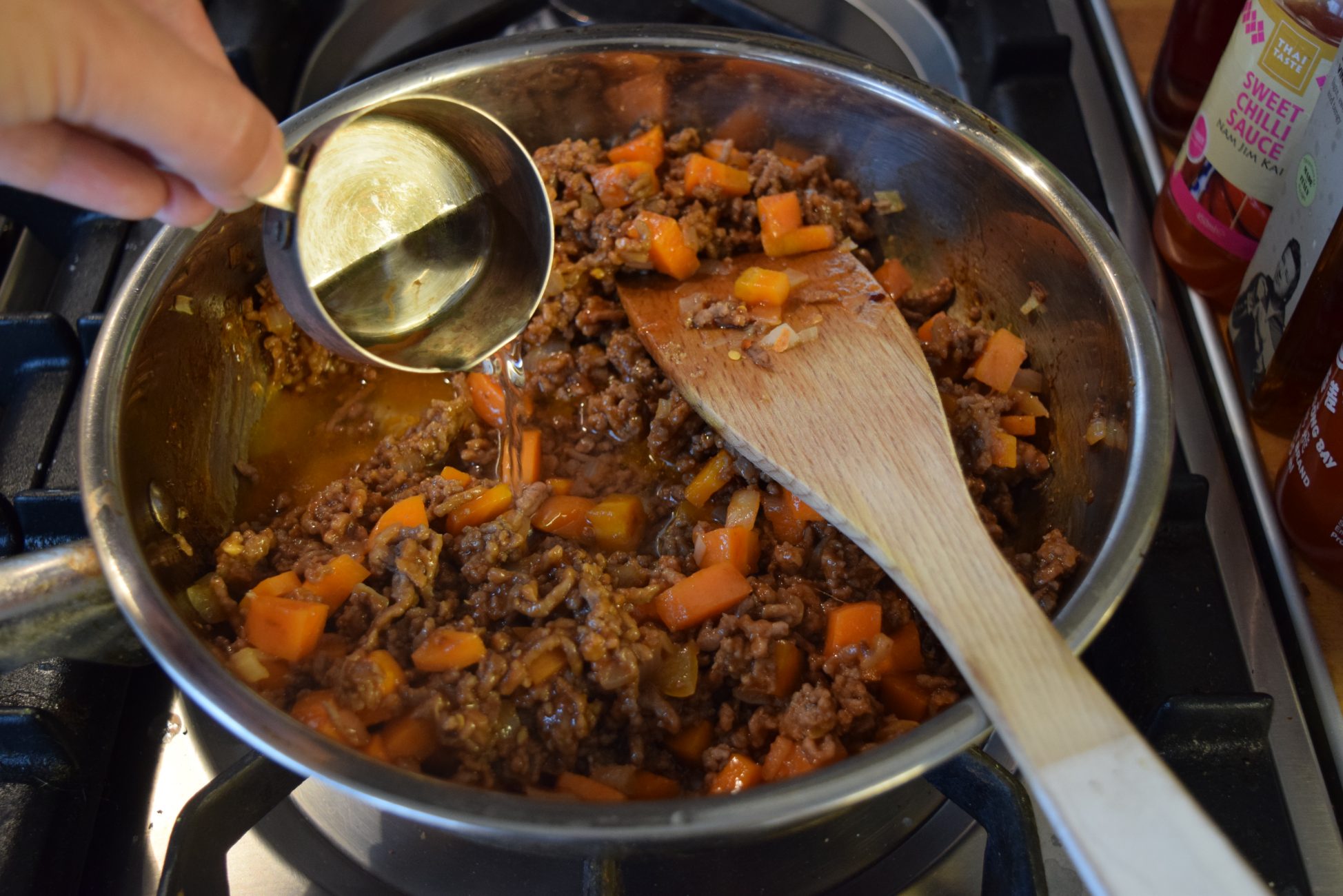 Give this all a good stir, bring up to the simmer, pop on a lid then leave to mingle away for 20 to 30 minutes.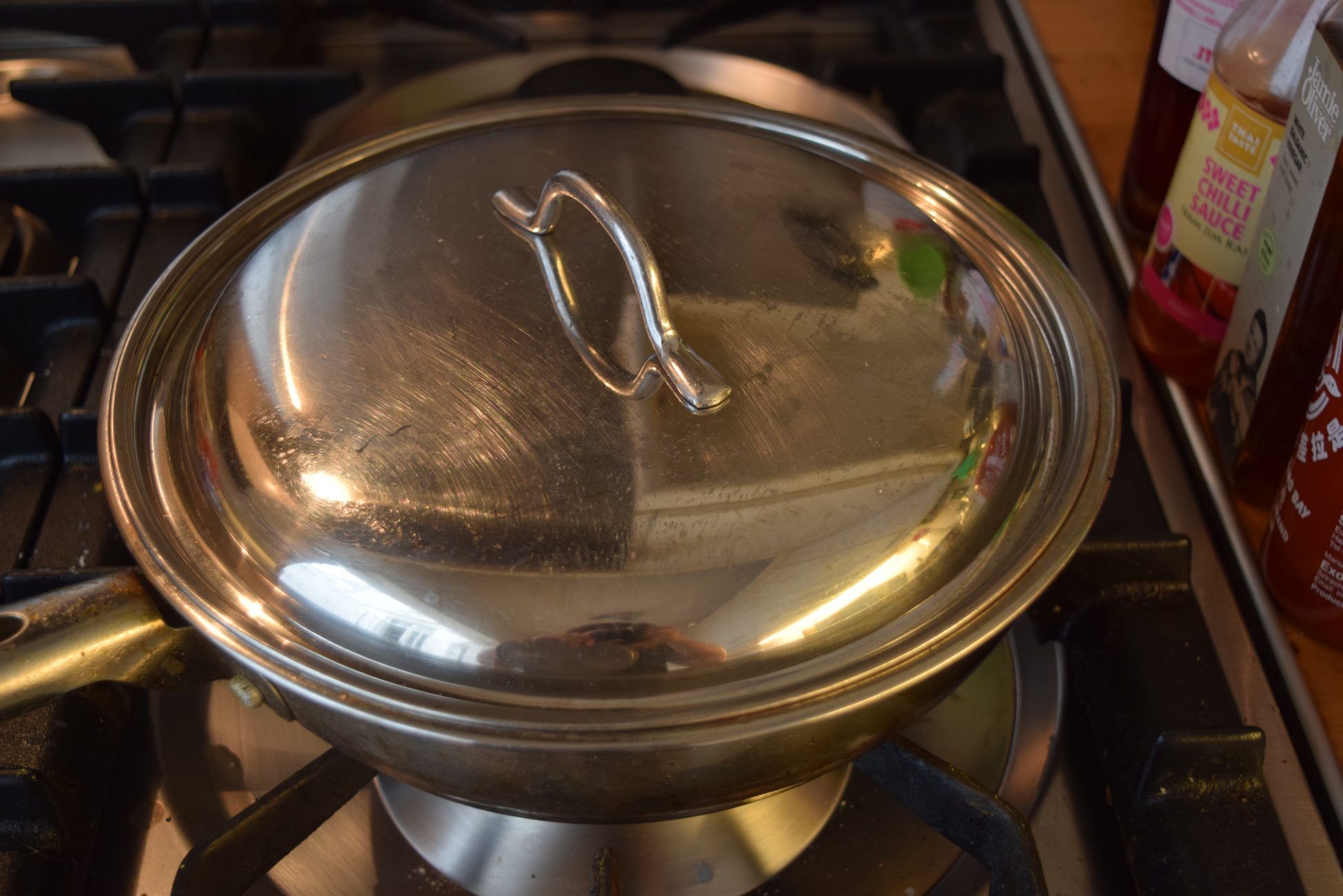 Your Sloppy Joes are cooked when the meat is soft and the flavours have all melded together. You don't want it to be too dry, but then too much sauce will just end up down the front of your shirt. So if it's too saucy let it simmer away without the lid for a little longer.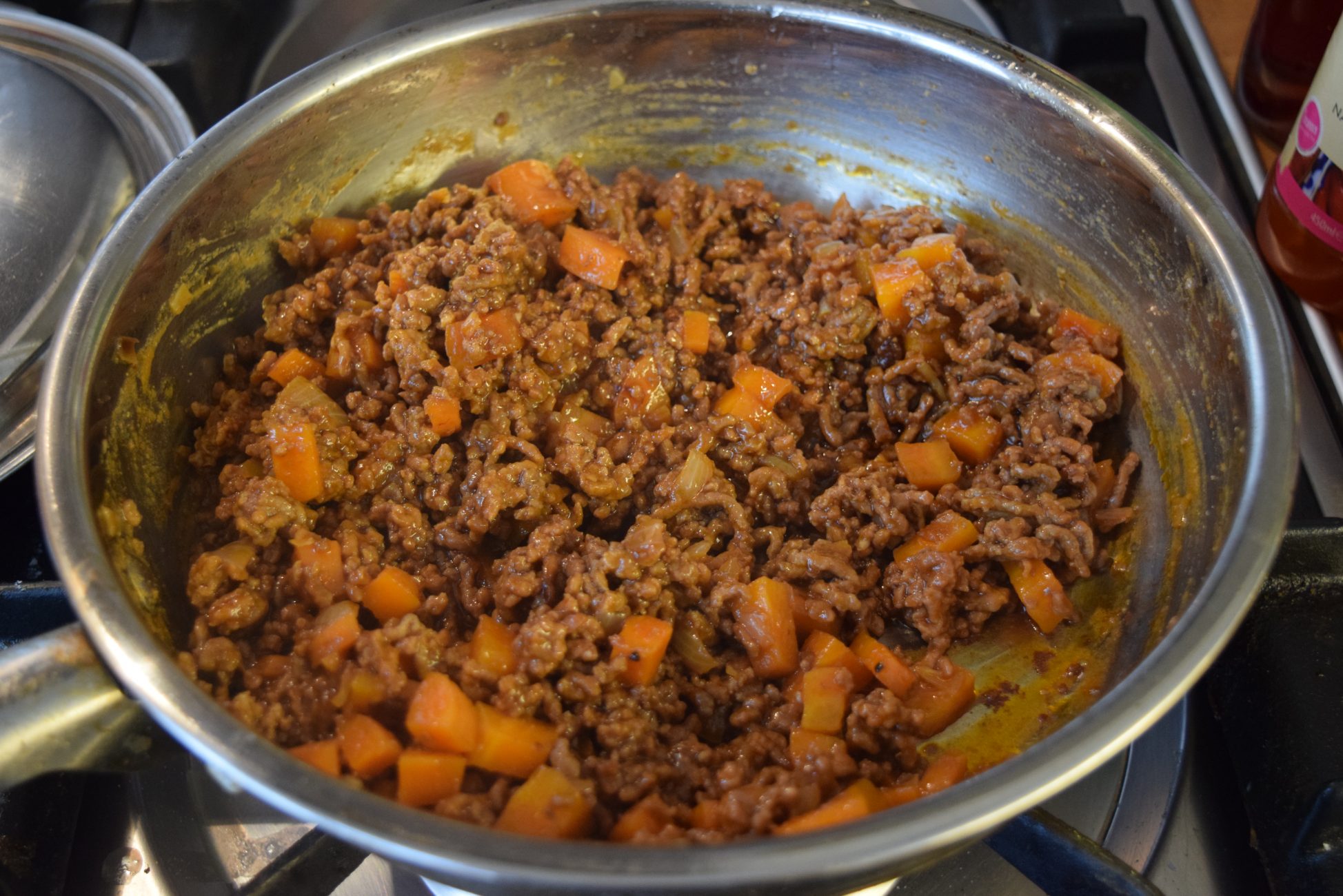 When you are ready to serve this tasty dish, warm your rolls in the oven or toast under the grill and grate some cheese in anticipation.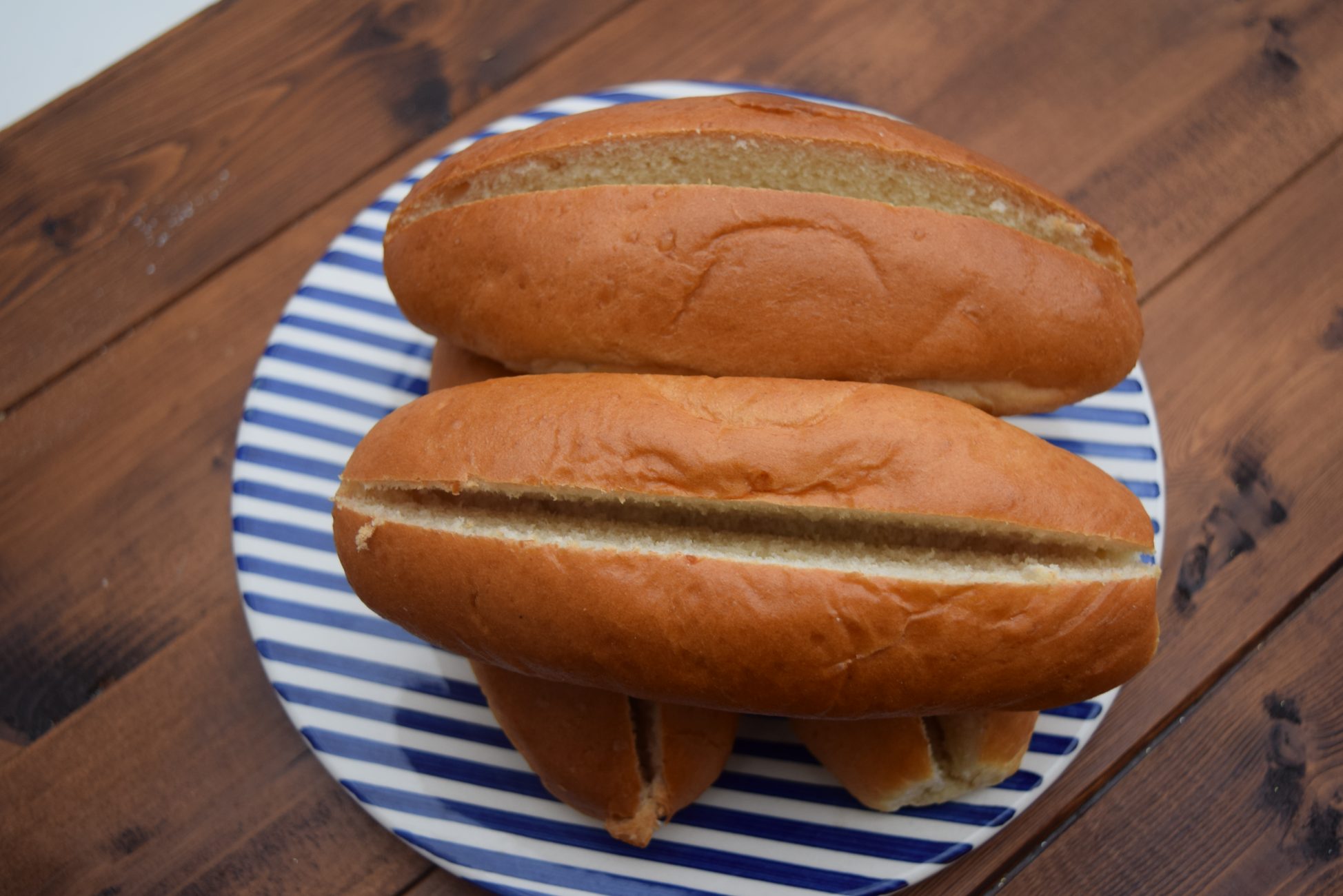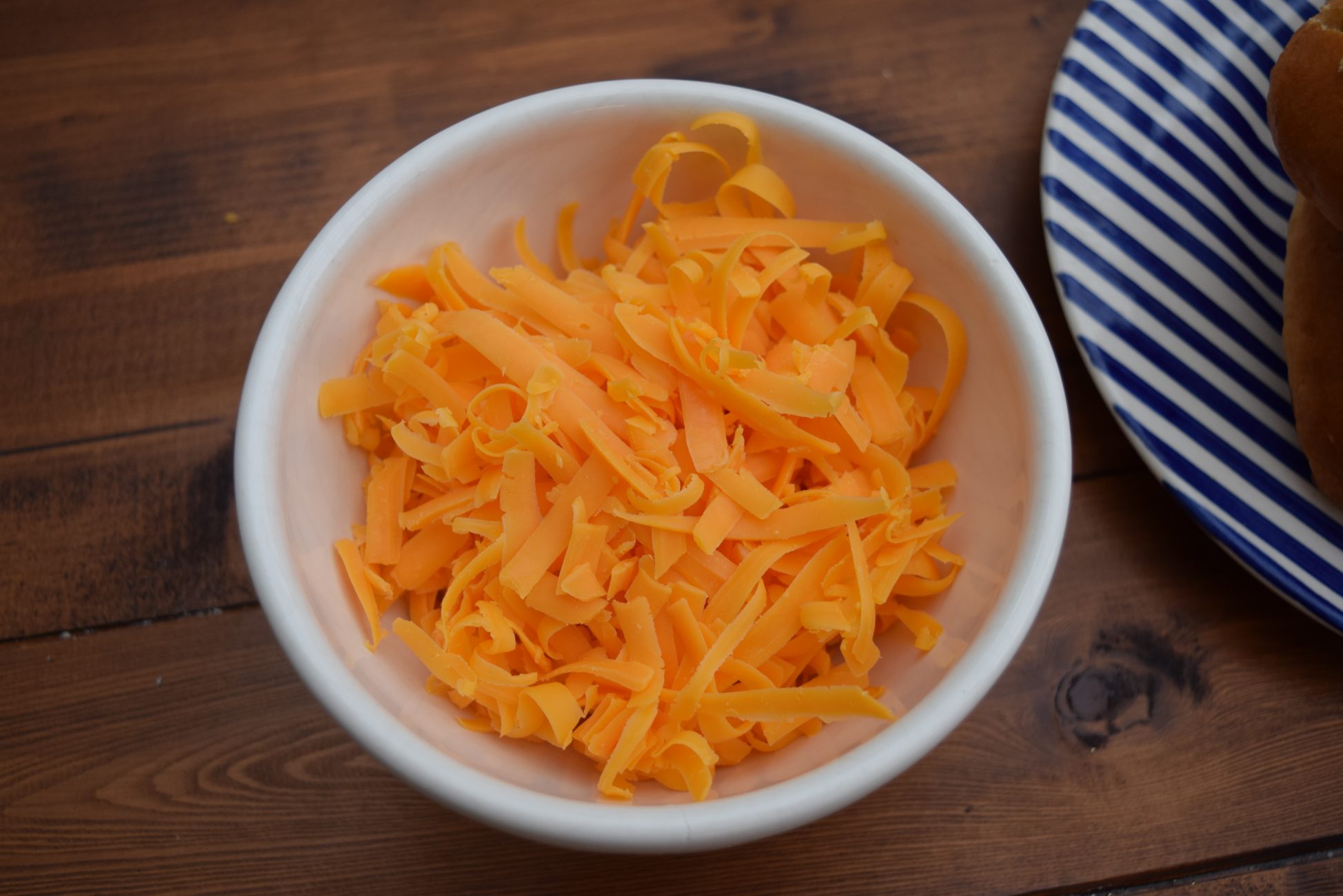 I went with a bit of Red Leicester but you can opt for anything you have in your fridge. Spoon the filling into your warm rolls and top with the aforementioned cheese.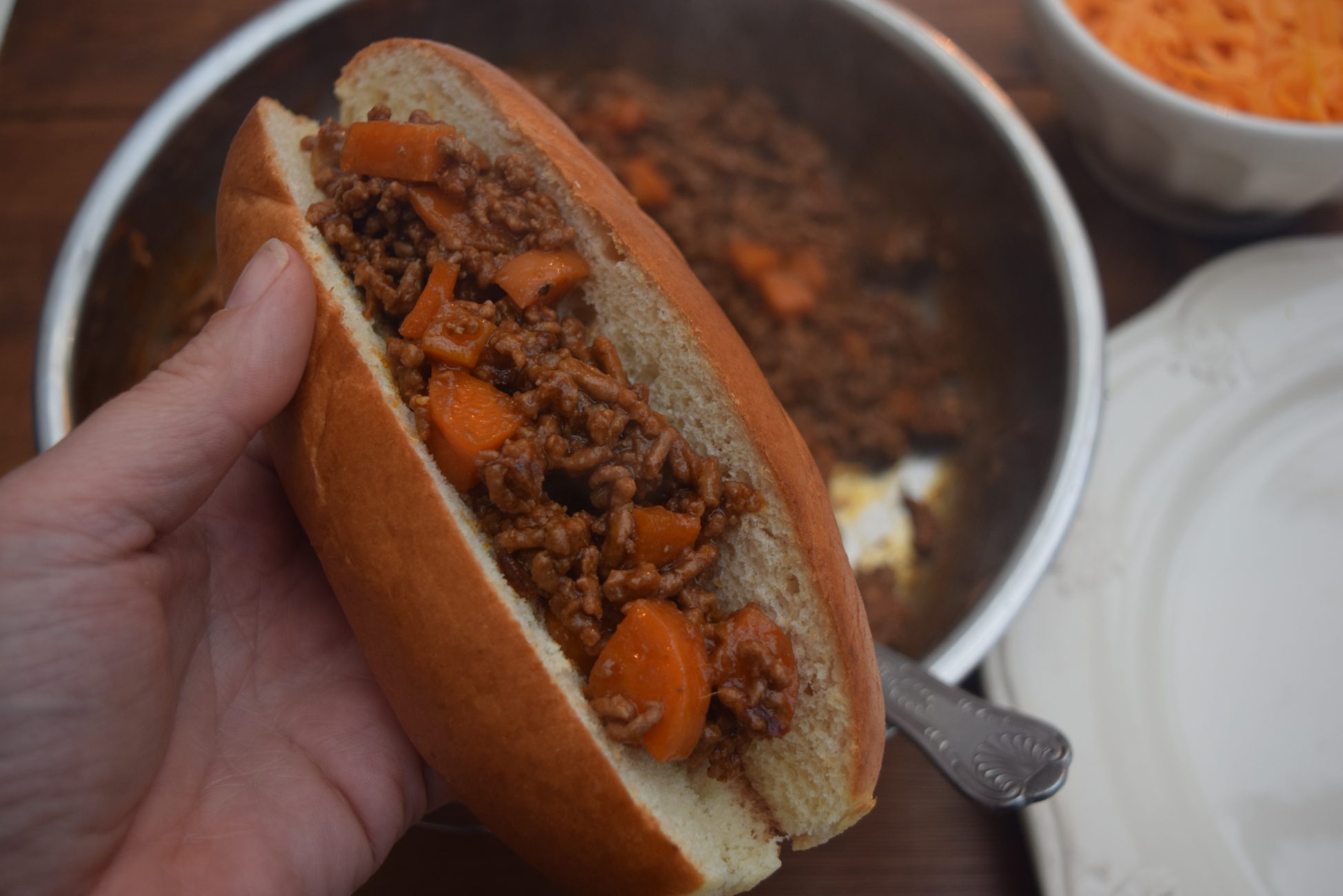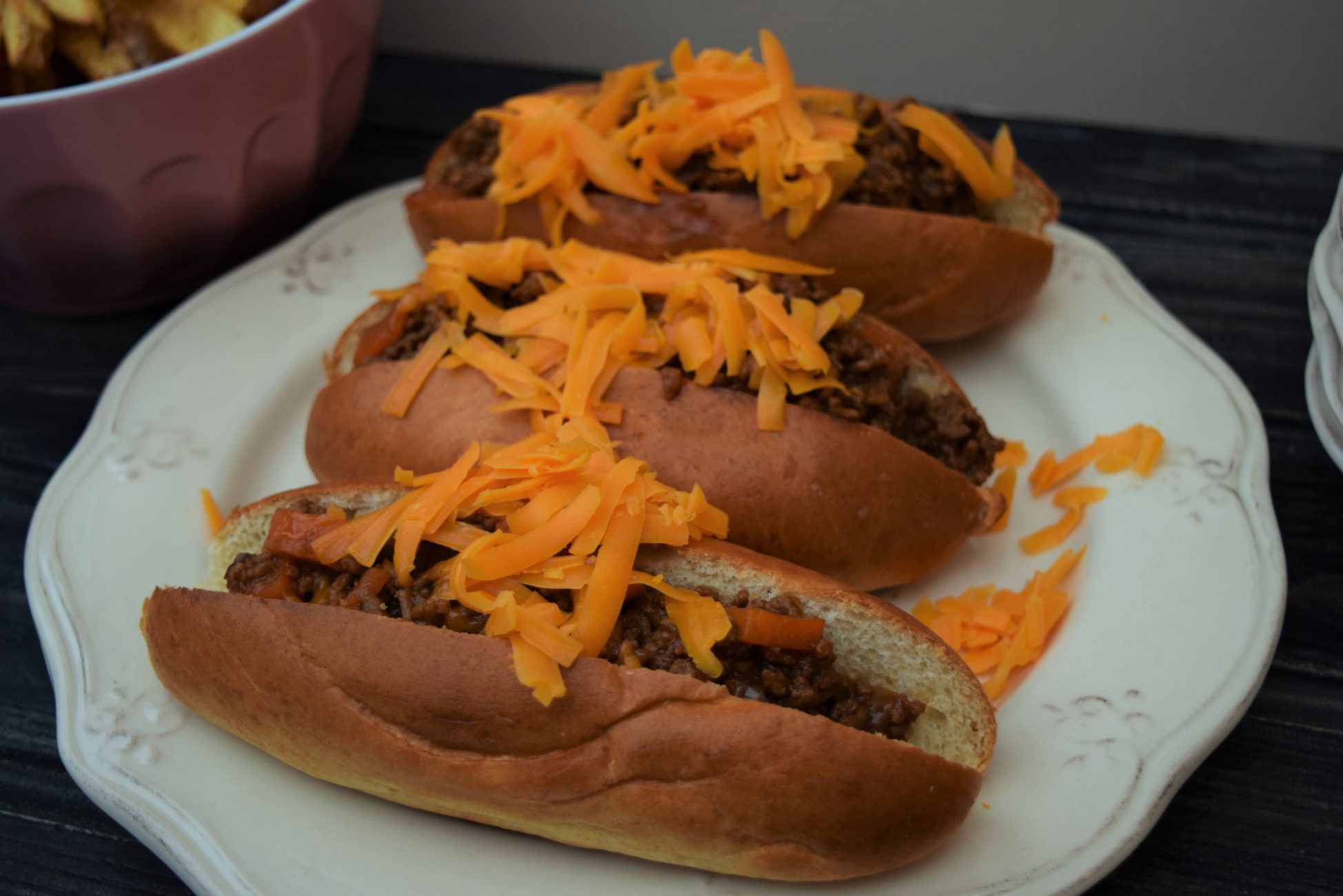 Devour, wearing a bib if necessary. And brace yourself as one may not be enough.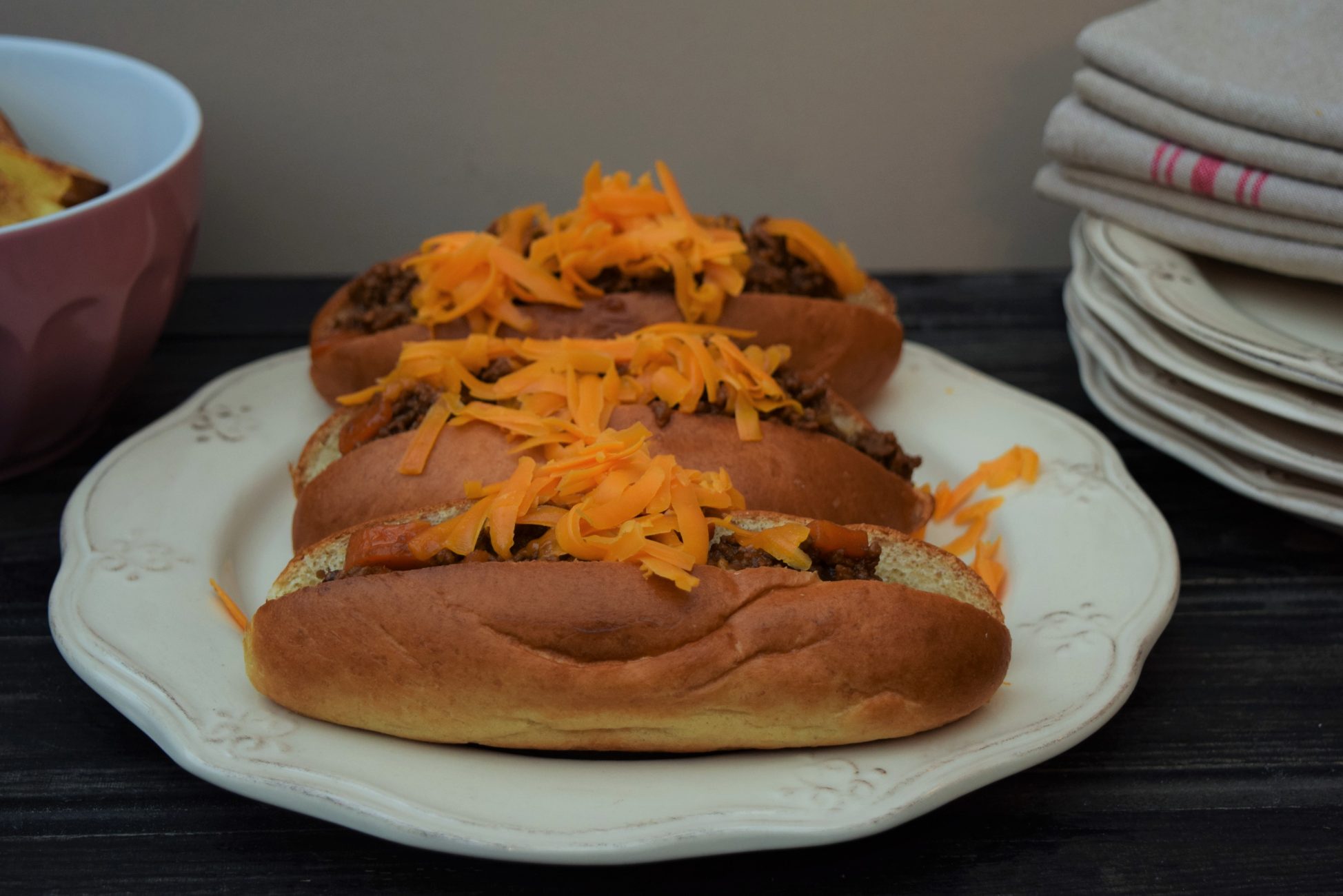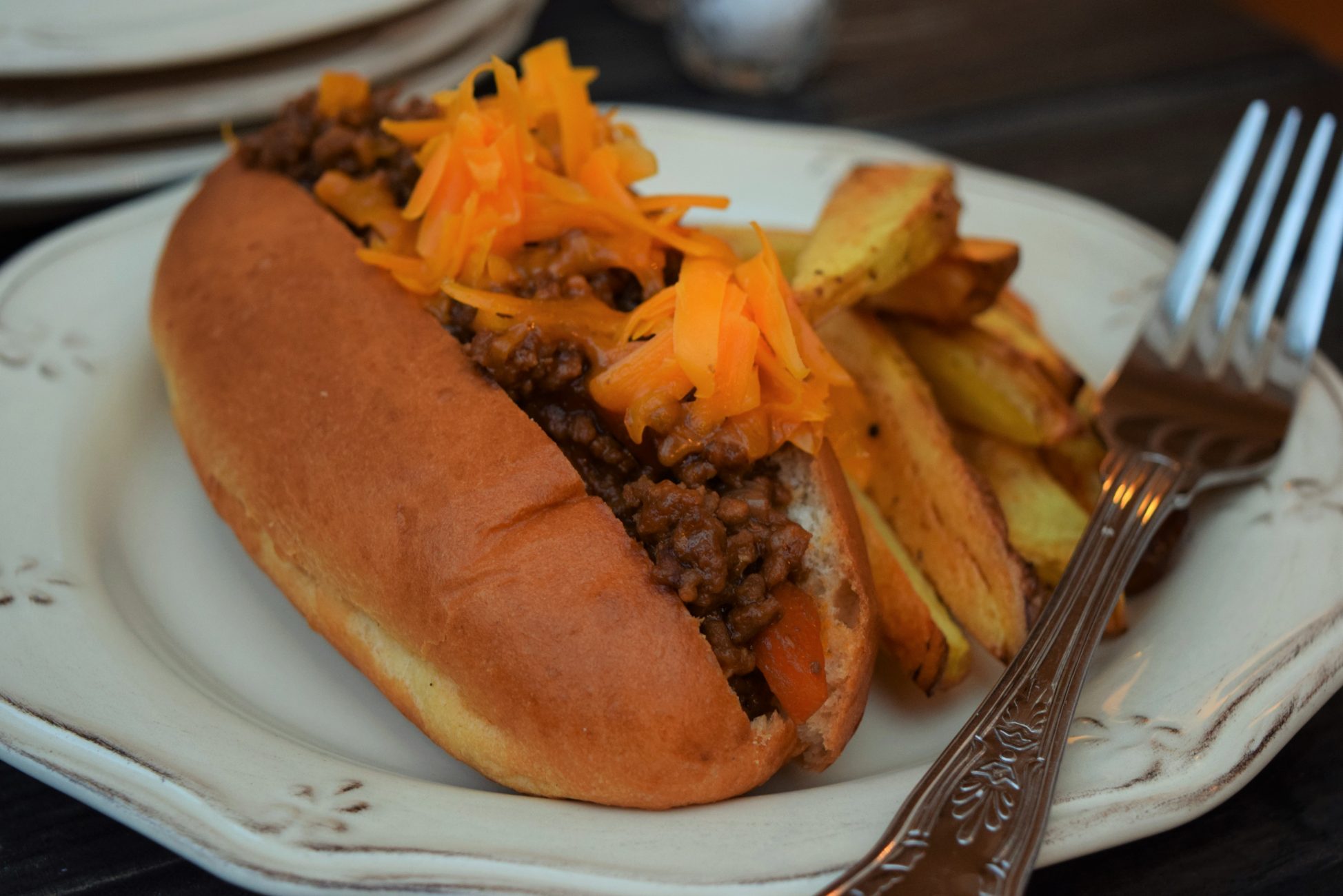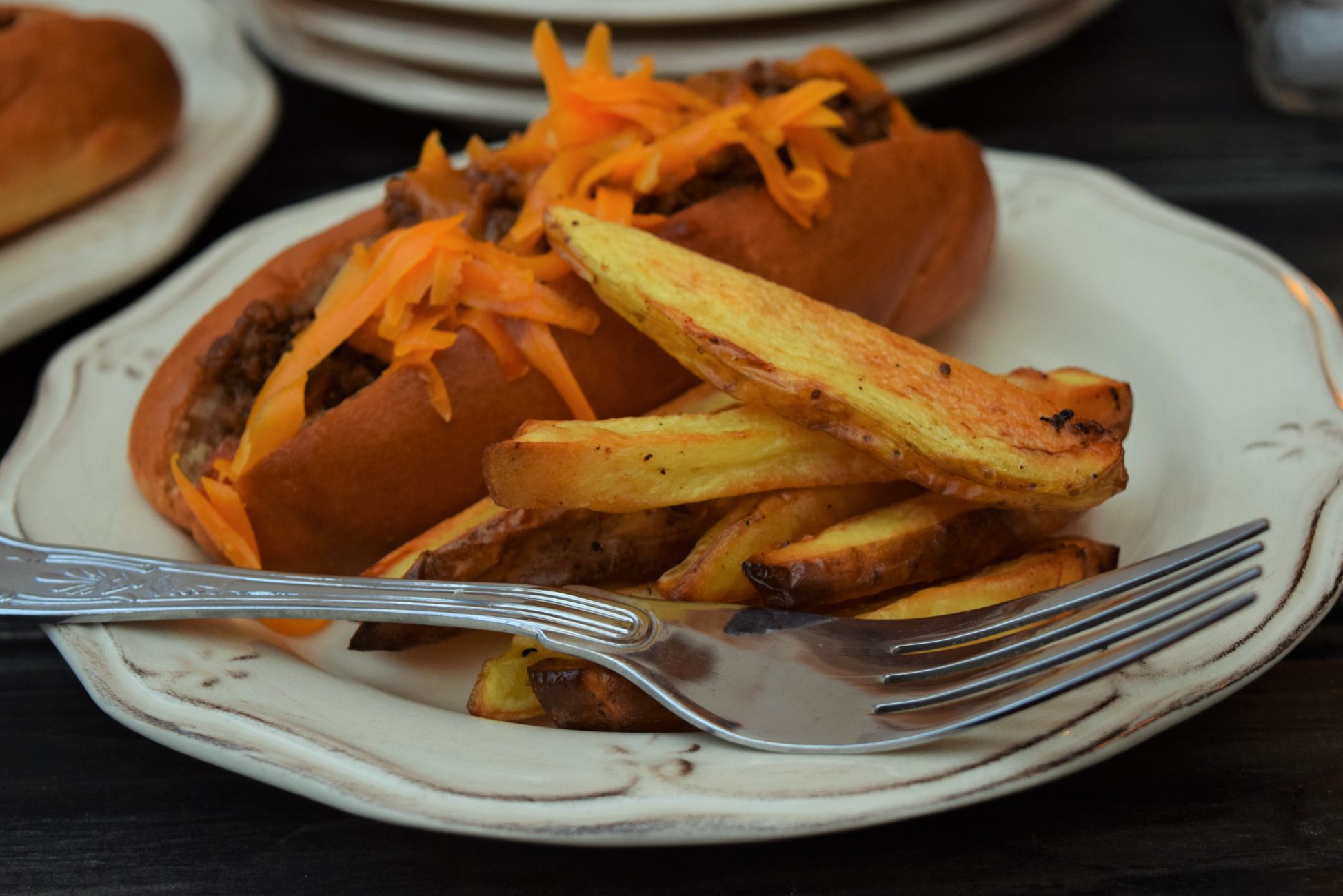 This is another one for your mince based supper repertoire, of which you can never have too many. Perfect pre or post Hallowe'en fodder which can be whipped up whilst creating some impressive face painting and scary sheet/bin bag based costumes.
Lucy x
Sloppy Joes Recipe
Serves 4 to 6 hungry children or adults
You won't need any exciting equipment
1 tablespoon olive oil
500g beef mince
1 small onion, finely chopped
2 cloves garlic or a teaspoon garlic from a jar
1 green pepper, deseeded and chopped – optional
1 large carrot, or 2 smaller, finely chopped
125ml tomato ketchup
1/2 teaspoon mustard or mustard powder
a good pinch dried chilli flakes
1 tablespoon brown sugar
1 Oxo cube or half a more concentrated beef stock cube
1 heaped tablespoon tomato puree
125ml to 150ml water
Salt and pepper, to taste
Warmed/toasted hot dog rolls, grated cheese or cheese slices and chips, to serve
Take a large frying pan and add the tablespoon of oil. Heat over a medium heat then add your mince and start to brown. Cook for a couple of minutes, until no pink remains, then drain off any excess fat at this stage. Add the chopped onion, carrot, pepper, if using, and garlic then stir well. Cook until the vegetables are starting to soften then add the tomato ketchup. Follow in with the brown sugar, Oxo or stock cube, mustard, chilli flakes, tomato puree and water.
Give this all a good stir then season, put a lid on, turn down to low, then simmer for around 20 minutes or until the mixture is soft and saucy.
Warm or toast your rolls then serve filled with the savoury mince adding grated or sliced cheese and some chips on the side. Leftovers will keep covered in the fridge to be revisited over the next two to three days.