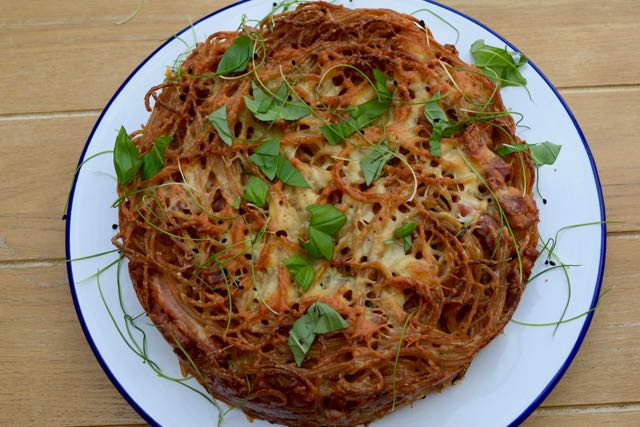 Spaghetti Carbonara Pie Recipe
This is another one of these recipes as soon as I saw it, I knew I had to make it. Pasta, but taking the form of a pie, that's two family favourites all rolled into one. And bloody hell it's easy, which is just fine with me at the moment. It's balls to the wall time of the year again with back to back school events, work's mental and I have half an eye on our holiday preparations. So a supper that can be slung together in less than an hour is a God send as my attention span will not extend much further. This Spaghetti Carbonara Pie is also great for people like me who more often than not make enough pasta for a small third world country when I just meant to make enough for two. Any rogue leftover pasta can be stored in the fridge and used for this dish turning your overzealous pasta cooking into a useful mistake.
This Carbonara Pie is, despite it's simplicity and slightly naff nature, completely delicious. Your chosen spaghetti is tossed in cream, eggs, cheese and herbs along with a meat of your choice then baked to crisp perfection. The pasta soaks up the rich flavours and becomes a pie screaming to be served in large wedges with some garlicky shoots or crisp leaves. Serve it piping hot from the tin or pack leftovers into your ancient Tupperware and take it out into the park and this blissful sunshine*cue the rain on your roof*. An enormous inspirational thank you to Jamie Oliver for the heads up on this recipe.
I know I have been trying to lay off the carbs in preparation for unleashing my body on the Greeks, but I am led to believe brown pasta is a yes after exercise so I am happy to run everyday in order to be able to devour a slice of this pie. It's worth it, and I am the world's worse dieter anyway so will almost certainly eat at least two slices and bloody love every minute of it.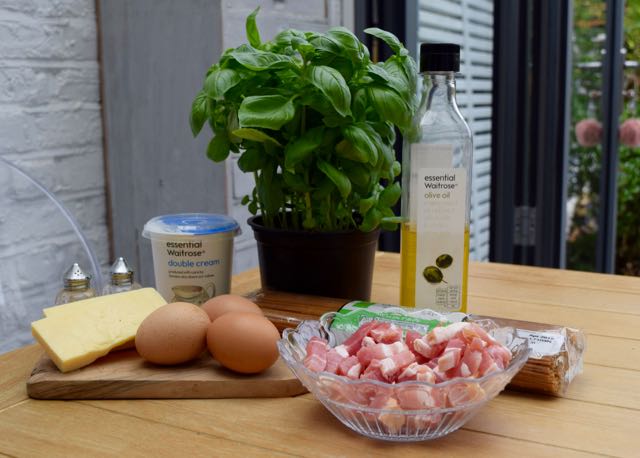 Such a tempting looking line up for today's post. I went down the lardons route instead of ham as I love their salty crispness. I also chose basil as my herb of choice as I adore it, with all it's savoury pepperiness.
Make a start on this brilliant recipe by pre heating your oven to around 160 degrees fan assisted. Next, spray or drizzle your loose bottom or spring form cake tin with some olive oil. Then sprinkle the base of the tin with some of the grated cheese, giving the tin a little turn so some of it sticks to the sides.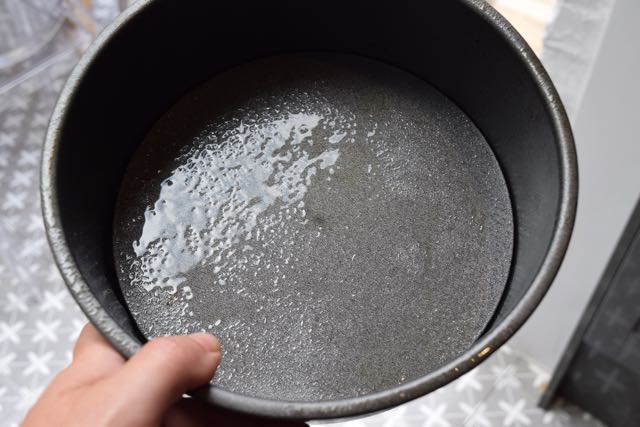 I couldn't get mine to stick to the sides, but it didn't seem to matter.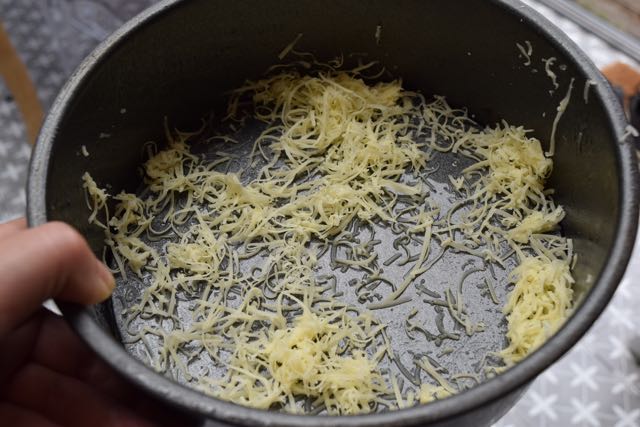 Pop this to one side while you cook your pasta. Follow the instructions on the packet then drain and leave to cool in the colander. Once drained, keep the pasta moving to cool it quickly and to stop it sticking too much.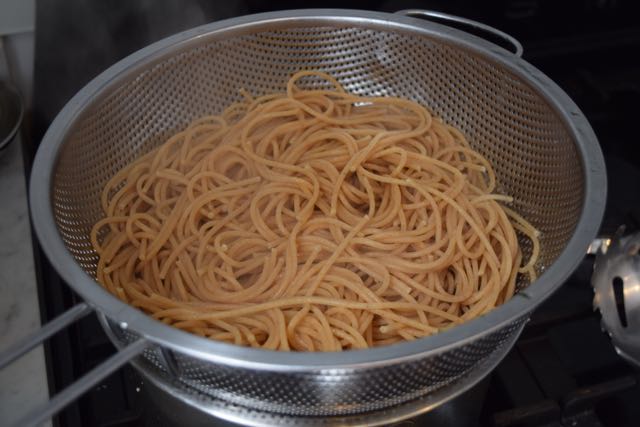 While this cools, cook off your bacon or lardons or chop your ham. The bacon or lardons will take around 5 minutes of your very valuable time to crisp and turn golden.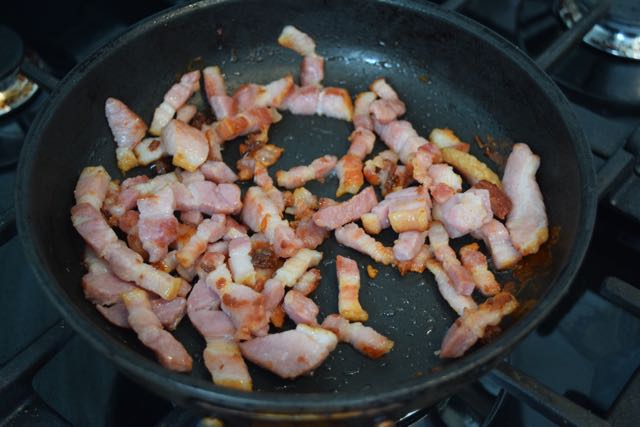 Pop these to one side, you can drain if you like, I didn't because I wanted to add the bacon pan juices to the dish.
Now whisk the eggs and cream together in a large jug with a giant pinch or grinding of black pepper.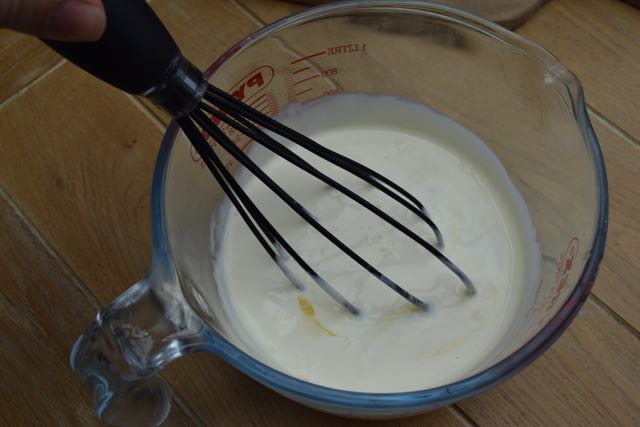 Place the now cooled spag into a large bowl, breaking it up with your fingers where it will have stuck together, then pour on the creamy egg mix and stir well.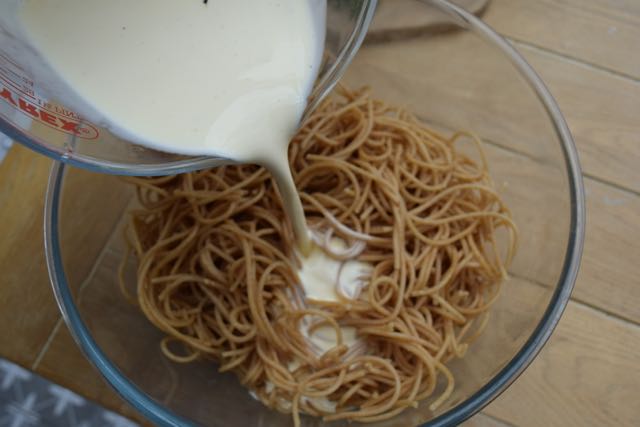 Snip in your herb option, I used some freshly chopped basil but you can choose your favourite herb of the moment, then tumble in the bacon, lardons or ham of your choice.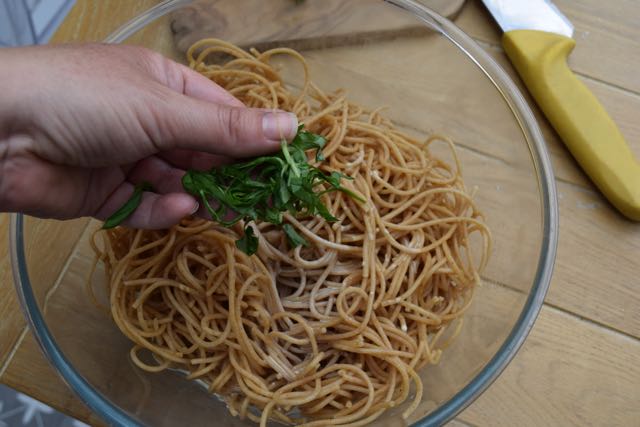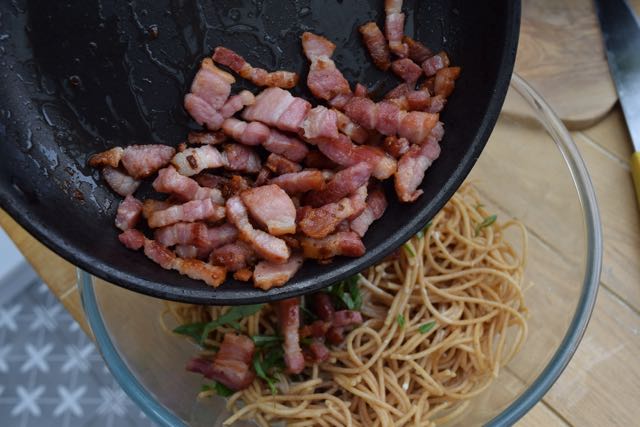 Look at all those lovely bacon fatty juices going into the dish. I did mention I was crap at dieting.
Give the pasta a super stir then add three quarters of the remaining cheese and stir again before tipping into your cheese and olive oil lined tin.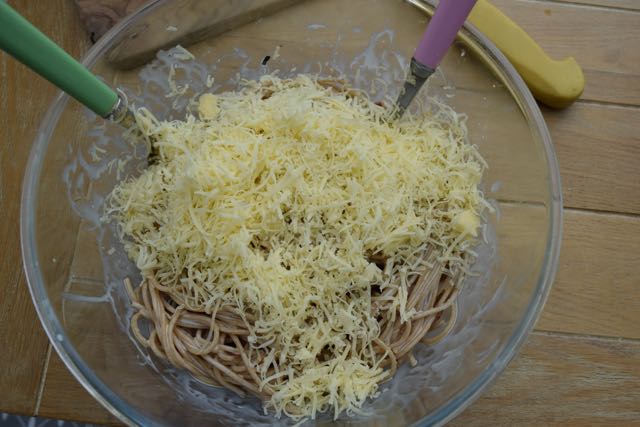 Flatten the top of the pie then sprinkle with the last of the cheese. Place on a baking tray then pop into the oven for 35 to 45 minutes.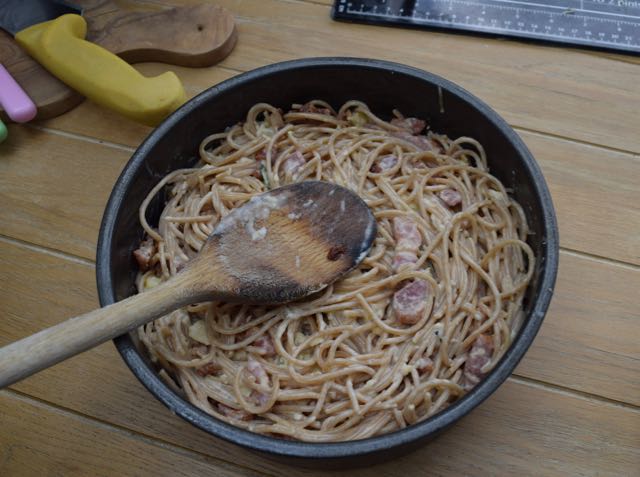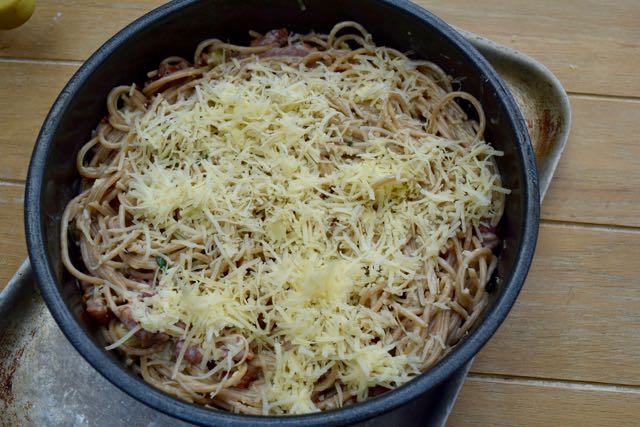 The pie is cooked when it's golden brown, crisp, the egg mixture has set and the whole dish is firm and pie like.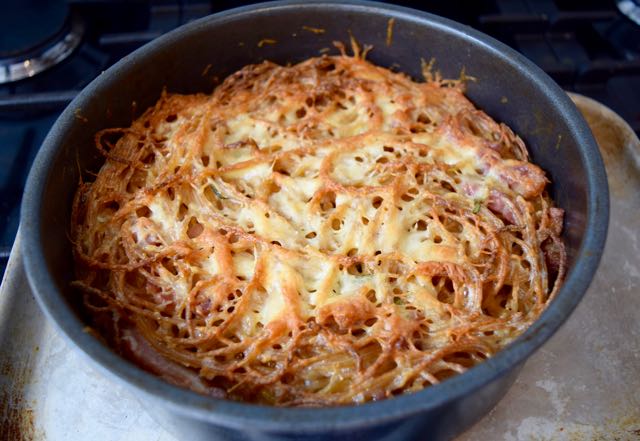 I can assure you, this Spaghetti Carbonara Pie tastes as good as it looks. If you can bear, leave it to sit for 5 minutes then run a knife round the edge and release the sides or push up from the bottom of the tin.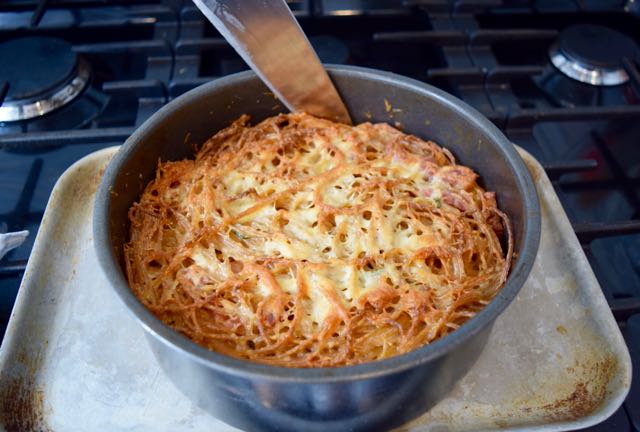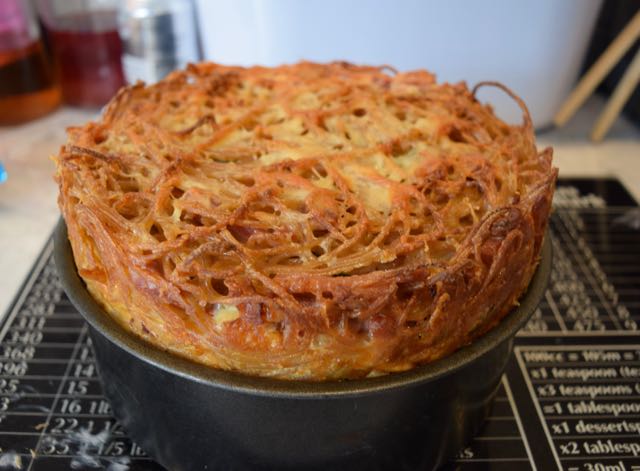 Turn out onto a serving plate or board and scatter with more herbs or shoots. Serve in large wedges with some salad leaves, a lovely lemony dressing would be great with all the cheesy bacon business.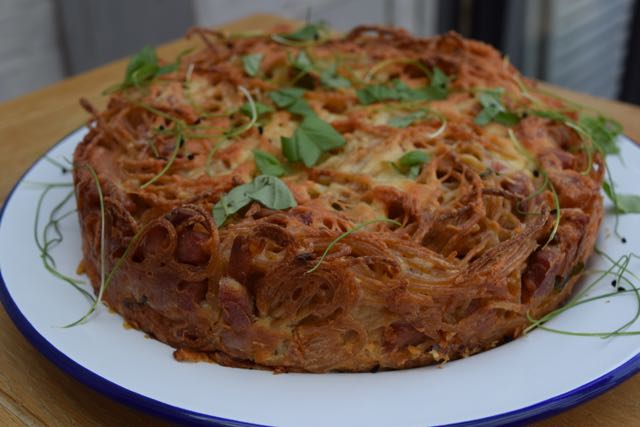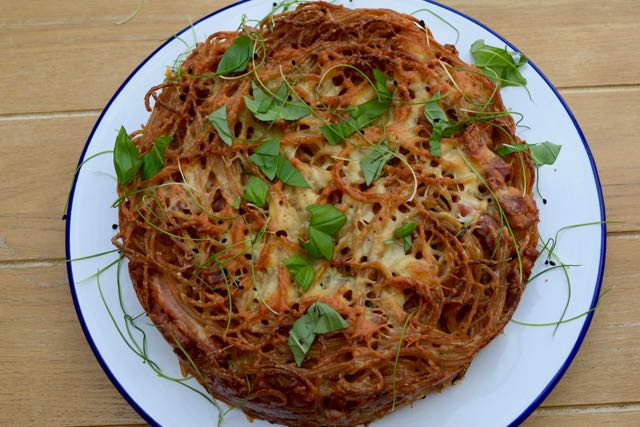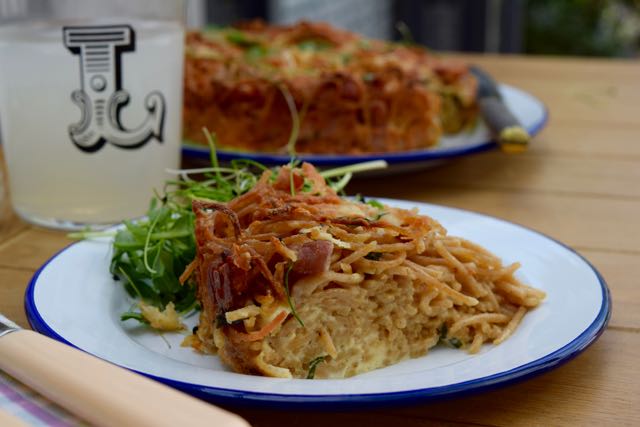 This dish definitely errs on the 'fun' side and you know how I hate that word in conjunction with food. But I will let this Spaghetti Carbonara Pie through the 'fun' net, because it's also tasty and so simple to make. It has proved extremely popular with the family, even loved by George, which is an accolade of the highest order. He picked the herbs off and left the salad, of course.
Lucy x
Spaghetti Carbonara Pie Recipe
Serves 4 to 6 hearty appetites
You will need a 20cm springform or loose bottom tin
A splash of olive oil
150g cheese, finely grated, something strong is good here, parmesan, cheddar, pecorino
300g dried spaghetti, I used wholemeal
200g chopped bacon, lardons or ham
250ml double cream
3 eggs
salt and pepper
2 tablespoons freshly chopped herbs, basil, rosemary, parsley
More fresh herbs, micro herbs and salad leaves to serve
Pre heat your oven to around 160 degrees fan assisted. Take your spring form or loose bottom tin and spray or drizzle with a little olive oil. Coat the bottom with a handful of your grated cheese, moving the tin around so some of the cheese sticks to the sides.
Cook the spaghetti according to the instructions on the packet then drain in a colander and leave to cool, occasionally moving the pasta around so it doesn't stick too much and cools quickly.
In a small frying pan, if you are using bacon or pancetta, fry for around 5 minutes or until golden and starting to crisp. Leave to cool slightly. I didn't drain my bacon because I wanted to include the juices in my recipe, but do feel free to if you would rather.
In a large jug, pour in the double cream then whisk in the 3 eggs and some salt and pepper. Take your cooled pasta and tip into a large bowl. Pour on the egg mixture, stir in your chopped fresh herbs, three quarters of the remaining grated cheese and the cooled bacon or chopped ham. Stir well, ensuring all the pasta is well coated.
Tip the mixture into the oiled tin, pressing down to form a flat surface. Top the pie with the remaining quarter of cheese then place on a baking tray in the pre heated oven for between 35 to 45 minutes. The cooked pie is golden, bubbling, firm and cooked through. Leave to sit for 5 minutes.
Run a knife round the edge of the tin then release the sides or bottom of the tin and slide the Carbonara Pie onto a plate. Scatter with some more fresh herbs or micro herbs and serve in large wedges with a crisp green salad.
SaveSave
SaveSave
SaveSave
SaveSave
SaveSave