Sticky Lemon Buns Recipe
I have been ogling these buns *smutty* on my Baking Pinterest board for weeks now. I have been waiting for the right opportunity to make them but time has not been on my side and I have only just got around to fashioning these Sticky Lemon Buns.
And thank God I did, as they are quite divine. This post is timed to coincide with Easter weekend and for two reasons. 1) they make a fresh and zingy alternative to a Hot Cross Bun and 2) they take a couple of hours to prepare so with a four day weekend looming, you may have extra time on your hands to make these soft, sticky buns. They are not difficult to make so don't be put off by my ramblings below, there's just a bit of waiting time, but they are so worth the wait. These were billed as a breakfast item on the original recipe which seems like a brilliant idea, especially as you could pass the three lemons off as one of your five a day. I think, however, these Sticky Lemon Buns would really come into their own with a big cup of tea mid morning or as part of a brunch spread over your Easter weekend entertaining. Who am I kidding, I ate two and a half of these within two hours of them coming out of the oven, serve them whenever you like and share them only if you really have to.
This wonderful recipe comes from my complete favourite website, The Kitchn, which is a constant source of inspiration to me. I adore a yeast based pastry and these have a tangy originality which makes a change from a cinnamon roll. The addition of a tiny hint of nutmeg and ginger in the filling gives these buns a warm flavour and I can safely say they are completely irresistible. So much so, I gave the 6 remaining buns *not inhaled by Clyde and I* to friends to stop me from eating the whole bloody batch. I have mentioned my will power issues before, but when it comes to buns, will power just doesn't get a look in.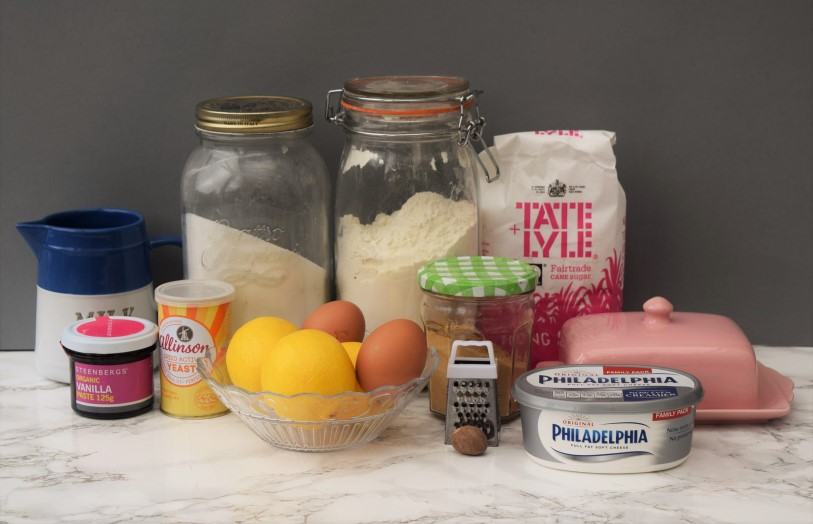 Here's the wonderful Sticky Lemon Buns line up of ingredients. Don't be put off by the selection, this is not a difficult recipe. A note on the yeast, make sure you get the active dried yeast which you add to warm milk, not the fast acting yeast you add to dry ingredients. And another note, you will need three lemons in total for the recipe, it's super lemon heavy, wonderfully tart and zesty.
Make a start by heating your milk. Just warm to so it's wrist hot, like a babies bottle, you don't want to kill the yeast by boiling the milk.
Next, pour the aforementioned milk into the bowl of your stand mixer or a large bowl and sprinkle on the dried yeast.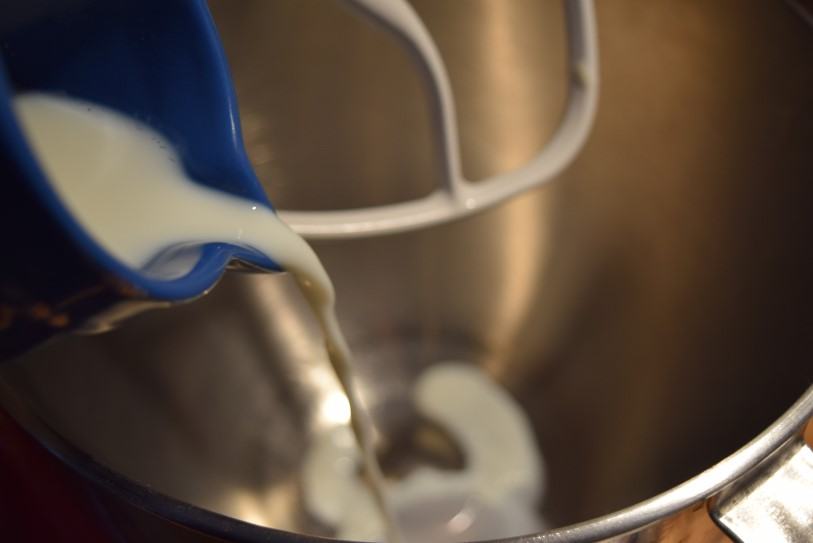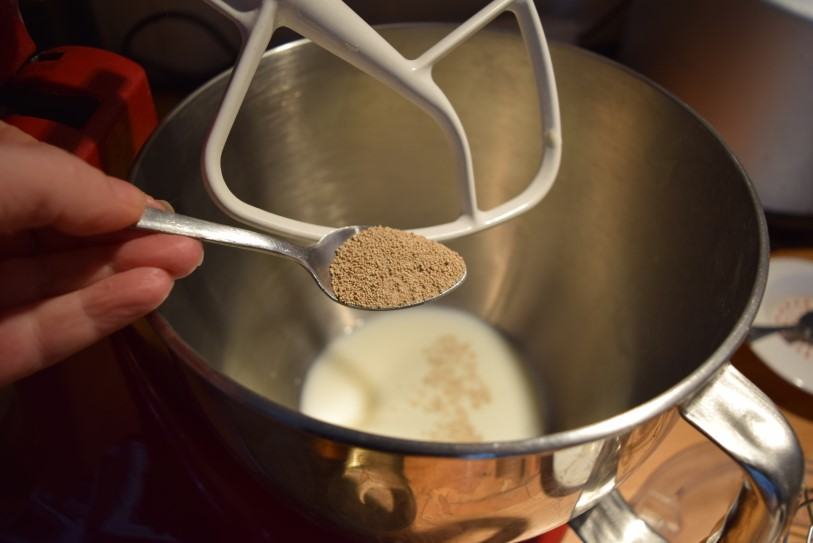 Leave this for five minutes or until the yeast is starting to foam up a touch.
Add the soft butter, eggs, sugar, vanilla, lemon zest and around 150g of your flour allocation. Beat this with the paddle attachment or a wooden spoon until you have a smooth-ish mixture.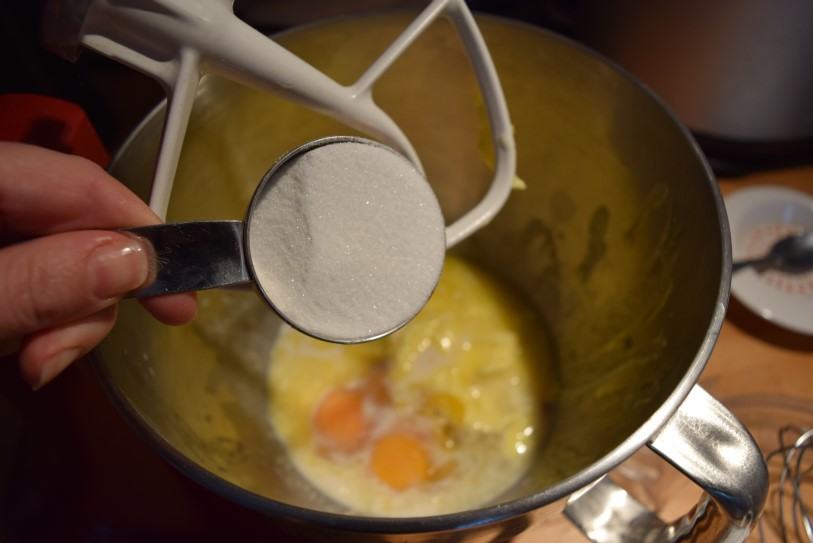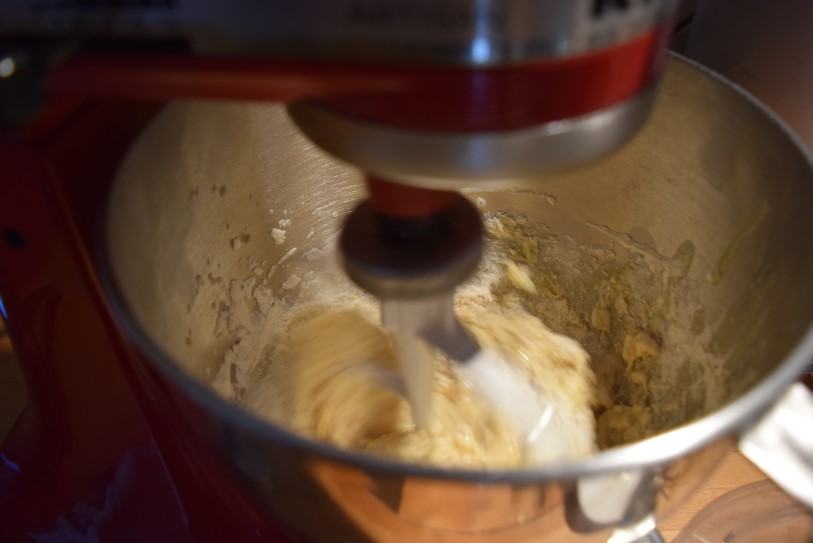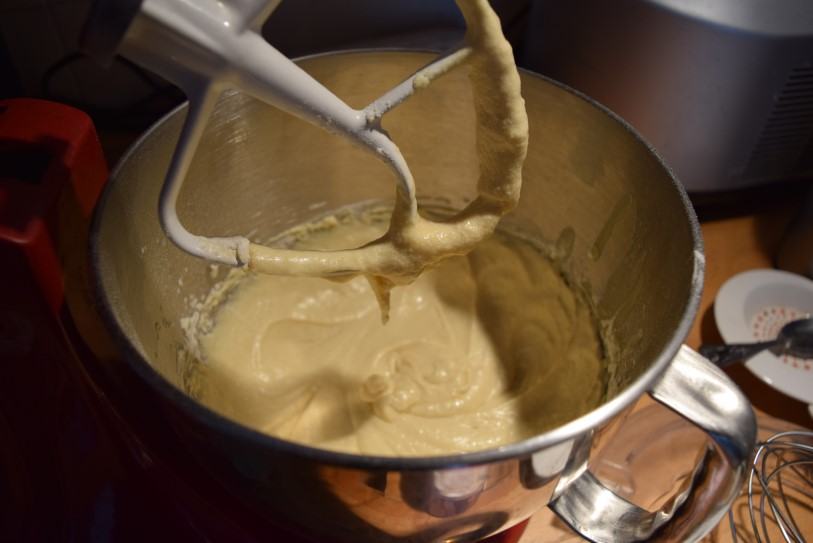 Next into this lemon yellow mixture, add the half teaspoon of salt, grated nutmeg and just enough of the rest of the flour to create a soft but still sticky dough. You may need to use all the flour, slightly less or you may need an additional tablespoon or two. Play it by ear, but remember the dough is better slightly more sticky than not sticky enough. Once mixed, exchange the paddle attachement for the dough hook and knead for 5 minutes if using a machine or turn out onto a floured work surface and knead for 5 to 8 minutes if kneading by hand.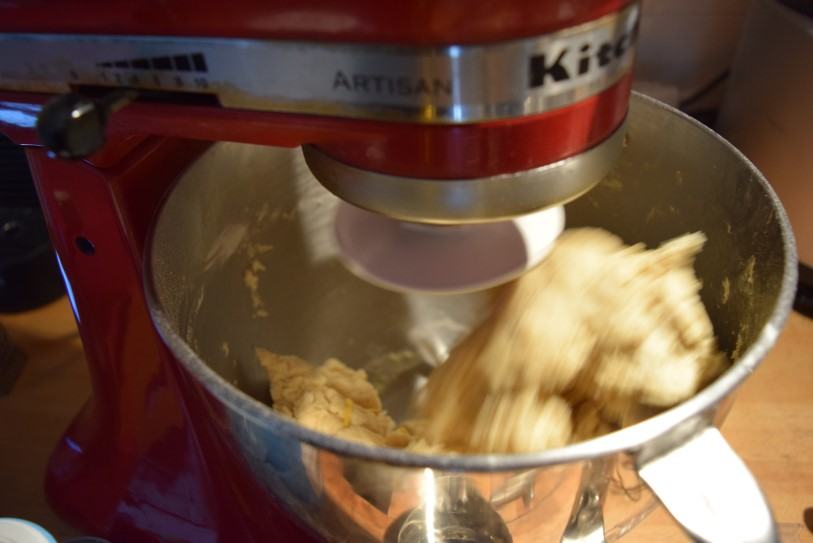 Pop your ball of well kneaded dough into an oiled bowl and leave in a warm spot, covered in a tea towel for around an hour, or until the dough has doubled in size.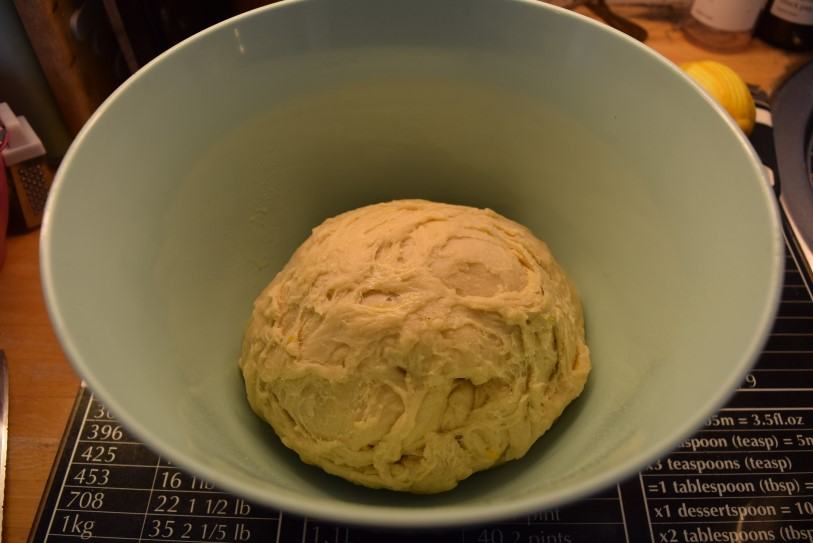 While this rising is going on, crack on with the lemon filling. Using your stand mixer again or another bowl and spoon combo, add the caster sugar and lemon zest. Rub the zest into the sugar, with your fingertips, as though you are making pastry.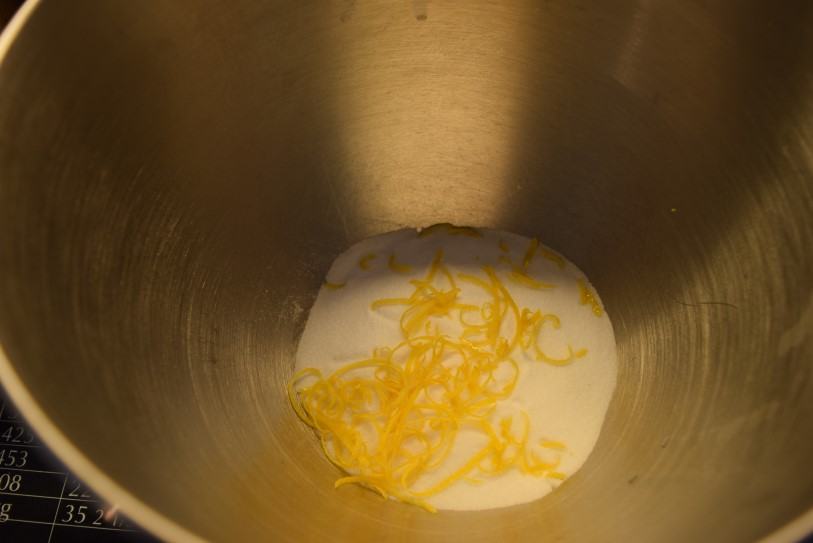 Drop in the soft butter and beat until thicker and lighter.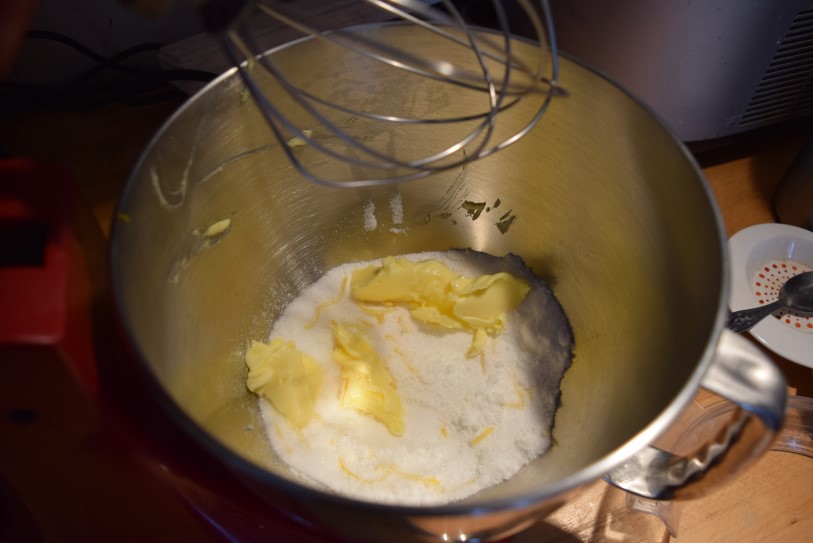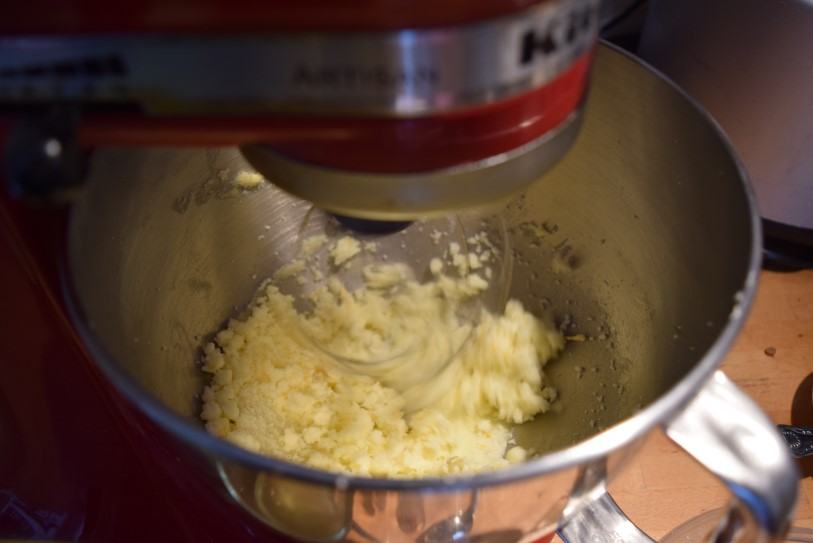 Add in the ground ginger and grated nutmeg then slowly pour in the lemon juice.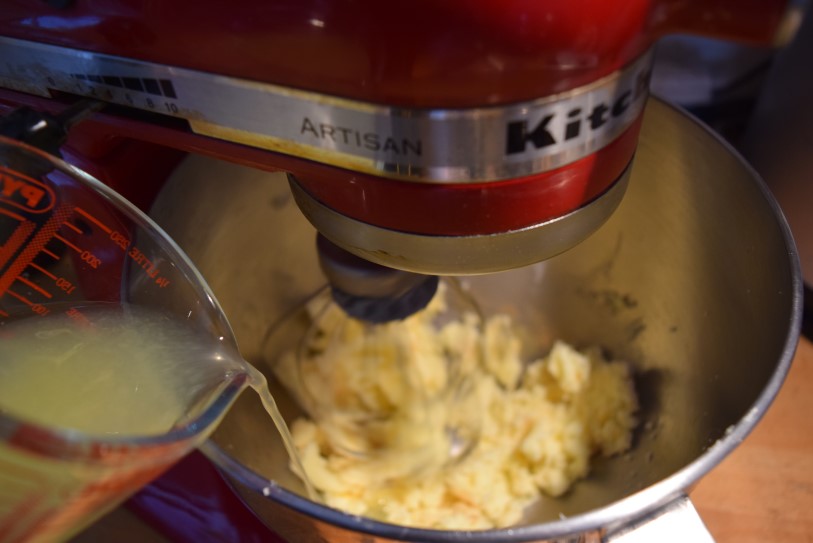 The filling looked a little like it had curdled but don't be alarmed, it tasted delicious. Pop this into the fridge while the dough is rising.
When the dough has doubled in size, tip it onto a floured work surface and give it a cursory knead.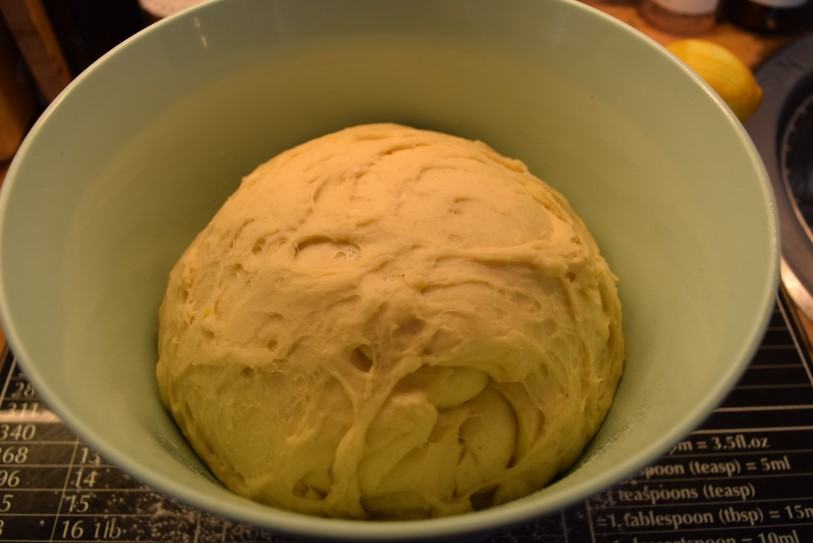 Roll the dough out into a large rectangle. Mine was roughly the size of my chopping board and still quite thick.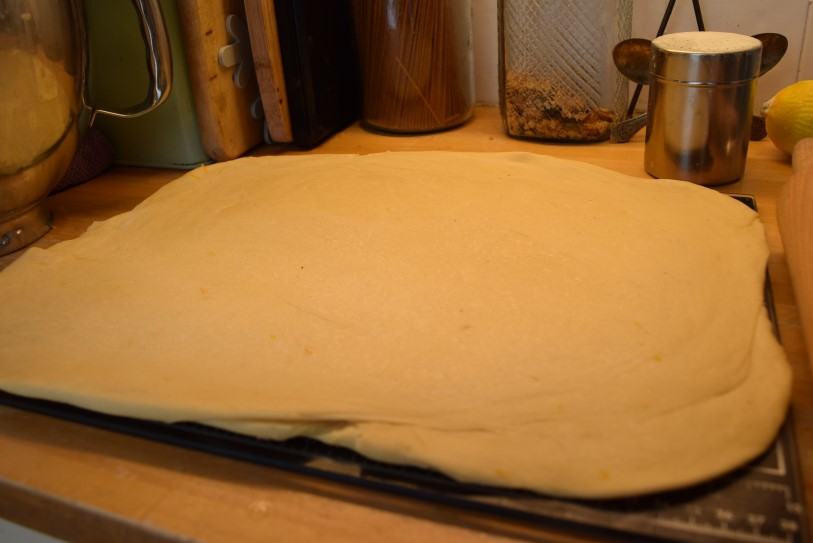 Spread this soft dough with a layer of your lemon filling then roll into a large sausage shape, starting from the front long side.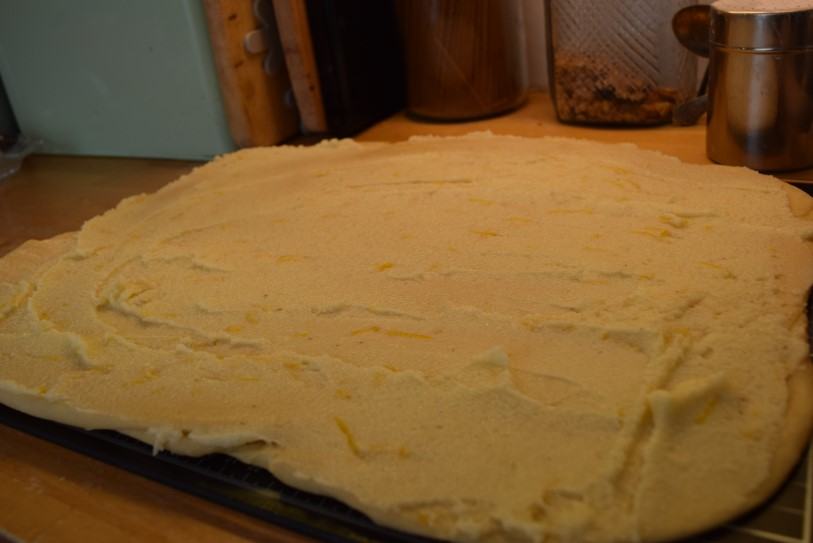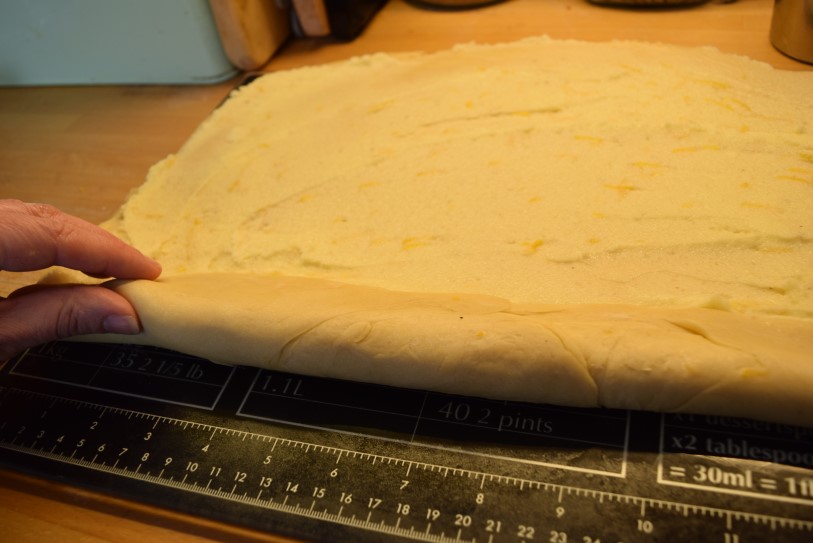 Tuck the fold onto the underside of the roll. Cut the cylinder in half using a sharp knife then cut each half into quarters. Then to complete today's maths lesson, cut each quarter into three to create 12 equal-ish sized buns. The filling may seep out the of sides when you cut the buns, but don't worry, I just slathered any of the escaped filling back onto the top.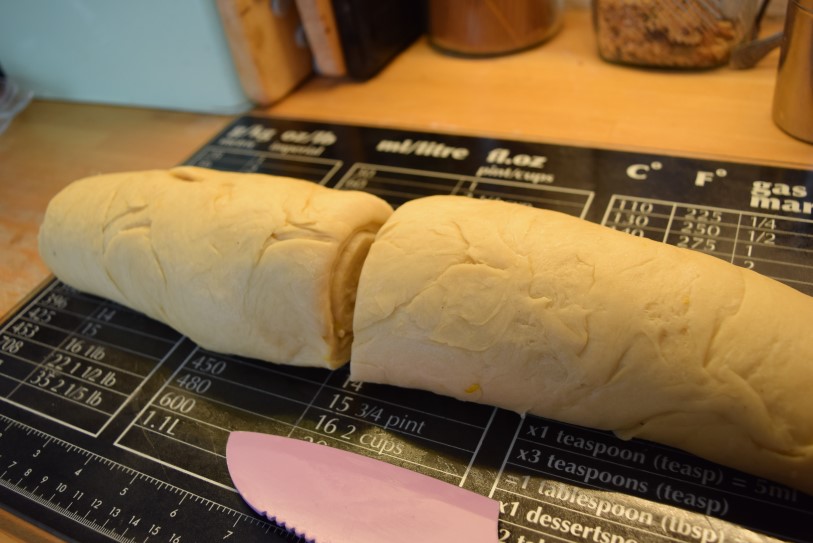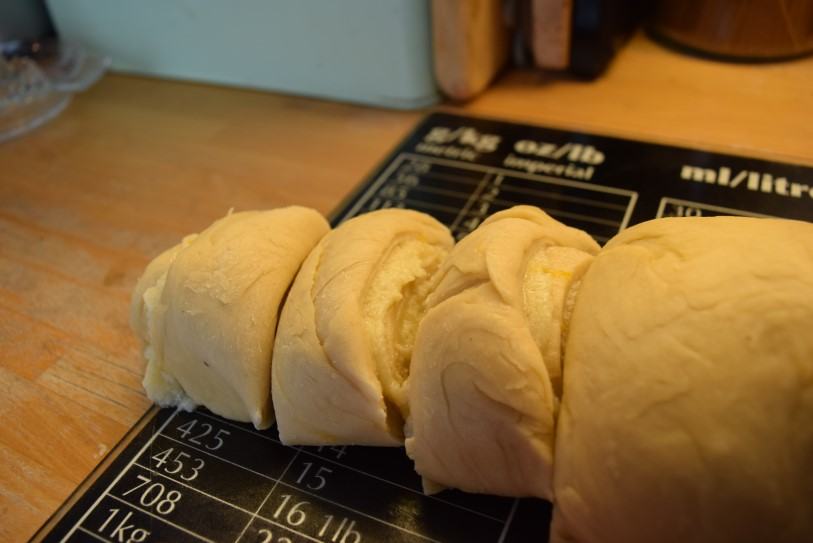 Pop the buns into your oiled baking tray then leave to rise for another hour, put to bed under the aforementioned tea towel.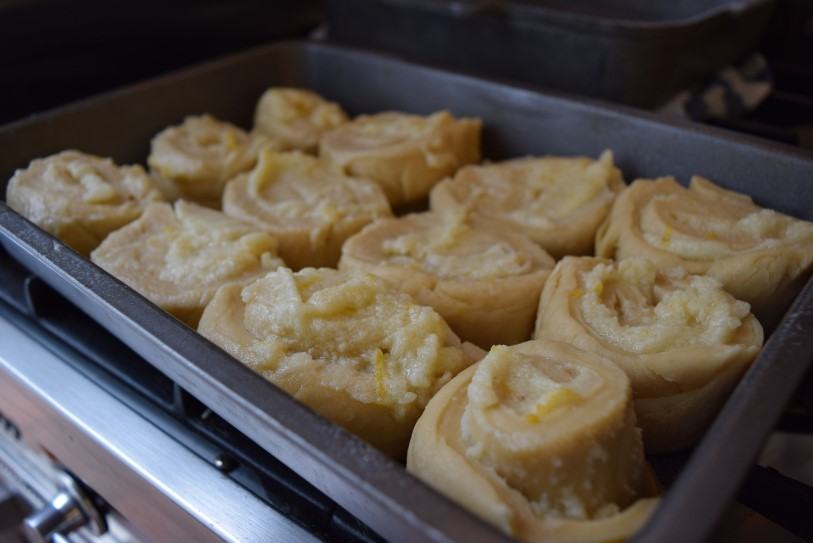 Pre heat the oven at this stage to 160 degrees fan assisted and crack on with the cream cheese icing.
Take another bowl, I can only apologise for the washing up schedule with this recipe, and add the cream cheese. Zest another lemon, this recipe uses three in total, then stir in the juice around 4 tablespoons, then sift in the icing sugar.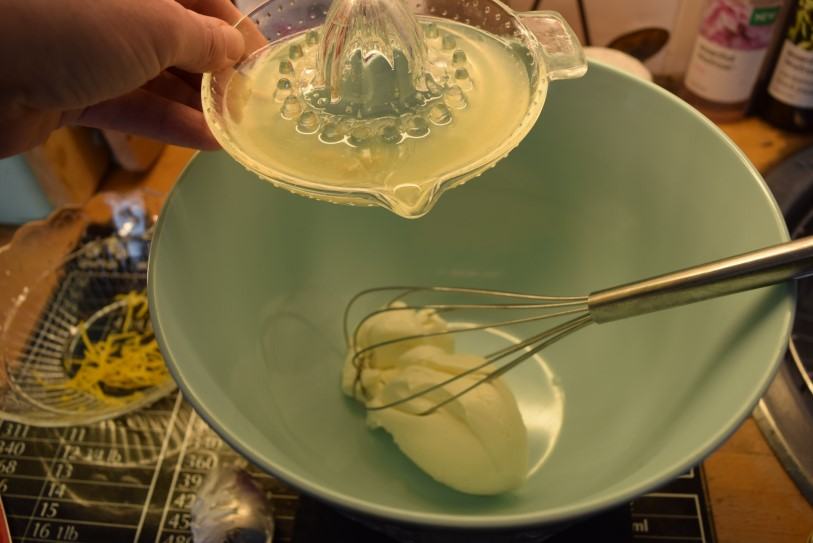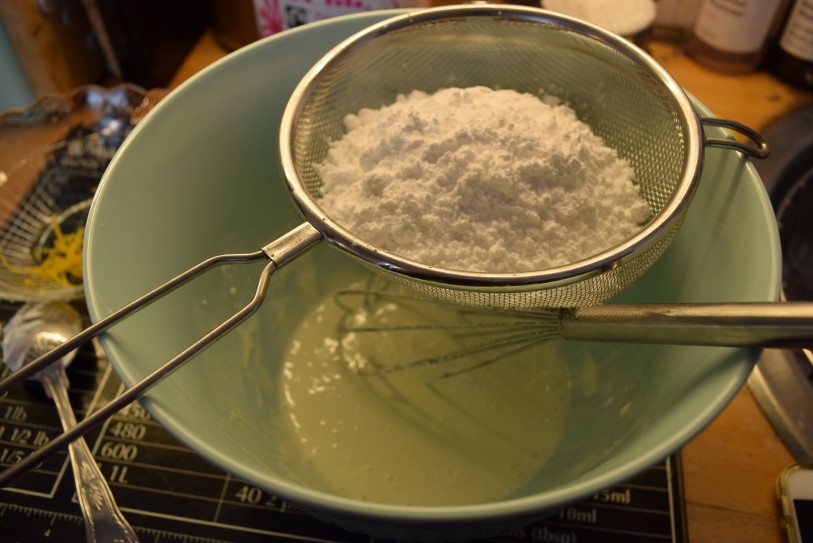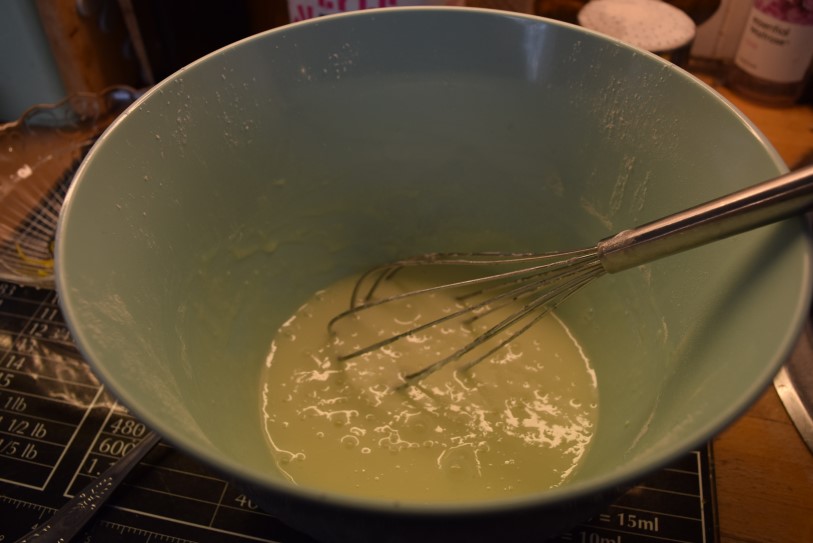 Put this glaze-like icing into the fridge until you need it to adorn the cooked treats later.
When the buns have had their second rise, put them into the pre heated oven for around 35 to 40 minutes, or until well risen and golden brown.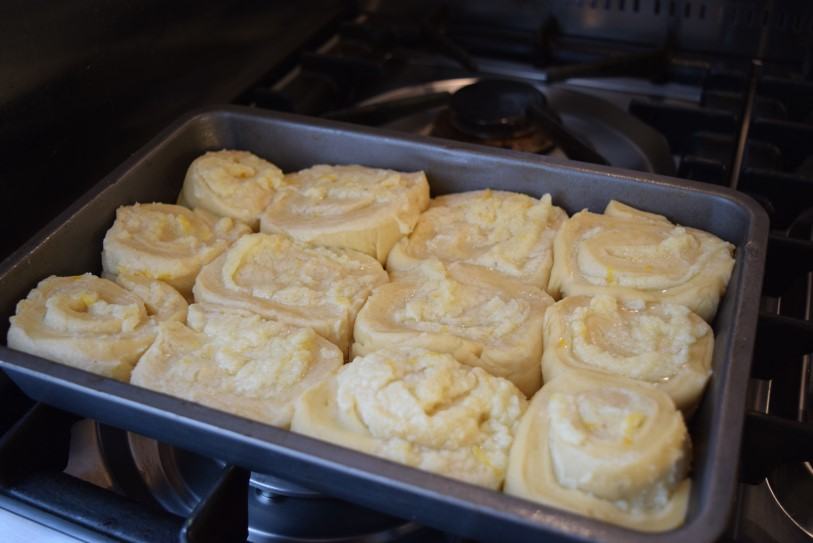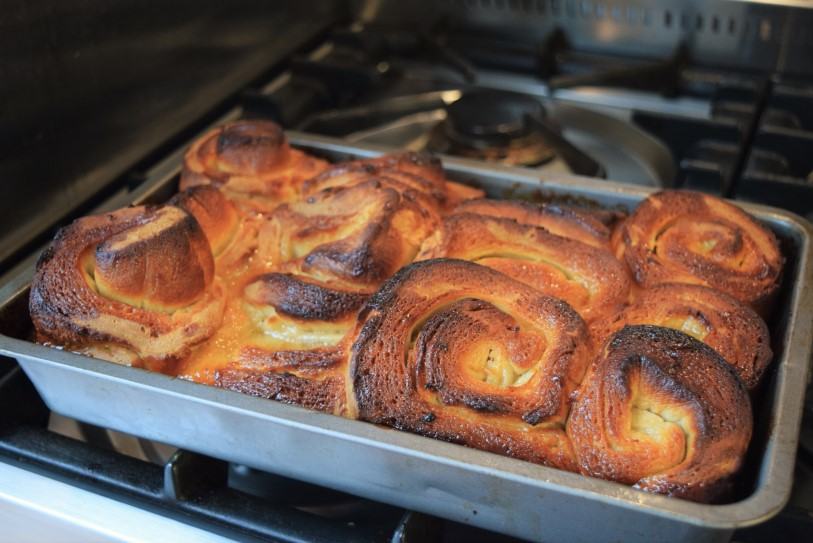 Mine were slightly more than golden than I'd hoped, as I wanted to ensure they were cooked through. However, the nice thick glaze concealed any tiny overly browned bits.
Leave these sticky, fragrant, warm buns to cool for a moment before drenching them in the cream cheese icing.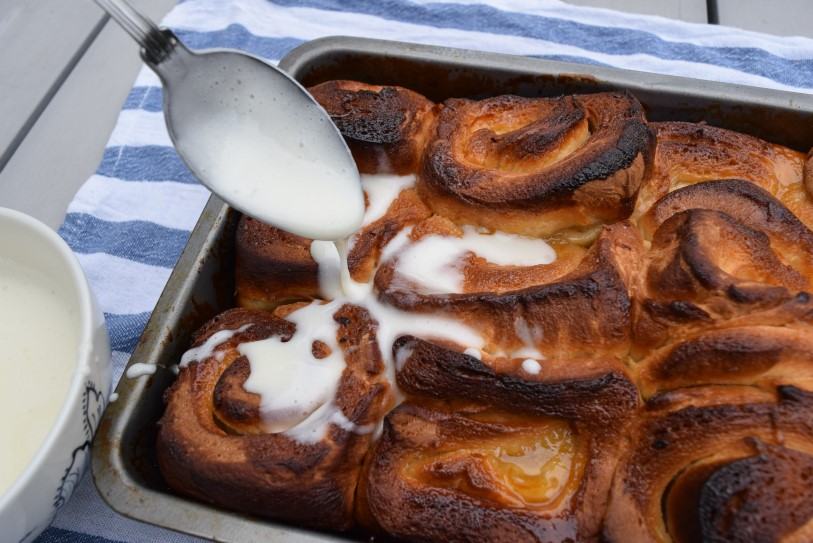 Sprinkle with the reserved lemon zest then wait for an agonising 10 minutes for them to cool slightly before pulling the buns apart and devouring them in warm mouthfuls.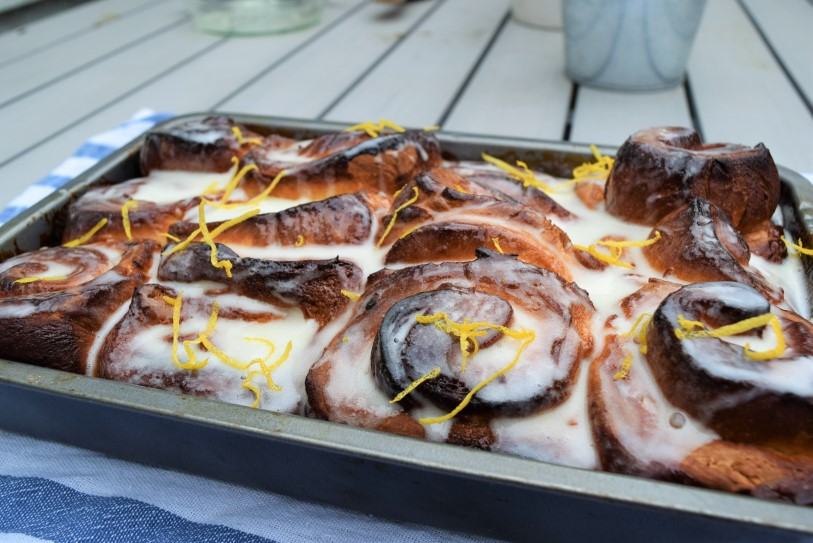 There's 11 for you and 1 for some other people to cut into 4 pieces and share.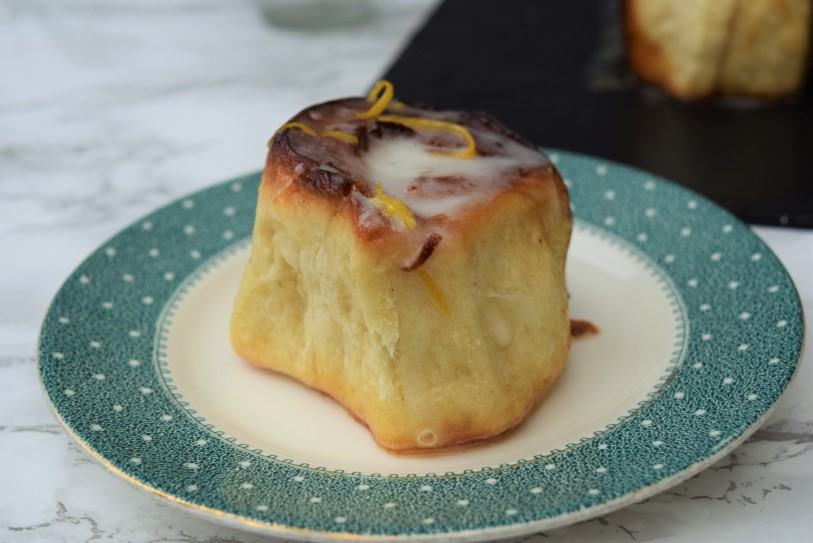 These are soft, zesty treats and they are quite irresistible.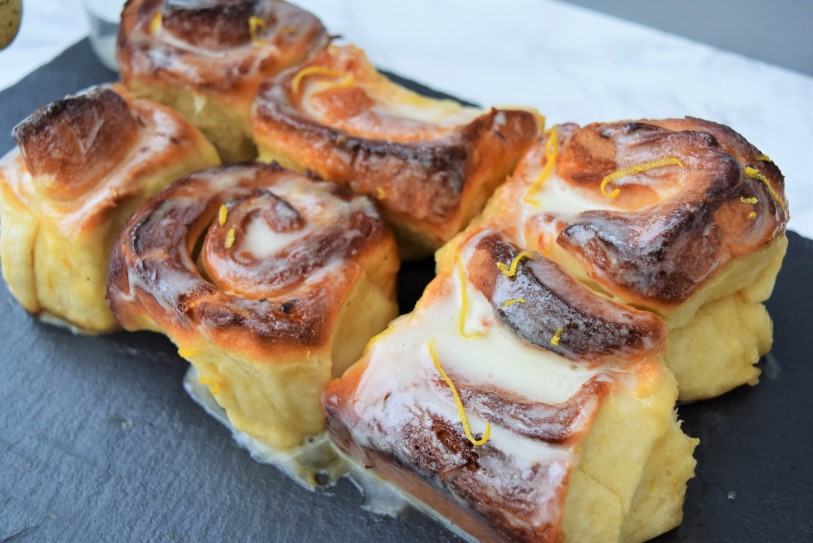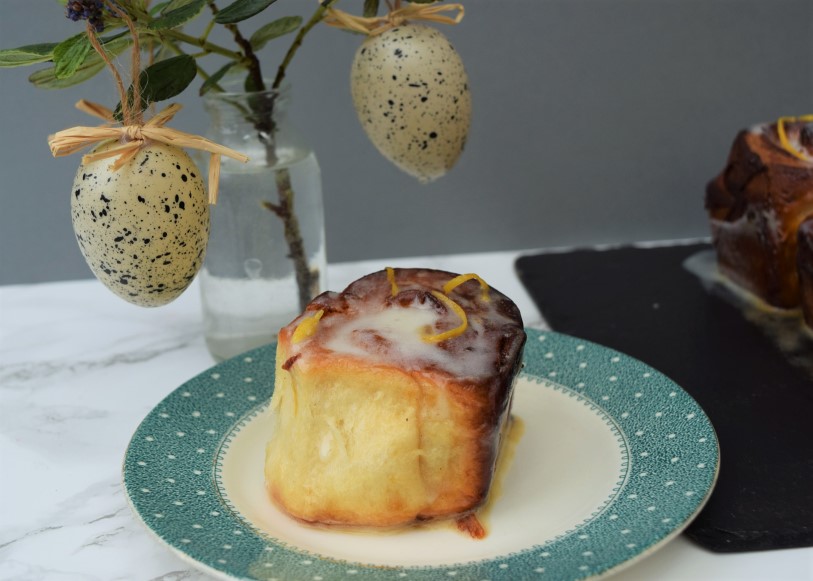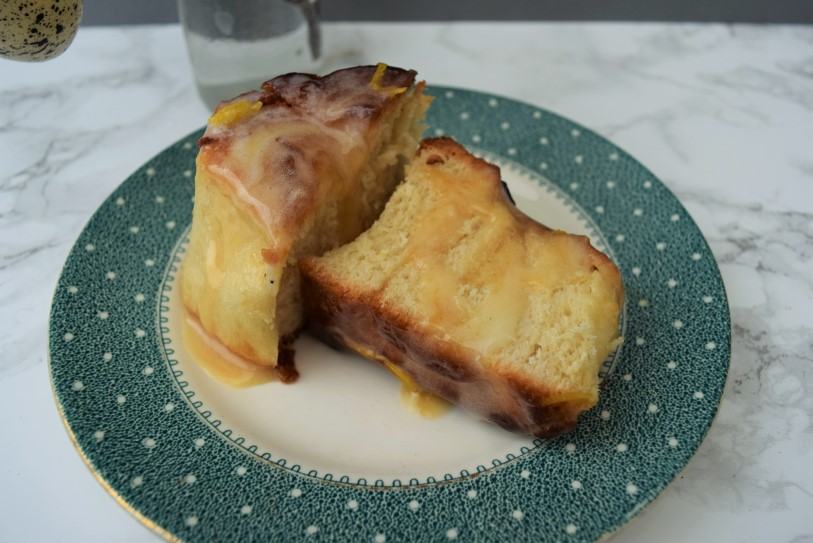 I love a hot cross bun as much as the next person, but I do think there's always time for a change of scenery. Get the whole family involved in making these Sticky Lemon Buns over Easter, although if they do help, they will want to share the spoils with you. Once you have tasted one of these, you may not be willing to share.
Have a wonderful Easter weekend, with love from me and my family to you and yours.
Lucy x
Sticky Lemon Buns Recipe
Makes 12 big sticky buns
You will need a stand mixer or some good kneading skills and a rectangular baking tin, oiled or buttered, around 9 x 13 inches
For the Bun Dough
2 and a half teaspoons active yeast – this is the type you add to milk, not directly to the flour
180ml milk, heated until warm, but not boiling
120g soft butter
2 eggs
60g caster sugar
2 teaspoons vanilla extract
the zest of a lemon
600g plain flour, plus some for kneading and rolling
1/2 teaspoon salt
a good grating of nutmeg
Lemon Filling
225g caster sugar
the zest of a lemon
55g soft butter
1/4 teaspoon ground ginger
a pinch of grated nutmeg
60ml fresh lemon juice
Lemon Cream Cheese Icing
the zest and juice of a lemon, approx 4 tablespoons
125g cream cheese
140g icing sugar
Once the buns have risen for a second time, pre heat the oven to 160 degrees fan assisted.
Make a start with the dough element. Warm your milk in a small pan or for 30 seconds or so in the microwave. Then in a stand mixer if you have one or a large bowl pour in the warm milk then sprinkle over the yeast. Let this sit for 5 minutes or until just starting to foam a little. Using the paddle attachment on a low speed or with a wooden spoon, stir in the softened butter, eggs, sugar, vanilla, lemon zest and 150g of your flour until you have a smooth mixture. Add the salt and grated nutmeg then add as much of the remaining flour to create a soft but slightly sticky dough. Replace the paddle with your dough hook, or turn the dough out onto a floured surface and knead for 5 minutes in the mixer or 5 to 8 minutes by hand. The finished dough will be smooth and flexible. Put the dough into an oiled bowl, cover with a tea towel and leave somewhere warm for an hour or until doubled in size.
While this is rising, crack on with the lemon filling. Back to your stand mixer or in another bowl add the sugar and lemon zest and rub together to combine the two ingredients. Add the soft butter and beat until slightly creamy and well mixed. Add the ground ginger and grated nutmeg then slowly add the lemon juice. The mixture will be thin-ish and may look slightly curdled, but don't worry too much, it will taste perfect. Refrigerate until needed.
After the first rising time is up, flour a work surface and knead the dough for a minute. Roll out to a large rectangle of around 10 x 15 inches – which is the size of my chopping board. The dough will be quite thick. Spread your lemon filling all over the surface then start to roll into a cylinder starting from the long end in front of you. Take a sharp knife and cut the cylinder in half. Then cut each half in half again, then cut each quarter into three thick cylinders to make 12 buns. Place the buns into your oiled baking tin. Cover the rolls with a tea towel and leave for an hour to rise again.
For the icing take a bowl and add the cream cheese. Whisk in the lemon juice, you may not need the whole lemon juice if it's a large lemon, you will need around 4 tablespoons. Sift in the icing sugar and beat or whisk until smooth. Pop in the fridge until needed.
When the rolls have risen, put them in your pre heated oven for around 35 to 40 minutes or until risen and golden. Leave the rolls to cool for 5 minutes then cover in the cream cheese icing. Leave to sit for an agonising ten minutes before devouring. These are best eaten warm on the day of baking, but you could pop in the microwave for 10 seconds to warm on day two or three. Store in an air tight tin.