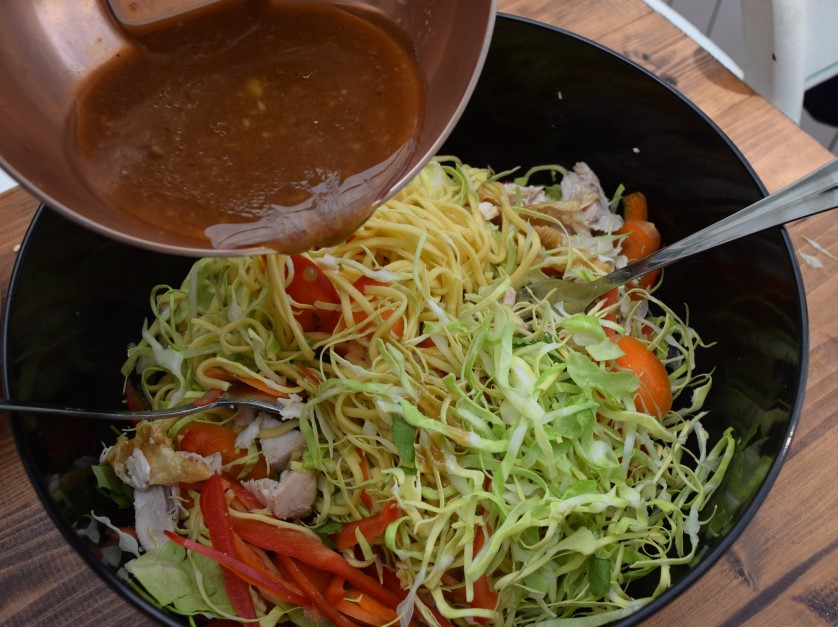 Summer Noodle Salad Bowl Recipe
This week, my pursuit of summer continues. It would appear we have had the best of the weather and we have now returned to days of grey drizzliness. My hair is trebling in size as we speak and it's frizz central at all times. However, I am staying optimistic for balmier times and I am presenting you with my Summer Noodle Salad Bowl.
This is a great all rounder of a salad. Eat it for lunch, box it and take on a picnic or portion this salad up and have a few days worth of portable meals. The crunchy vegetables are dressed in a light mixture of hoisin, soy, ginger and sesame oil. Throw in a handful of chopped peanuts or sesame seeds and some extra coriander and this flavour filled salad is ready for you to devour. This recipe is based on a lovely one from Culinary Hill, with my thanks.
You can, as always, make this dish your own. Use lettuce instead of cabbage, add different coloured peppers or leave out the chicken for vegetarians. The noodles add a touch of bulk making this filling, but still a lighter and healthy option. It would definitely work as a hearty dish alongside any rain soaked barbecue you may be hosting from under an umbrella.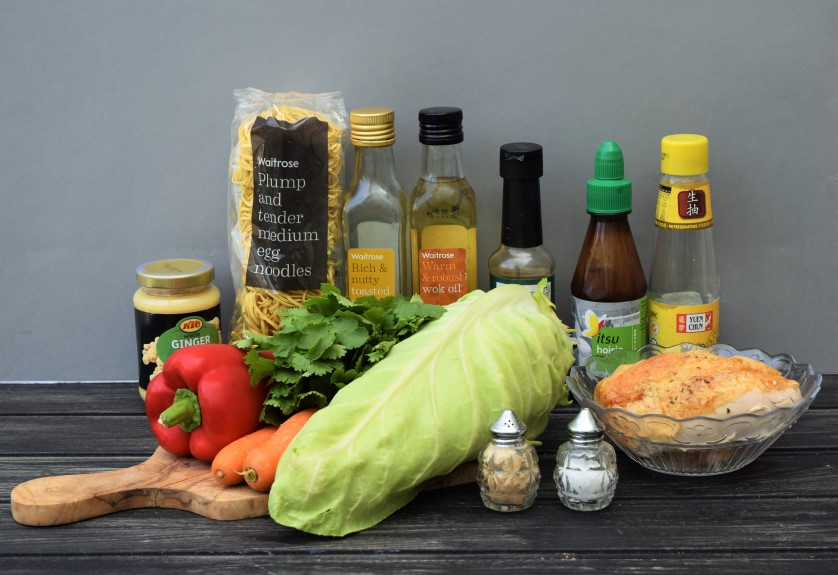 Here's my line up for this lovely bowl based salad. It does look like a lot of bottles, but you will have most of these in your cupboard already, I suspect. If you don't have wok oil, try peanut oil or any other vegetable oil.
Make a start by cooking your chosen noodles. I went for egg noodles, but some brown rice or thin udon noodles may be good here. Cook them according to the instructions on the packet, mine took 5 minutes, after which time I drained them and rinsed in lots of cold water.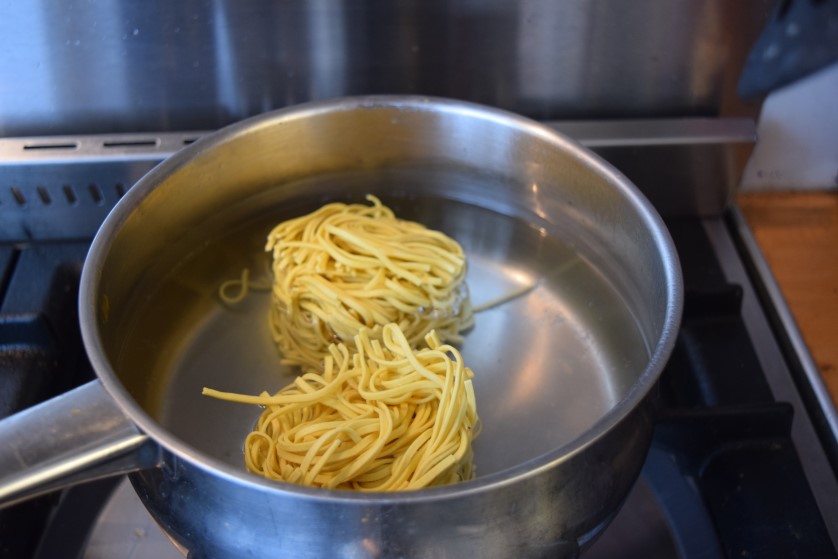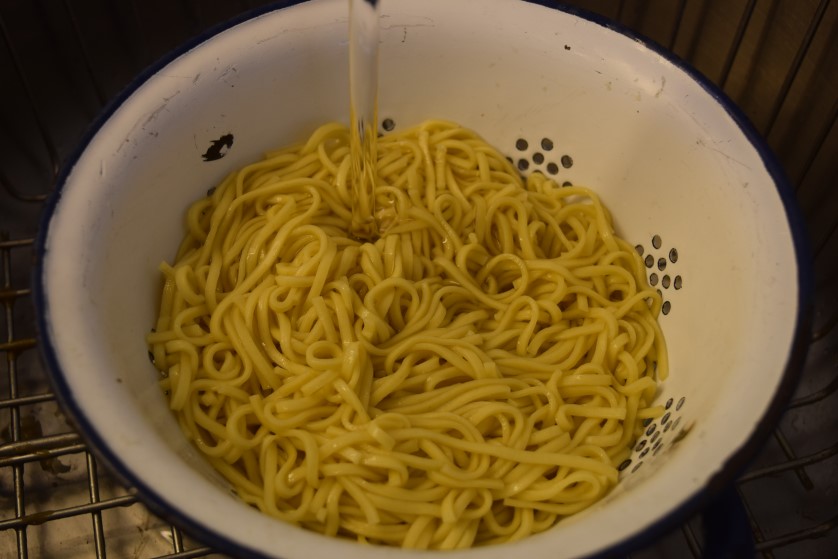 Pop these noodles to one side while you prep the rest of the salad. Finely slice your spring cabbage and add to a large bowl. I used a mandolin for all of my vegetables as it's chopping skills are much more efficient than my rubbish knife skills. Mind your bloody fingers though, it's a lethal contraption, especially when you are hungover *standard Sunday*.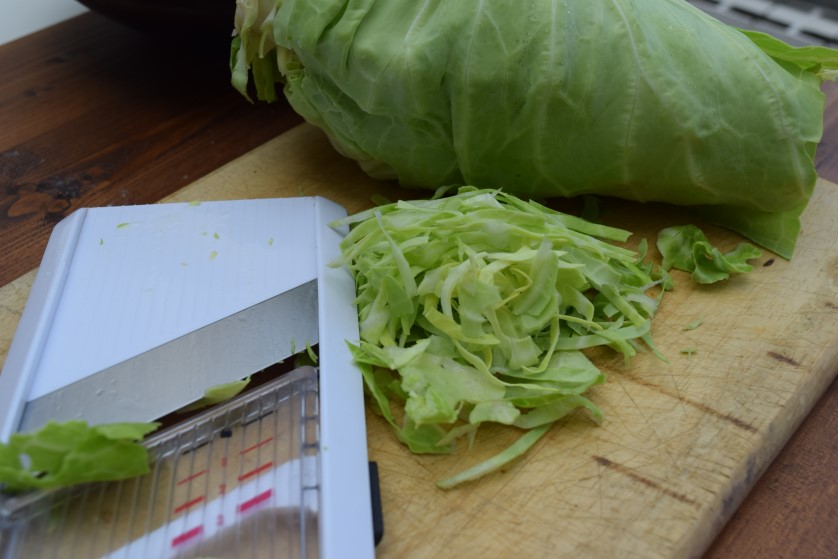 Slice or julienne – whatever that is – your carrots and add these to the cabbage.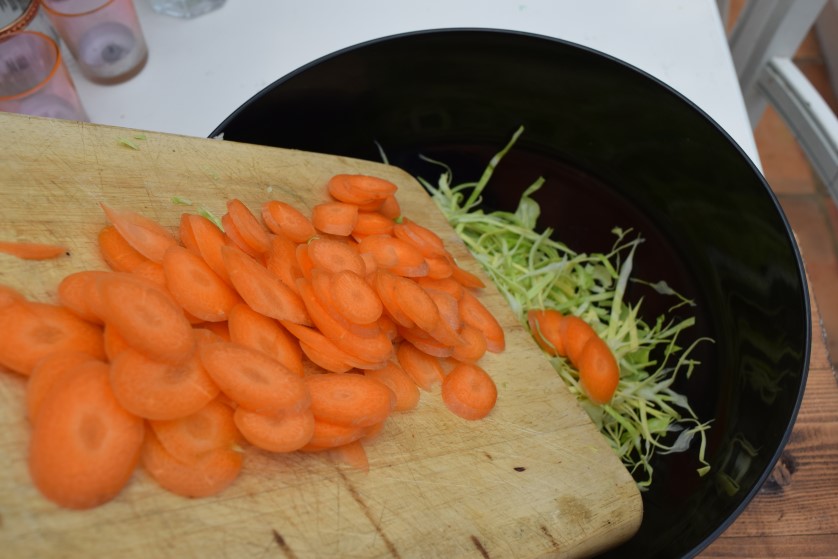 Same procedure with the red pepper then add your cooled and well drained noodles.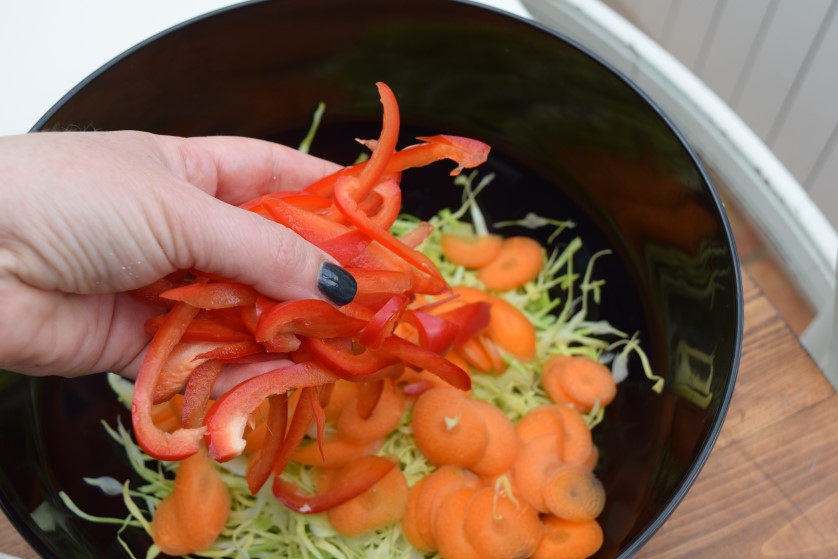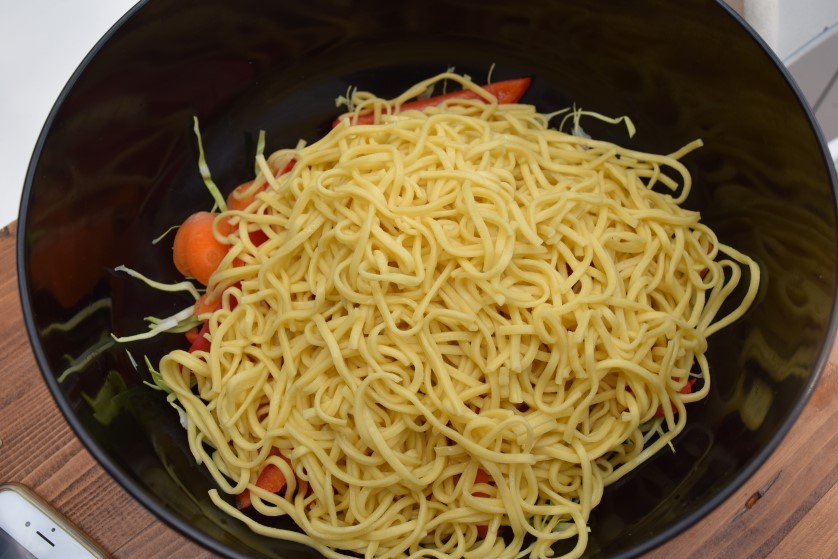 Chop some delicious roast chicken and add this to the salad bowl of your dreams along with the large handful of freshly chopped coriander. As a side note, a few of my friends don't like coriander so you could always use rocket or fresh basil instead here if you are averse to it.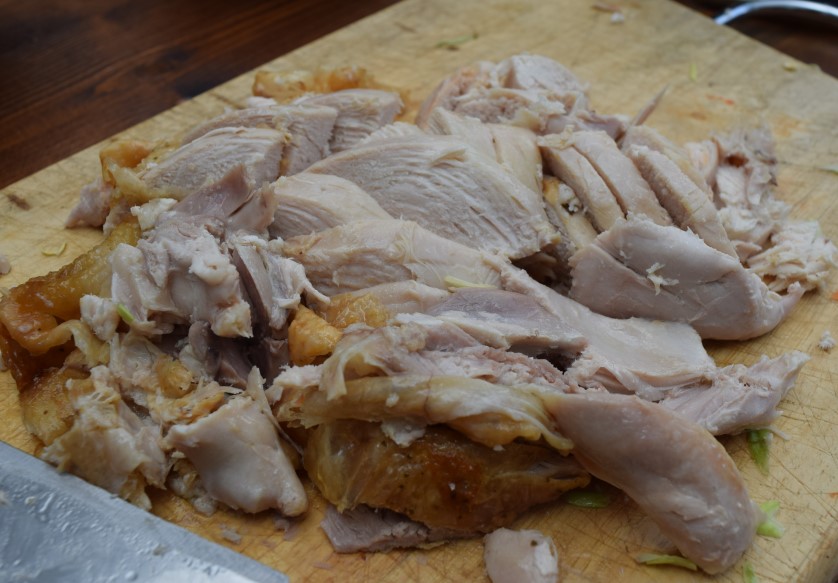 This is such a great recipe to use up any leftover Sunday roast chicken.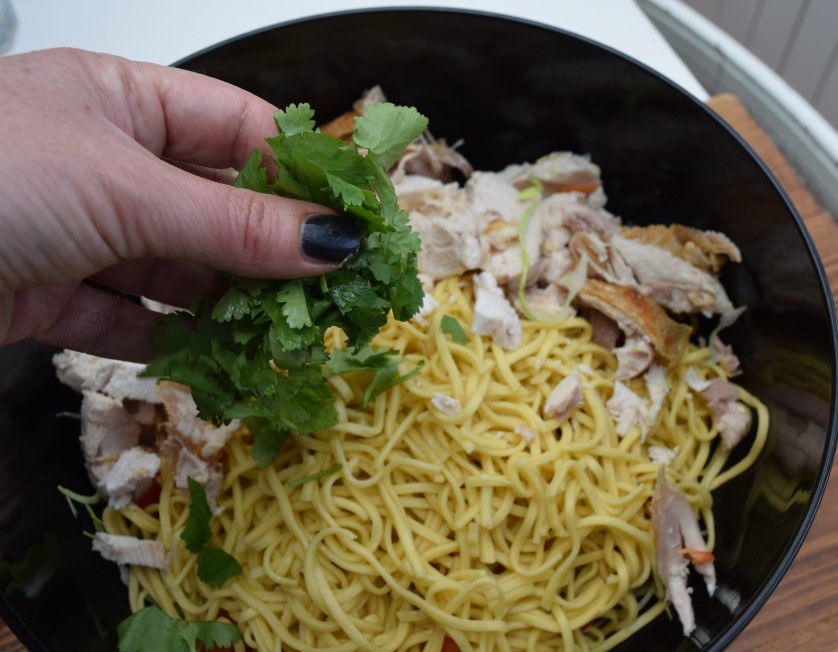 Give this all a jolly good mix together while you make the super simple dressing.
Make a start by adding the oil and vinegar to a small bowl.
Follow in with the soy sauce, grated ginger, fresh or from a jar, hoisin sauce and sesame oil. Give this a little whisk or stir.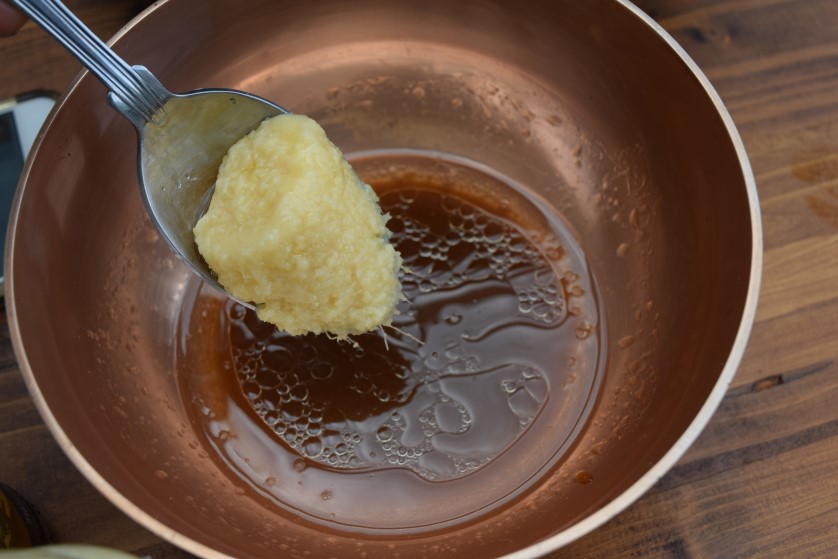 Then in a final salad flourish, pour the dressing into your noodle salad, stir really well again, then sprinkle on a few more coriander leaves and chopped peanuts or a tablespoon or so of toasted sesame seeds for a deal sealing garnish.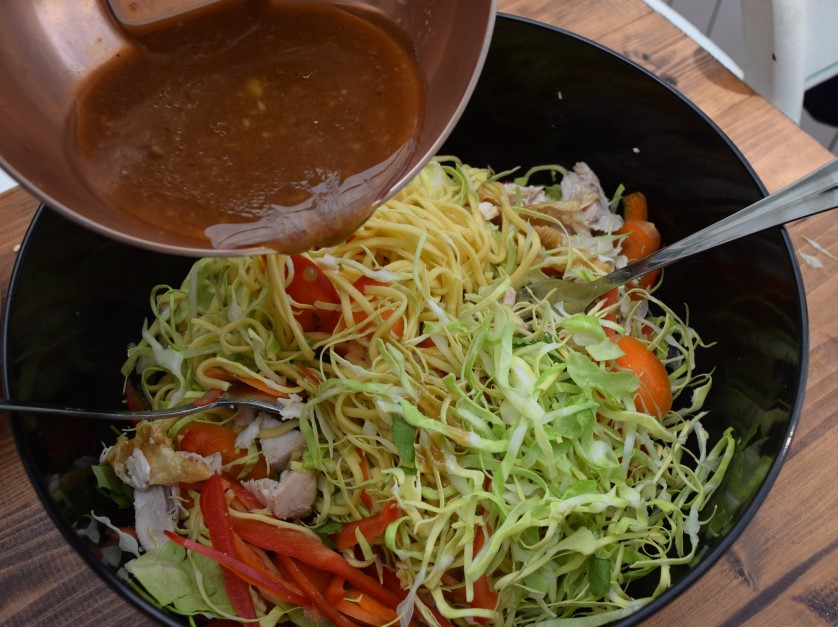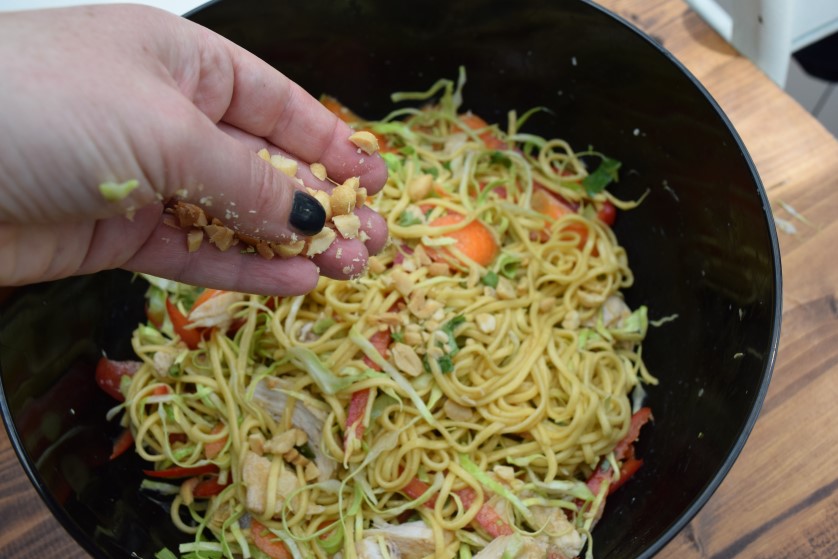 Check for any additional seasoning then this Summer Noodle Salad Bowl is ready for your devourage.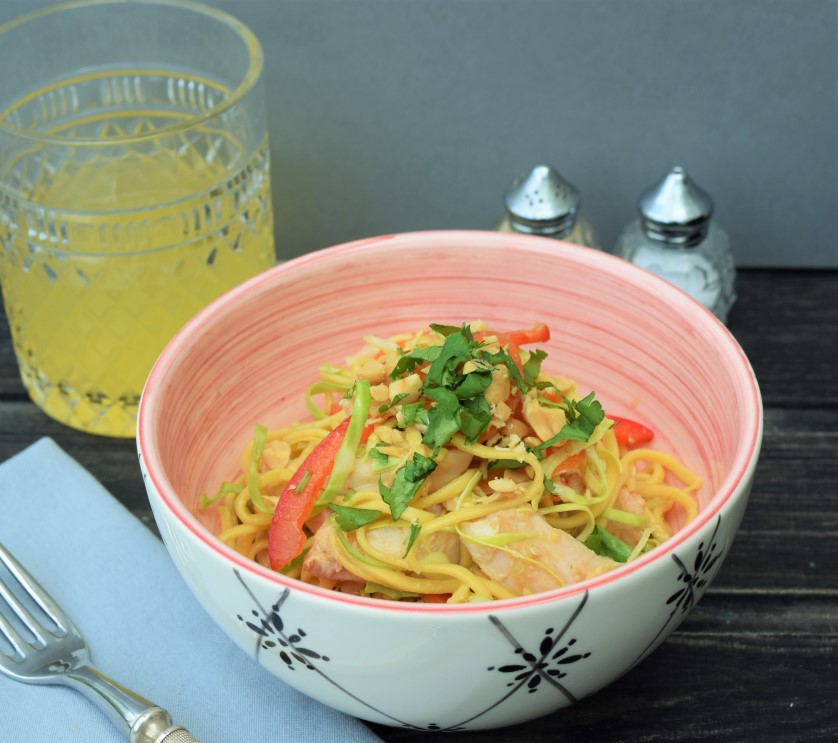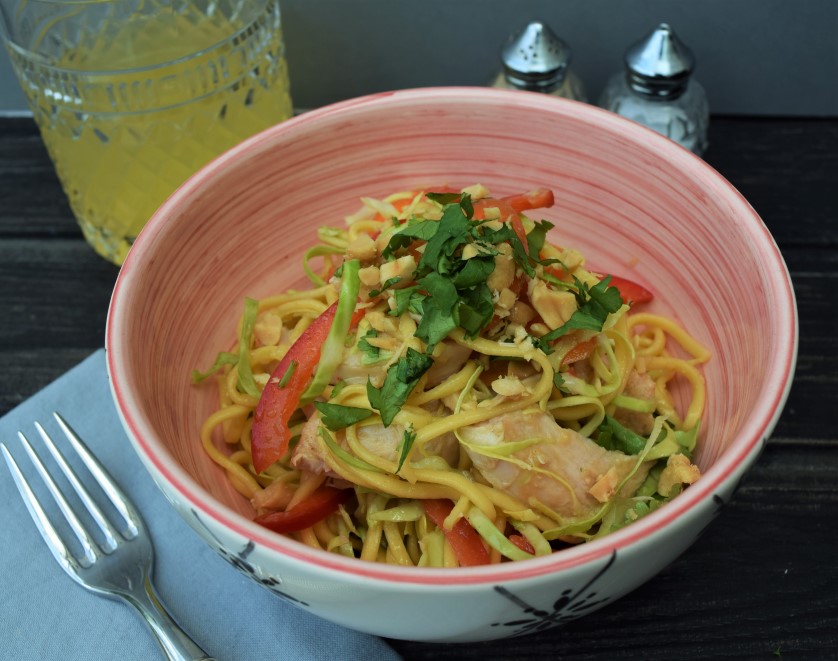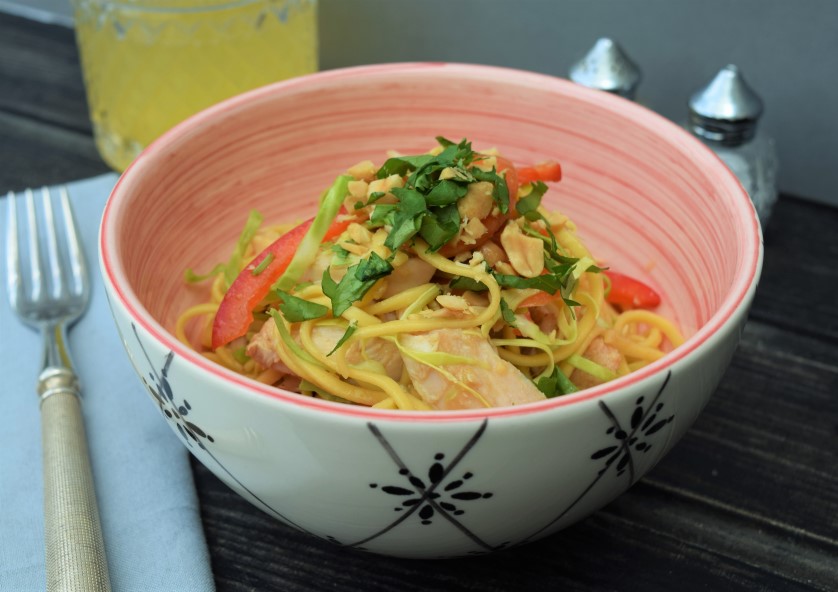 I love this sort of dish, it's fresh tasting, simple and completely delicious. And it's the gift that keeps on giving, if you can keep it away from eager hands, leftovers make a great desk lunch for at least a couple of days.
Lucy x
Summer Noodle Salad Bowl Recipe
Serves a generous 4 to 6, appetite dependent
* New ingredient update – July 2017
Salad
approximately 100g egg noodles, I used 2 nests, or use any noodles you prefer or even wholewheat spaghetti works as a noodle replacement
Half a spring cabbage, shredded
2 carrots, sliced or julienned
1 red pepper, finely sliced or shredded
Cooked chicken, chopped, I used a breast and leg
A handful fresh coriander, roughly chopped, keep a couple of leaves back for garnish
approximately 2 tablespoons salted peanuts, chopped or a tablespoon toasted sesame seeds
Dressing
2 tablespoons oil, I used wok oil as it has a lovely flavour
75ml rice vinegar
60ml hoisin sauce, or try with 3 tablespoons smooth peanut butter*
2 tablespoons soy sauce
1 scant tablespoon grated ginger, fresh or from a jar
1 teaspoon sesame oil
Heat a pan of boiling, salted water and add your noodles. Cook them according to the instructions on the packet, mine took around 5 minutes. Drain, rinse with cold water and leave to one side for a moment.
Take a large bowl and add your shredded cabbage. Slice or julienne your peeled carrots and add these to the dish, along with a thinly sliced red pepper. Toss in your cooled, drained noodles then add the fresh coriander and chopped cooked chicken. Give it all a great big mix then pop to one side while you make the dressing.
Stir together the oil, rice vinegar, hoisin, soy, ginger and sesame oil.
Pour this dressing into the salad and give it all another good stir. Sprinkle with some more freshly chopped coriander and chopped peanuts. Devour in big bowlfuls. This salad will keep, well covered, in the fridge for 2 to 3 days.