Summer Prawn Rolls with Chilli Dip Recipe
Last week, on Lucy Loves, I was focusing on the children *as standard*, so by contrast this week, I thought I would treat us, the workers, to something delicious and rewarding. We deserve a treat, because as I write it's pissing with rain and I have even contemplated digging out my bobble hat. Having spent a weekend in the Isle of Wight at my sisters lovely home in Bembridge, I thought I would fashion a post with a seaside feel and it was lovely cooking in a different kitchen. So, today, I am sharing these Summer Prawn Rolls with Chilli Dip.
The seafood in the Isle of Wight is delicious, and my waistline has expanded from my usual crab sandwich quota. Even just a simple bag of frozen prawns seem to taste much better when eaten with the sea breeze *blowing a gale* ruffling your hair. My Summer Prawn Rolls make a wonderful light lunch, first course or canapé so they wear many hats. They are fresh tasting and full of simple ingredients. Sweet prawns, soft avocado and brightly coloured mango all mingle with fresh herbs and just a sprinkling of peanuts. These are carefully wrapped in rice paper wrappers, which are a strange beast. I pilfered mine from the kitchen at work but they are readily available, Ocado have them. These take a bit of practice but by the time you have used up all your ingredients you will be an expert.
Summer Prawn Rolls are so wonderful for this time of the year, even if it is lashing it down. The chilli dipping sauce has a wonderful kick, so even if it is chilly, this will certainly warm you up.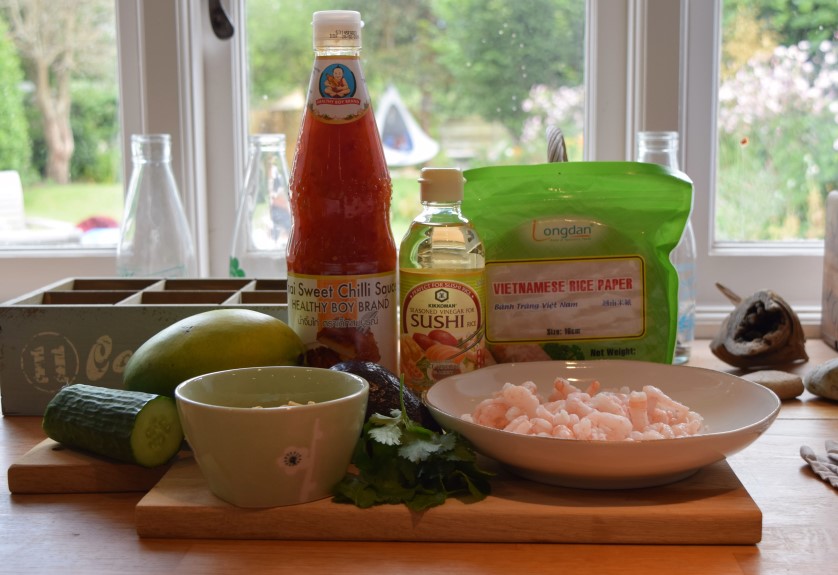 Ooh, exciting new change of scenery this week for my pics. This is my sister's stylish kitchen in Bembridge, thank you to her for our wonderful weekend away. And here is the line up for my Summer Prawn Rolls with Chilli Dipping Sauce. The local shop didn't have rice vinegar so I improvised with some sushi seasoning vinegar for the sauce.
This is a brilliant quick recipe, from the Chatelaine website, with thanks to them. So let's make a start with the sauce. Measure out the sweet chilli sauce then stir in your rice vinegar.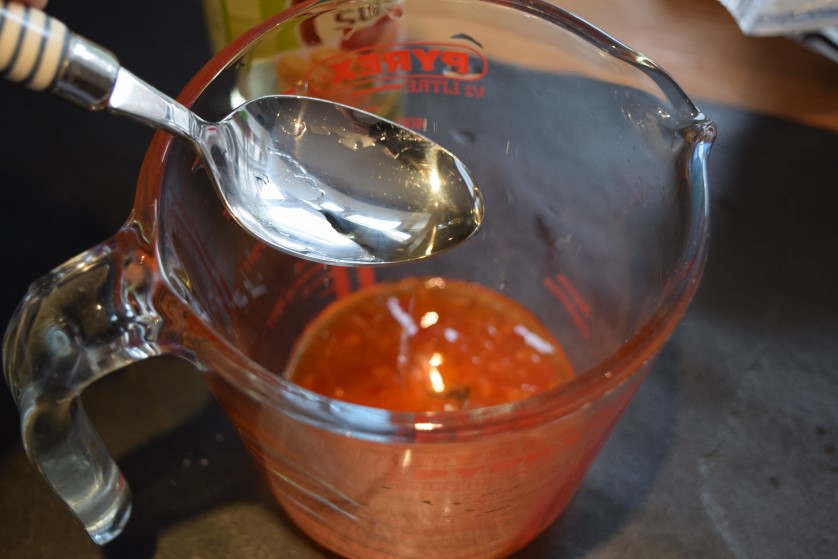 Pour into a pretty bowl and stir through a couple of sprigs of fresh mint and coriander.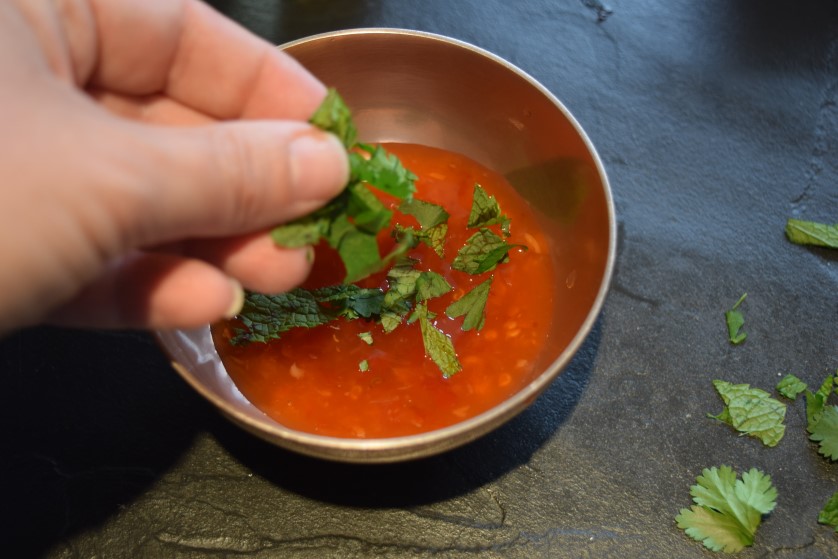 Pop this to one side for the moment, while you embark on a bit of a chopathon. Take your piece of cucumber, slice and cut into strips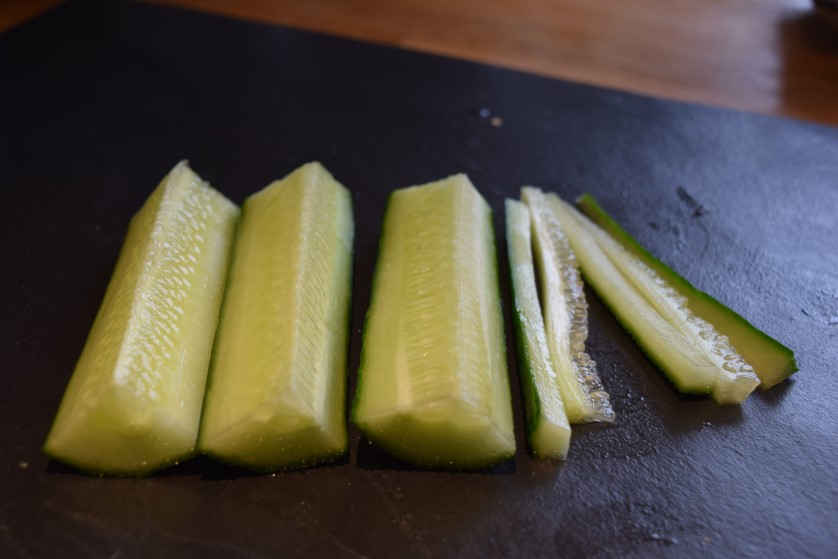 Repeat with the mango and avocado, don't be too precious about the chopping, you just want good sized pieces which will fit into your rolls without taking up too much space.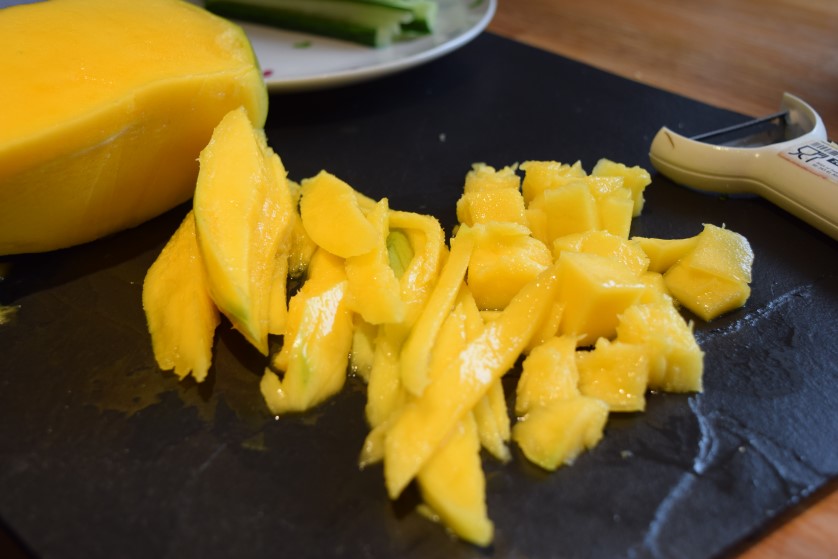 Do sprinkle the avocado with a little lemon juice to stop it going brown.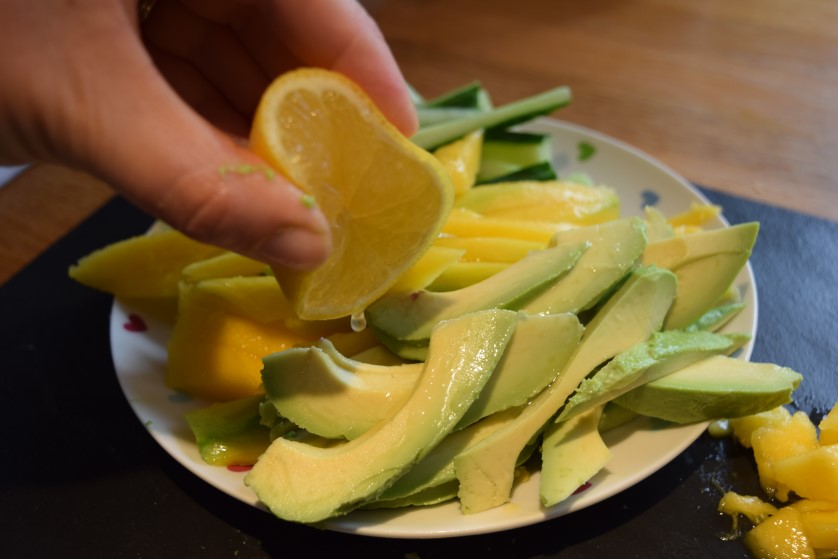 In a final filling flourish, rinse and pat dry your prawns and chop some fresh mint and coriander and some salted peanuts.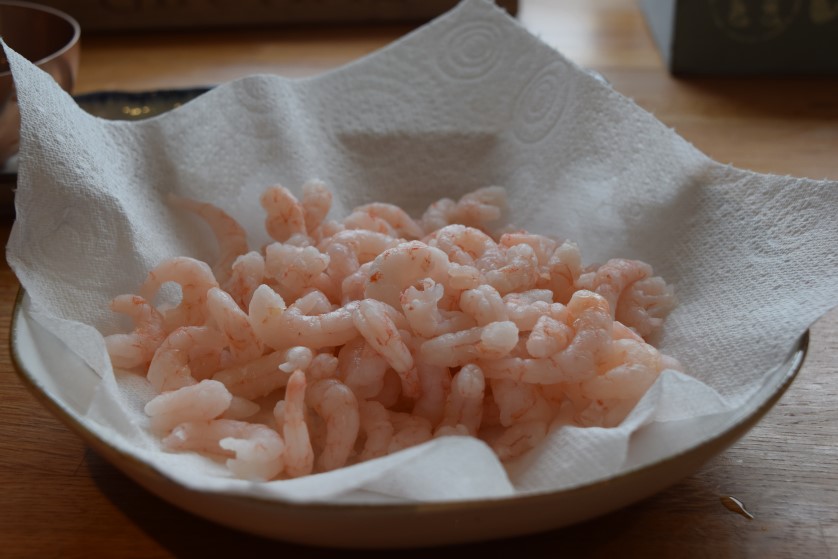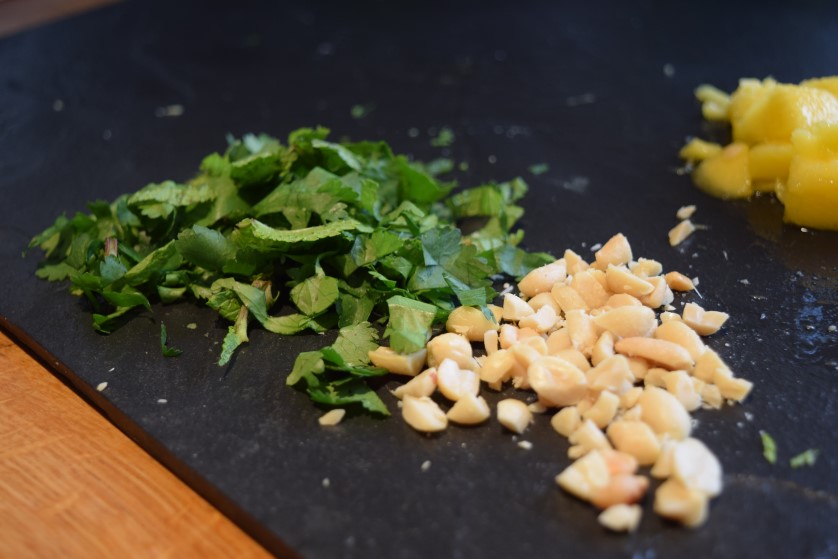 After all that exhausting preparation *not really* it's time to assemble your Summer Prawn Rolls. The rice paper rolls are quite delicate so follow the instructions on the packet. Mine said soak in warm water for 2 seconds then place on a damp tea towel, so that's what I did. Don't panic if they still feel stiff after a dip in the water, as they do soften up while you prepare them.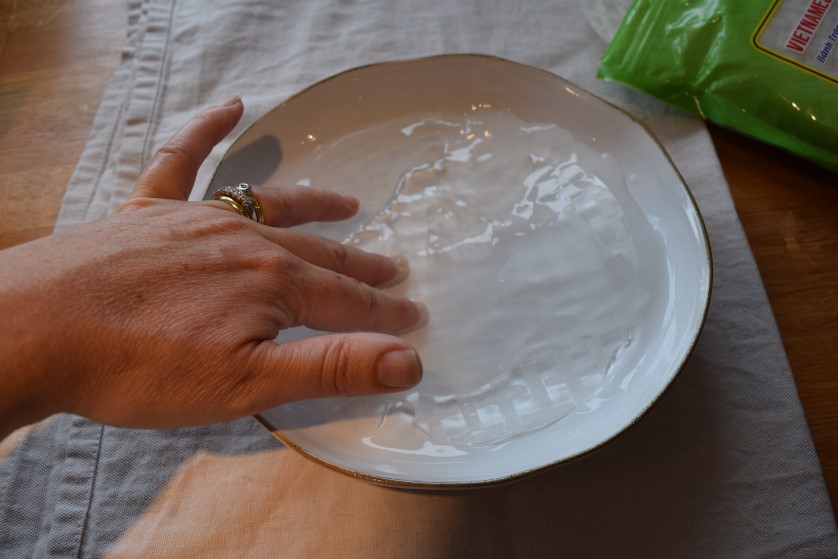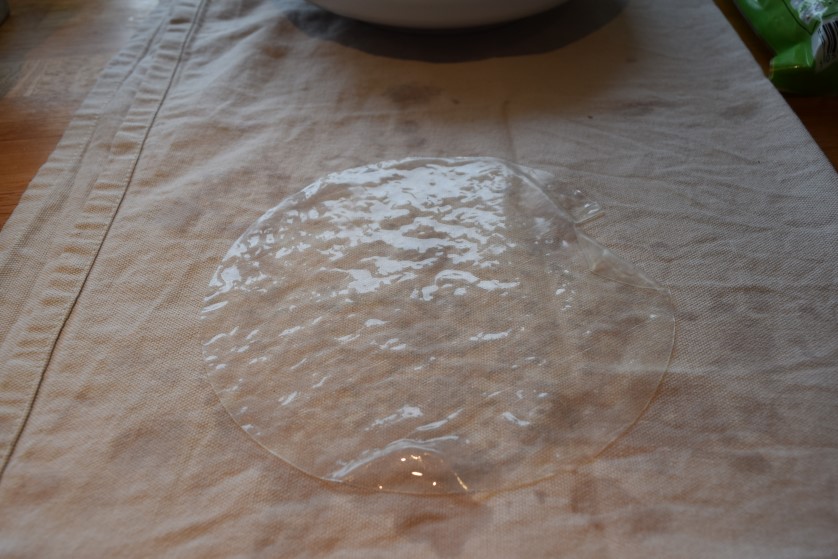 Place a tiny amount of prawns, mango, cucumber, avo, herbs and peanuts onto the rice paper wrapper. Put them nearer the edge nearest you than I did, as it makes it easier to roll.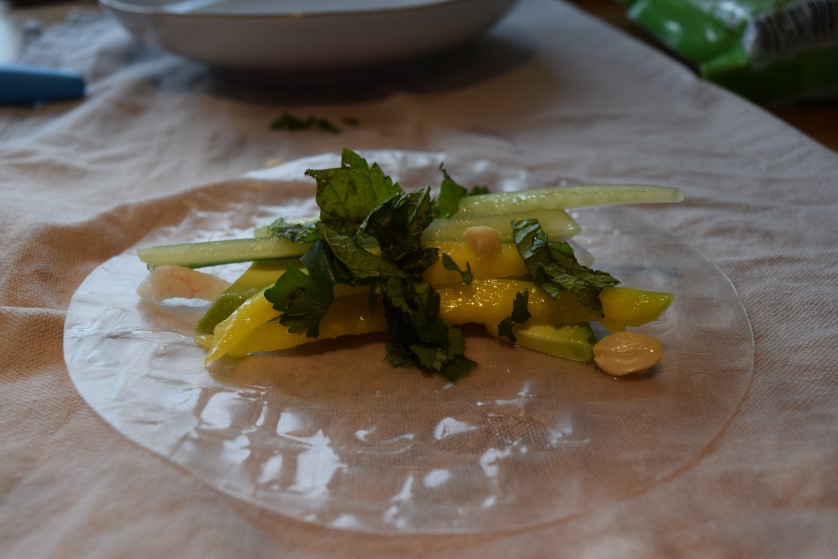 Roll these, carefully, from the front to the back, tucking in the edges as you go. You should end up with a tiny roll/parcel. It doesn't really matter what they look like, because they taste completely amazing.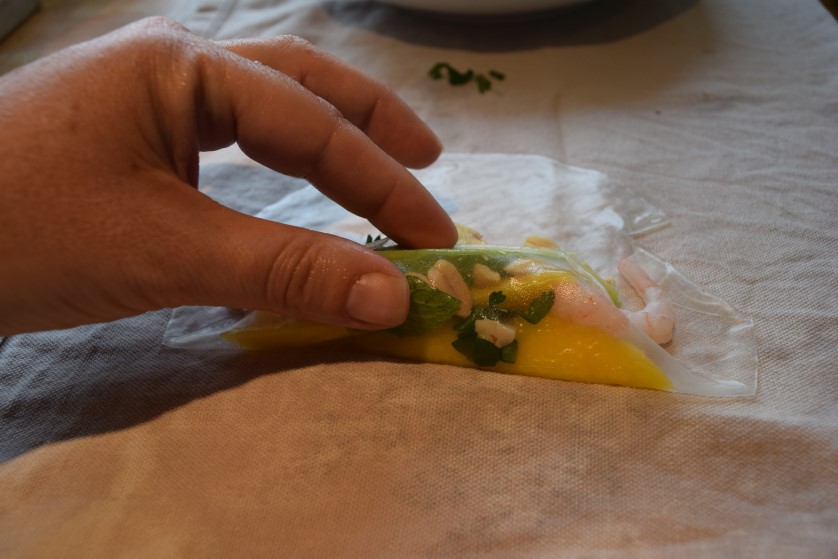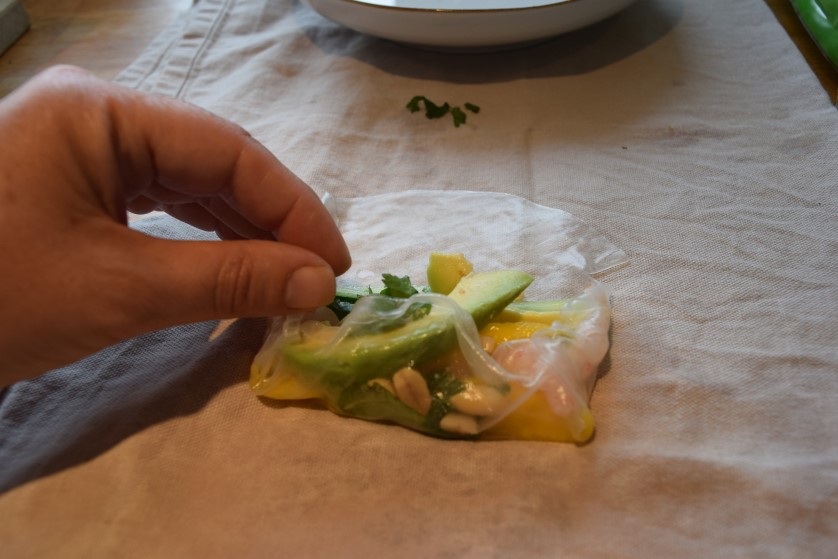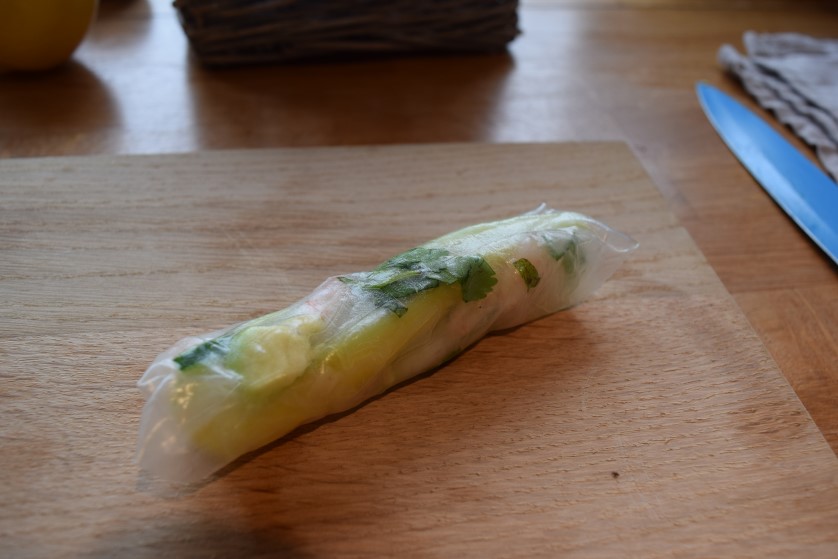 You can either cut these in half or just serve whole. I found serving them whole made them easier to pick up and dip into the sauce, but it's your call. Carry on until you have used most of your ingredients, made enough for your guests with a couple extra for you or got bored with the rolling.
These will keep in the fridge, covered, for a couple of hours until needed, but make sure they don't stick together. I love to share my mistakes with you because a) I am human and not perfect and b) you will not be as rubbish as I am.
Serve these elegant, tiny parcels with their chilli dipping sauce for nibbling, first coursing or light lunching.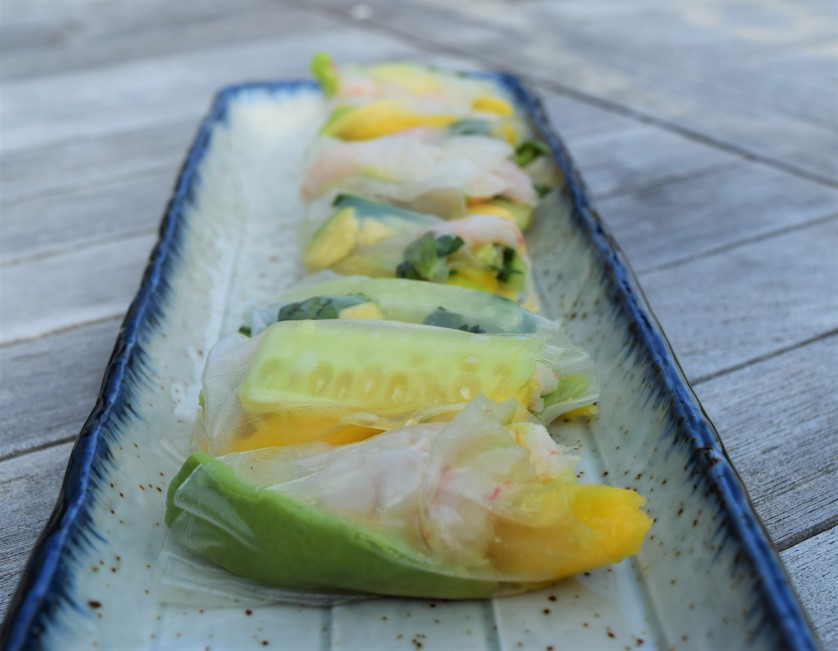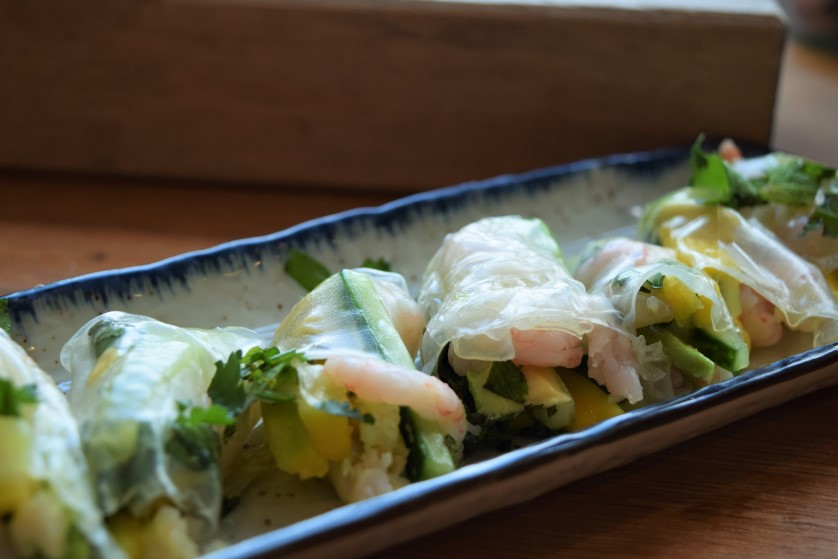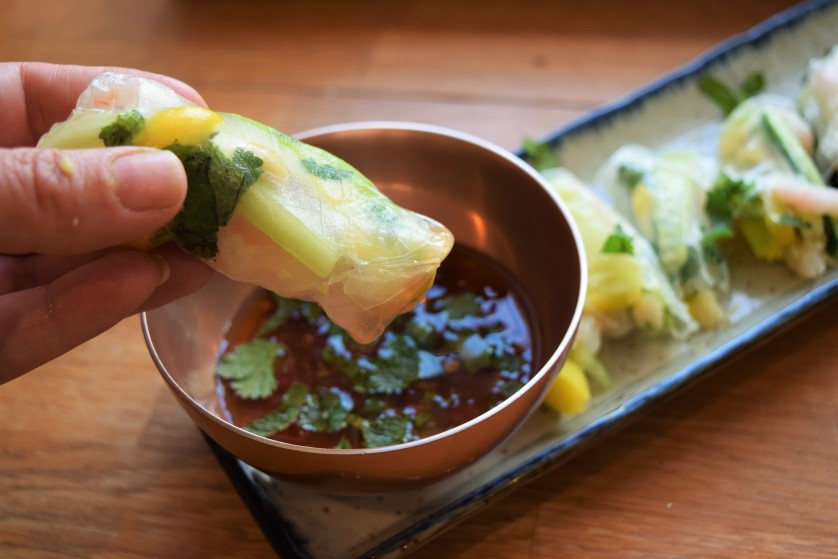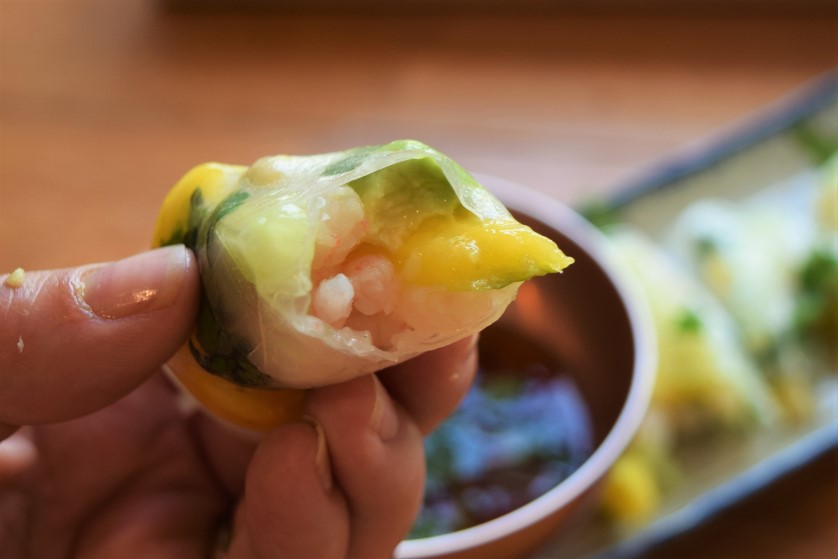 These fresh elegant rolls are small, but full of such big flavours. They are quite therapeutic to make, a little like a factory production line and once you get the hang of it, these are brilliant to have in your repertoire. I made these for my family this weekend and they were devoured as soon I put them on the table. There was even a slight skirmish over who had the last one, which is always a good sign.
Lucy x
Summer Prawn Rolls with Chilli Dip Recipe
Makes around 12 small rolls, to serve as a light lunch, starter or a nibble
Summer Rolls
12 rice paper wraps, do use more if you have spare filling to use up
150g to 200g prawns, I had small frozen prawns, but cooked king prawns would be lovely
1/4 cucumber, cut into strips
1 small avocado, also cut into strips, sprinkled with some lemon juice
1 small ripe mango, peeled and cut into strips
A handful of both chopped fresh mint and coriander
2 tablespoons chopped salted peanuts
Chilli Dipping Sauce
80ml sweet chilli sauce
1 tablespoon rice wine vinegar
A sprinkling of more chopped fresh mint and coriander
Make a start with the dipping sauce. Take a small bowl and mix together the sweet chilli sauce and vinegar. Add some chopped fresh herbs, stir then pop to one side until needed.
For the rolls, make a start by slicing the cucumber into thin strips, then do the same with the peeled avocado and fresh mango. Sprinkle some lemon juice on the avocado to stop it browning. Finely chop the mint, coriander and chopped peanuts and put in a small bowl. Take your prawns, rinse then place on kitchen paper to drain until needed.
When you are ready to assemble the rolls follow the instructions on the rice paper roll packet. Mine said to dip in warm water for 2 seconds then lay on a damp tea towel for assembly. Place a couple of prawns, a strip of cucumber, mango and avocado towards the end of the rice paper nearest you. Sprinkle on the fresh herbs and peanuts then roll from the end nearest you to the middle, tucking in the sides as you go. Finish the roll with the seam on the under side. Place the completed rolls on a presentation plate and serve with your wonderful dipping sauce. Cut in half if you prefer.
These will keep in the fridge, covered, for an hour or two, however, be careful not to place the rolls too close together or they will stick to one another.