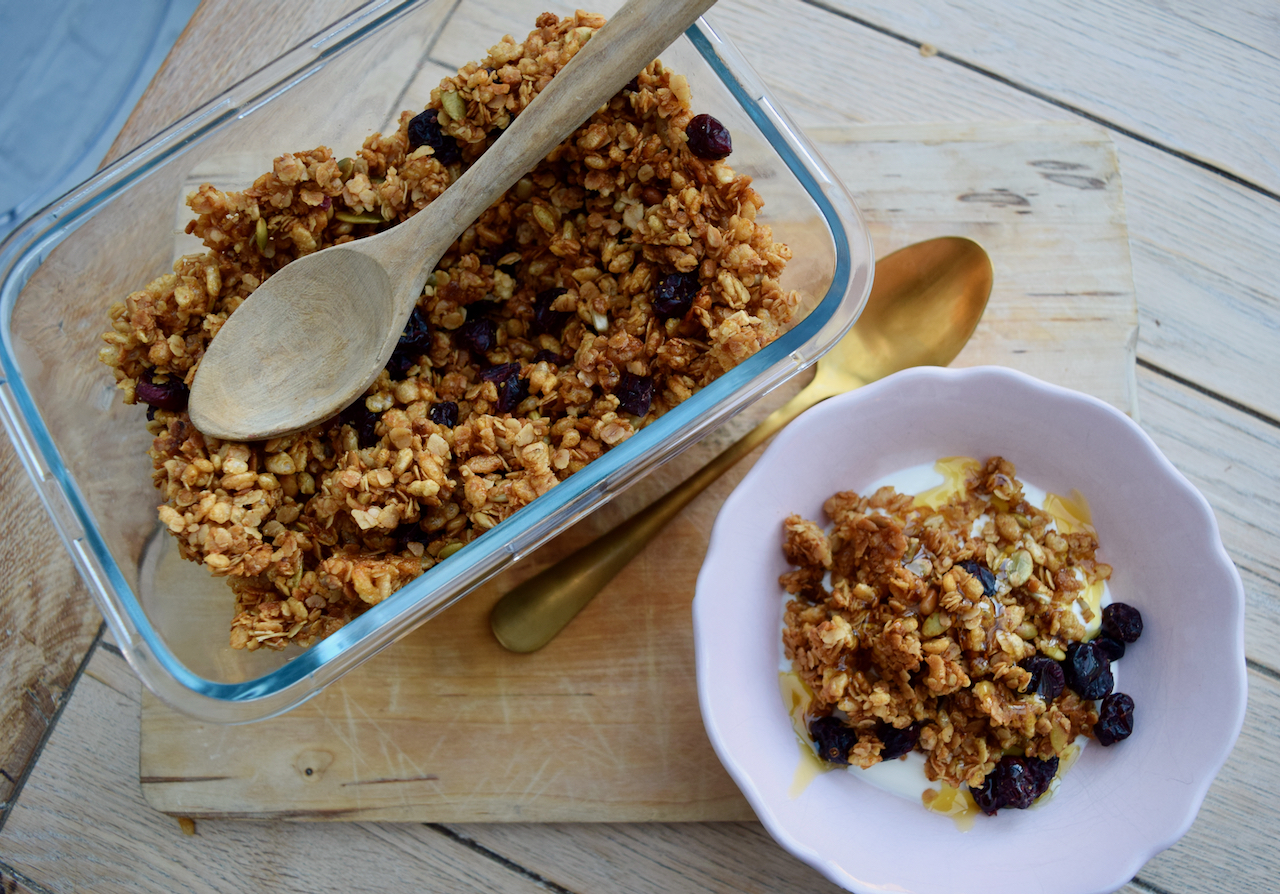 Golden Syrup Granola recipe
Everytime I make homemade granola it lasts about 5 minutes in our house. The boys inhale it with cold milk/straight from the jar, while Clyde ladles it onto Greek yoghurt in more of a dessert situation. I don't need to tempt my family to eat breakfast, but if you do, my Golden Syrup Granola is super child friendly and won't bankrupt you when they eat the whole batch in one sitting.
This is a pretty standard granola recipe; warming, stirring, baking, all the usual elements. The ingredients, though, won't break the bank whilst still tasting amazing. Begone litres of expensive maple syrup, the inclusion of golden syrup brings a wonderful flapjack quality to your breakfast as well as being much more frugal. A small amount of nuts add crunch while rice cereal makes it airy and light. Tart up the finished product by adding a couple of handfuls of dried cranberries *well it is nearly Christmas*, more nuts or some chocolate chips for the sweet toothed amongst you.
However and at whatever time of day you eat your Golden Syrup Granola, rest assured it's got a whiff of health to it and is definitely easy on your wallet.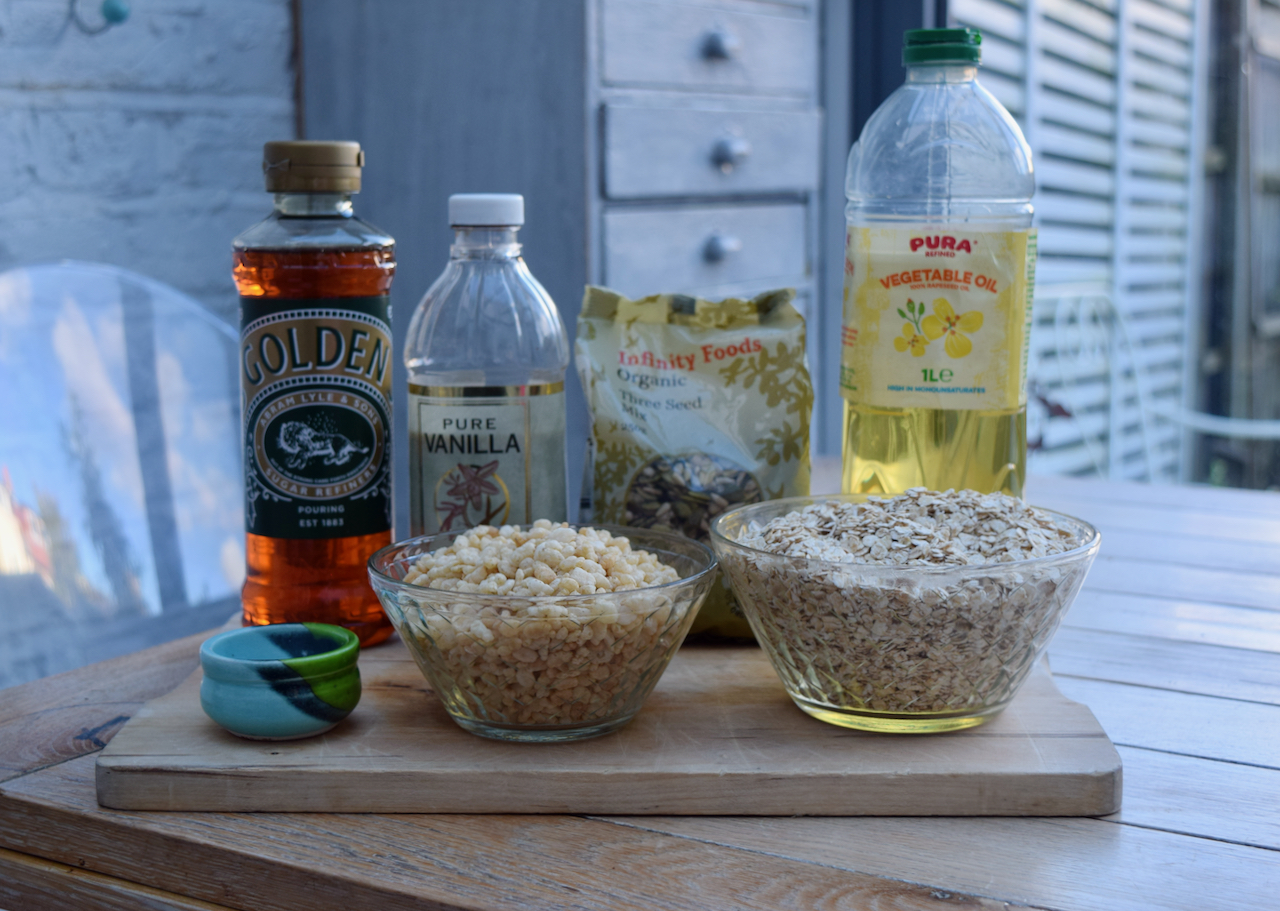 Here are the main players in this granola show. I went for seeds over nuts, as I have been making some granola for my sister who prefers hers nut free, and I love the mystery of all the different seeds you get in a mixed bag. Golden Syrup is one of my favourite things in the whole world; so sweet, sticky and a taste of my childhood. The vanilla adds fragrance and the salt goes so well with the sweetness.
Start with a large lined baking sheet and by pre heating your oven to 150 degrees fan assisted. Next take a large bowl and measure in the oats, seeds or nuts, rice cereal and sea salt. Give it a big mix.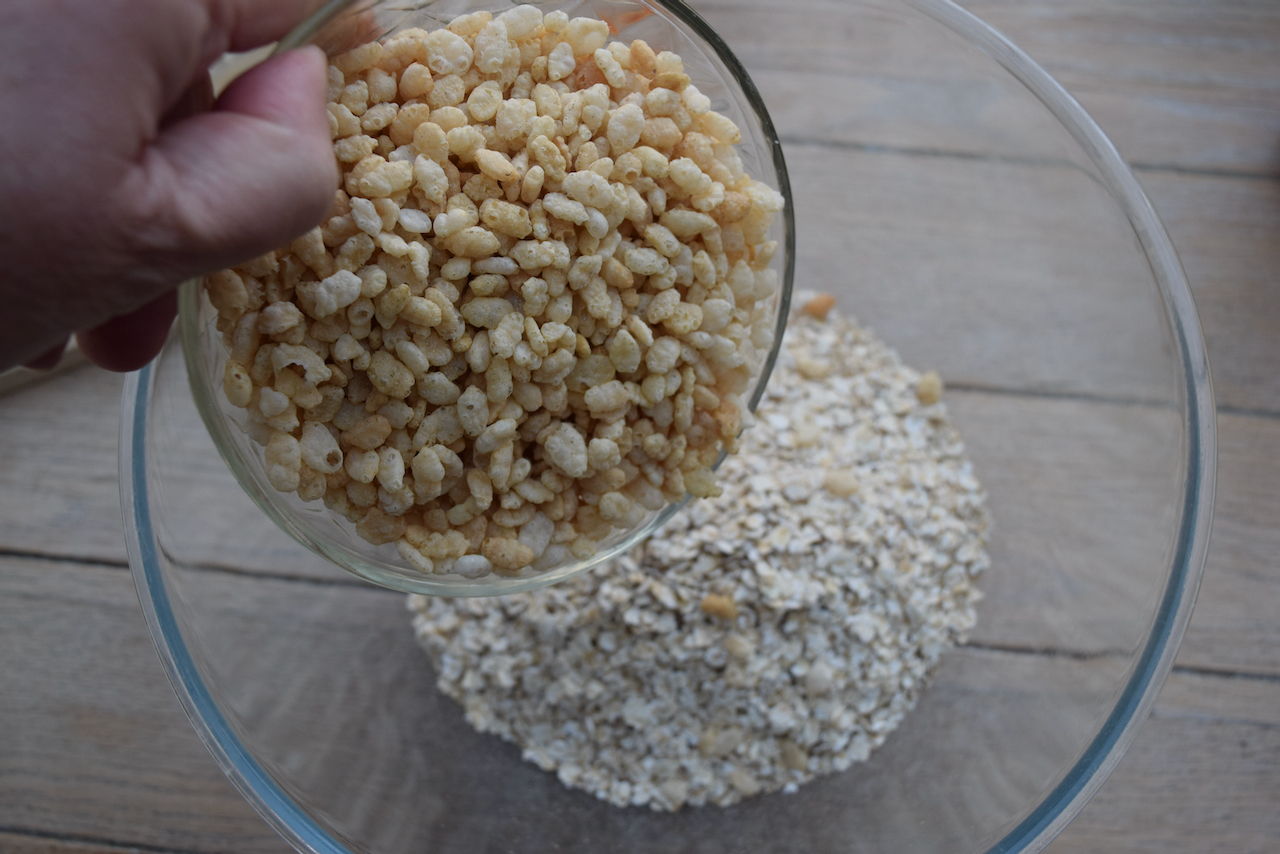 Now measure the syrup and oil into a jug and give it 30 seconds or so in the microwave to gently warm, making it easier to mix.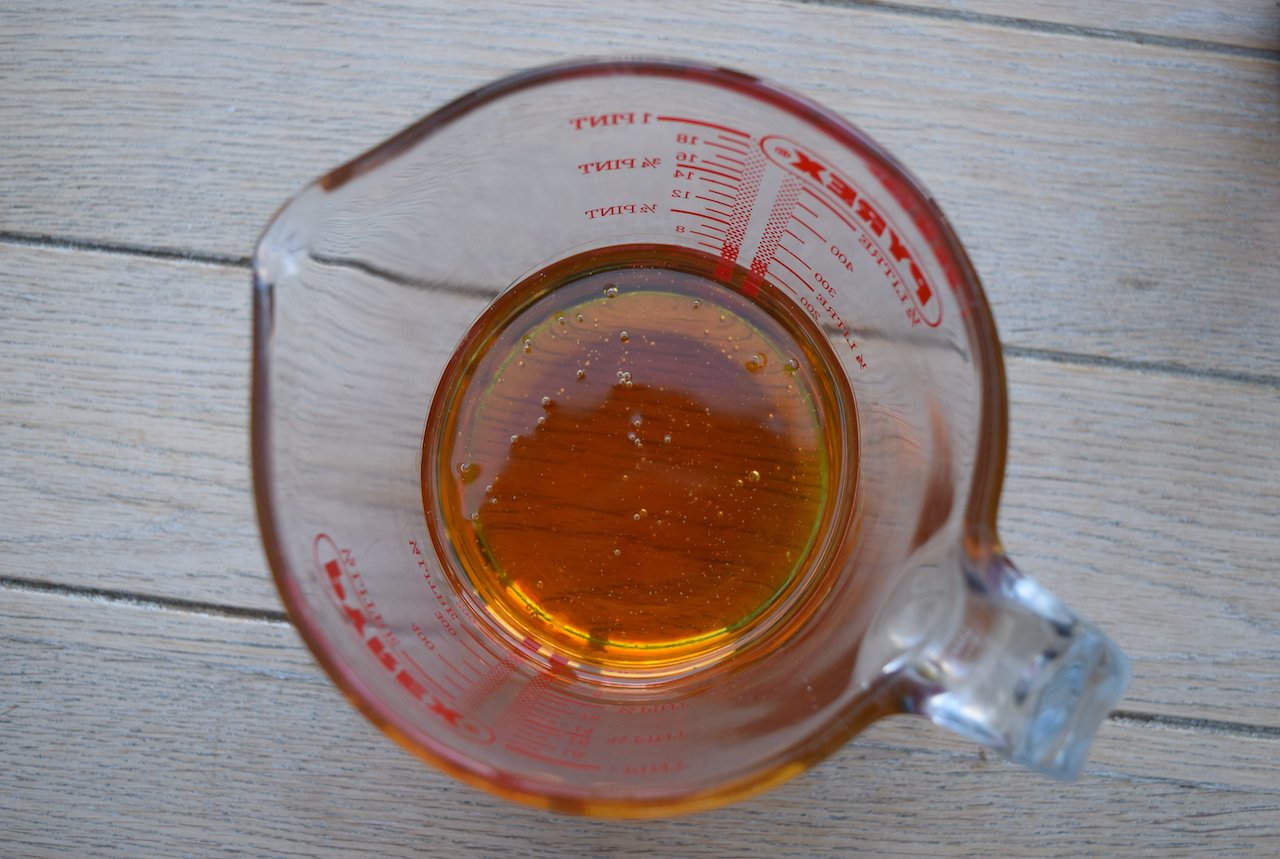 Stir in the vanilla extract then pour this into your bowl of seeds and oats, etc, and mix until everything's well coated in the syrup and oil.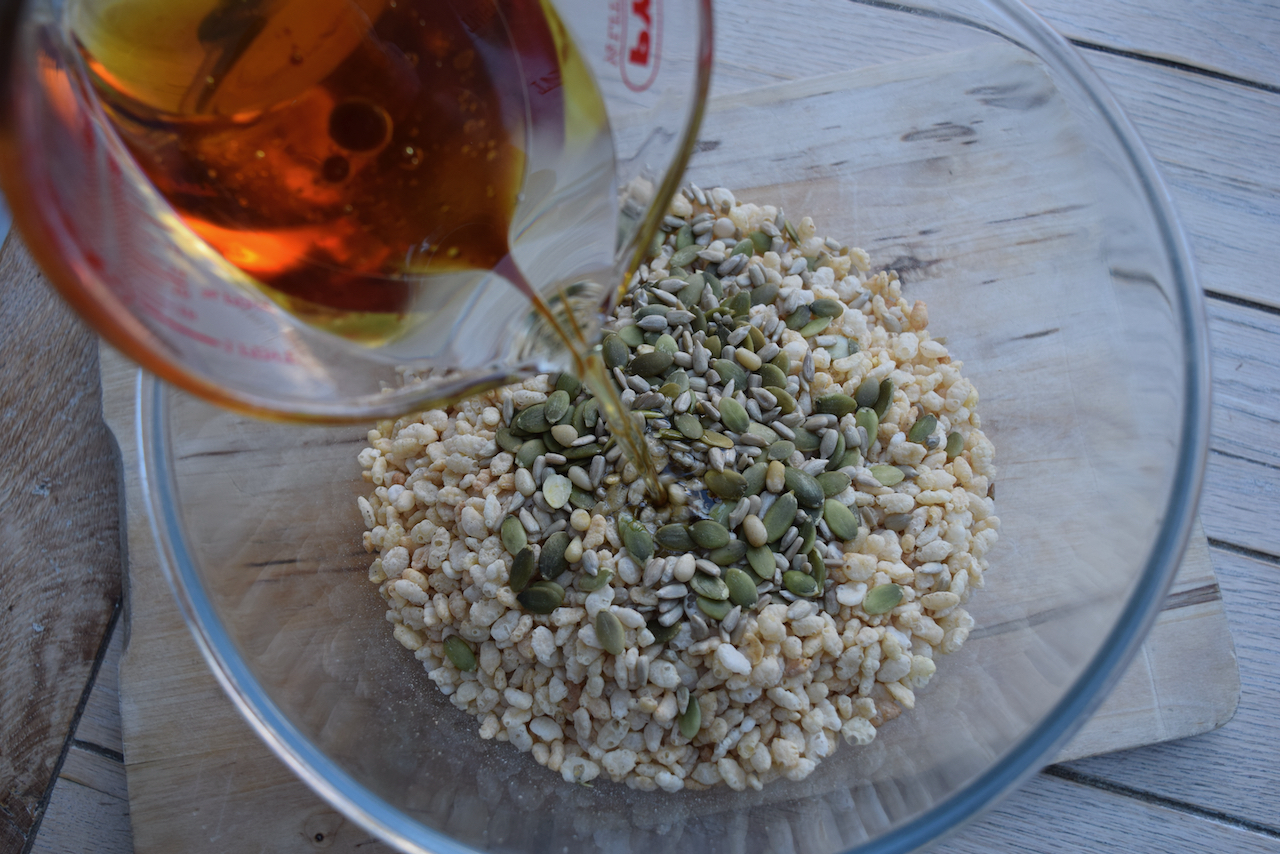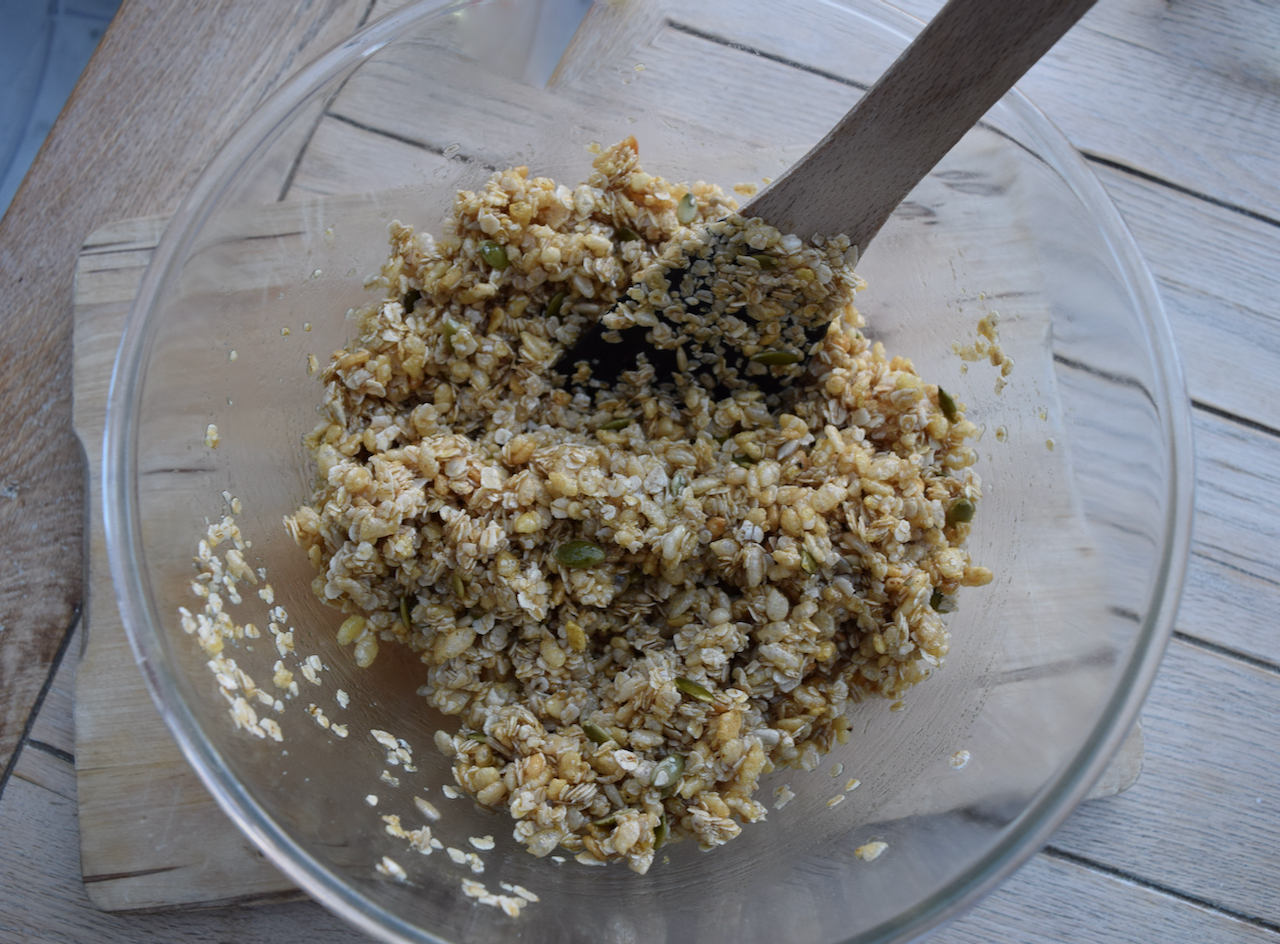 Spread this tasty mixture, in a single layer, onto your lined large baking sheet and bake for 10 minutes, then remove from the oven and give it a good stir.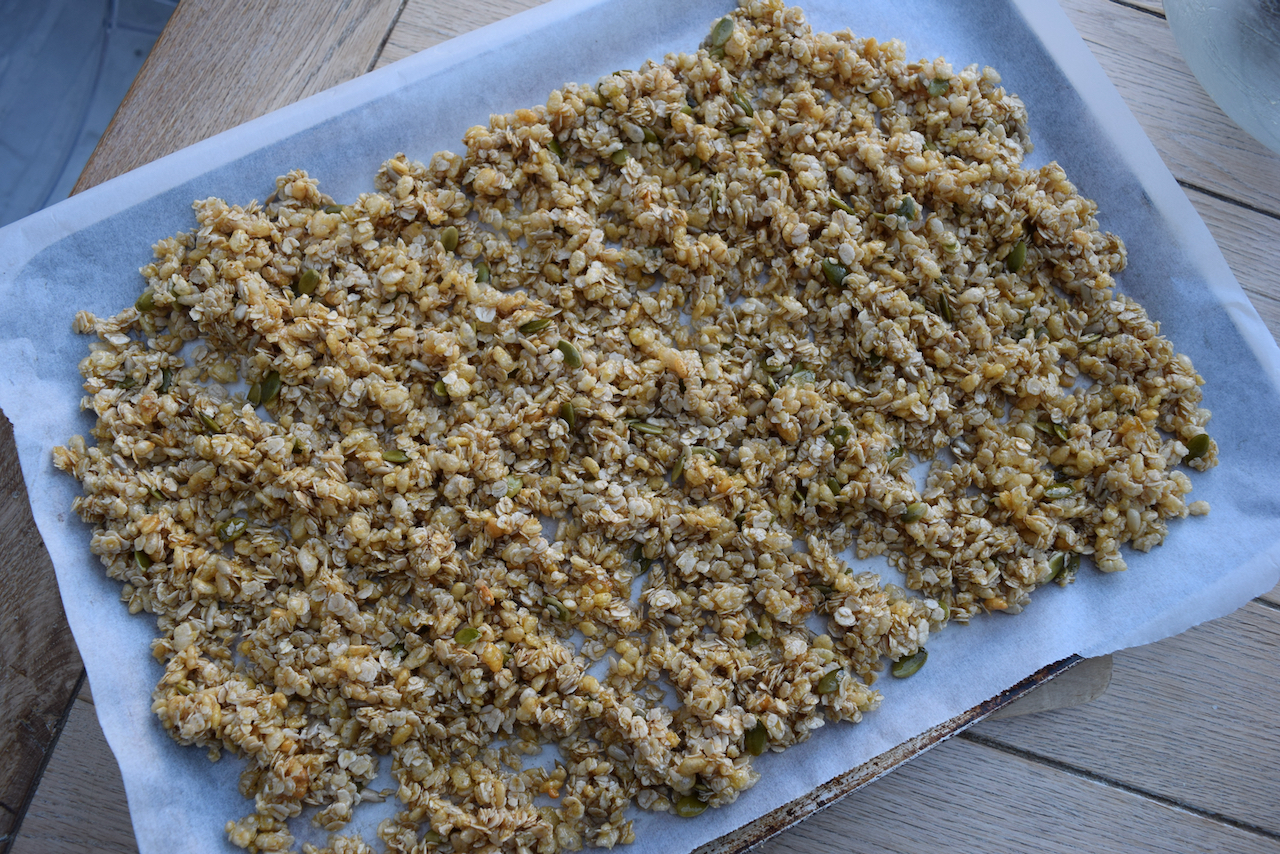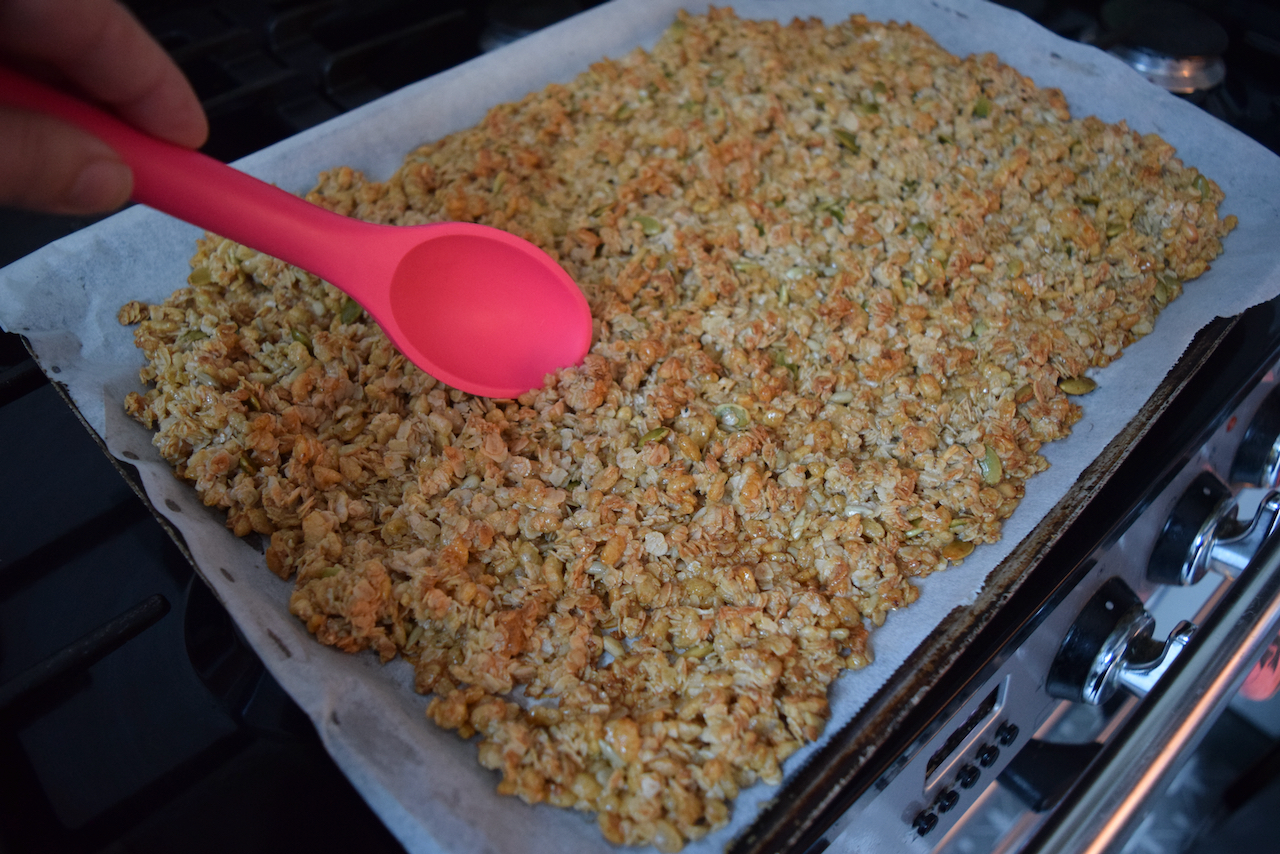 Put the tray back in the oven for another 5 minutes, repeat the stirring business, then give the granola another 2 to 3 minutes to turn it a wonderful golden brown.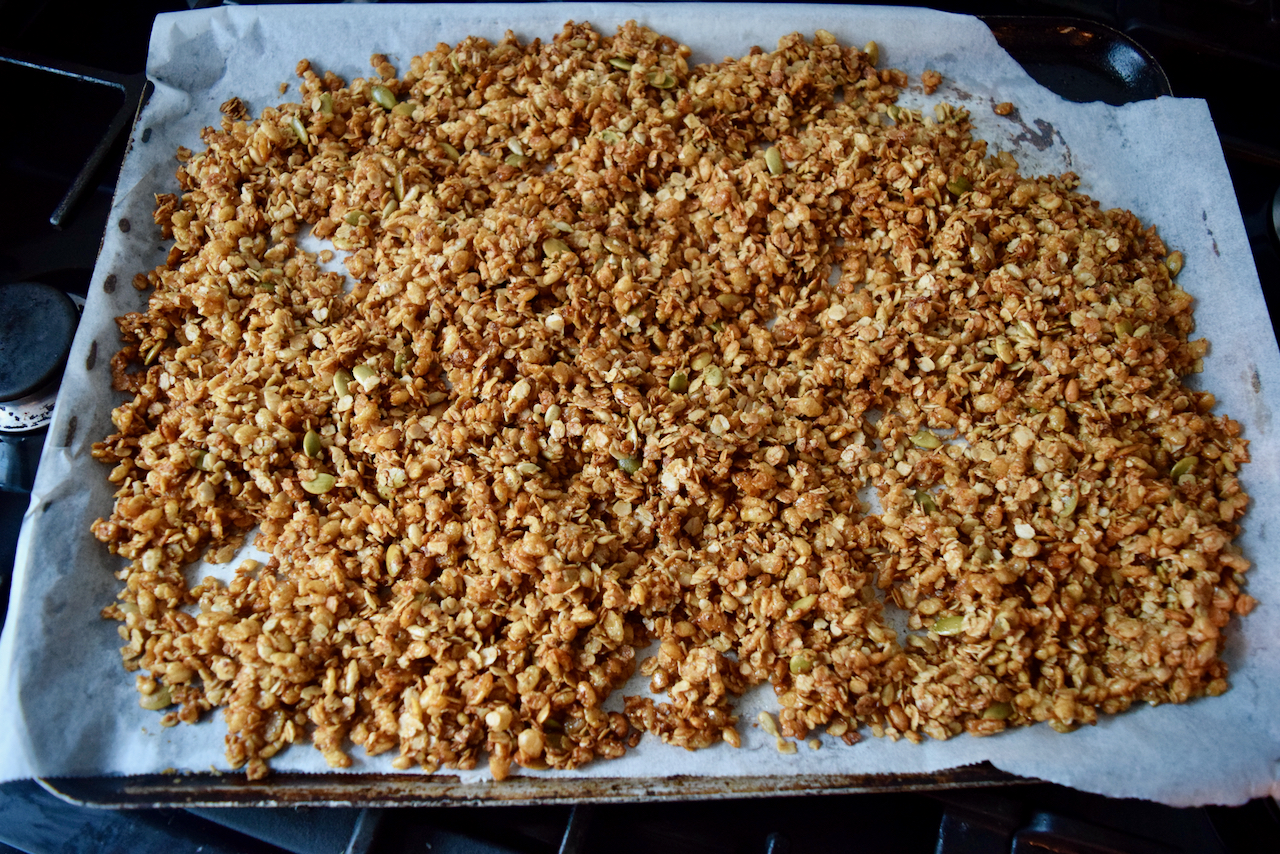 Like this.
Leave the granola to cool for about 15 minutes, to give it time to firm up. You can now add a pinch more sea salt, then drop on any bits and bobs like your dried fruit, nuts or chocolate.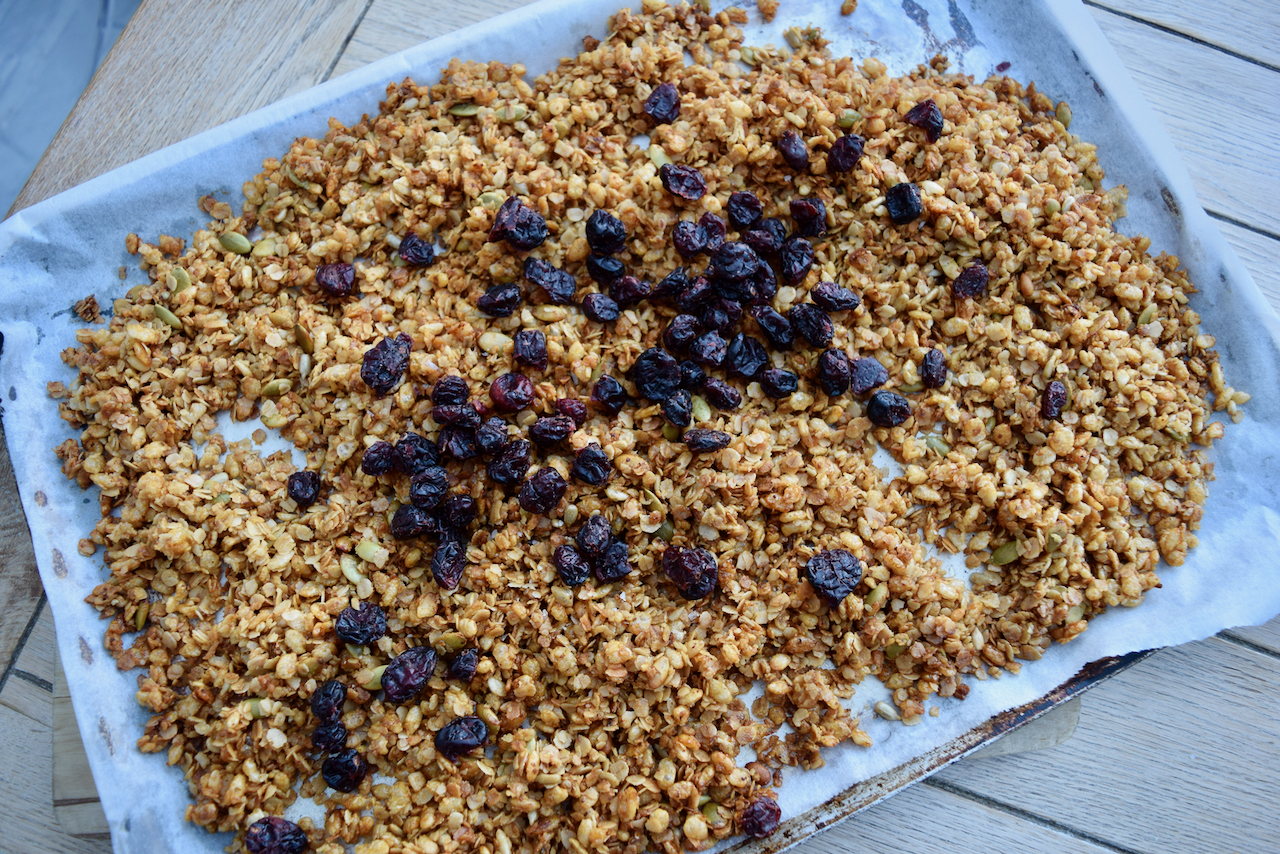 Go in with your hands and break the granola up a bit, leaving some big chunks and some smaller ones.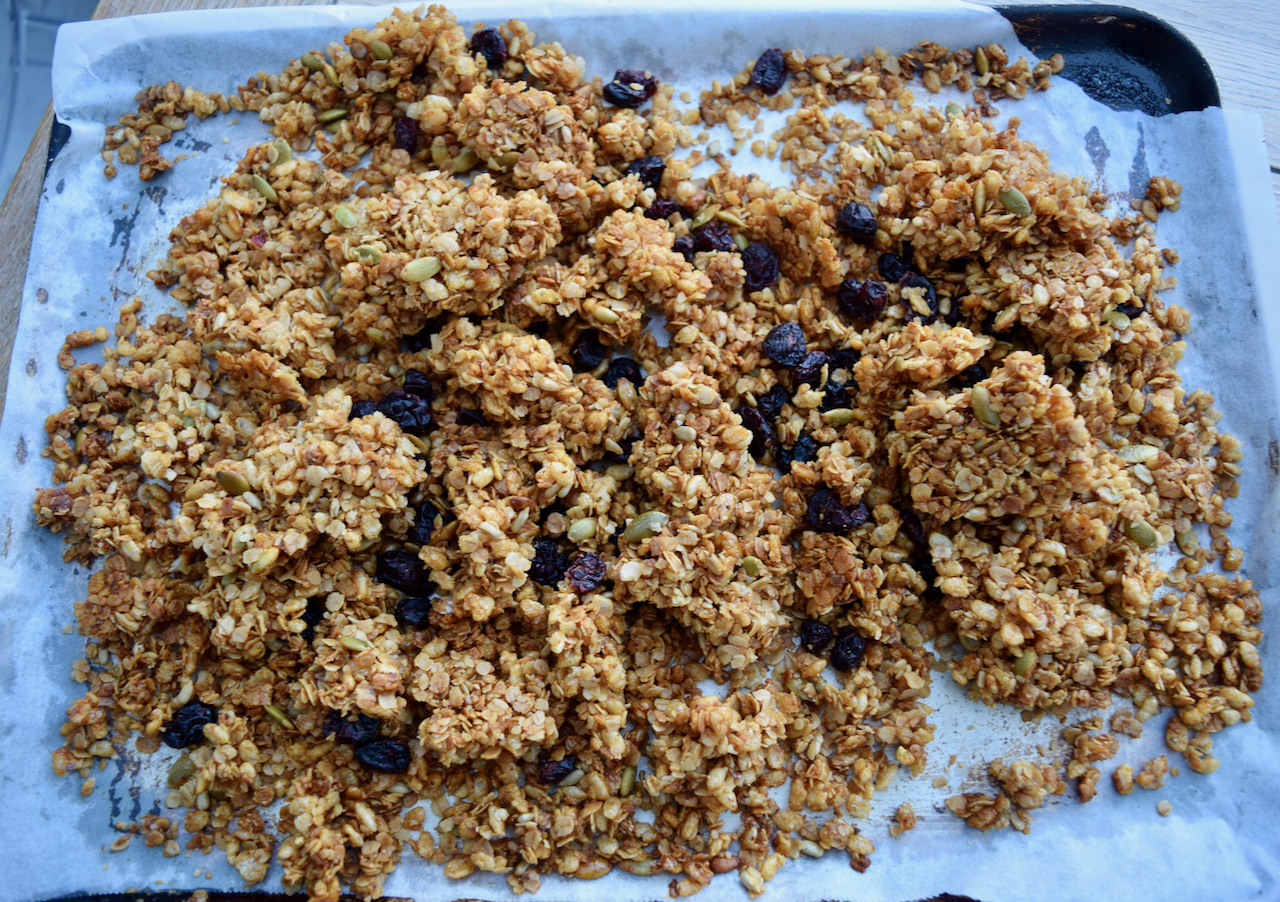 Pack into a large jar, tin or into little jars for gifting, if you absolutely have to.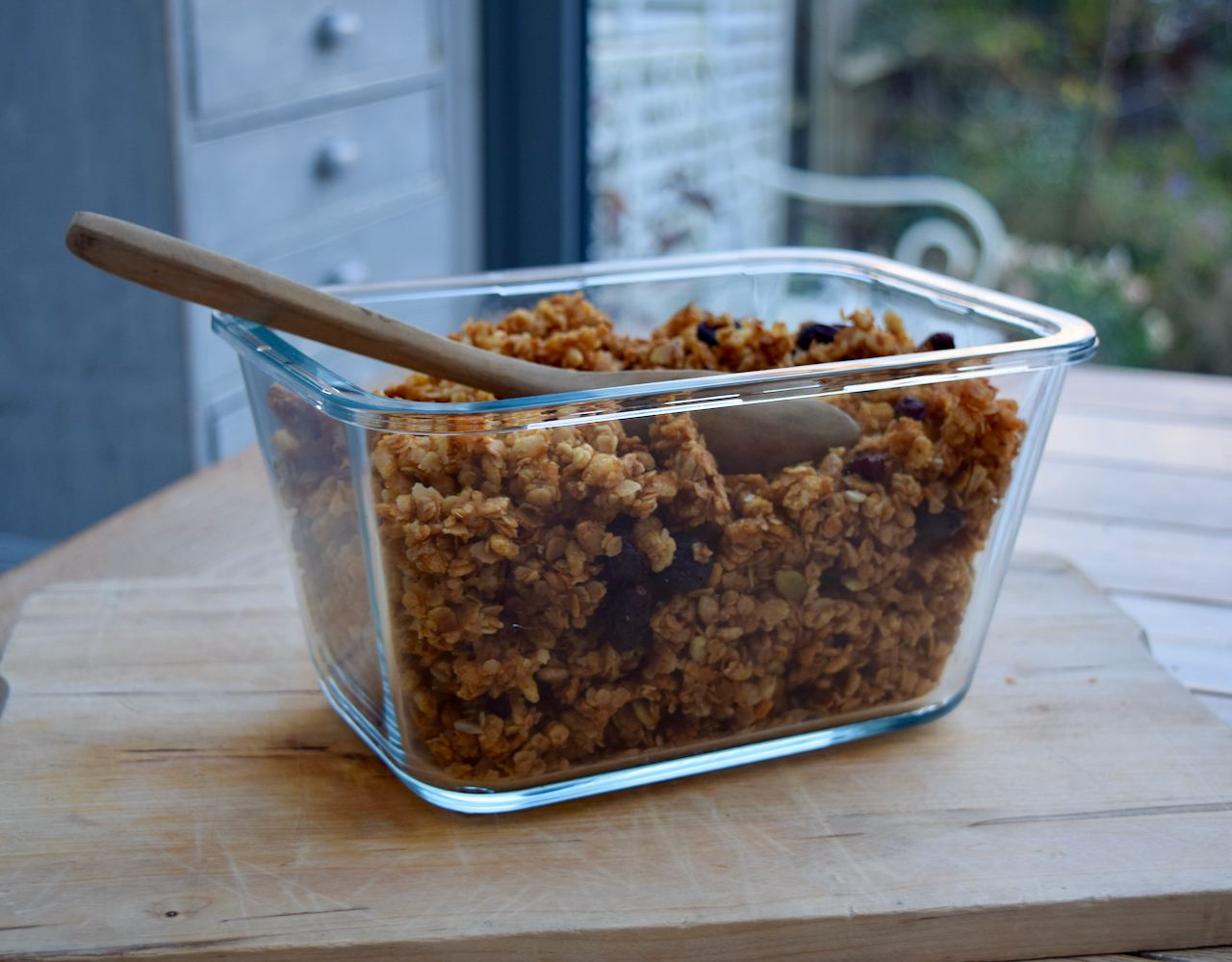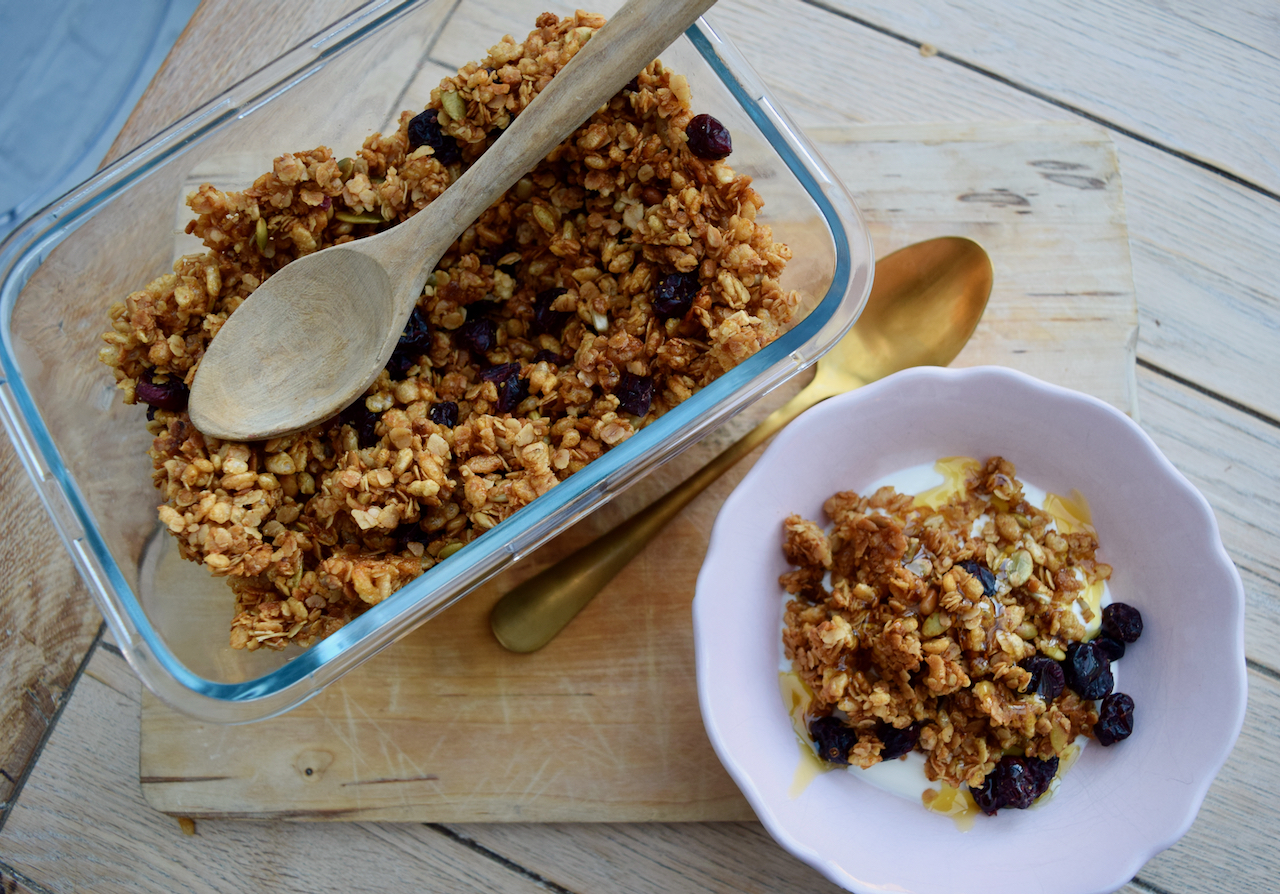 An extra drizzle of golden syrup wouldn't go a miss.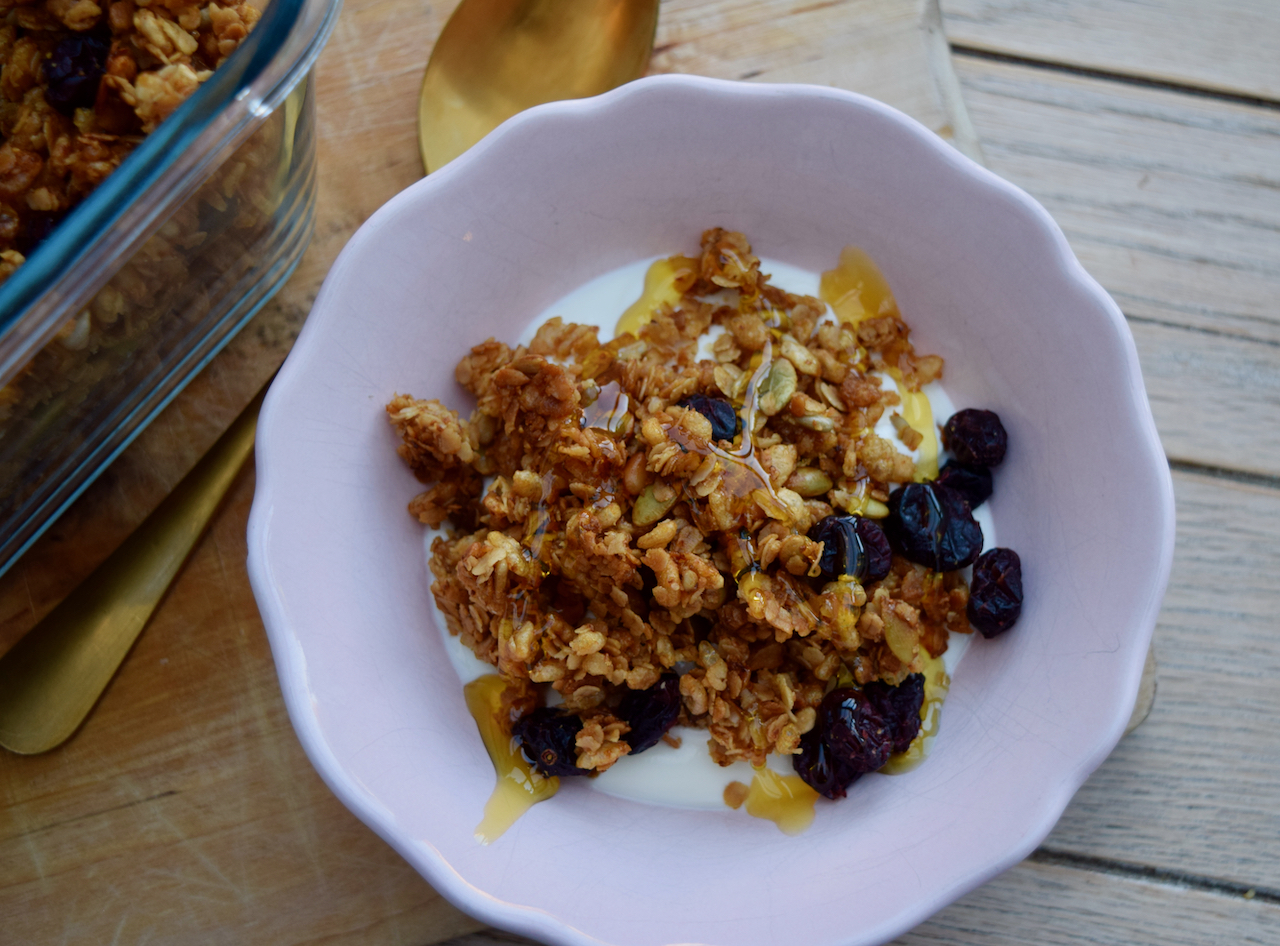 Big bowlfuls of this are what's needed. With milk, with yoghurt or if you're a member of my family, straight from the jar with a massive spoon.
Lucy x
Golden Syrup Granola recipe
Makes a great big jar, or several smaller ones, for gifting
You will just need a bowl and a large lined baking sheet
200g porridge oats
50g roughly chopped nuts or mixed seeds
50g rice cereal
Big pinch of flaky sea salt, plus a pinch more once baked
100ml vegetable oil
100ml golden syrup
2 teaspoons vanilla extract
A handful or two of dried fruit, extra nuts or chocolate chips to adorn the finished product
A drizzle of golden syrup to serve, if you like, and I do
Pre heat your oven to 150 degrees and line a large baking sheet.
In a large bowl mix together the oats, seeds or nuts, rice cereal and sea salt.
Measure the golden syrup and oil into a small jug and pop into the microwave for 30 seconds or so, to warm through slightly. Add the vanilla extract, then pour the syrup mixture into oats and stir well.
Tip the oats onto the lined baking sheet and spread into a single layer. Bake for 10 minutes. Remove from the oven, stir well, then put back in for another 5 minutes. Remove one more time, stir again, then a final 2 to 3 minutes will create the perfect golden granola.
Take out of the oven, leave to cool to set for about 15 minutes, then sprinkle with salt and add your extra fruit, nuts or chocolate. Break up into chunky pieces and store in a large jar. Or pack into smaller jars, tie on a ribbon and wave it goodbye if you can bear to.
This will last for a good two weeks, in your airtight jar.