Sunday Roast Tray Bake Recipe
This Sunday Roast Tray Bake has so many things going for it I feel I should supply the post with a spreadsheet of plus points. What could be more helpful than a one pan Sunday lunch? All your favourite things in one place, cooked all together with minimal washing up. Oh, and it's delicious, warming and full of winter flavours.
I am sure I have bored you before with talk of our family Sunday lunch dilemmas. One person likes gammon, one prefers lamb, they all love beef, no one likes a casserole, the list goes on and on. So when I spotted this brilliant recipe on Red Online (a big thanks to them) I was super impressed. What a great concept, all your favourite parts of a roast dinner, but popped in one pan together. The chicken and sausages wrapped in bacon crisp up beautifully while the potatoes, carrots and parsnips roast together in a herby gravy. You could even use a disposable foil tray to negate the need to do any washing up at all, what a super Sunday lunchtime treat.
Do feel free to vary your veggies to suit your family requirements, add or subtract any unwanted choices. I used extra chicken to suit the male dominated appetites in our house, but if your thighs are big *mine are* one should be enough, especially if you go hard on the chipolatas. I doubled the original recipe quantity of sausages as these are always the most popular part of any Sunday roast in our house.  This brilliant dish needs only a sprinkle of parsley to finish, but do top up your veg quota by popping alongside an *un*popular portion of broccoli to boost your five a day.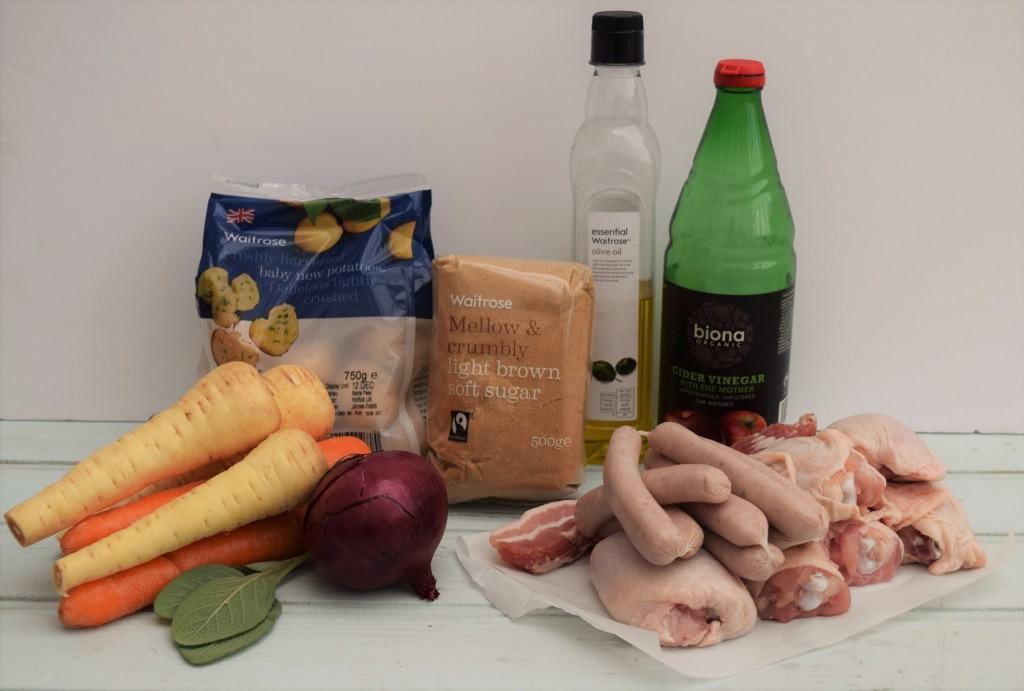 Here's everything you need for your tasty Sunday Roast Tray Bake. Apart from salt and pepper, which I can't believe I forgot from the line up, just pretend they're hiding behind the veggies.
Make a start on this simple Sunday special by pre heating your oven to 170 to 180 degrees fan assisted. Take a nice big roasting tray and get ready to fill it with delicious things. Use a bigger one than mine as my dish took longer to cook as everything was all wedged in the one tray. I wanted to use this one, though, as it is much more photogenic than my usual crusty old baking trays. Ramble over, next take a small bowl and make the dressing. Add the olive oil and brown sugar.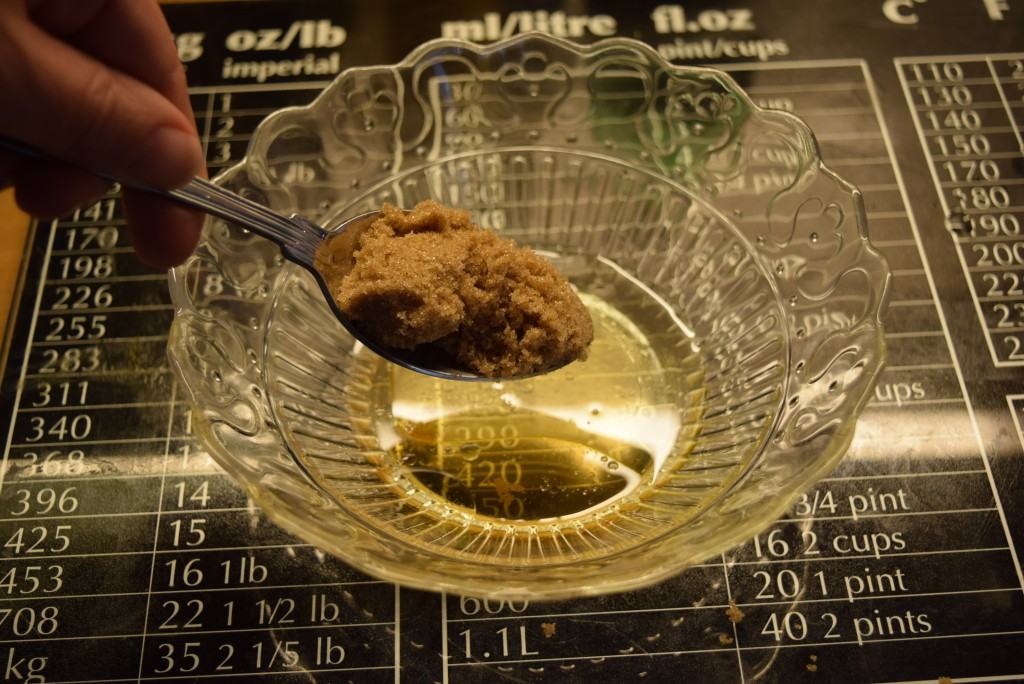 Next, pop in the cider vinegar and freshly chopped sage or thyme and add a pinch of salt and pepper. Give this dressing a good stir then leave to one side for the moment.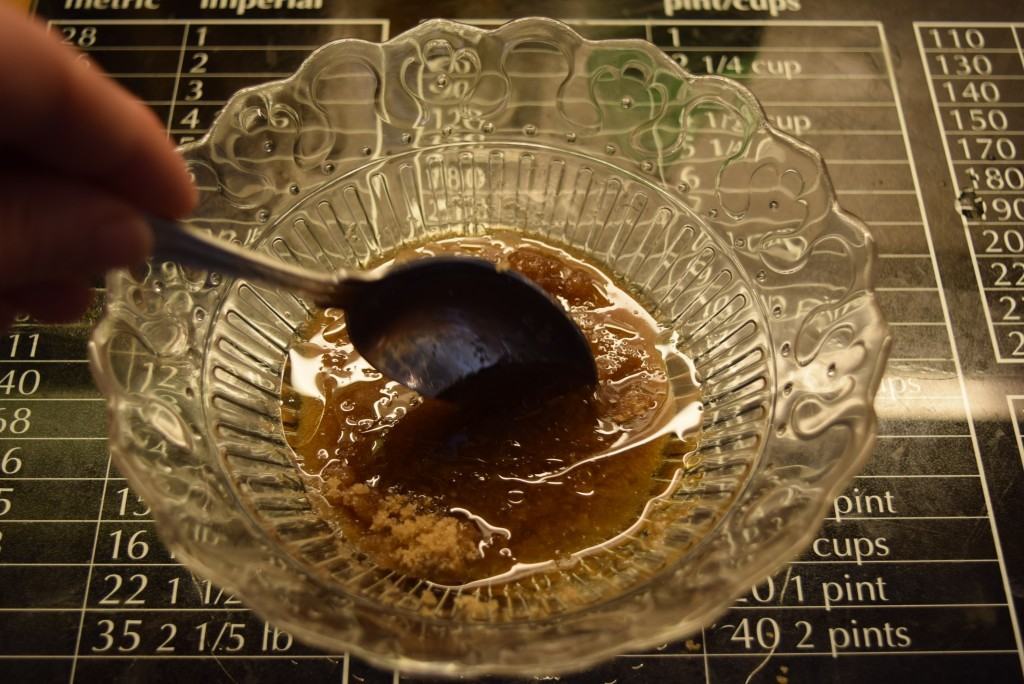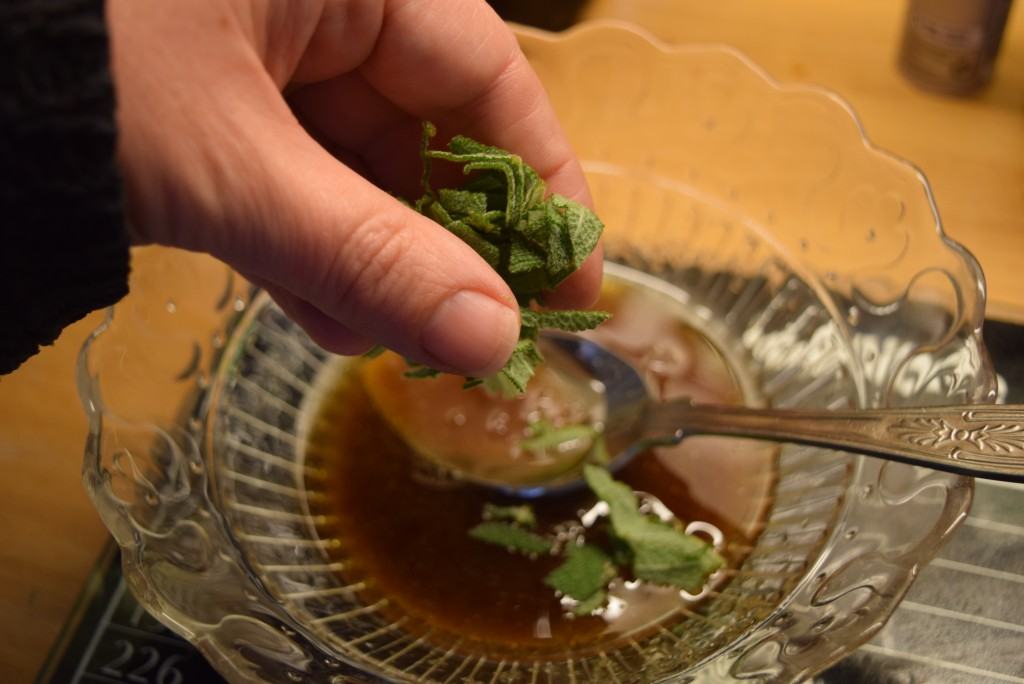 Ooh, for once, my hand doesn't look too monstrous in that shot.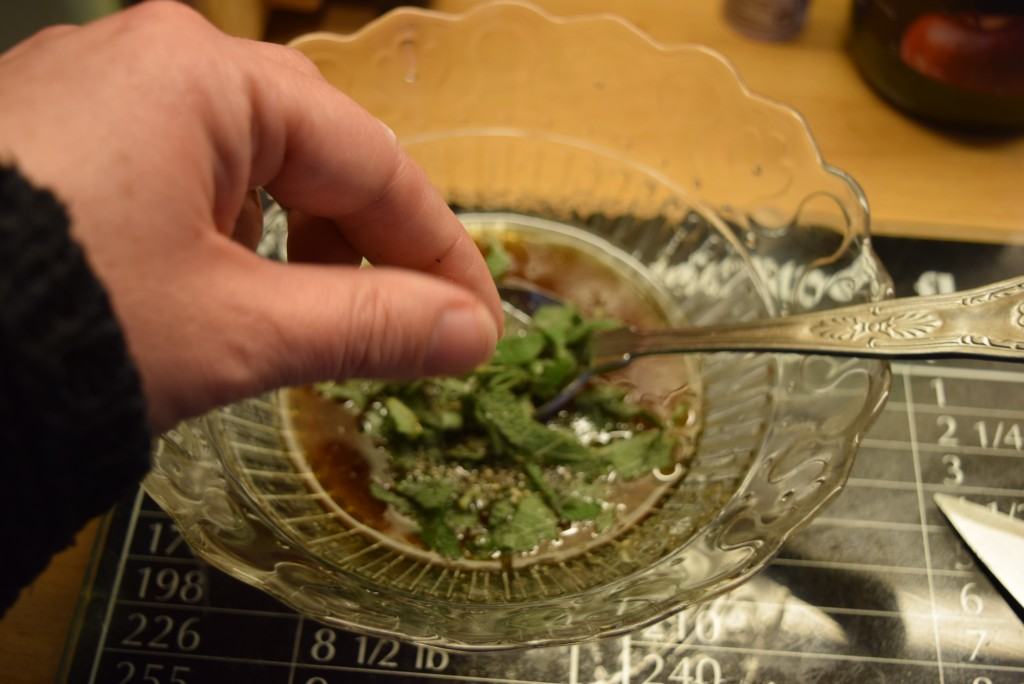 And there you go, it's back to looking like a fat claw again.
Next on your not-much-to-do list, prepare your chosen vegetables. I peeled and cut the carrots and parsnips into good sized chunks, peeled and quartered the red onion and just halved the medium sized new potatoes.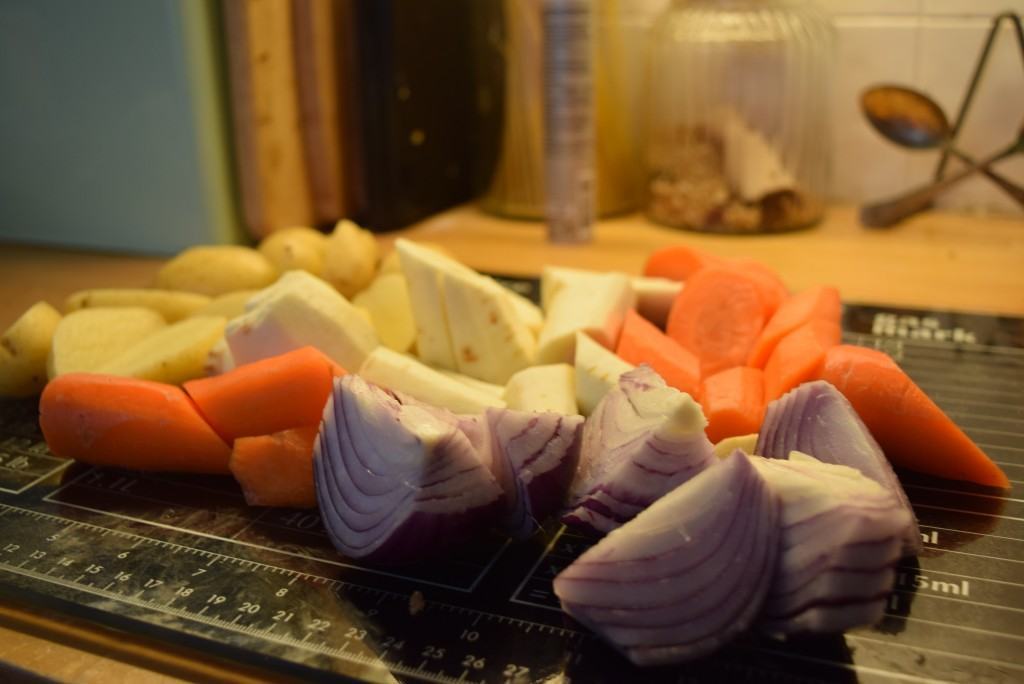 Tip this colourful collection into the roasting tray and spread out into an even, single layer.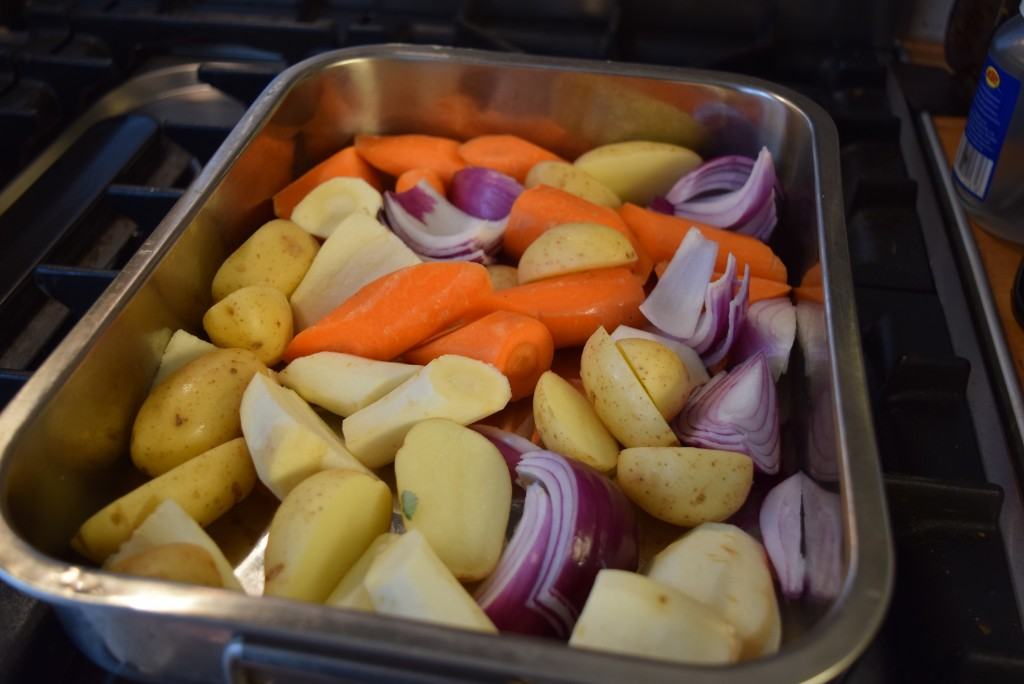 Take your chipolata sausages and wrap each one in a rasher of streaky bacon. Then pop these, along with the chicken thighs, into the pan of vegetables.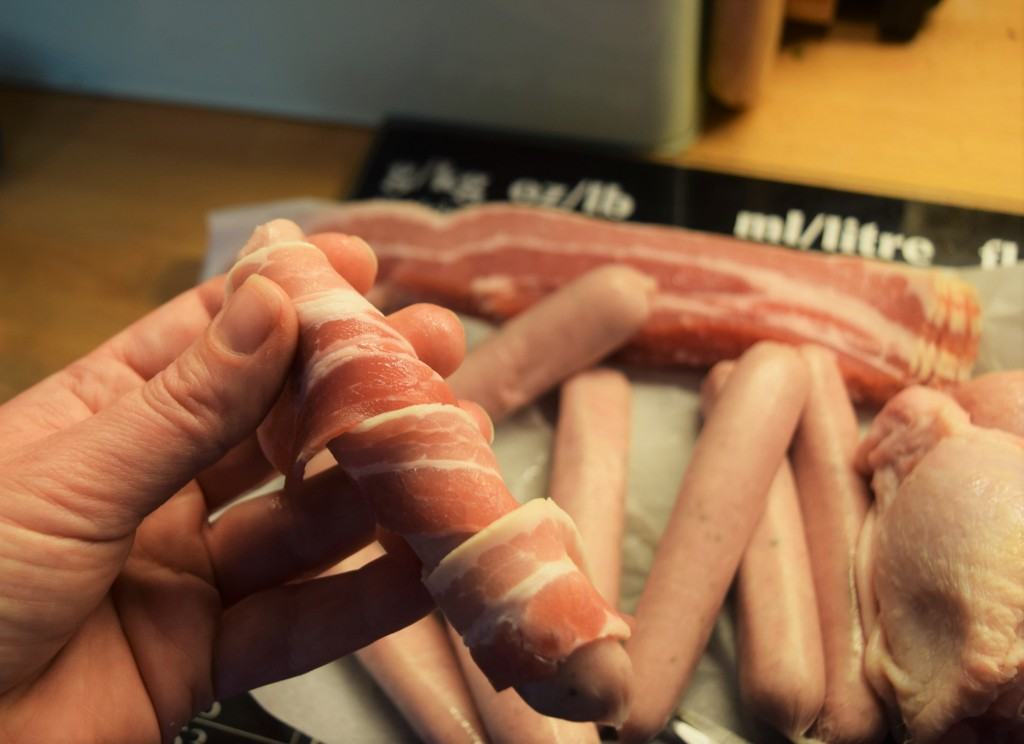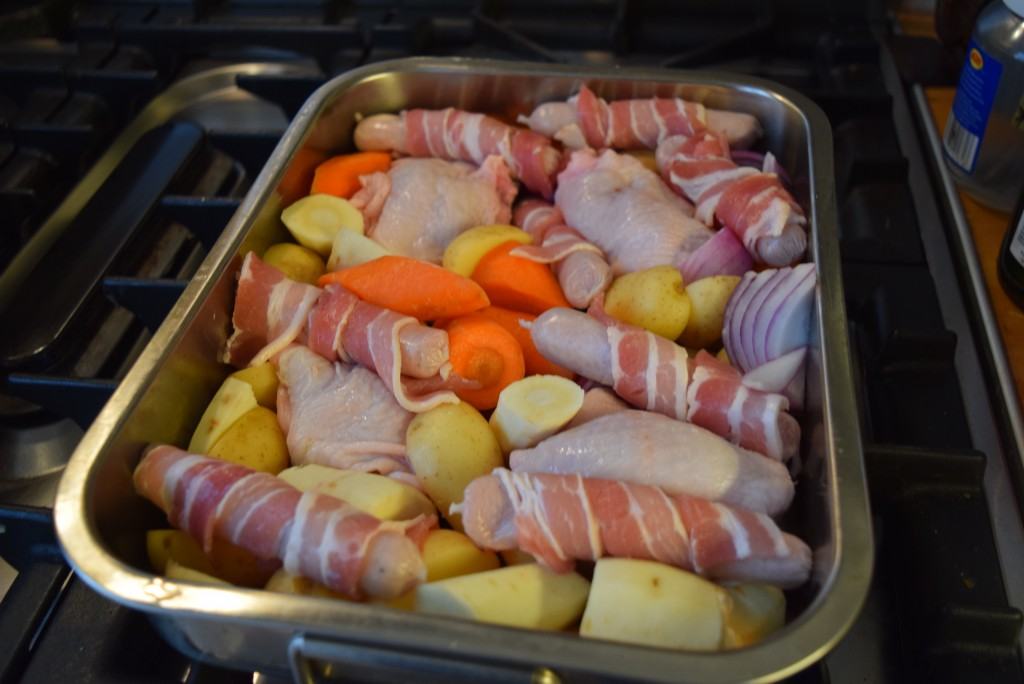 Next, to use a very Nigella-esque type word, anoint this wonderful dish with the herby dressing. In Lucy Loves speak, slosh it on and make sure everything is nicely covered in the flavours.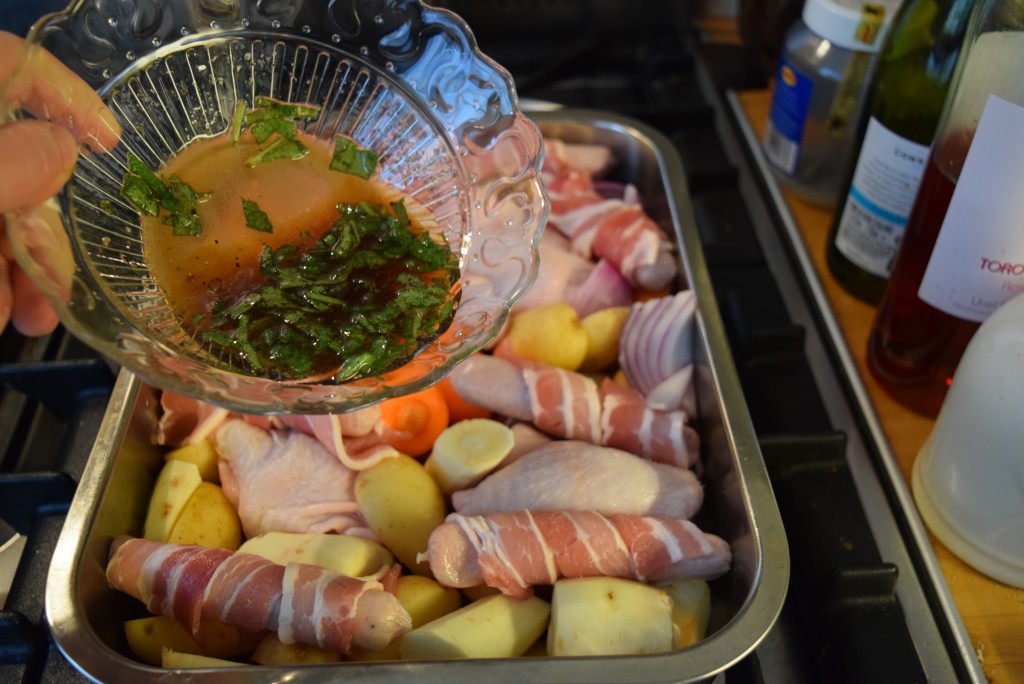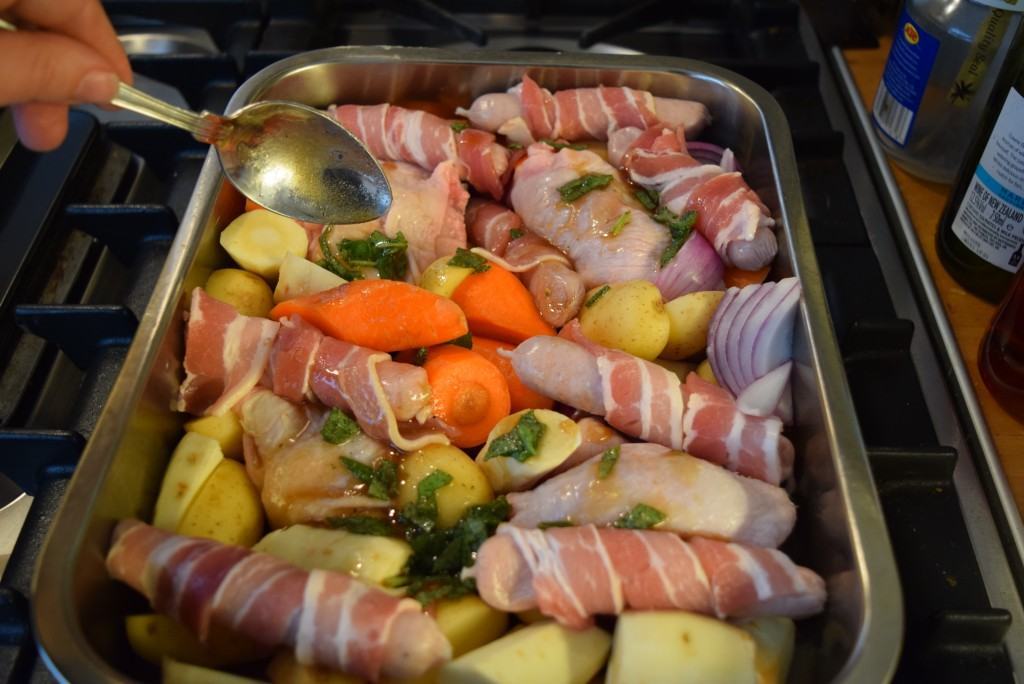 Make sure your chicken thighs are skin side up, add some salt and pepper then put this tray of Sunday deliciousness into your oven for 45 minutes to an hour.
Baste and turn the vegetables after around 25 minutes to make sure everything is crisping evenly and browning on top.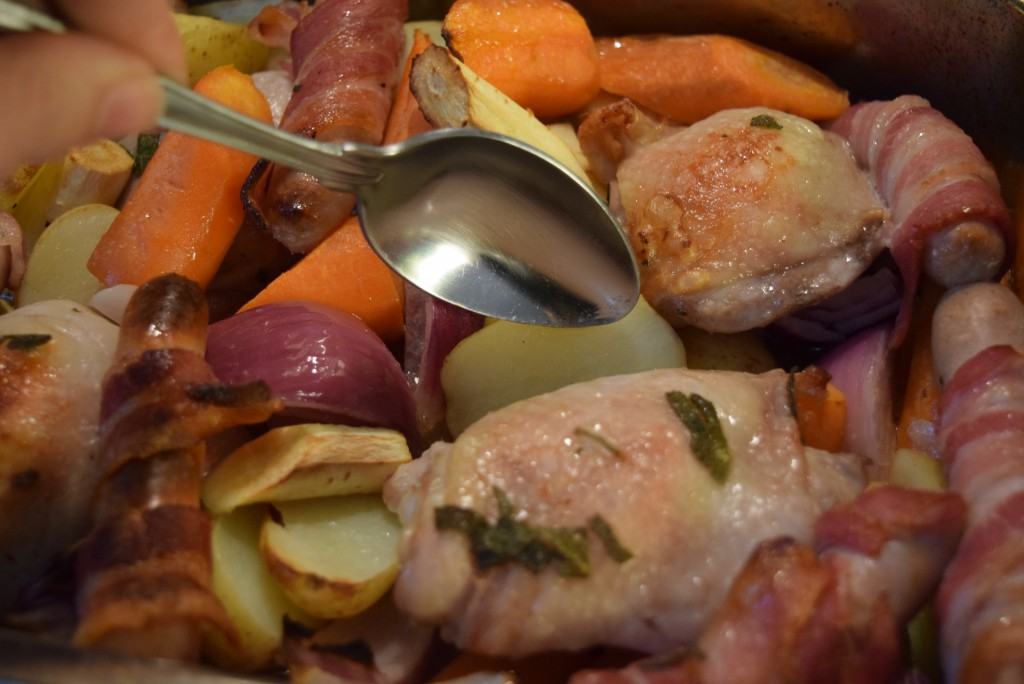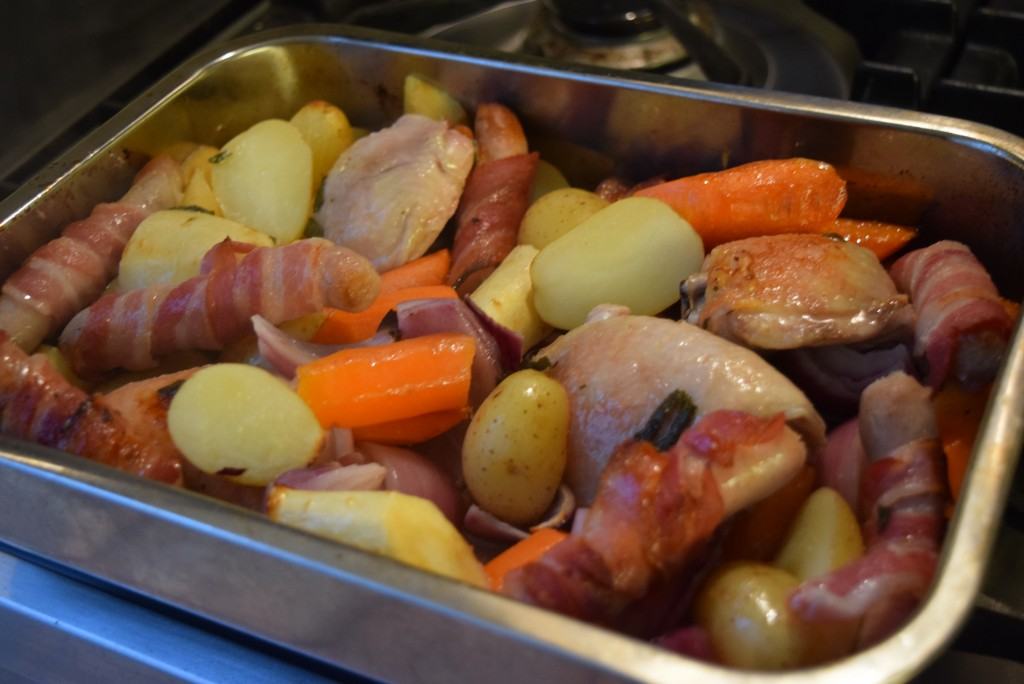 This flavoursome dish is ready when the vegetables are tender and browning and the chicken and sausages are golden, crisp and cooked right through.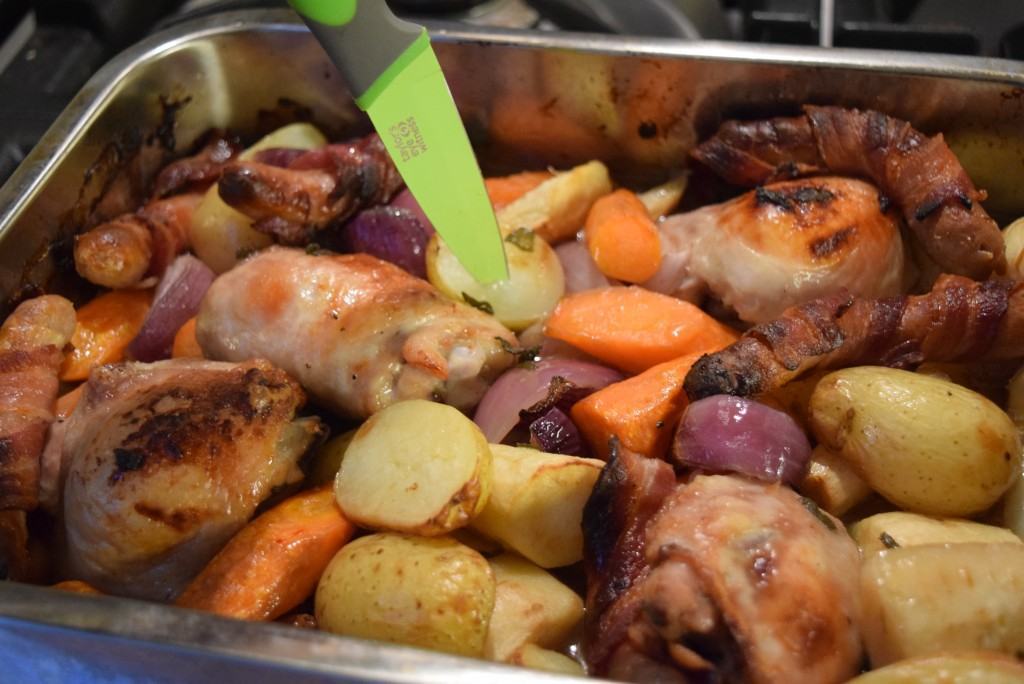 Sprinkle with a touch of 70's style parsley garnish. Serve at the table for immediate devouring.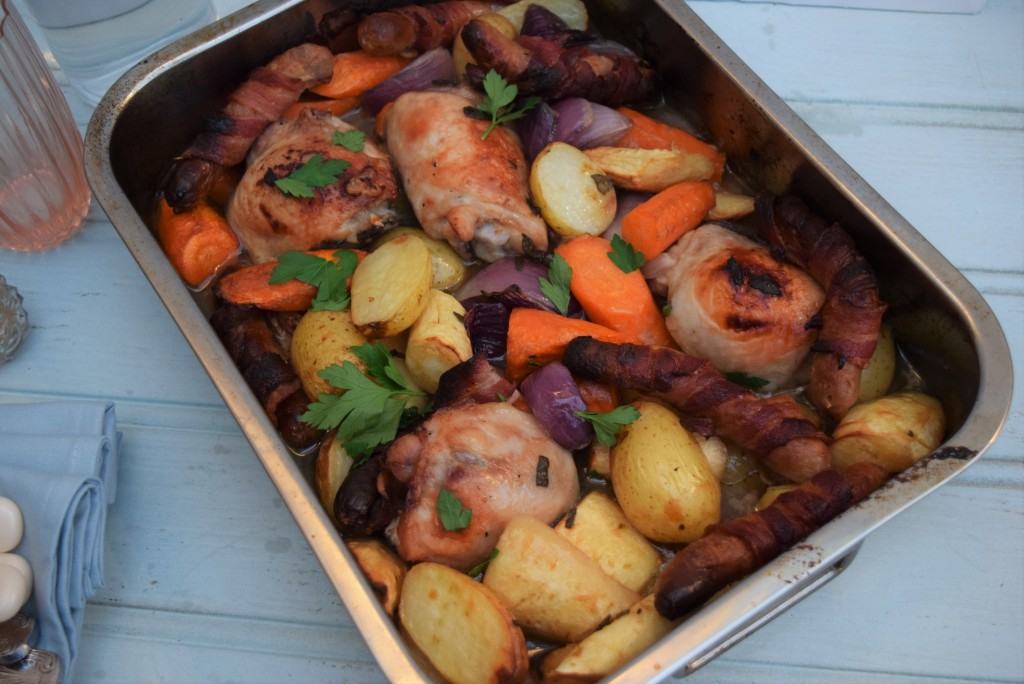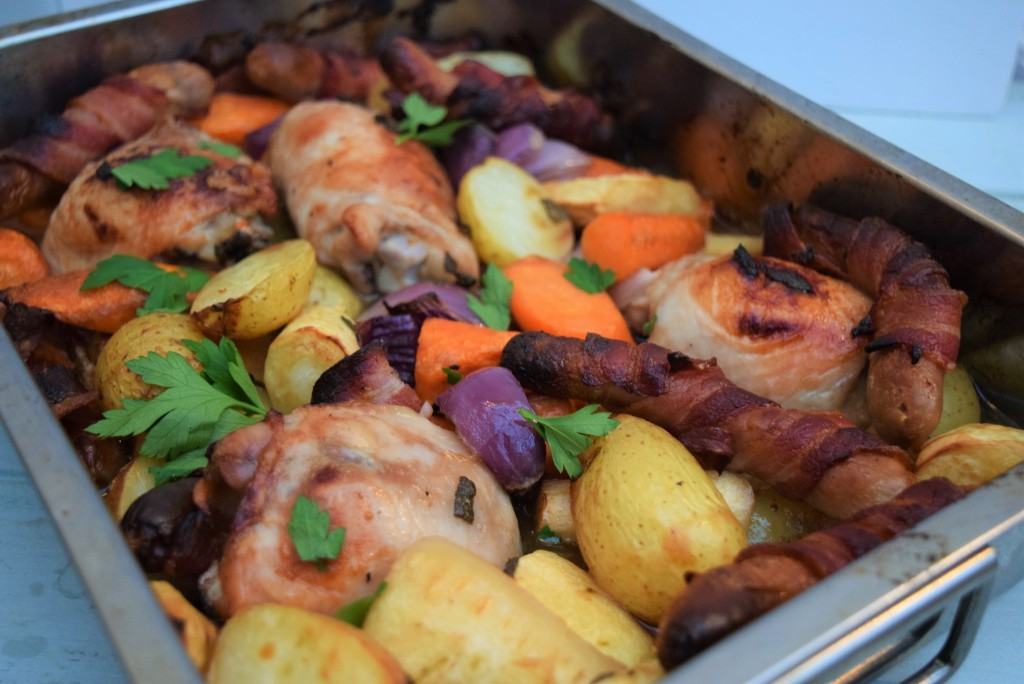 Such a wonderful combination of meat, vegetables and tray bake juices. Irresistible.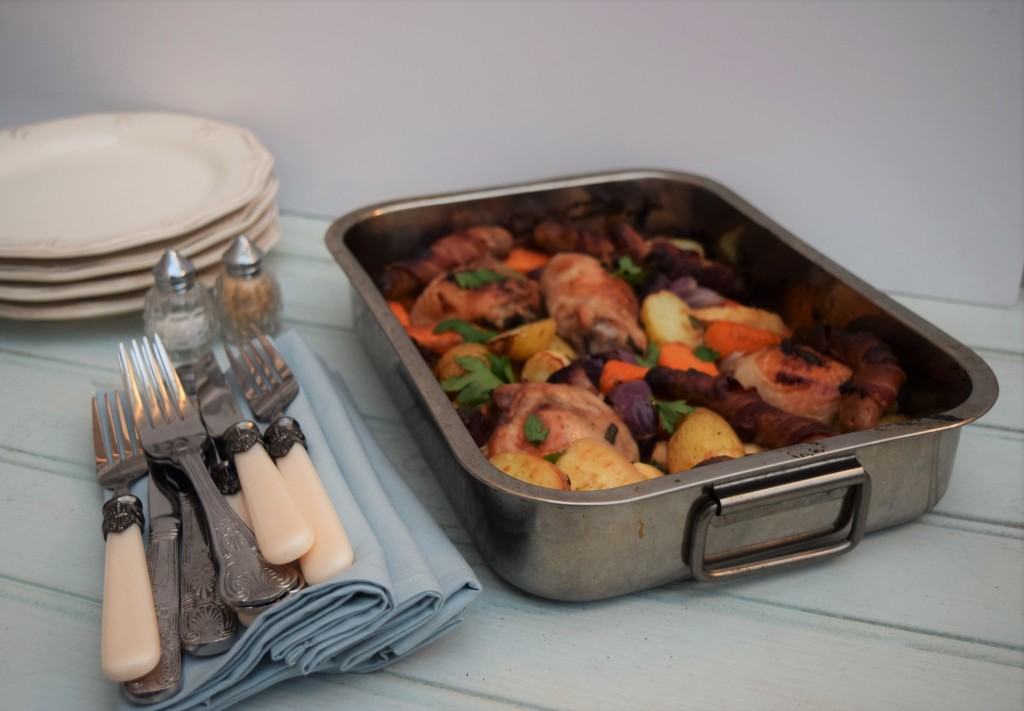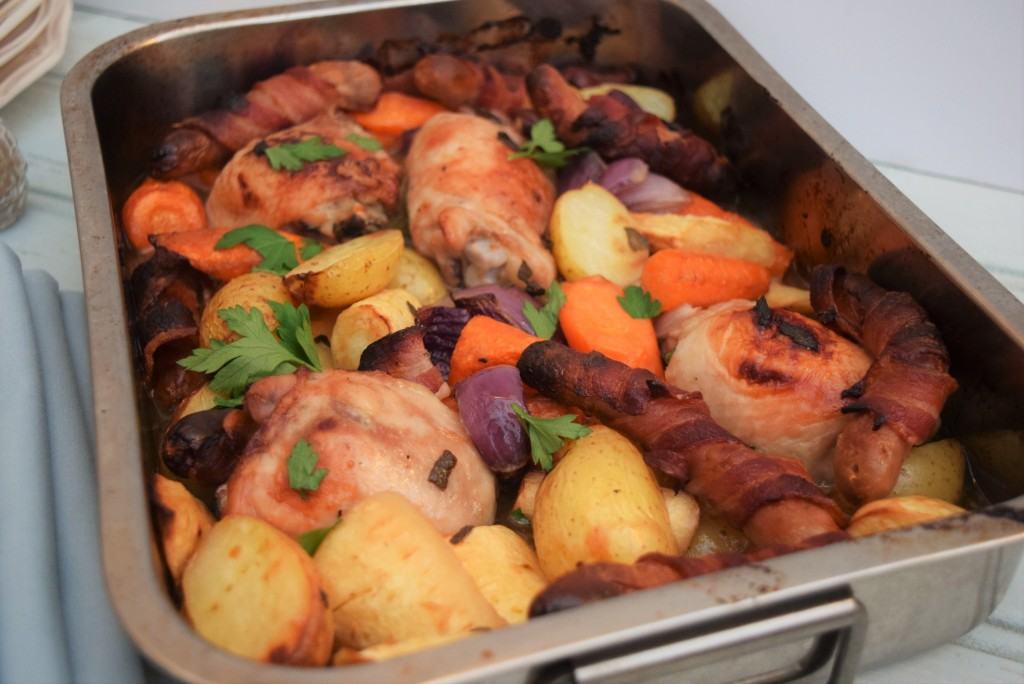 Perfection in just one simple pan. No worrying about getting the potatoes cooked at the same time as the meat or having lumpy gravy. This Sunday roast just cooks itself, which is really what you want at the moment. With just two Sunday's to go before Christmas, I would certainly add this Sunday Roast Tray Bake to your ever expanding to-do list.
Lucy x
Sunday Roast Tray Bake Recipe
Serves 4
You will need a large baking tray
3 tablespoons olive oil
2 tablespoons cider vinegar, am certain white wine vinegar would suffice
3 tablespoons brown sugar
chopped sage or thyme, about two tablespoons
Salt and pepper
8 chipolata sausages
8 rashers streaky bacon
4 to 6 chicken thighs, appetite dependent
8 small to medium new potatoes, halved
3 parsnips, cut into chunks
3 carrots, cut into chunks
1 onion, red if you have one, cut into wedges
More salt and pepper
Parsley to garnish and a green vegetable to serve, if you like
Turn your oven on to pre heat to 170 to 180 degrees.
Make the dressing by mixing the oil, sugar, vinegar, fresh herbs and seasoning then put to one side. Next, prepare your vegetables. Halve the potatoes, no need to peel, and peel and chunk the carrots and parsnips. Cut the onion into wedges then wrap the chipolata sausages in the rashers of streaky bacon.
Then it's time to assemble the tray bake roast. Tip the potatoes, parsnips, carrots and onions into the tray. Fit in the chicken thighs and sausages wrapped in bacon. Season the whole dish with salt and pepper. Spoon over the dressing and mix well, ensuring the chicken ends up skin side up. Put in the oven and roast for 45 minutes to an hour, or when everything is turning golden brown with crispy edges. Turn the vegetables and baste the chicken and sausages after around 25 minutes. Garnish with fresh parsley and serve immediately with the tray juices and a green vegetable if you like.