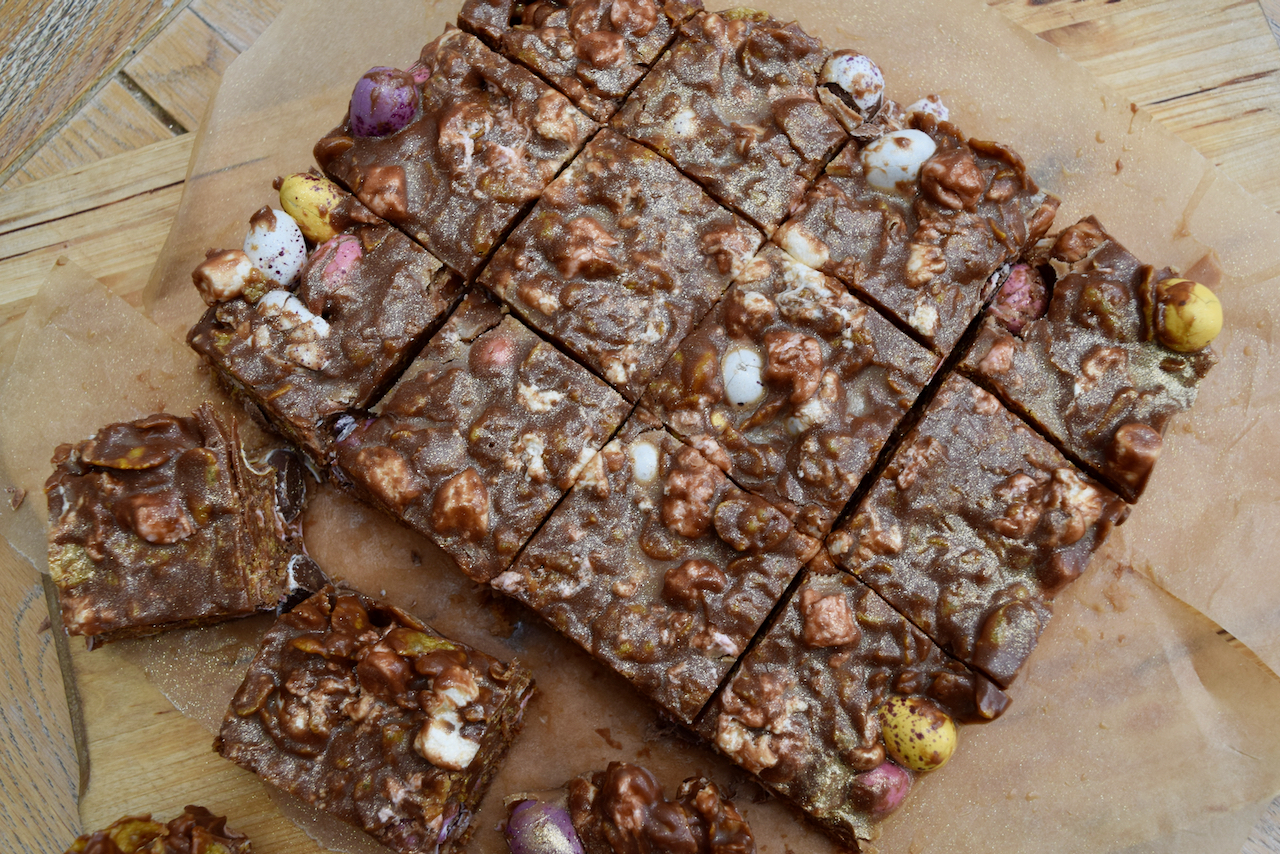 Mini Egg Cornflake Rocky Road recipe
There's nothing I love more than a chocolate easter nest featuring cereal slathered in syrup and chocolate. Sadly, as a 50 year old woman with grown up sons, making myself chocolate nests just doesn't seem right. Gone are the days of making the nests with George's nursery class while he cried in the corner as he didn't want me to be there. So this year, I'll be making us a batch of this Mini Egg Cornflake Rocky Road and pretending it's for grown ups.
You can certainly get the children involved in making this, even if they're 22 and 18, as it's always handy to have an extra *clean* pair of hands for stirring. Mine, of course, were nowhere to be seen until I'd cut this up and had finished photographing it at which point they appeared, like vultures to devour this sticky, crunchy, chocolatey affair. As per the standard Easter nests, this is just a mix of butter, syrup and chocolate stirred through with cornflakes and the tasty addition of mini marshmallows and mini eggs. Each bite is a delicious combination of these sweet treats and there's no need for the sticky cupcake liners of old. I sprayed mine with edible gold glitter for an extra touch of razzamatazz * I literally have never written that word before*.
Don't expect this to last until Easter if you're making it over the coming days. My tip is to make and hide it; somewhere at the back of the fridge near the spinach always works in our house.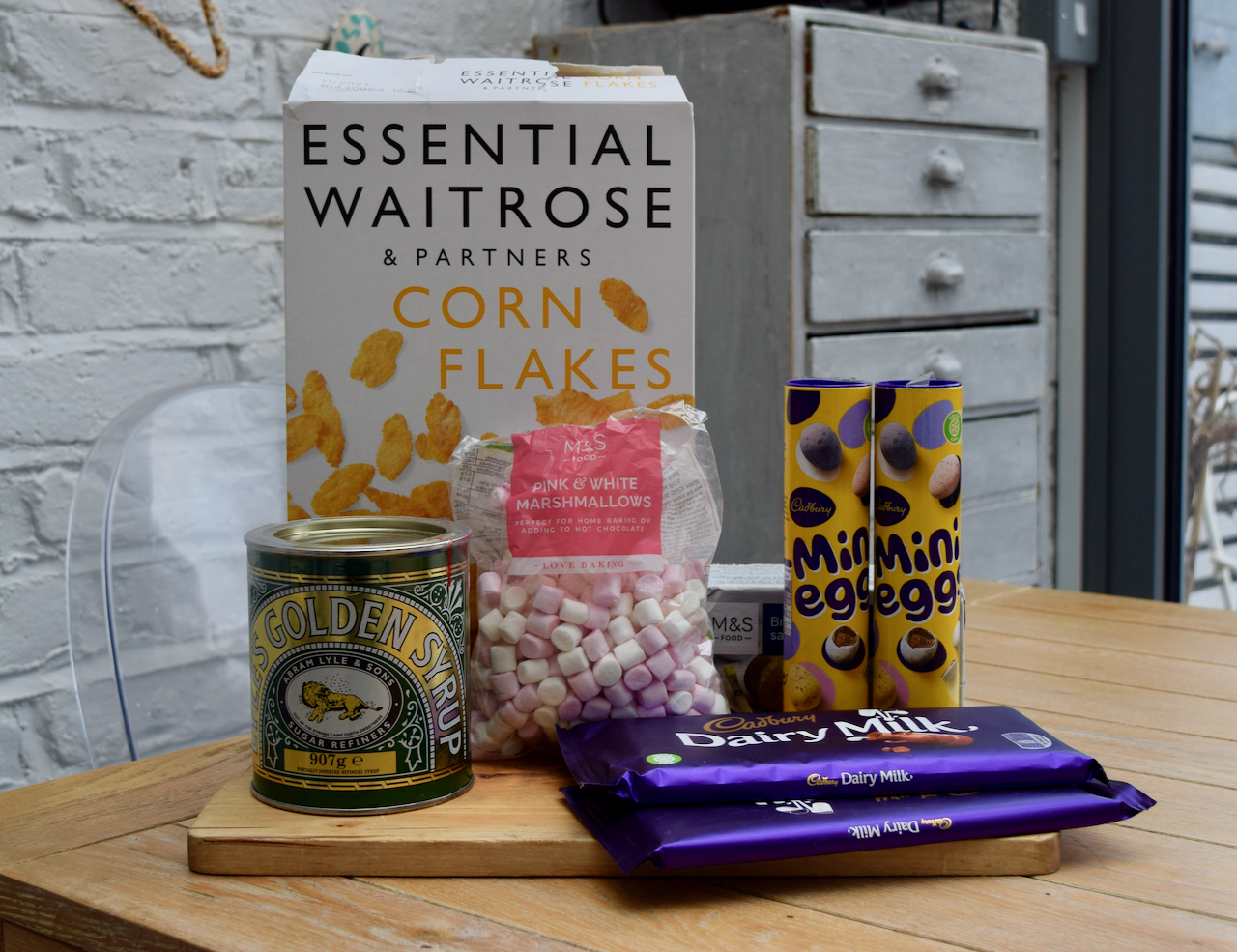 Nothing horrid is coming out of a line up like this. I went for Dairy Milk for my rocky road as it's Clyde's all time favourite chocolate. Feel free to use dark or a mix of dark and milk chocolate if you'd prefer. The mini eggs are essential for that nod to Easter and for their wonderful chocolate crunch.
Make a start by lining your 20cm square tin with baking paper. Next take a large bowl or small pan. Either microwave the butter and golden syrup or heat slowly on the stove until the butter has just melted and the mixture is hot. Don't over heat this or your chocolate will split when added.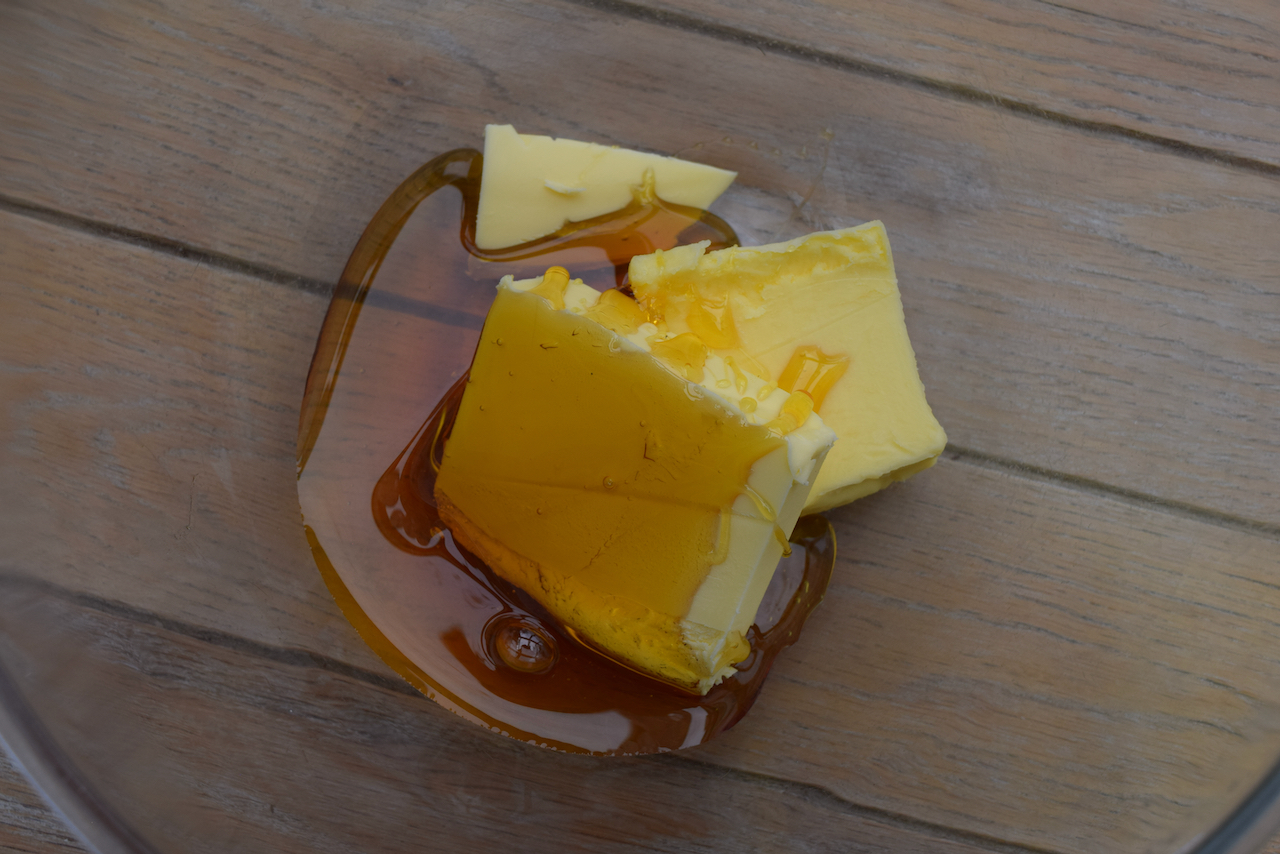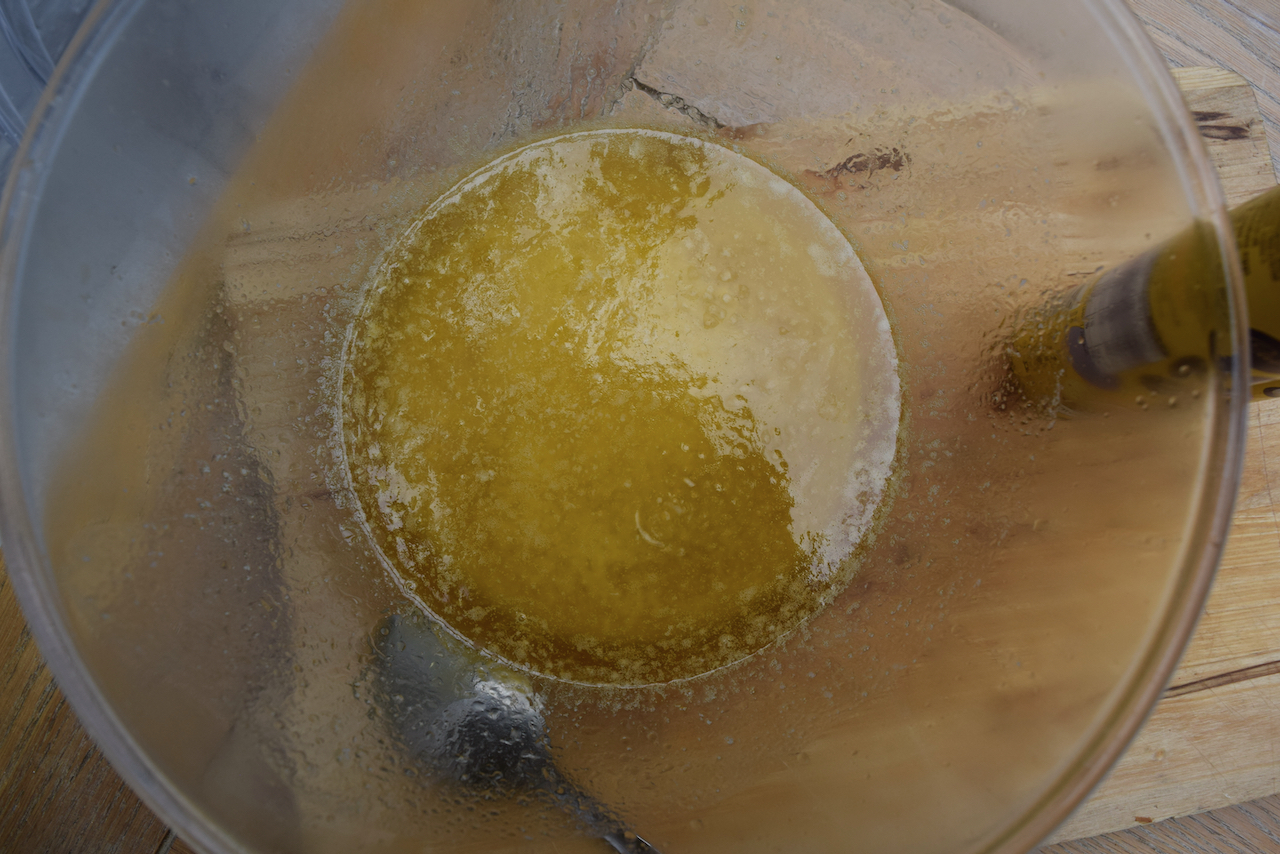 Drop in the chocolate and stir to melt. I have had the chocolate split before but managed to rescue the whole business by adding a splash of cold double cream and beating quickly whilst crossing my fingers *I did not want to bin 400g of Dairy Milk*.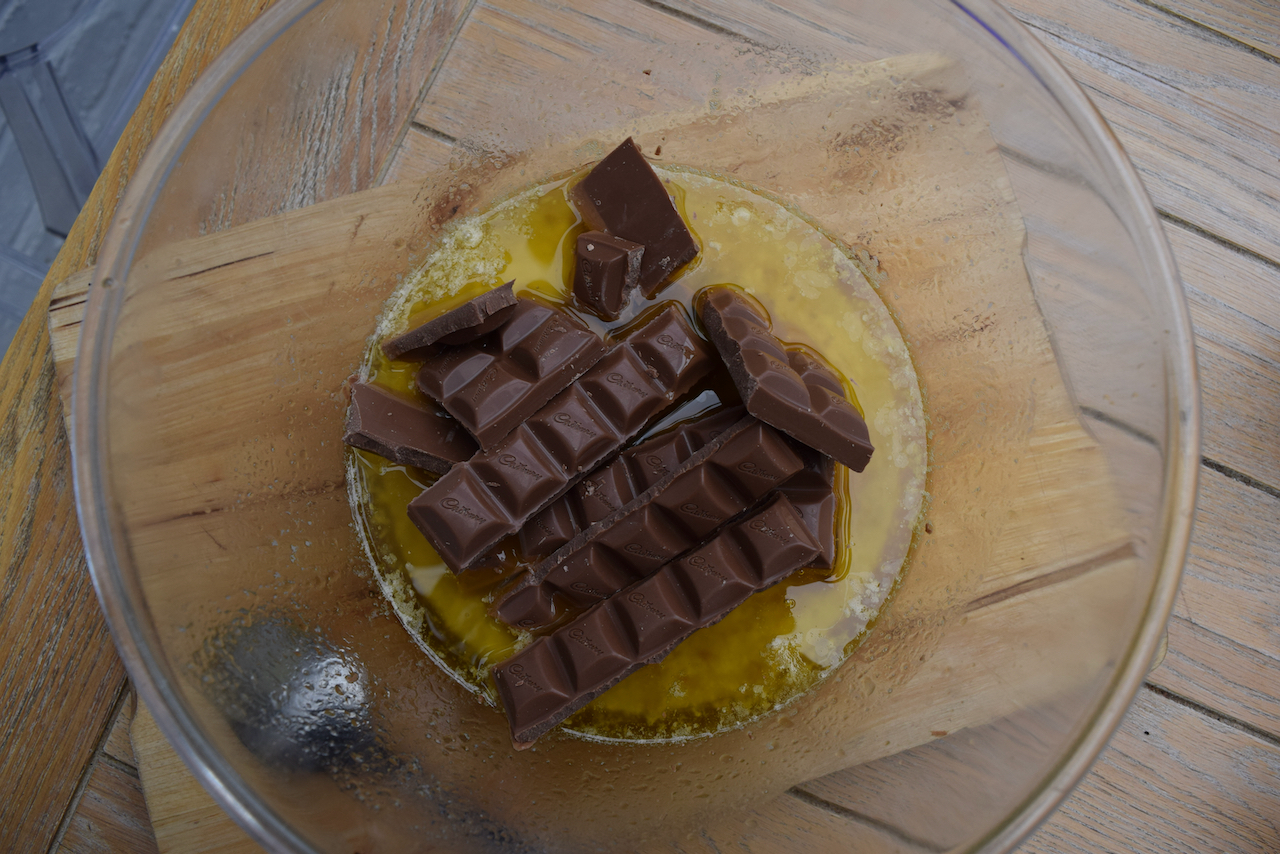 Measure the cornflakes and marshmallows into a bowl then stir into the warm chocolate butter syrup combo.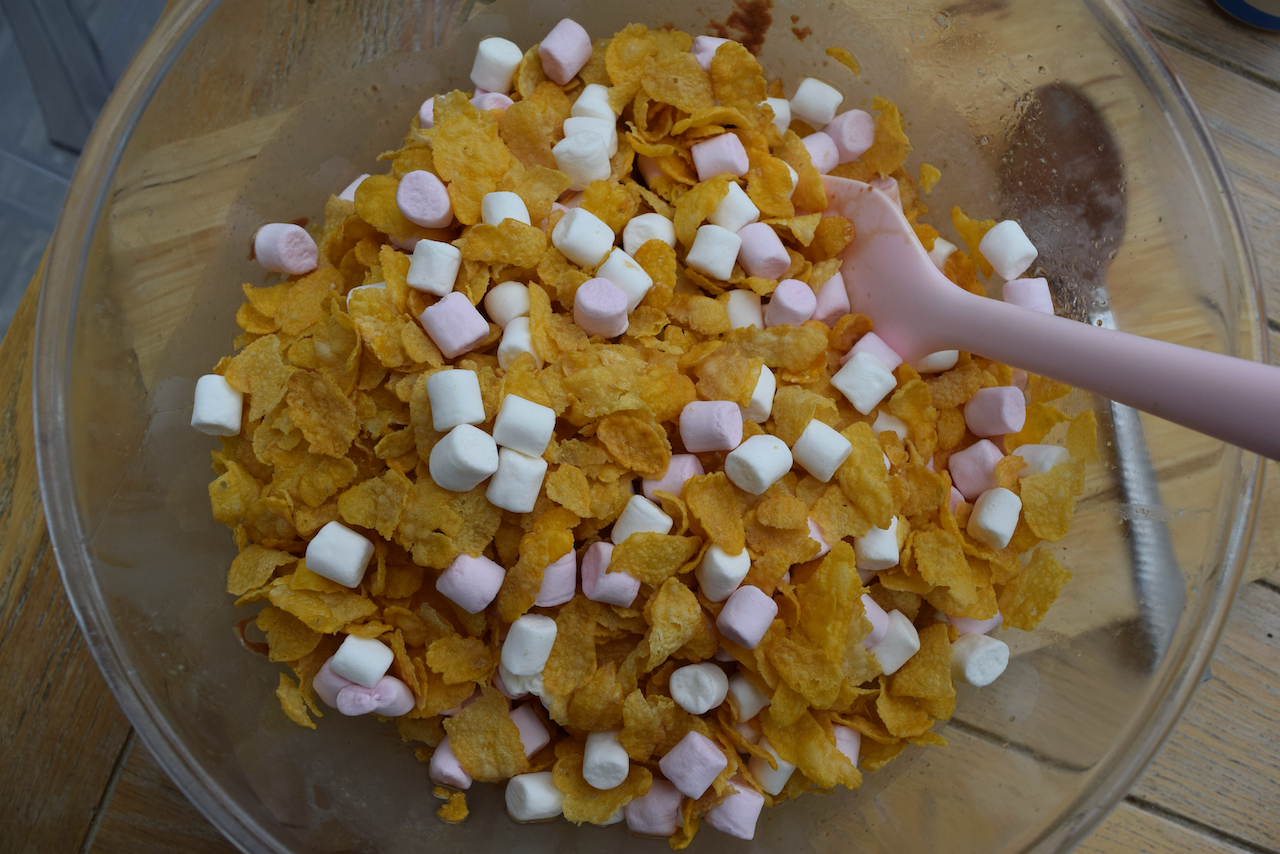 Finally stir in the mini eggs, ensuring everything is well coated.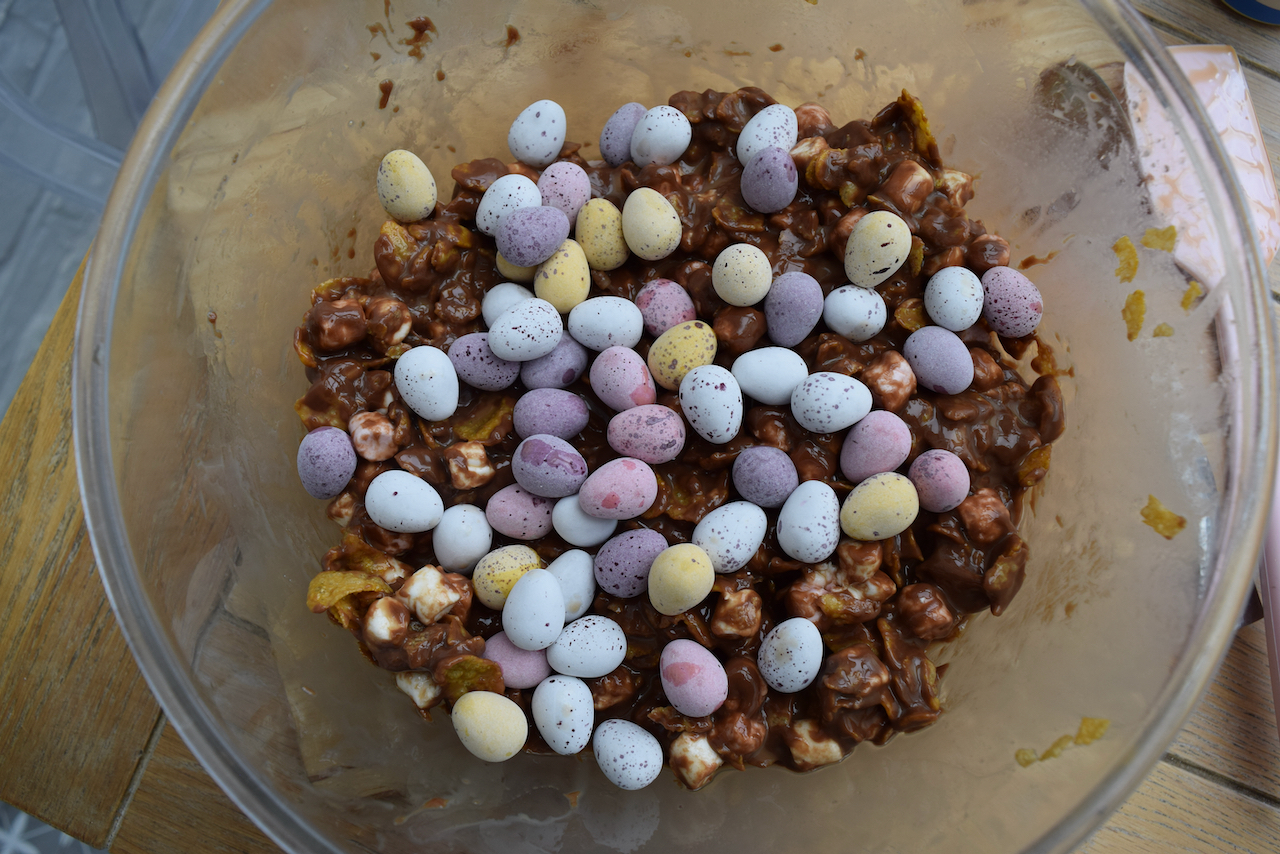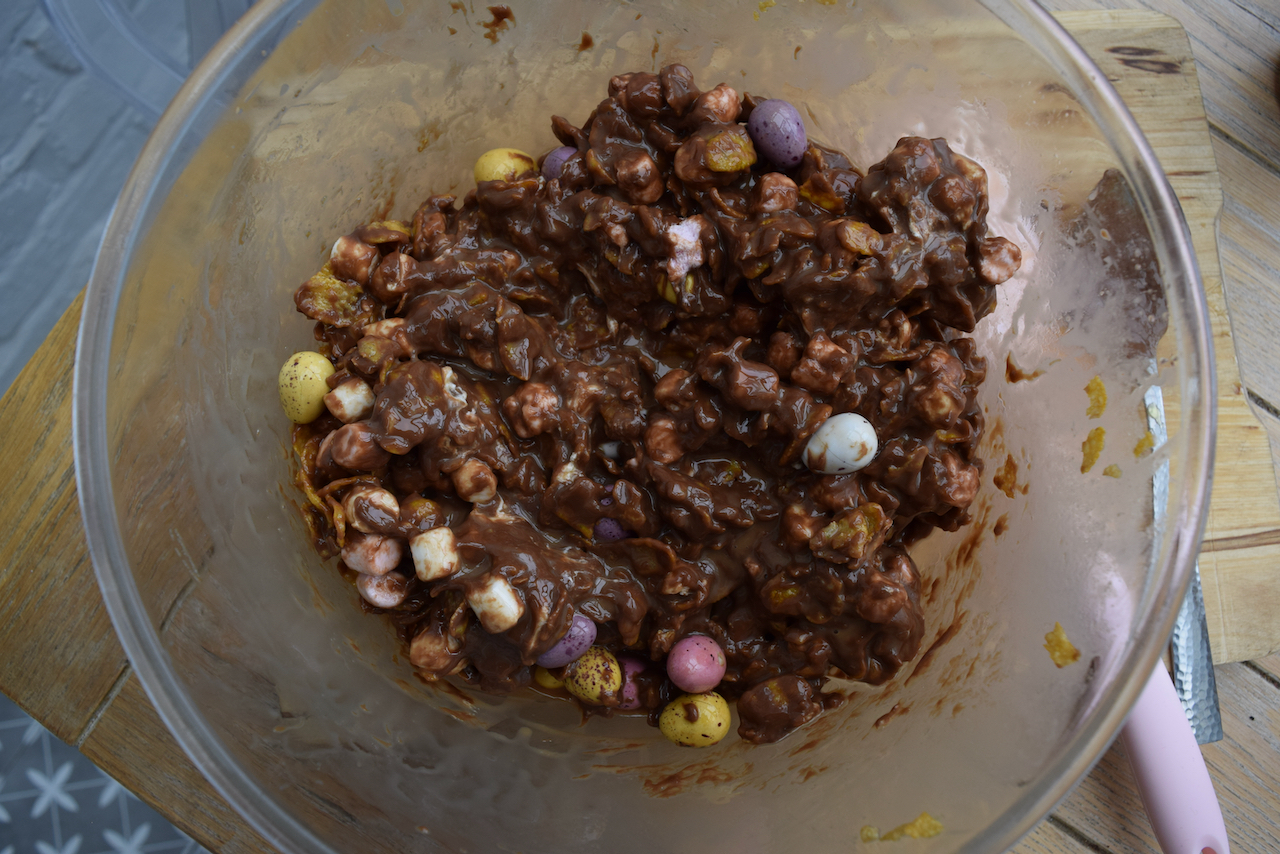 Scrape this divine mixture into your lined baking tray and press to roughly level the top.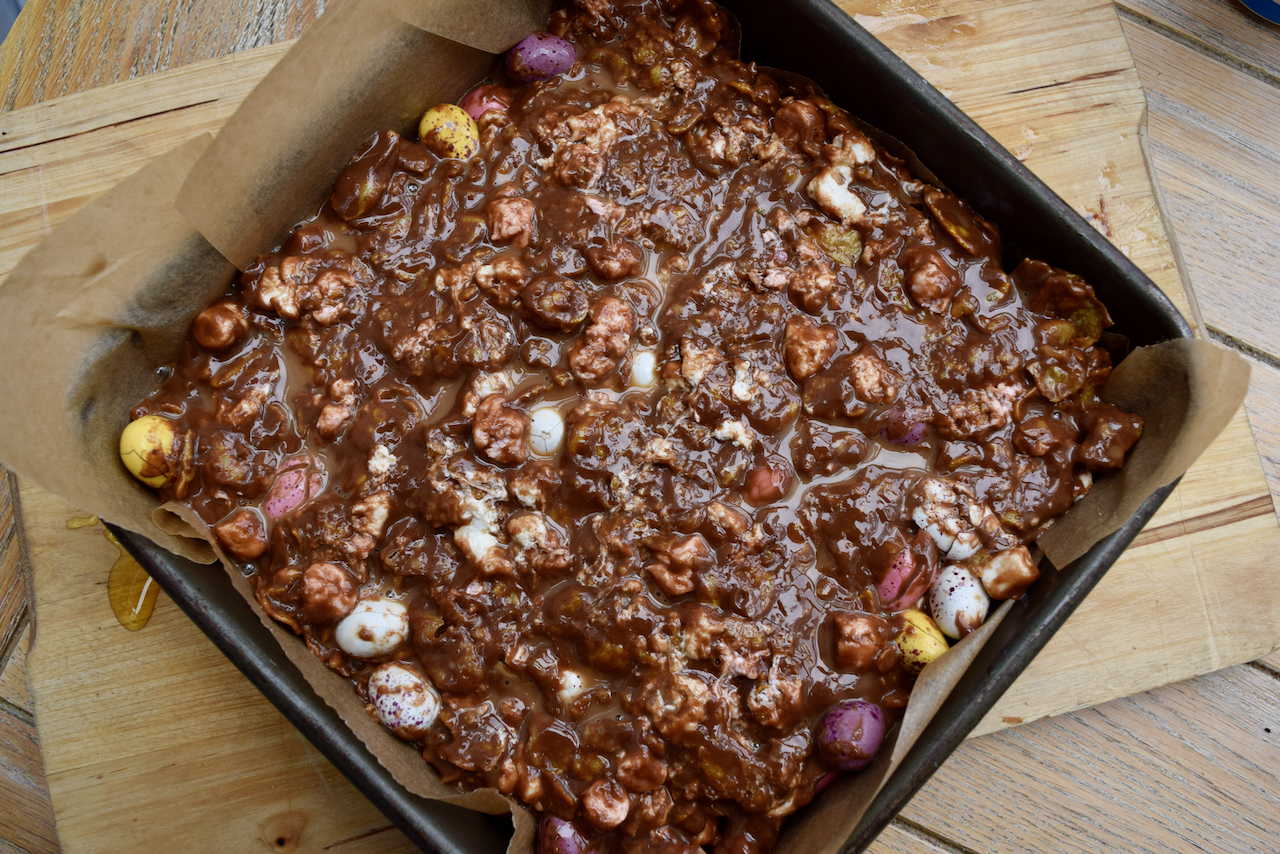 This will need an agonising 3 to 4 hours in the fridge to set. Be strong, you don't want this to be soft.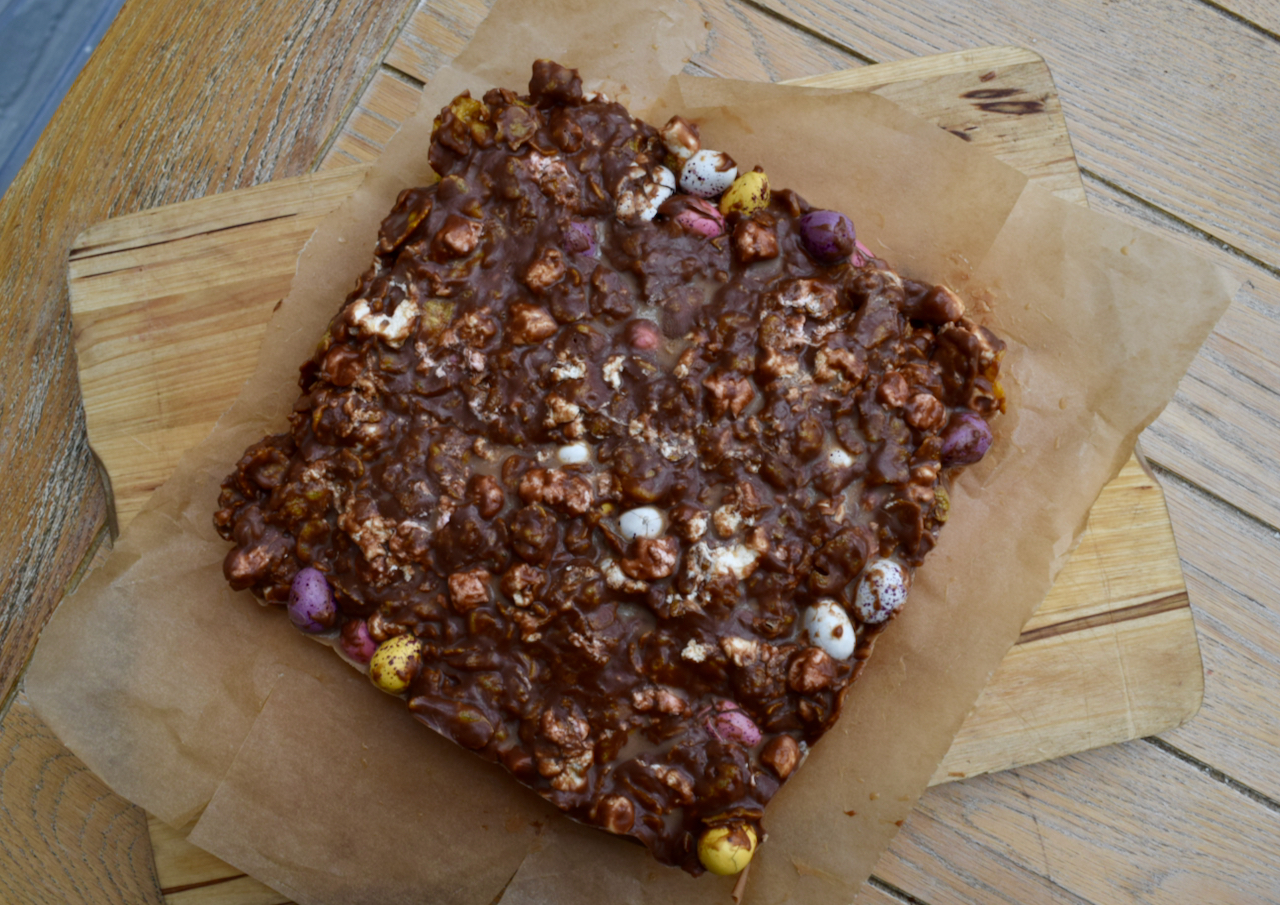 Once firm, peel off the paper and immediately cut into large chunks and devour. It is Easter after all.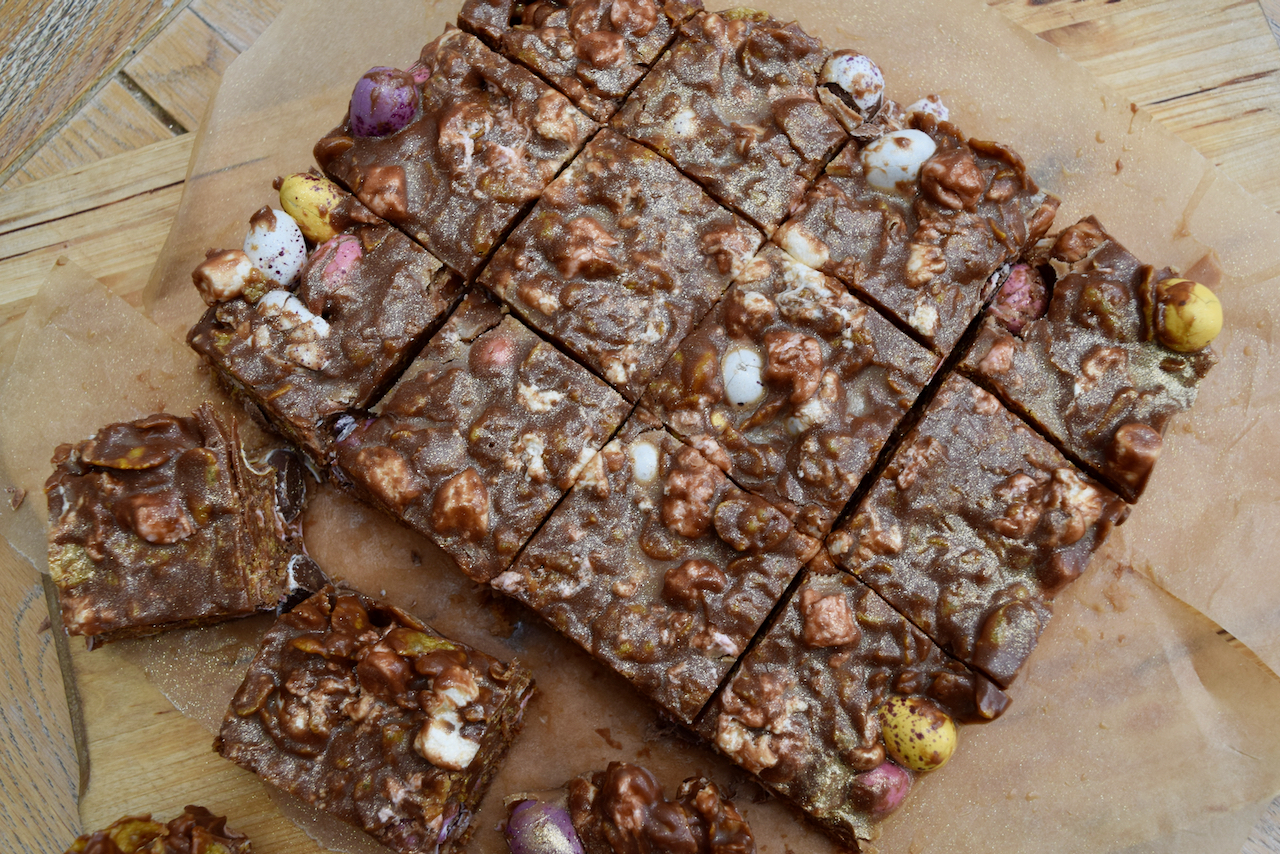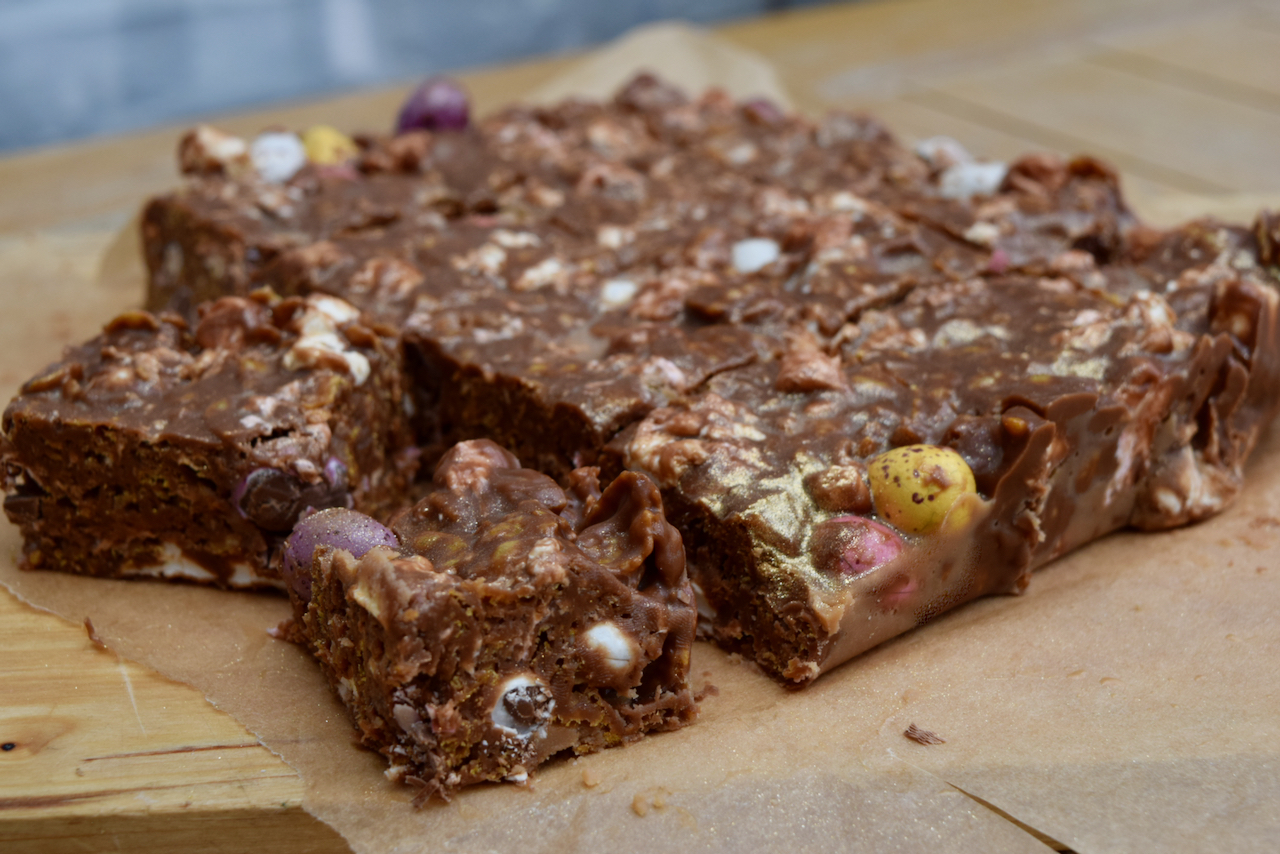 This is chewy, chocolatey heaven and it was literally inhaled almost as soon as it was out of the fridge. It needs no more selling from me. Happy Easter, I hope you and yours have a peaceful time.
Lucy x
Mini Egg Cornflake Rocky Road recipe
You will just need bowls and a lined 20cm square tin for this
Makes at least 16 squares
160g golden syrup
160g butter
400g chocolate, milk or dark or a mixture of both
100g cornflakes
100g mini marshmallows
200g mini eggs
Edible gold glitter to decorate, if you like
Take your square tin and line with baking paper. In a large bowl melt the butter and golden syrup in the microwave until the butter is just melted and the mixture is hot. Feel free to use a small pan on the stove for this if you don't have a microwave. You don't want this mixture too hot or the chocolate will split. Add the chocolate, stirring carefully so it melts into the butter and syrup.
Measure out the cornflakes and marshmallows and stir into the warm chocolate mixture ensuring everything is well covered. Finally stir through the mini eggs. Press the mixture into your lined tray and put into the fridge to firm up and chill for around 3 to 4 hours.
Once completely chilled, cut the Rocky Road into around 16 squares, or more if you cut them smaller. This will keep in the fridge for at least a week. Especially if you hide it.