Sweet Potato and Pepper Soup Recipe
Clyde and I have been playing pass the parcel with a bloody awful cold for the last three months. He has it, then a week later I get it, and so on. I think we eat quite healthily and take enough exercise, however, we have both become horridly susceptible to snotty nose hell. I am sick of looking like I am wearing a Comic Relief nose all year round so I have been cooking us some healing food.
Step forward my Sweet Potato and Pepper Soup. This is such a brightly coloured, flavour laden soup, you can't help but imagine it is filling your winter addled system with vitamins and immune boosting goodies. Sweet potatoes are full of vitamins A and C, as are peppers, and unlike regular potatoes, these wonderful bright orange sweet varieties count as one of your five a day. I have kept the recipe as a low fat option too, opting not to add coconut milk or cream, but do feel free to add a splash if you are not watching your fat content. This soup is so full of taste, the pepper and chilli flakes adding a touch of spice to counteract the sweetness. It also keeps brilliantly in the fridge, why not portion it up to take to work for a portable, nutritious lunch.
When throwing calorie caution to the wind, I love to serve this, and any soup in fact, with a brioche grilled cheese sandwich. These are so soft and buttery, they make the perfect accompaniment to any soup. I have included the instructions for making these here too, as they are too good to miss. If you are feeling run down or in need of a nutritional spring clean, this wonderful fresh and colourful Sweet Potato and Pepper Soup is the one for you.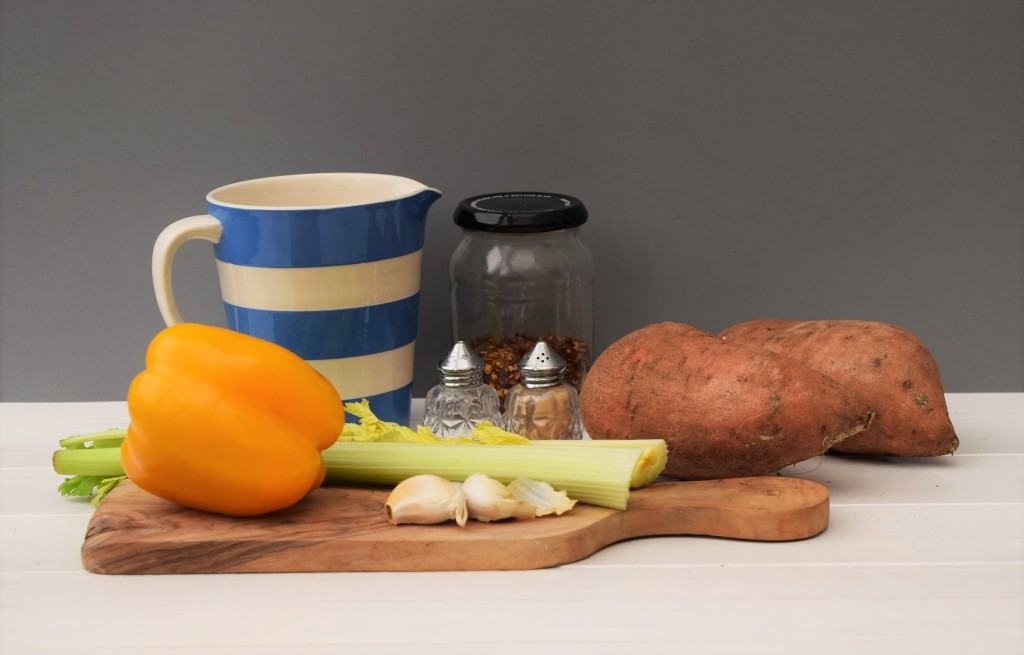 This looks like a fresh, tasty still life of soup ingredients. And I included everything except for the coconut oil, so it gets a selfie all of it's own.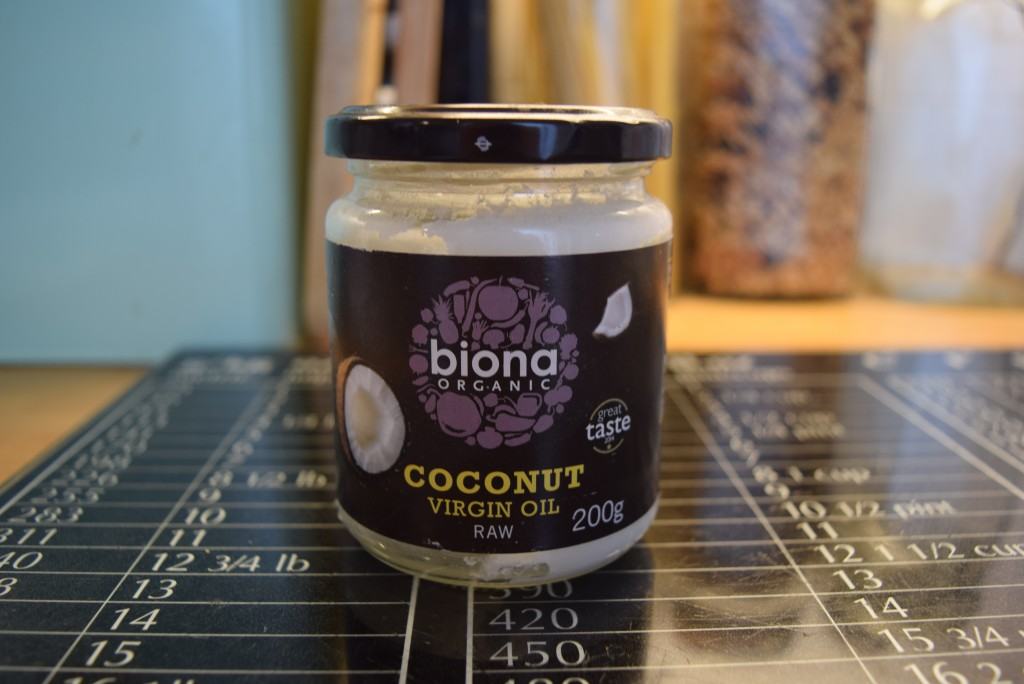 Make a start on this nutritious pan full of deliciousness by heating your oil of choice, mine was coconut, over a low flame.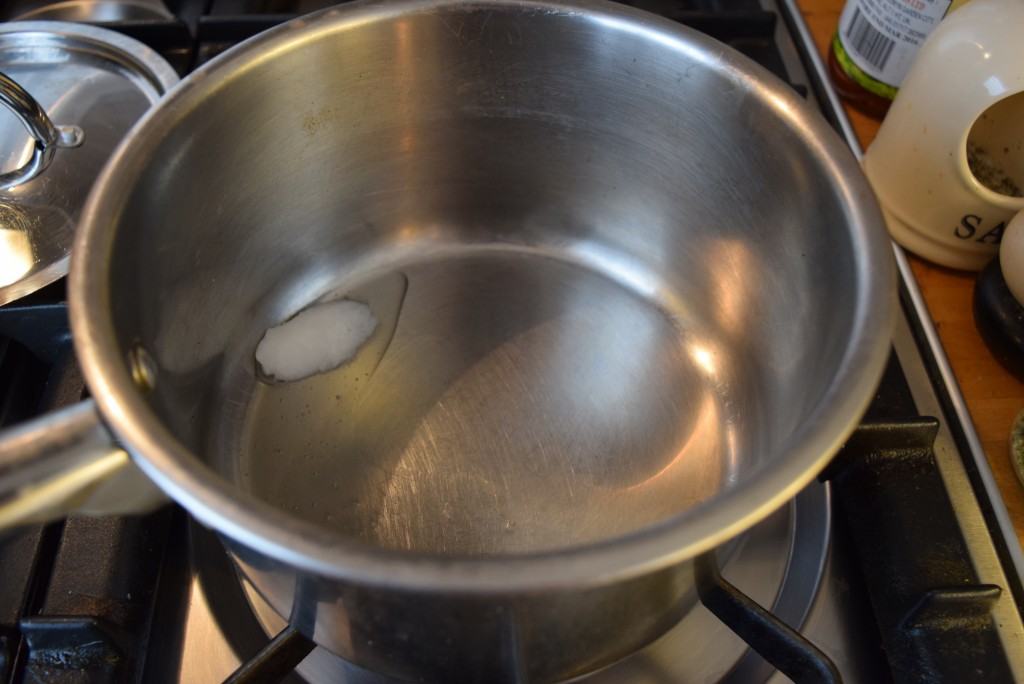 Finely-ish chop your celery and pepper and add to the pan. Add a big pinch of chilli flakes, season, then cook to soften rather than brown for around 5 to 6 minutes.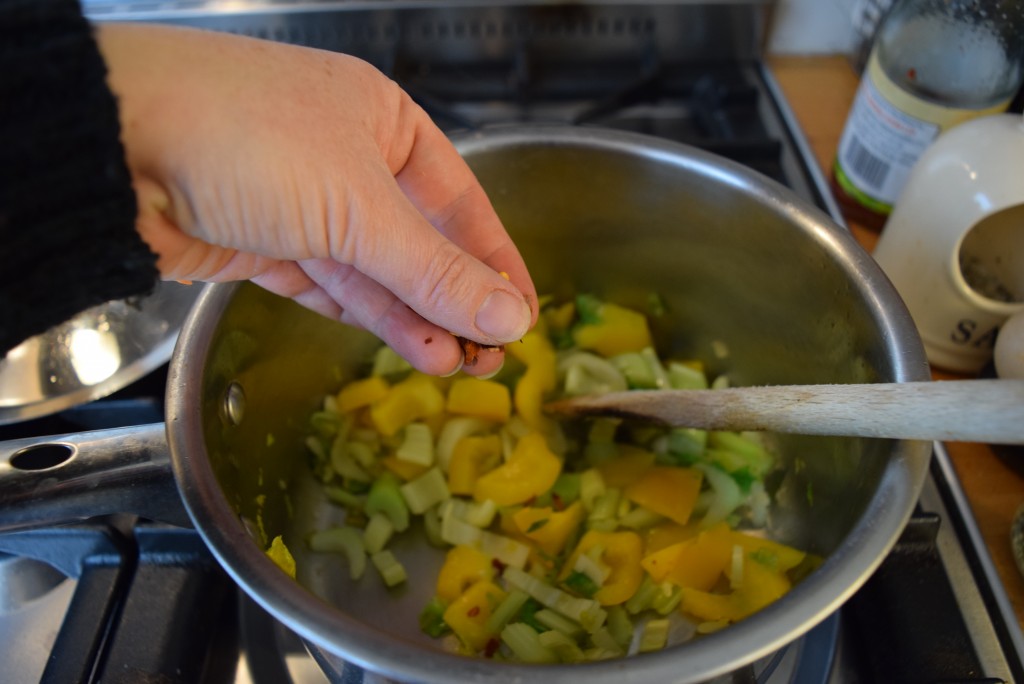 Finely chop the garlic and add this to the mix, cook for a minute, then add the chopped and peeled sweet potatoes.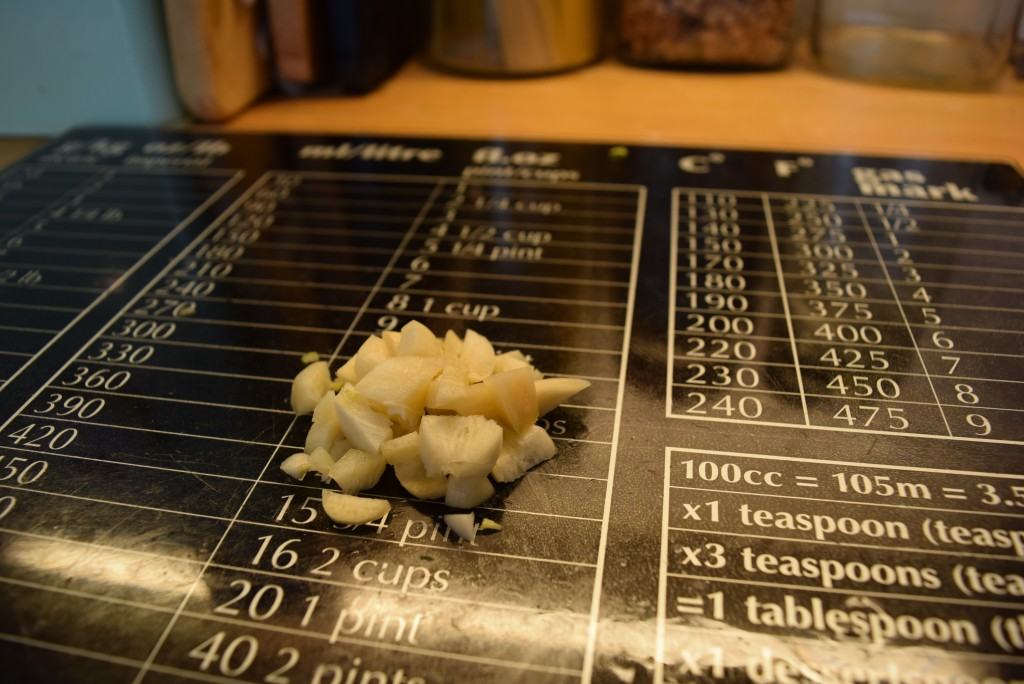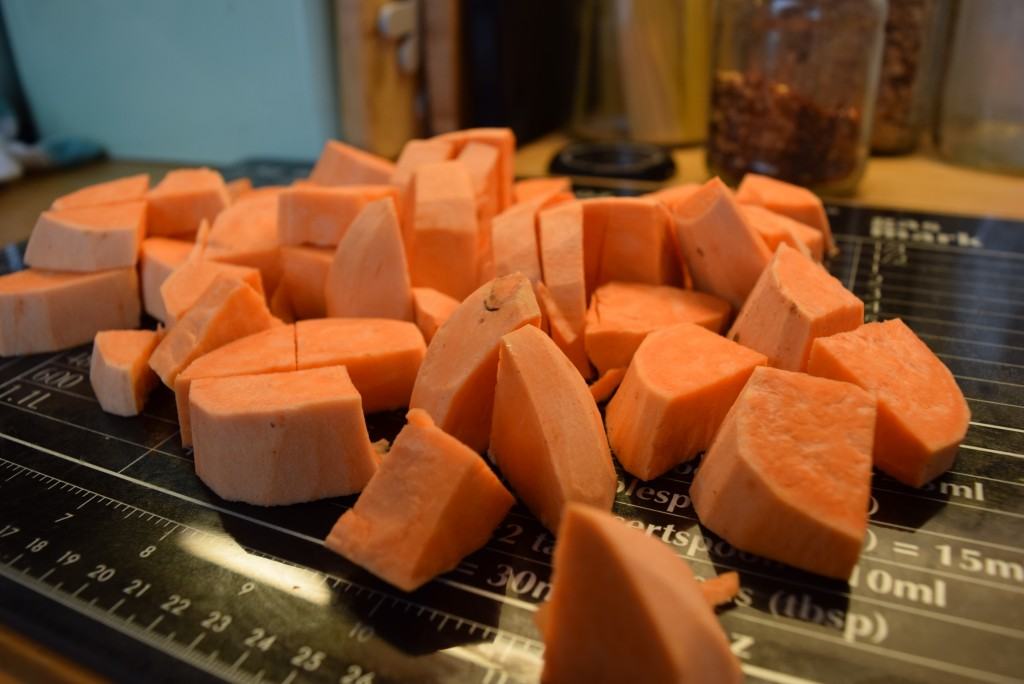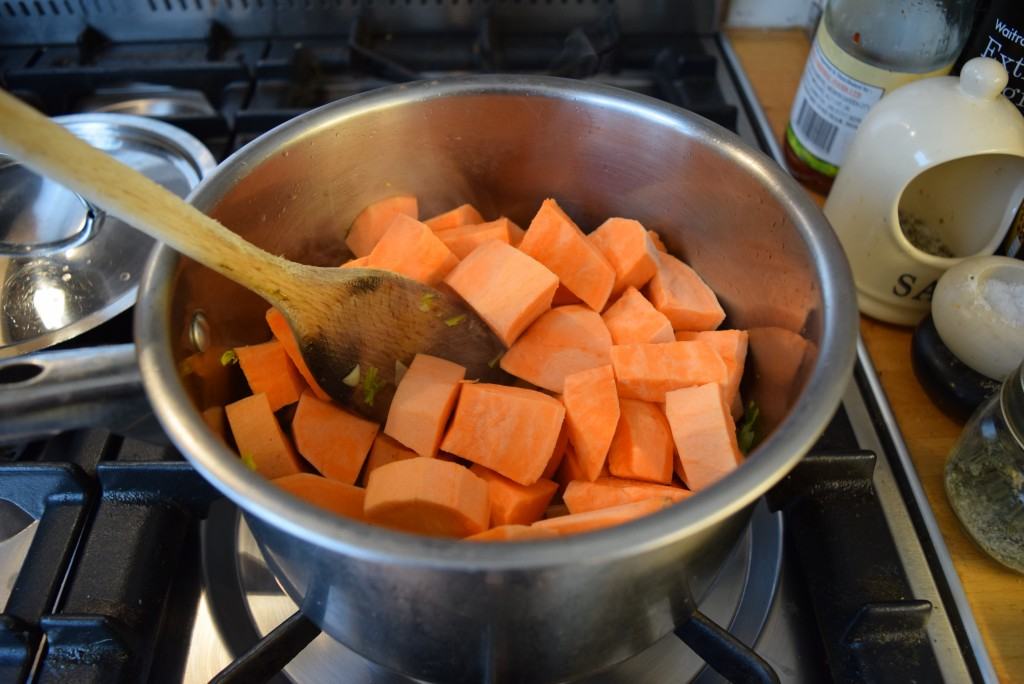 Give this a good stir then pour on the hot chicken stock. Bring it to the boil then turn down to a simmer and pop on a lid. Cook for 20 minutes or until the veggies are soft and cooked through.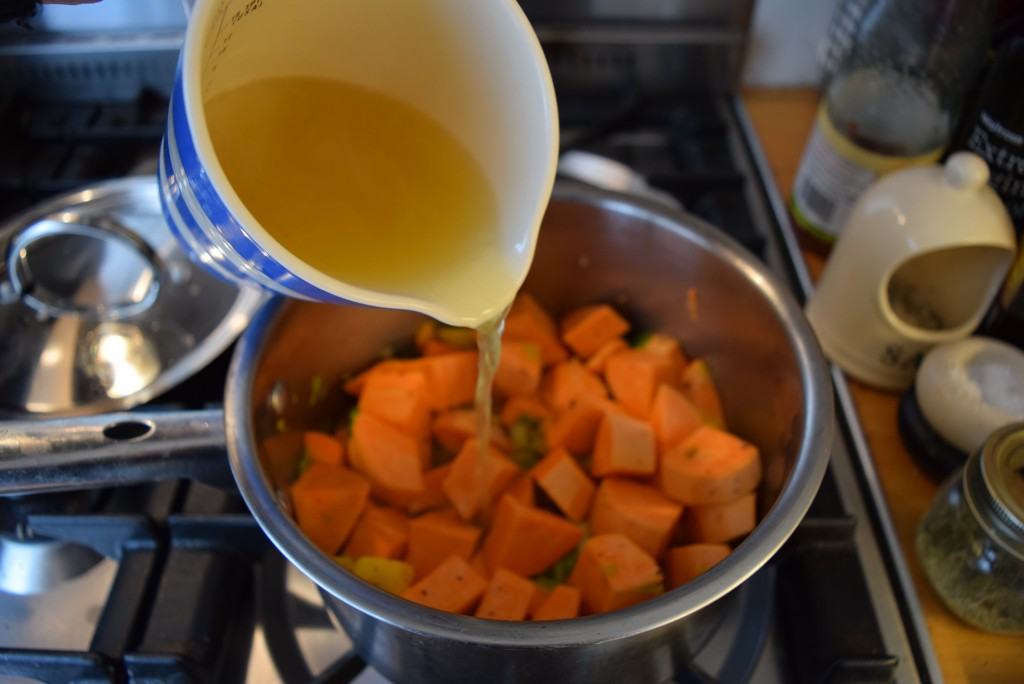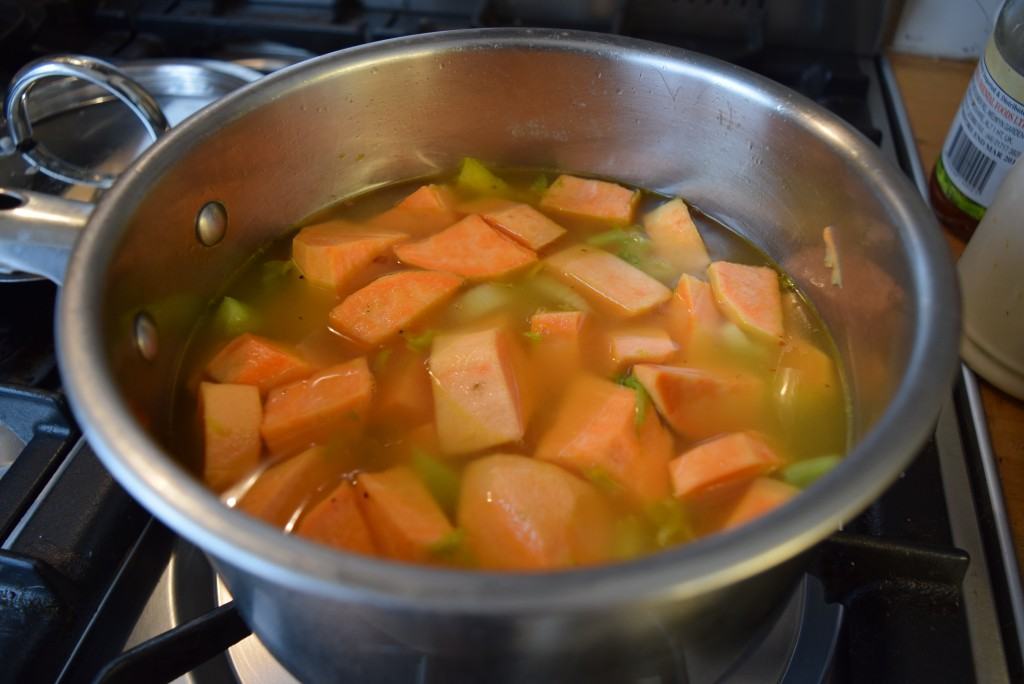 While this is simmering, if you are going to fall off the diet wagon and accompany this soup with a brioche cheese sandwich, make a start now.
Take your brioche slices and butter them on one side.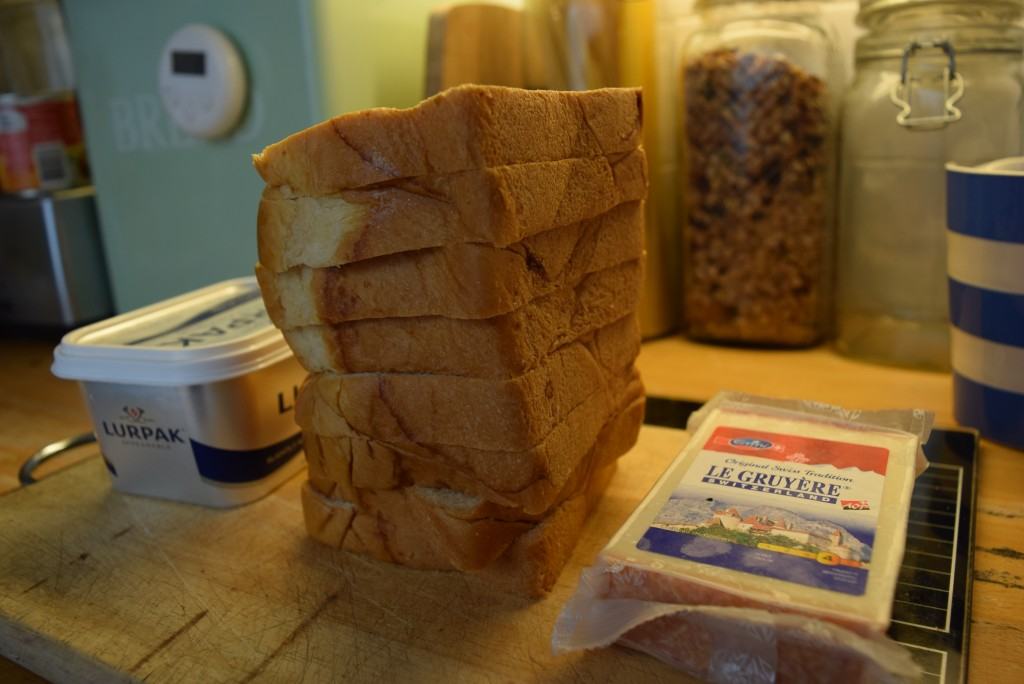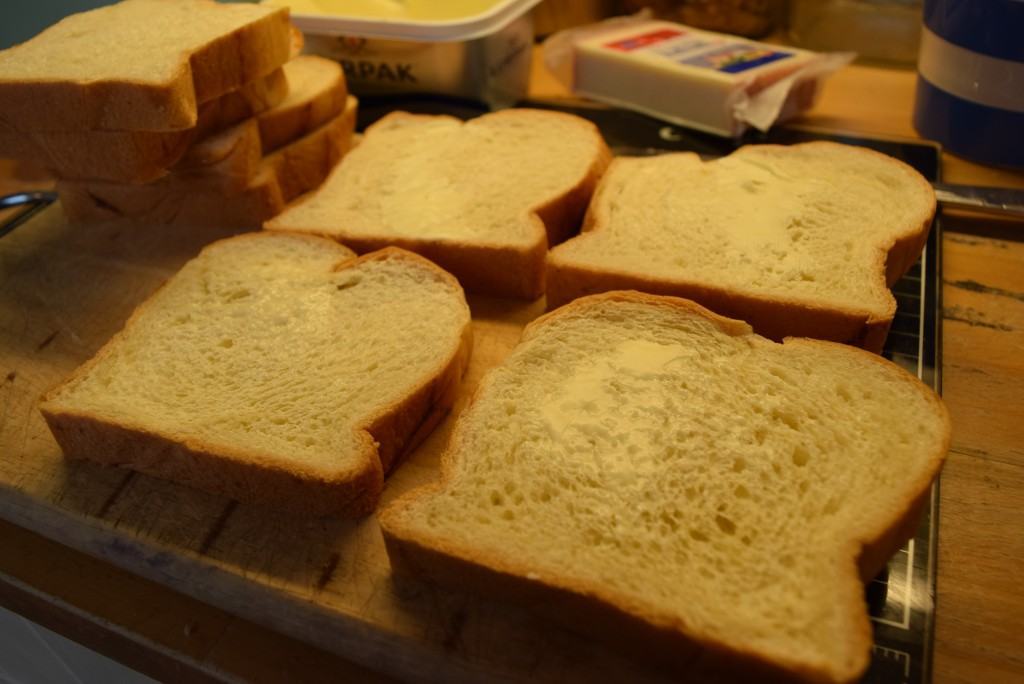 Turn the slices butter side down then add your thinly sliced cheese. I chose Gruyere because I love it's nutty flavour, but any strong flavoured cheese would be amazing.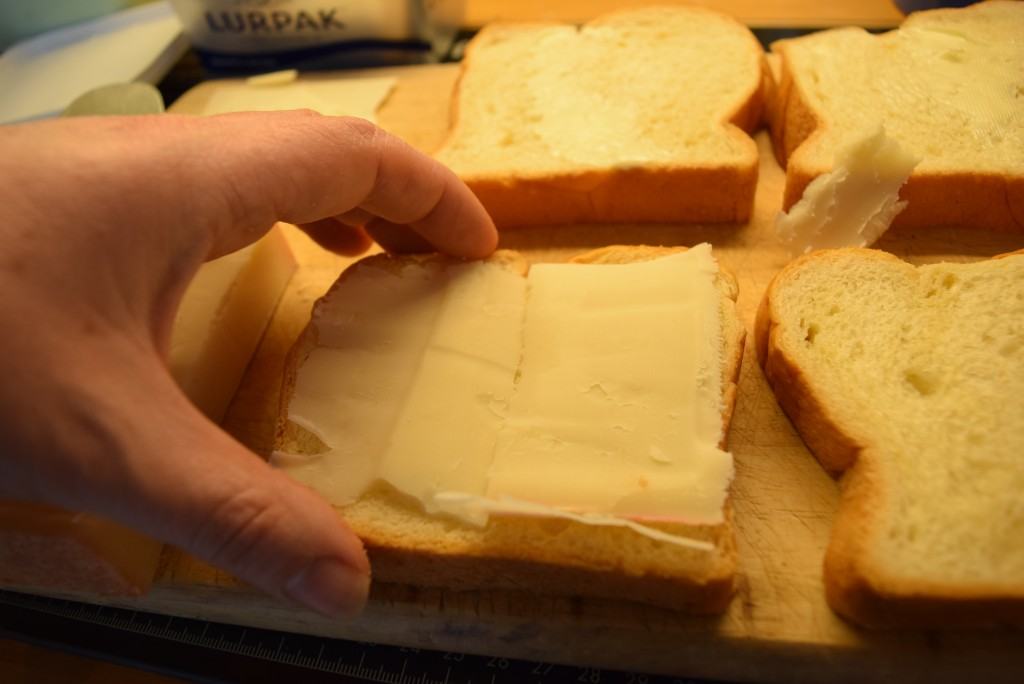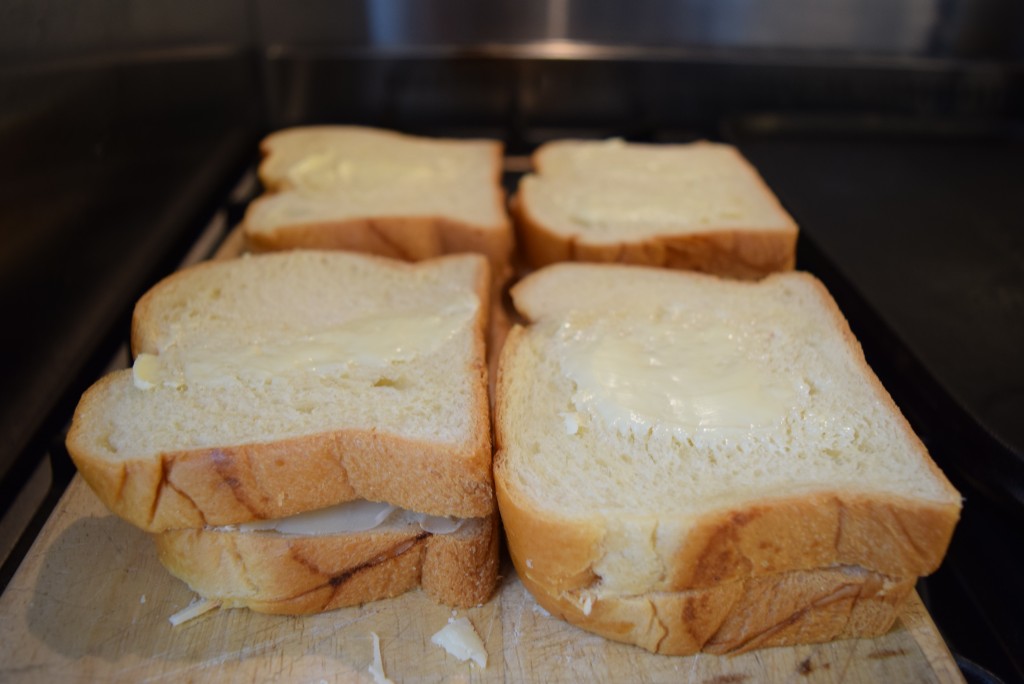 Heat up your griddle or heavy bottomed frying pan and once hot, pop on your sarnies, butter side down. Press down with a spatula and cook until starting to sizzle and brown.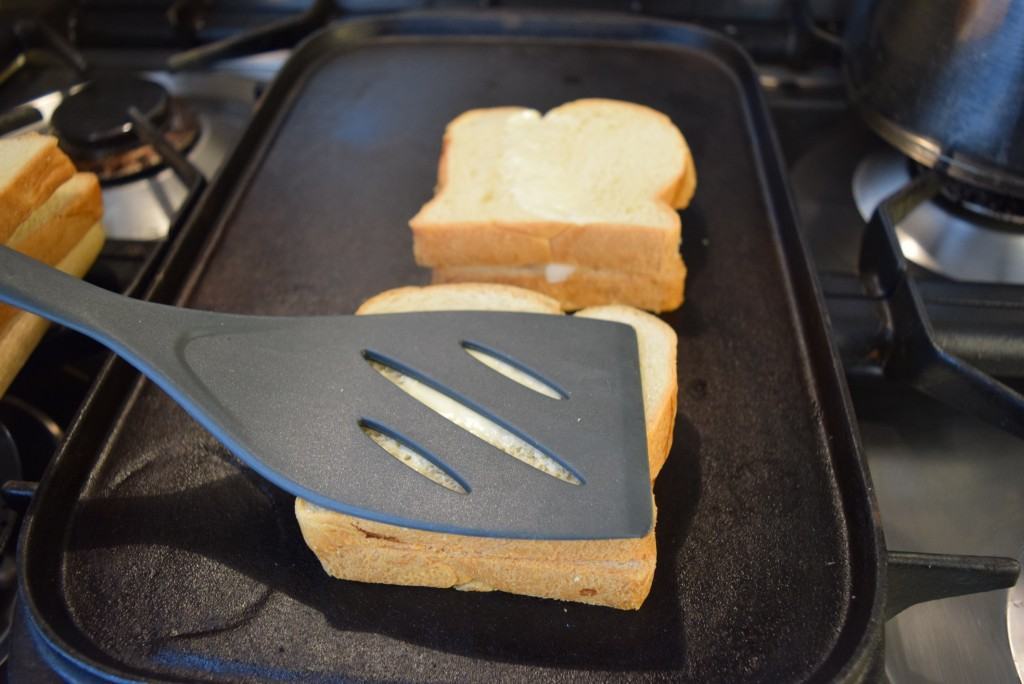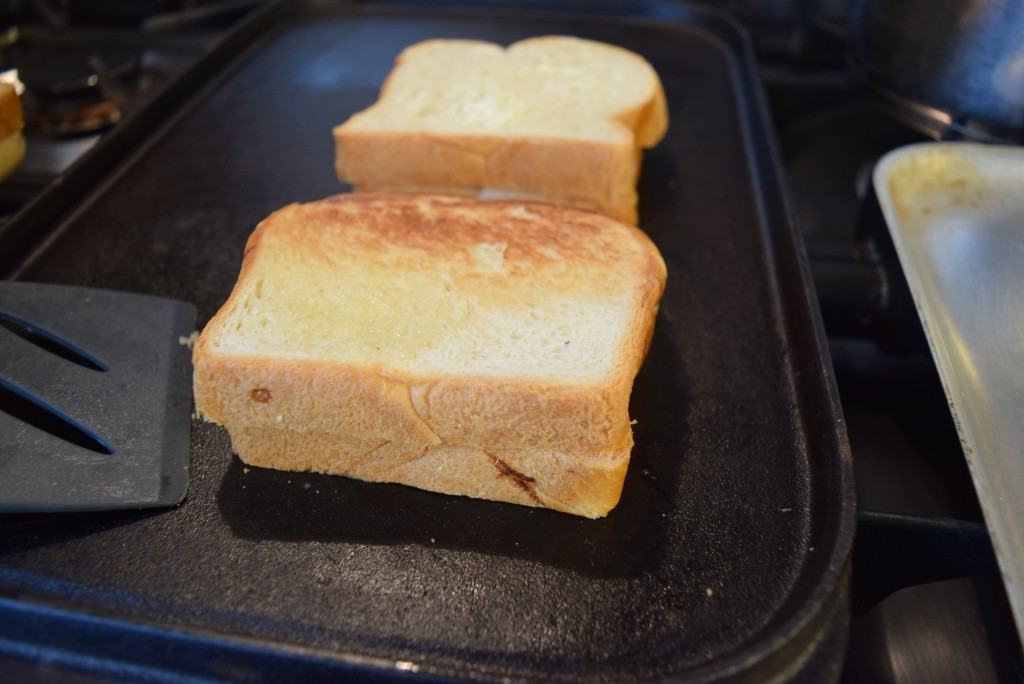 Turn the sandwiches over and cook on the other side until the cheese is melting and the brioche is toasty. Keep the sandwiches warm in a low oven while you finish the soup.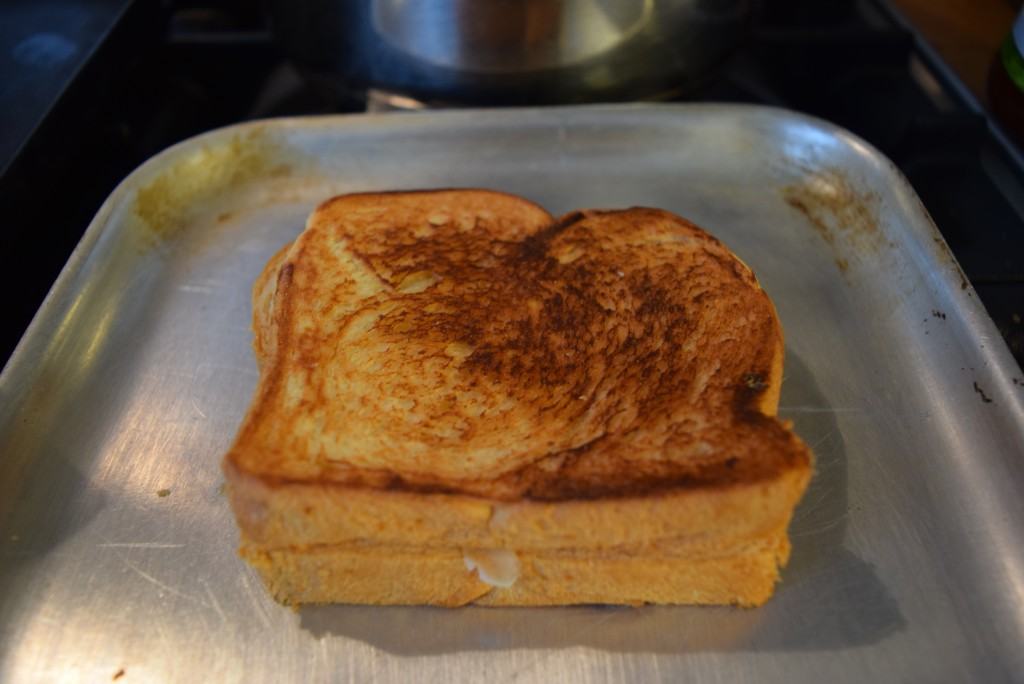 I could eat this toasty treat right now.
Once the vegetables are soft and your soup is cooked, puree until smooth in a blender, food processor or with a stick blender.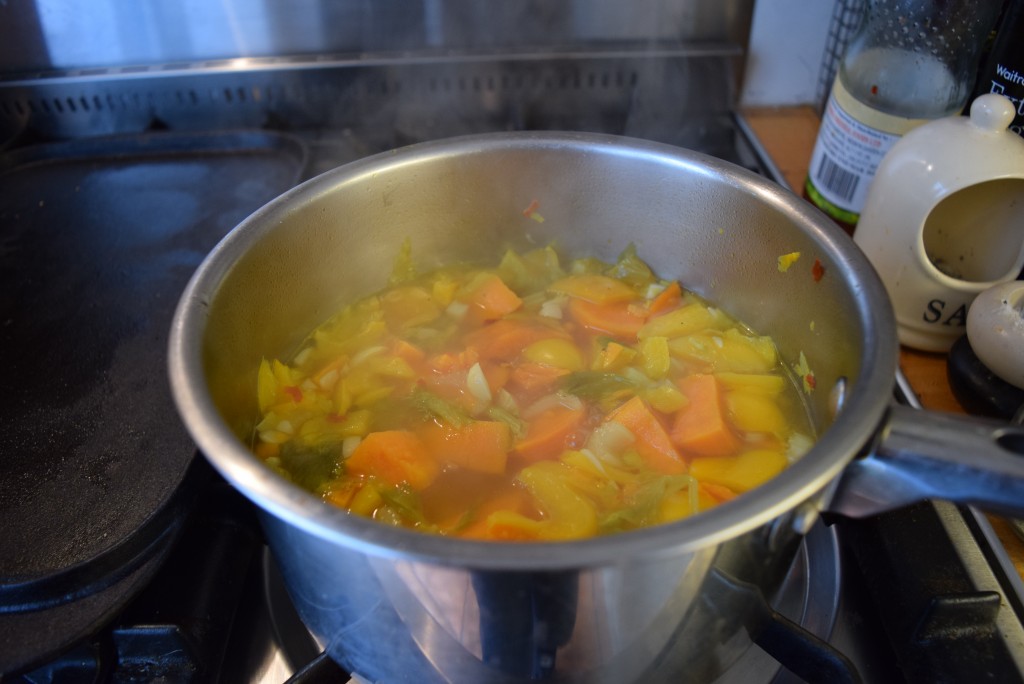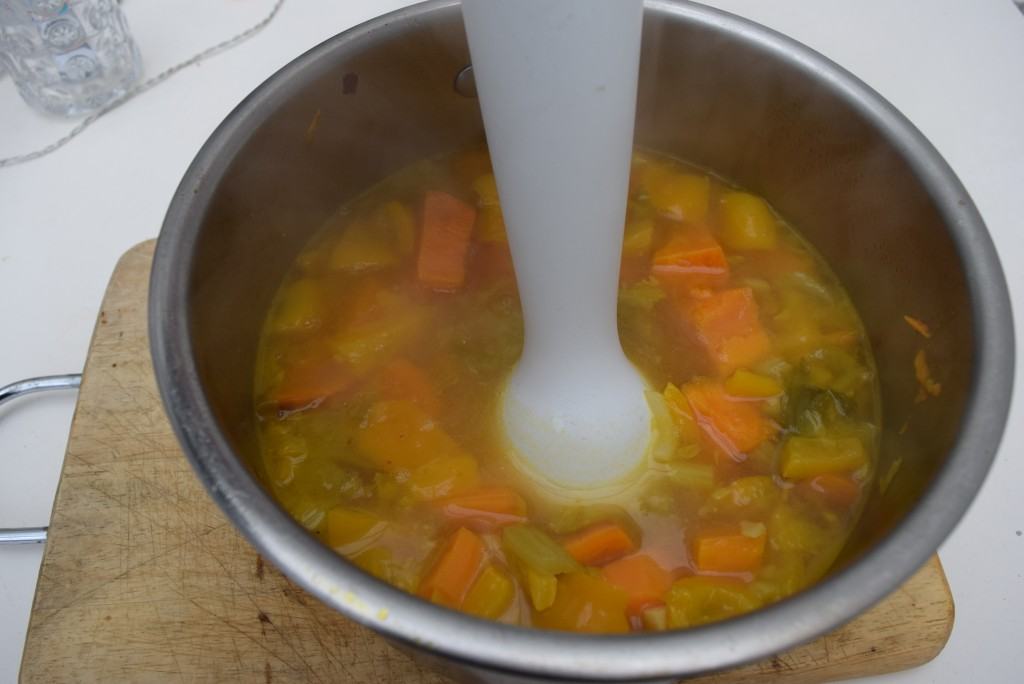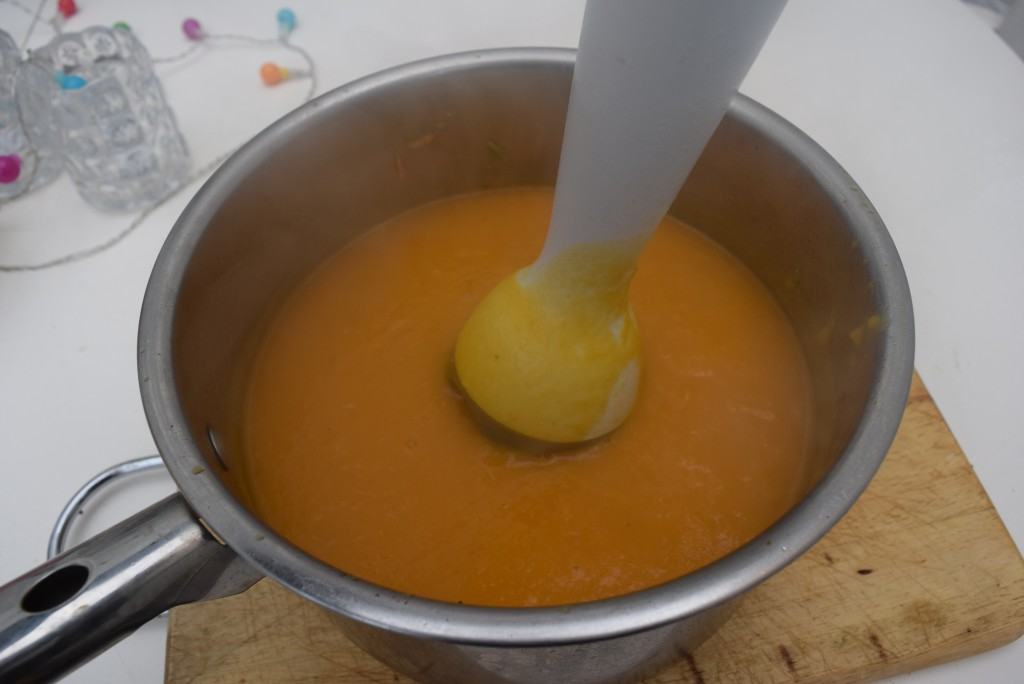 Serve this nutritional liquid gold in large warmed bowls, garnished with a blob of sour cream and a sprig of coriander or parsley. And, if you are in the mood, a pile of warm brioche grilled cheese sandwiches.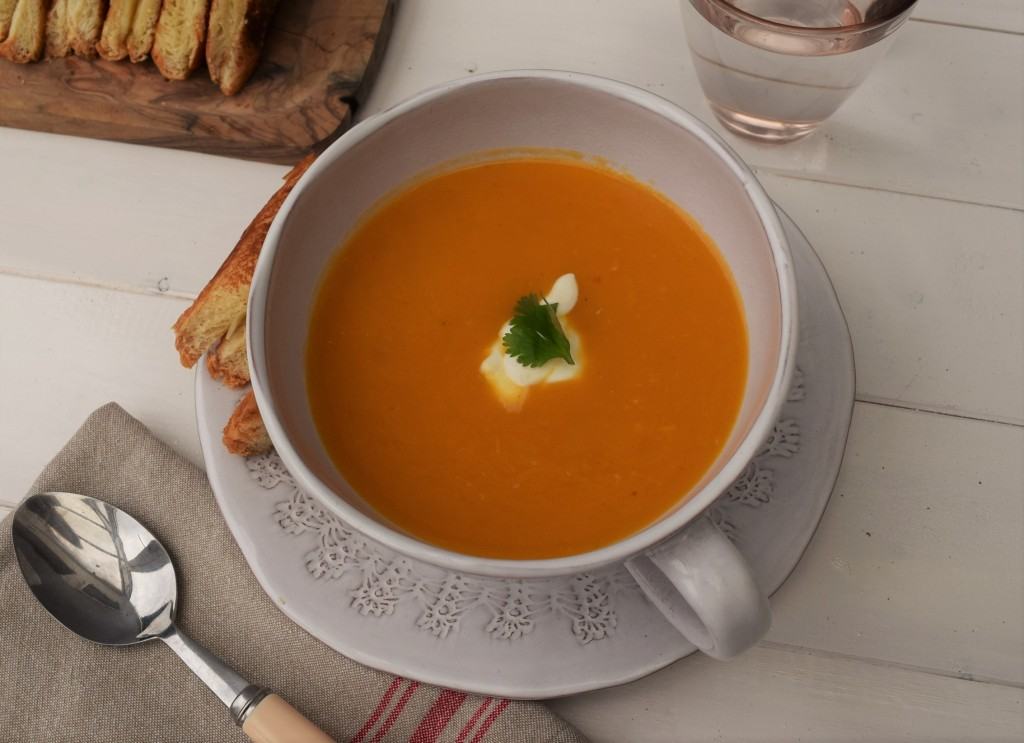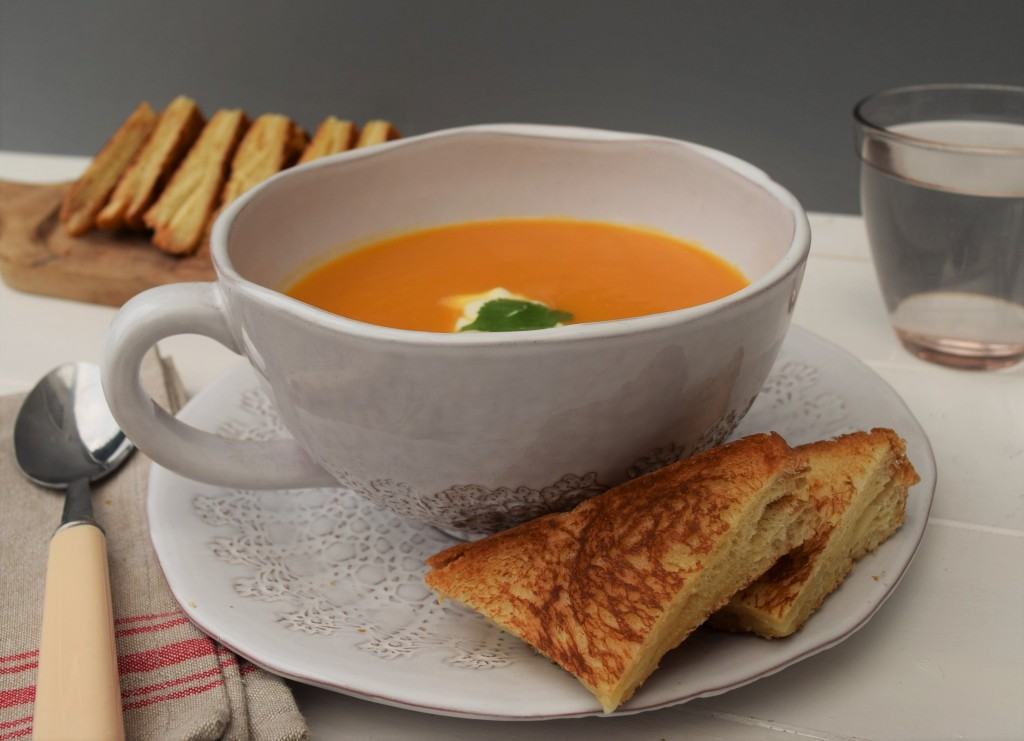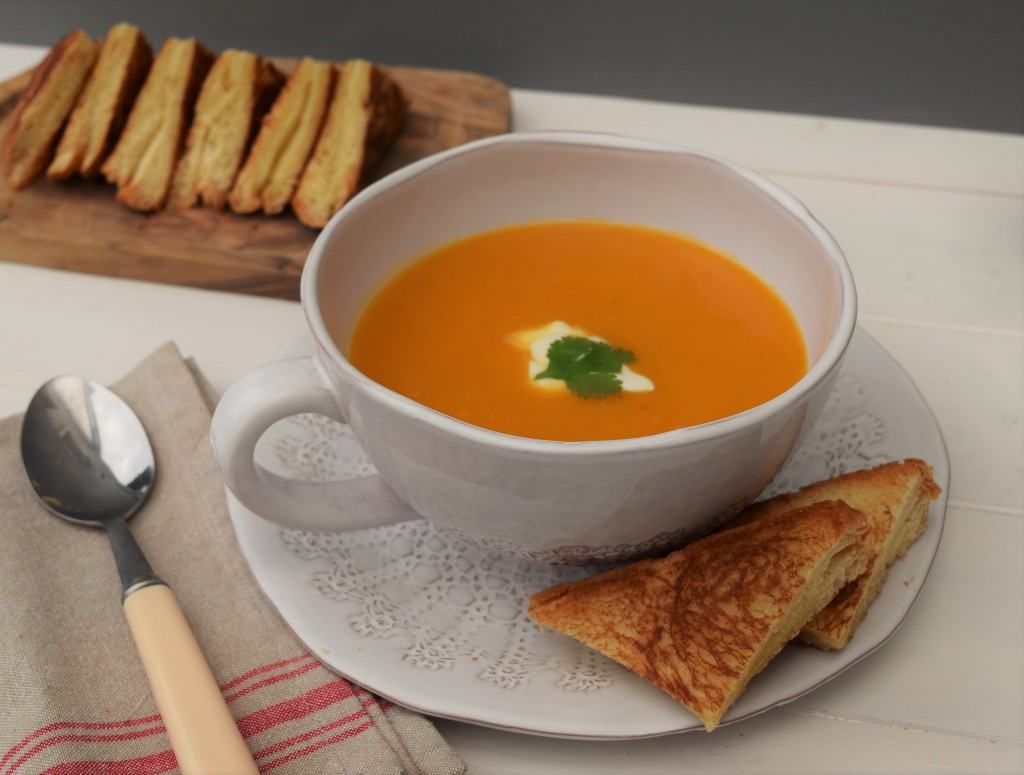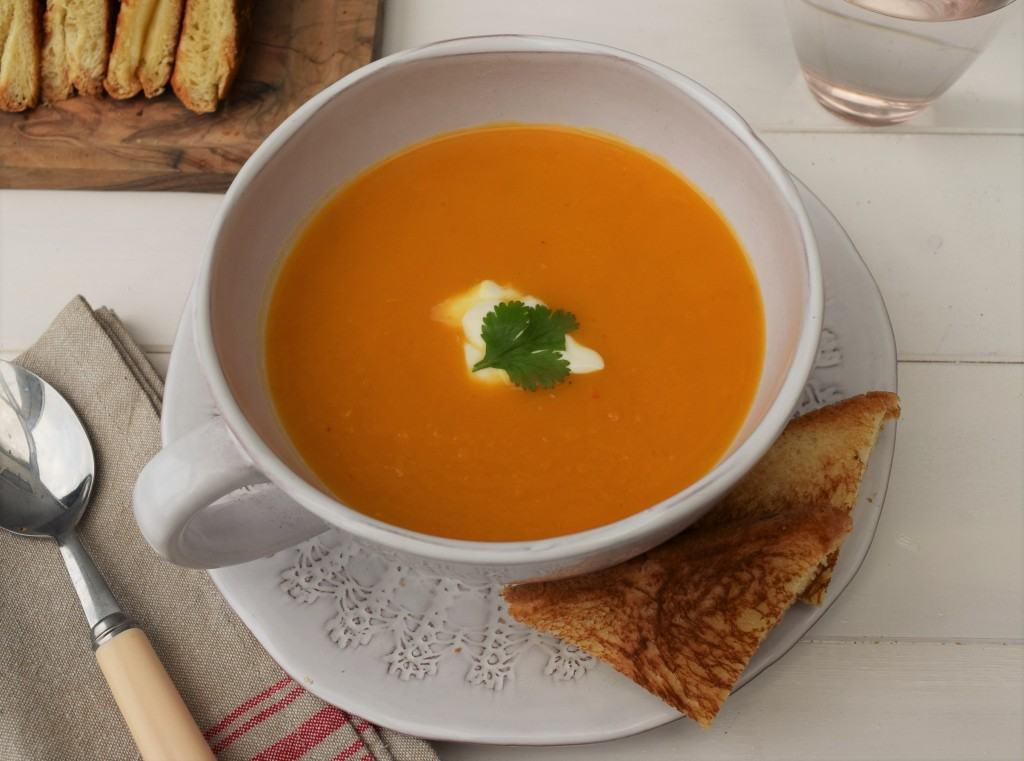 There's always time for soup in your life. This is warming, slightly spiced, sweet but savoury and feels healing to me. It's so well complimented by the brioche cheese sandwiches, having said that, they don't need to compliment anything, they can be inhaled all on their own.
Embrace the start of spring with this bright and vitamin rich soup and start to feel the sun on your face.
Lucy x
Sweet Potato and Pepper Soup Recipe
Serves 4, at least
You will need a large saucepan and a hand blender
1 teaspoon coconut oil, or olive oil
2 sticks celery, chopped
1 yellow or red pepper, chopped and de-seeded
2 cloves garlic, chopped
2 large sweet potatoes, peeled and chopped
A good pinch dried chilli flakes
1 litre chicken stock
salt and pepper
a blob of sour cream and fresh coriander or parsley to garnish
Optional Brioche Grilled Cheese Sandwiches
This makes enough for four people, so scale up if need be
8 slices brioche
approx 100g Gruyere or strong flavoured cheese, sliced
Butter for spreading and frying
Take a large saucepan, add the oil of your choice and heat over a medium flame. Add the chopped celery and yellow pepper and cook for around 5 to 6 minutes or until starting to soften. Add the chopped garlic, cook for a further minute then add the chopped and peeled sweet potatoes. Stir, add a good pinch of chilli flakes then pour on the chicken stock, stir again then bring up to the boil. Turn down to a simmer, add a lid then leave to cook for 20 minutes.
While this is simmering, if you are making the accompanying grilled cheese sandwiches, make a start on these. Butter the slices of brioche but then place them butter side down. Add the slices of cheese, two per sandwich, then pre heat your griddle or heavy bottomed frying pan. Place the sandwiches in the hot pan and press down with a spatula. Cook for a minute or so, keeping an eye on the bottom as these can burn quickly. Turn over and cook on the other side until golden brown and the cheese has melted. Pop on an oven tray and keep warm until needed.
Once your soup has cooked and the vegetables are soft, leave to cool for a moment before pureeing in a blender, with a stick blender or in a food processor. Re heat before serving, garnishing with sour cream and a leaf or two of coriander or parsley. Enjoy whilst nibbling on a brioche cheese sandwich. The soup keeps well in the fridge for up to 3 or 4 days.