The Tipsy Earl Recipe
This weekend sees St George's Day upon us. What with that and her Majesty, the Queen's, 90th Birthday this week I have decided to celebrate this Cocktail Friday with a Tipsy Earl.
The Tipsy Earl couldn't be any more British if it tried. It may as well be sitting on a red London bus and wearing a bowler hat it's so British. This cocktail is the most delicious combination of tea and Gin, two of my favourite things. The Gin is infused for a few hours with Earl Grey tea to add a wonderful floral, citrus flavour. This is then topped up with freshly squeezed orange juice and gin's traditional partner, tonic water.
I found this recipe via the Glue and Glitter blog, with thanks. This is just the perfect way to celebrate St George's day. Even if it is slightly before 11am, you can still legitimately drink this cocktail as it contains tea, so you can pretty much pass it off as a hot beverage.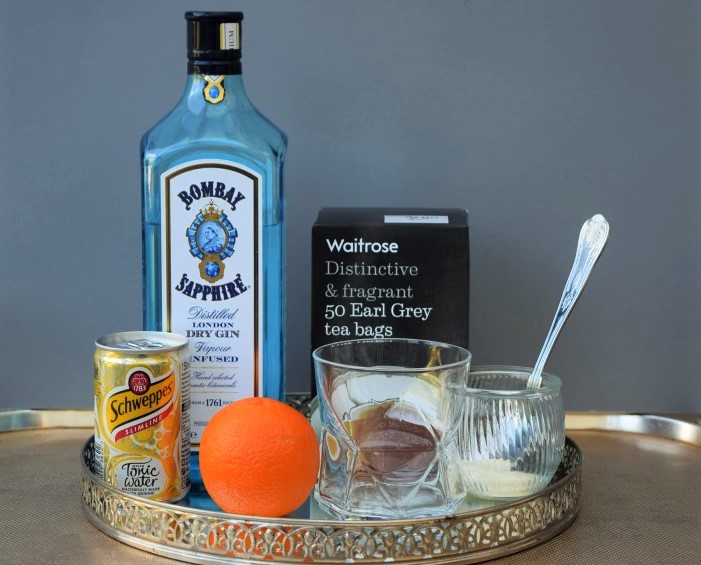 I wheeled out the big guns for today's Friday Cocktail with my precious Bombay Sapphire. This is such a fragrant cocktail the flavours work amazingly together. Clyde is not a huge gin fan but he wrestled this cocktail out of my hand and I didn't get another look in. Luckily the recipe makes enough infused gin for at least 3 cocktails, so I happily made another.
4 to 6 hours before you need your Friday Cocktail take a medium sized jar and add an Earl Grey tea bag. Pour on the wonderful gin.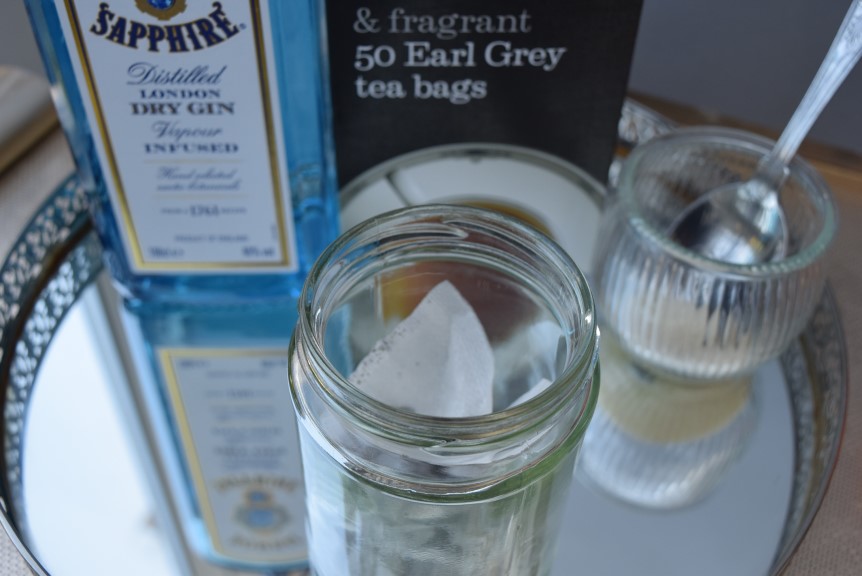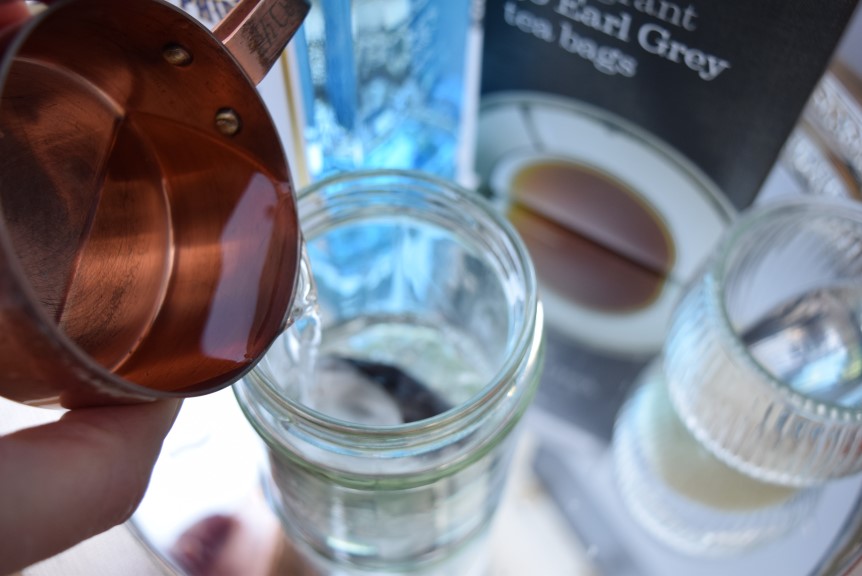 Add the tablespoon of caster sugar then pop the lid on the jar and shake to kick start the infusion. Leave the gin jar to sit quietly for 4 to 6 hours.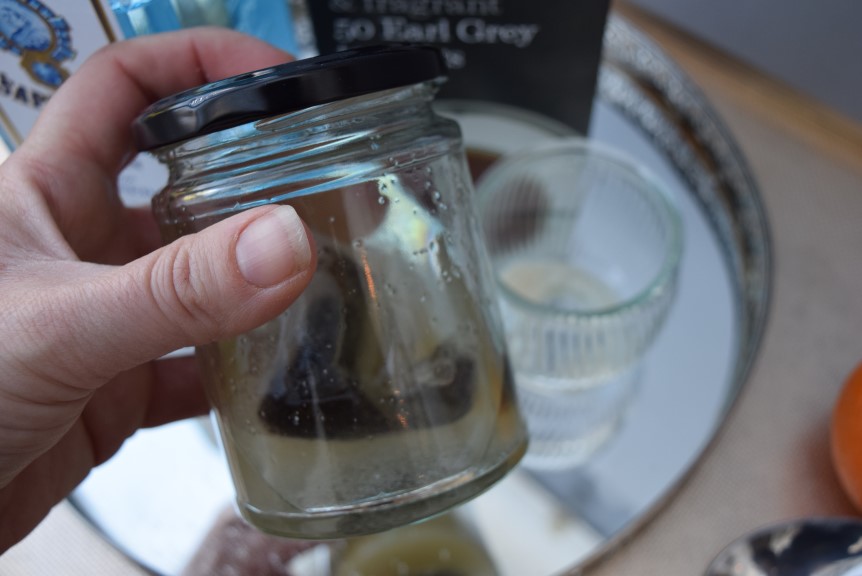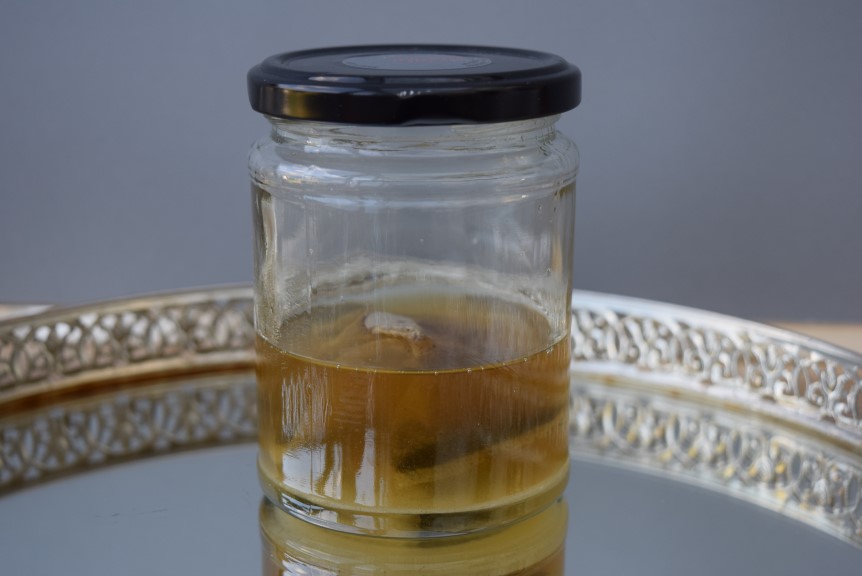 When the infusing time is up, you are ready to make your Tipsy Earl. Take a tumbler and add a big handful of ice. Next, pour in the shot of your Earl Grey infused Gin.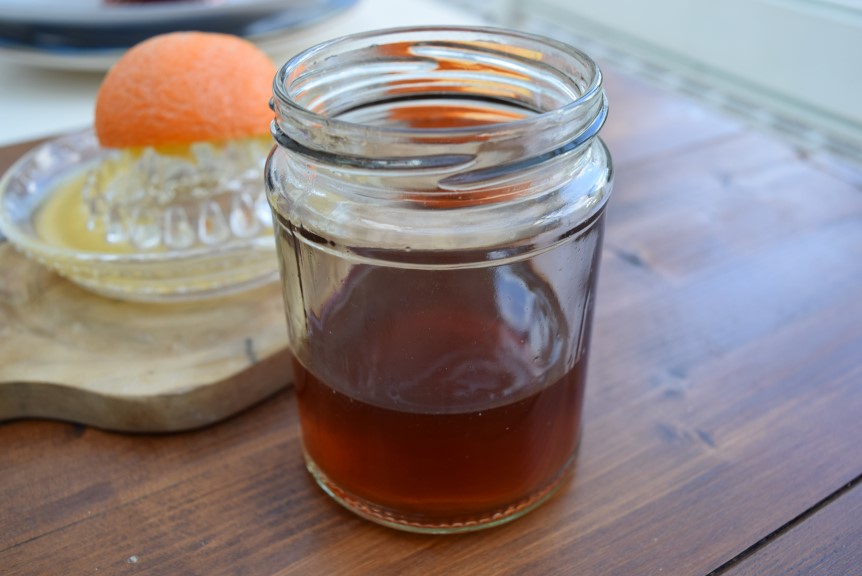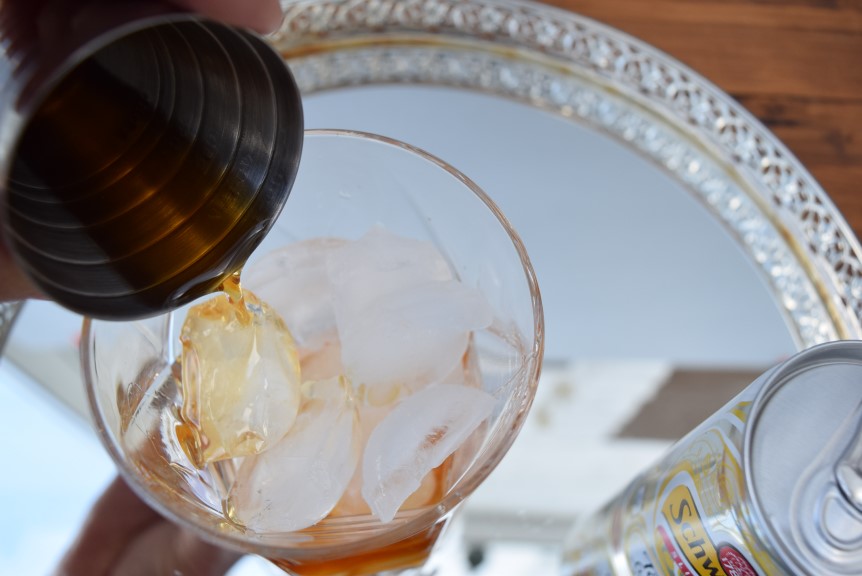 Pour on the freshly squeezed orange juice for a citrus zing then top up with tonic water. As little or as much as you like.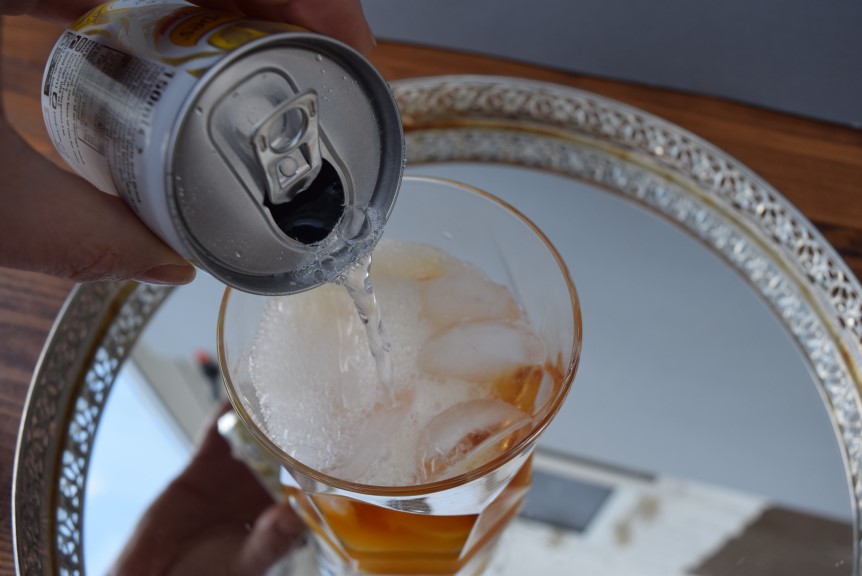 You are then just an orange wedge garnish away from sipping your very British Friday Cocktail.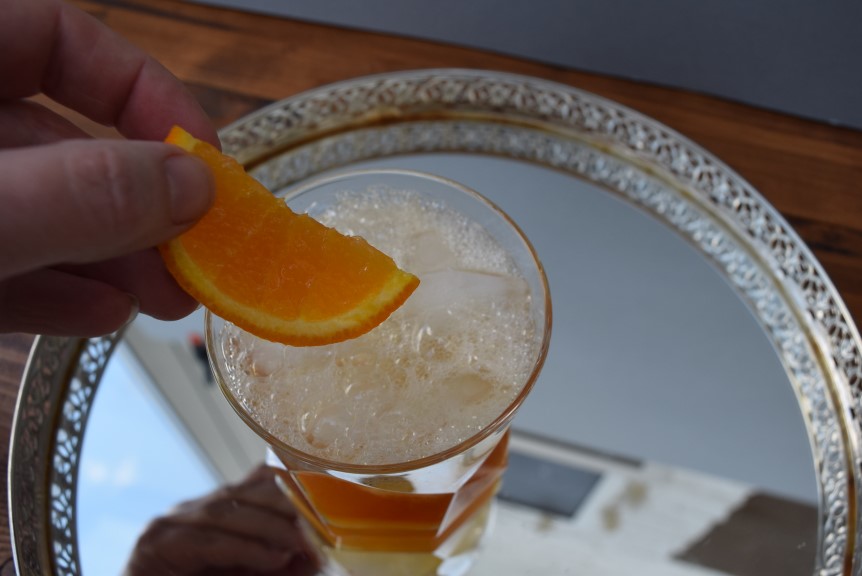 Oh and of course, the terribly patriotic straws and napkin.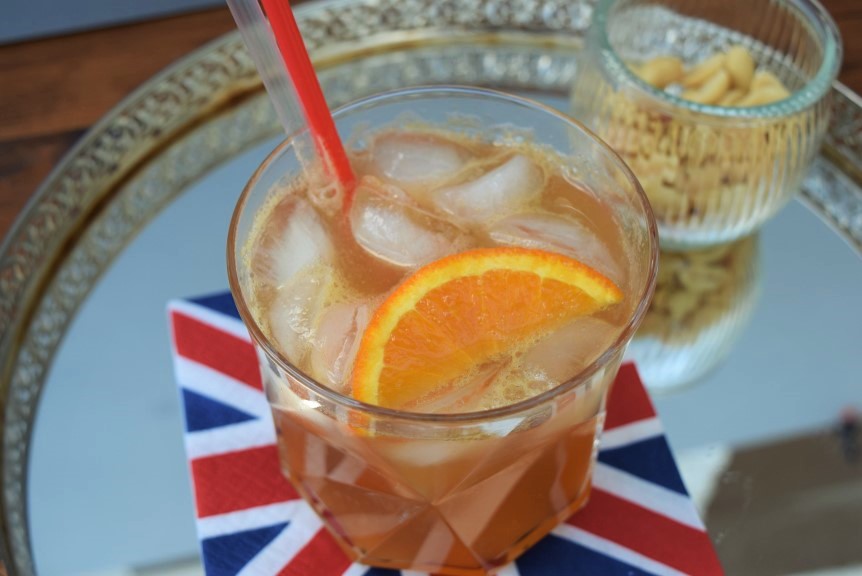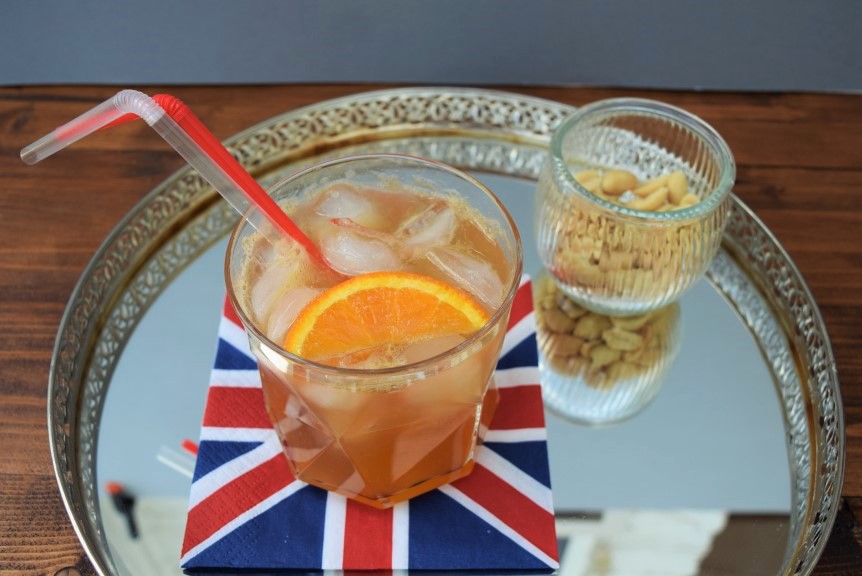 This wonderful Tipsy Earl makes a brilliant end to a patriotic week. I was so excited to find this cocktail recipe on my hunt to find a classic British drink. I will certainly not be reserving this fragrant treat of a drink for Saints days or royal birthdays.
Have a wonderful weekend.
Lucy x
The Tipsy Earl Recipe
Makes 1, but with enough infused gin for two more
You will need a good sized tumbler and a jar
For the Earl Grey Gin
120ml Gin
1 Earl Grey teabag
1 tablespoon caster sugar
For the Tipsy Earl Cocktail
40ml Earl Grey Gin infusion
Juice from a quarter of an orange
150ml tonic water, you may prefer more or less
Ice and an orange wedge to garnish
For the Earl Grey Gin place the tea bag into a jar and add the gin. Stir in the sugar then place the lid on the jar and shake. Leave this to infuse for 4 to 6 hours. Remove the tea bag after this time.
When the infusing time is up, take a good sized tumbler, add a handful of ice and measure in 40ml of the Earl Grey Gin. Squeeze in the juice from a quarter of an orange then top up with tonic water. Garnish with a wedge of orange and festive straws.