Blood Orange Drizzle Cake Recipe
Blood oranges are a beautiful glimpse of hope in a barren sea of dull winter based produce. God I am a miserable cow at the moment. George has been ushered back to school after a horribly PS4 based half term and to do some actual GCSE work and the weather has been beyond depressing today in a hair frizzing drizzly kind of way. I am off the sugar for Lent and feeling like a beached whale as am eating everything apart from sugar to make up for being miserably sugar free. I went to Costco today and bought a huge bag of their dinner rolls to cheer myself up, only to find the second ingredient on the bag is sugar so they sit, untouched, in my kitchen. I made this divine Blood Orange Drizzle Cake a couple of weeks ago and not only did the beautiful colour bring a smile to my face, it tastes wonderful. It is one of the things I am most looking forward to eating post sugar-free Lent.
There is something hugely satisfying about a loaf cake. There's no need to faff around with buttercream or sandwich pans, it's just a big old lump of soft cake ready to be sliced into generous slabs. This Blood Orange Drizzle Cake has a sweet but citrusy flavour and a subtle colour from the elegant oranges. The zesty drizzle topping glazes the cake with a pinky sheen, making it both wonderful to look at as well as to eat. The recipe, meddled with from a Waitrose recipe card, with thanks, uses soft brown sugar too which gives the cake a caramel flavour which goes so well with the orange in a 70's dinner party dessert kind of way. This cake is a keeper too, it sits nicely, well wrapped for a good 5 days in a cool place. That's unless I get hold of it after Sugar Gate, that is.
While there are still Blood Oranges readily available in the shops, do give this Drizzle Cake a go, it makes a colourful, stylish change to the normal lemon affair and is beautifully seasonal.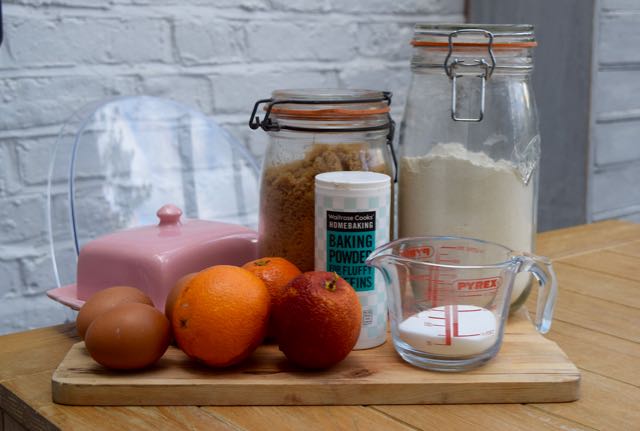 Beautiful blood oranges. They are quite pricey but so worth it. I am hacking through them at the moment but as they are so seasonal it's really worth getting hold of some.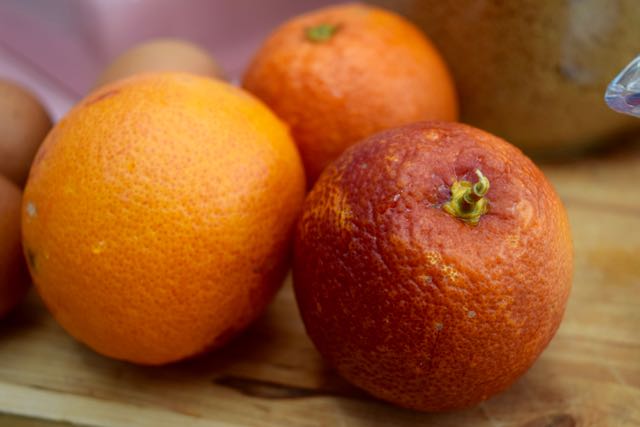 These are the sweetest most colourful of all oranges. And, they make a great additional to a gin and tonic, FYI.
Now let's get going. Line or butter your 2kg loaf tin, pre heat the oven to around 160 degrees fan assisted and get out your lovely stand mixer or a bowl with a spoon or hand mixer. Add the soft butter or *still not sponsored by or paid to say this* Stork along with the soft brown sugar and beat for around 4 minutes until it's light and fluffy.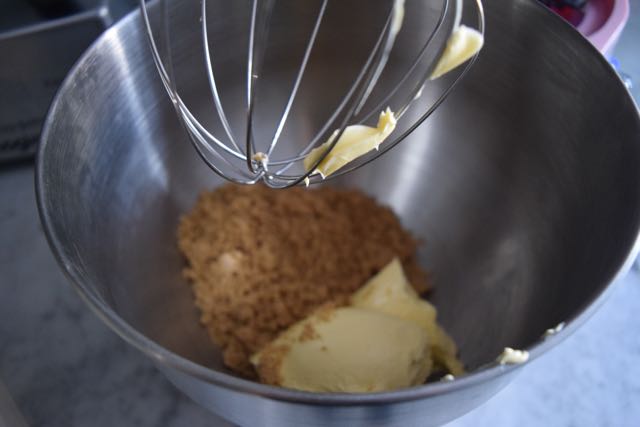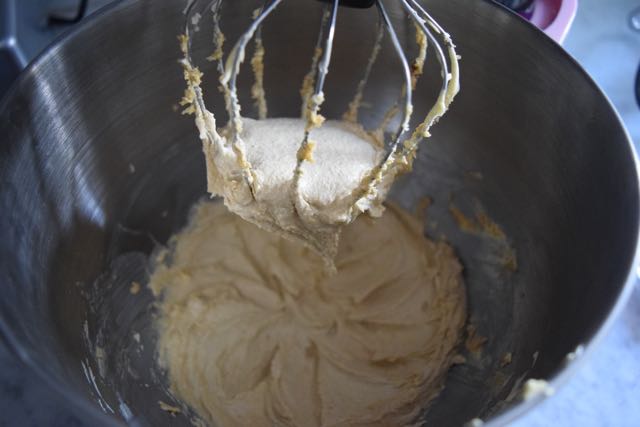 Now, beat in the eggs, one by one, then the zest of the blood oranges, I used one and a half as mine were only quite small. If the mix looks a little curdled, add a tablespoon of your flour allocation to bring it back.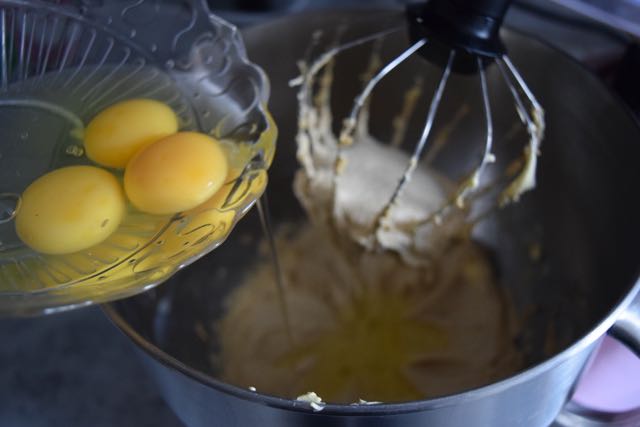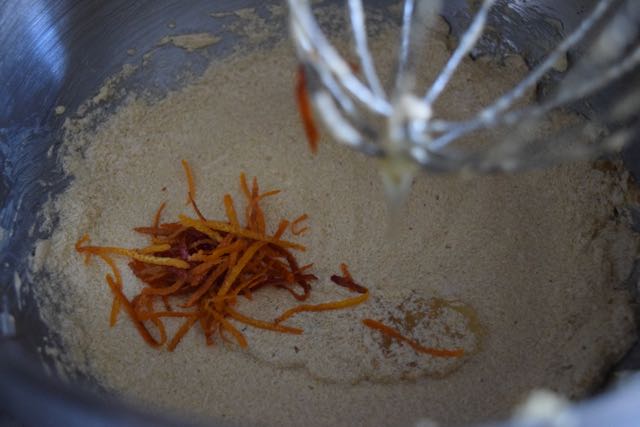 Fold in the plain flour and the baking powder then finally fold in one tablespoon of the beautiful blood orange juice.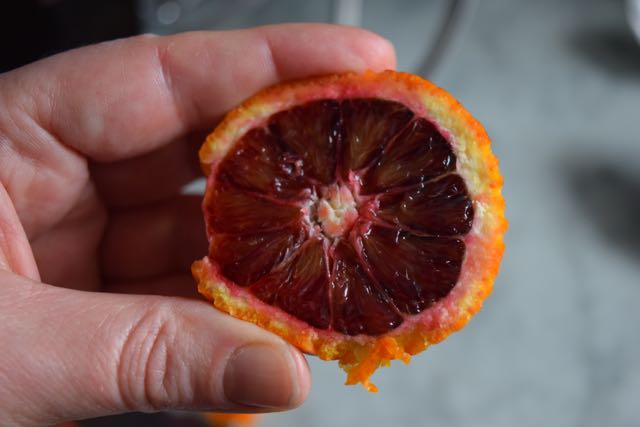 Sorry about the ugly hand spoiling the view.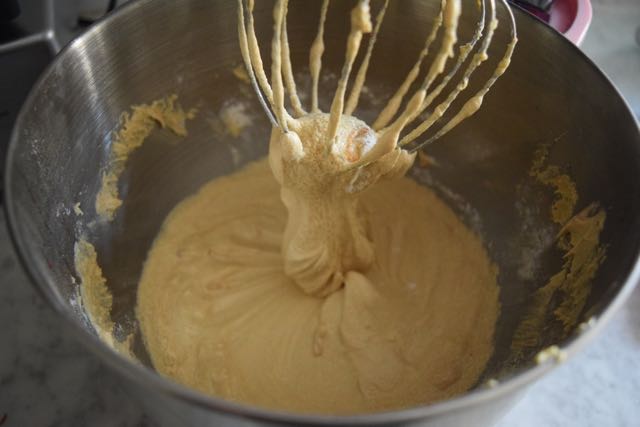 Scrape this fragrant cake batter into your lined loaf tin, trying not to eat big mouthfuls as you do so, but it does taste so good if a tiny bit escapes from the spoon into your mouth. Smooth the top then put the cake into your pre heated oven for between 45 and 55 minutes. Mine was nearer 50 minutes, but keep an eye on it towards the end.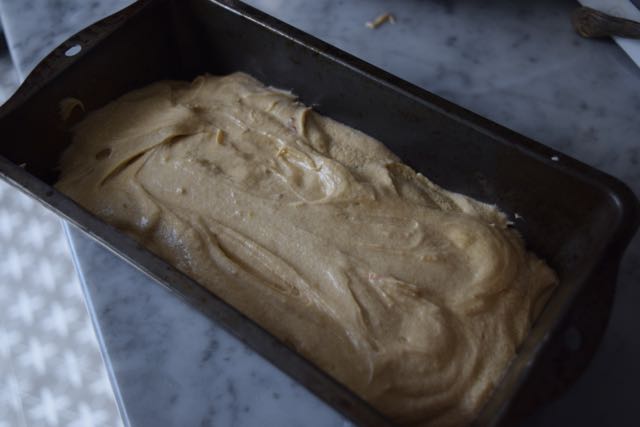 The cooked cake will be golden, smell amazing and a skewer will come out clean when poked in the middle.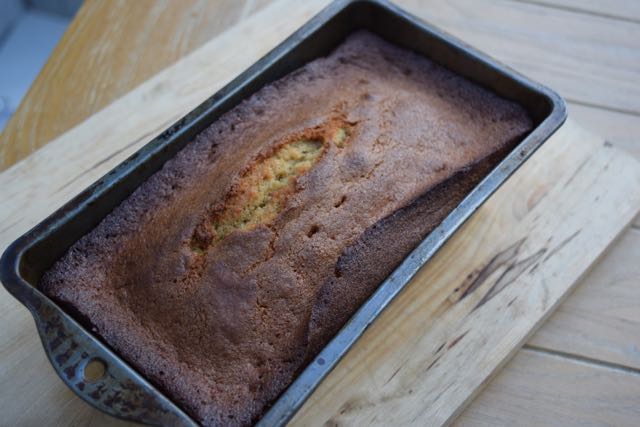 While the cake's in the oven, put together the drizzle. Juice 2 of the blood oranges, or more if needed, you will need around 6 tablespoons of juice and mix this with the 50g caster sugar and the final 1 1/2 worth of blood orange zest. Stir well until the sugar has dissolved into the juice.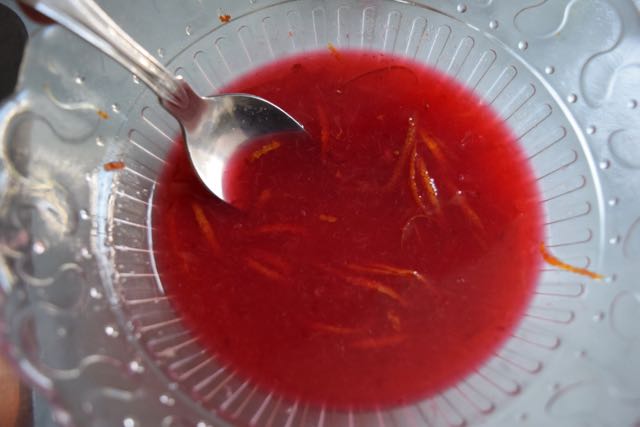 No filter on this, I promise.
Using a skewer, poke a few holes in the warm blood orange cake then spoon over the drizzle mixture ensuring the cake is well covered.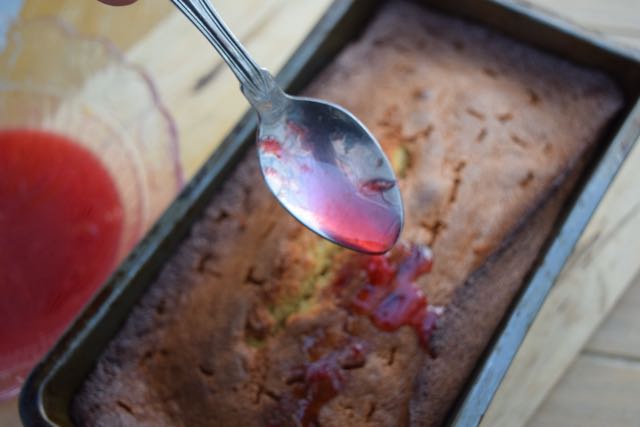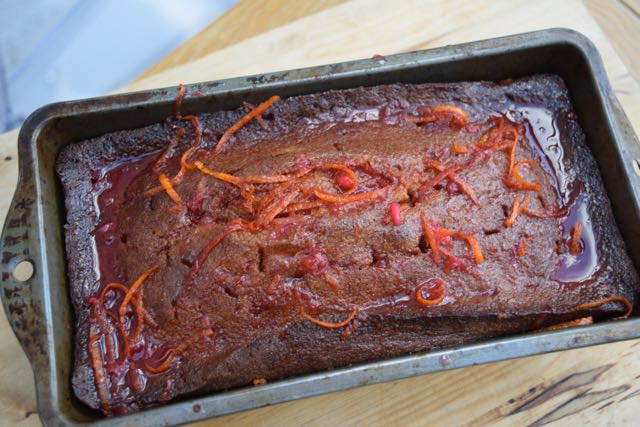 Leave the Drizzle Cake to cool almost completely before removing from the tin and serving in bloody great big slabs. Or modest slithers if you are that person.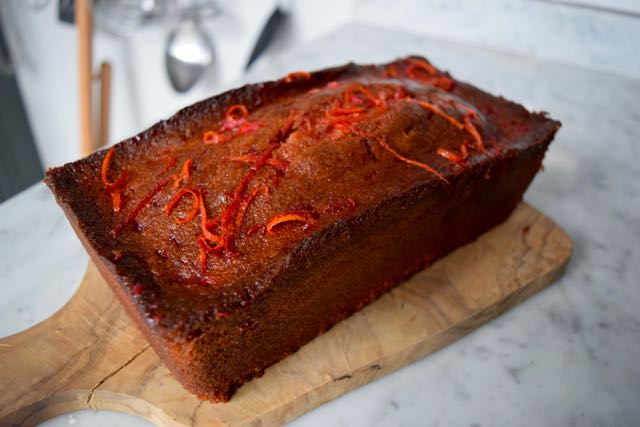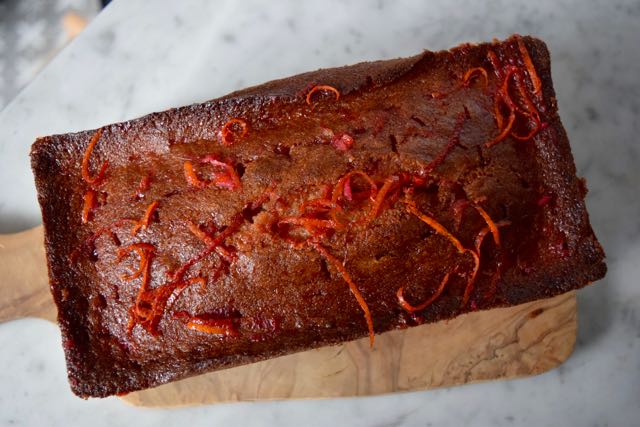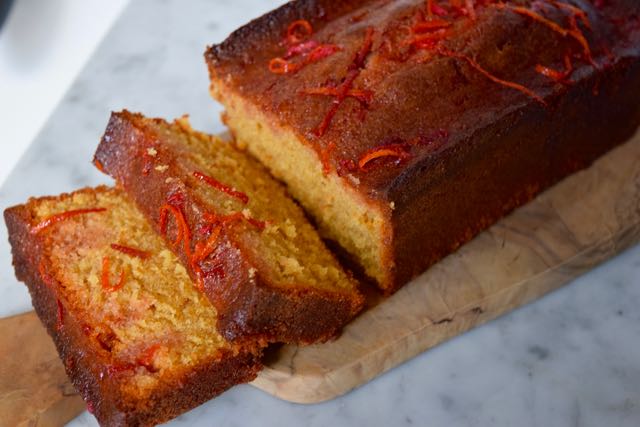 This is a masterpiece of a cake. Not because it's complicated, it's anything but, but because it's both dramatic in looks and taste. I love seasonality too, it keeps certain foods special and blood oranges are a real treat. They make a beautiful cake as well as a bloody delicious gin and tonic, to name only two.
Lucy x
Blood Orange Drizzle Cake Recipe
You will need a stand mixer or hand mixer and bowl and a spoon and a bit of strength and a lined or buttered 1kg loaf tin
Makes a lovely loaf with around 8 slices
175g soft butter or Stork
175g soft brown sugar
2 to 3 blood oranges, depending on size and juiciness, you will need the zest and juice of these
3 eggs
175g plain flour
1 teaspoon baking powder
50g caster sugar
Pre heat your oven to 160 degrees fan assisted and line or butter well your loaf tin.
In your stand mixer or bowl with a mixer or spoon, beat together the butter or Stork and brown sugar until soft and lighter in colour and texture. This should take around 4 minutes in your mixer. Beat in the zest of 1 or 2 of the blood oranges, I used 1 1/2 as mine were small then beat in the eggs, one at a time. If the mixture looks like it's curdled, don't worry, just add a tablespoon of the flour and this will make it better.
Fold in the flour and the baking powder, don't over mix, then finally fold through a tablespoon of blood orange juice. Scrape the batter into your loaf tin and smooth the top. Put into your pre heated oven for 45 to 55 minutes. The cake will be ready when the top is firm to the touch and a skewer comes out clean when poked in the middle.
For the blood orange glaze, juice 2 of the oranges and add the zest of the remaining 1  or 1 and a half. Pour in the 50g of caster sugar and stir well to dissolve.
Make holes in the hot cake with a skewer and then pour over the blood orange glaze, making sure the zest is evenly dispersed on the top of the cake. Leave to cool completely in the tin before serving in huge citrusy slabs. The cake will keep in a tin, well wrapped, for up to 5 days.
SaveSaveSaveSave
SaveSave
SaveSave
SaveSave