Tiny Picnic Pies Recipe
Blimey it's been warm this weekend and lucky me, I've predominantly spent it in my kitchen or sorting out Ben's bedroom ready for his triumphant return from Uni next weekend. The latter involved me removing all my Lucy Loves plates, glasses, cutlery and trays from his room which had fashioned itself into some sort of storage facility. My thoughts, from my position next to the oven/Magimix, had turned to picnics, one of my favourite summer activities. My book group has a picnic every June and with this in mind, I decided to pop together these Tiny Picnic Pies in preparation.
Picnics and pastry based items go hand in glove for me. As a child, a trip to the beach meant a hard boiled egg, a sandy sandwich and a packet of crisps, so I have tried to upgrade my menu since then. These Tiny Picnic Pies are super low maintenance and basically involve a packet of puff pastry and the contents of your fridge as fillings. Feel free to make your own pastry, my ricotta based one would work well here as it's not too soft, but if time is tight, a good all butter bought one is fine and no one's judging. As for fillings for your pies, it's basically up to you. I'm all about using up the contents of my fridge and cupboard at the moment; I hate waste and always have so many bits and bobs to use up, these are a great outlet for just those bits. I went for some sliced sharp apple, brie and truffle honey; I know this sounds poncey, but it was a hostess gift from a lovely friend and worked super well with the apple. For George and his simple tastes, I just used strong cheese with good ham. No mustard or chutney to upset him, but I would add it for more adventurous types. Or use these as a sweet treat with some jam, chocolate, marshmallows, lemon curd, it's all about using up what you have.
Don't feel you have to restrict these to eating outdoors. These would make a great pre dinner nibble or something to leave for the children to eat when they get in from school. I don't need any excuse to eat a pastry based item, and once you've tried these Tiny Picnic Pies, I think you will join me, indoors or out.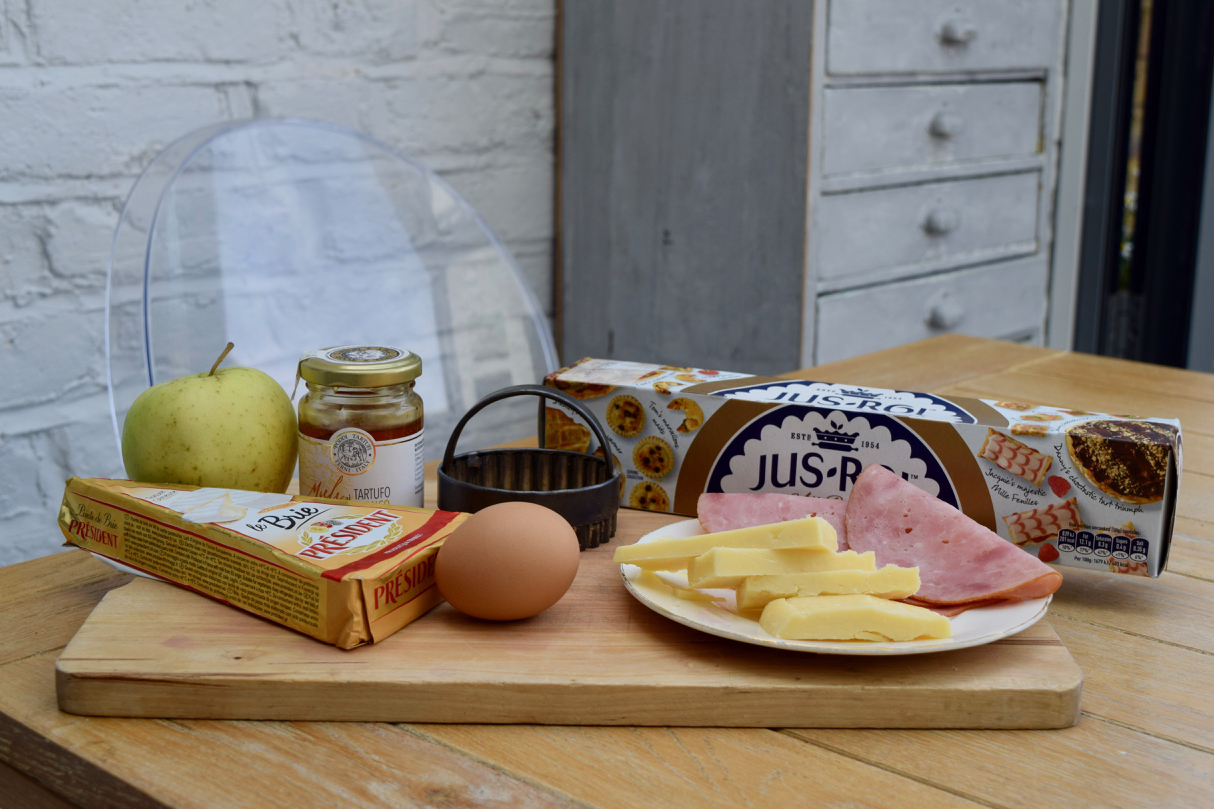 Basically the line up for these picnic pies could just be a packet of pastry and an egg. The rest is up to you, it's just a template really. You can make these sweet or savoury, according to you and yours tastes.
Start this simple recipe by pre heating your oven to 170 degrees fan assisted and lining a large baking tray. Unwrap your bought, all butter pastry or roll out your own. My ricotta pastry is great for these and super simple.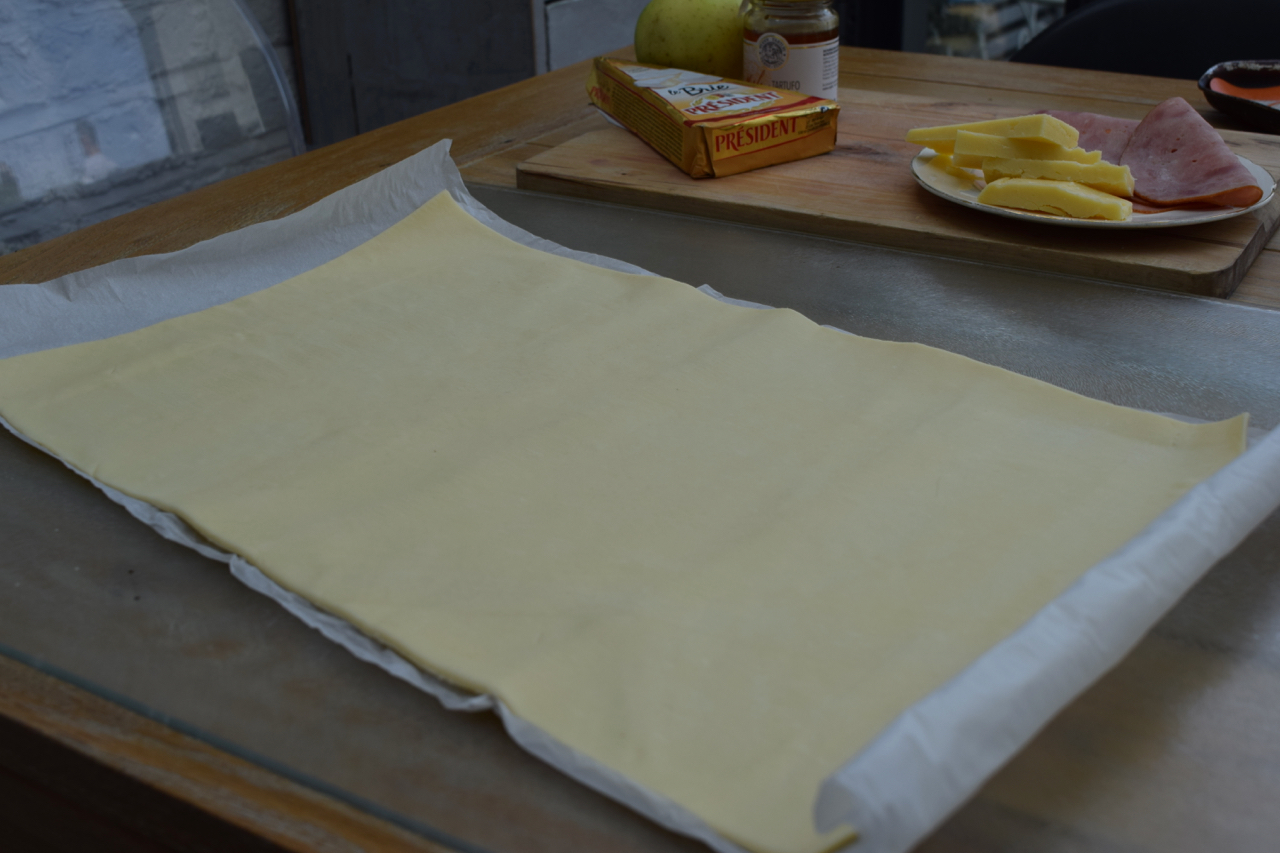 Using a 6 to 8cm cutter or a glass, cut out circles. Don't forget to cut even numbers as you need tops and bottoms. Re-roll any scraps to make extras. I had lost the will to re-roll, so just made the 7 pies from the pre rolled sheet.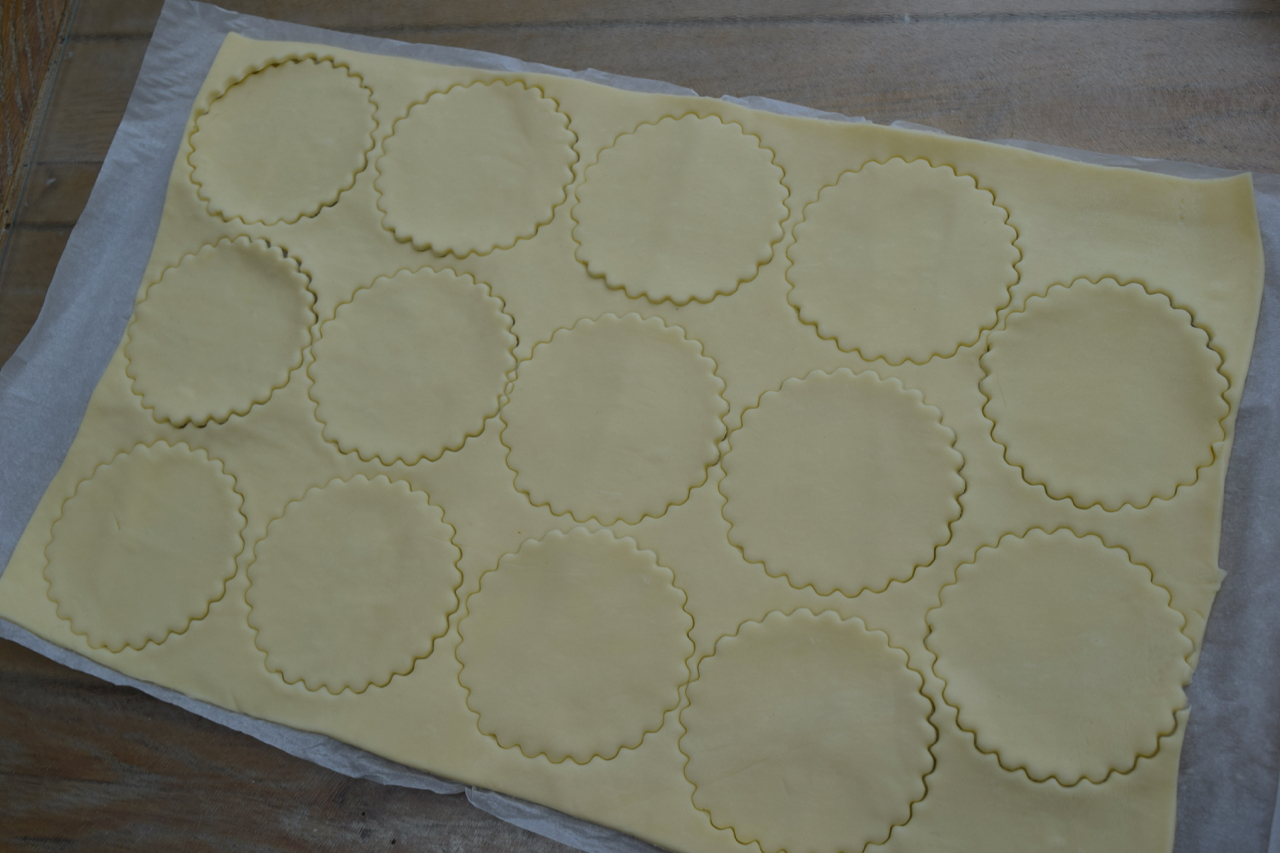 Now, it's up to you how you proceed from here. I can happily confirm sliced apple, brie and truffle honey worked amazingly well and Clyde and George loved the ham and strong cheddar option.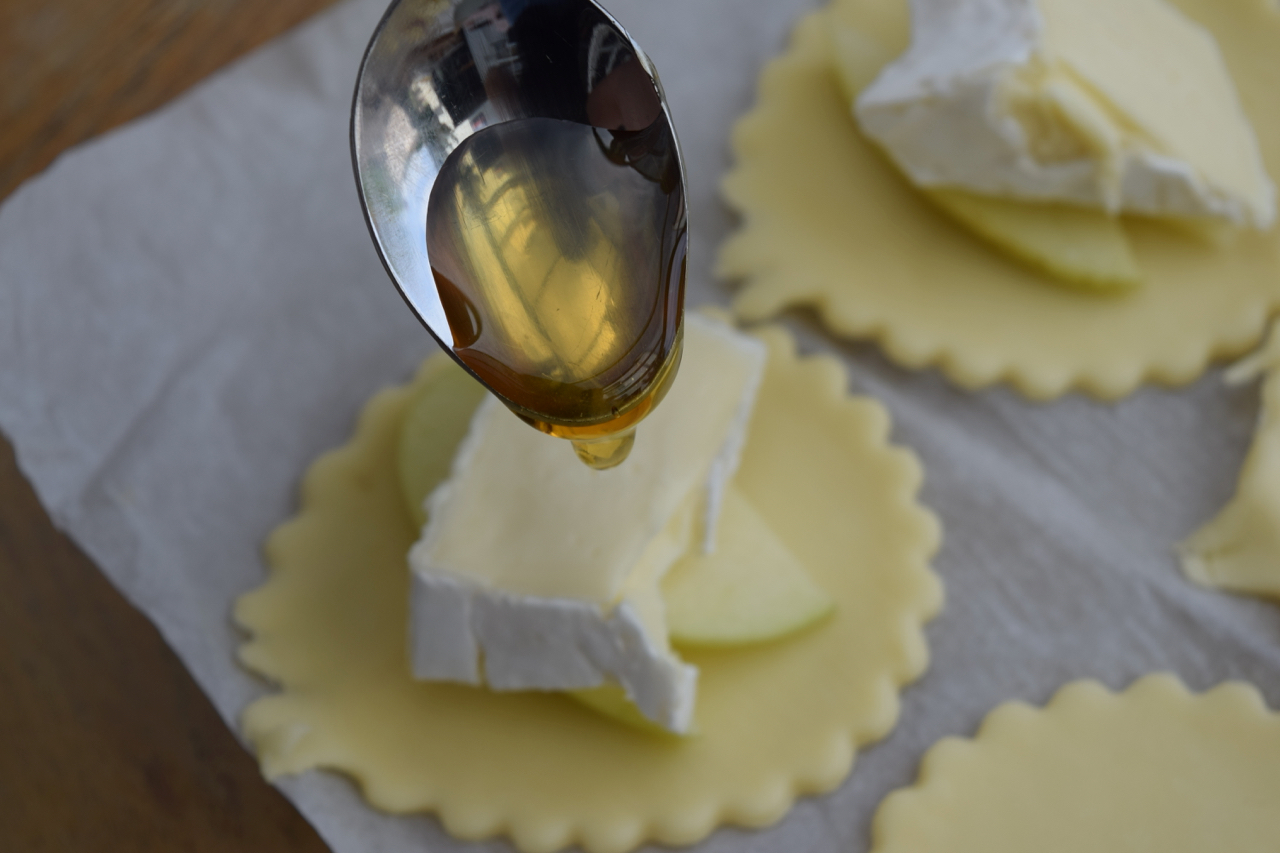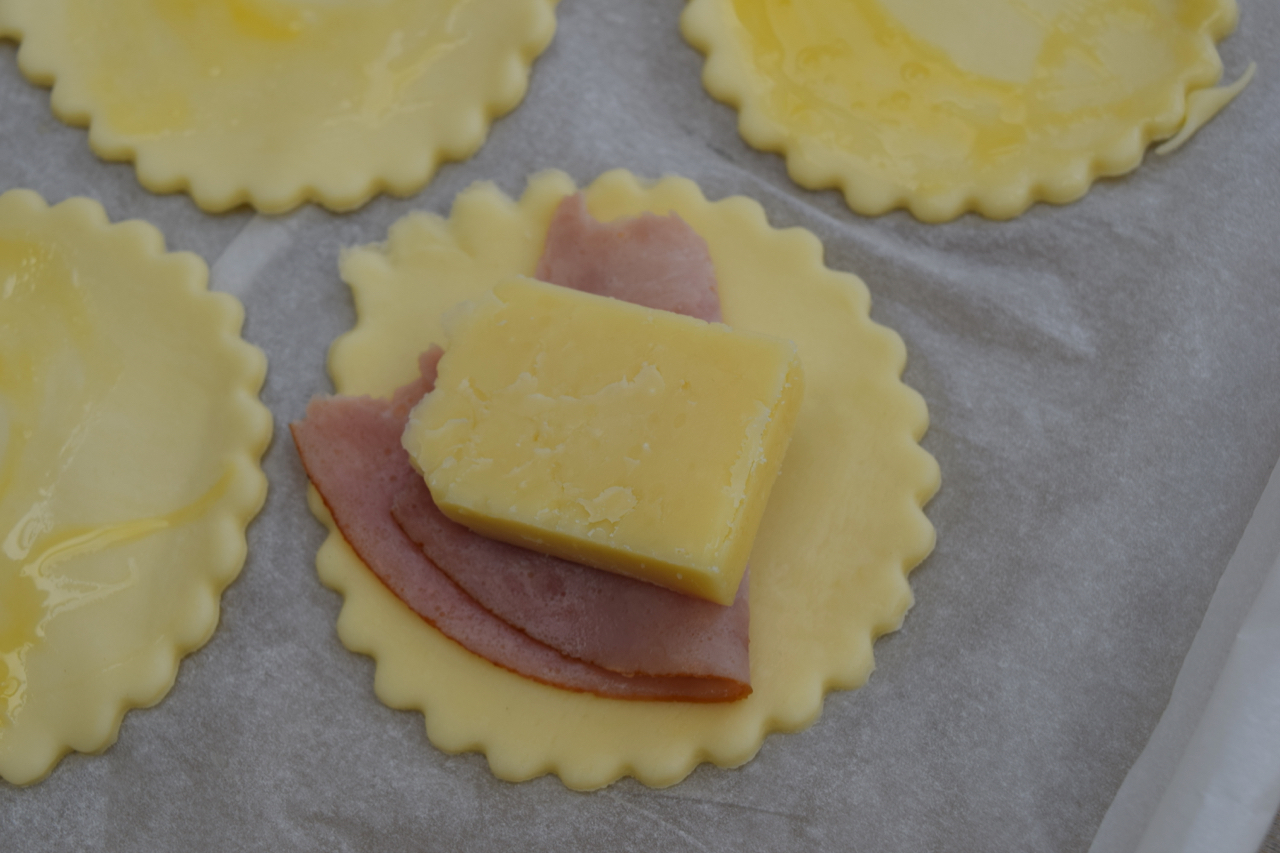 Don't be tempted to overfill your pies or you will risk over oozing or bursting pies, which means you will just have to eat the filling from the baking paper. Brush the edges of your pies with beaten egg then seal with a top circle of pastry. Crimp with a fork to seal in your filling choices.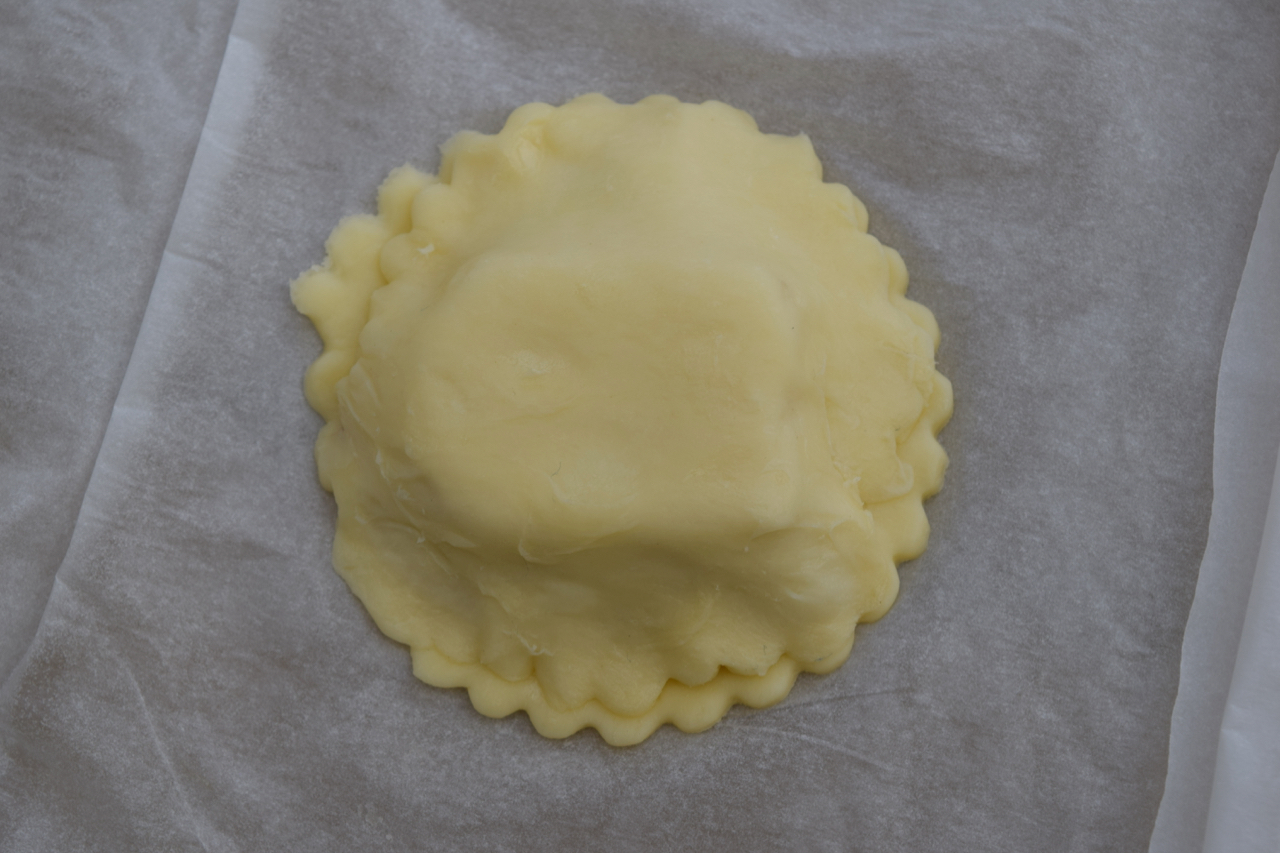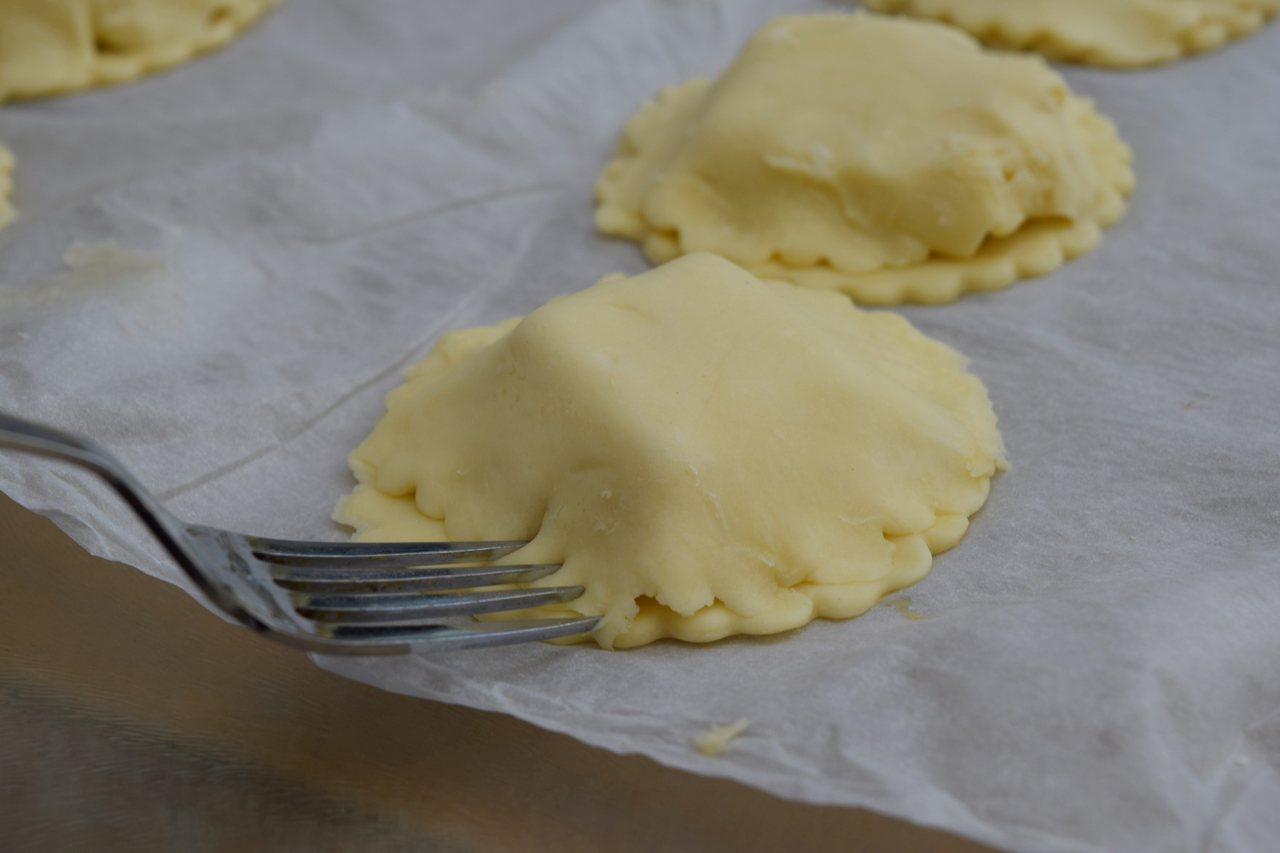 Place your pies on a lined baking sheet, brush with beaten egg and sprinkle with sesame seeds or herbs where applicable.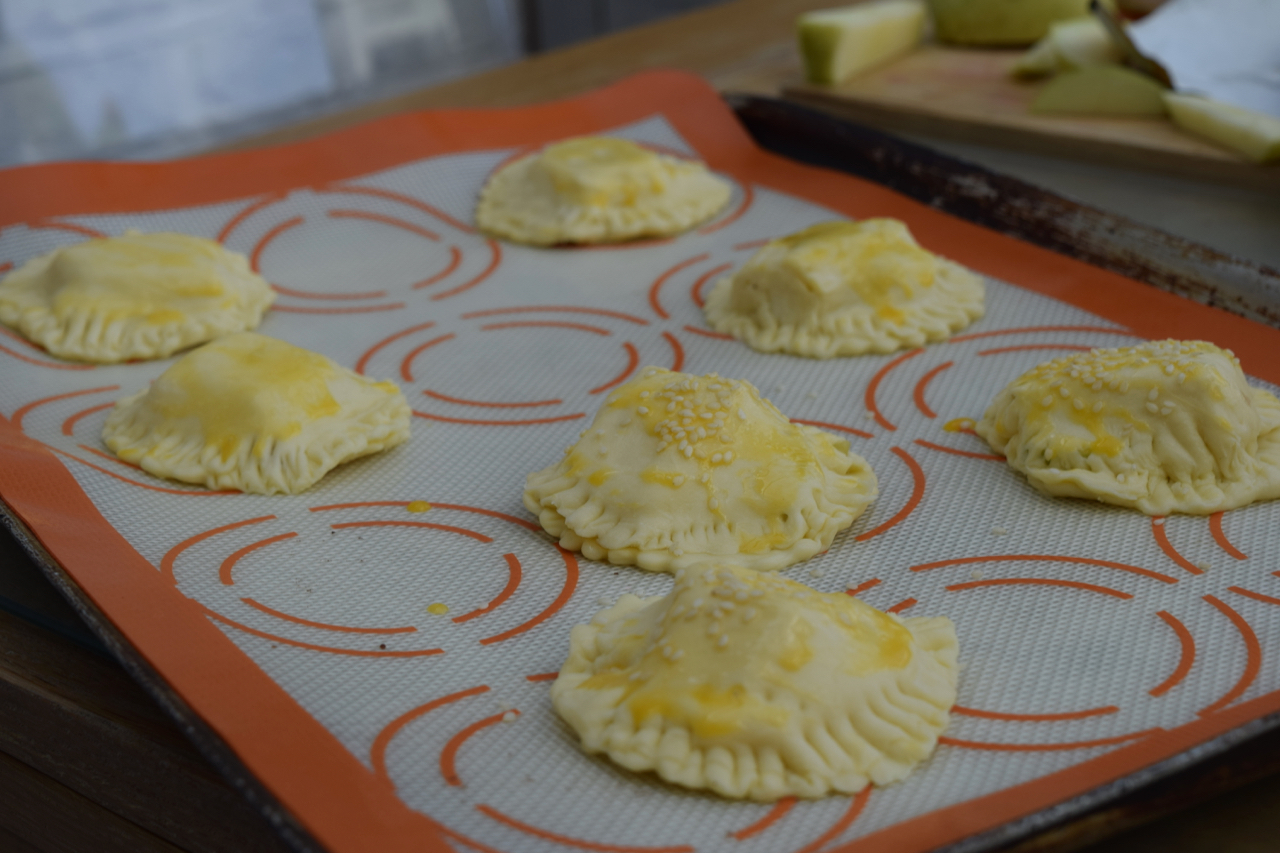 Place your pies in the oven for 15 to 20 minutes. They will be ready when they're golden, oozing moderately and smelling divine.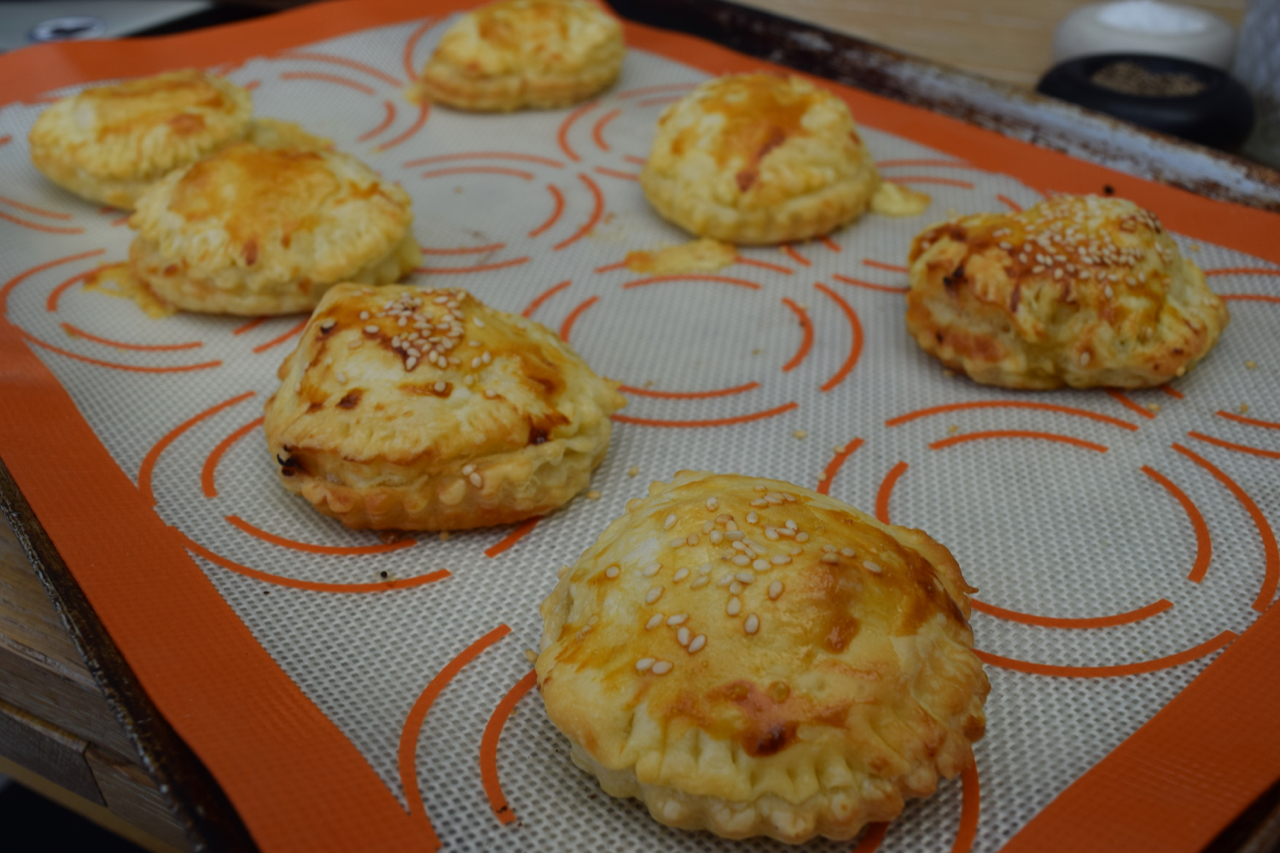 These are so good served warm or cold. Indoors or out. Sweet or savoury.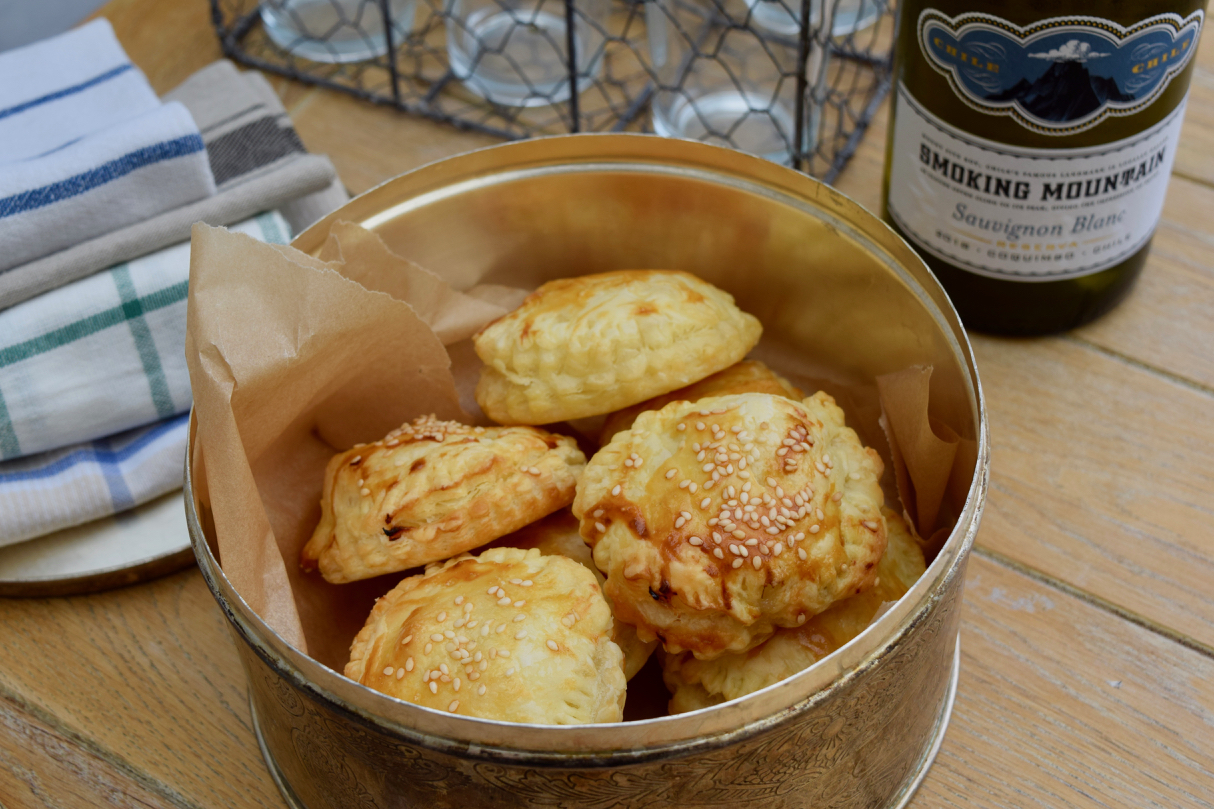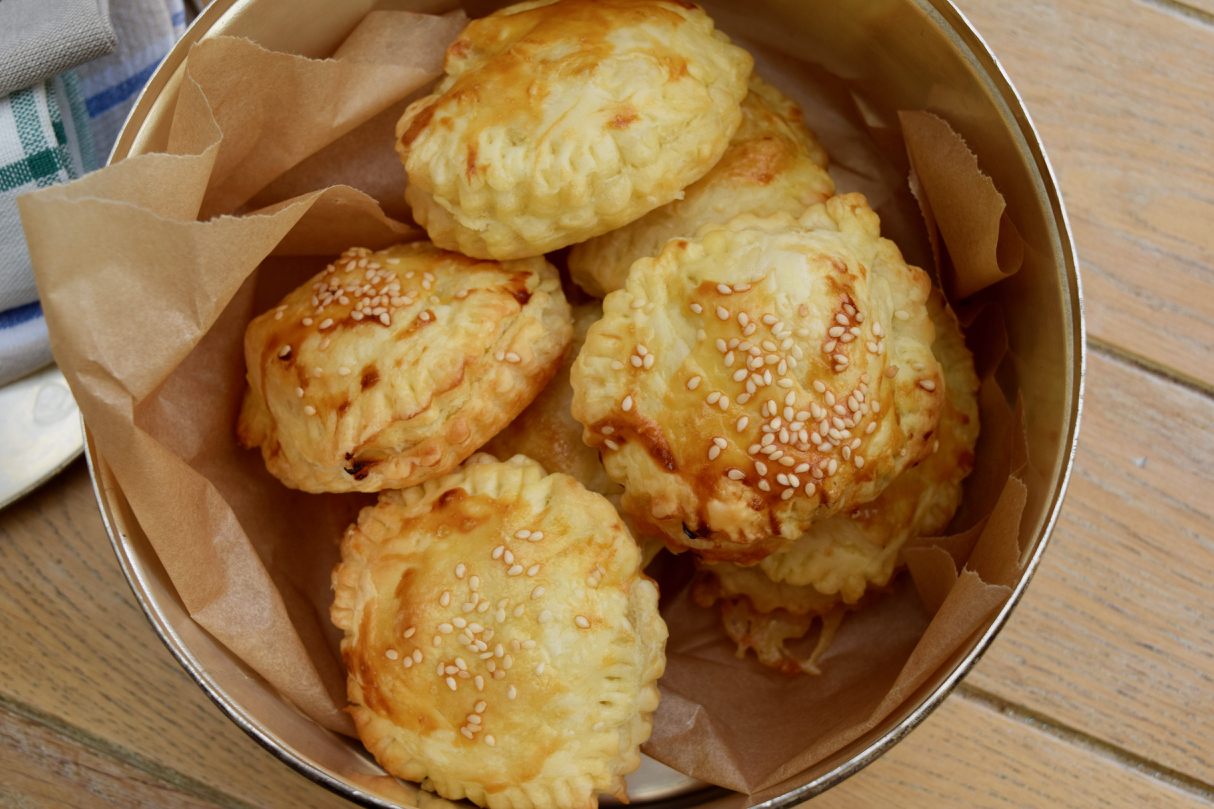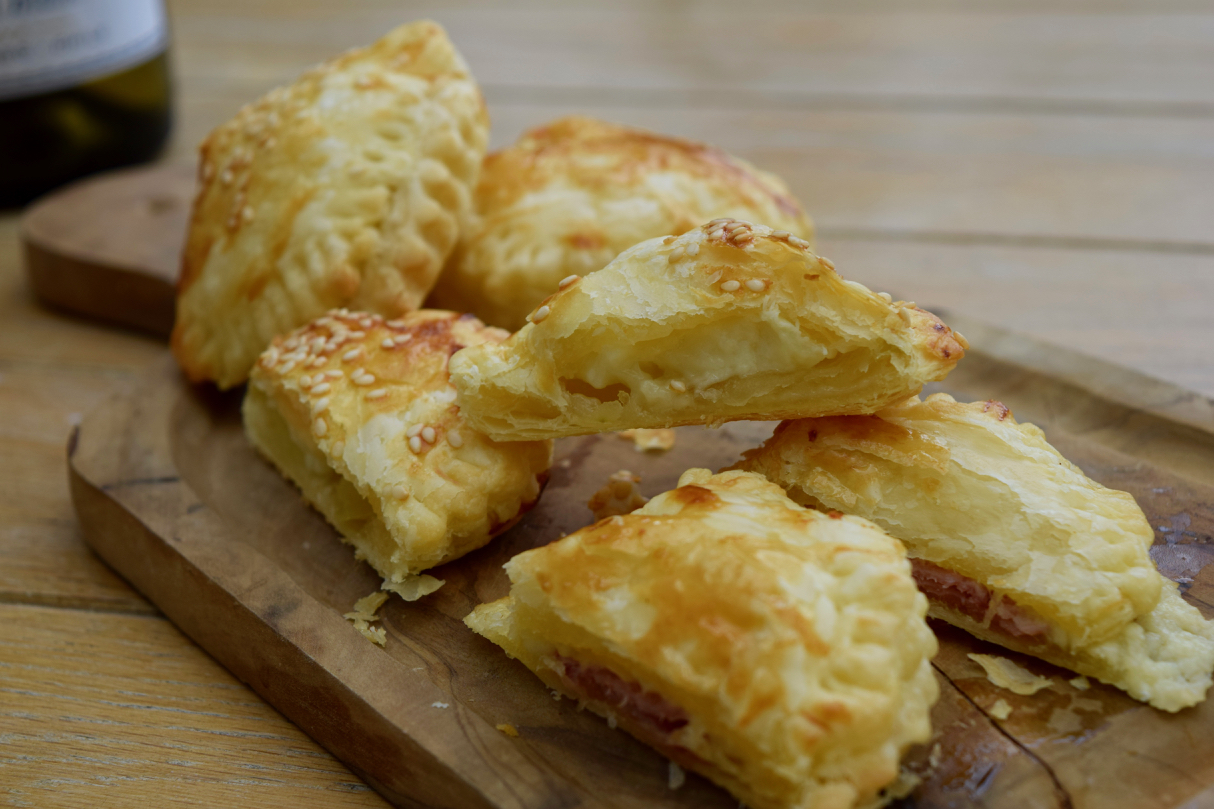 These little pastry treats are somewhat addictive. They're crisp, filling, cheesy, if you've used cheese, appley if fruit was your choice. They upgrade your distinctly average picnic into something really rather wonderful.
Lucy x
Tiny Picnic Pies Recipe
Makes 8 to 10
You won't need any exciting equipment for this recipe
1 Packet all butter puff pastry, or make your own, this Ricotta pastry recipe would work well
Fillings of your choice, for example, a lovely sharp apple, brie, honey, ham, strong cheddar, mustard, sautéed mushrooms, goats cheese, chutney, jam, chocolate, marshmallows, the possibilities are endless
1 egg, beaten, to seal and glaze
Sesame seeds or herbs for sprinkling if you like
Make a start by lining a baking sheet and pre heating your oven to 170 degrees fan assisted.
Take your pastry out of the packet, or make a batch of your own, this recipe is lovely.
If your pastry isn't pre rolled, then roll out to a thickness of around 1cm. Using a 6 to 8cm cutter, or a glass, cut the pastry into circles. Re-roll any scraps to make more circles. Don't forget you will need equal numbers of tops and bottoms.
Prepare your fillings. I used some lovely sharp apples, sliced, with some brie and honey and some strong cheddar and good ham in the others. Lay your fillings onto one circle of pastry, leaving a good border for sealing the pies. Don't be tempted to over fill as your pies will explode and leak.
Brush around the borders of the pastry circles with egg wash then seal with a another circle of pastry. Press down on the edges with a fork to seal. Use some more egg wash to brush the tops of your pies and decorate with some sesame seeds if you like.
Place on your lined baking sheet and bake in your pre heated oven for around 15 to 20 minutes or until golden, oozing a little and smelling divine.
Leave to cool slightly before devouring or keep in the fridge until needed and serve at room temperature or slightly re-heated in a hot oven for 5 minutes.