Tiny Treacle Pecan Tarts Recipe
This Thursday sees Americans celebrating Thanksgiving. This holiday, sadly, doesn't extend to the UK, as I could definitely do with an extra day off this week to get my head round the forthcoming festivities. Sunday sees George turning 15 and I am hosting a lovely family lunch. This weekend is my traditional window for baking my Christmas cake too, as well as starting to think about getting a few mince pies and sausage rolls in the freezer, so some time alone in the kitchen would be a godsend. But, sadly, the Thanksgiving holiday is for our lovely American friends only but I do feel we could celebrate with them in spirit and I can think of no better way than with my Tiny Treacle Pecan Tarts.
These sweet, nutty treats are a UK and US collaboration and are a match made in heaven. I adore treacle tart and don't make it as often as I should as golden syrup laced with lemon in a pastry case is everyones friend. I have never made a pecan pie either so the idea of popping a couple into these tarts is a genius one. The pecans add a bit of bite and interest to the sweetness of the syrup and all in a two bite sized titbit. I have used my Jam Tart pastry recipe which is a fail safe one. It's crisp and doesn't have any added sugar as the filling is quite sweet enough. My inspiration for these beauties came via Delicious magazine, with huge thigh expanding thanks.
Thanksgiving, from my scant research, is all about the turkey, the pies and randomly an American football game, so I have given a huge nod to one of these. Our time for turkey recipes will come, we've got the next 5 weeks to worry about these. In the meantime, these Tiny Treacle Pecan Tarts will keep us going beautifully.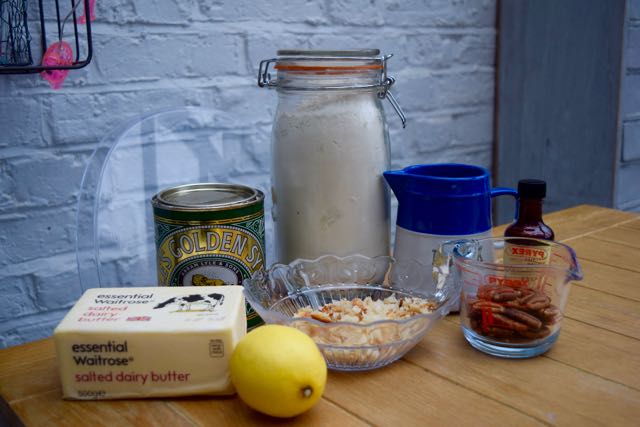 What a sight for sore eyes. Golden syrup is my kryptonite, I can never use it in a recipe without a huge spoon licking situation. It's addictive and so sweet. You don't need tons of pecans in this recipe, which is just as well as they are quite pricey and I did manage to eat a huge handful during the making of this post.
Make a start on these with the pastry. I used my Magimix for mine, but you can also rub the butter into the flour and salt by hand if you are that way inclined.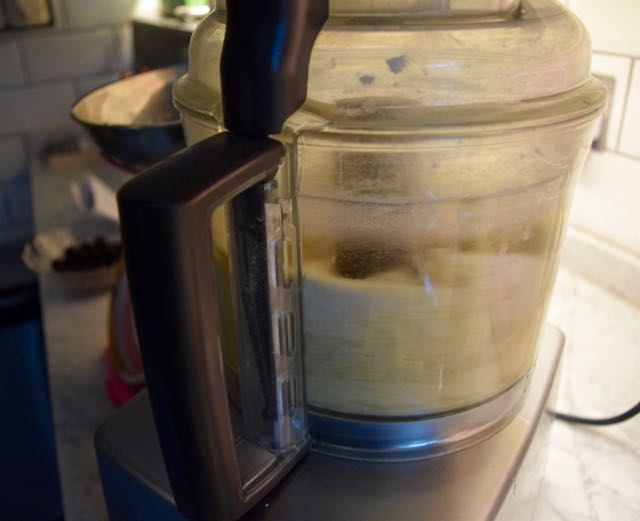 Once the flour, salt and butter resembles breadcrumbs, add a couple of tablespoons of milk to bring it all together into a soft dough. Don't over meddle with this or your pastry will be tough.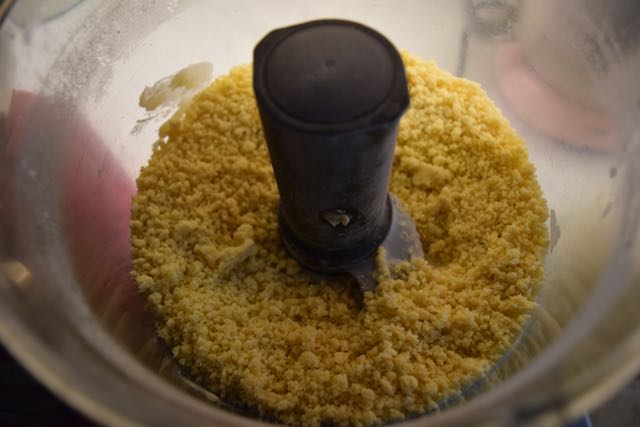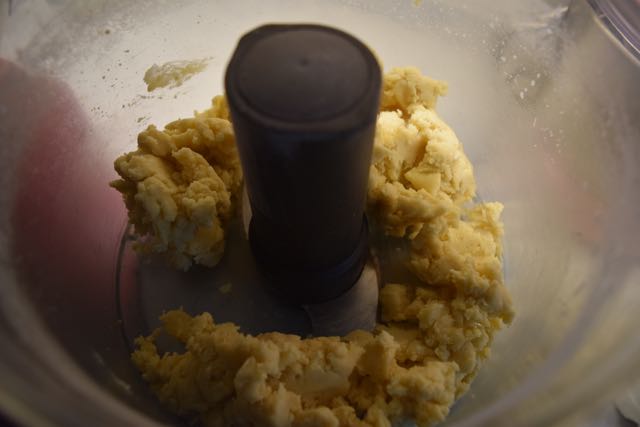 Wrap the pastry in clingfilm and pop in the fridge to rest for half an hour while you crack on with the filling.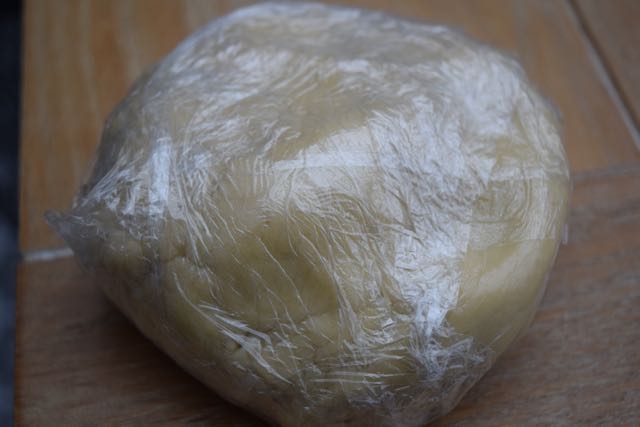 Take a medium sized saucepan and measure in the golden syrup, butter and both lemon juice and zest.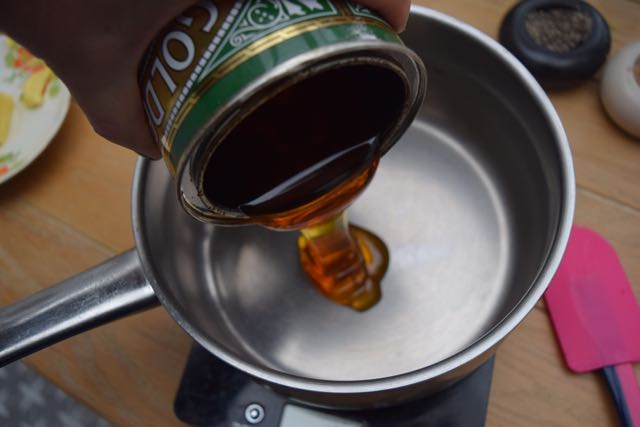 Oh dear me, this shot should be illegal.
Pop this on a low heat on the stove and heat until the butter has melted and the mix is just simmering.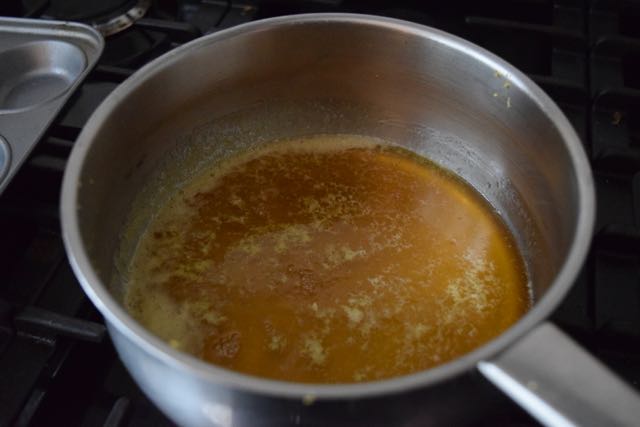 Take this off the heat and stir through the vanilla, breadcrumbs and pecan nuts.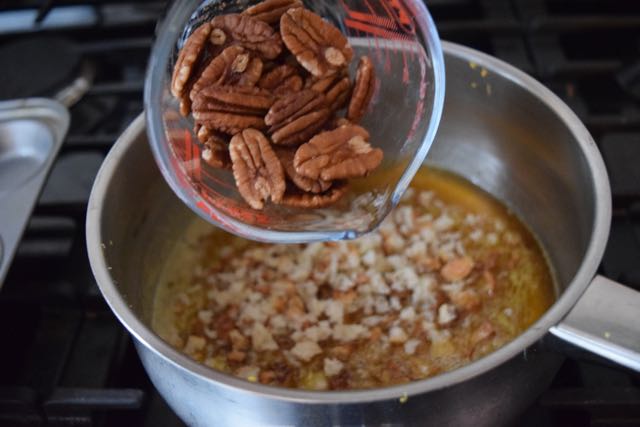 Pop it on the side while you roll out the pastry. Take your chilled pastry and flour a work surface and your rolling pin. Butter or oil your bun tin. Roll the pastry out to the thickness of a pound coin. I like quite thick pastry, but do feel free to roll it thinner if you'd rather.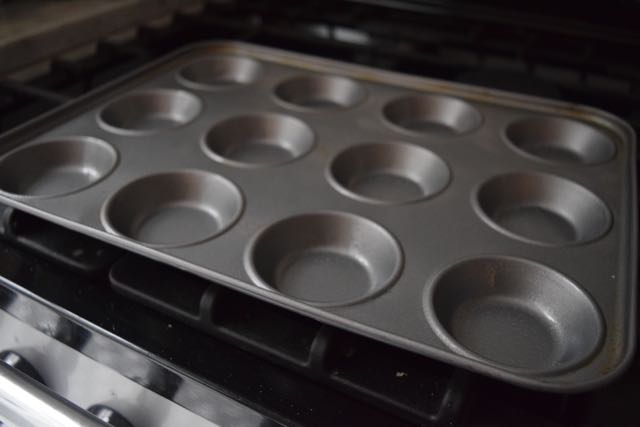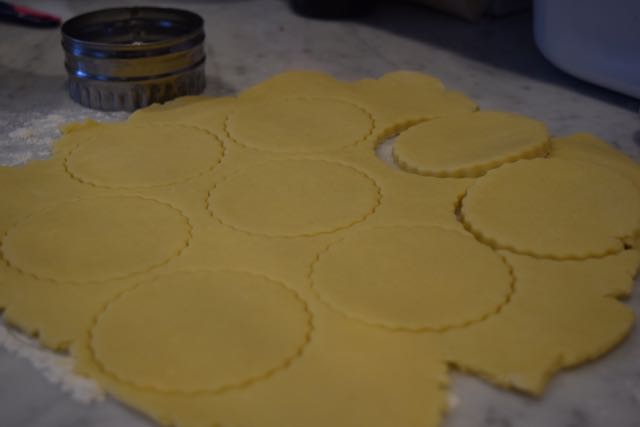 Press these into your bun tin, ensuring the pastry fits into each recess properly.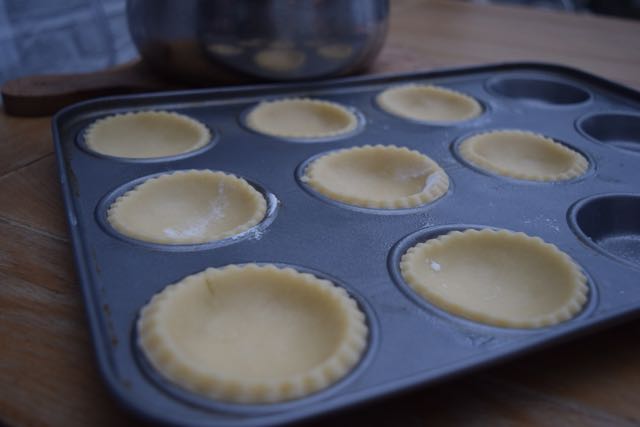 Now, spoon in the filling, being careful not to over fill, or the topping will spill out and your tin will be irreparably burnt for life. As will your tiny tarts. Make sure you get at least a couple of pecans in each tart and plenty of the breadcrumby mix.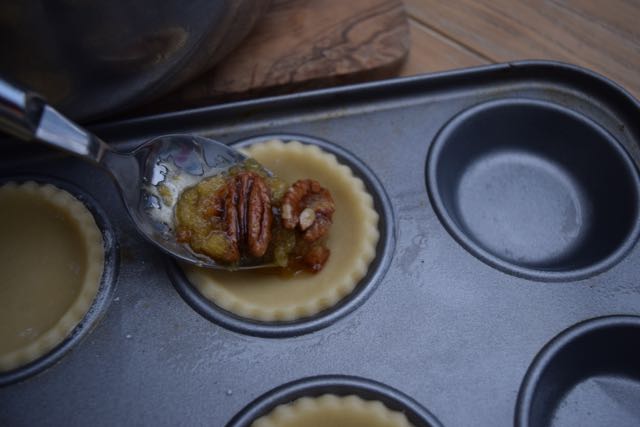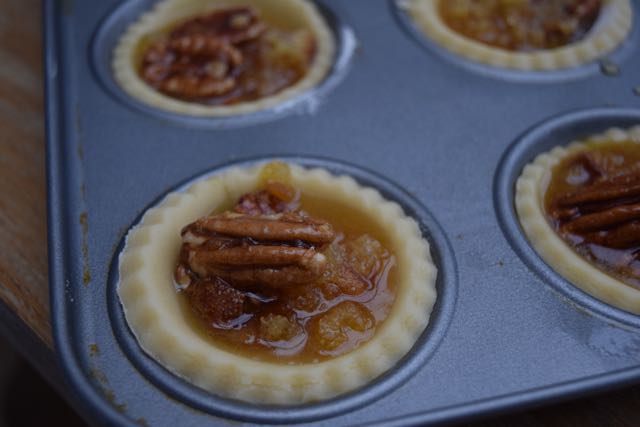 You may have a little filling leftover, dependent on the size of your tarts, but it will only be a spoonful or two. Put the tarts into your pre heated oven for around 20 to 25 minutes. Do keep an eye on them towards the end of the cooking time as you don't want them to burn at the last minute. The cooked tart is crisp, golden brown and bubbling beautifully.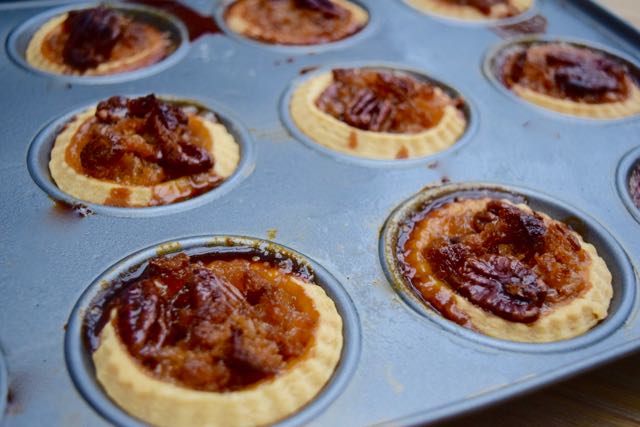 Leave these to settle for a couple of minutes before easing out of the tins with a knife.  Sprinkle with a little icing sugar to cover any imperfections *burnt bits* and devour warm from the pan or slather in custard or cream for a divine dessert.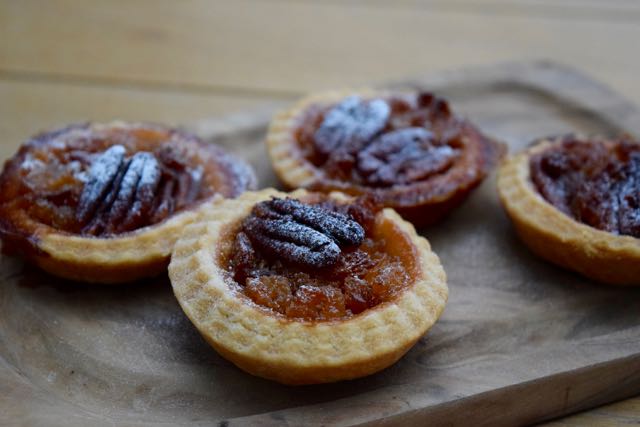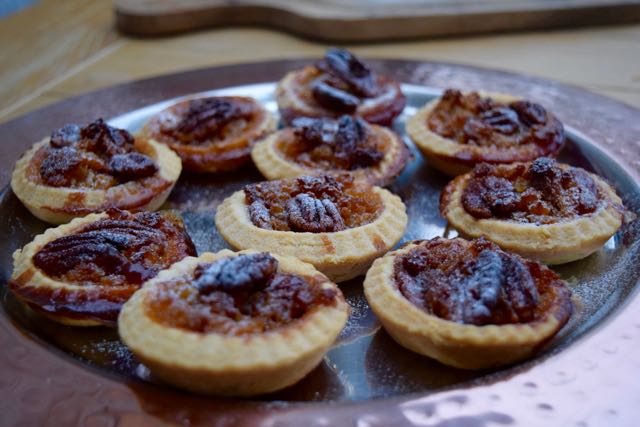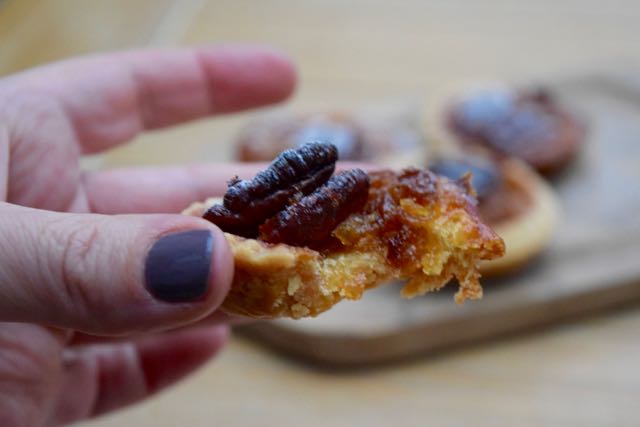 Nutty, sweet, crisp, pastry, syrupy, these are all words which describe my favourite tastes and flavours, so imagine what one of the Tiny Treacle Pecan Tarts tastes like.
Happy Thanksgiving to all my American friends, have a wonderfully reflective day, enjoying plenty of good food and drinks.
Lucy x
Tiny Treacle Pecan Tarts Recipe
Makes 12
You will need a mini bun tin and a food processor if you have one
Pastry
225g plain flour
125g butter
a pinch of salt
3 to 4 tablespoons milk
Filling
200g golden syrup
zest and juice of half a lemon
40g butter
1/2 teaspoon vanilla extract
30g breadcrumbs
50g pecan nuts
Butter the bun tin and pre heat your oven to around 150 degrees fan assisted.
Make the pastry in either a food processor or a bowl with your hands. Process the flour, butter and salt until it resembles bread crumbs or rub the butter into the flour and salt by hand. Mix in enough milk to form the mixture into a soft dough then bring it all together into a ball. Wrap in cling film and leave to rest in the fridge for half an hour.
To make the filling add the golden syrup, lemon juice and zest and butter to a medium sized saucepan. Heat over a low flame until the butter and syrup has melded together. Remove the pan from the heat and stir in the breadcrumbs and pecans.
Unwrap the chilled pastry and roll out to the thickness of a pound coin. Cut out 12 circles of pastry and press them into your well buttered tin. Spoon the syrup pecan filling into each tart ensuring there are least two pecans in each one. You may have spare filling depending on the size of your tarts. Don't overfill or they will overflow and burn. Place the tin in the oven for around 20 to 25 minutes, but keep an eye on them towards the end as they may burn.
Leave the tarts to cool for 5 minutes before removing from the tins and devouring warm with cream or custard. They will keep in an air tight tin for 2 to 4 days, but would be best reheated.
SaveSave
SaveSave
SaveSave
SaveSave
SaveSave