Woo Woo Shot Recipe
It's nearly Hallowe'en time again. Still not really a huge event in the life of a 46 year old woman, but a great excuse to have a drink. The boys are making their own plans this year too, Ben off to a party and George is still struggling to decide if he's too old to go trick or treating at all. Especially as the boy he wants to go with is 6ft tall aged 13. However, I will still put on a lovely pre party spread, we will pumpkin carve together and I will sit at home, treating myself to a little drinkie. Chances are it will be a Woo Woo Shot.
I chose this Woo Woo shot as my Hallowe'en Friday Cocktail for two reasons a) the Woo Woo looks a little like vampire blood and b) the name Woo Woo sounds like you are making a spooky noise *tenuous link but amusing*. I also chose this as it's delicious, fruity but with a hint of feistiness. This will definitely warm you up whilst you spend most of the evening opening the front door to strangely dressed children and their beleaguered looking parents.
I chose to edge my shot glass with coloured sugar for extra Hallowe'en mystery. I went for pink instead of black because no one wants a black mouth when they're on the shots.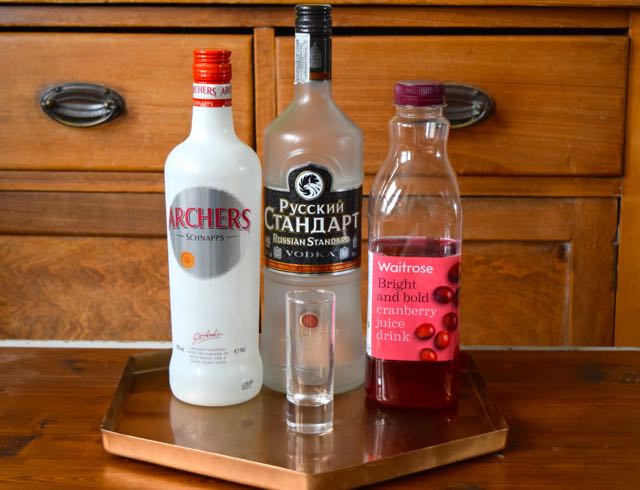 Good to see I still have some Archers in my drinks cabinet, I was surprised to see it hadn't been purloined by Ben and taken to some random party.
Make a start by edging your shot glass with something sticky. I used some glucose syrup I had in a tube, but egg white or any other syrup would work too. Roll the rim of the glass in the syrup then roll it in the coloured sugar.
Next pour in the peach schnapps shot, being careful not to splash the sugary edge of the glass.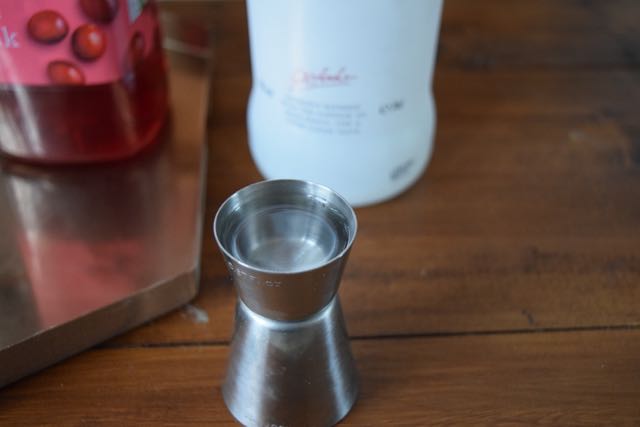 Then pour into your shot glass the vodka and the larger measure of fresh cranberry juice.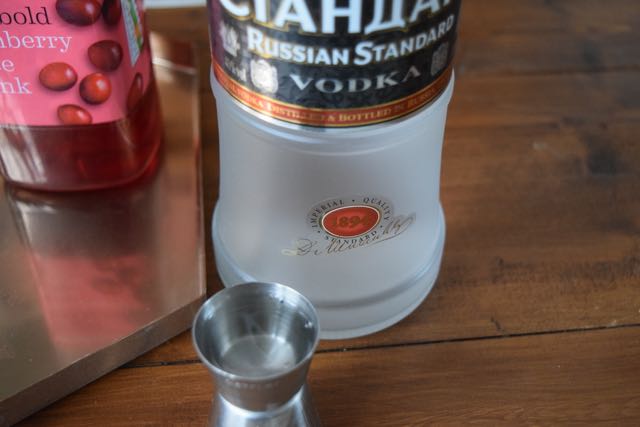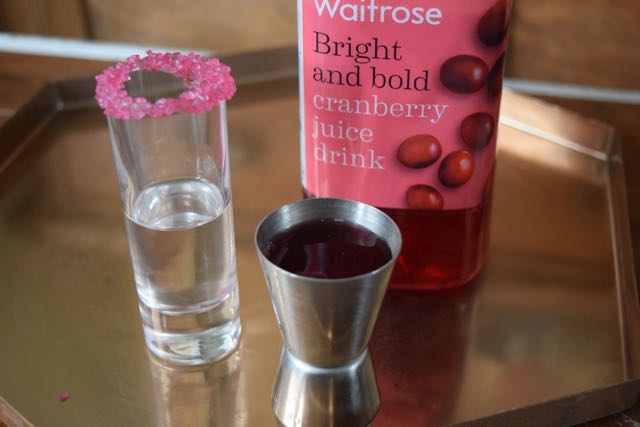 And there you have it. Nothing to be scared of, unless you don't like peach schnapps, vodka or cranberry juice that is.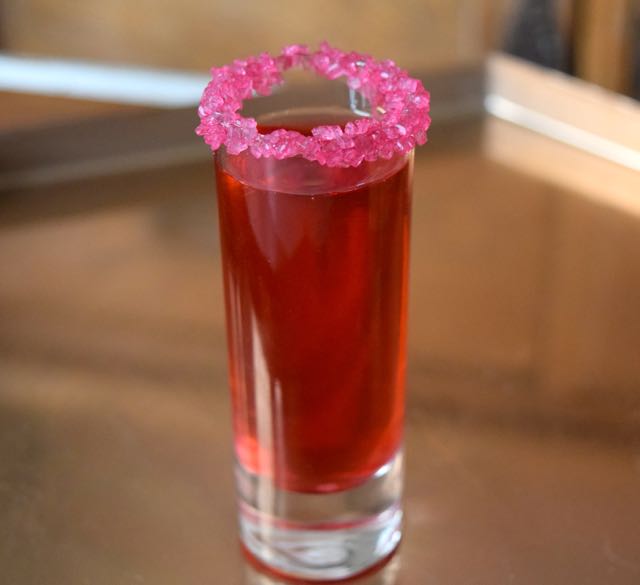 Down in one, please. Chocolate skulls and scary spiders, optional.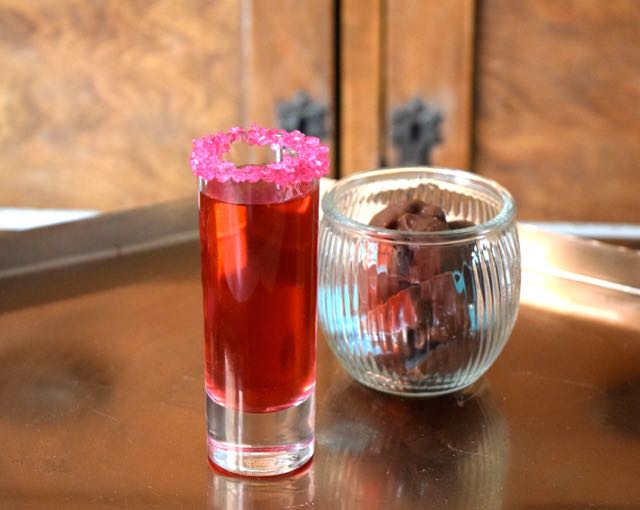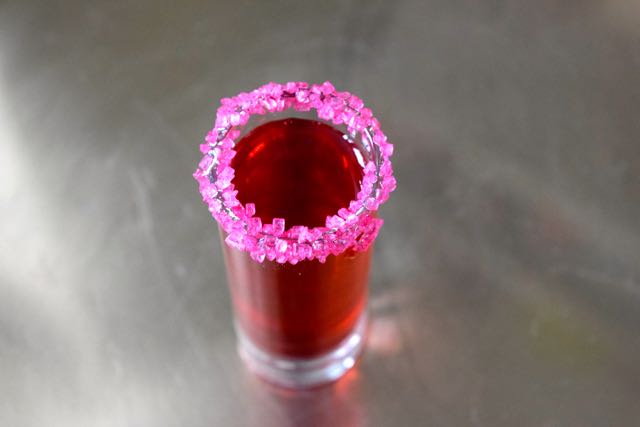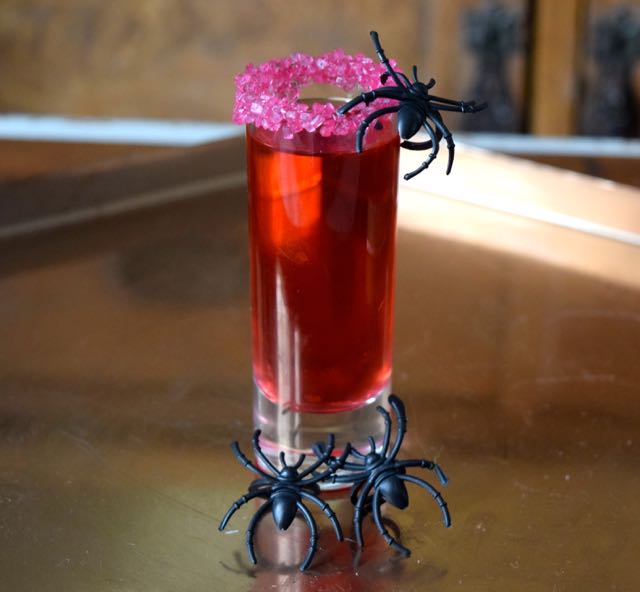 This is fruity and fresh and the perfect shot to steady any pre fright night nerves this Hallowe'een weekend.
Have a safe and restful one.
Lucy x
Woo Woo Shot Recipe
Makes 1
You will need a shot glass
25ml Vodka
25ml Peach Schnapps
50ml cranberry juice
Coloured sugar to put around the top of the glass, scary things to garnish
Take your shot glass and roll the edge in sugar syrup or egg white. Dip in the coloured sugar and leave for a moment to set.
Carefully pour in the vodka, peach schnapps and cranberry juice. Sip or drink down in one. Enjoy it.