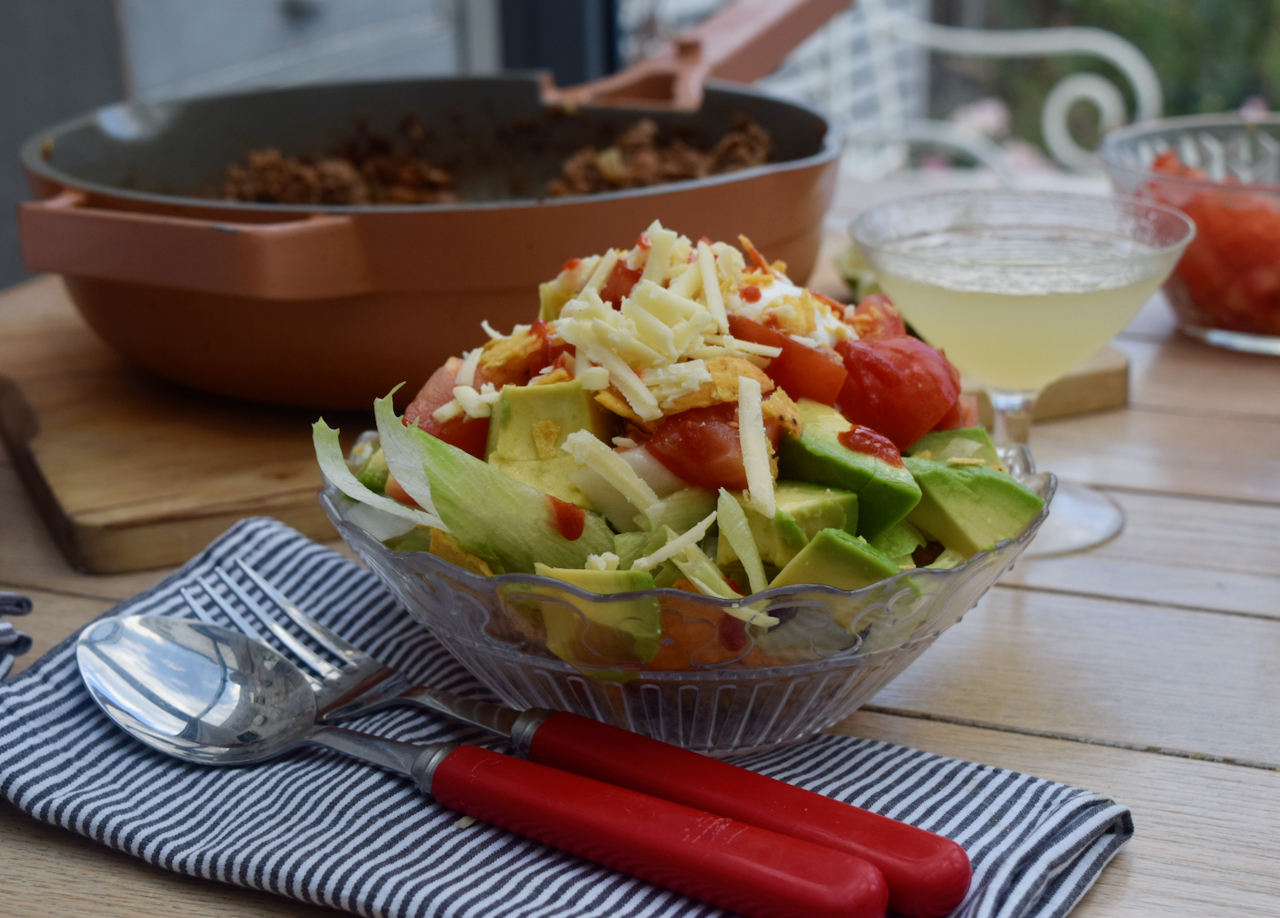 Spiced Beef Taco Salad recipe
As you know if you're a regular reader, I bloody love a mince based recipe. I tend to order the same things from Ocado every week, and minced beef is always on my shopping list. It's versatile, tasty and, thank god, cheap. Now salad is never usually top of my family's must haves, but this Spiced Beef Taco Salad has our name written all over it.
It's still salad season, despite the pants August weather, so this recipe is timed to perfection in many ways. Firstly, it's quick, cheap and easy, secondly it's almost healthy. Not only is this salad packed with subtly spiced beef and pinto beans, it's also topped with summer sweet tomatoes, avocado and crisp iceberg lettuce. The taco part comes in the form of corn chips; if there's one way to get my family to eat a salad it will be to add crisps and grated cheese. Top this tasty bowl off with sour cream and lime for the tastiest mouthful you've had all summer.
With George heading back to uni shortly, I'm hoping even he'll become a salad fan now I've found one which comes with a side of crisps.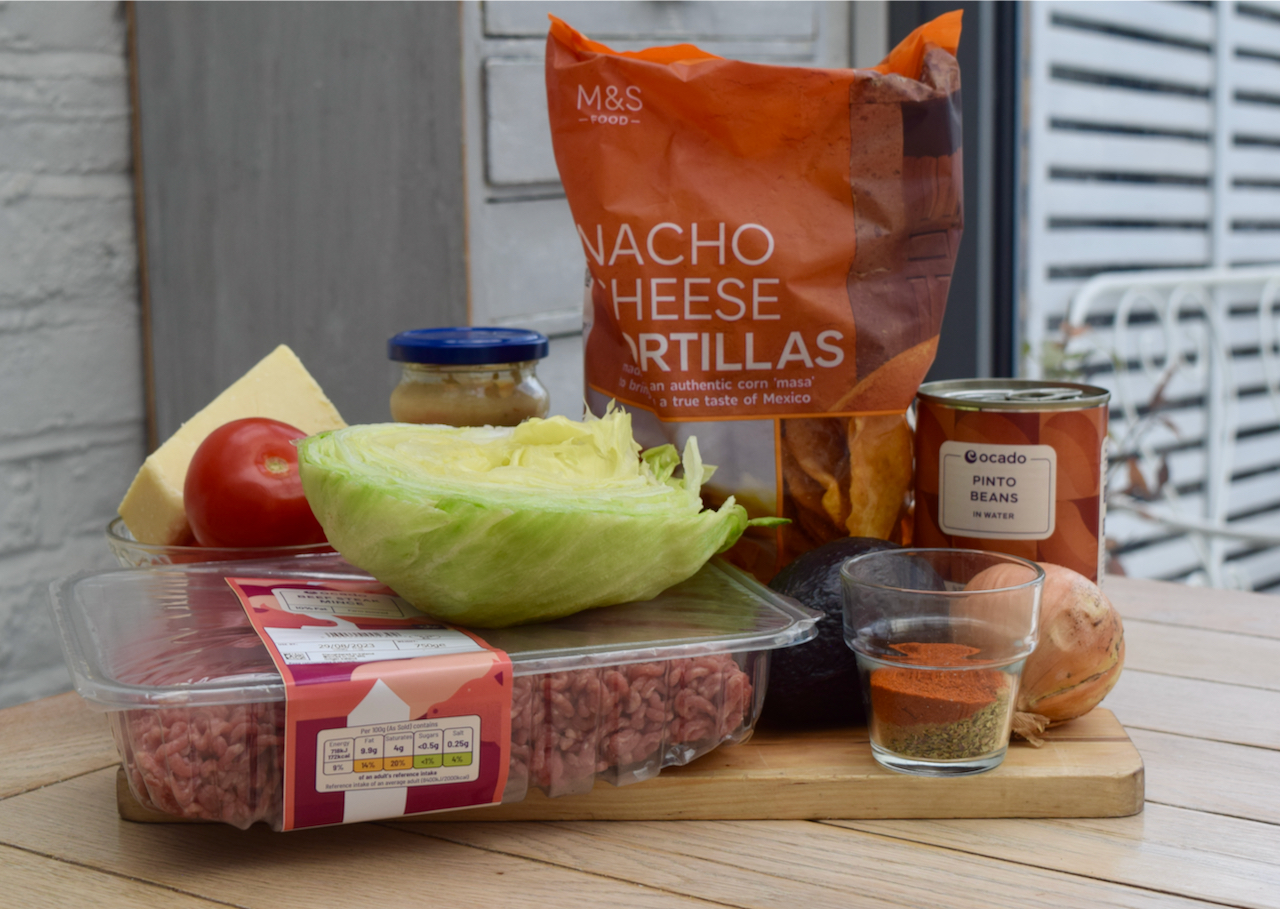 This really is the most delicous salad of all time, it's official. It's got crunch, it's got spice and it's got a lot of cheese. And what's more, it's on the table in less than half an hour.
Start with the spiced beef element. Add two tablespoons of oil to a large frying pan and heat over a medium high flame. Add the mince, flatten it slightly, then top with the chopped onion and a teaspoon of salt, then leave undisturbed to brown without stirring, for 5 minutes or until the meat is brown and the onions have wilted.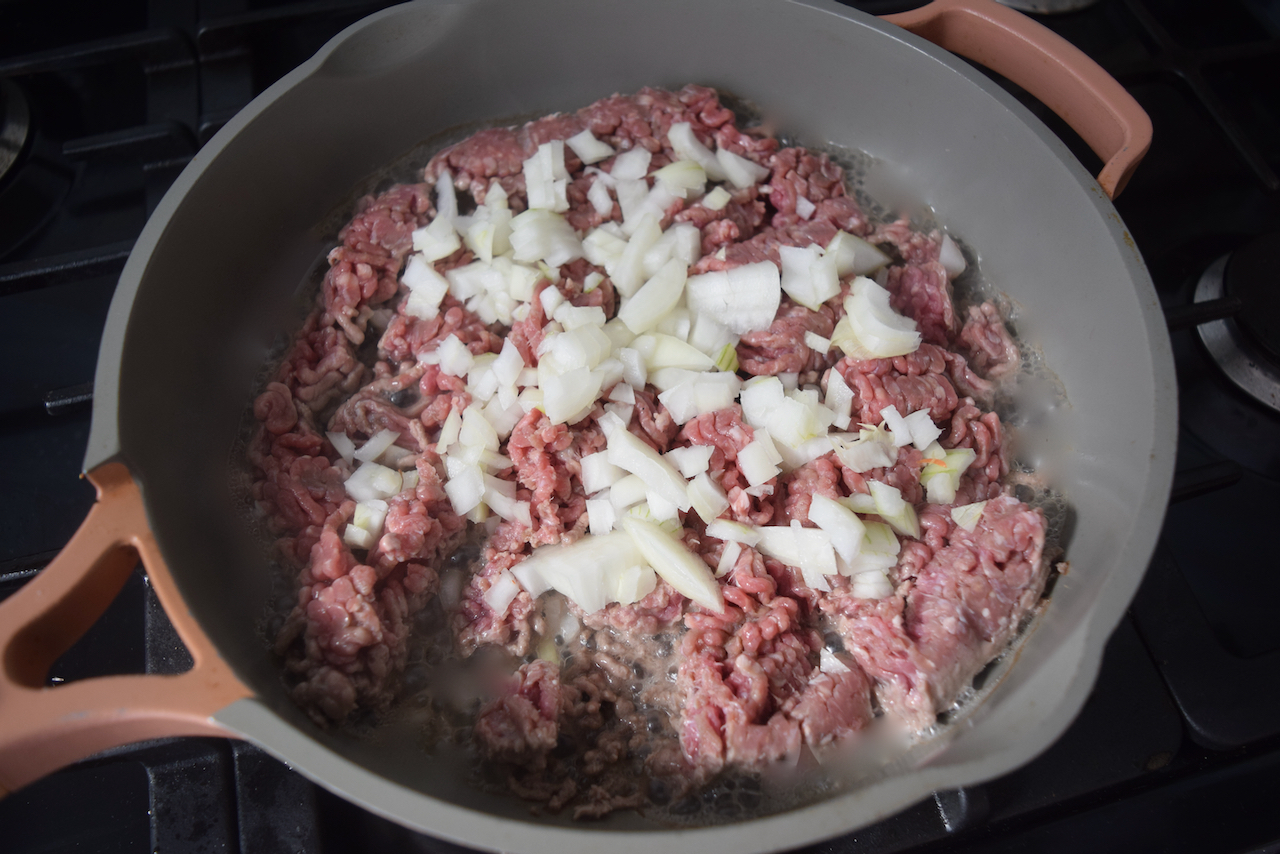 Next, add the oregano, cumin, chilli powder and garlic, and stir to break up the meat. Cook for another couple of minutes.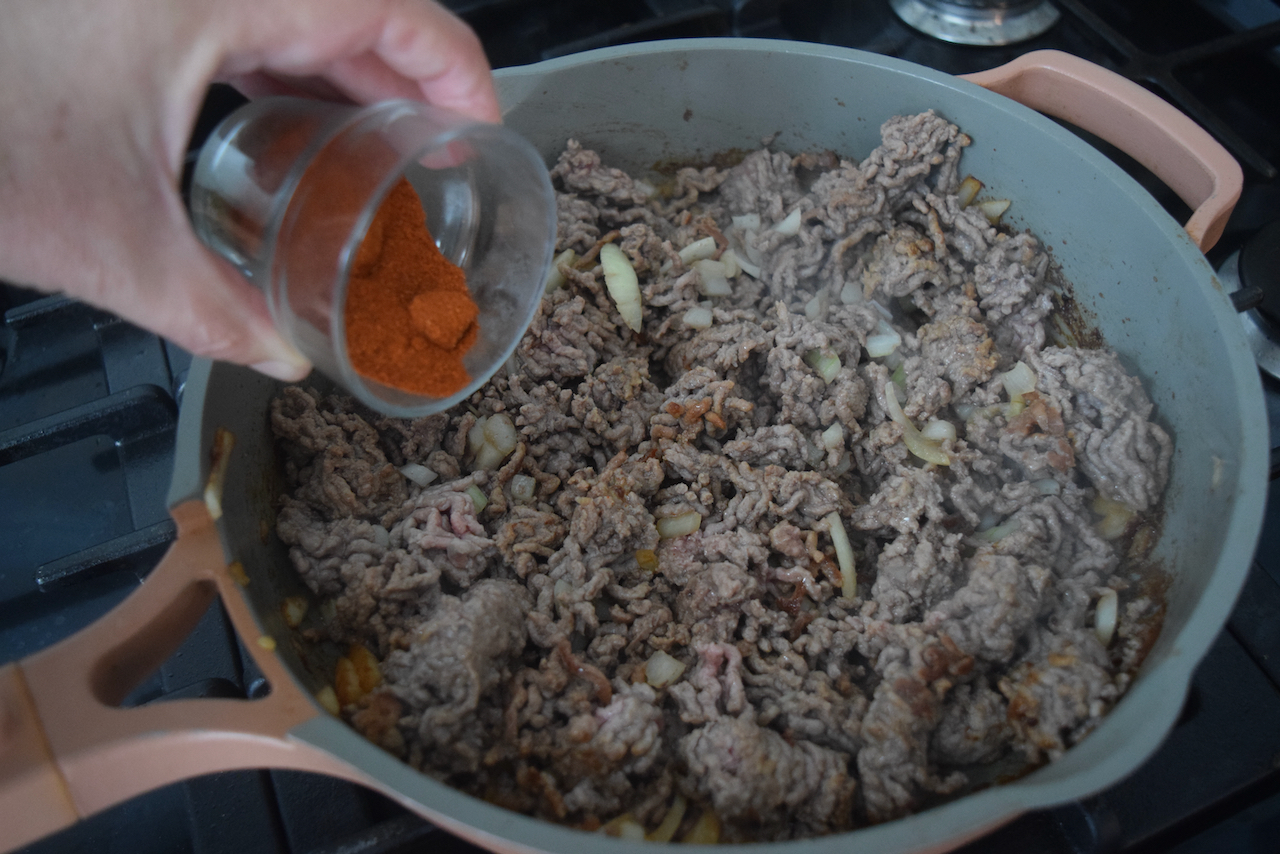 Drain the pinto beans, reserving 150ml of the bean water, then add both to the pan of beef.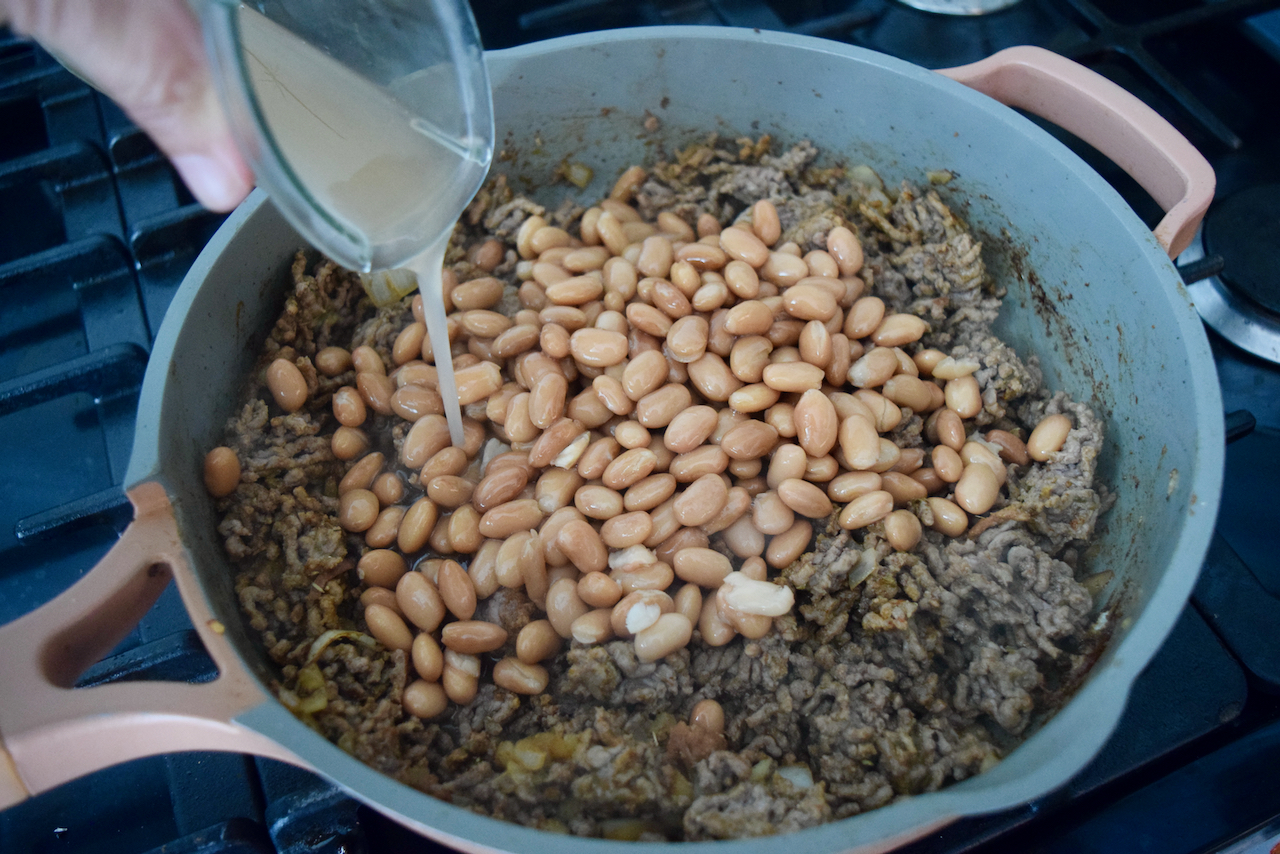 Stir well, turn down the heat and simmer for another 5 minutes or until most of the liquid has cooked down and the beef is cooked through. Taste to check for any additional salt needs.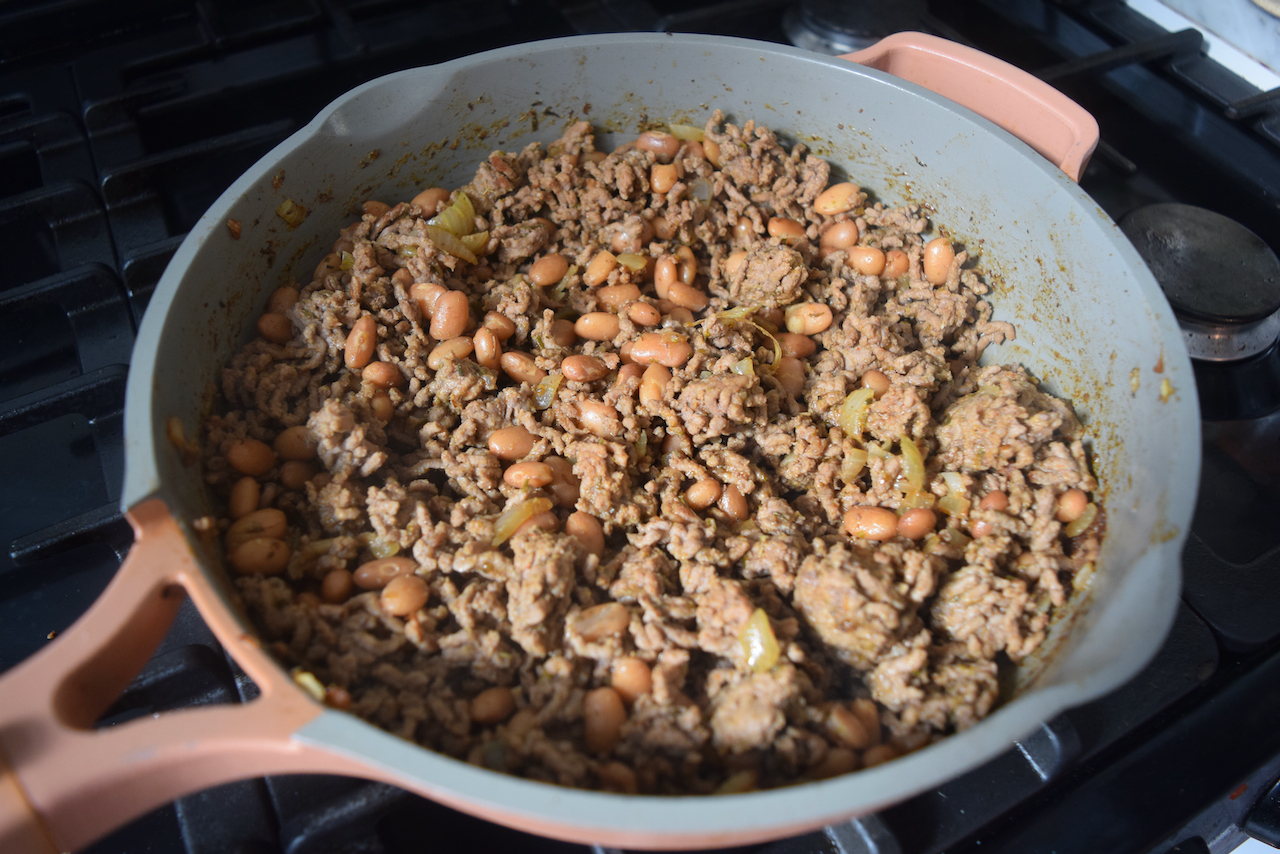 While the meat is cooking, prepare the rest of the salad elements. Shred the lettuce, chop the toms and avocado, tossing the latter in some lime juice to stop it browning, and grate the cheese. Quarter some limes and scrabble in the back of your fridge for some sour cream and some sort of hot/chilli/sriracha sauce.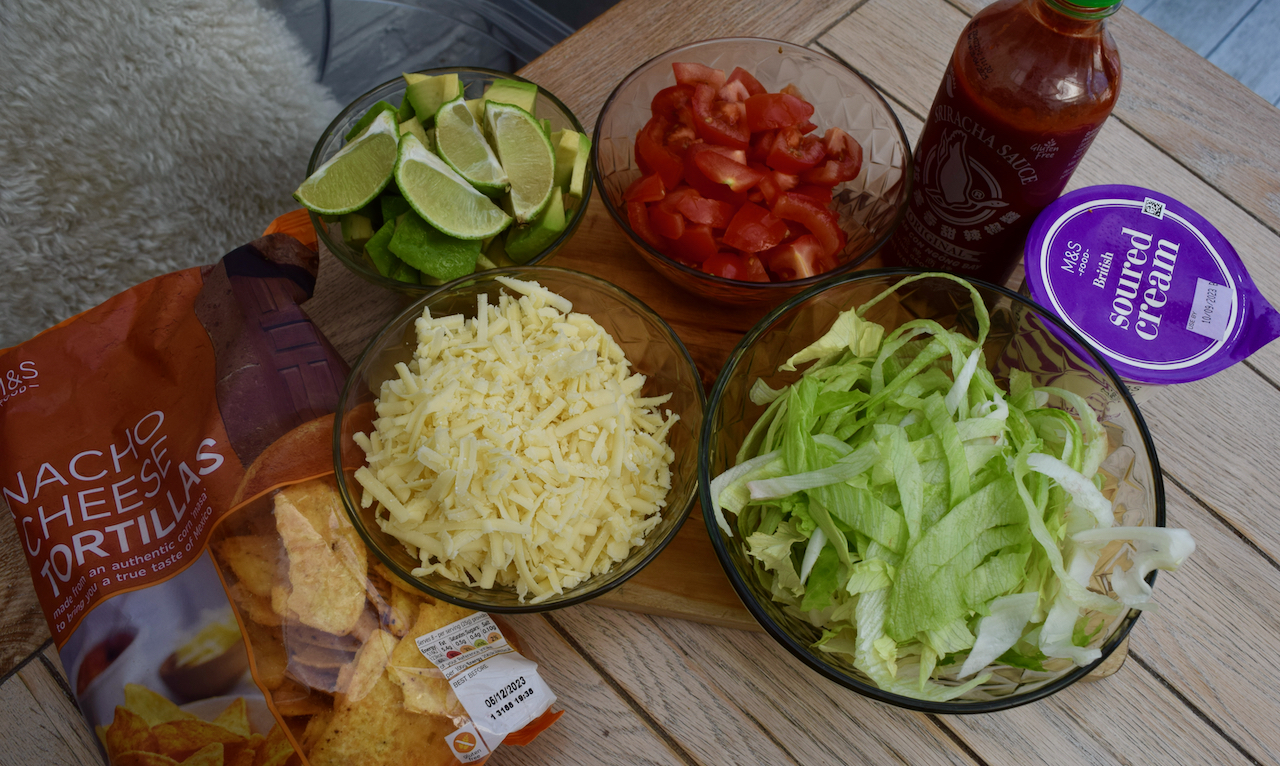 Once the beef is cooked, you're ready to go. Line your serving bowl with a layer of your chosen corn chips.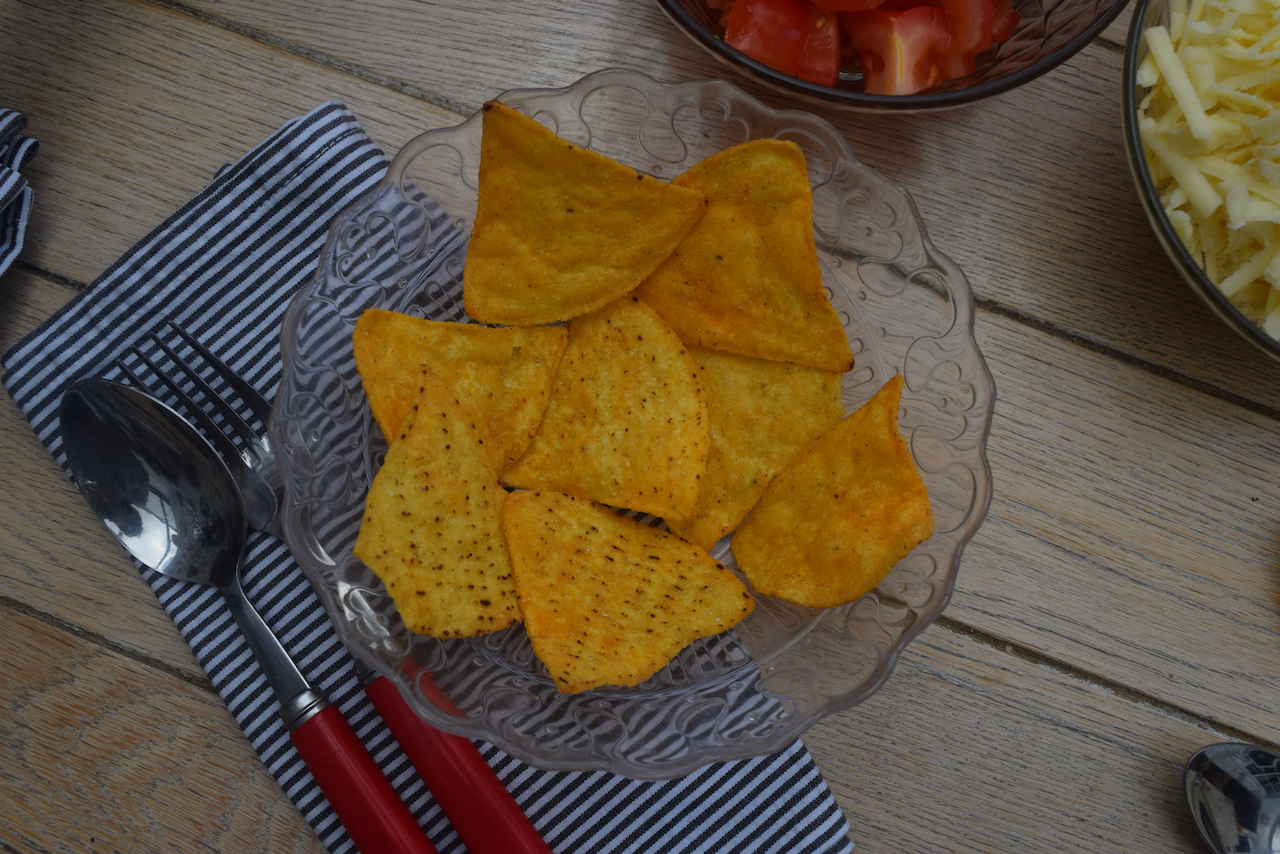 Next, spoon on generous amounts of the spiced beef, then cheese, lettuce, tomatoes and avocado.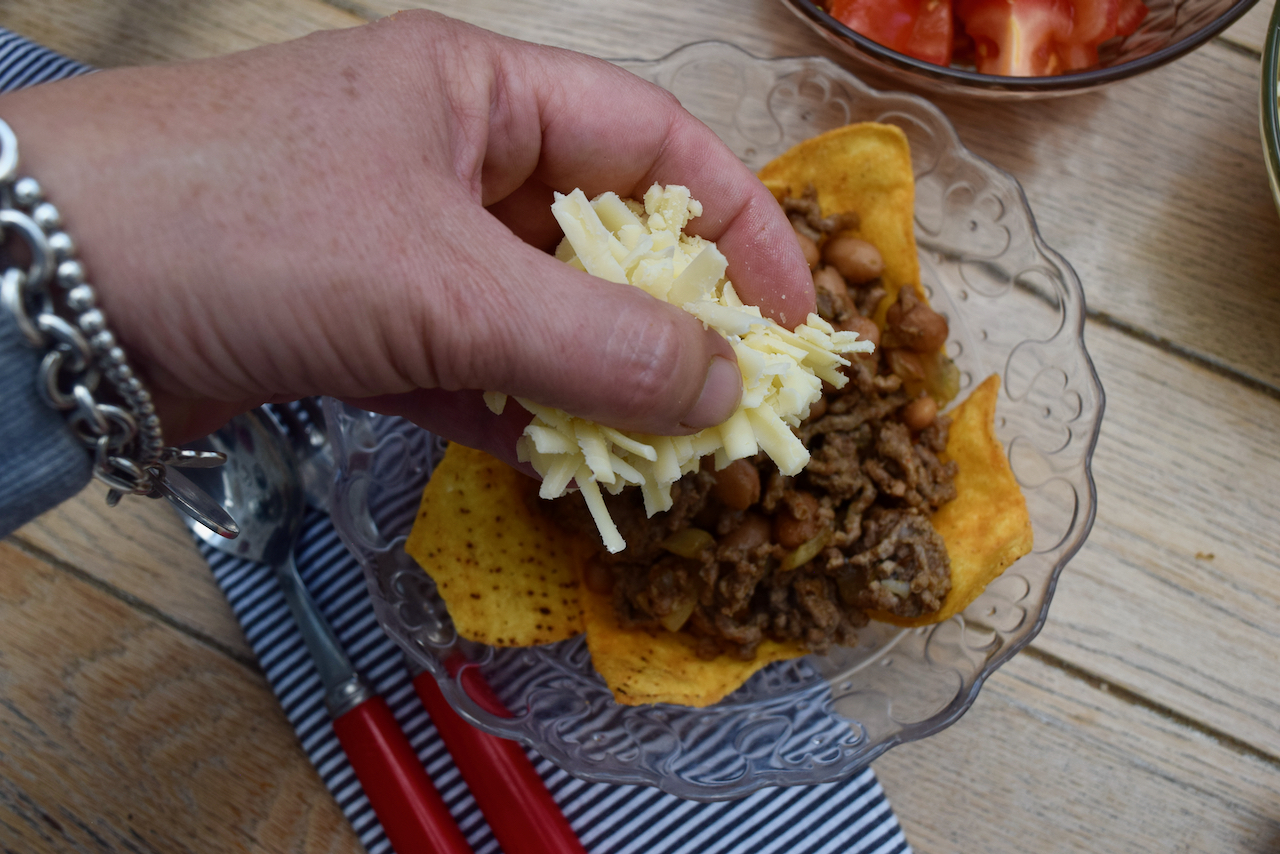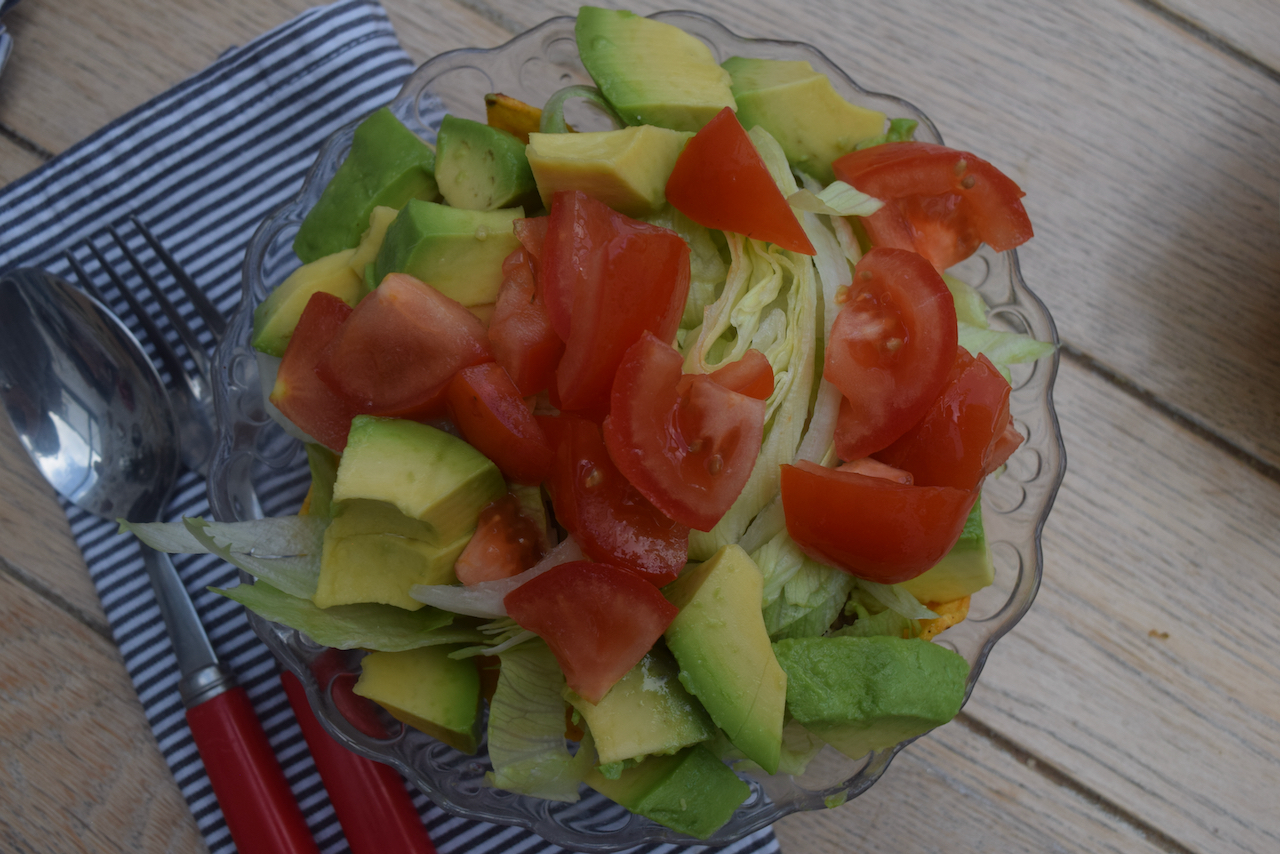 In a final flourish spritz with fresh lime juice and a tiny sprinkle of salt then add some extra cheese, a dollop of sour cream and a handful of crumbled corn chips for added crunch. Finish with a dash of hot sauce.
Margarita optional.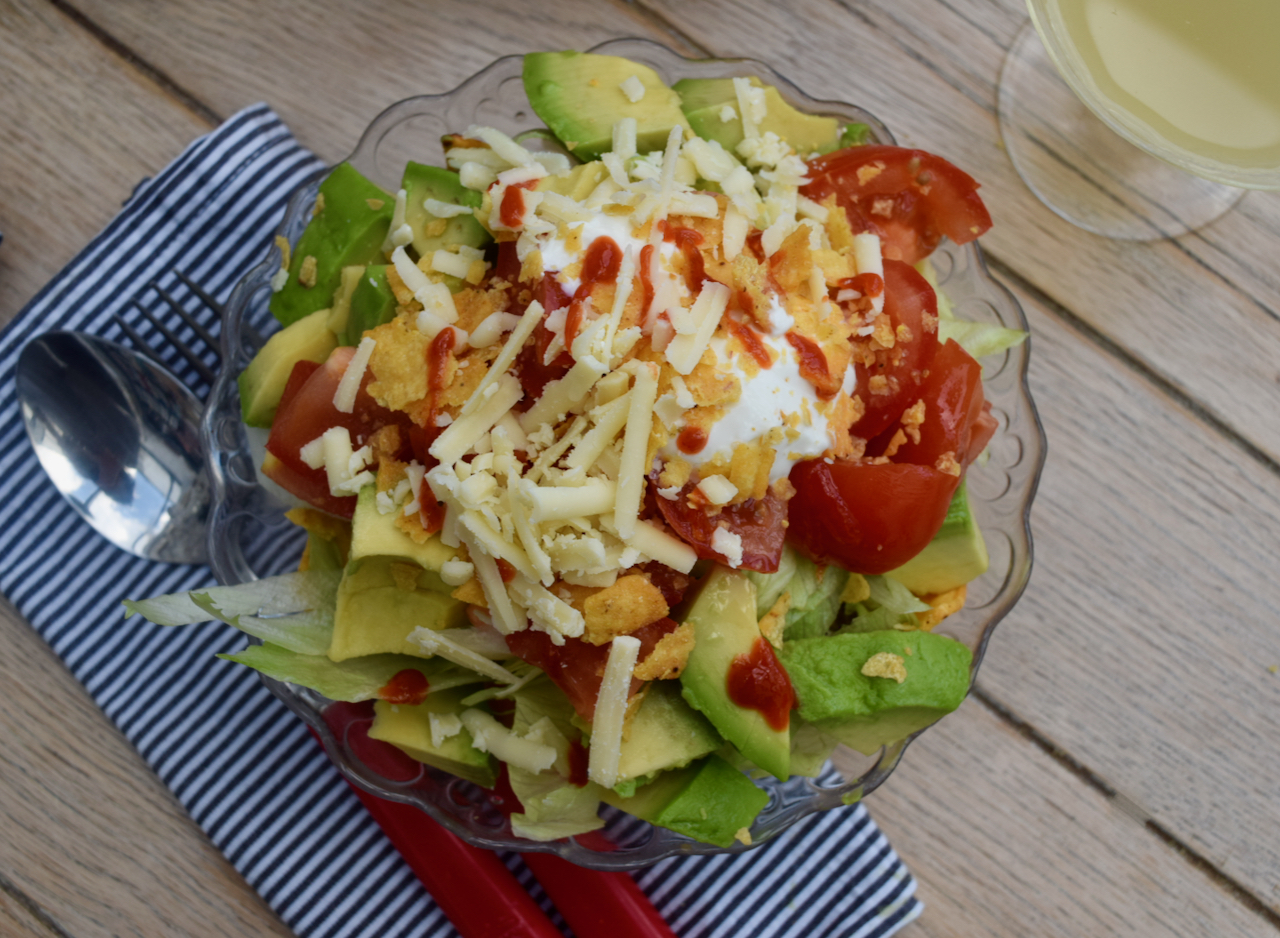 This is not an elegant dish, you'll want to fork up big mouthfuls, forgetting all your best school learnt table manners.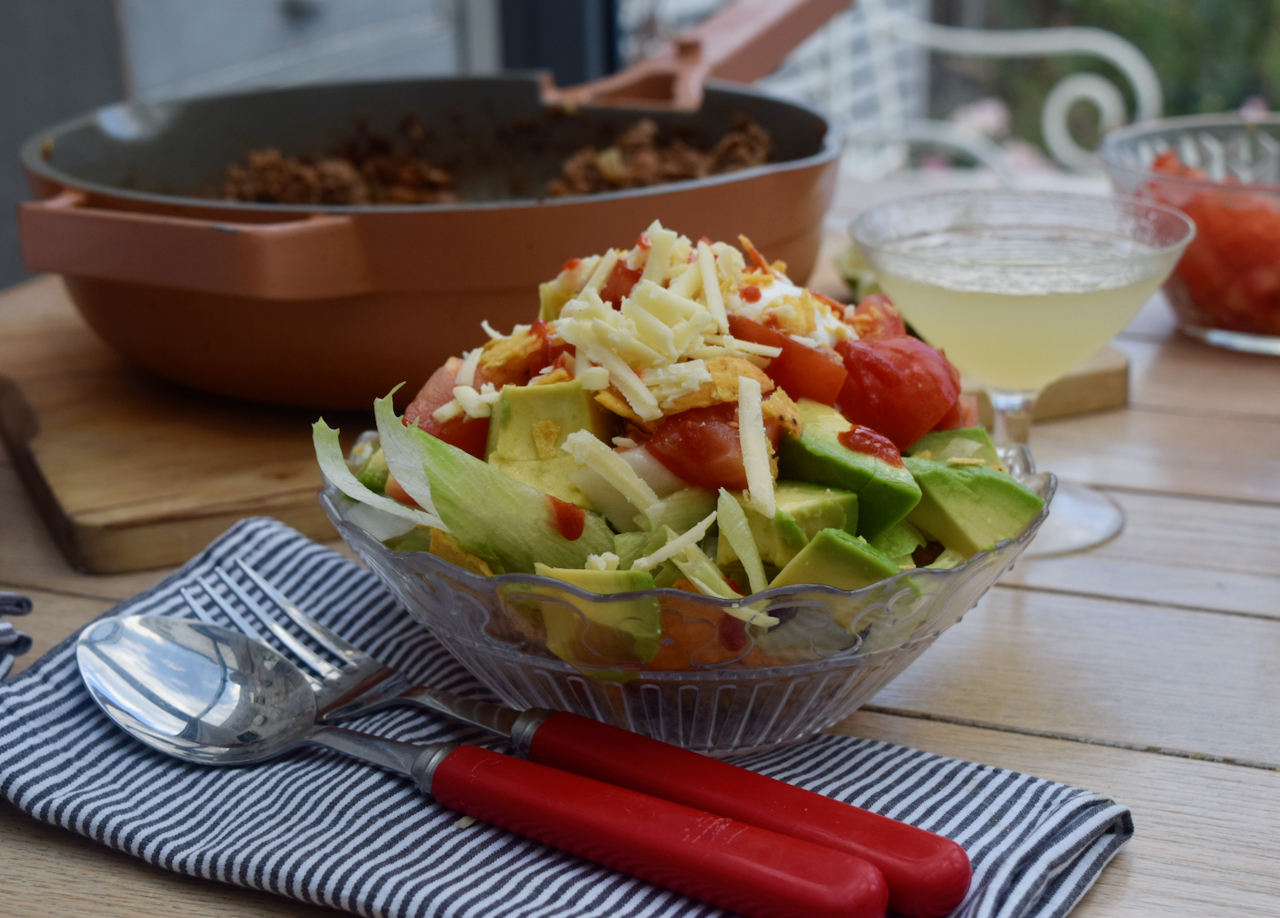 In a less photogenic turn of events, and in order to get a better purchase on my salad, I tipped it onto a bigger plate for better scooping opportunities.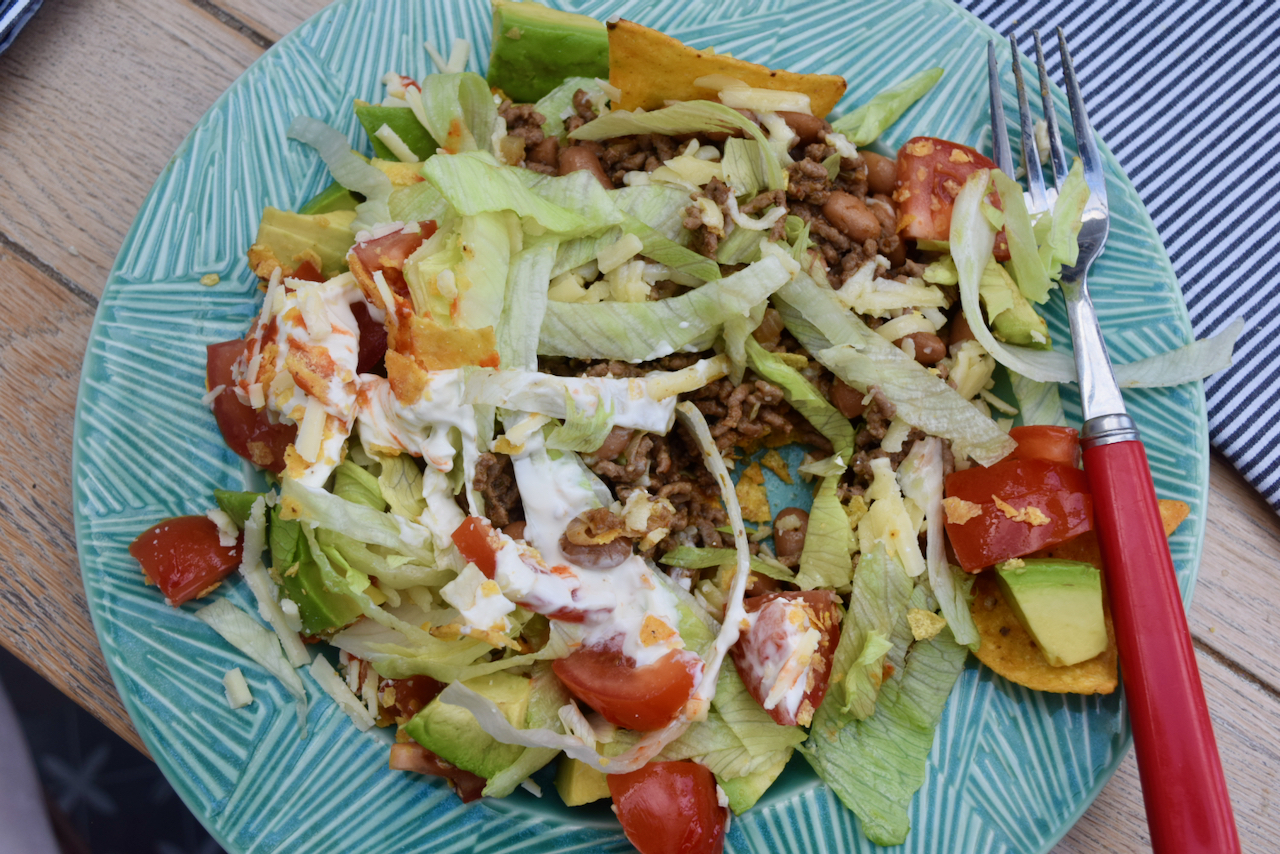 This is the salad haters salad; I have it from the horses mouth, Clyde loved it, inhaled it and finished mine.
Lucy x
Spiced Beef Taco Salad recipe
Serves a geneous 4
You will just need a frying pan for this recipe
2 tablespoons oil
750g minced beef, I went for more than the original recipe as feeding hungry mouths
1 medium onion, finely chopped
2 cloves garlic, crushed, or a teaspoons lazy garlic from a jar
3 teaspoons dried oregano
3 teaspoons cumin
2 teaspoons chilli powder, go for a little less for less heat
1 teaspoons salt, plus more to taste
1 x 400g tin pinto beans, reserving 150ml of the liquid when draining
1 x large pack corn chips, any flavour you fancy but make them good quality
150g strong cheddar, grated
Half an iceberg lettuce, shredded
3 tomatoes, chopped, or use a good handful cherry tomatoes, halved
1 large, or 2 small ripe avocados, peeled, chopped and tossed in lime juice
Sour cream, lime wedges and hot sauce or sriracha, to serve
Start with a large frying pan with two tablespoons of oil over a medium high heat. Add the beef mince and spread over the bottom of the hot pan. Add the chopped onion on top of the mince, sprinkle with salt, and leave to cook, undisturbed, for 5 minutes or so, until the base of the mince is brown and the onion has started to cook.
Tip on the oregano, cumin and chilli powder, and the garlic, stir well, breaking up the meat, and cook for another two minutes. Drain the pinto beans, reserving 150ml of their liquid, then tip the beans into the pan with the liquid, stir and simmer, until most of the liquid has reduced, for about 5 minutes.
Whilst the spiced beef is cooking, prepare the rest of the salad components; shred the lettuce, grate the cheese, peel and chop the avocado, tossing in lime to stop it browning. Chop or halve the tomatoes, quarter the limes and whip the sour cream out of the fridge then you're ready to assemble your taco salad.
Line each bowl with a layer of your corn chips. Spoon on plenty of the spiced beef then top with cheese, lettuce, tomatoes and chopped avocado. Spritz with some lime juice and a sprinkle of salt then dollop on a big spoonful of sour cream, a touch more cheese and some crushed corn chips.
Devour in huge, messy mouthfuls, savouring every bite.