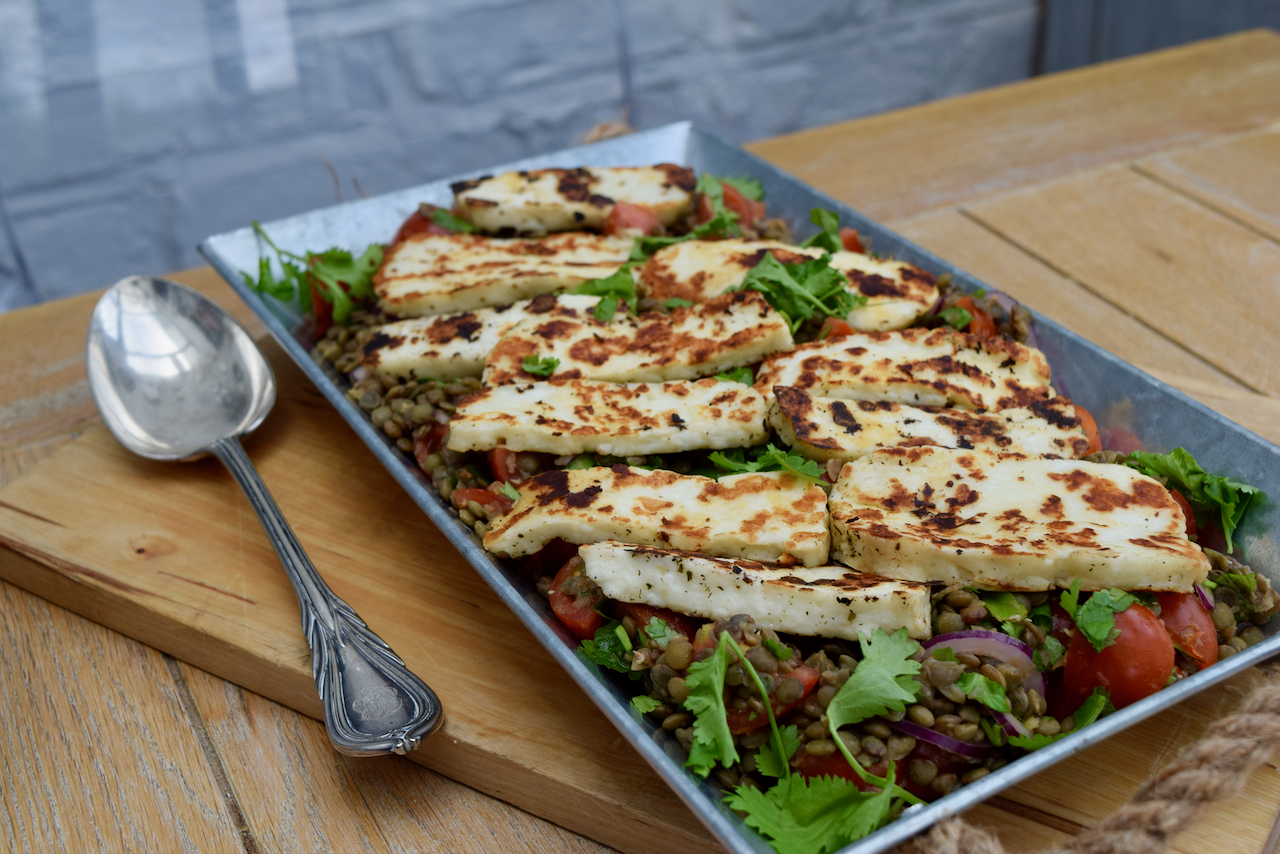 Warm Halloumi and Lentil Salad recipe
I haven't been to work now since 16 March. Life is strange and it's not getting any less strange any time soon. The pandemic has hit the hospitality industry horribly, so my chances of going back to normal life at the moment are slim. Thank God I still have Lucy Loves and a huge appetite to keep me going. This Warm Halloumi and Lentil Salad is also bringing me cheer; it's frugal, vaguely healthy and so quick to make.
I bloody love lentils. Here comes a list a) they're super cheap b) quick to cook, and c) surprisingly, loved by my family. And who doesn't love Halloumi? I added a sesame dressing to the salad for warmth and interest and it goes so well with the handful of leafy coriander and tomatoes. It's light and fresh tasting and makes a quick lunch for family or impromptu guests. On the subject of guests, I had a lovely introduction to a new wine company today called Wine at Heart. They have an honest and passionate approach to wines, with none of the stuffiness. And they love wine, so I knew we would get along. They gave me a lovely Beaujolais Blanc to try with this dish and I am happy to report, they pair beautifully. And what a treat to have a large glass of really rather delicious wine on a Monday lunchtime. Wine at Heart are going to be doing some wine pairings with my menus in the future, so watch this space.
This salad received the ultimate compliment from Clyde who doesn't usually love a vegetarian offering – 'ooh Luce, that's actually really nice'. With warmer times on the horizon *that's cursed it* this Halloumi and Lentil Salad needs to be on your menu. You can only hope to get as glowing a review from your family as I did from mine.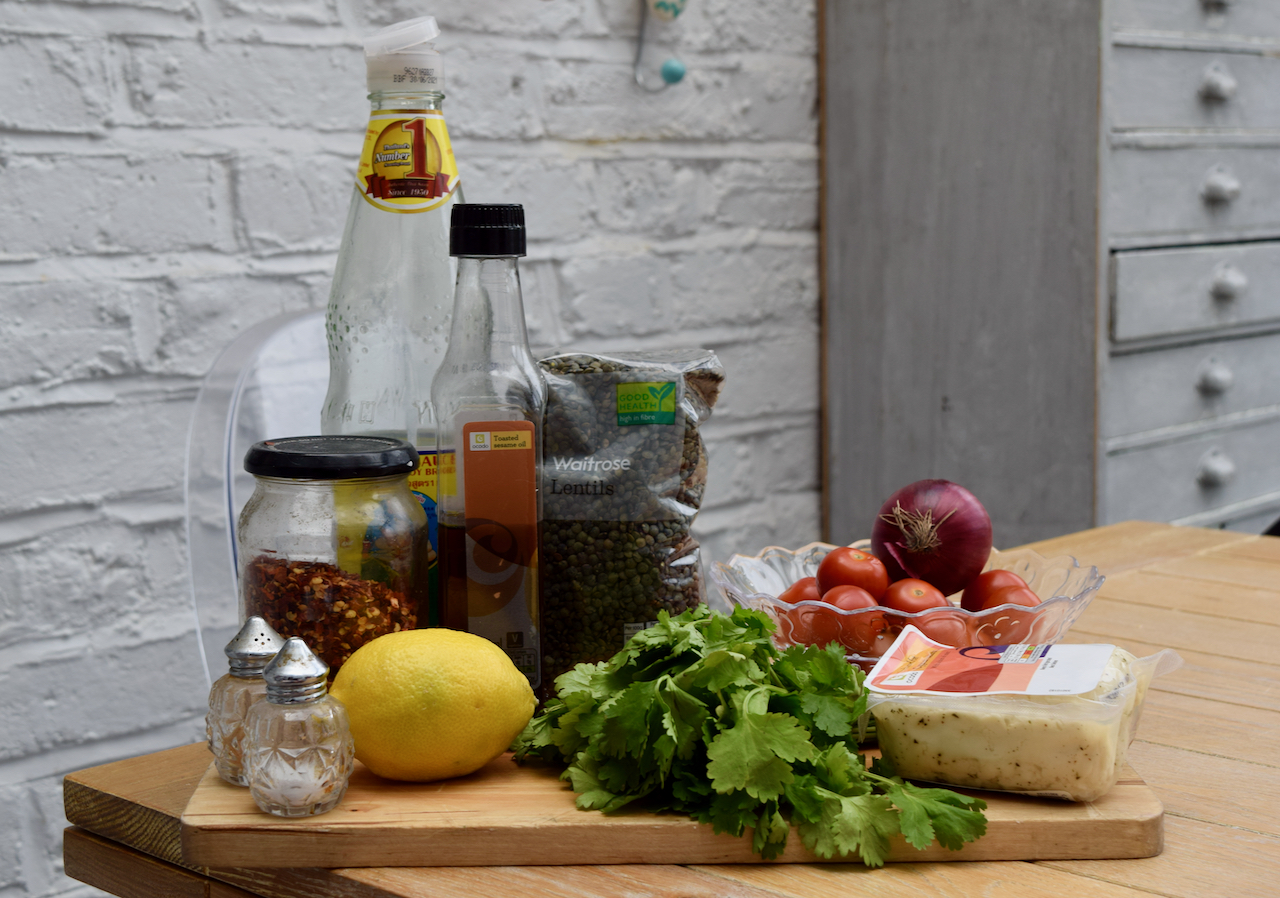 A beautiful, fresh, summery line up for this lovely salad. I usually swerve red onion in a salad as it lingers with me, but risked it in this and it's perfect. You don't have to stick to my choices, pop in some avocado, use parsley if you're not a coriander fan, it's up to you. The recipe recommended Puy lentils but I only had green, so feeling frugal and broke, I used those.
Make a start by cooking the lentils. I simmered mine for about 25 minutes, but go with the instructions on the packet. Drain and pop to one side.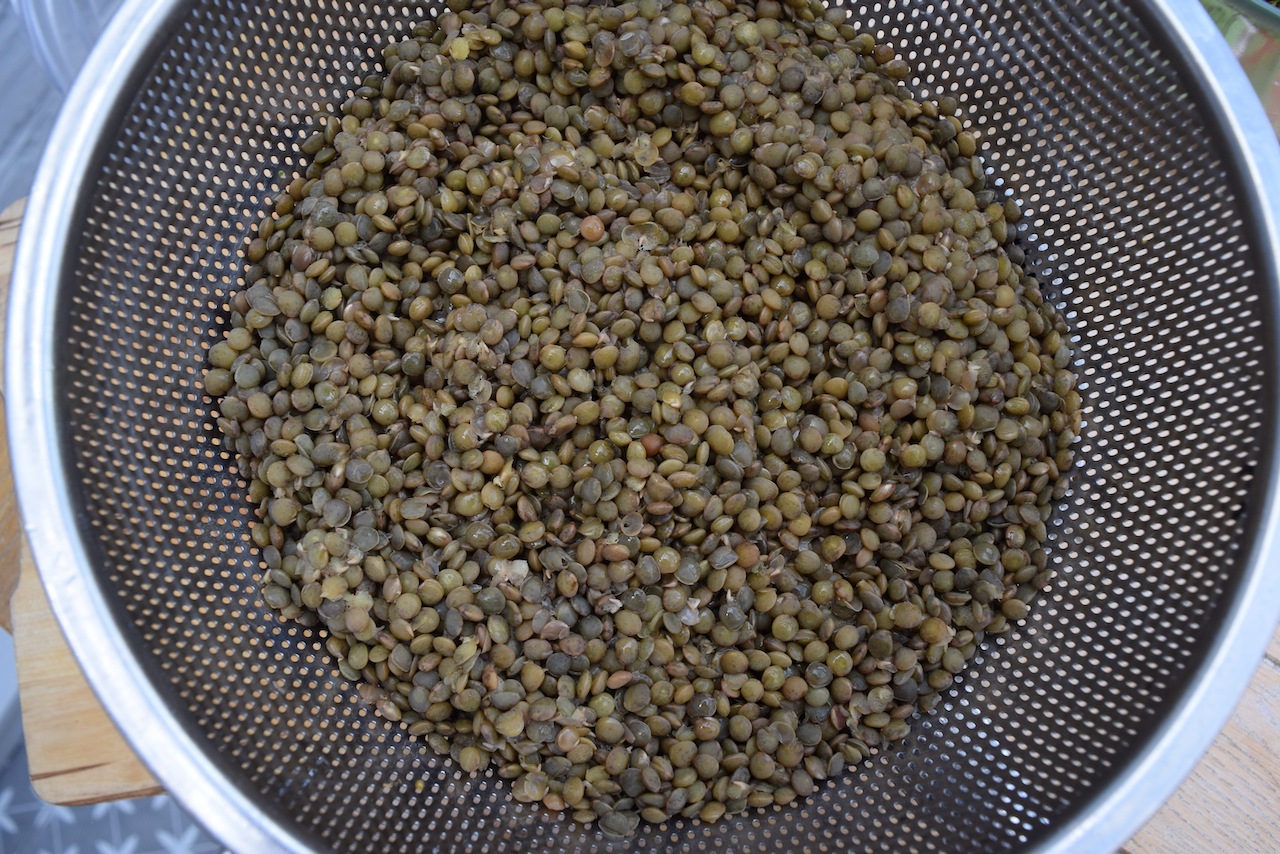 For the dressing, whisk the sesame oil, soy sauce, lemon juice and chilli flakes.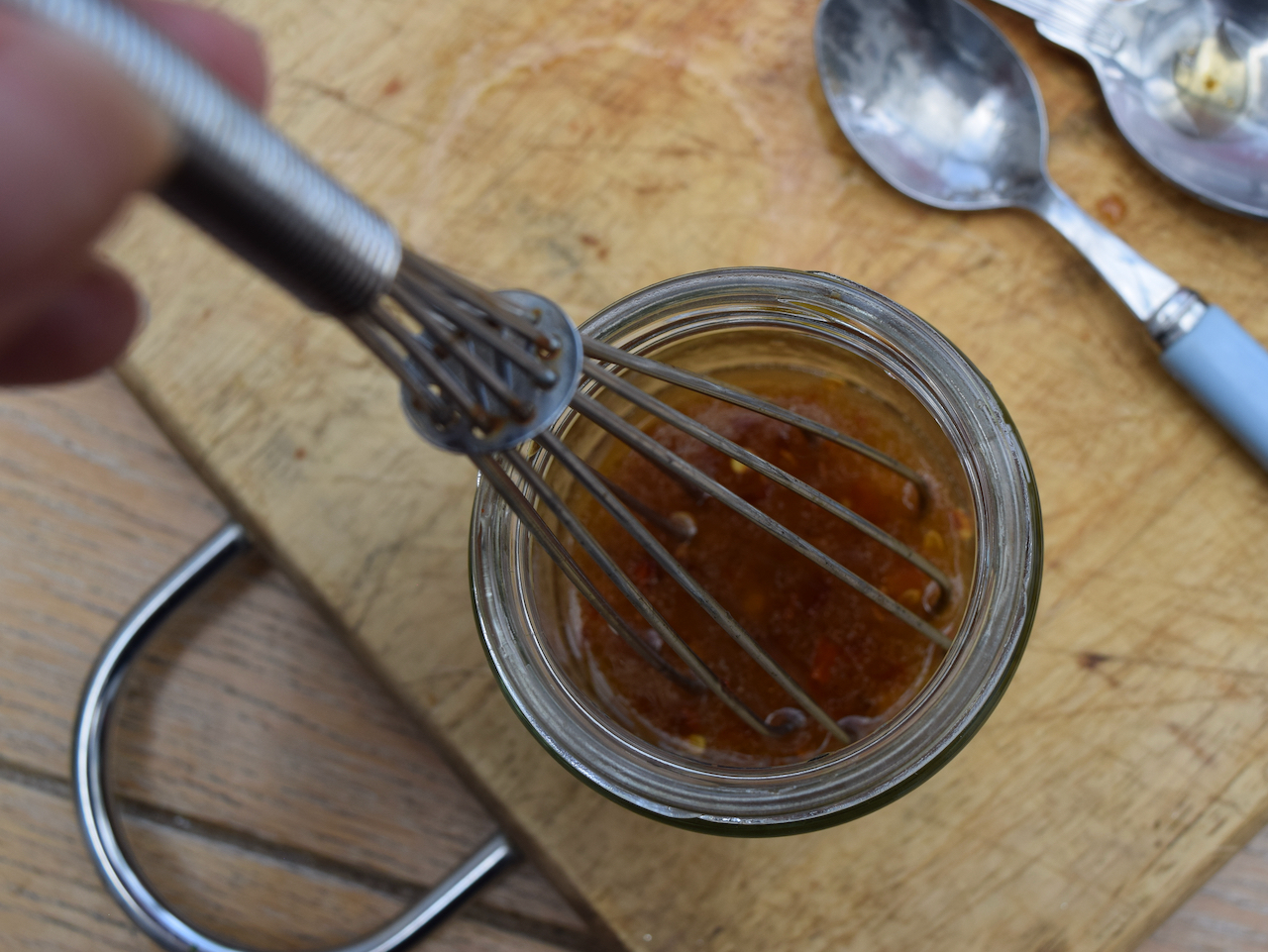 Quarter or halve the cherry tomatoes and add to a large bowl along with the thinly sliced red onion. Roughly chop the fresh coriander and sling that in too, reserving a couple of sprinkles for garnish.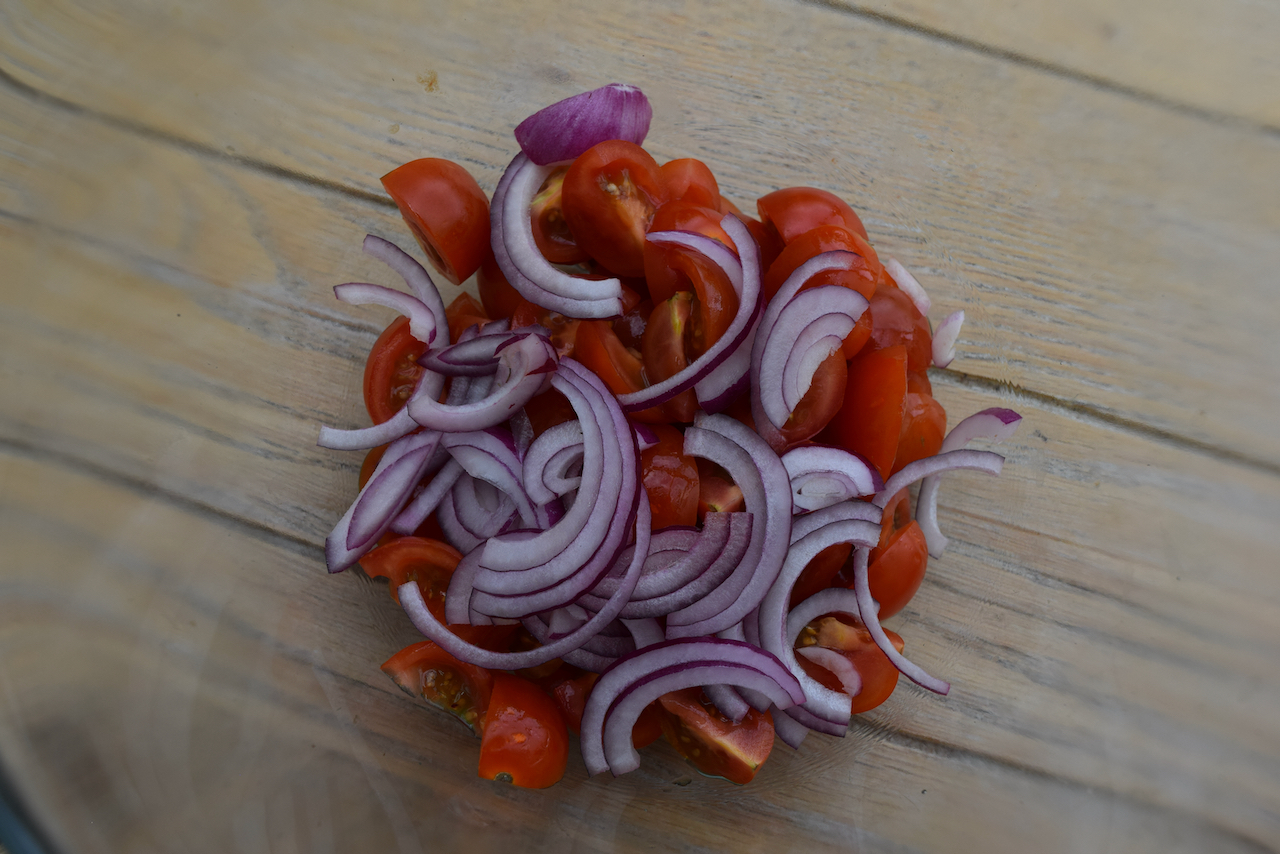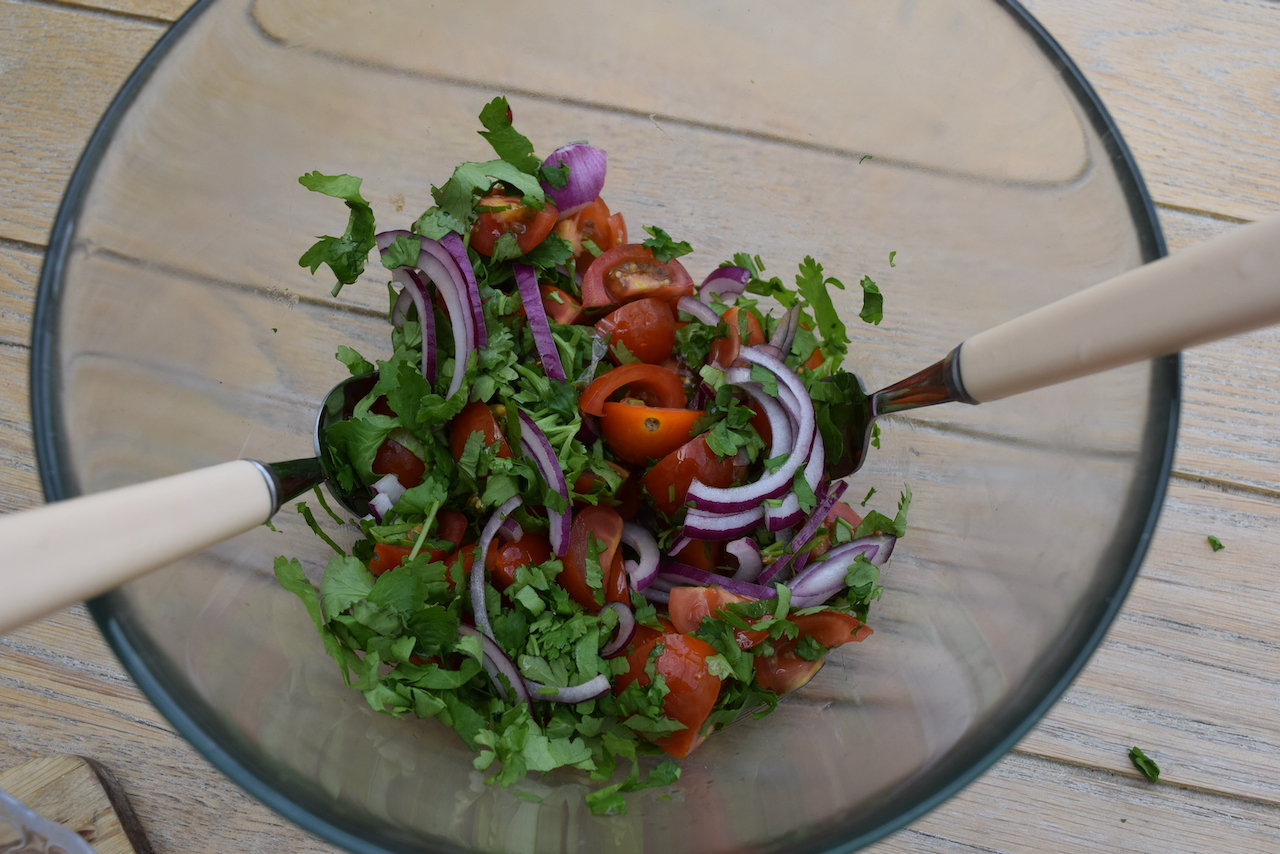 Tip in the well drained lentils then pour on the dressing and stir the whole business to ensure an even coating. Taste, then season accordingly, bearing in mind the halloumi is on the salty side.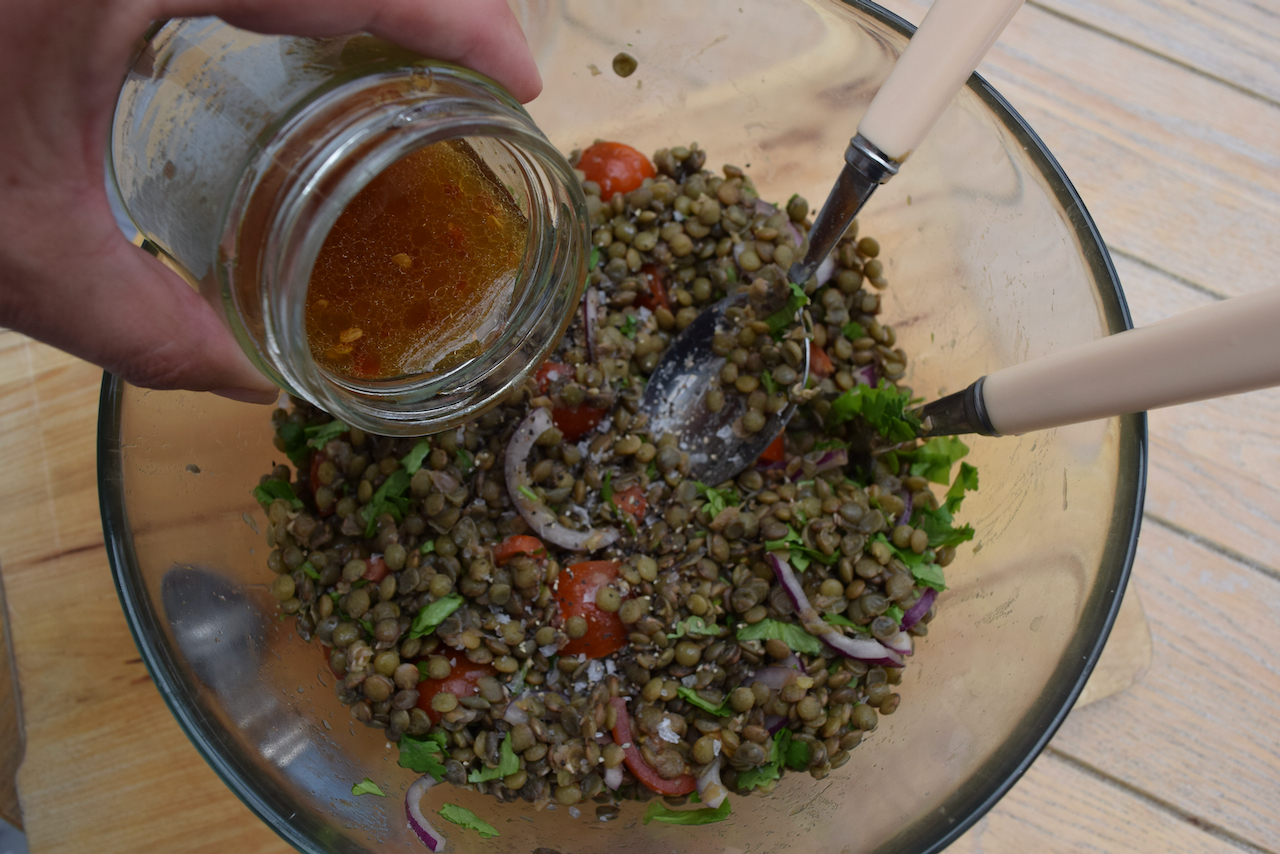 Finally, thickly slice your halloumi then dry fry in a non stick frying pan for a couple of minutes on each side. You want it to be golden and erring on the crisp side.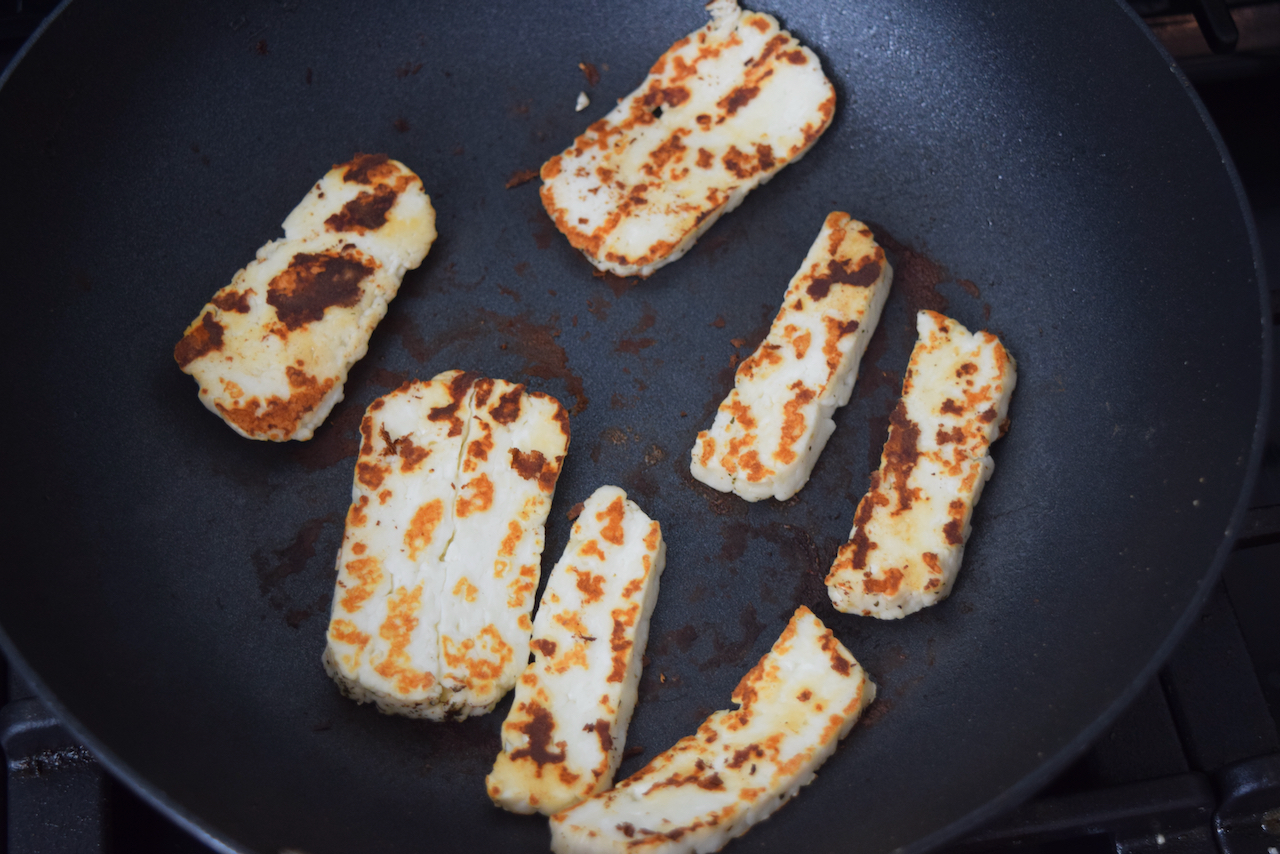 In a final flourish, tip your salad onto a platter or large bowl then lay your warm halloumi on top. Artistically sprinkle over your reserved salad then dive right in.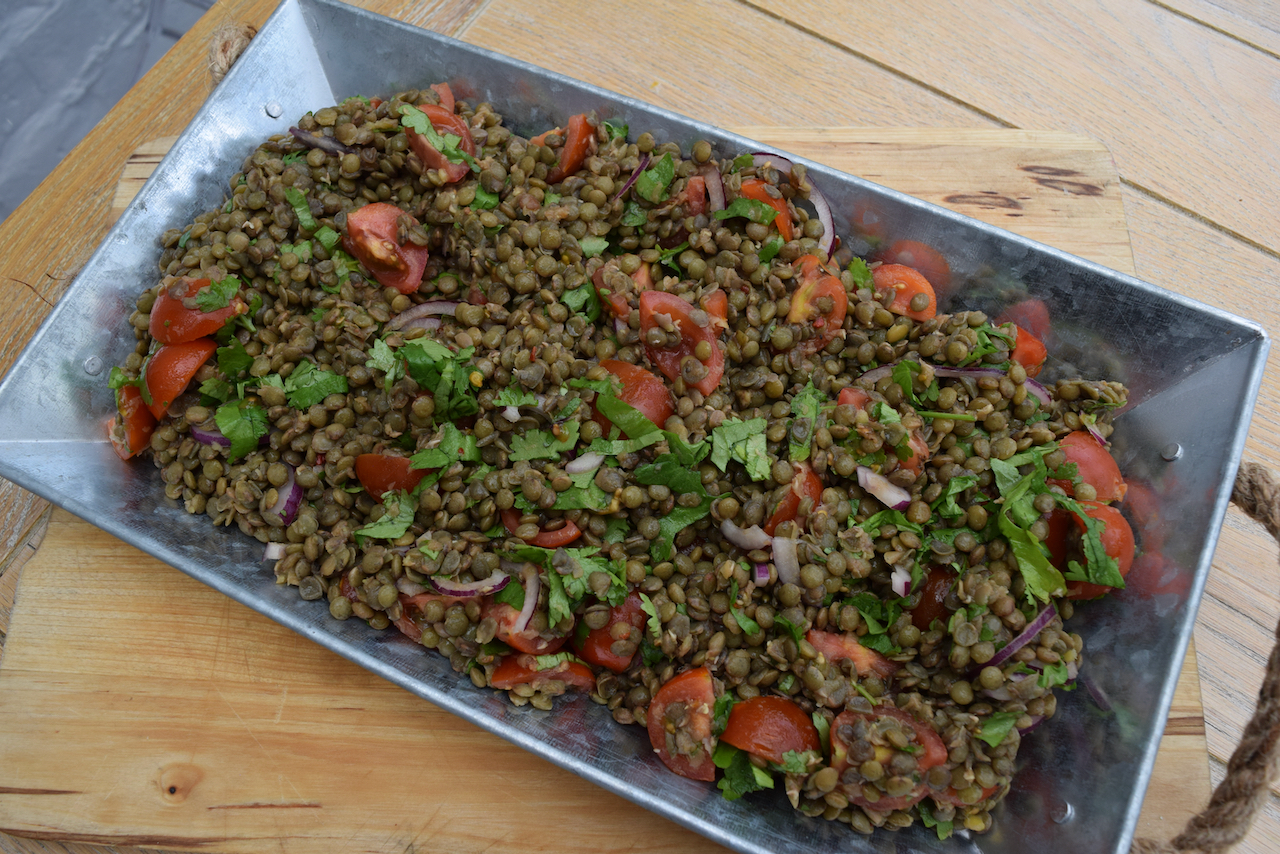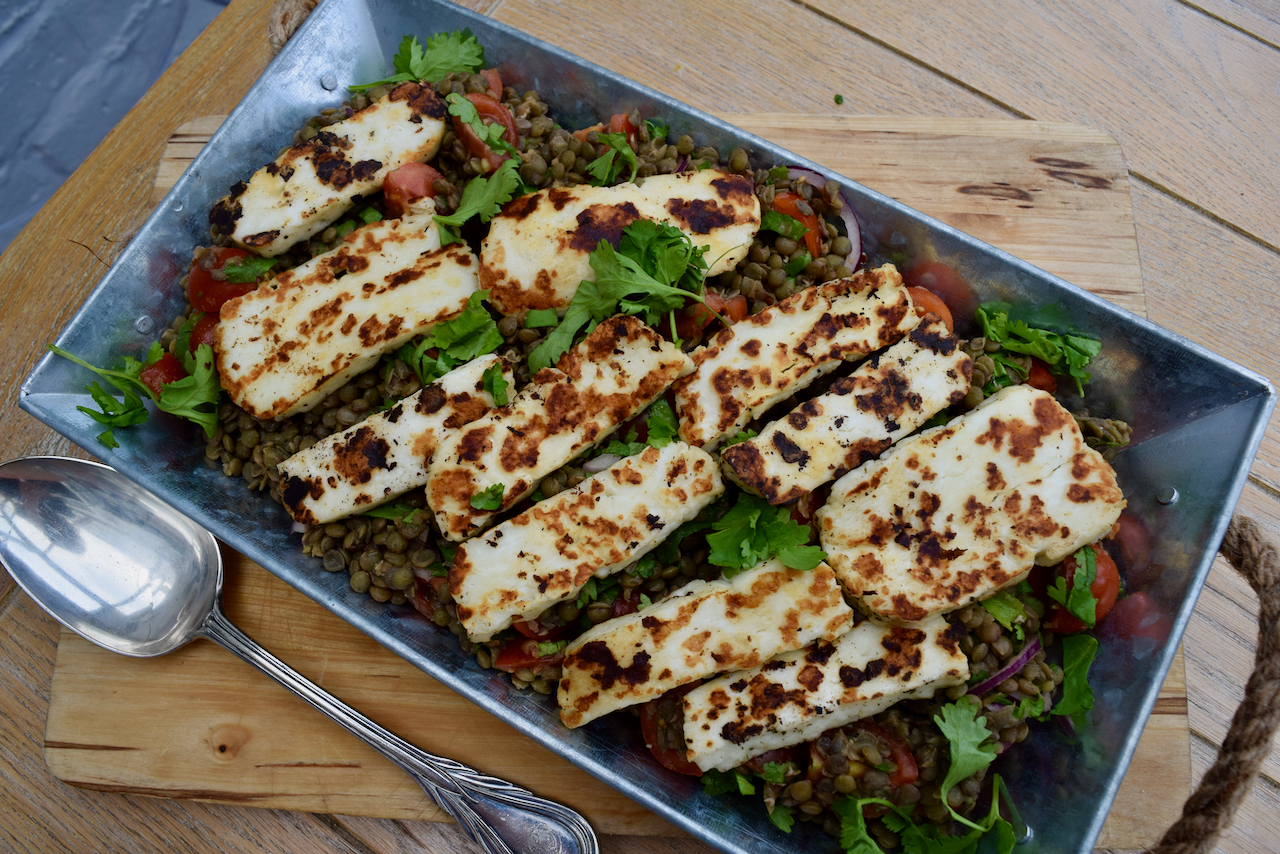 All that's left to do is to pour yourself a glass of wine.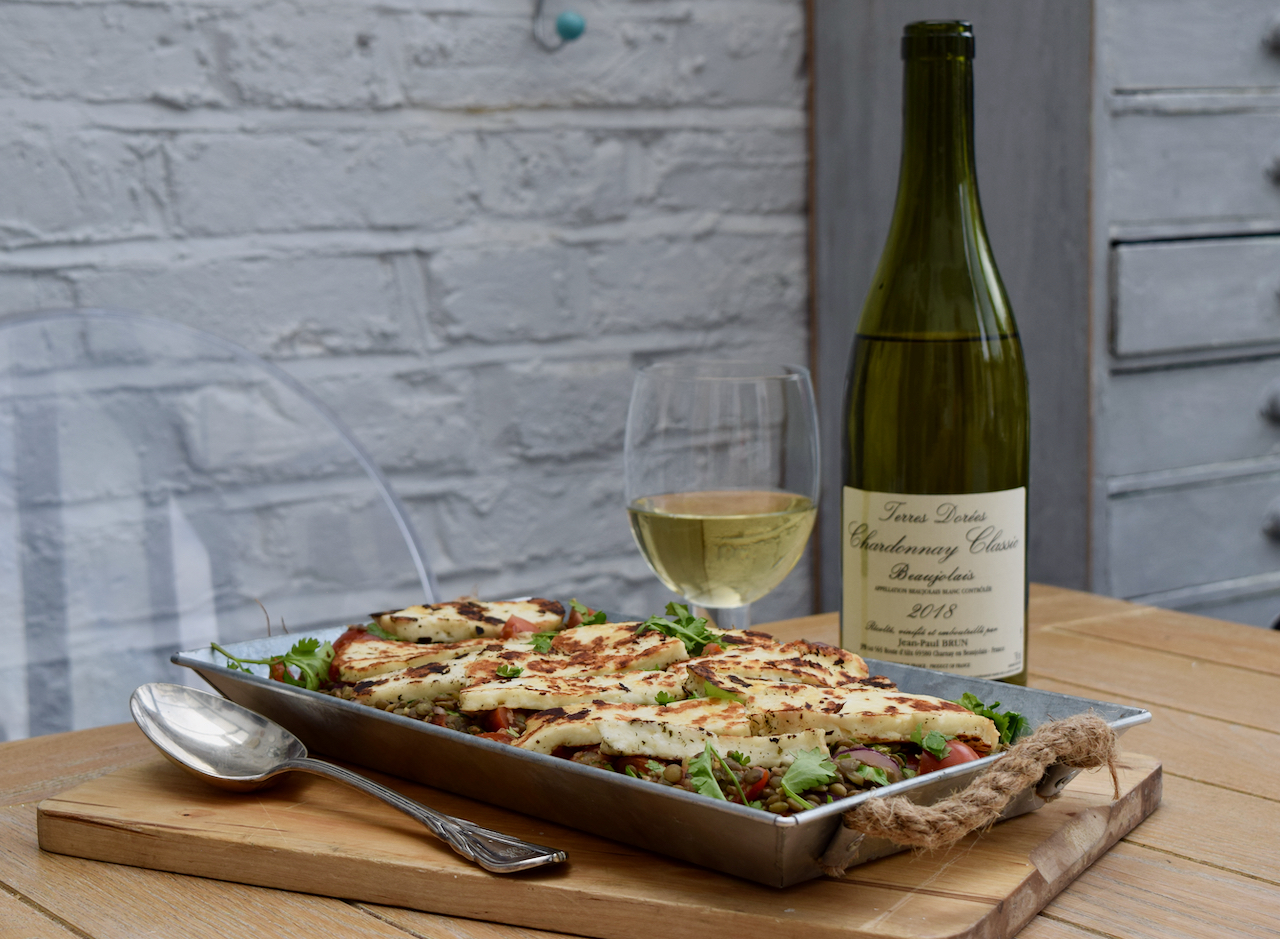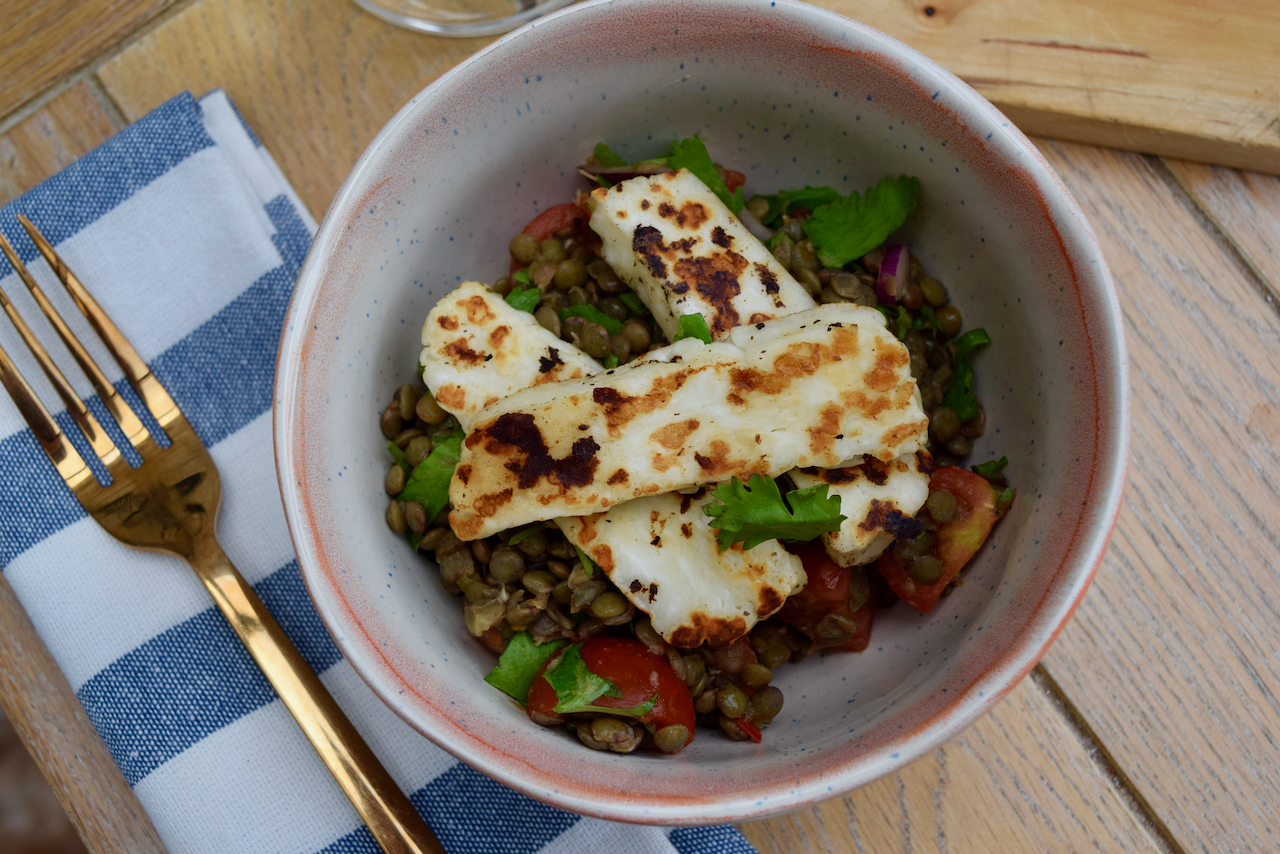 A wonderful summer salad and a crisp, elegant glass of white. This week is starting to look a lot more promising already.
Lucy x
Wine at Heart kindly gifted me the wine, however, all opinions and ramblings are, as always, my own.
Warm Halloumi and Lentil Salad recipe
Serves at least 4 as a light lunch
You will only need a bowl and pans for this
Salad
300g green lentils, Puy if you have them
300g cherry tomatoes, halved or quartered if bigger
1 small red onion, sliced
Small bunch fresh coriander
250g halloumi, sliced
Salt and pepper
Dressing
2 tablespoons sesame oil
1 tablespoon soy sauce
Juice of a lemon
A pinch chilli flakes
Cook the lentils according to the packet, mine simmered for around 25 minutes. Drain well and pop to one side.
For the dressing whisk the sesame oil, soy, chilli flakes and lemon juice.
Halve or quarter your cherry tomatoes and add them to a large bowl with the sliced red onion and chopped coriander, reserving a little for garnish. Add the drained lentils, mix well then pour on the sesame dressing and stir well to ensure everything is coated. Season to taste with salt and pepper bearing in mind halloumi is quite salty.
Slice the halloumi and fry in a dry frying pan over a medium high heat until just colouring. This will take no more than a couple of minutes on each side.
Tip the lentil salad onto a platter or into a bowl, lay on the warm halloumi slices and garnish with the reserved chopped coriander. Eat whilst warm or at room temperature.
Any leftovers will keep well in the fridge although the halloumi may go a little rubbery once cold.