Toad in the Hole Recipe
Now winter's here I spend a lot of time thinking about what I would like to eat. And it's mostly stodge. I have a standard list of staple family supper dishes and this Toad in the Hole appears regularly between November and April *or June if the winter's long* and then promptly gets forgotten about for the summer. This is not a light dish, but it's so comforting and packed with flavour it will see us through the darker nights and freezing mornings.
Sausages are such a useful ingredient. My love of sausage *oh come on* is evident if you put sausage into the search bar of Lucy Loves and see all my sausage based recipes. I don't think you can have too many, so this Toad in the Hole is a super brilliant addition. Crisp, flavour rich batter housing bacon wrapped sausages. I used Heck sausages having been lured to their stand at the Spirit of Christmas Fair last week because there was a handsome man on behind the counter. And because their product is so tasty and beautifully made; packed with pork shoulder, my pork and apple variety are also gluten and dairy free. They worked so well in my toad, it's definitely worth using a superior sausage for this superior dish. I wrapped these in bacon for added flavour and, in my mind, bacon only ever improved a recipe. I also used my fail safe batter recipe which always rises to the occasion and is crisp and golden. Adding a dollop of grain mustard to the batter only gives more flavour to this wonderful seasonal recipe. If you hate mustard, just leave it out or consider a dollop of chutney if you would prefer.
Winter is all about warmth, be it from a new furry scarf, bobble hat or a bloody great big plate of Toad in the Hole. Or all three of those things if you're me.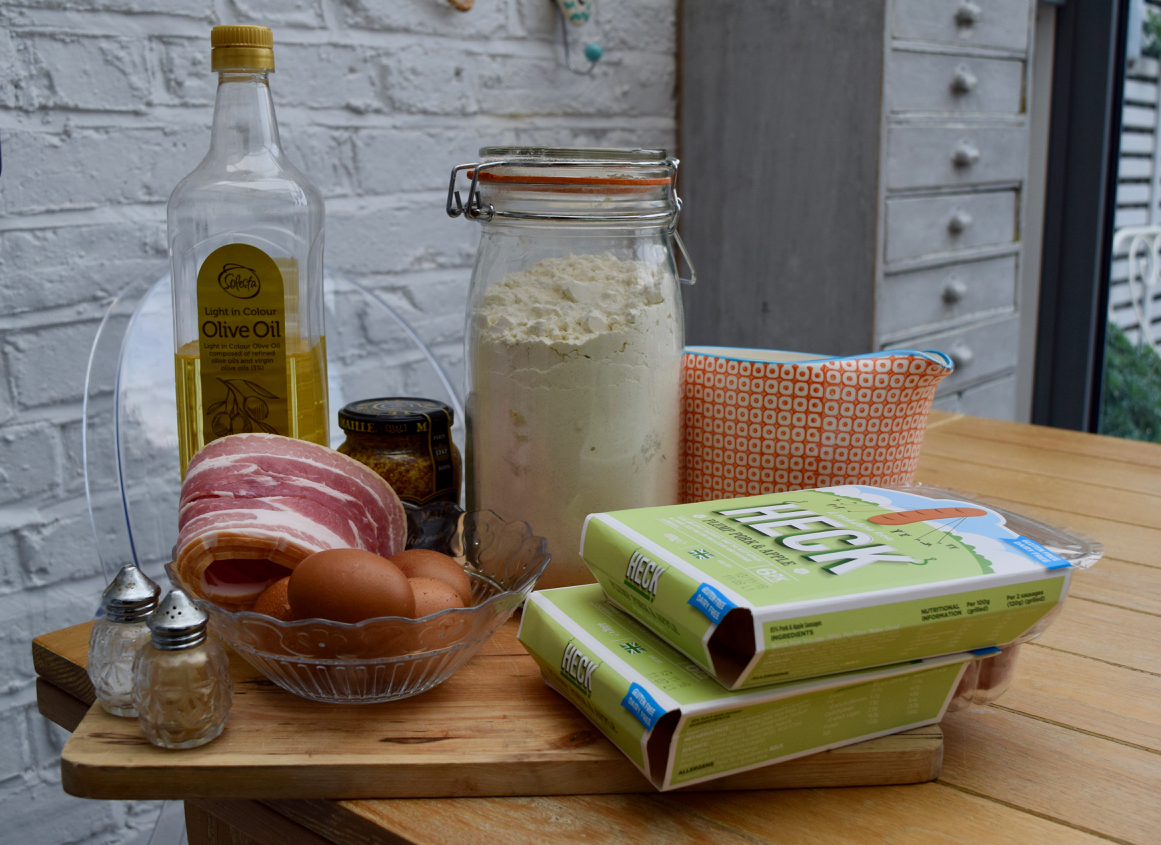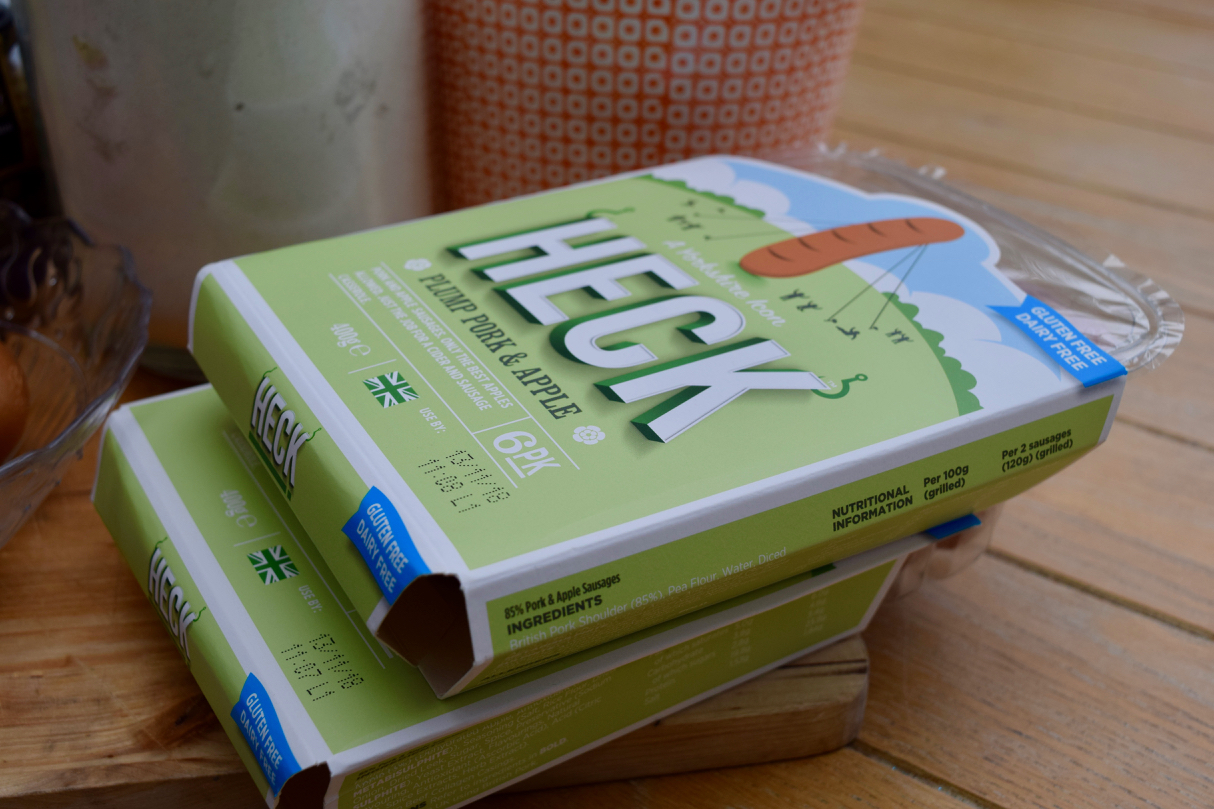 More sausages than you can shake a stick at, just the way I like it and these are incredibly tasty. The bacon keeps them *eek* moist and add some lovely bacon juices to the batter.
Make a start by pre heating your oven to 200 degrees fan assisted and measuring the oil into a large baking tin.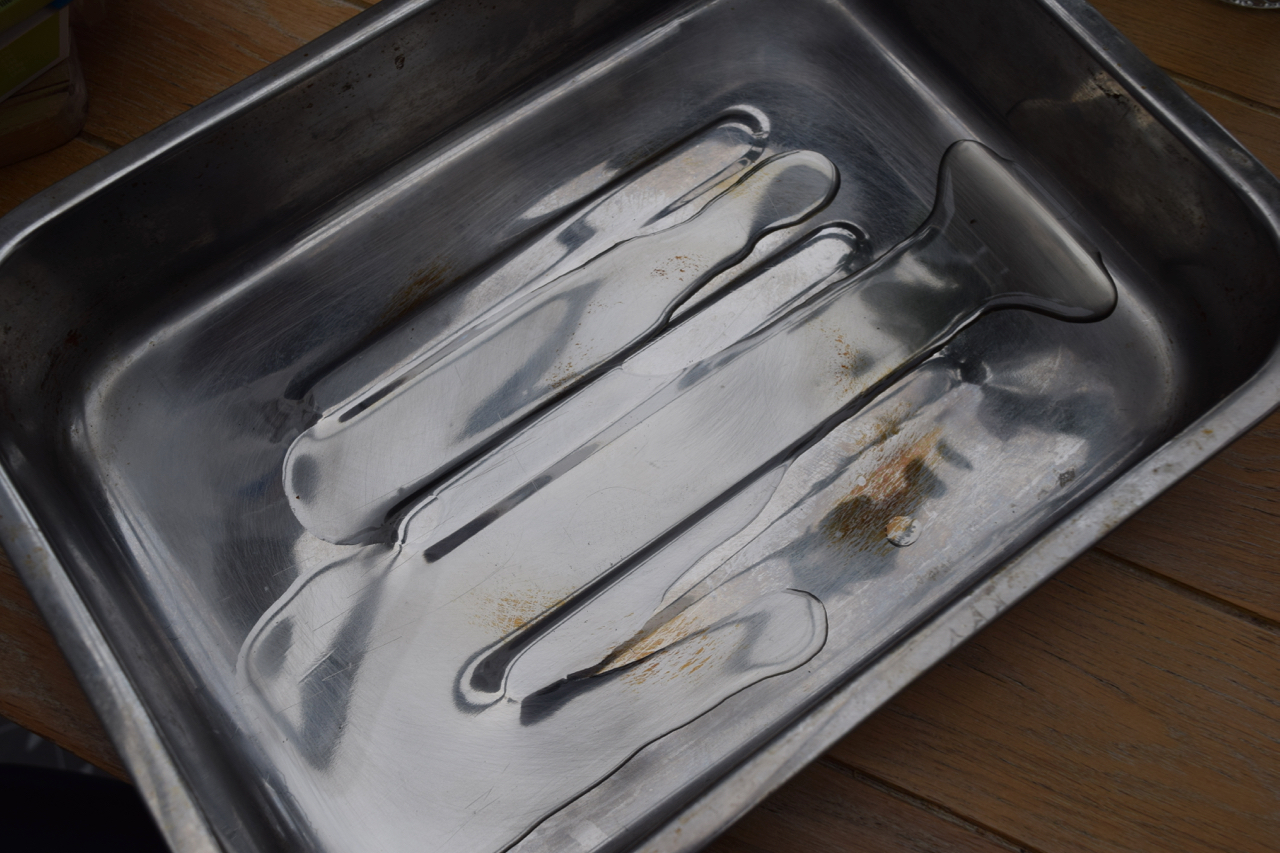 Next, take each sausage and roll it in half a rasher of streaky bacon. Pop these into the pan with the oil then place into your pre heated oven for 15 minutes. You just want the sausage to lightly brown and start to cook.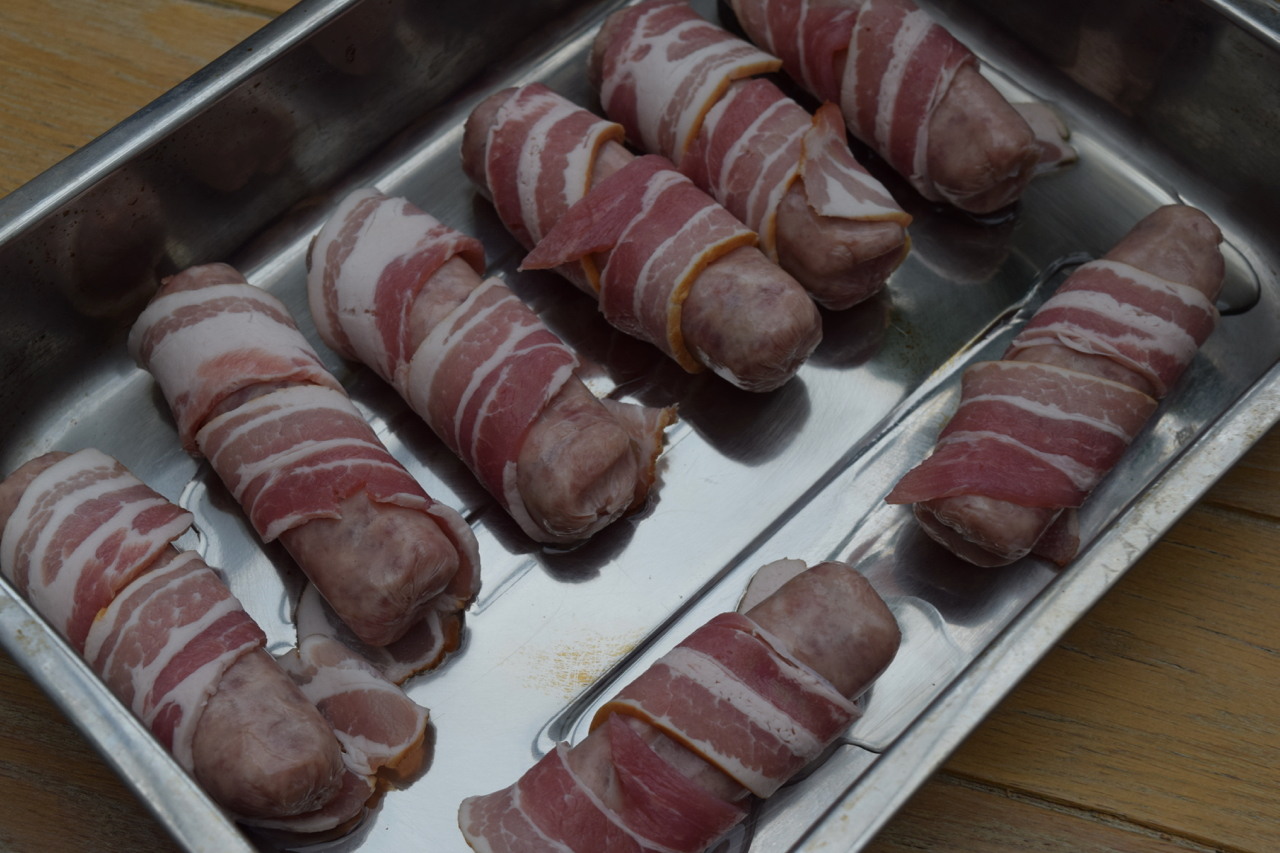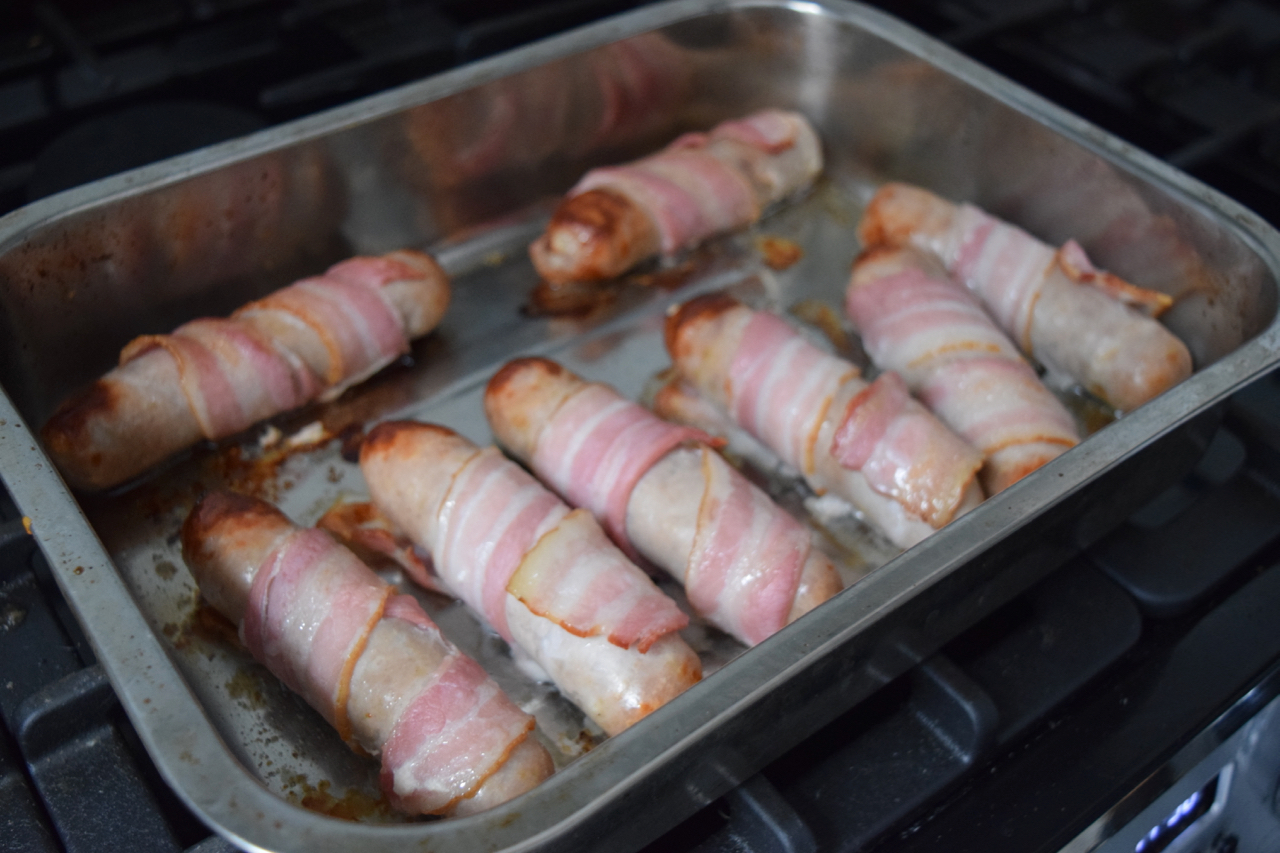 While the sausages are having their first cook, make the batter. Start by whisking together the milk, eggs and salt until light and blended. Then leave this to sit for 15 minutes.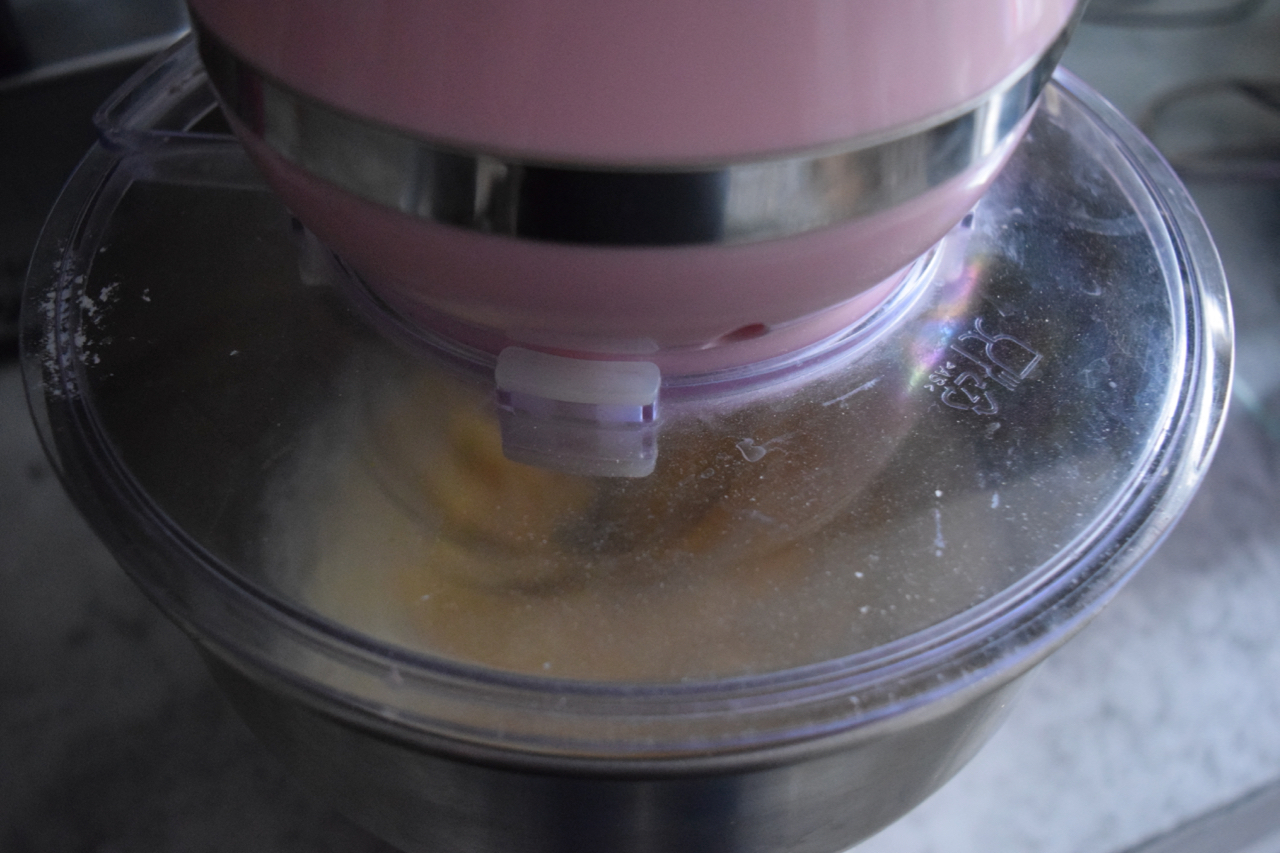 At this point leave this to sit for 15 minutes. This is handy as that's the time it takes to just start your sausages off.
When the 15 minutes rest is up, add the mustard if using, season with some black pepper then tip in the flour and whisk until smooth.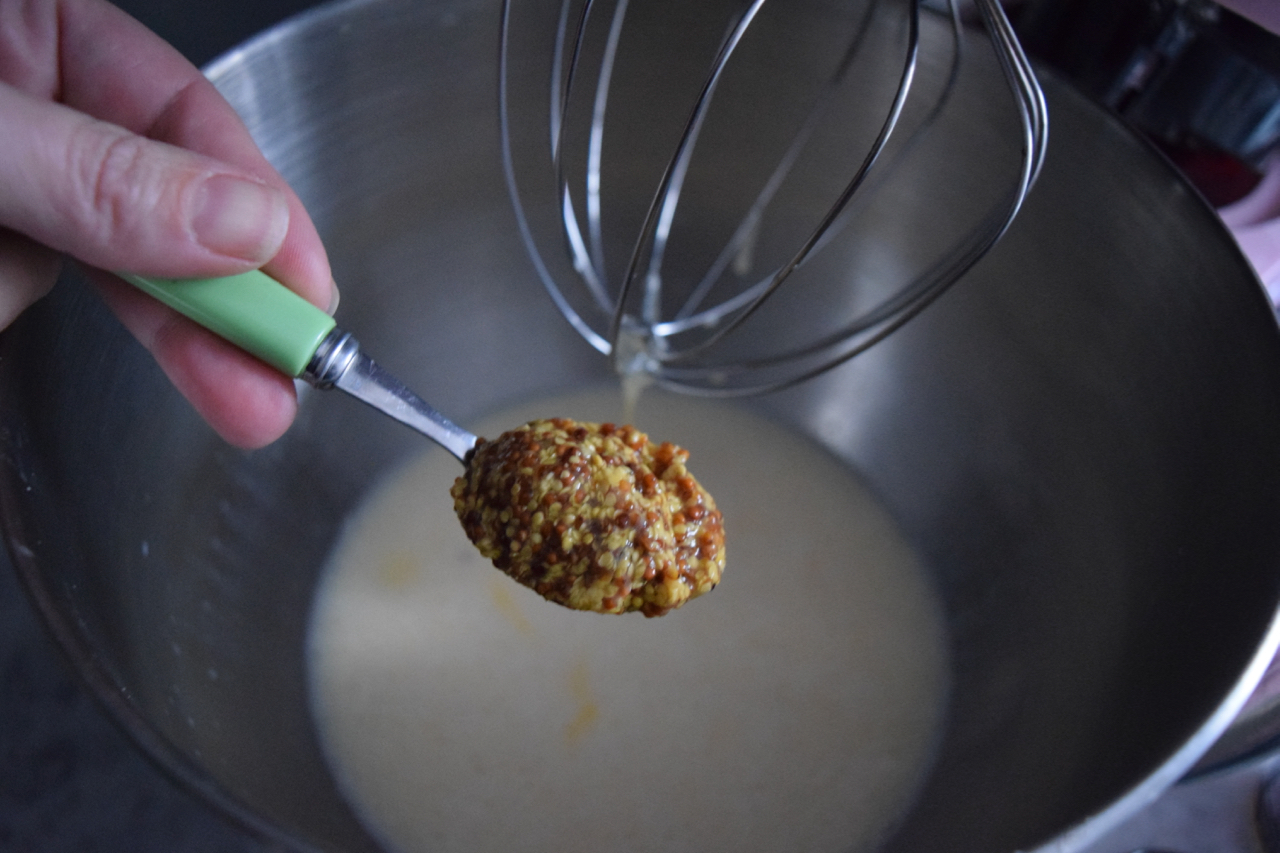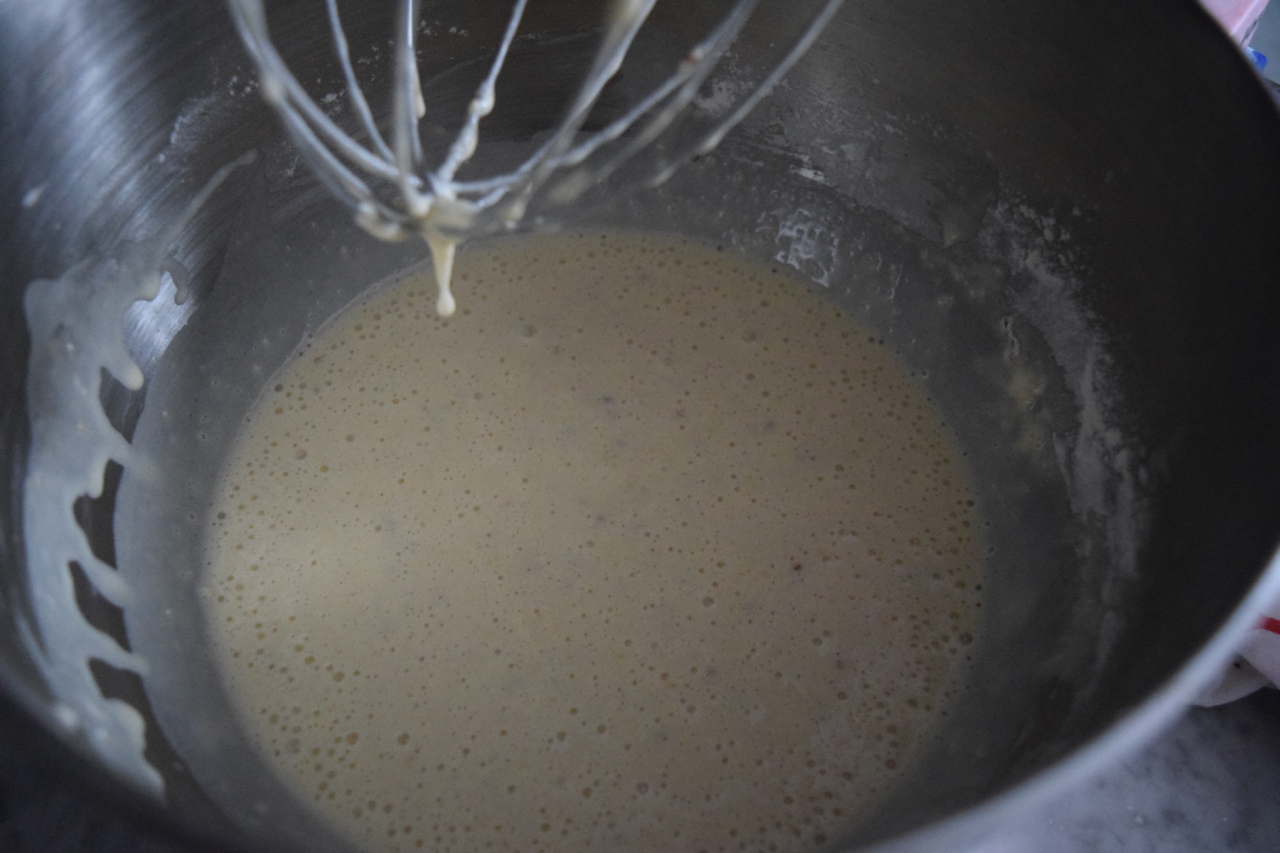 Your sausages will have finished their first cooking time now, so, working quickly, remove the sausages from the oven and pour on your finished batter. Pour it between the sausages and give the pan a jiggle to level the batter out. Put back into your hot oven for a further 25 to 30 minutes.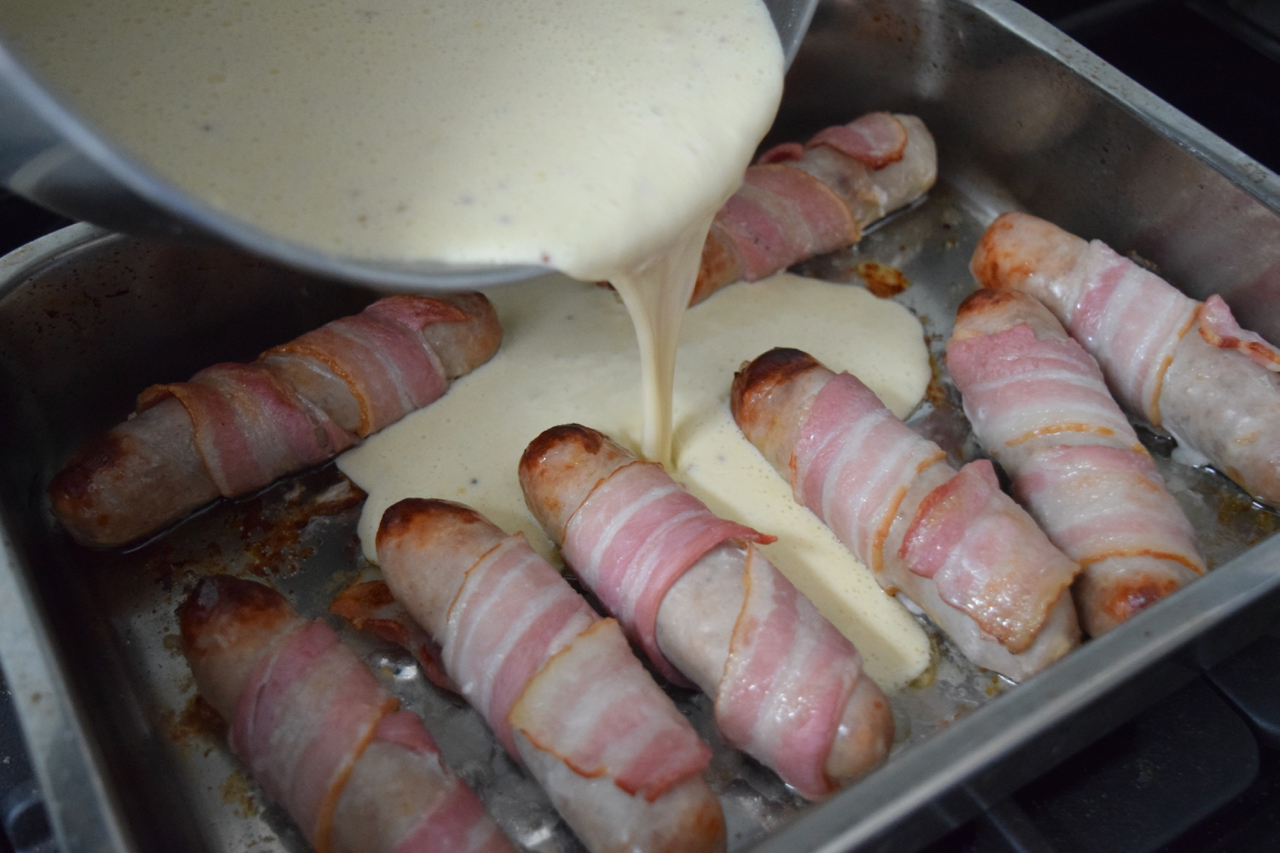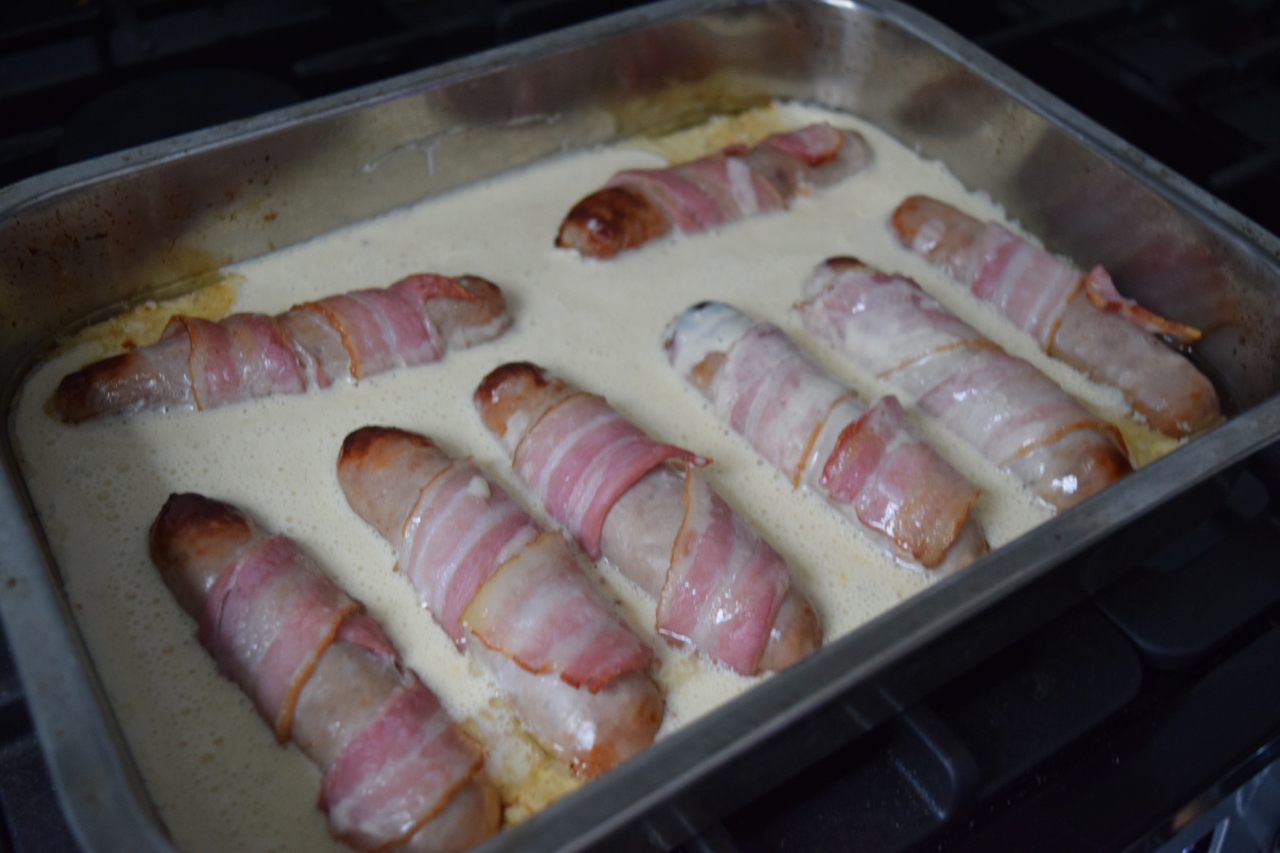 Your finished toad will be golden, crisp and risen to all new heights.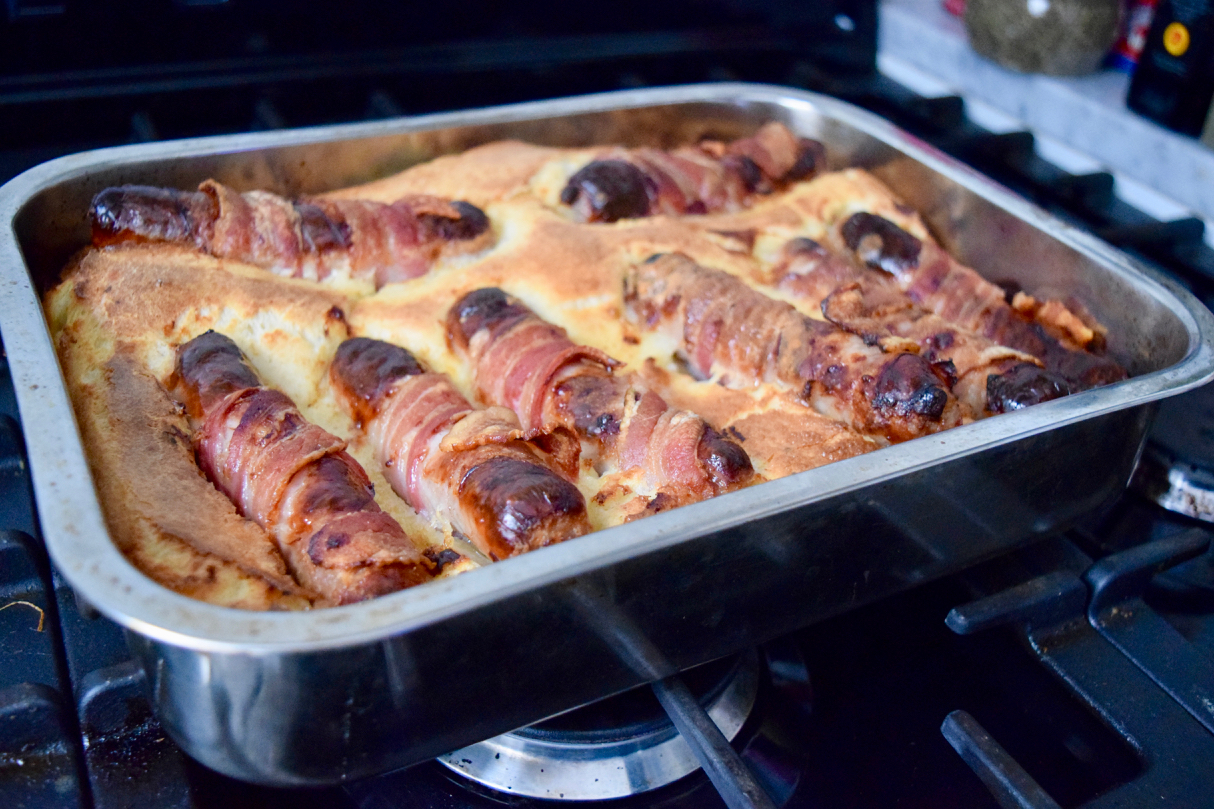 This is warming, packed with wonderful sausage and bacon flavour with just a hint of mustard. Fork up some mash, make or buy some onion gravy then dig right in.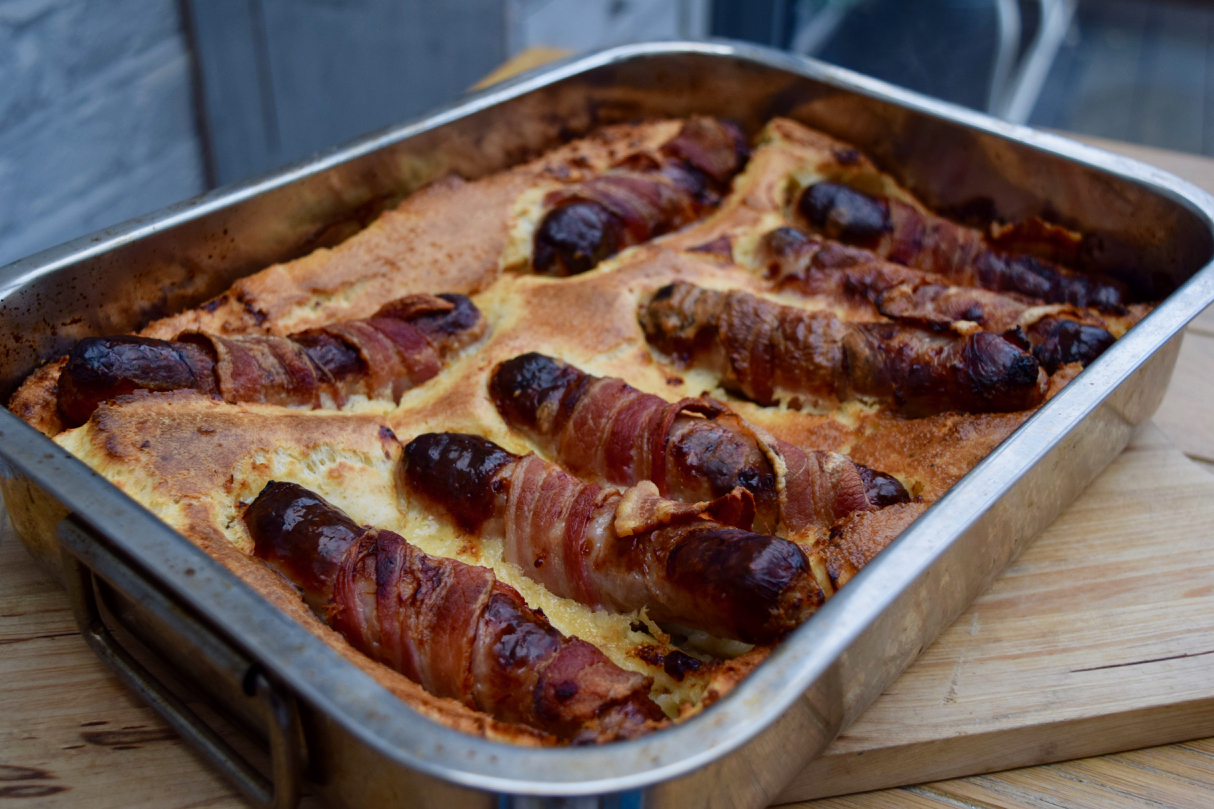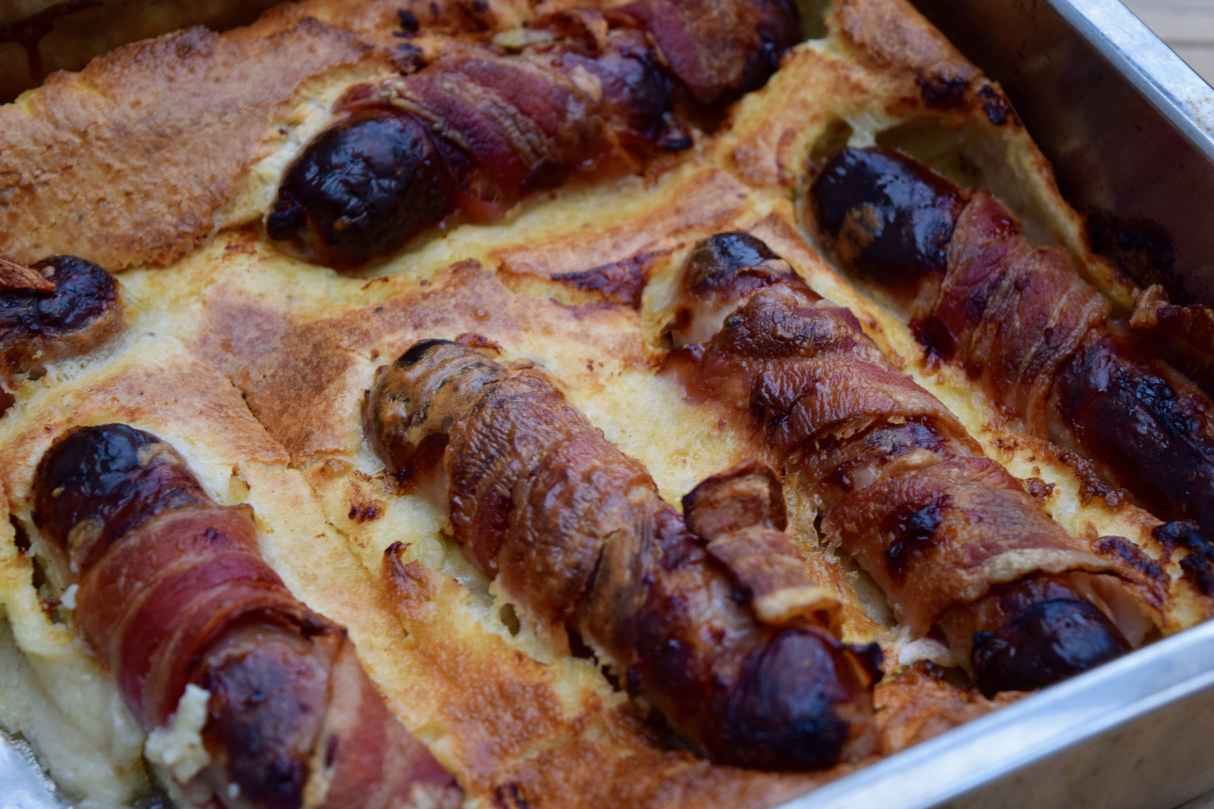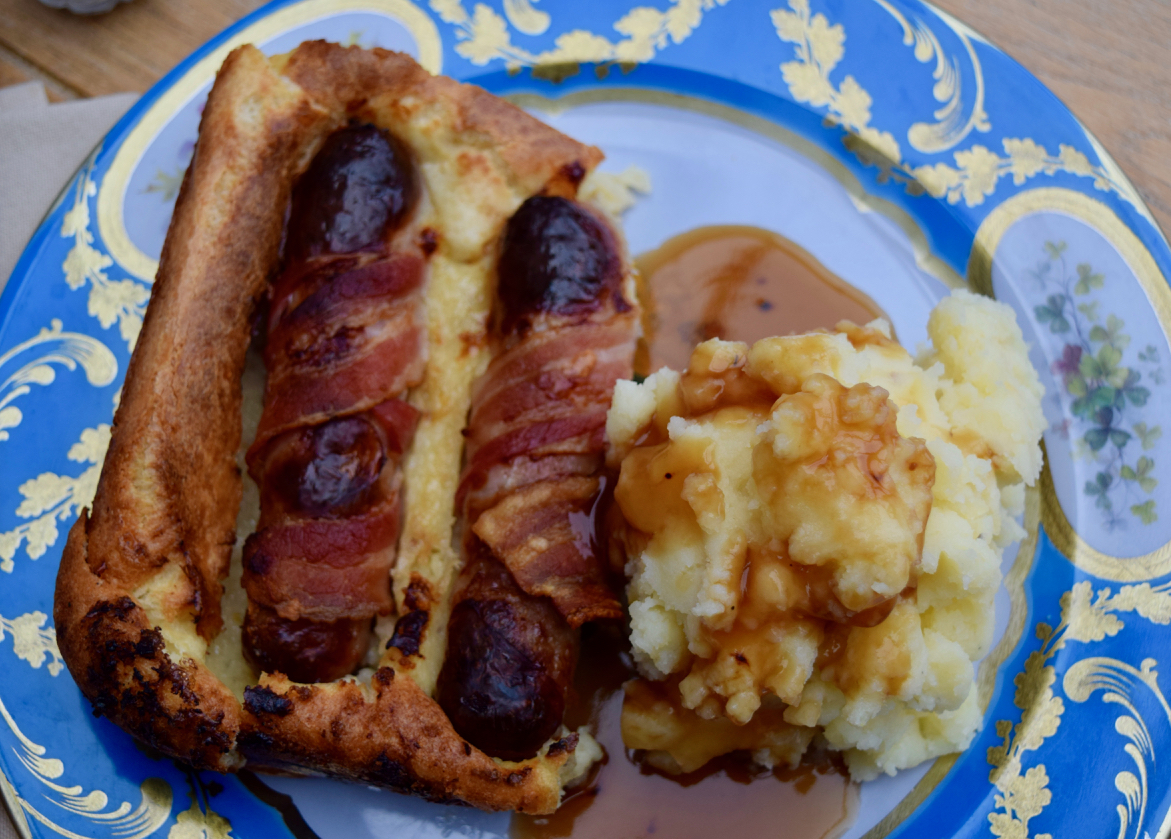 Major league drooling going on here. Even though I had such a large portion of this I couldn't move for an hour afterwards. This Toad in the Hole is all your winter table needs. And your winter tummy.
Lucy x
Toad in the Hole Recipe
Serves 4
You will need a hand mixer or stand mixer or a bowl and whisk and a large baking tray for this recipe
8 good quality sausages, such as Heck ones
4 rashers streaky bacon, halved to create thin strips
4 tablespoons oil, I used light olive but sunflower would be good
325ml milk
4 eggs
1/2 teaspoon salt
1 teaspoon grain mustard, or your preferred mustard choice, optional
250g plain flour
Freshly ground black pepper
Mash, greens, baked beans, gravy and condiments of your choice to serve
Pre heat your oven to 200 degrees fan assisted and add the oil to your chosen large rectangular baking tray.
Take your sausages and wrap each one in a half rasher of streaky bacon. Lay each wrapped sausage into the oil in the baking tray. Place the tray into your pre heated oven for 15 minutes just to start to brown the sausages.
While these are browning, pour the milk into a bowl or the bowl of your stand mixer. Add the eggs and the salt and whisk until well mixed and frothy. Leave this to stand for 15 minutes.
Once this time is up, add the teaspoon of mustard, if using, then weigh the 250g flour and whisk this into the milk and egg mix. Take the sausages out of the oven, and acting quickly, pour the batter into the tin, around the sausages. Get this back in the oven as soon as possible and cook for further 25 to 30 minutes or until the batter is risen and golden brown and the bacon wrapped sausages are crisp and golden. Serve immediately with mash, some sort of greens, baked beans, extra mustard, gravy, the options are endless.