Char Sui Pork Recipe
This week, I am in countdown to holiday mode. I have a list of my lists and unless something is written on those aforementioned lists, it will not be remembered. My balls are well and truly nailed to the wall and cooking, let alone writing about cooking, is the last thing on my mind. But, I love you all and feel I should send you off with a super speedy supper dish to keep you going while I take a little two week break. And this delightful Char Sui pork is just what you need towards the end of the school holidays when you have lost the will to cook for your family, as well as talk to them.
Char Sui pork is a bit of a blast from the past for me. Chinese food was super innovative and fashionable when I was growing up and it was a real treat to go out for a fancy supper as a birthday treat. I clearly remember Char Sui Pork featuring quite heavily on the menu, either on a bed of oriental vegetables or in their special fried rice. So when I stumbled across this delicious, almost healthy, recipe from The Skinny Fork, with thanks to them, I pounced on it. Char Sui Pork is such a simple affair, just some marinating and roasting before you are rewarded with a tender, lean piece of roasted pork, bursting with flavour. The addition of red food colouring is up to you, back in the olden days Chinese food was loaded with MSG and artificial business, but I couldn't resist a drop or two just to create the wonderful reddish finish to the pork.
Serve this with a side of your choice. I fashioned a big wok full of egg fried rice for Clyde and I to continue with the take away theme, but keep up the healthy end of this dish by serving with steamed green vegetables or some sesame noodles, if you like. This recipe makes enough marinade for either one or two pork loins so this could serve up to 6 people. Just pop your pork into the wonderful flavours first thing then you need not dwell on it further until supper time. Frankly, this is just the kind of recipe I need this week, I hope you do too.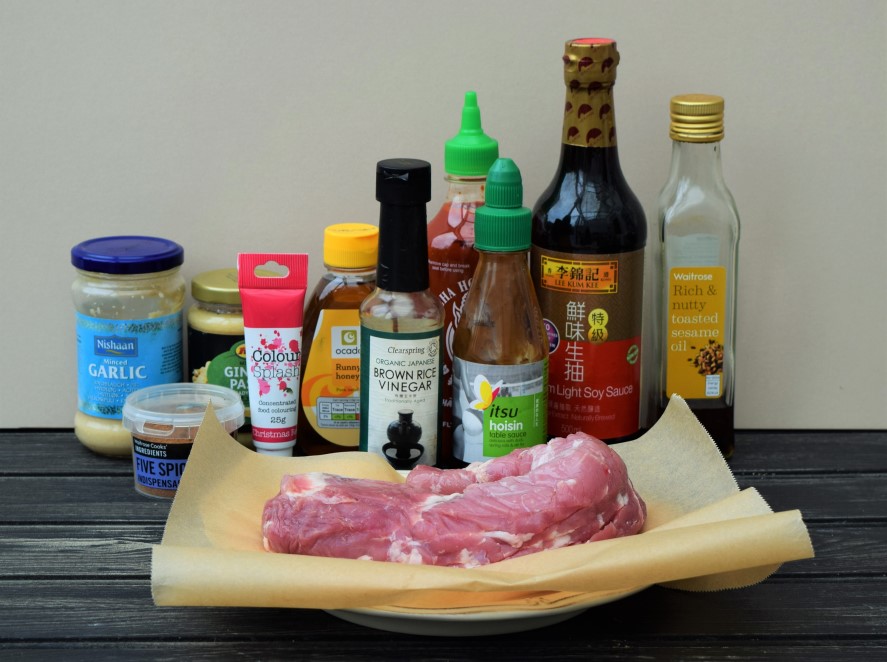 I know, this recipe line up basically looks as though I emptied out the top shelf of my food cupboard. However, you are more than likely to have most of these ingredients to hand. Apart from my slightly rogue tube of Christmas Red food colouring which has the tendency to turn all things pink. I did include a good squirt in my Char Sui pork, because, as you know, I love a bit of naffness where applicable.
Make a start on this simple, flavour packed marinade by opening a large food bag. Pour in the hoisin sauce, rice vinegar, honey and soy.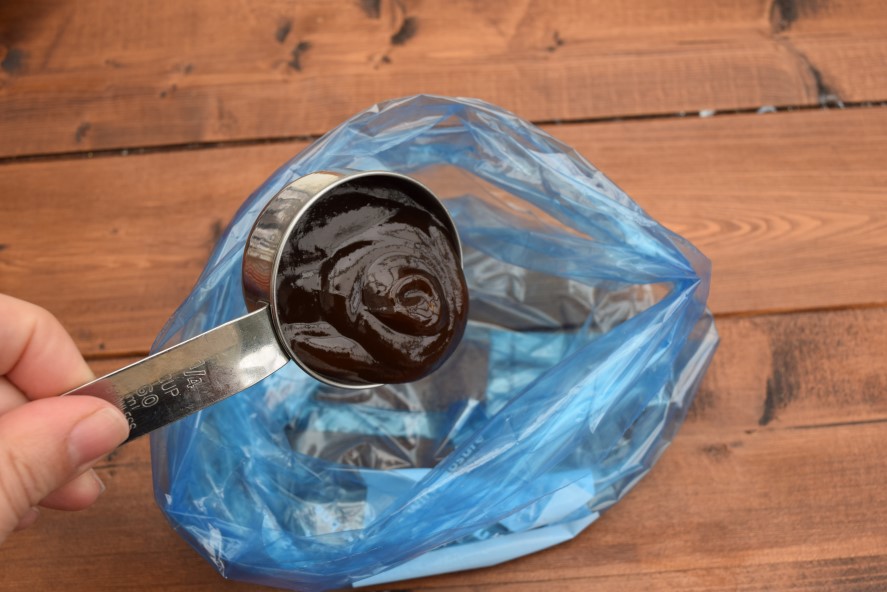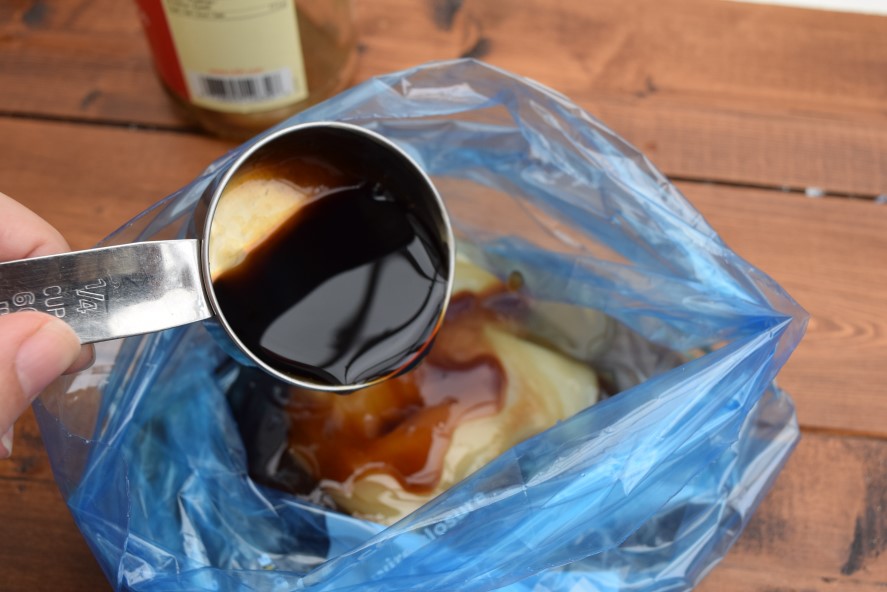 Add in the ginger and garlic, I went for lazy versions from a jar, then the feisty Sriracha sauce, sesame oil and fragrant Chinese five spice powder.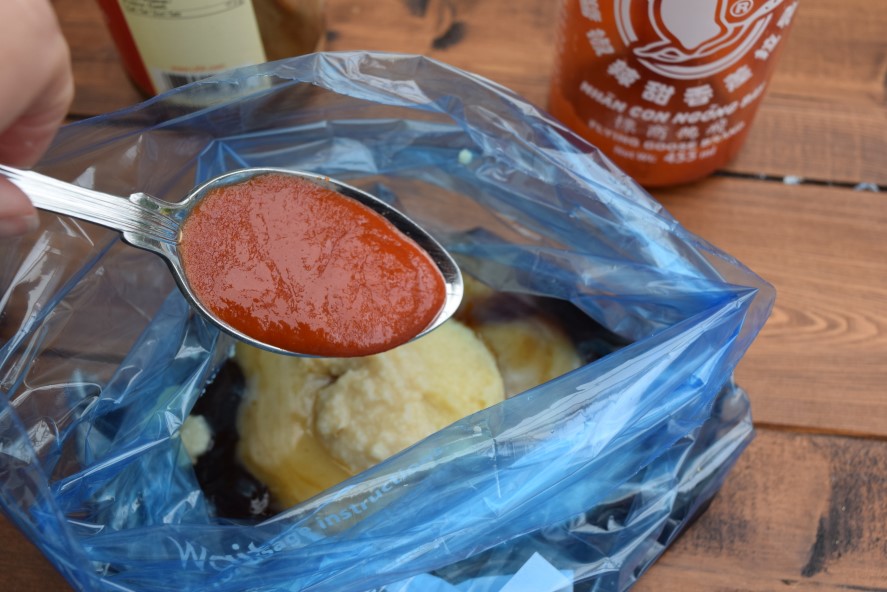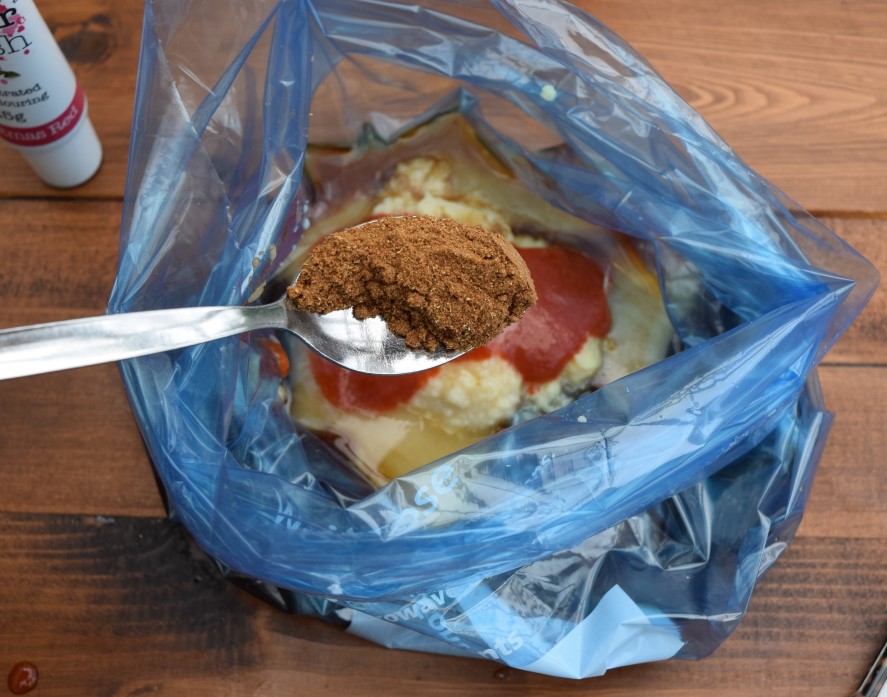 Give this bag of flavours a good squidge around to combine all the ingredients then pop in your pork loin or loins.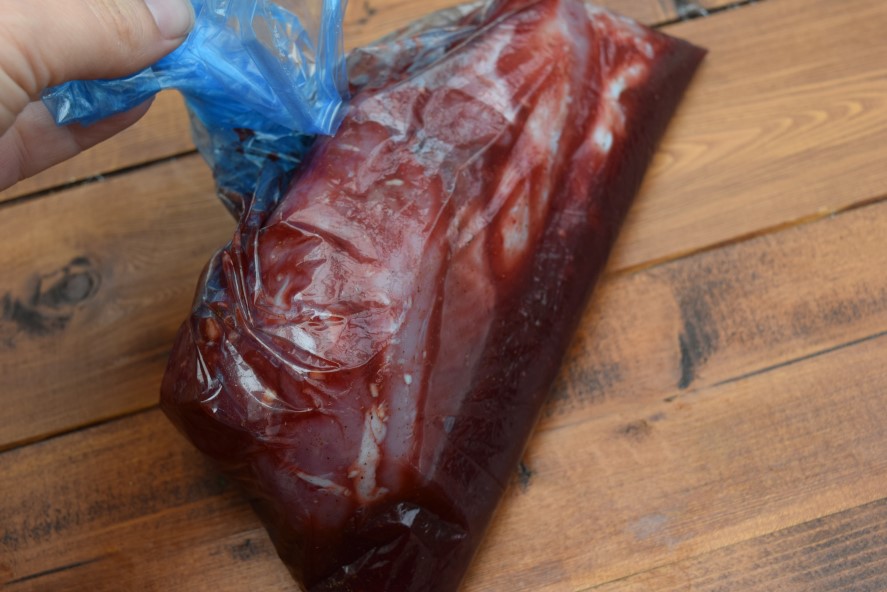 Leave this to steep in the fridge for at least 3 hours, more if you have impressive organisational skills.
When your marinating time is up, set your oven to around 170 degrees fan assisted and line a baking tray with foil or baking paper to avoid spending the rest of the day scouring your tin.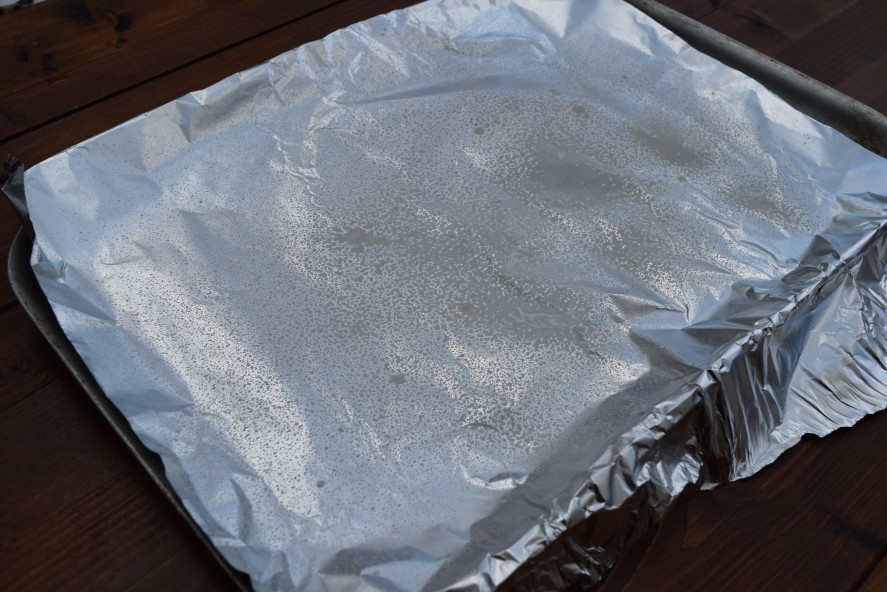 Remove the pork from the food bag and place onto the tray. Add seasoning to taste and a splash of oil then put in the pre heated oven for 30 to 40 minutes, dependent on the size of your loin *ahem*.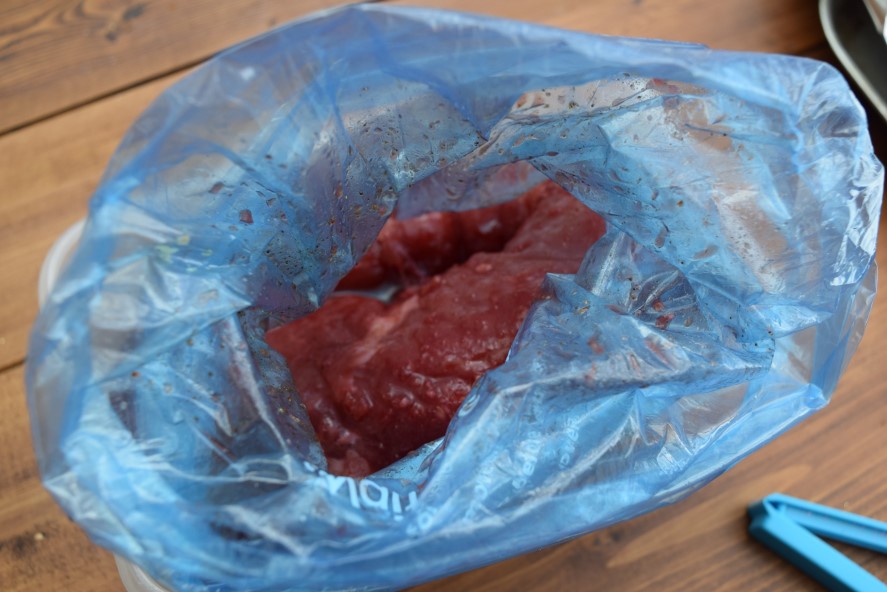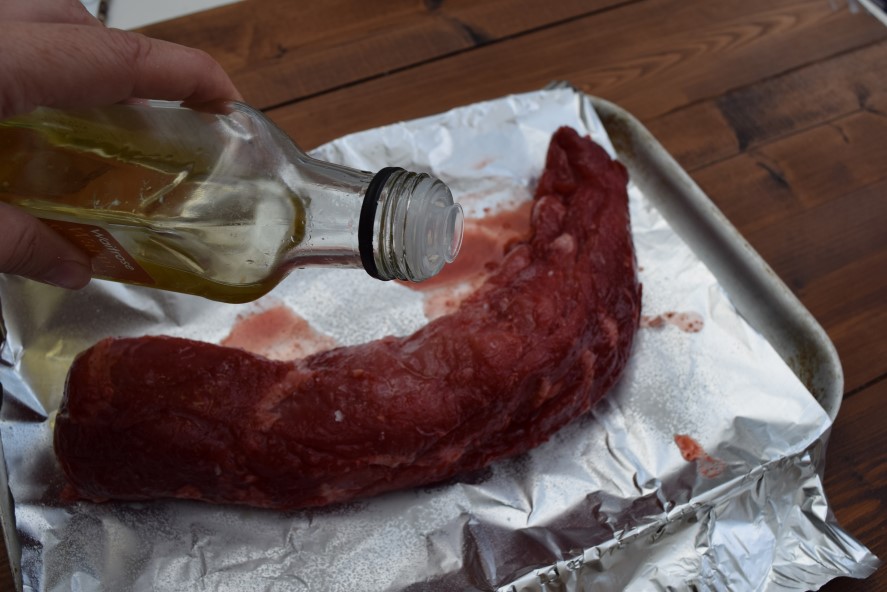 The pork is cooked when it's slightly charred and the juices run clear when a skewer is poked into the thickest part of the meat.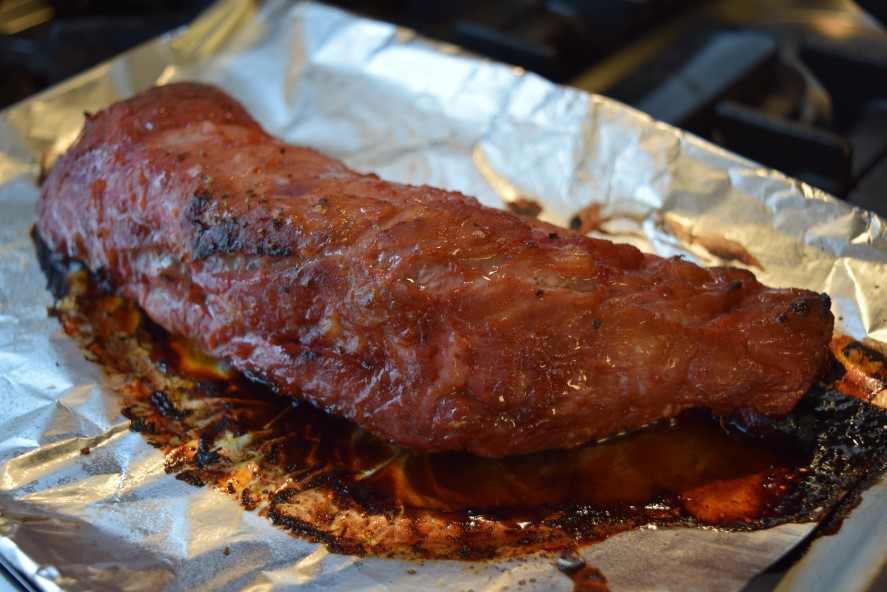 This is mouthwateringly good. Leave the Char Sui Pork to rest, covered in foil, for 5 minutes while you finish your side dishes. Here's my lovely egg fried rice *modest face*.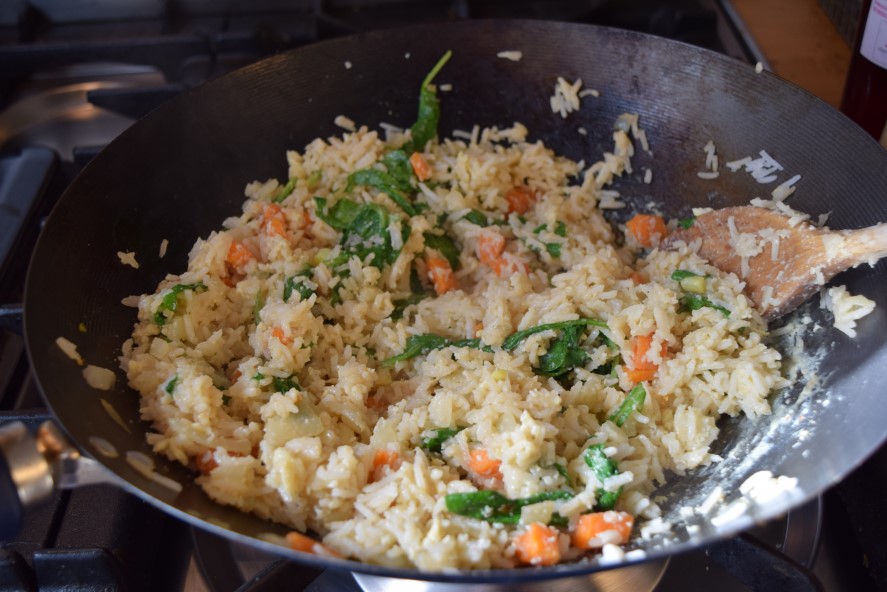 Carve your wonderful, red edged pork into thick slices. I had an audience for my inadequate carving skills.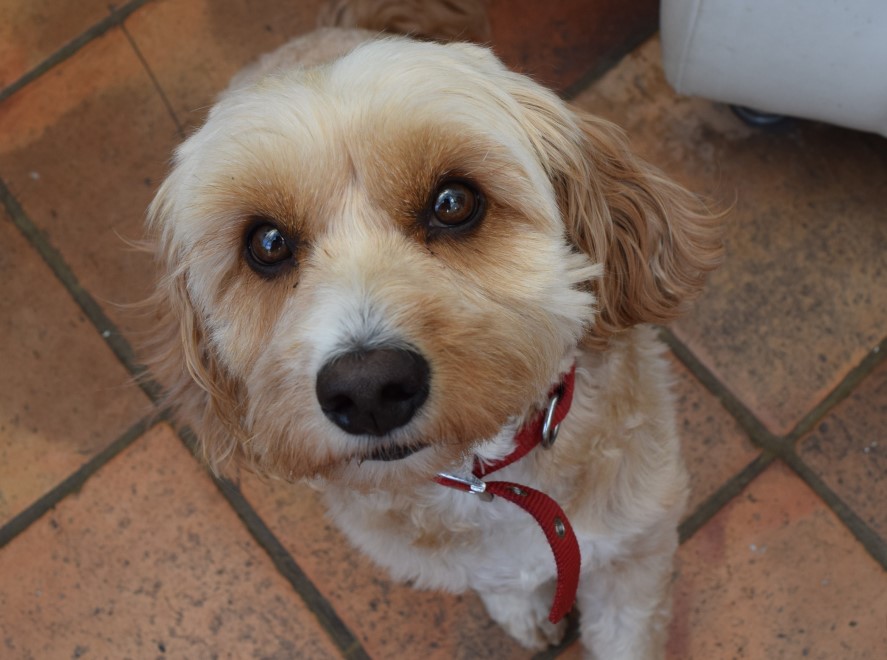 He didn't get a look in, I wasn't sharing this wonderful pork dish.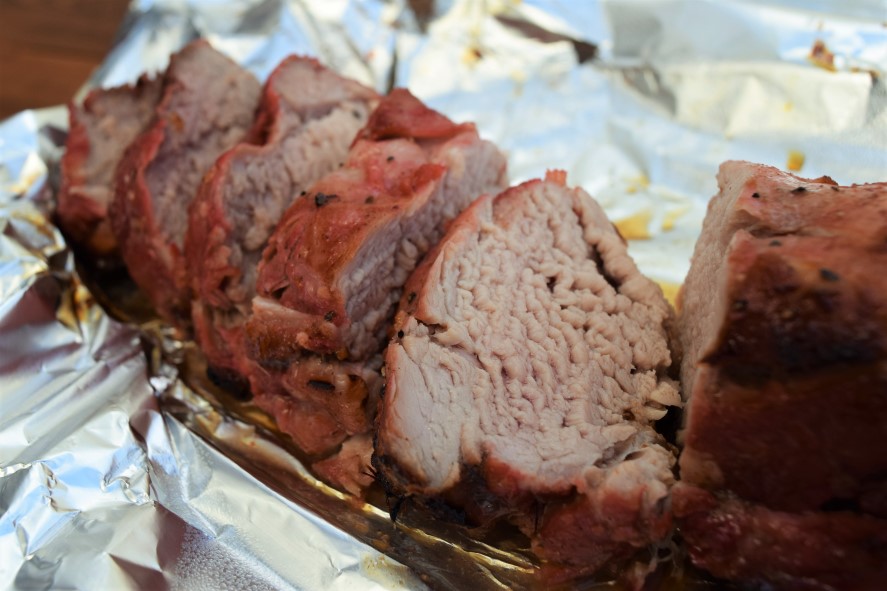 Serve this drizzled with some of the wonderful pan juices and wolf it down as quickly as you can.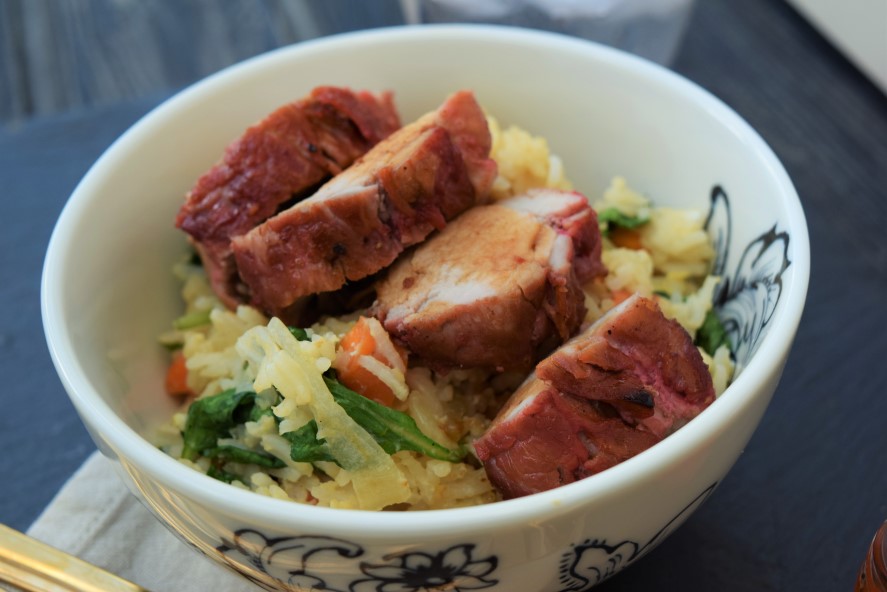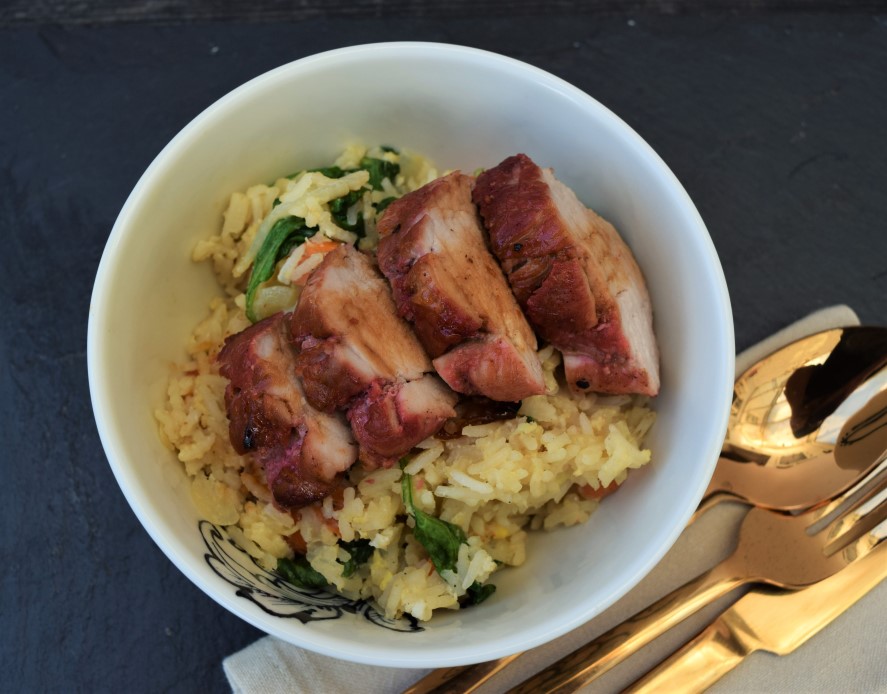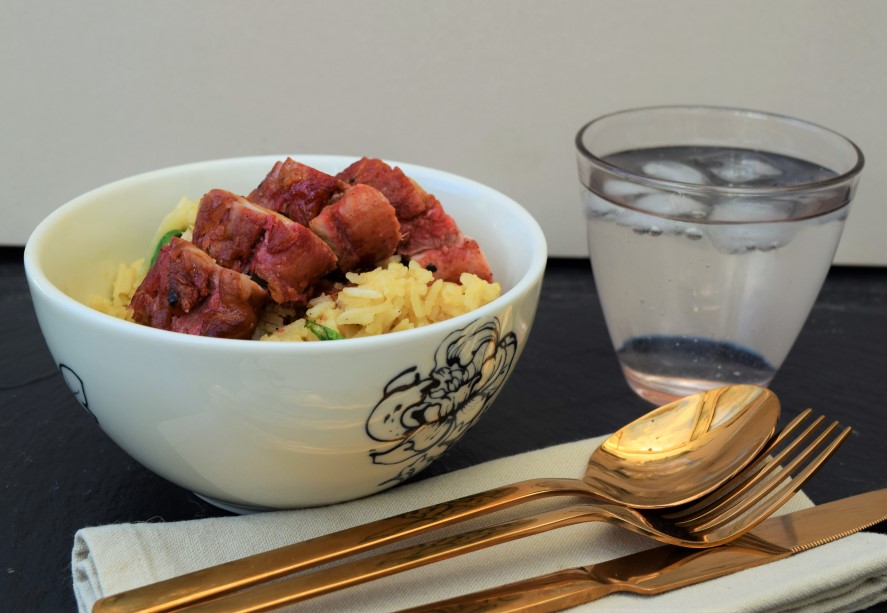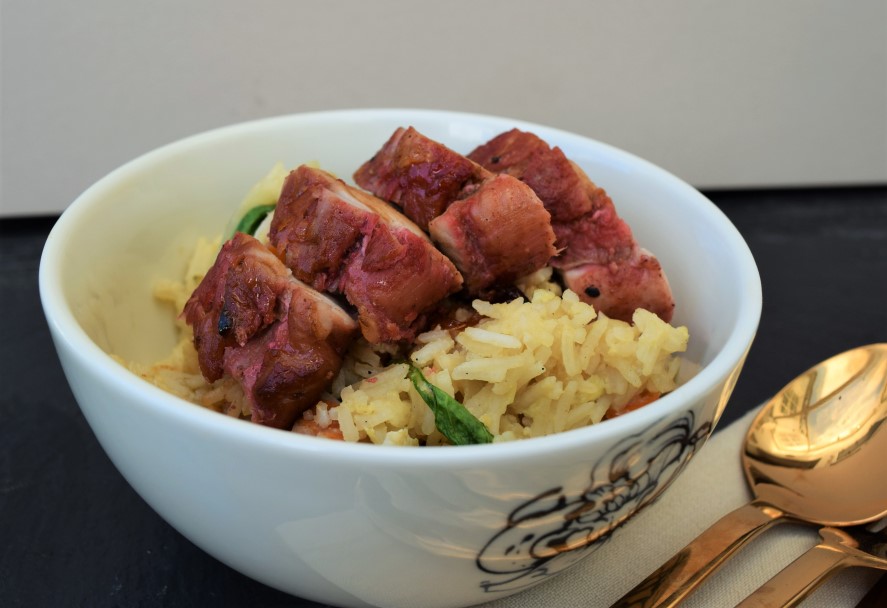 So, even if you are suffering from summer holiday carer fatigue, this Char Sui Pork will certainly lift your spirits. It has a whiff of health to it too, so it's a win win situation. All you need to go with it is a large glass of rosé and you will be ready to get back on the entertainment express.
Lucy x
Char Sui Pork Recipe
Serves 2 to 3 (per 500g tenderloin)
You won't need any challenging equipment for this
500g to 1kg pork tenderloin – I used one 500g tenderloin, but the marinade makes enough for two loins for more diners
60ml hoisin sauce
60ml rice wine vinegar
60ml honey, clear or set
60ml soy sauce
1 inch fresh ginger, chopped, or a heaped teaspoon from a jar
2 garlic cloves, crushed, or a heaped teaspoon from a jar
1 tablespoon Sriracha chilli sauce
1/2 tablespoon sesame oil
1 teaspoon Chinese five spice powder
1 teaspoon or a few drops red food colouring liquid or paste – optional
Salt and pepper
A drizzle of oil
Fried rice, noodles or steamed greens to serve
Take a large food bag and add the hoisin sauce, rice wine vinegar, honey, soy, ginger, garlic, Sriracha, sesame oil, five spice powder and red colouring if using. Squidge this around so well combined, then add your pork tenderloin or loins. Squidge again so the pork is well covered in the marinade then leave for at least 2 to 3 hours, overnight if you have been organised enough to prepare this well in advance.
When you are ready to cook your pork, pre heat your oven to 170 degrees and line a baking tray with foil or baking paper. Remove the pork from the marinade and place on the baking tray. Add salt and pepper to taste and drizzle with just a touch of oil. Bake for 30 to 4o minutes, dependent on the size of your pork loin. The pork is cooked through when sizzling, lightly charred and the juices run clear when you poke a skewer into the thickest part of the meat.
Leave to rest, covered in foil, for 5 minutes before serving in slices, drizzled with some pan juices, with fried rice, noodles or steamed green vegetables.