Spinach and Three Stuffed Cheese Shells Recipe
As you can imagine, I am feeling a bit of a teary blouse as my first born is now in situ and well ensconced in University life. It's only been a scant 24 hours and I know he's only 58 miles away, but we are all feeling a little lost and I am now redundant from one of my roles within the family – main carer for a giant, hungry 18 year old. It's not as though I don't have enough on my plate, however, it does feel strange being a man down at home and even having such mysterious items as leftovers, the likes of which are very rarely seen in our fridge. For all the sadness though, there is celebration for Ben and his exciting new future, and his fantastic social life for the next three years, lucky bastard. For no more reason, other than this is extreme snuggy, comfort food, today's post is Spinach and Three Cheese Stuffed Shells.
I also fear Lucy Loves sometimes lets down the lovely vegetarian community so today I am putting that right. This Spinach and Three Cheese Stuffed Shells recipe is a total meat free Monday delight. Garlic sautéed spinach mingles with herbs, ricotta, mozzarella and parmesan to create a filling for the pasta shells which is then doused in tomato pasta sauce. I used shop bought sauce, btw, as my sadness has not led me to be arsed to make my own marinara, but you may be slightly more diligent. Baked with extra parmesan to create the ultimate carb loading comfort supper. This dish is complete and wants for nothing, maybe just a handful of leaves or green veg to finish it off. Perfectly/flukily timed with the weather dropping by 10 degrees, this is warming, satisfying and filled with flavour. The inspiration for this super tasty meat free Monday special comes care of Knife, Fork, Swoon, with huge thanks.
I am a complete feeder. When anyone's feeling down my go-to solution is nosebag. These cheesy stuffed pasta shells may well be the answer to your problems, including empty nest syndrome. I know my nest is far from empty, but there is one less mouth to feed, and worryingly, it's the hungriest mouth. I will just have to make sure I don't eat Ben's share or next week I will be posting a recipe for a glass of water.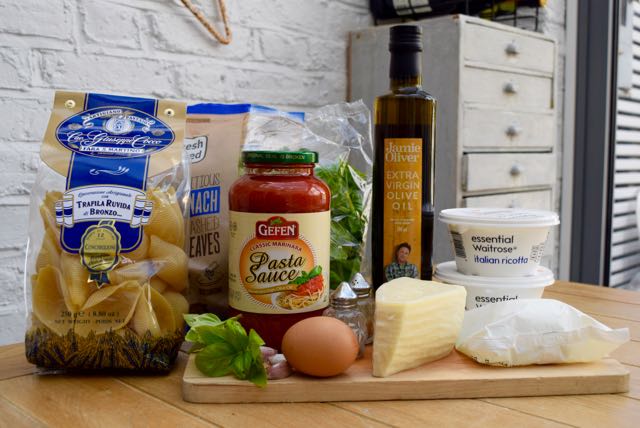 All these things together, what a super flavour filled combination. And while we're on it, those kind people at Jamie's Italian, have sent me a link to a very informative infographic on which is the best olive oil to use and when. I foolishly always just go for extra virgin, but this is not always necessarily the best man for the job.

Infographic courtesy of Jamie's Italian.
Now that Jamie's Italian has cleared that up, onto the main course. Make a start by pre heating your oven to 160 degrees fan assisted and oiling a nice big 9 x 9 inch square serving dish.
Cook your lovely big pasta shells according to the instructions on the packet. I found these on Ocado, they are not huge, but certainly big enough to fill. You could also use fresh lasagne and roll up with the filling inside if you are struggling to find big shells. Shorten the cooking time by around two minutes, however, as you don't want the shells to be soggy. Once cooked, rinse in cold water to stop them sticking then drain well.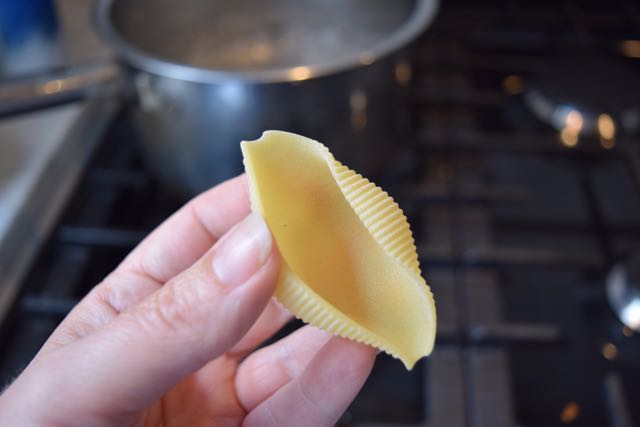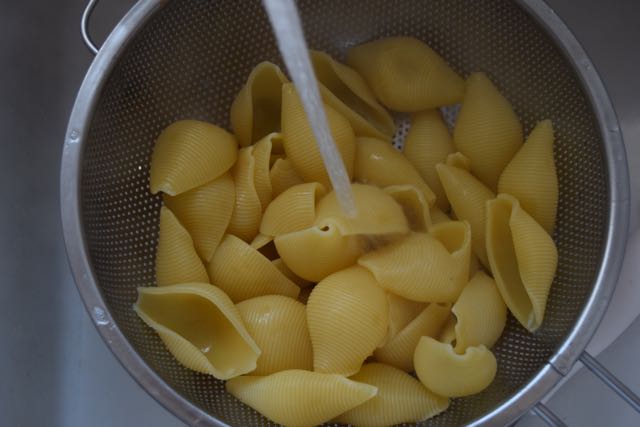 Pop to one side while you sort the filling.  Heat two tablespoons of lovely olive oil, in a good sized frying pan until just shimmering, then add your finely-ish chopped garlic and cook until just turning brown.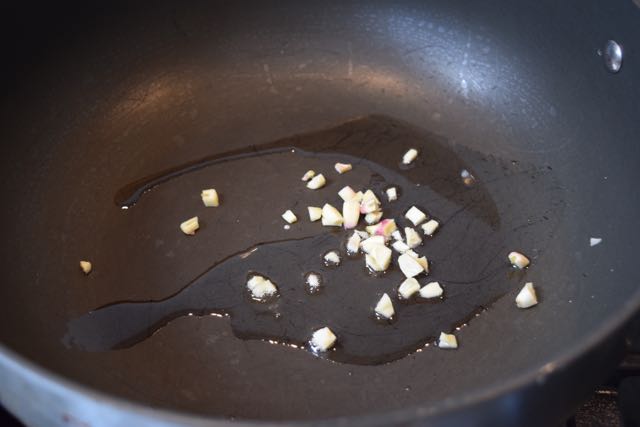 Stir though your spinach leaves and cook for another minute or two until just wilted then leave to cool for a moment.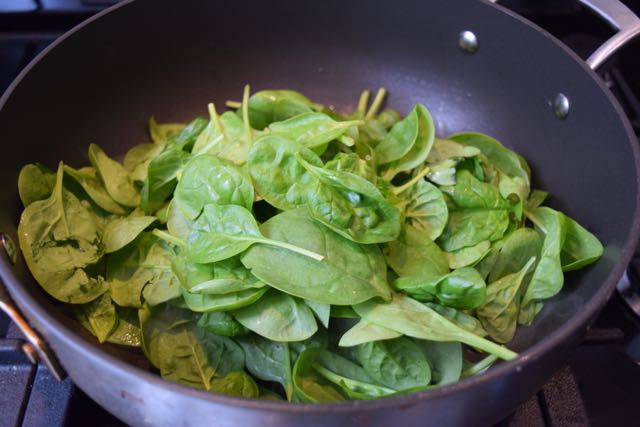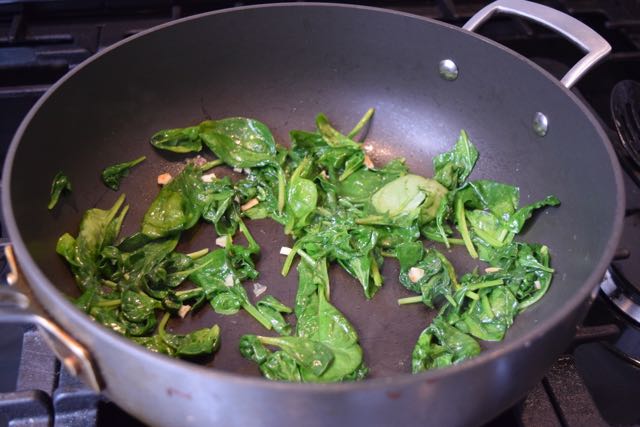 Now on with the three cheese affair. Take a large bowl and add the ricotta, mozzarella and freshly chopped basil.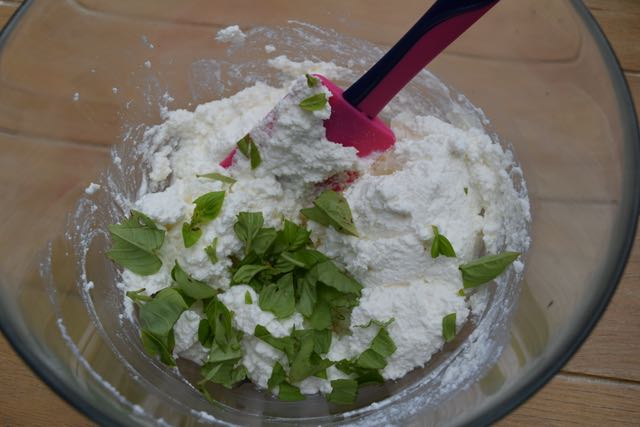 Mix in the grated parmesan, or other fiesty Italian hard cheese, egg, salt and pepper and the wilted spinach and garlic. Give it all a good stir until well incorporated.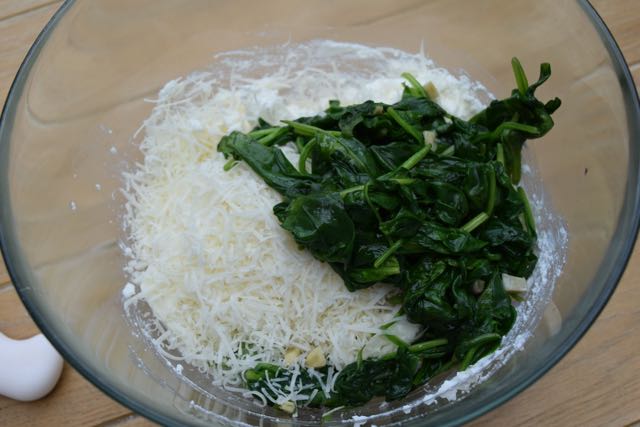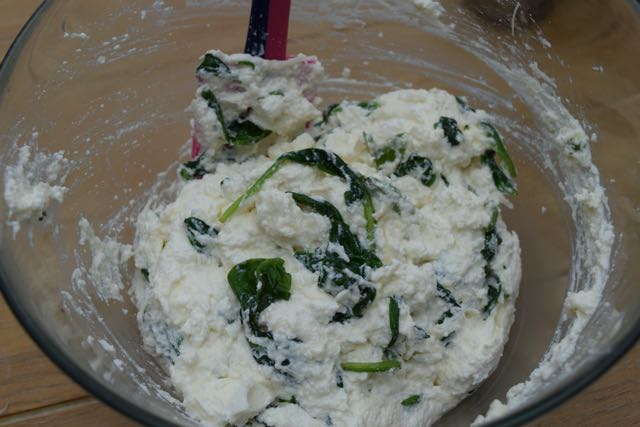 Onto the shell stuffing process. Pour half of your tomato pasta sauce into the base of your baking dish then arrange a layer of the par cooked pasta shells on top of the sauce. Feel free to make your own tomato sauce if you would rather and if you have far too much time on your hands.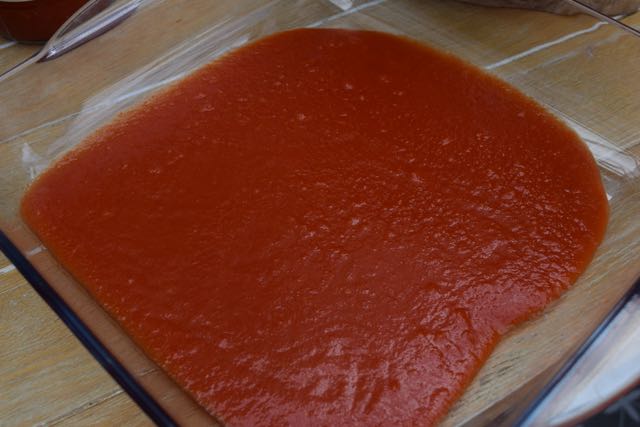 Generously fill each little shell with the cheesy spinach business, not worrying too much about how artistic you are being. I didn't, can you tell.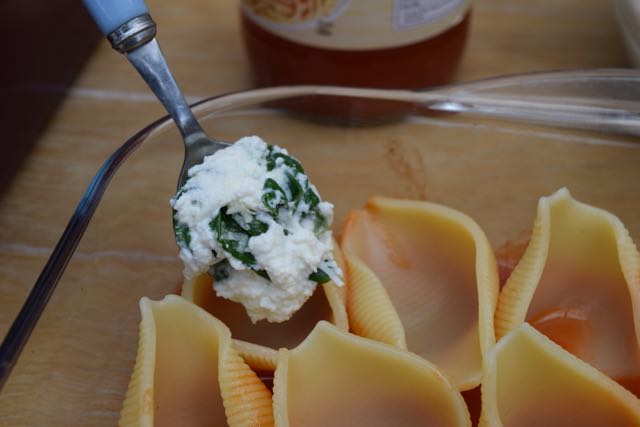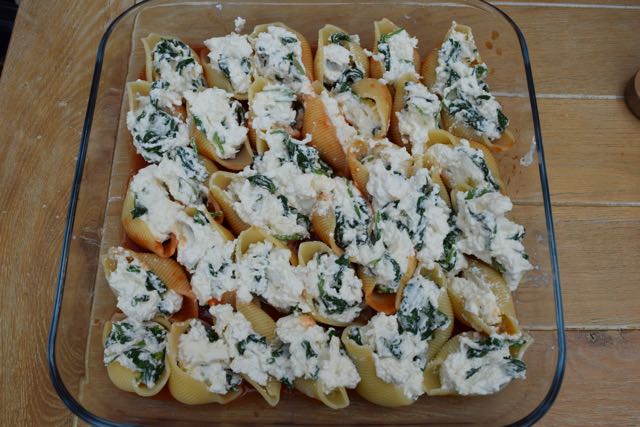 Finally, spoon the rest of the tomato sauce around and amongst the shells then drizzle with some more olive oil and sprinkle on the final 25g grated parmesan.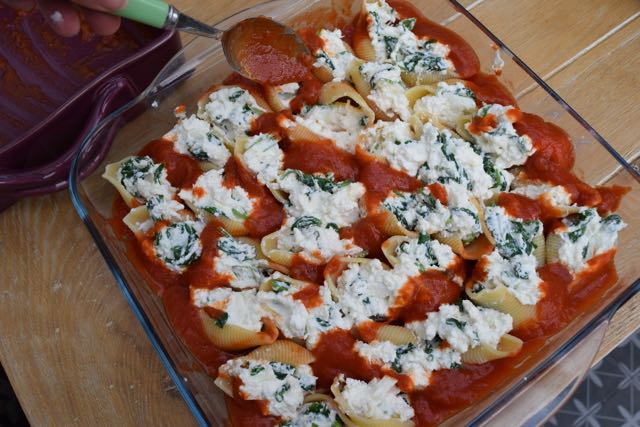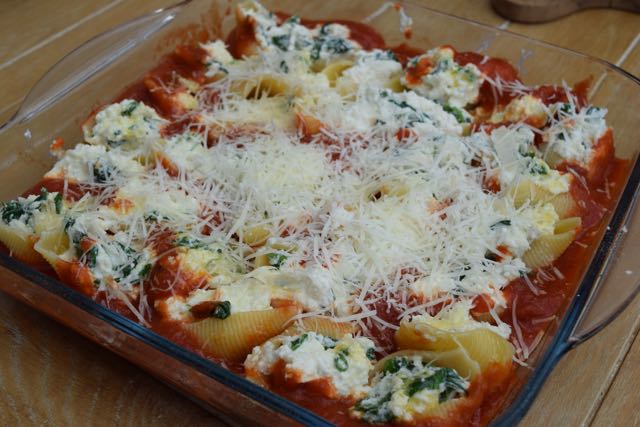 This goes in the oven, covered in foil for an initial 25 minutes then take the foil off and give it a further 10 to 15 minutes or until the dish is bubbling and golden and oh so edible.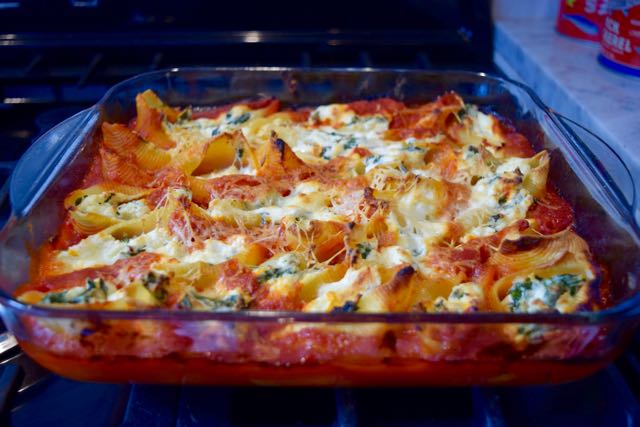 Devour in huge platefuls garnished with some more fresh basil and some leaves, if you like.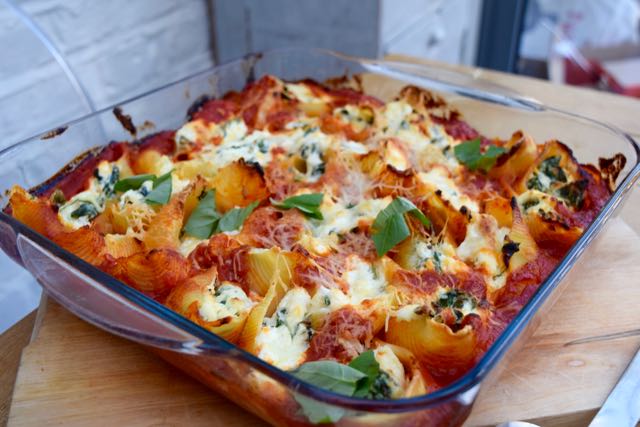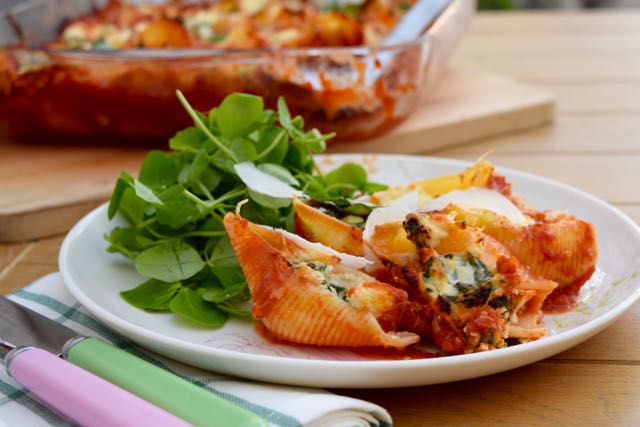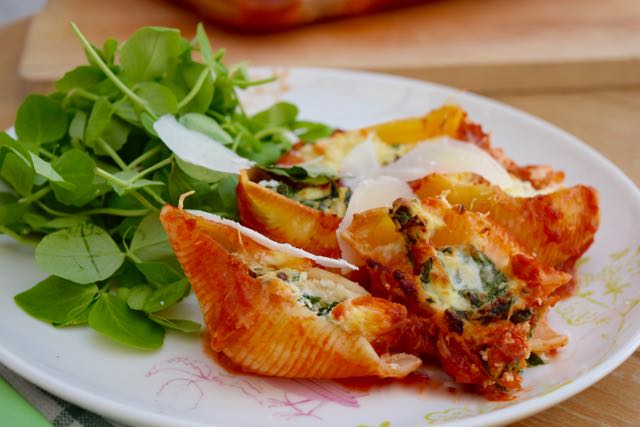 It's nearly time for more rib sticking style suppers. Gone are the light salads for another season, bring on the pasta, casseroles and soups. I love food for colder times, and I love the fact I can cover my spare tyre with a big jumper and my greying roots with a bobble hat. Bring it on, although, if an Indian summer is in the offing, please don't let my words have just cursed it for everyone.
Lucy x
This post contains an affiliate link which goes some way to funding the lovely work of Lucy Loves, with thanks.
Spinach and Three Cheese Stuffed Shells Recipe
Serves 4 to 6 relatively hungry buggers
You won't need any challenging equipment just a large square baking dish
250g bag large pasta shells
2 tablespoons good quality olive oil, please see the above guide for suggestions
2 cloves garlic, finely chopped
125g fresh spinach, washed
150g mozzarella, chopped
500g ricotta
50g parmesan, or other strong Italian cheese, grated
1 egg
Approx 1 tablespoon chopped fresh basil
salt and pepper
A large jar tomato pasta sauce, I used most of an 737g jar
25g parmesan, grated, for topping
Olive oil for drizzling
Fresh basil and leaves to serve
Pre heat your oven to around 160 degrees, fan assisted.
Take your pasta and cook according to the instructions on the packet, but stop short of cooking for whole time, take off the stove 2 minutes before it's ready, rinse under cold water and then drain.
In a large frying pan, add the olive oil and heat until just starting to sizzle. Add the chopped garlic and cook for around a minute or until starting to brown. Stir in the spinach and cook for a another minute or two until just wilted. Remove from the heat and allow to cool.
In a large bowl, mix together the mozzarella, ricotta, grated parmesan, cooled spinach, egg, basil and salt and pepper. Mix well, until combined then you are ready to assemble your dish.
Take a large square baking dish, round 9 x 9 inches and oil with a little more olive oil. Pour on half of the tomato pasta sauce then add a layer of the cooked pasta shells. Stuff each shell, generously, with the cheese and spinach mixture. Spoon over the second half of the pasta sauce then grate on the additional parmesan and drizzle with a little more olive oil. Cover in foil then cook for 25 minutes. Once this time is up, remove the foil and return to the oven for another 10 to 15 minutes or until golden and bubbling.
Leave to sit for 5 minutes before serving with a little more parmesan and some leaves.
SaveSave
SaveSave
SaveSave
SaveSave
SaveSave
SaveSave
SaveSave
SaveSave
SaveSave