Swedish Meatballs Recipe
Meatballs appear in some form or another in our house at least once, if not twice, a week. They are a staple supper and pretty popular with everyone. The only meal-time disharmony comes when it's time to decide on the sauce they are served with.  Each boy, Clyde included, has their favourite, it's either a tomato based sauce served with pasta or, if I am feeling particularly generous, piled into a sub roll with mozarella and served with chips or they are in a cream based sauce, Ikea stylie. So having already shared a wonderful tomato based meatball recipe with you, today it's time for you to make these Swedish Meatballs.
To be fair, I doubt very much if a Swedish person has ever been anywhere near this recipe, but hey ho, they do vaguely resemble the ones you get in the aforementioned scandi-superstore. Only they are way more delicious because you have lovingly made them yourself. Rather than, at the end of a three hour long queue, slung a bag of frozen ones into your trolley along with 6 bags of Daim bars. This meatball recipe comes via Damn Delicious, with thanks, but the sauce is pure Lucy Loves. These tender, juicy balls *oh come on* are flavoursome and tasty and are served bathed in a savoury cream broth-like sauce. Your only dilemma is what to serve alongside this supper dish. My boys love them with rice, however, these also work the scandi way with chips and cranberry sauce or with an enormous tower of buttery mash and peas. They are just wonderful, warming, comforting, even if you simply ladle them into a bowl and eat them with a spoon. They have no airs and graces, just lots of flavour and plenty of balls.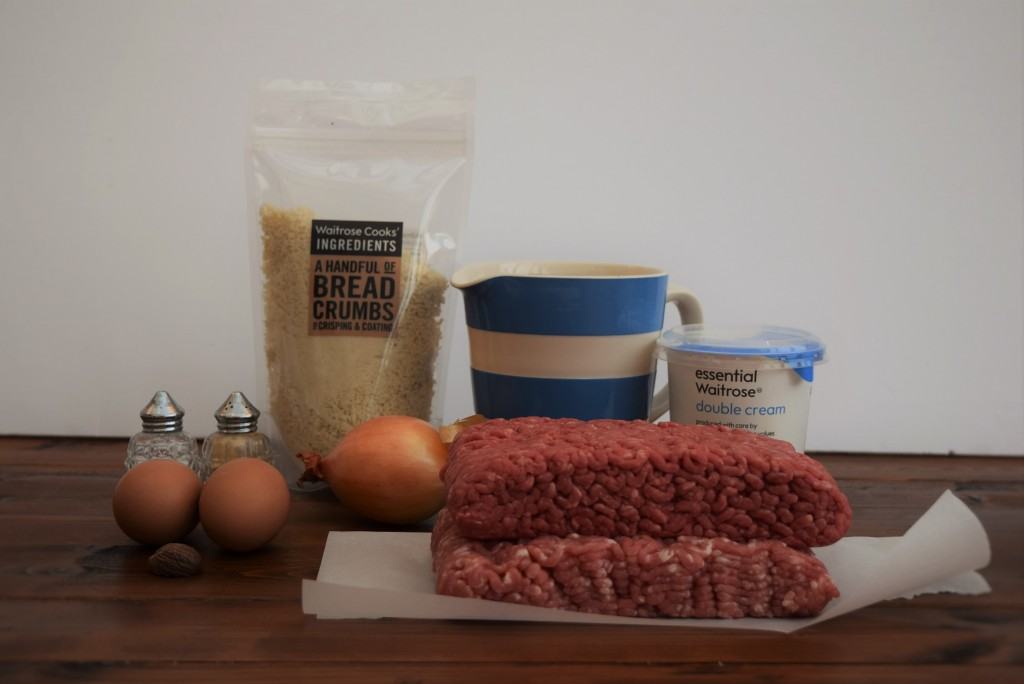 Here's the line up for this hearty comfort food. Minus an optional Oxo cube, or splash of concentrated beef stock, because I am rubbish and scatty. Feel free to make a handful of fresh breadcrumbs by blitzing up a slice of bread too, I was being lazy and frivolous, alongside rubbish and scatty, by using bought ones as I had them to hand.
Make a start by pre heating your oven to 170 degrees fan assisted. I love to oven bake my meatballs rather than frying to avoid them all falling apart and returning to their former mince-like status. Next, heat a tablespoon of oil in a frying pan and add your finely chopped onion. I used my tiny chopper as I can't bear to find giant chunks of onion in things.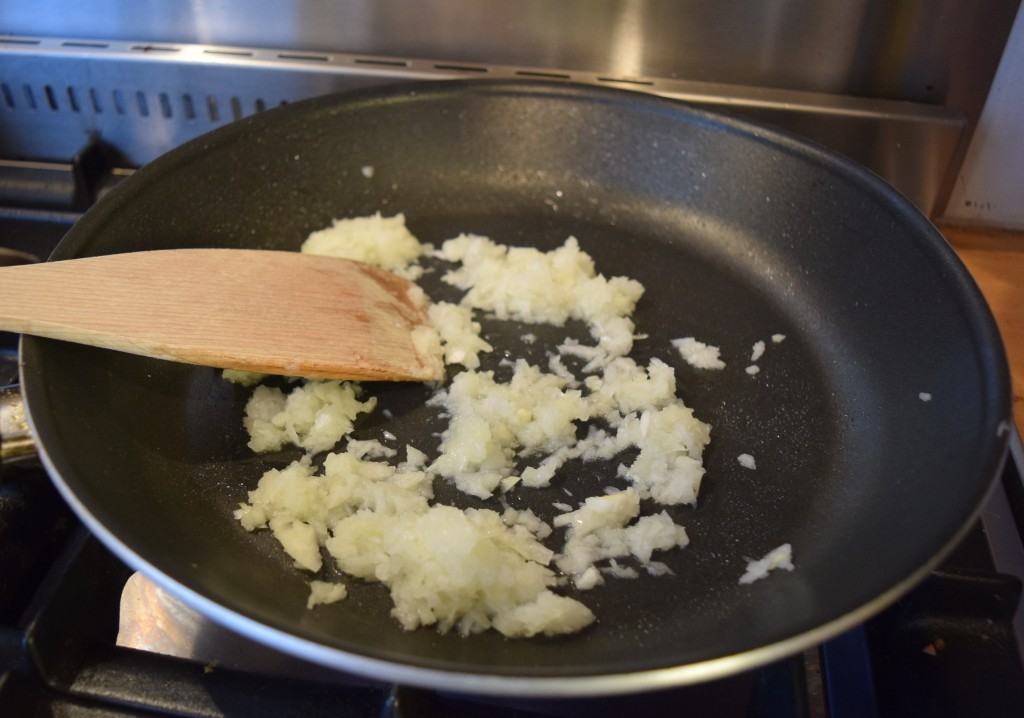 Fry the onion until it is starting to soften and turn golden brown. Leave to cool for a moment. In a large bowl add both the pork and beef mince, egg yolks, salt and pepper and freshly grated nutmeg.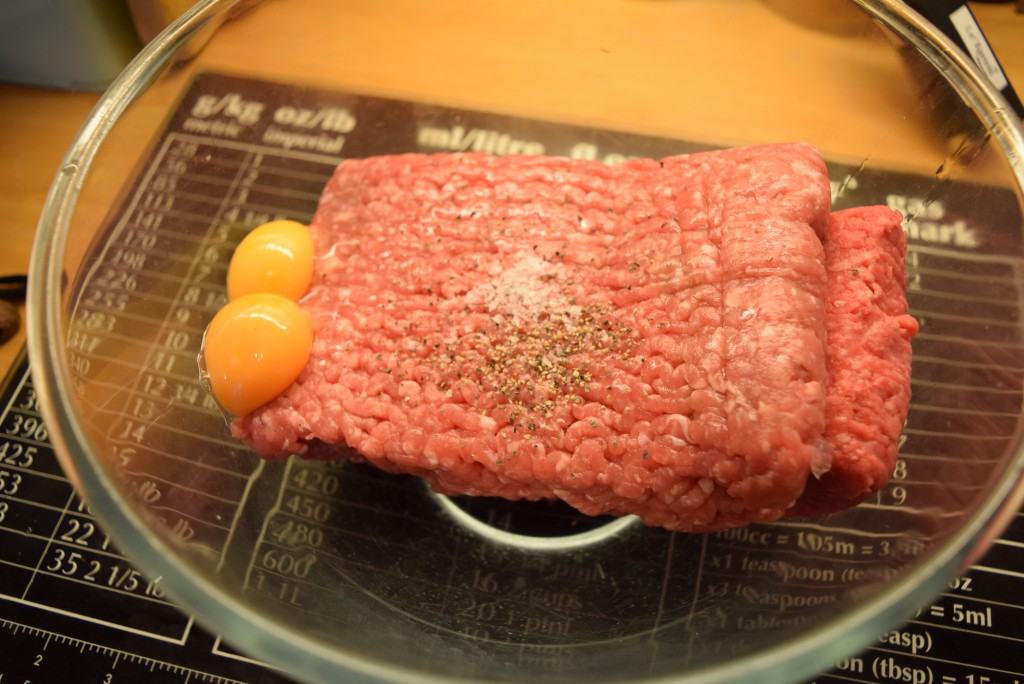 Next, pop in the breadcrumbs and slightly cooled onions then mix all these things together. Start with a spatula if you like, but definitely go in with your hands to ensure an even mixture.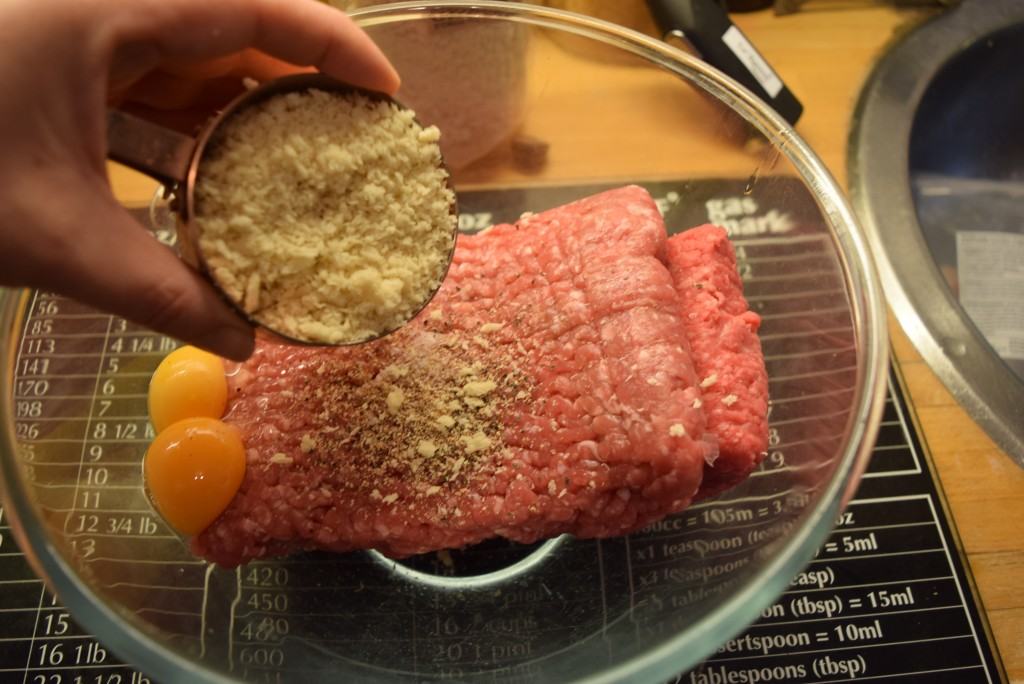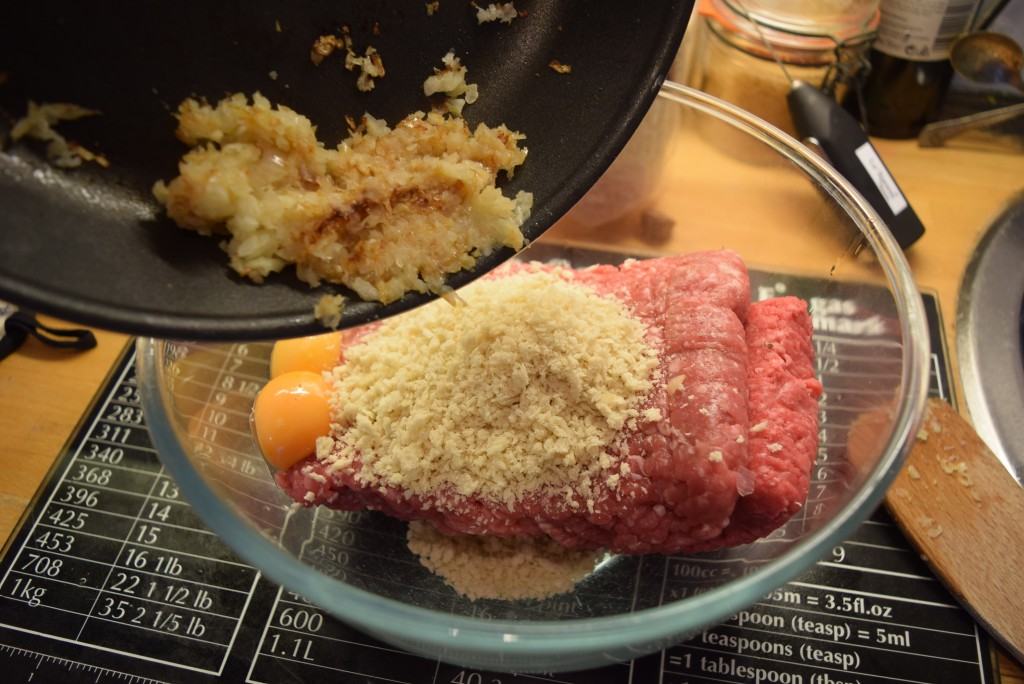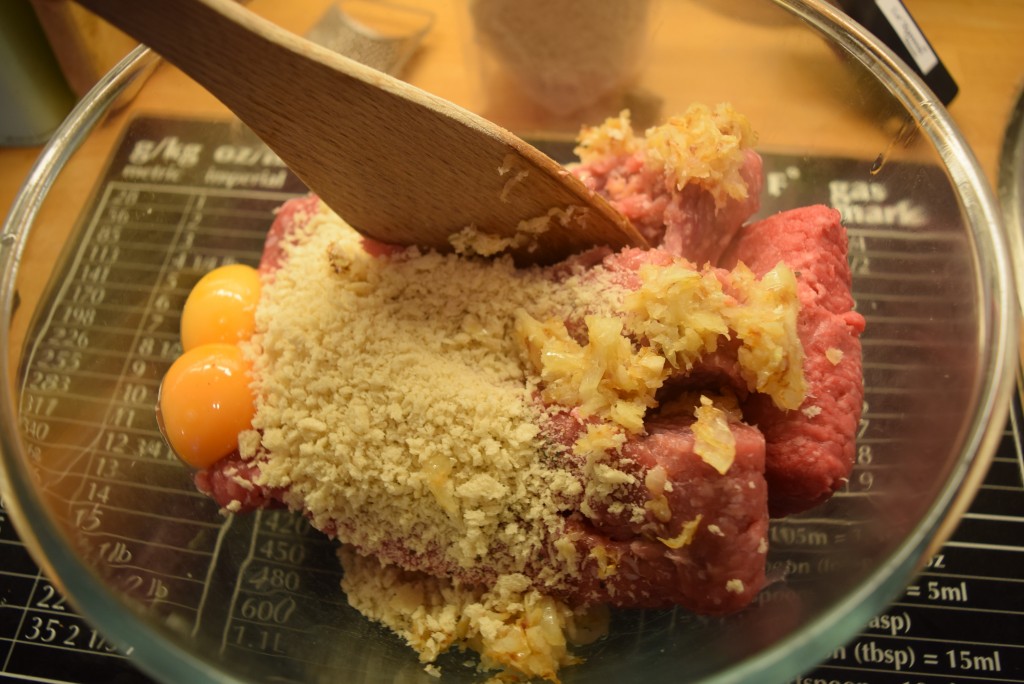 Don't be squeamish, get stuck right in.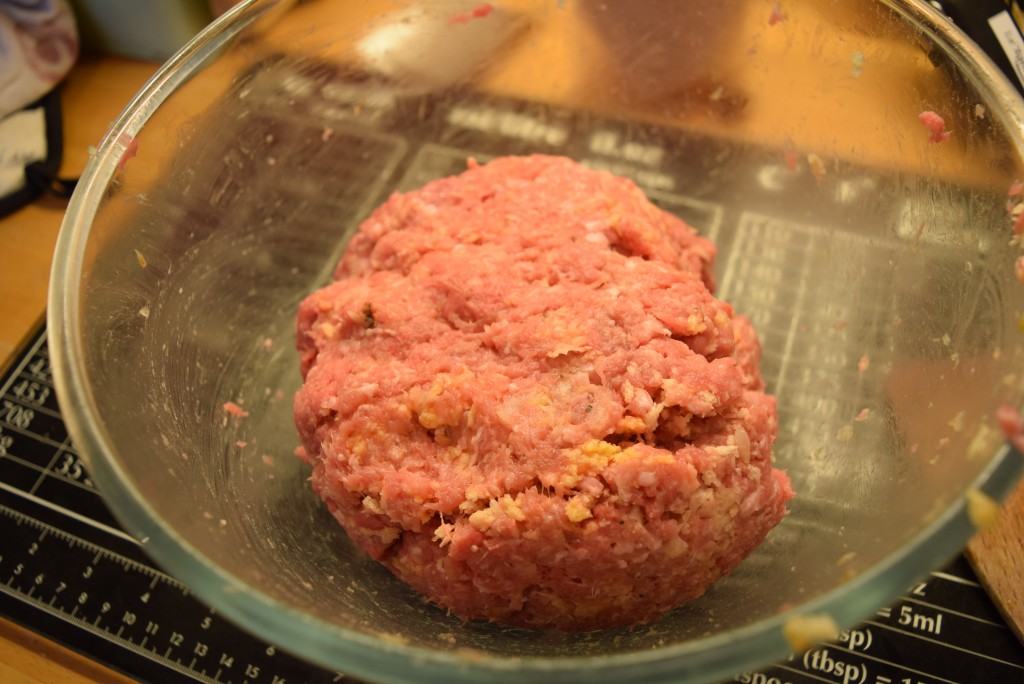 Next it's time to fashion this into balls. Take large walnut sized lumps and roll them into even-ish meatballs and place on a lined baking sheet. This quantity made around 24 meatballs. Big-un's.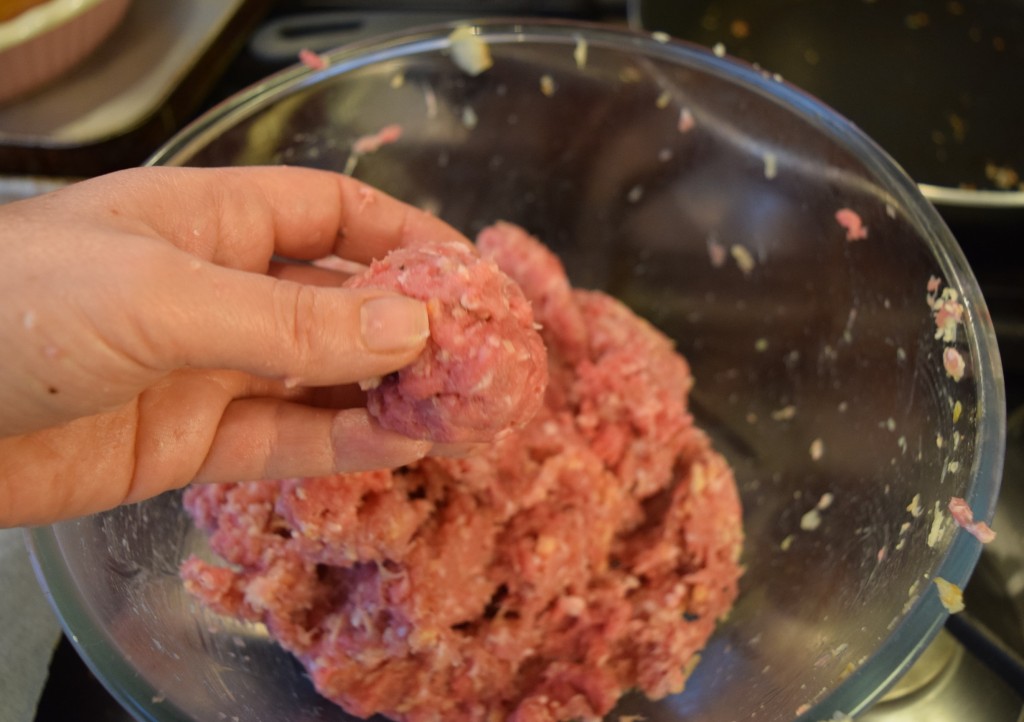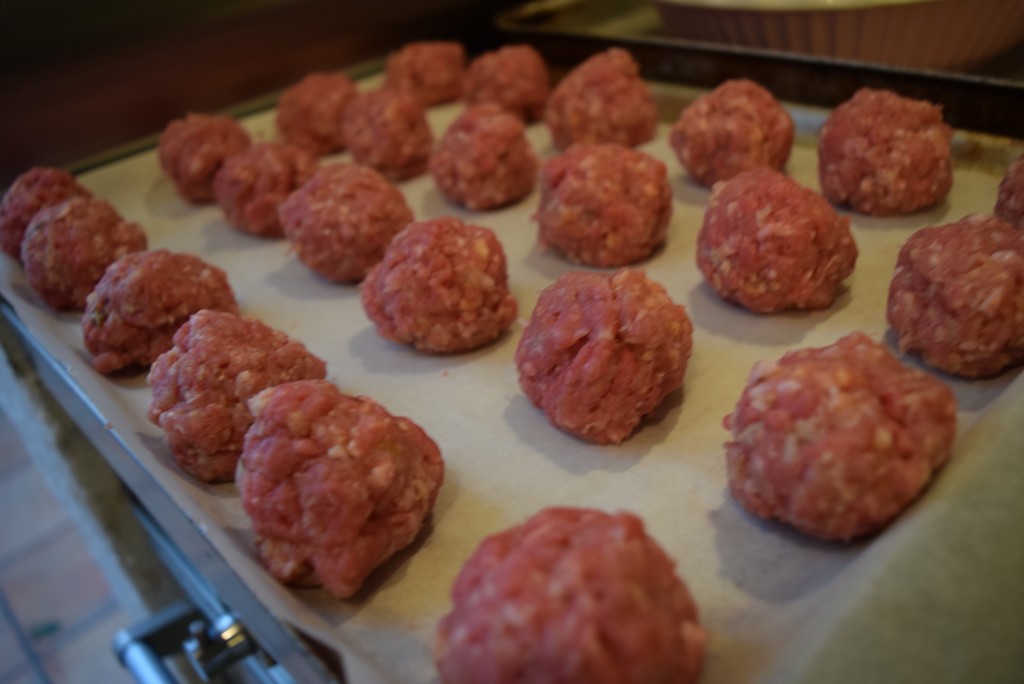 Bake these tasty treats for 20 to 25 minutes or until browning nicely and cooked right through. You may be drooling at this point over the wonderful meatbally wafts.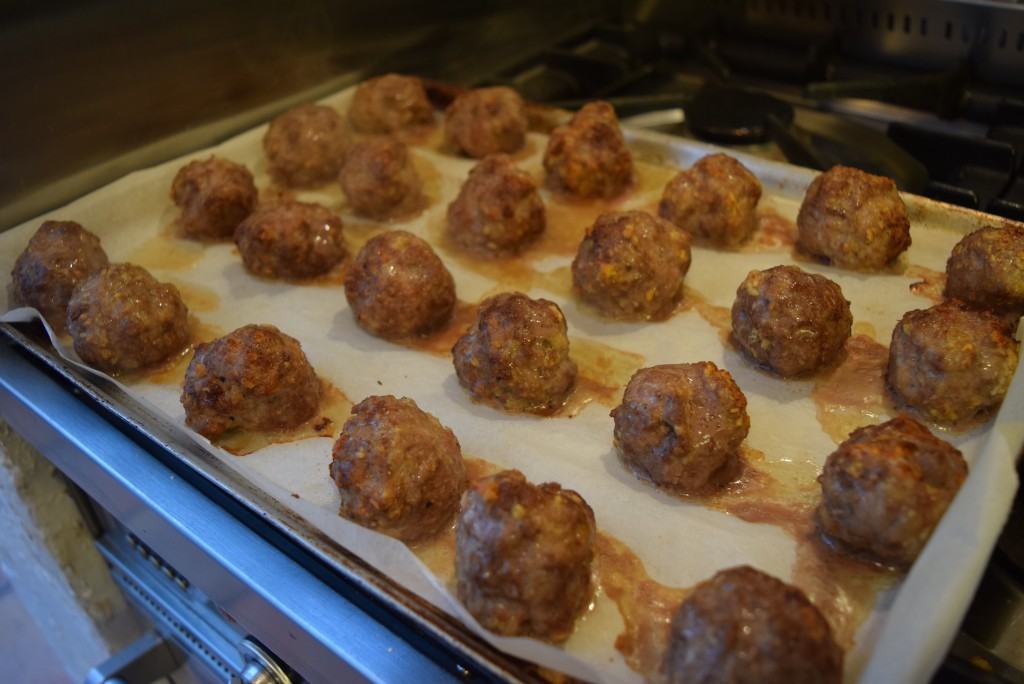 While the meatball magic is happening, crack on with the cream gravy style sauce. This starts with heating some chicken stock in a good sized frying pan.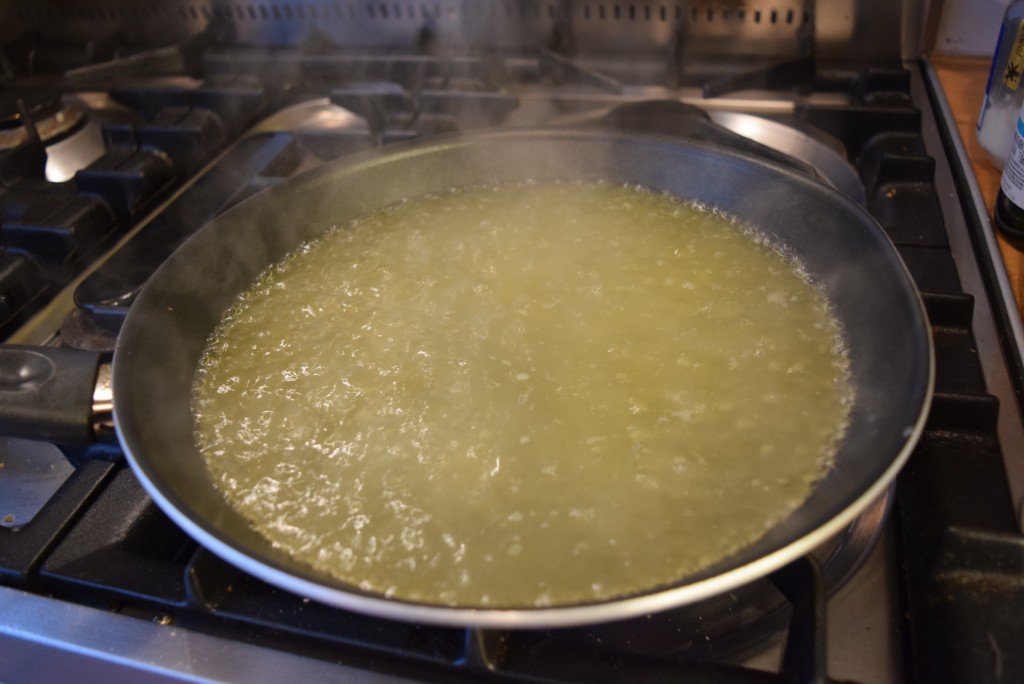 Once it's simmering add in an optional Oxo cube or splash of concentrated beef stock, if you have it. This adds a meaty richness to your sauce.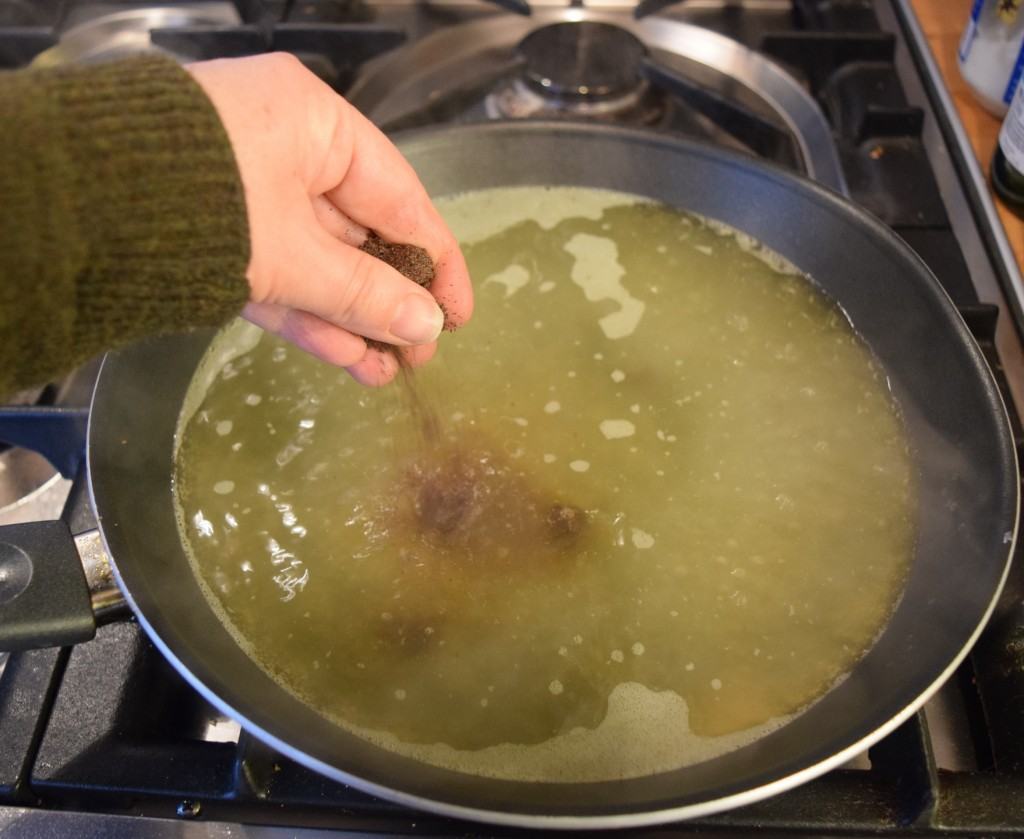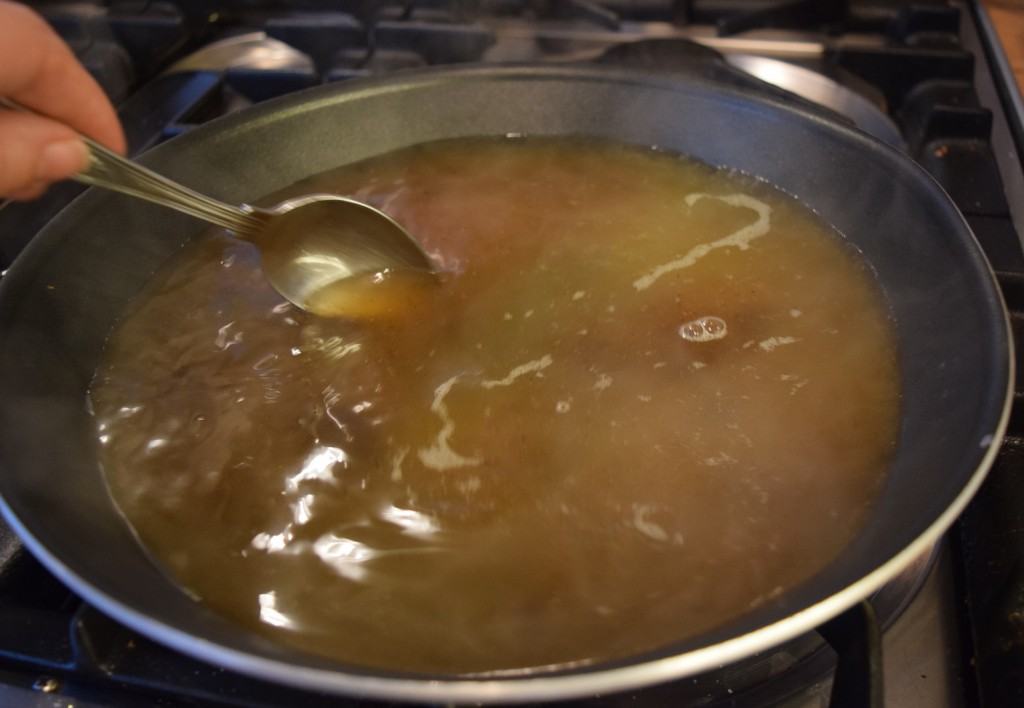 Next, pour in the cream, check for any additional seasoning needs and then bring this tempting sauce back up to the simmer.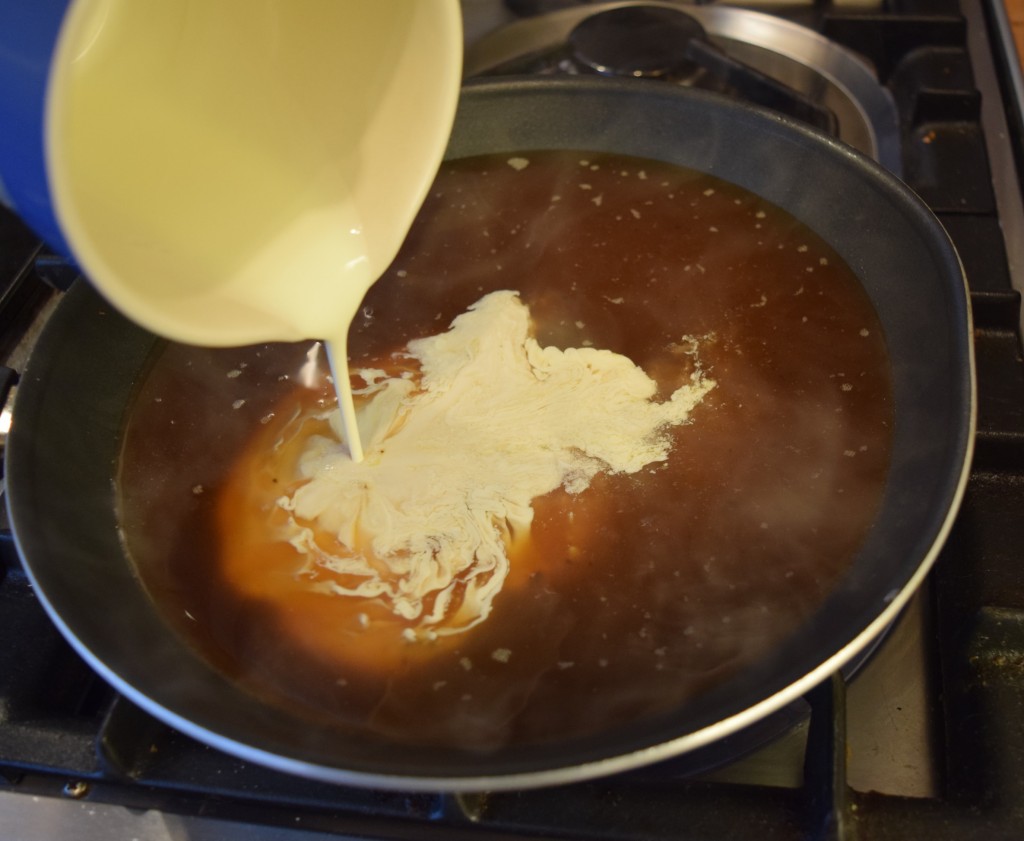 Even though it doesn't look terribly tempting here, it tastes bloody lovely.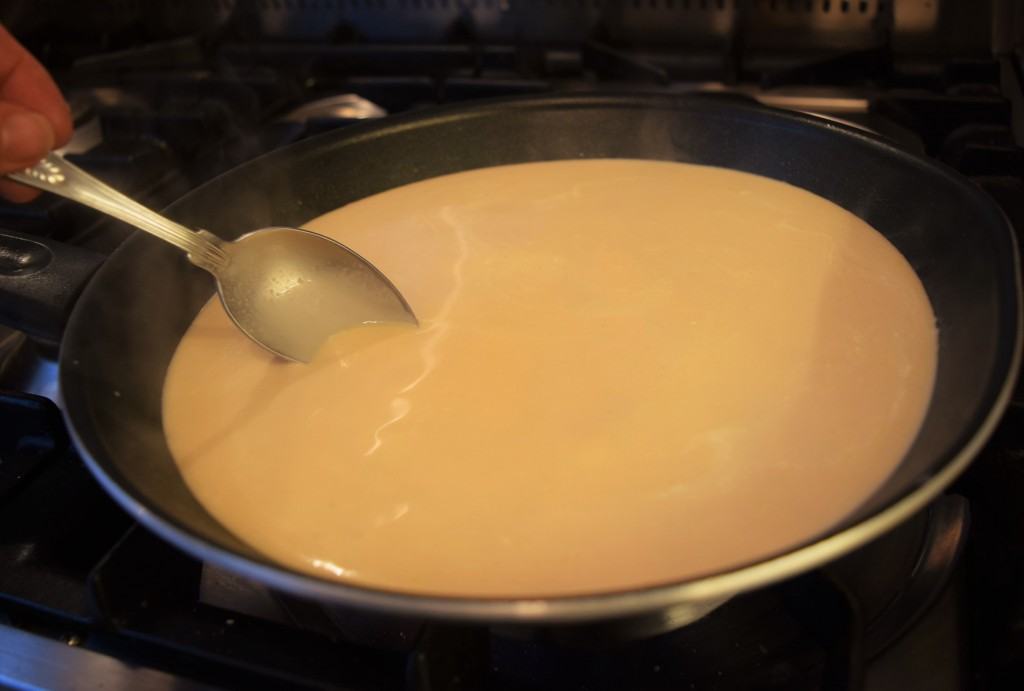 Finally, drop your golden brown meatballs into the pan of sauce and heat through gently.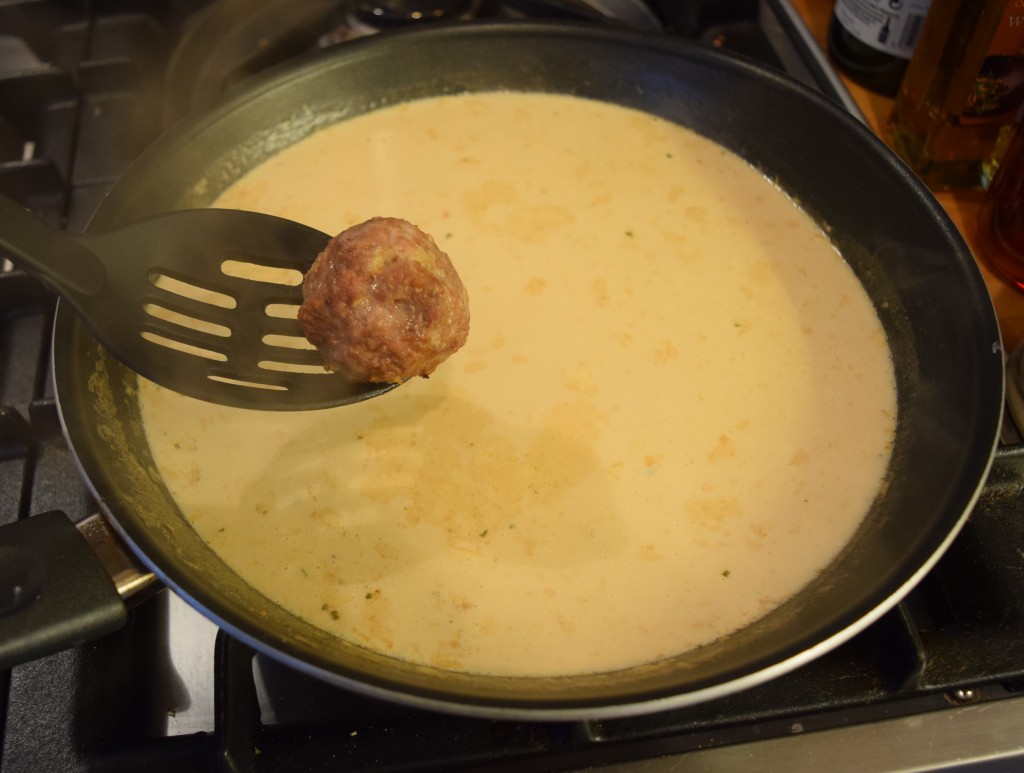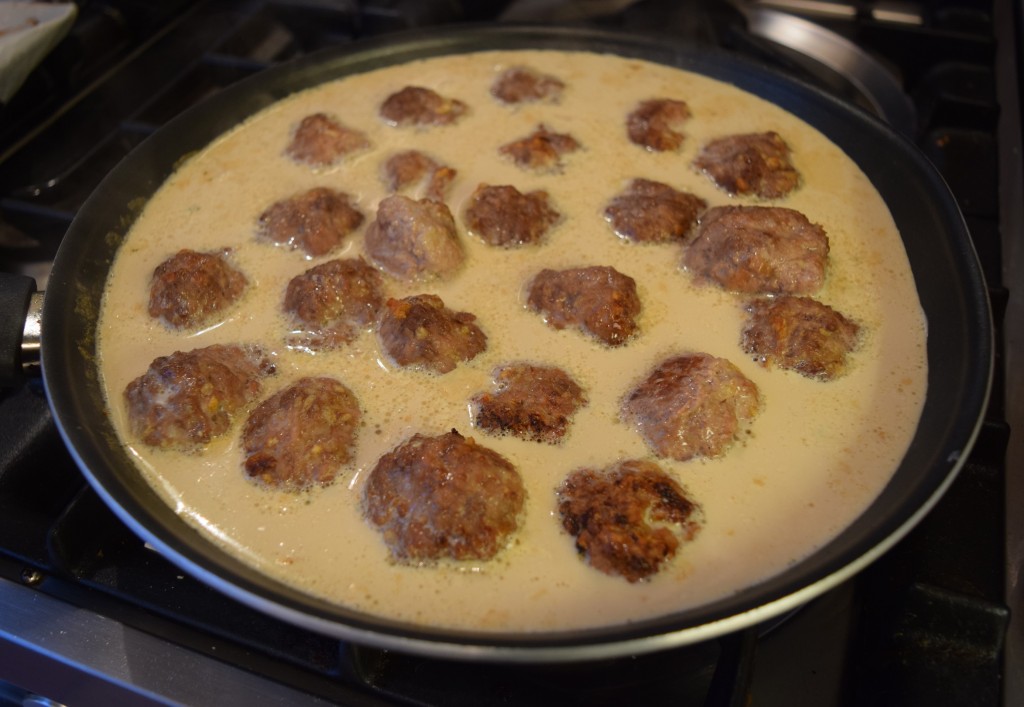 Sprinkle liberally with freshly chopped parsley and devour by the bowlful.
I ate at least three from the pan with a fork. I know no boundaries.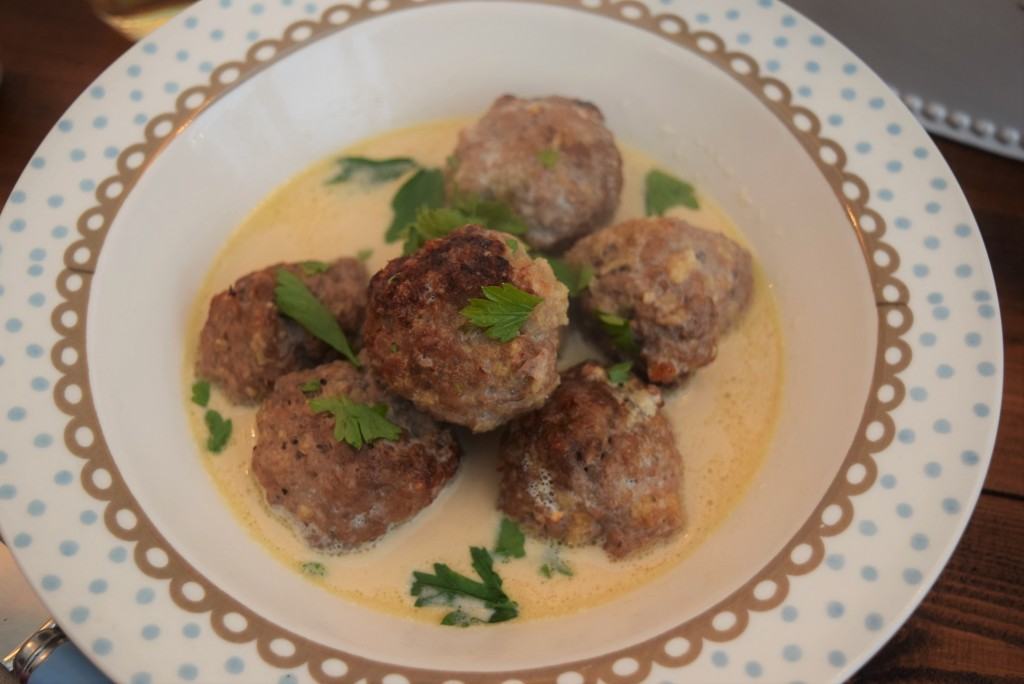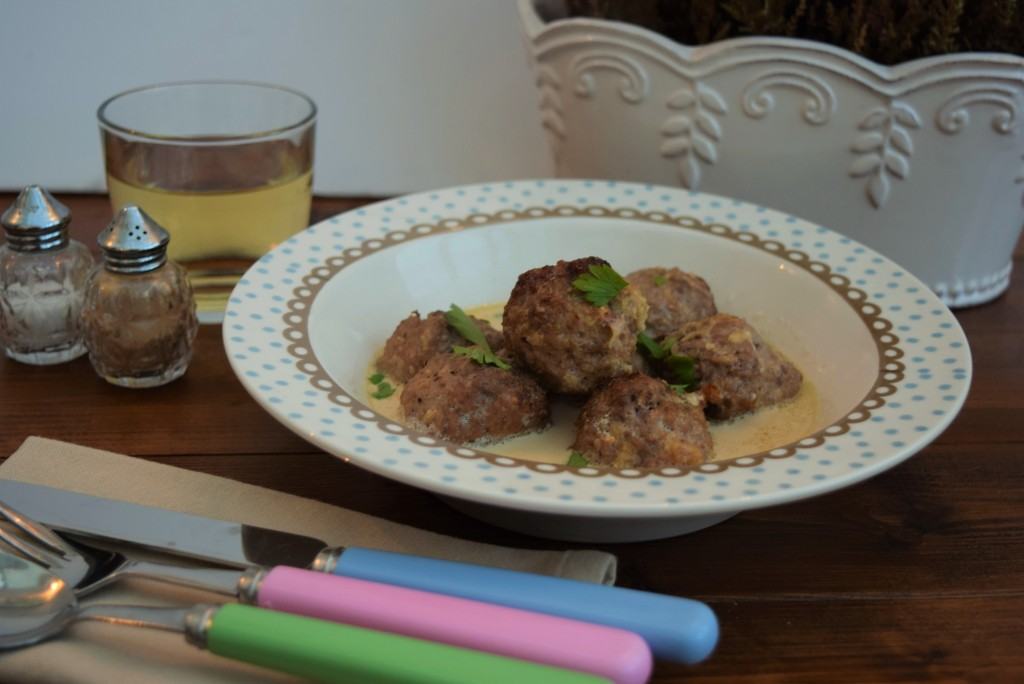 Heart and tummy warming food for the winter.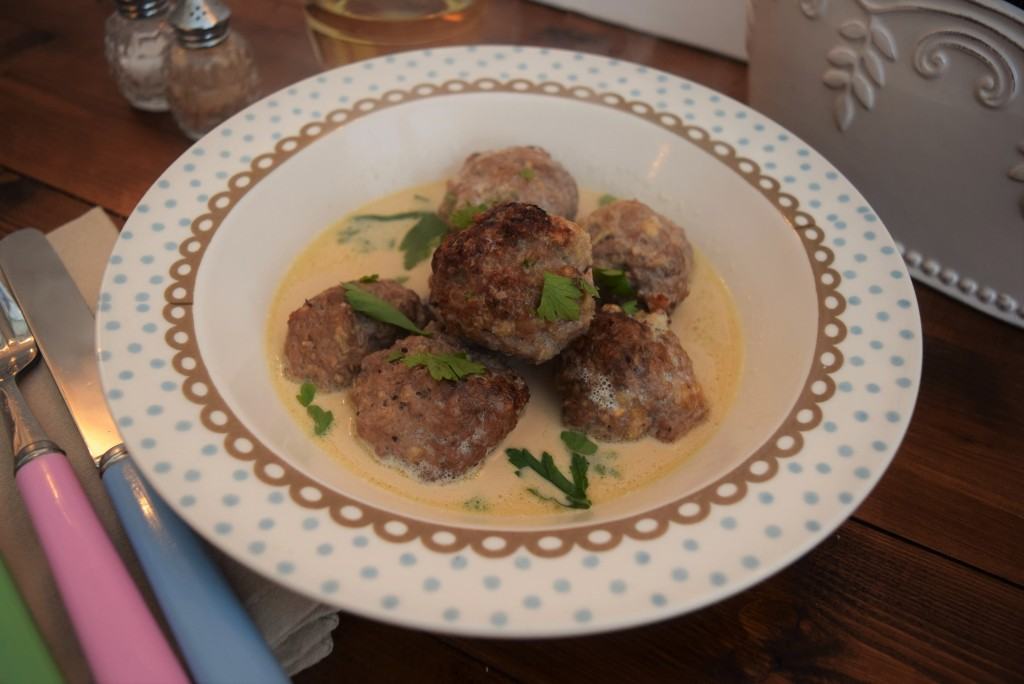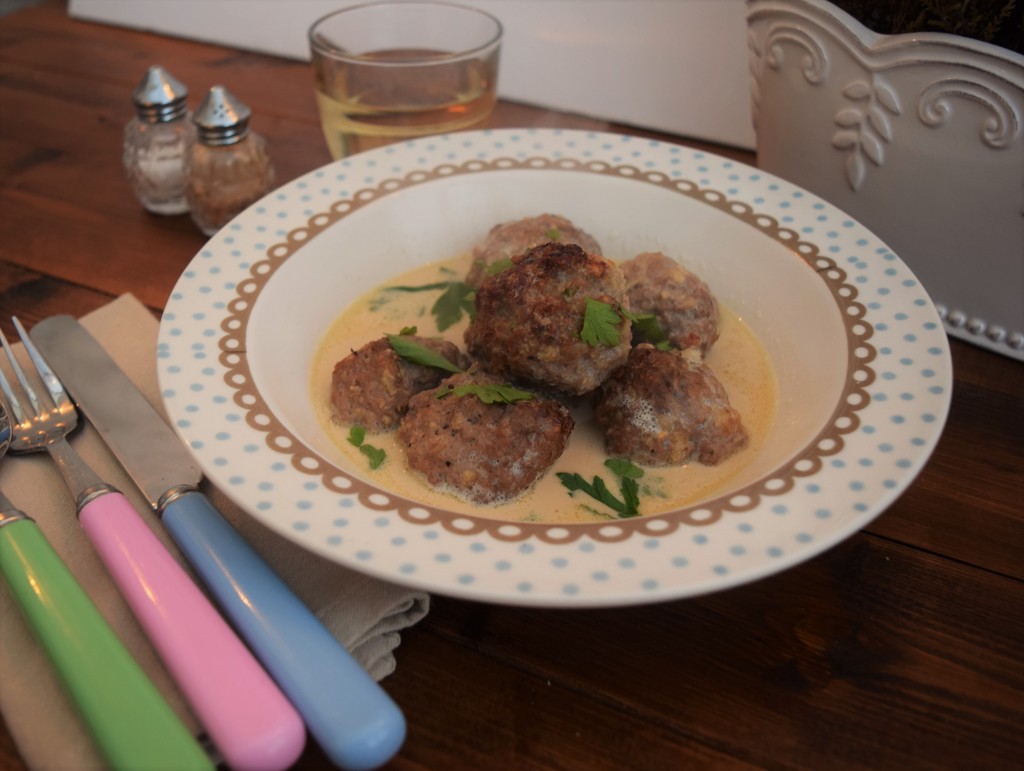 I love all things Scandinavian. H&M, herrings, rye bread, The Bridge, Abba, it's a long list. This list also includes my Swedish-ish Meatballs, served any way you fancy, mash, rice, chips, you decide. I hope you like my anglo-interpretation of this classic dish and I have in no way offended the Swedish community with my slightly stereotypical attitude to all things Scandinavian. Some of my best friends are Swedish.
Lucy x
Swedish Meatballs Recipe
Serves 4 hungry people, 6 less so
You will need no particularly interesting kitchen equipment
Meatballs
500g beef mince
500g pork mince
1/2 teaspoon salt
a good grind or pinch of black pepper
a generous grating nutmeg
2 egg yolks
125g breadcrumbs
Sauce
750ml chicken stock
1 Oxo cube or splash of beef stock concentrate, optional
75ml to 100ml double cream
salt and pepper
Freshly chopped parsley to garnish
Pre heat your oven to around 170 degrees fan assisted and line a baking sheet with greaseproof paper.
In a large bowl add both beef and pork minces, breadcrumbs, salt and pepper, nutmeg and two egg yolks. Stir well then go in with your hands to make sure all the ingredients are combined. Roll the mixture into large walnut/golf ball sized balls and place on a lined baking sheet. Bake for 20 to 25 minutes or until the balls are golden brown and cooked through.
For the sauce, heat 750ml of chicken stock in a frying pan until simmering. Add an Oxo cube or splash of beef stock concentrate, if you have it and mix well. Pour in the cream, check if it needs any additional seasoning then bring back to the simmer.
Once the meat balls are baked, drop these into the cream sauce and simmer until piping hot. Serve immediately with chips and cranberry sauce, mashed potatoes, rice or pasta, garnished with freshly chopped parsley.