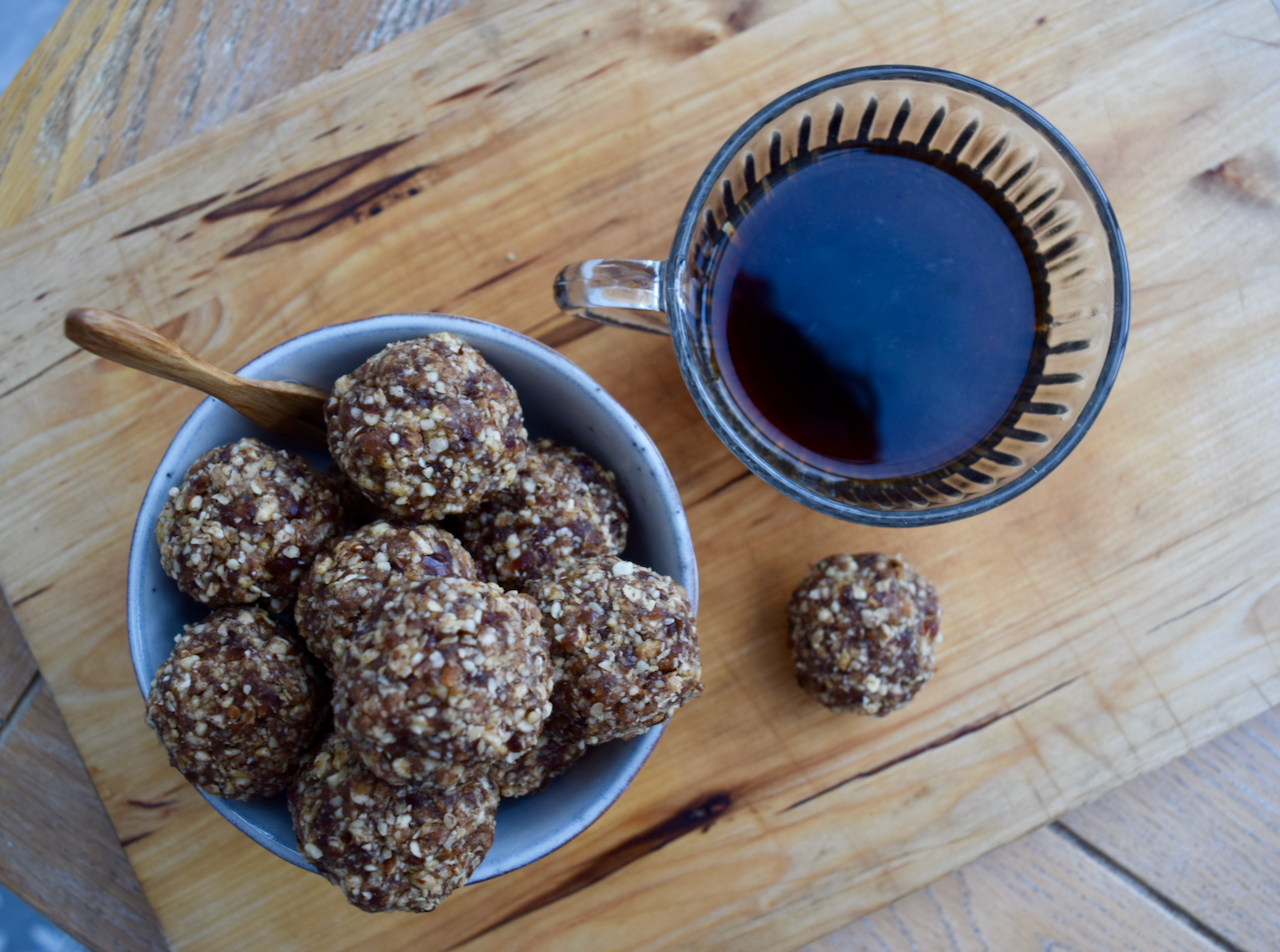 Apple Crumble Energy Balls recipe
Autumn is full of promise; the promise of a log fire, whisky macs and a hot apple crumble. The sunny chilly mornings are making me feel quite positive for the first time in a long while. Alongside the positivity I am trying to be more mindful with what I'm eating, to make up for a summer saturated with litres of rosé and these Apple Crumble Energy Balls are featuring heavily in that healthy eating plan.
I have developed more of a sweet tooth since having children 100 years ago. Prior to the boys I never really had a hankering for sweets, it was all about the savoury nibbles. But now, I can't seem to finish a meal without wanting some sort of sweet nibble. These Apple Crumble Energy Balls are packed with natural sweetness from sticky dates, dried apple and a nut of your choice. I went for pecans having a large bag of them sitting idle, but a mixture of any nuts you have lurking will be just fine. There's a touch of cinnamon and nutmeg to add that autumnal flavour and to convince your tastebuds your having a mouthful of your favourite pudding. They're simplicity personified with all the ingredients being processed in your mixer until you have a soft rubble, ready to be rolled into little energy boosting balls. A big thank you to my favourite My Fitness Pal app for the recipe inspiration.
Ok so these aren't quite the same as a piping hot bowl of crumble and custard, but you can have that on a Sunday; these little balls will keep you going until then.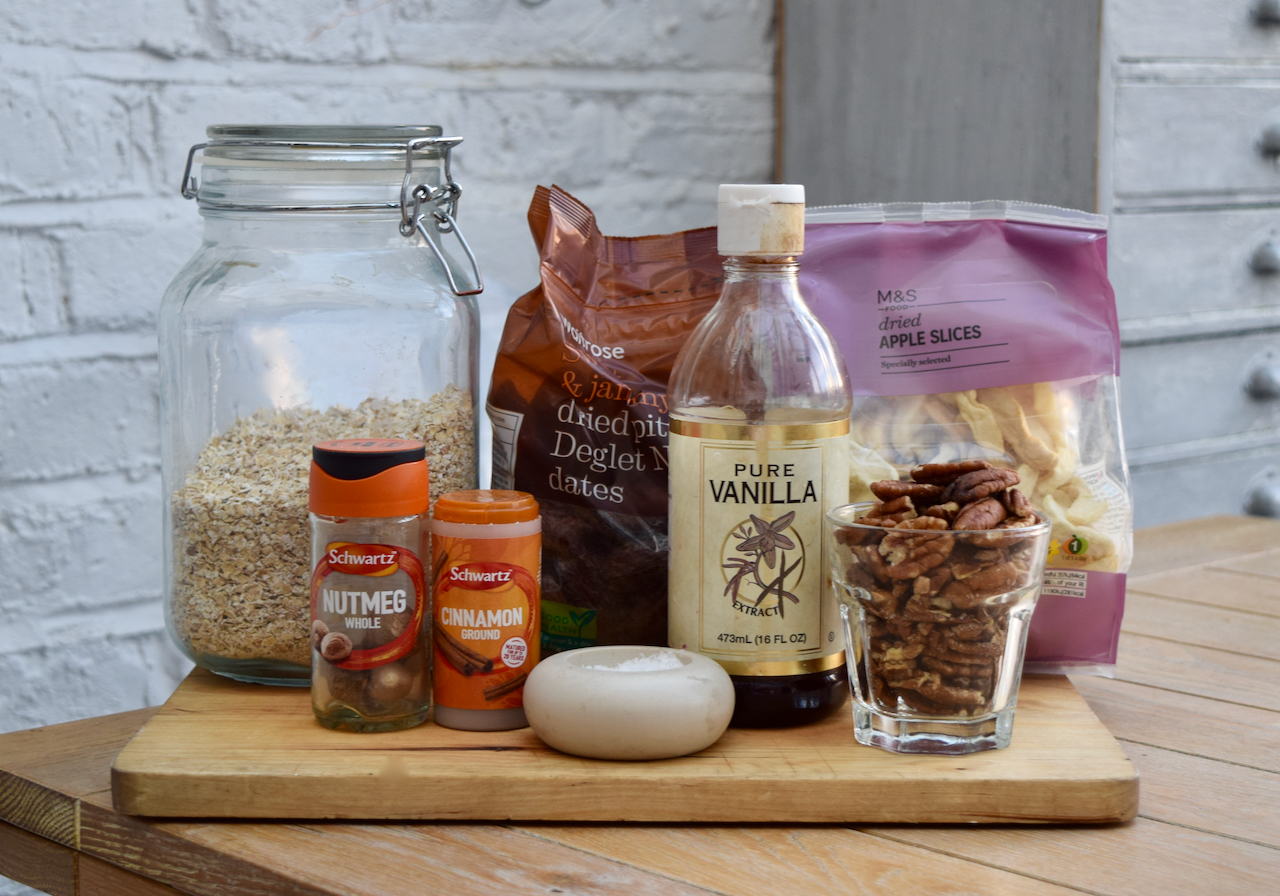 Now there's a wholemeal line up for this lovely recipe. I hadn't seen apple slices for years; they always used to feature in a stewed fruit compote from my childhood. For my Apple Crumble Balls, however, they add a sweet apple hit which sits wonderfully alongside the dates. If your dates are the particularly dry variety, do give them a soak in boiling water for 5 minutes before draining and using in the recipe.
Start with the bowl of your food processor. Add the apples and dates and process until well chopped.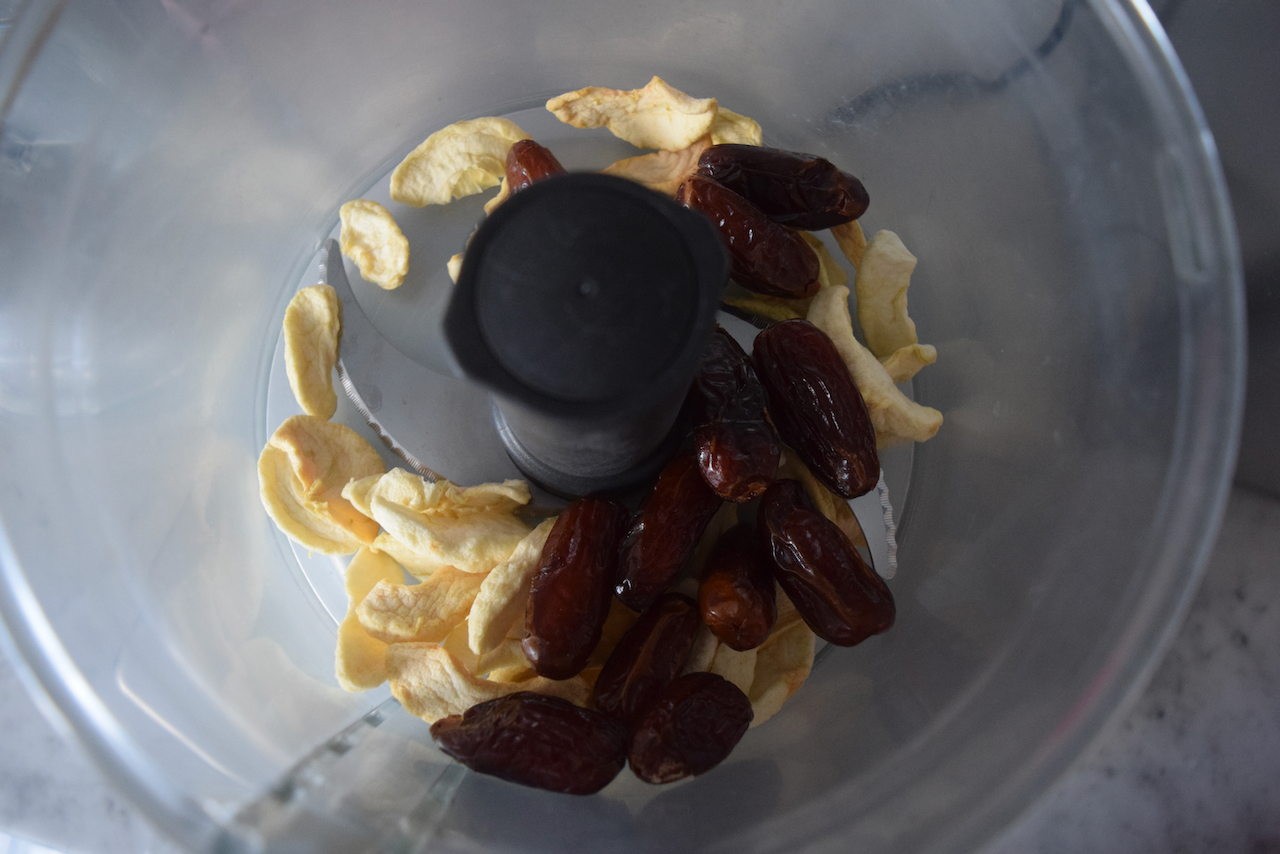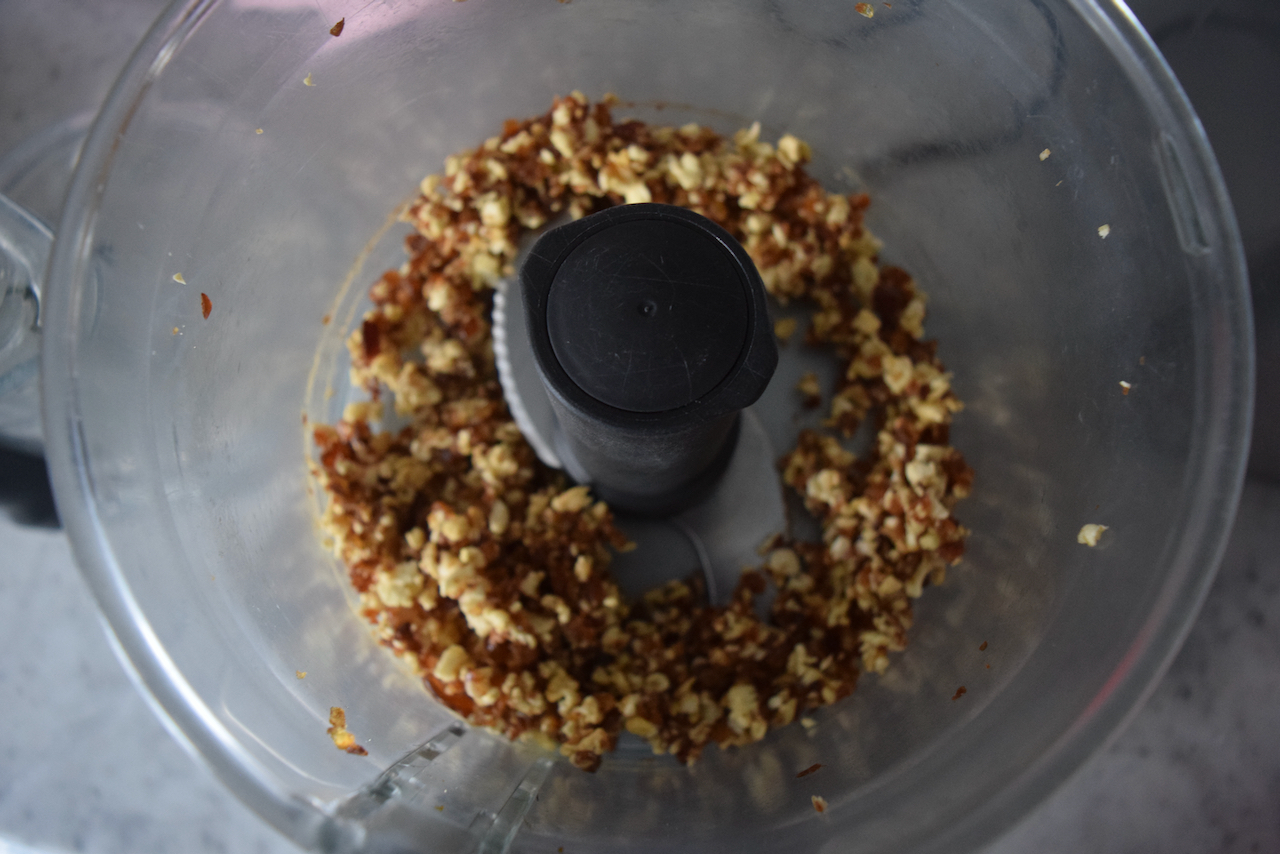 Now tip in the nuts, oats, vanilla, cinnamon, nutmeg and salt.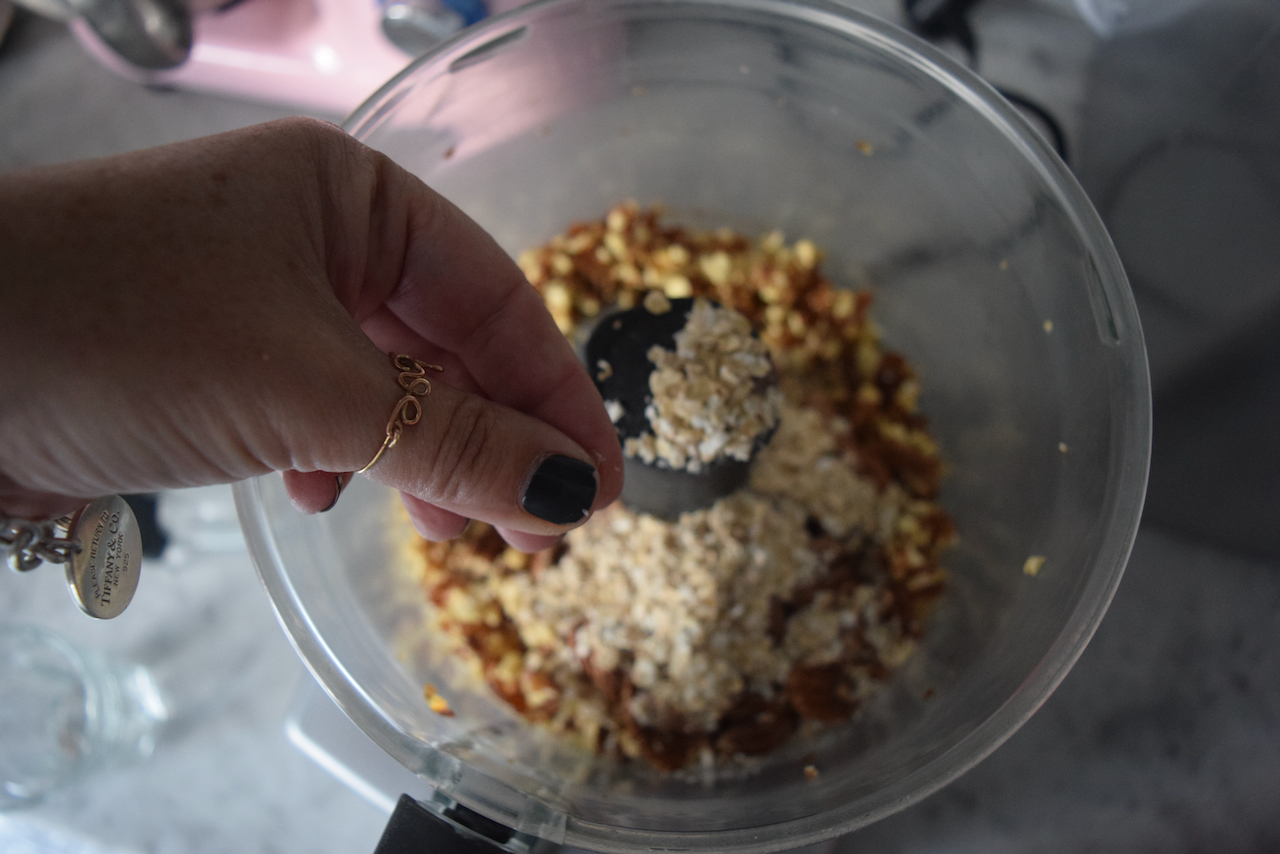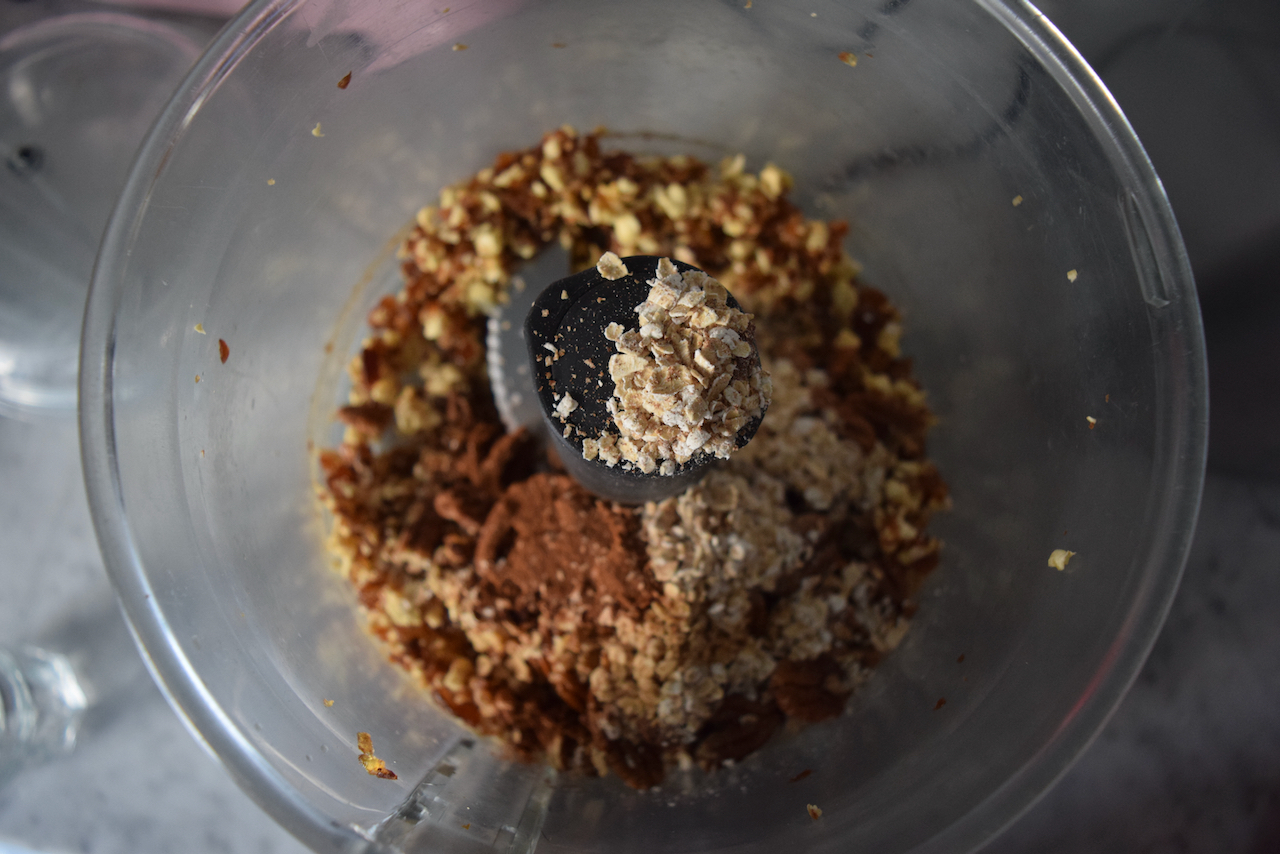 Process again until you have a soft rubble like texture. Press some of the mixture between your fingers to see if it clumps together. If it's a little on the dry side, add a tiny splash of water to bind.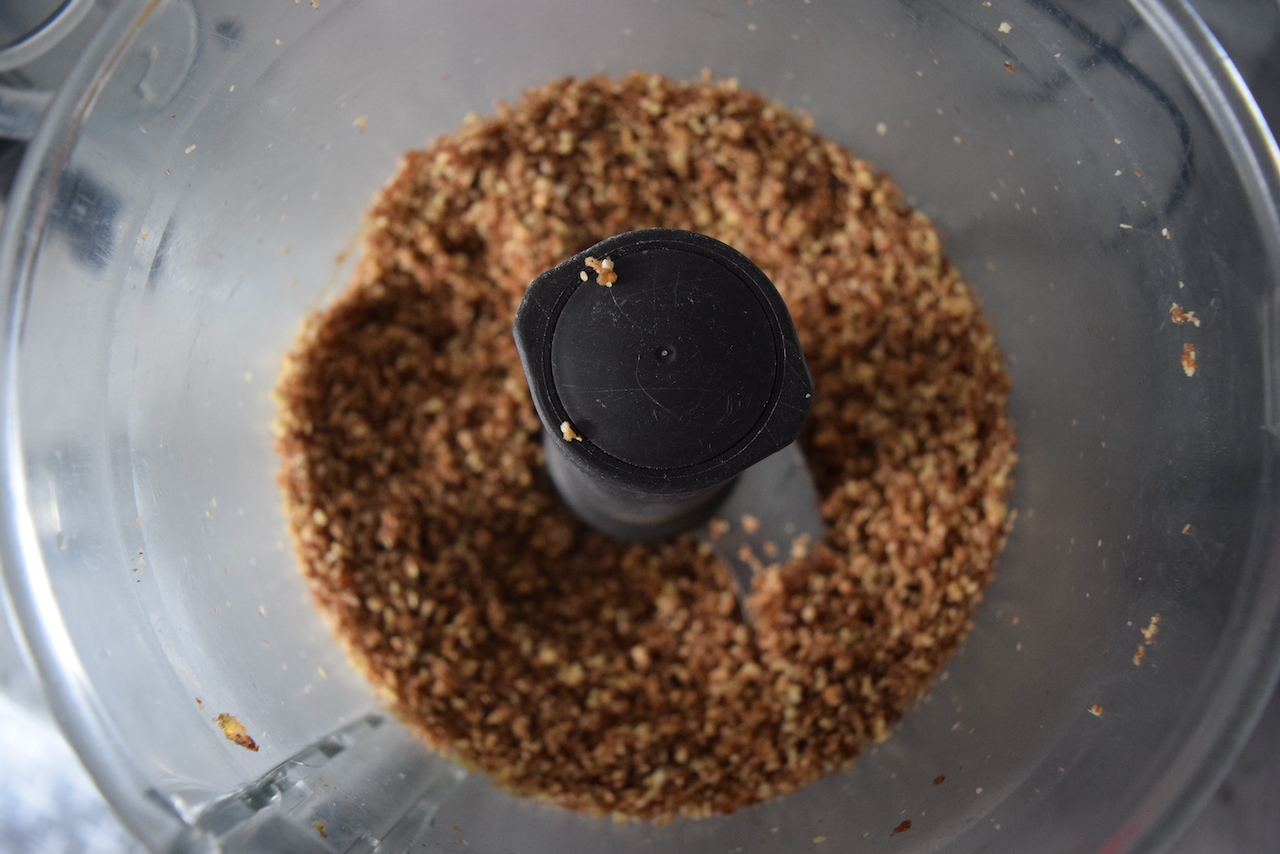 Now take tablespoons of the mixture and mould and roll into walnut sized balls. You'll get around 12 from a batch.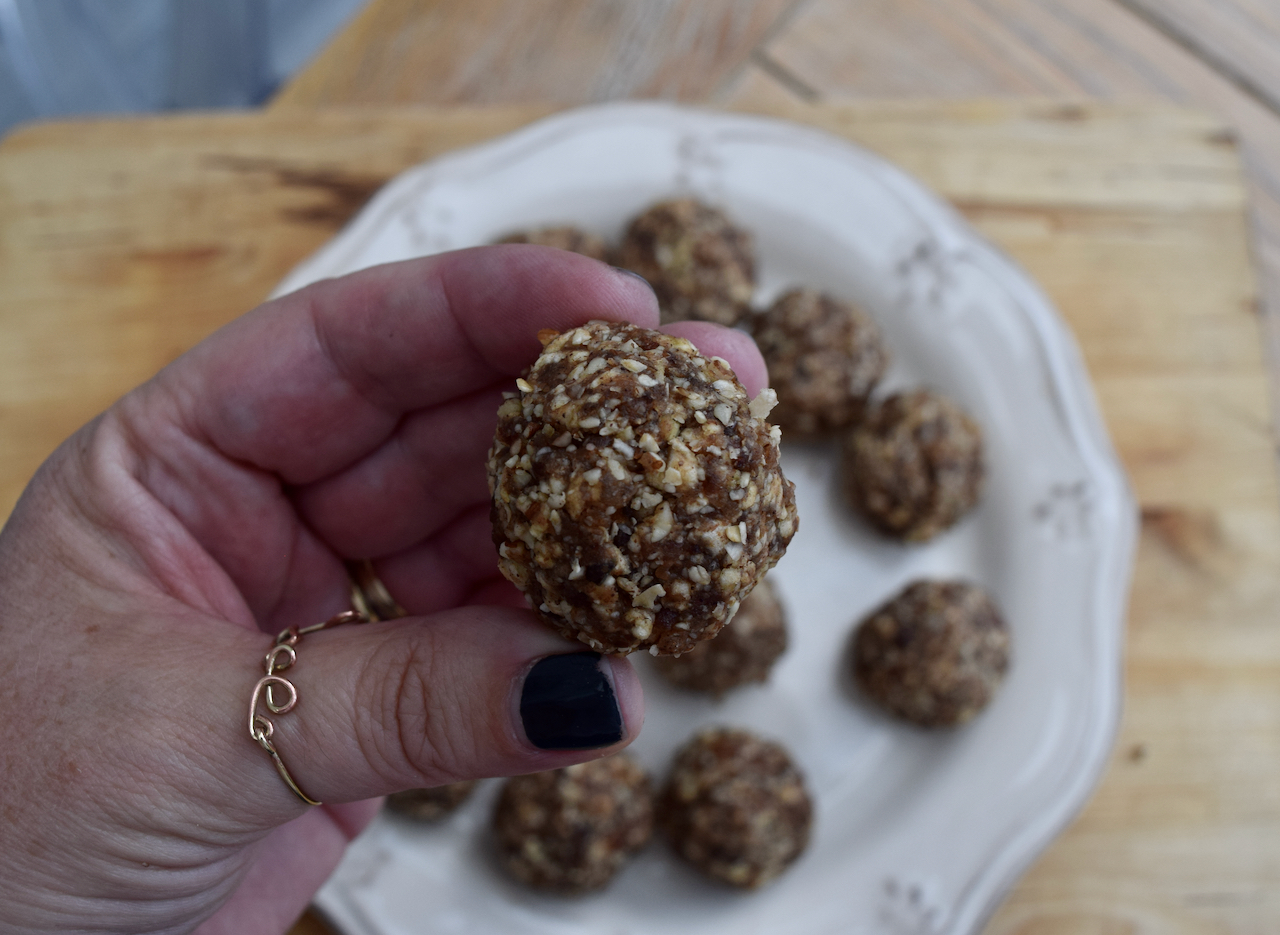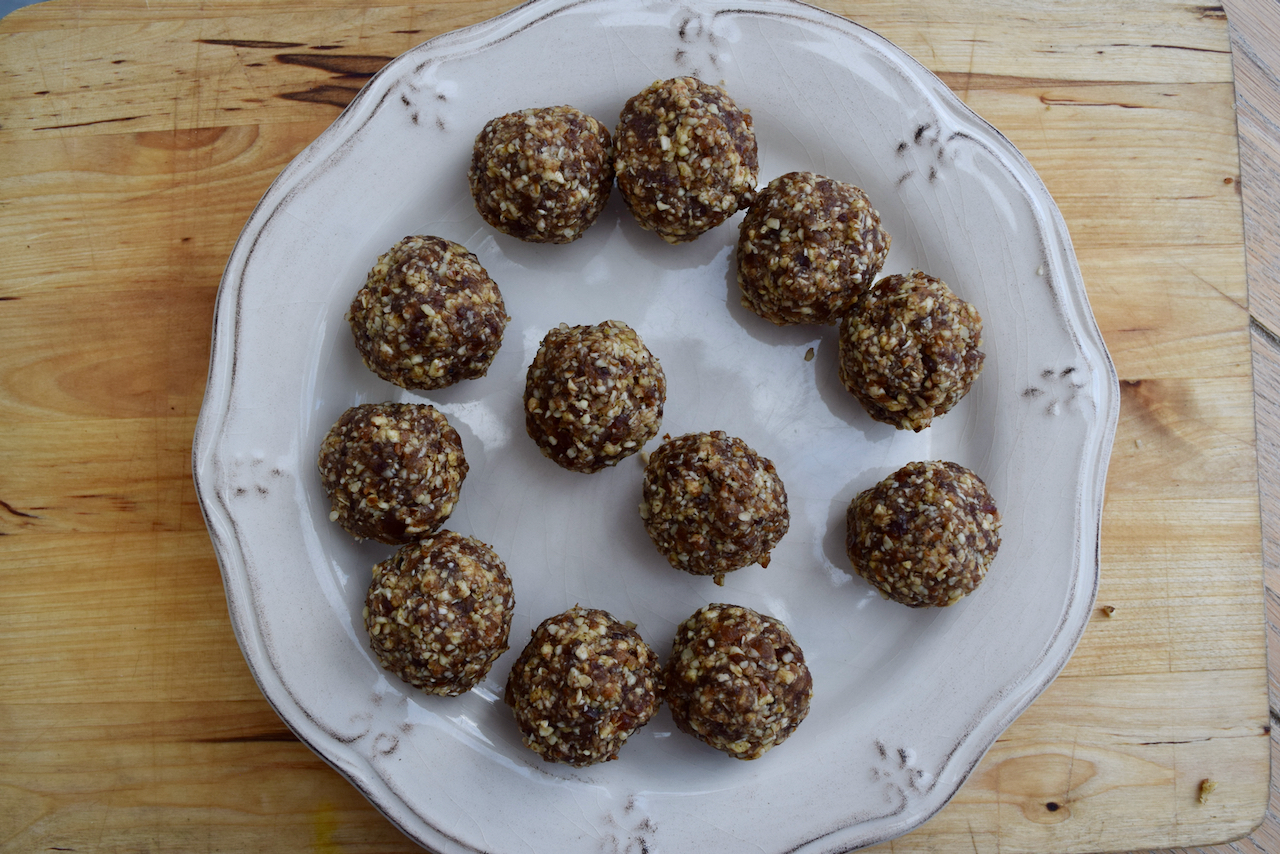 Pop your balls into the fridge *childish sense of humour* for an hour or so to firm up. Then devour, as and when you need a hit of apple crumble without the custard.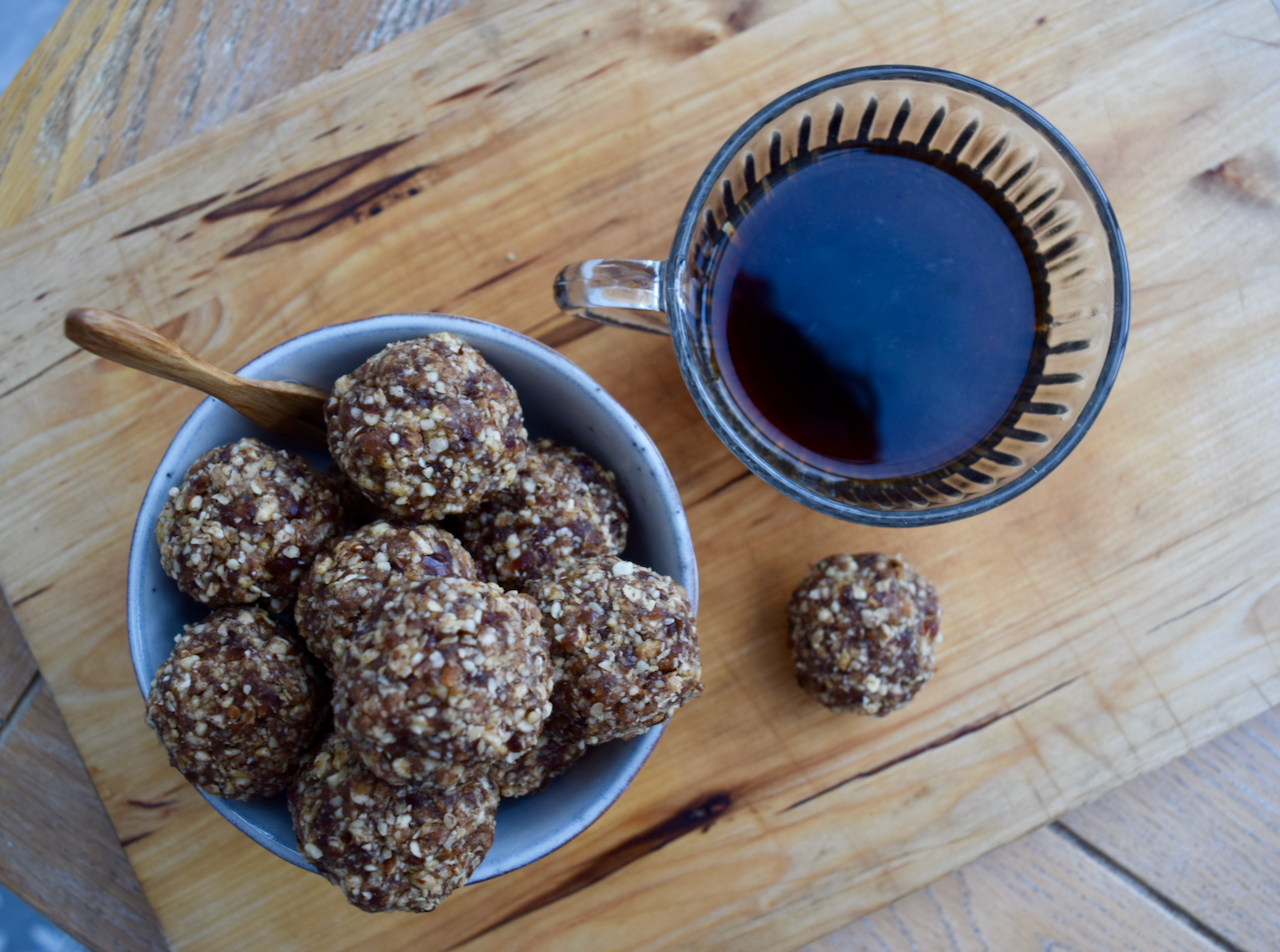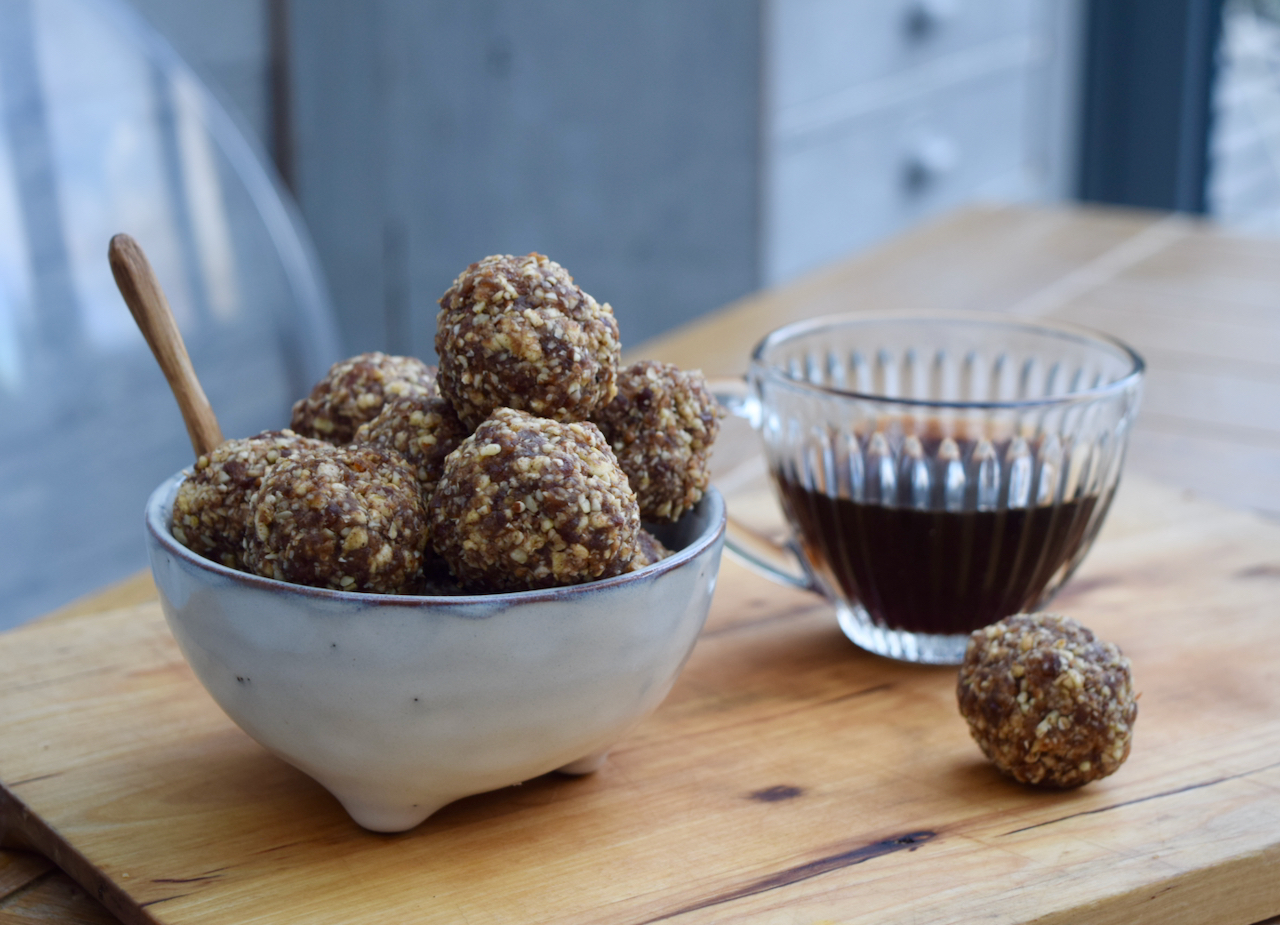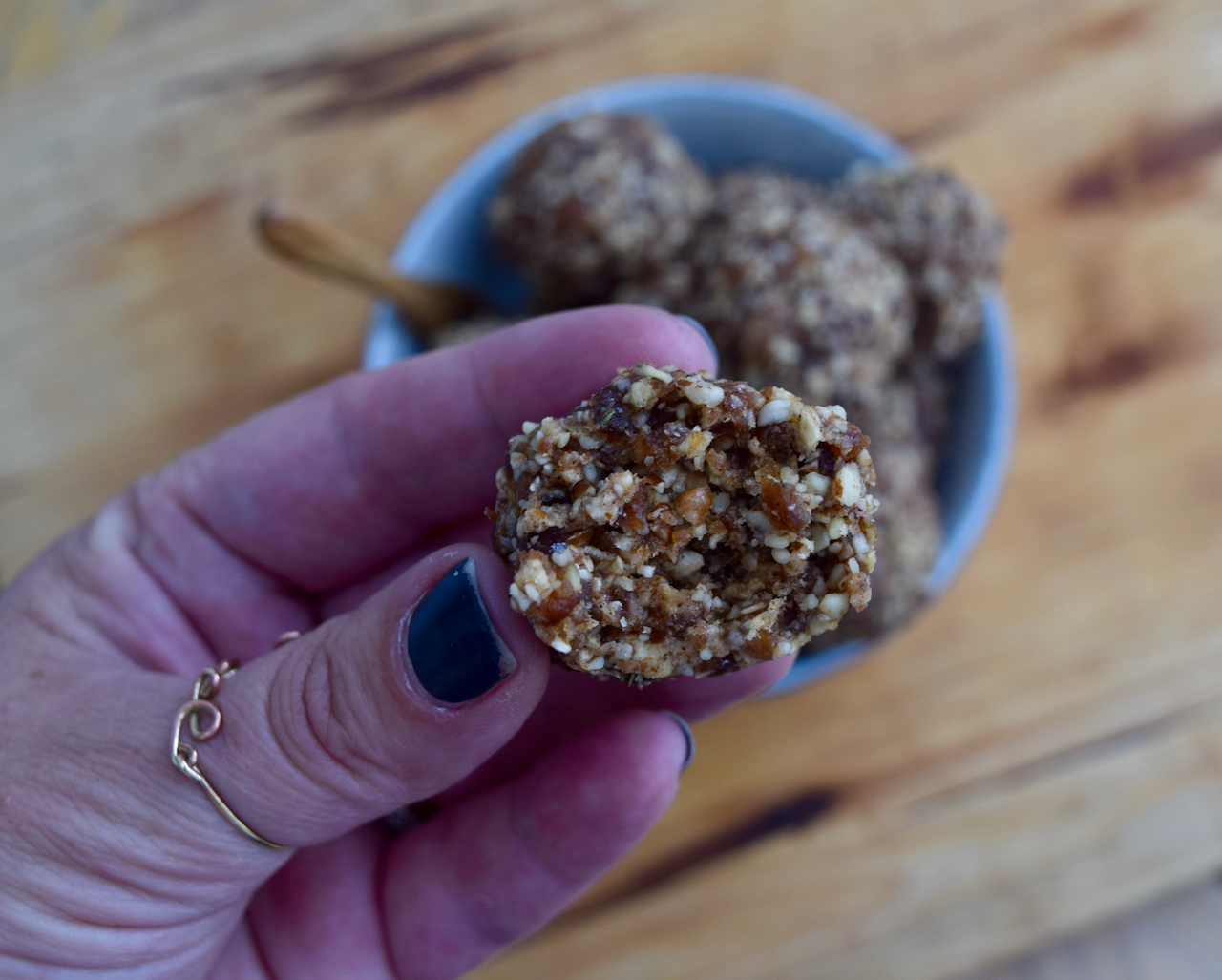 Sweet treats don't all have to be laden with sugar and bad for you. These Apple Crumble Balls will give you a lovely boost, custard, cream or ice cream, not necessary.
Lucy x
Apple Crumble Energy Balls recipe
Makes roughly 12, size dependent
You will need a food processor or powerful blender for these
100g nuts, I used pecans but almonds or walnuts would be good or a mixture of two
25g porridge oats
65g dried apple rings or pieces
110g soft pitted dates, if yours are dried, soak for 5 minutes in boiling water then drain well
1 teaspoon vanilla extract
3/4 teaspoon ground cinnamon
A generous grating nutmeg
1/4 teaspoon salt
Add the dried apple and dates to the bowl of your food processor and process until well chopped. Add the oats, nuts, vanilla, cinnamon, nutmeg and salt.
Process again until you have a fine sandy mixture. Press the mix together to check it moulds into balls. If it's too dry, add a splash of water to bind. Take tablespoon sized balls and squeeze and roll into balls, place on a plate and repeat with the rest until you have around 12 balls.
Place in the fridge to firm up for an hour or so. Store in an airtight jar in the fridge and eat when the mood takes you. They will last a week or two if you don't snaffle them all in a day.