Ginger and Oat Crunchies Recipe
I loved cooking at school, our cookery teacher, Miss Lambie, was quite fierce but the classes were fun and my friends and I did tend to piss about a bit. One stand out incident was a friend of mine dropping her chicken breast on the floor then proceeding to slip on the greasy spot it left for the rest of the class. Good times. We cooked a wide variety of recipes in Miss Lambie's O Level Home Economics class including Cheese and Potato Pie *cheese mash*, Blancmange *old school* and some lovely bread rolls. Most things were garnished with corners of toast for savoury and angelica and glacé cherries for sweet, I learnt a lot 30 something years ago. But what I loved more than any other recipe were these simple Ginger and Oat Crunchies. And today, I attempt to recreate them for your eating pleasure.
I am sure, somewhere in my parents loft, there is a whole host of O' Level Home Economics books, including my recipe cards. However, no one can be arsed to go and look so it has befallen me to fashion my own version of my teenage favourites. The Ginger and Oat Crunchie isn't a fancy biscuit, it doesn't even have chocolate in it. It's just a simple, oat, butter, syrupy affair with just a touch of ginger spice to it. I am a woman of simple tastes, and these biscuits are just lovely, and fill the void when something sweet and vaguely wholesome tasting is needed. I bastardised this recipe from Jam and Clotted Cream, with huge thanks, to recreate my biccies. They are chewy, sweet, golden and look oh so pretty in a jar, if you can keep them in it long enough to take a photo for Instagram.
I crave the simpler times when all I had to worry about was not dropping my chicken on the floor during O' Level Home Economics. Sometimes simple is best and these Ginger and Oat Crunchies are the perfect visualisation of that expression.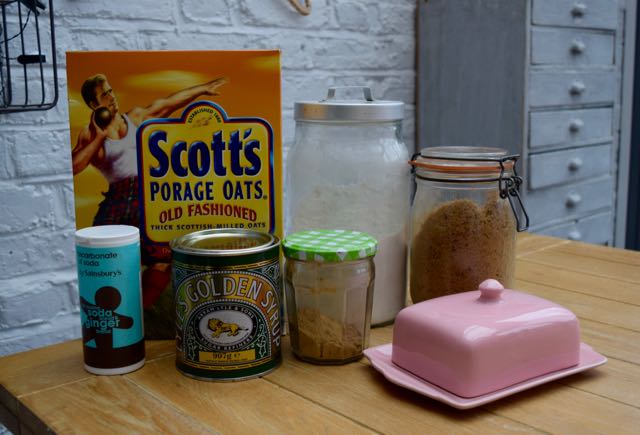 Simple, even down to my retro box of oats, although the shot putter is slightly more buff than he used to be I'm sure. These biccies are just the sort of comforting treat you need on a grey January afternoon. And they make me feel 15 again, which is rare these days, as I mostly feel 115.
These Ginger and Oat Crunchies are not only quick and easy, they are light on washing up too, so they are everyones new best friend. Make a start by pre heating the oven to 160 degrees fan assisted and lining two large baking sheets with greaseproof paper.
Next, take a medium sized saucepan and measure in the butter, soft brown sugar and unctuous golden syrup.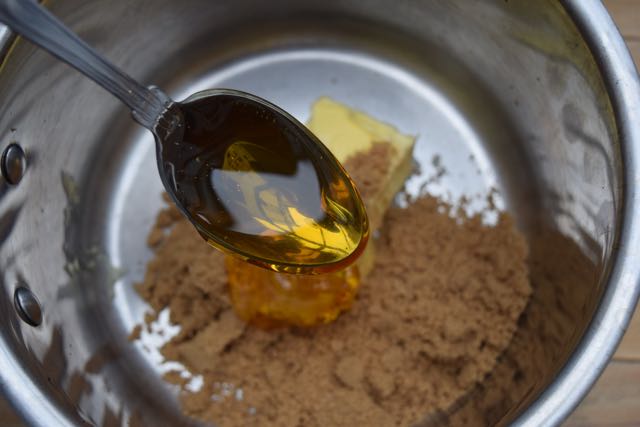 Heat these lovely sweet and golden ingredients over a low flame until just melting together. Remove from the heat.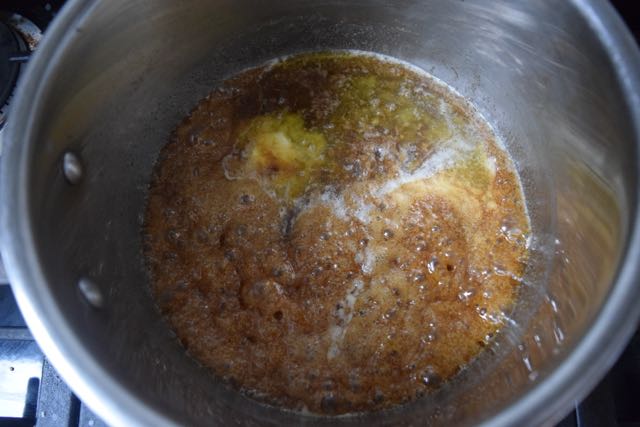 Measure out the self raising flour, oats, bicarbonate of soda and ground ginger then fold these into the melty butter sugar syrup combo and mix gently until just combined.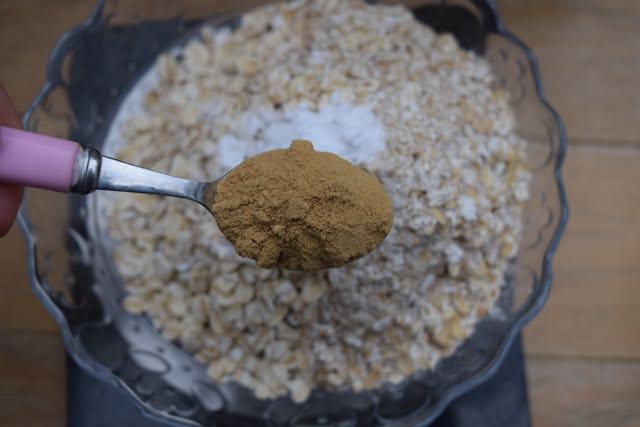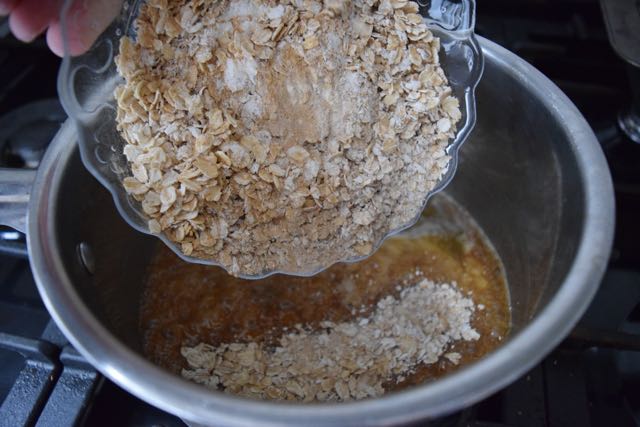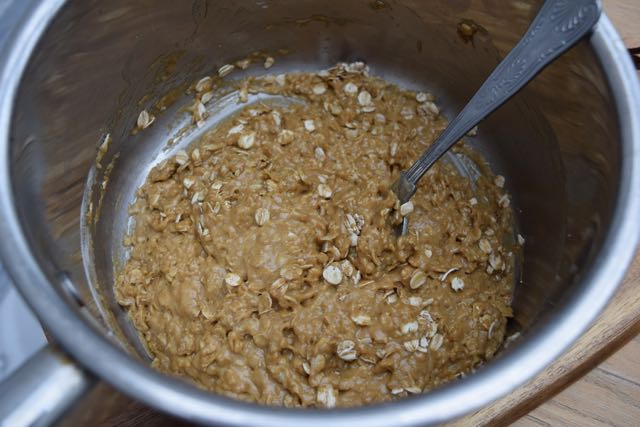 Scoop heaped teaspoons of the warm oat mixture onto your lined baking tray, leaving plenty of room for spreadage in between each biscuit. I got 20 crunchies out of my mixture.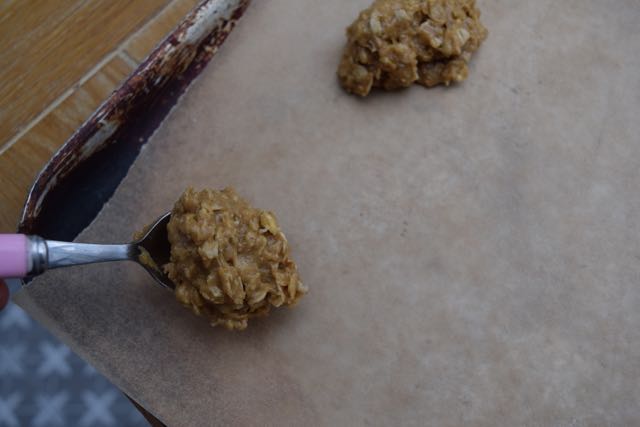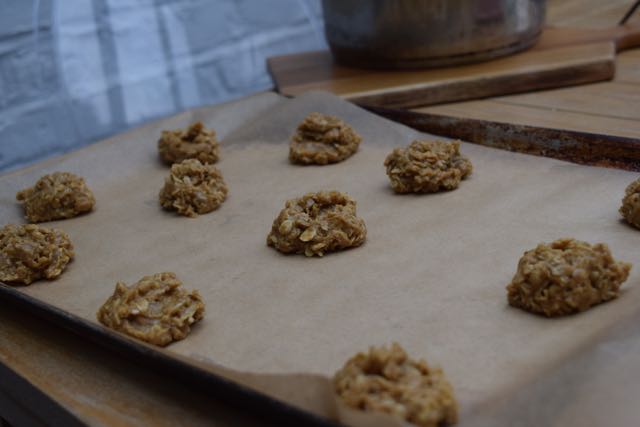 Place both trays in the pre heated oven for around 10 minutes. Your finished biscuits are just turning golden and smelling divine. Undercooked is the look you are going for here, they will firm up once cold and you want to retain an element of chewiness in the middle.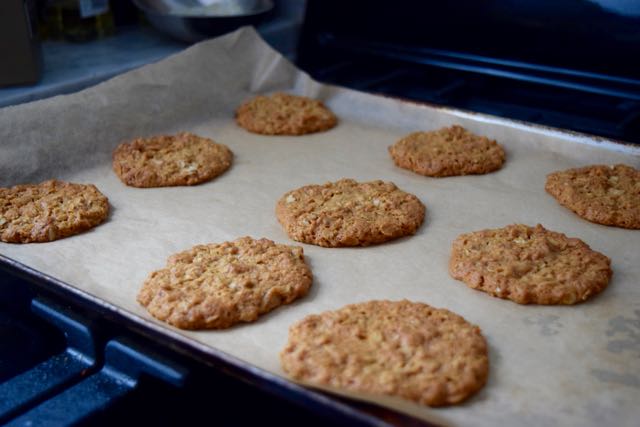 Leave them on the trays to cool down and set for a while before storing in an airtight jar or tin. Or in your mouth.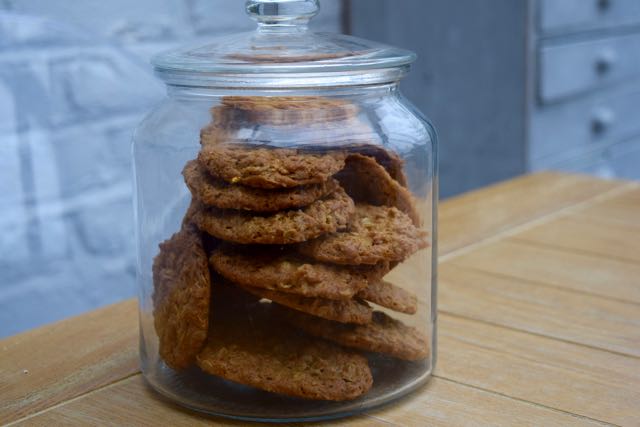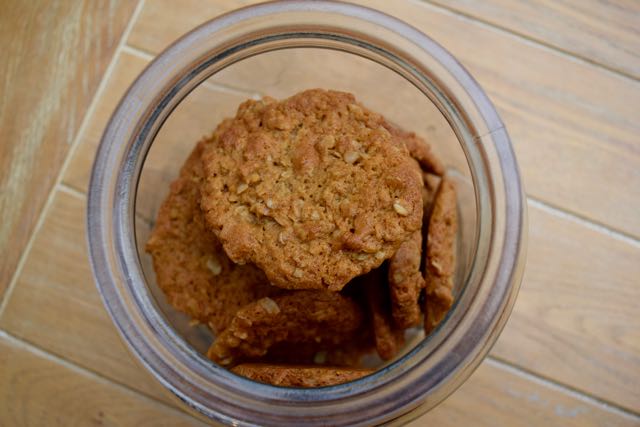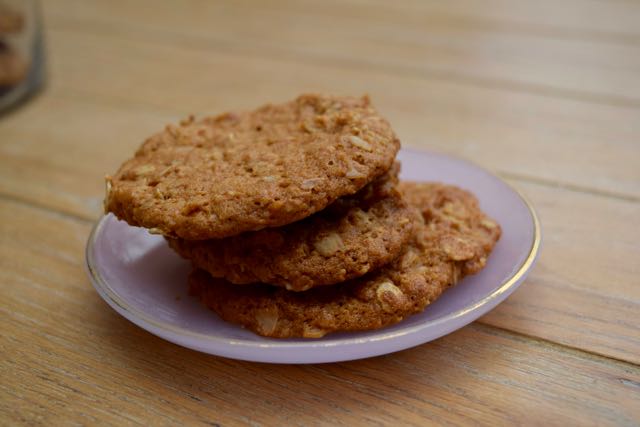 These are hardly a challenging bake, but at the moment, I can't even be arsed to buy a packet of biscuits let alone make a batch so these are simple beyond compare. So crisp and tasty, and for me a right old blast from the past. As the expression goes, the old ones are the best.
Lucy x
Ginger and Oat Crunchies Recipe
Makes around 20
You will not need any challenging equipment just 2 lined baking sheets
100g butter
100g soft brown sugar
2 tablespoons golden syrup
100g self raising flour
100g oats
2 teaspoons ground ginger
1/2 teaspoon bicarbonate of soda
Pre heat your oven to 160 degrees fan assisted and line two large baking sheets with greaseproof paper.
In a medium sized saucepan, measure out the butter, soft brown sugar and two tablespoons of golden syrup. Heat over a low flame until everything has melted together. Remove from the heat and stir in the oats, self raising flour, ground ginger and bicarb and mix well.
Add heaped teaspoons of the mixture onto your lined baking sheets, leaving plenty of spreading room, then place into your pre heated oven for 10 minutes or until just turning golden brown and smelling divine. Less is more here, don't over cook them as they will firm up as they get cold. Leave to cool completely on the tray before storing in a jar or air tight tin. These will keep for 3 to 4 days unless you are greedy.
SaveSave
SaveSave
SaveSave
SaveSave