Raspberry Mousse with Fresh Mint Shortbread Recipe
At the moment, it actually feels as though we live in a warm country. It has been reasonably sunny now for at least a month. Clyde, who has spent quite a bit of time 'gardening' has an impressive tan and even my ankles and wrists have taken on a touch of colour. It is unheard of to be able to plan eating outside as much as a week in advance, but we have guests coming on Friday and I am hoping to at least have a nibble in the garden. With summer in mind, and putting a heavy curse on the sunshine continuing, today I am posting a seasonal Raspberry Mousse with Fresh Mint Shortbread. Umbrellas at the ready.
Randomly, I am not a huge fan of raspberries, or more precisely, raspberry seeds. There are summer fruits I prefer, however, when they feature in a seeds being sieved out scenario, I love them. This mousse is full of raspberry flavour, light, super creamy and not too sweet. The accompanying shortbread is buttery, soft and laced with fresh mint, not in a toothpasty way, in a herbaceous fresh way. You don't have to make the two together, but if you can, they are a match made in heaven. The mousse and biscuit combination is a splendid dinner party dessert and will lull your guests into thinking you have gone to tons of effort, but other than sieving out the yucky raspberry seeds, this is kerfuffle free. The inspiration for this hails from Olive Magazine with thanks, and the biscuit recipe is my own.
This is fresh and light and delicious, there's not much more I can say. Apart from this pud is a lovely addition to any summer supper.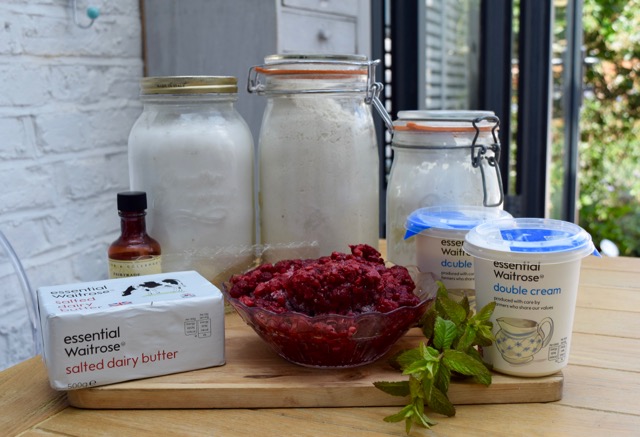 A summer line up of ingredients here, including a flash of sunshine in my garden. I used frozen raspberries as fresh were sold out on my Ocado order, but these are great for this as you don't need them to look perfect and they're still quite a bit cheaper than fresh.
Make a start with the shortbread as it needs to chill and can be made well in advance and baked off on the day if need be. If you are using a food processor for this, blitz the sugar and fresh mint first until speckled with green. If doing by hand, chop the mint finely and mix with the caster sugar.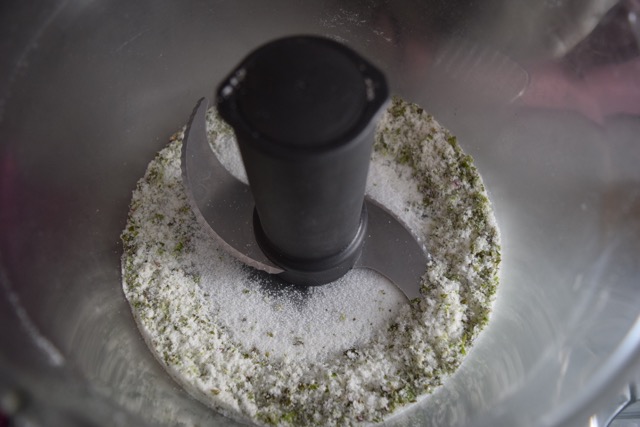 Add the soft butter and mix well until lighter in colour and texture. Measure in the vanilla for a touch of fragrance.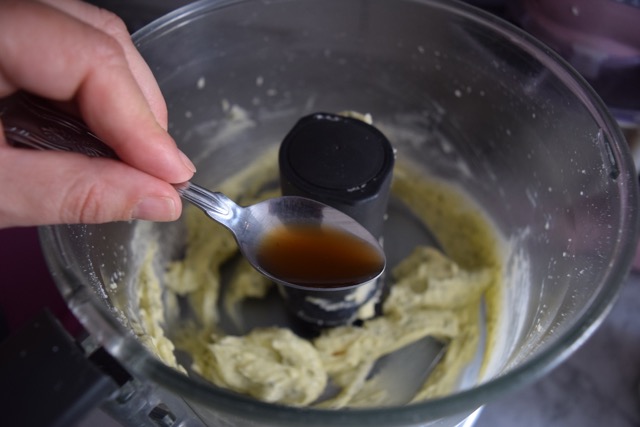 Fold in both the plain flour and cornflour until you have a soft dough. Scrape the dough onto some clingfilm then roll up into a sausage shape, evenly fashioned so you have a thick log of mint shortbread.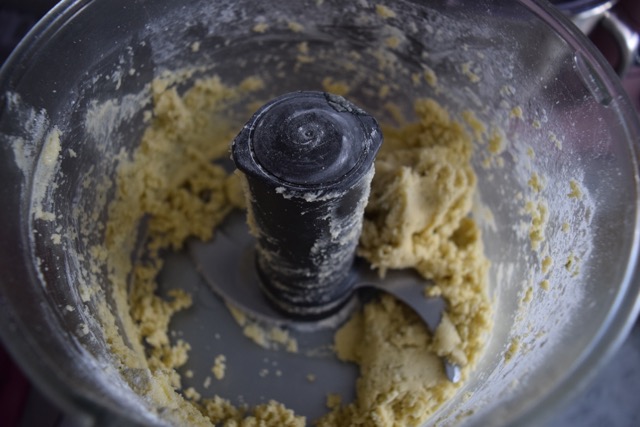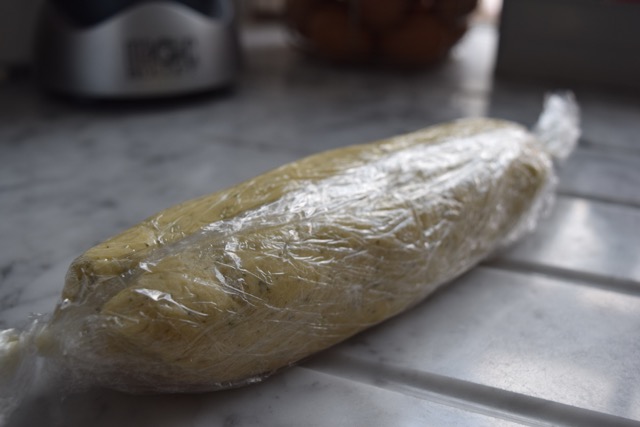 Pop this into the fridge for at least an hour or the freezer for half an hour if pushed for time.
Now on with the main event. Take your blender or nutribullet and add the raspberries and the sugar. I used 2 tablespoons but could have done with a touch more as my raspberries were a little sour. If need be, add some more once blended. Blend until smooth the push the puree through a fine sieve to get rid of all those bloody seeds.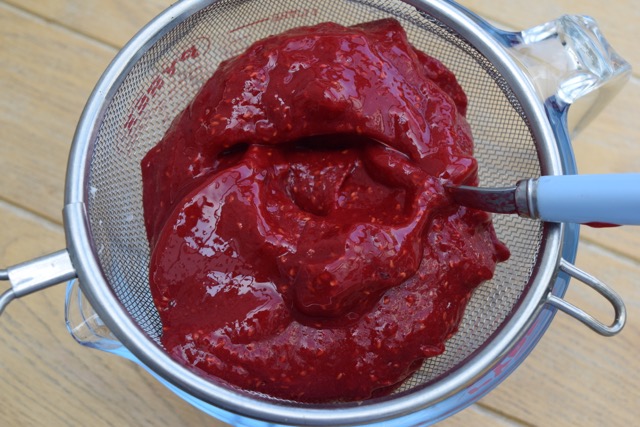 My raspberries hadn't thawed totally so my puree was more of a sorbet. Don't be as slack as me and ensure your raspberries have defrosted fully if frozen.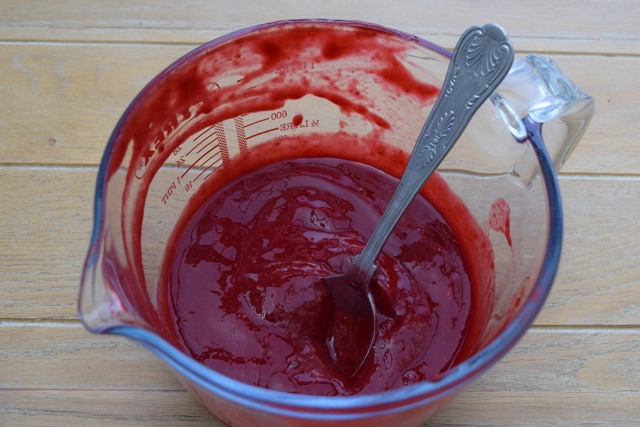 Take your gelatine leaves and soak these for around 5 minutes covered in some cold water. While this is happening, heat 100ml of your cream in the microwave or in a small pan until just coming up to the boil. Squeeze the water from the softened gelatine sheets and whisk into the hot cream until dissolved.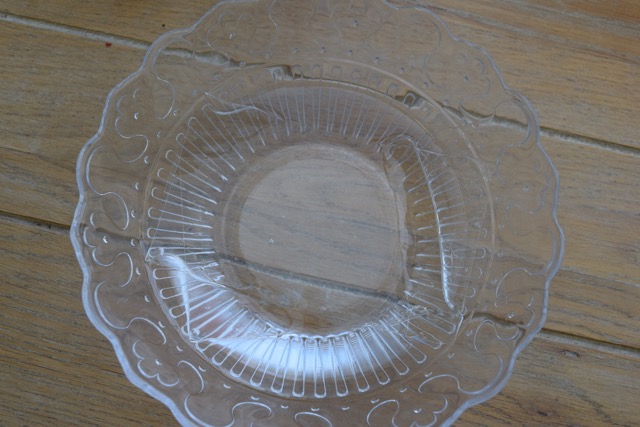 Pour this jug of cream and gelatine into your raspberry puree and mix well.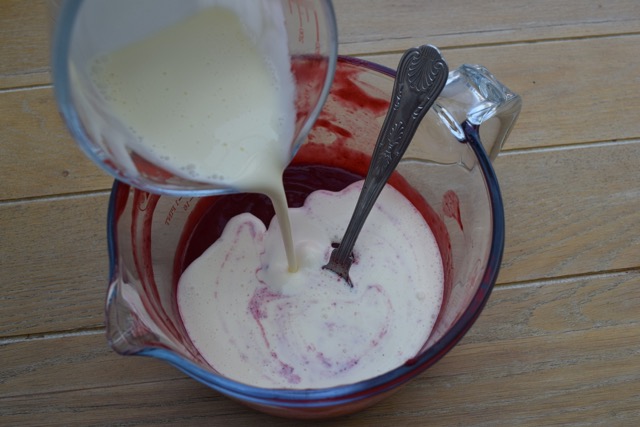 Finally whip the rest of the cream until holding soft peaks then fold in the raspberry puree until evenly mixed.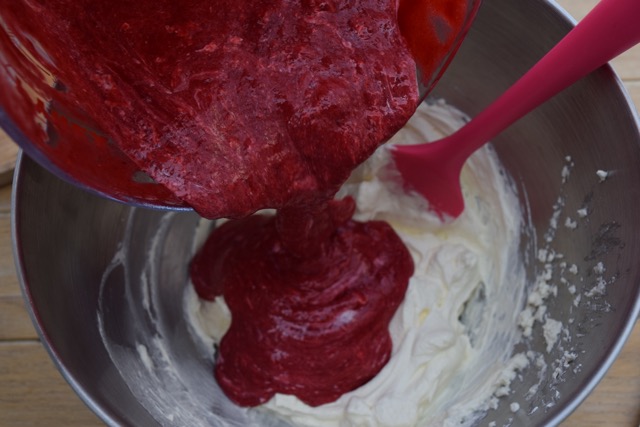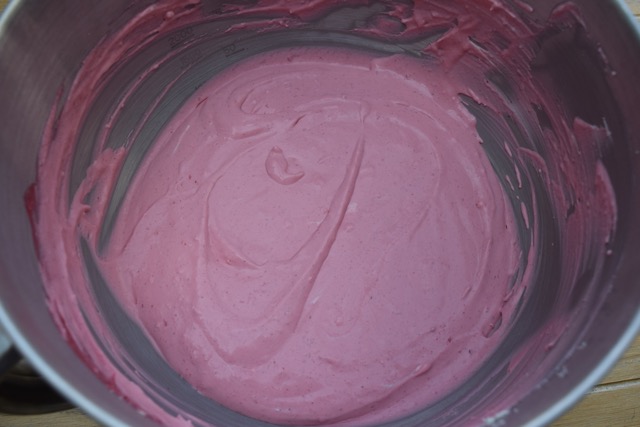 Trying not to eat large mouthfuls of the mousse straight from the bowl with a spatula, spoon this beautiful pink cream into your chosen cups or glasses. I had opted to use tea cups but this is quite a generous amount of mousse so changed my mind and used a collection of small glasses.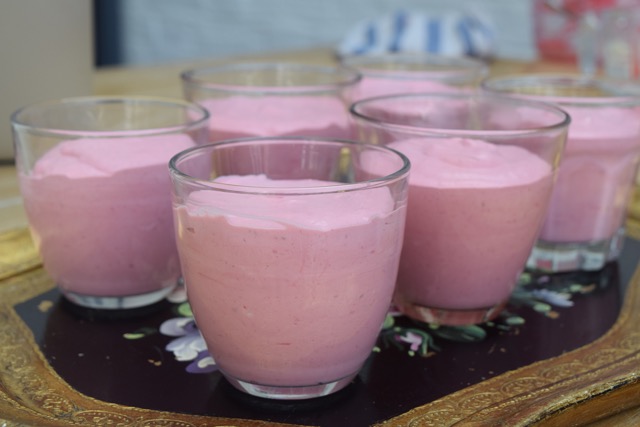 Pop these into the fridge for at least an hour to set. You can, in the meantime, chop on with baking off the shortbreads.
Pre heat the oven to around 140 degrees fan assisted. Slice the now well chilled dough into centimetre-ish thick slices. Don't be too pedantic about this, you should make around 12 biscuits from your dough, so slice accordingly.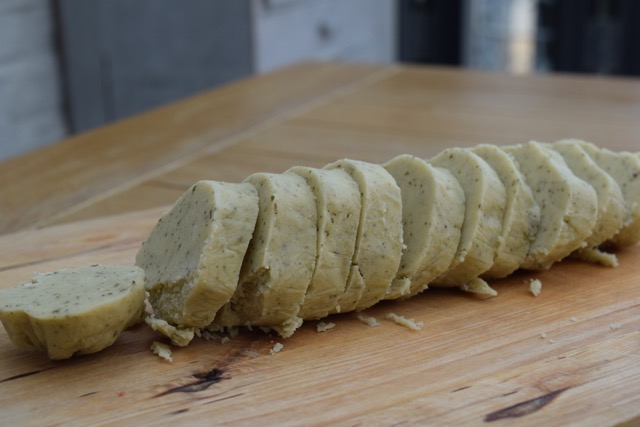 Place these mint studded biscuits onto a lined baking sheet then place in your pre heated oven for around 15 minutes. You don't want them to be over cooked, just crisp on the edges and slightly golden.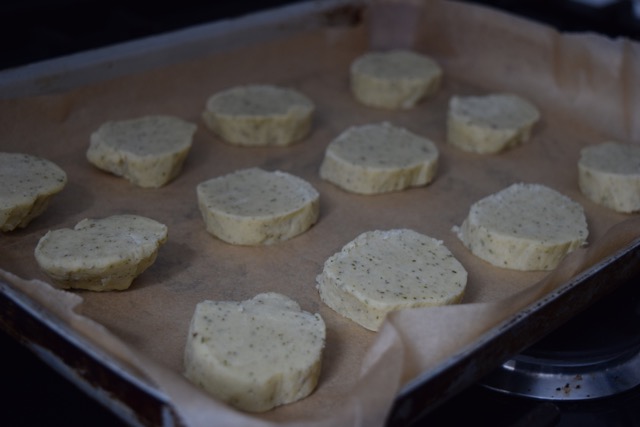 Sprinkle these tasty, buttery treats with a touch of caster sugar and leave to cool before serving alongside the pink, tart raspberry mousse. Garnish your mousses with a sprig or two of mint. I used the shortbread as a sort of edible spoon, but this is because I am a pig.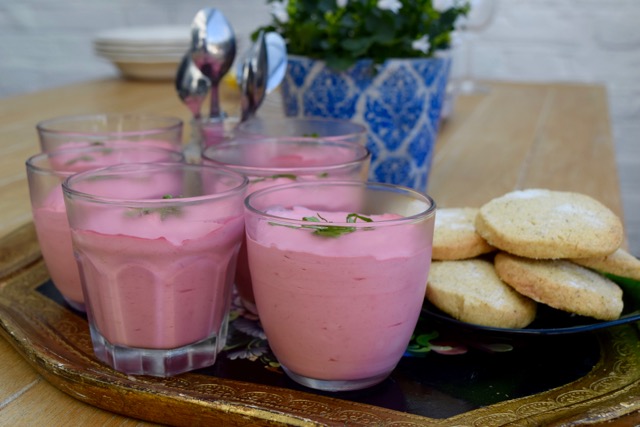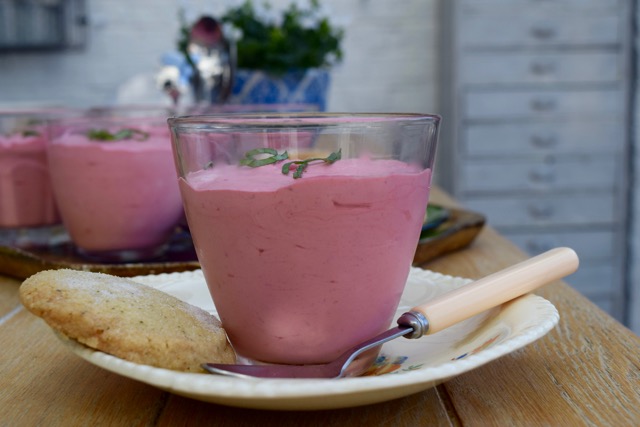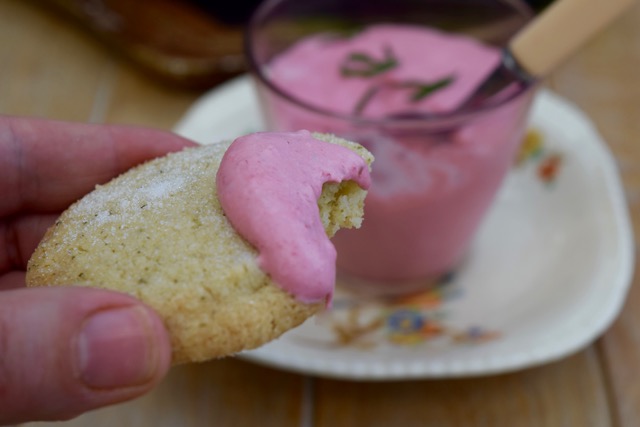 The perfect combination of fresh, creamy, tart and sweet. Both of these treats are good on their own, but together, they are amazing.
Lucy x
Raspberry Mousse with Fresh Mint Shortbread Recipe
Serves 6, generously
You may need a food processor, if you have one and a blender or NutriBullet with 6 cups or glasses to serve
Mousse
400g raspberries, fresh or frozen
2 to 3 tablespoons caster sugar, to taste, you may need more or less, dependent on your fruit
2 leaves gelatine
500ml double cream
Shortbread
50g caster sugar, plus an extra pinch for sprinkling on the finished biscuits
2 tablespoons fresh mint
110g soft butter
1/2 teaspoon vanilla extract
110g plain flour
50g cornflour
Fresh mint or extra raspberries to garnish
Make a start on the shortbread as this needs to chill. If you are using your food processor blend the sugar and mint together until you have a green flecked sugar mixture. If making by hand, finely chop the mint then mix with the sugar. Add the soft butter and mix until much lighter in colour and texture. Beat in the vanilla.
Fold in the flours until you have a soft dough. Wrap this in cling film in a long sausage shape and seal the ends. Pop in the fridge for an hour or the freezer for half and hour.
For the mousse, take your raspberries and place in the goblet of your blender or NutriBullet with the 2 to 3 tablespoons sugar to taste. Blend until smooth then push through a fine sieve to remove the seeds. This can be done by hand, just mash the sugar and berries together until you have a puree to sieve.
Soak the gelatine sheets in cold water for 5 minutes. Take 100ml of the cream and heat on the stove or in the microwave until just coming to the boil. Squeeze the water out of the gelatine leaves then whisk into the hot cream until fully dissolved. Fold this into your raspberry puree.
Lightly whip the remaining cream to soft peaks. Pour the raspberry and gelatine mixture into the whipped cream until well mixed and a beautiful pink colour. Spoon into your serving glasses and refrigerate for at least an hour.
For the biscuits, pre heat your oven to 140 degrees fan assisted. Line a baking sheet then remove the biscuit dough from the clingfilm. Slice the biscuits into 1cm thick slices and place on the baking sheet. Bake for 15 minutes, maybe a couple of minutes more, until just turning golden and firm. Leave to cool before serving.
Garnish the mousse with extra raspberries and fresh mint and serve with the shortbreads.
The mousses will keep, covered, in the fridge for a couple of days and the shortbreads will keep in a tin for at least 3 days.
SaveSave
SaveSave
SaveSave