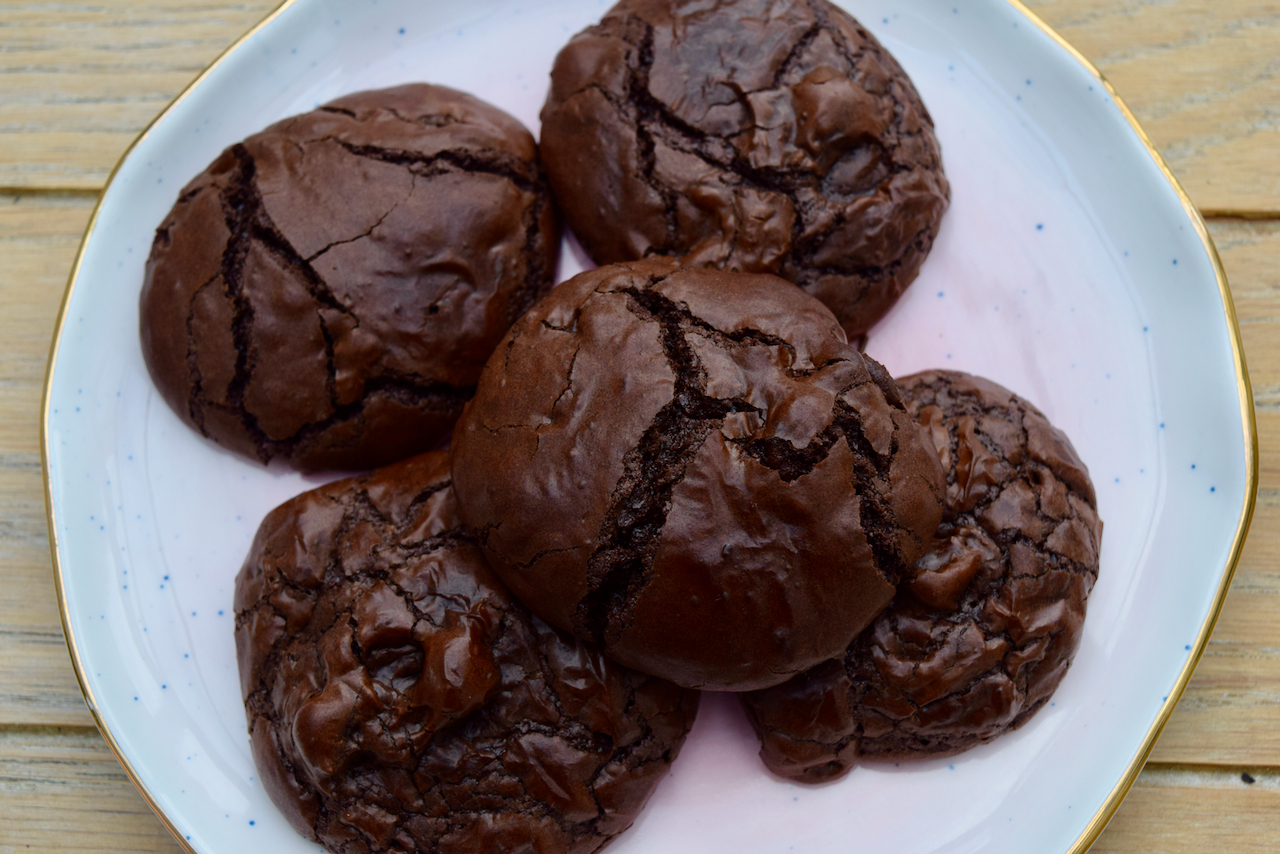 Flourless Chocolate Brownie Cookies Recipe
How are you all doing? We've been on lockdown now for 9 days and it's a bloody rollercoaster in our house. Emotionally I'm up and down; trying to utilise my time wisely one minute and wildly panicking about the future the next. I know it sounds like bullshit, especially if you don't particularly love cooking, but being in the kitchen creating something delicious for the family to swoon over is lifting my spirits, aswell making me fat.
My supplies are being depleted at a rate I didn't think possible. I'm baking a loaf of bread a day and there's not a packet of crisps to be found. My flour stocks are running low, so when I found this genius recipe on Family Spice, I knew it was one for sharing. Everyone loves a brownie, so why not love a Flourless Chocolate Brownie Cookie too. You really don't need a grain of flour for these; they are held together in incredibly fudgy fashion by cocoa and a good deal of dark chocolate. You don't need the mixer either, which is a godsend as I can't keep up with the washing up being created by the 400 meals a day being consumed by the men in my life. You just whisk and melt and stir and blob, so these can't really be classed as taking your hour of exercise for the day.
Little mouthfuls of soft chocolate cookies are a ray of sunshine in amongst all the virus laden anxiety. They will keep you away from watching the news for at least 30 minutes too, so that's a tiny victory in itself.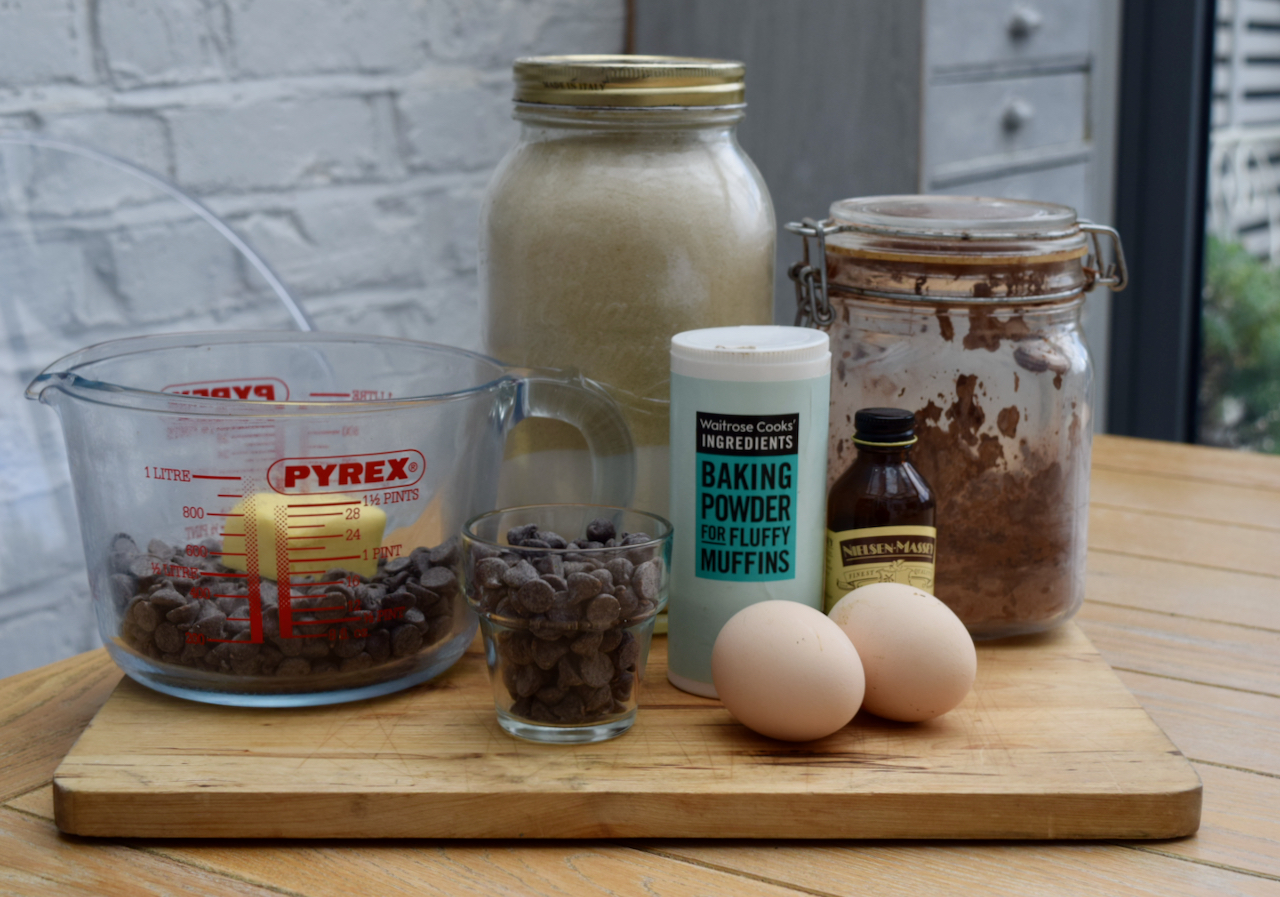 Here's the line up for the quarantine favourites, with not a ounce of flour in sight. You can use more of the dark chocolate chips to stud your cookies with or try milk or white chocolate if you'd rather or have spare lurking in your cupboards.
Make a start on these by pre heating your oven to 160 degrees fan assisted and by lining two large baking sheets. Next, measure out the intial 225g of dark chocolate and the 30g of butter. You can either melt this in the microwave or on the hob in a bowl over a pan of simmering water. I went for the former.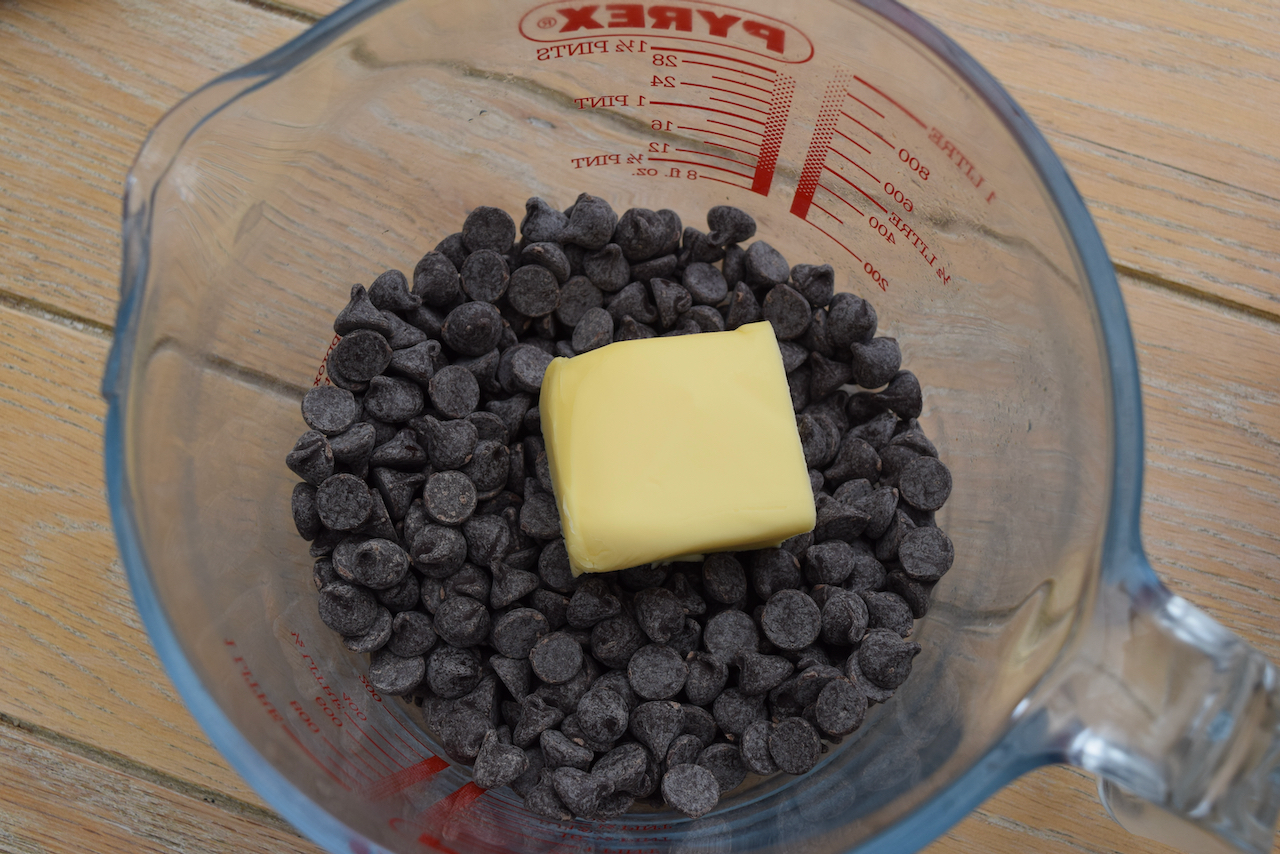 Stop when they're just starting to meld together then stir until smooth. Leave to cool for a moment.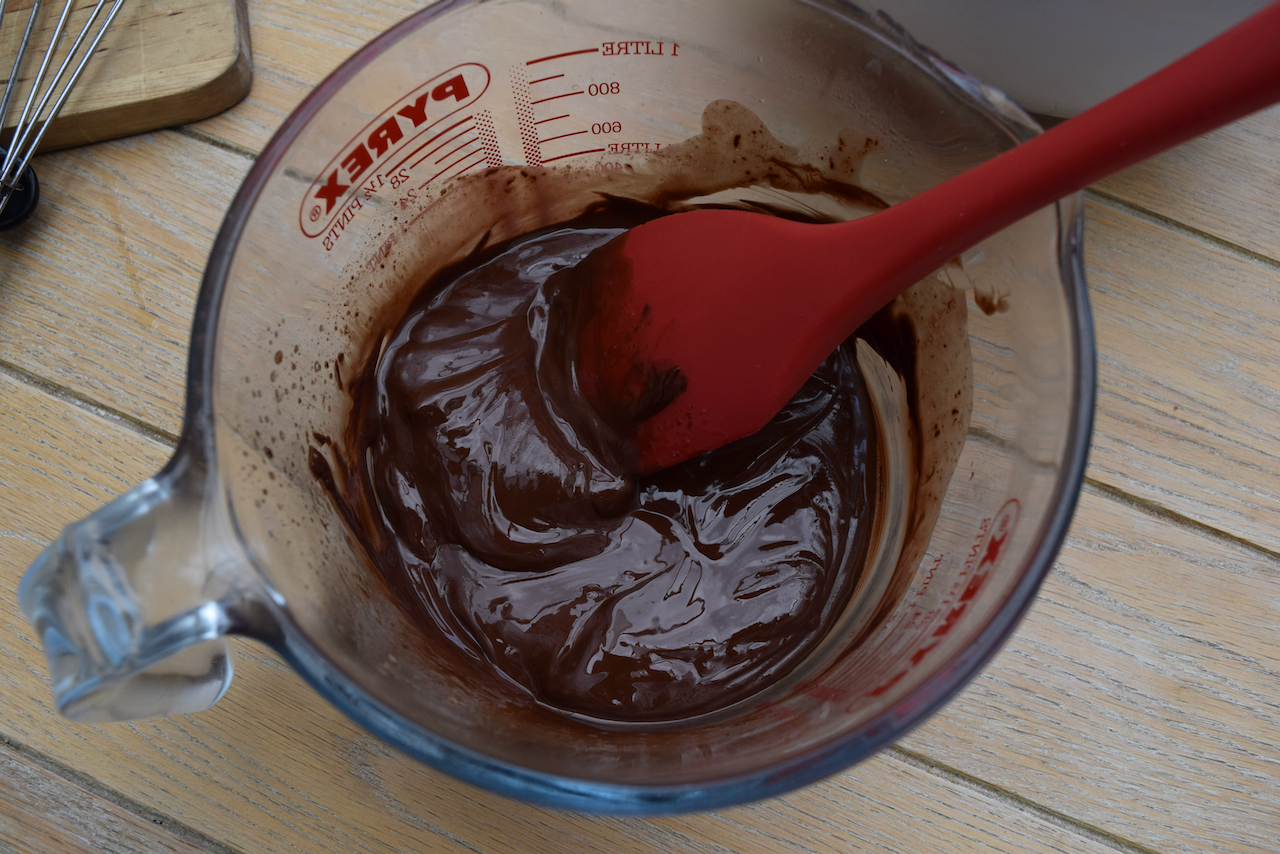 Now whisk the eggs, sugar and vanilla until well combined then fold in the cooled chocolate mixture until it's glossy.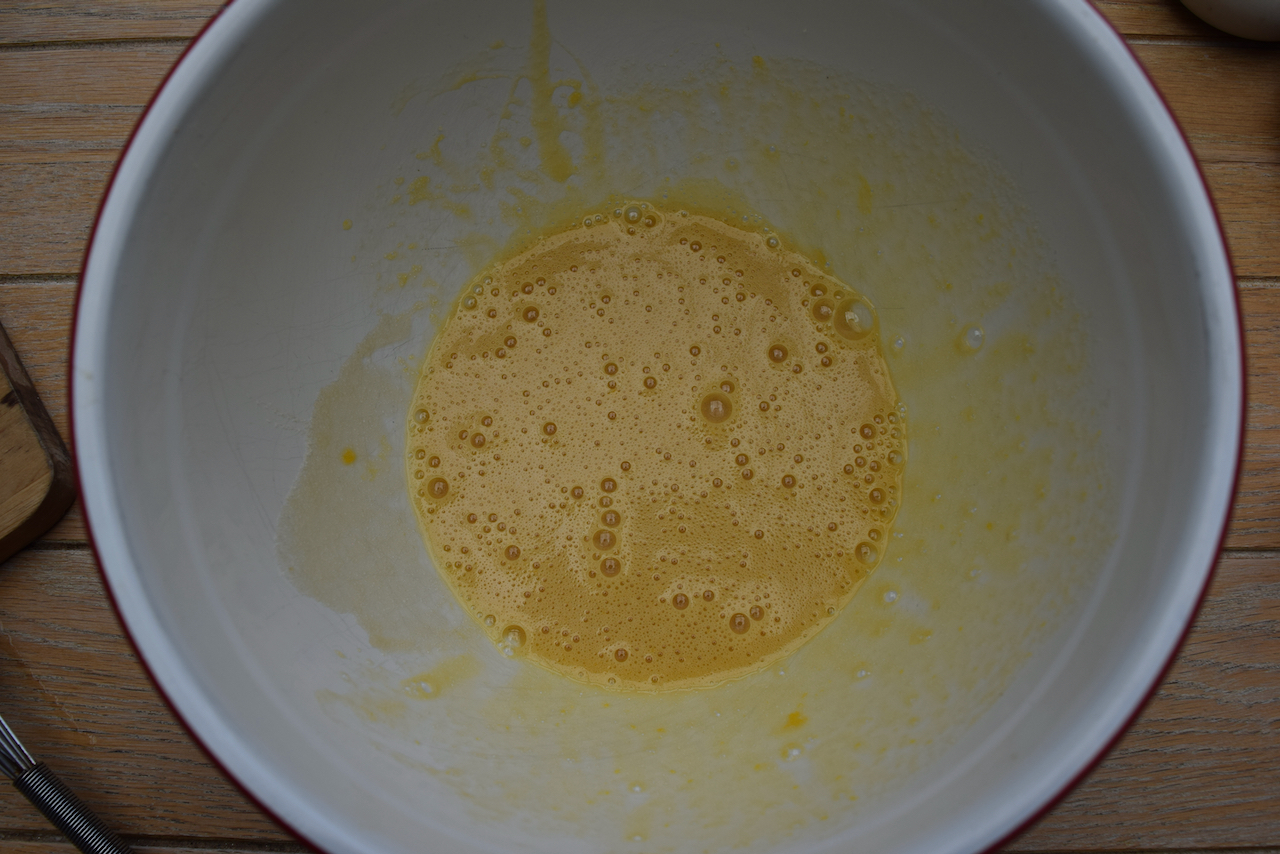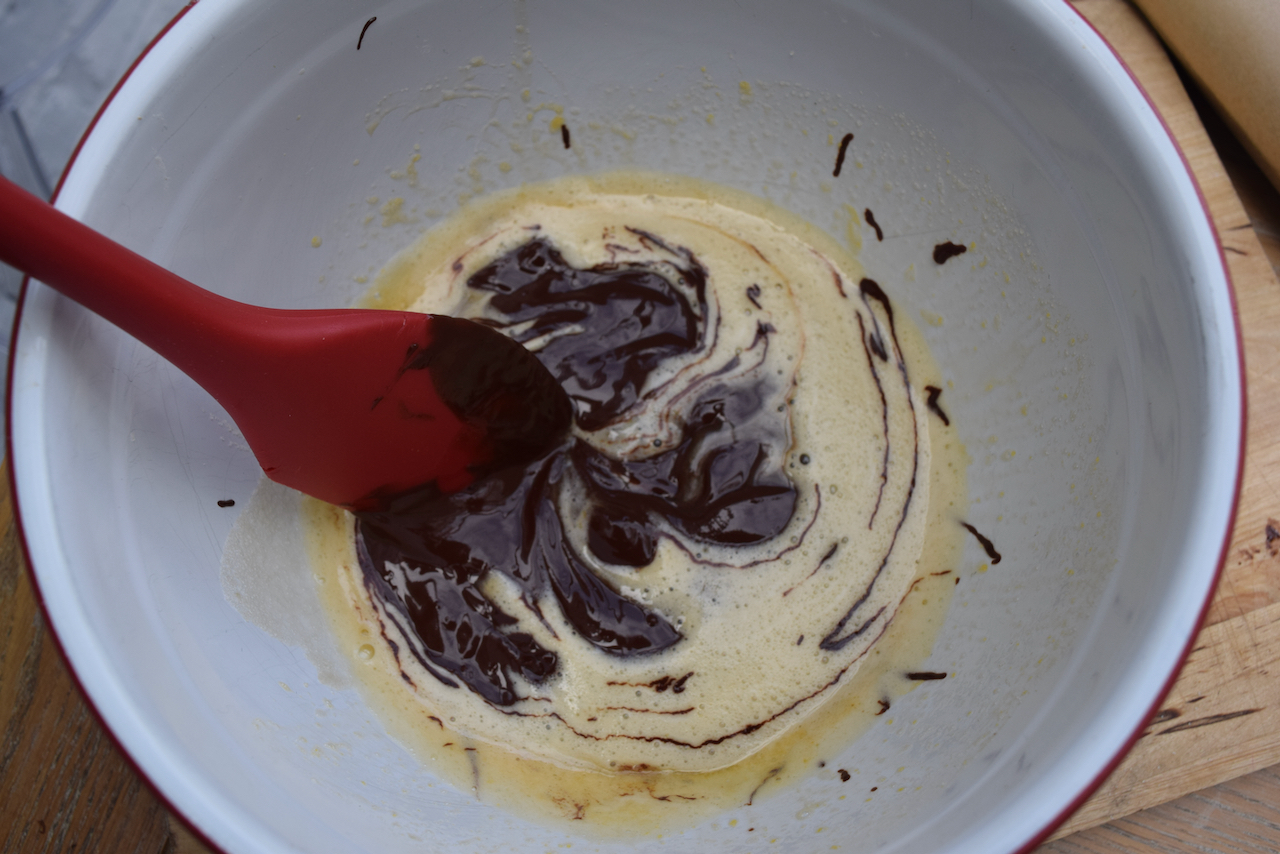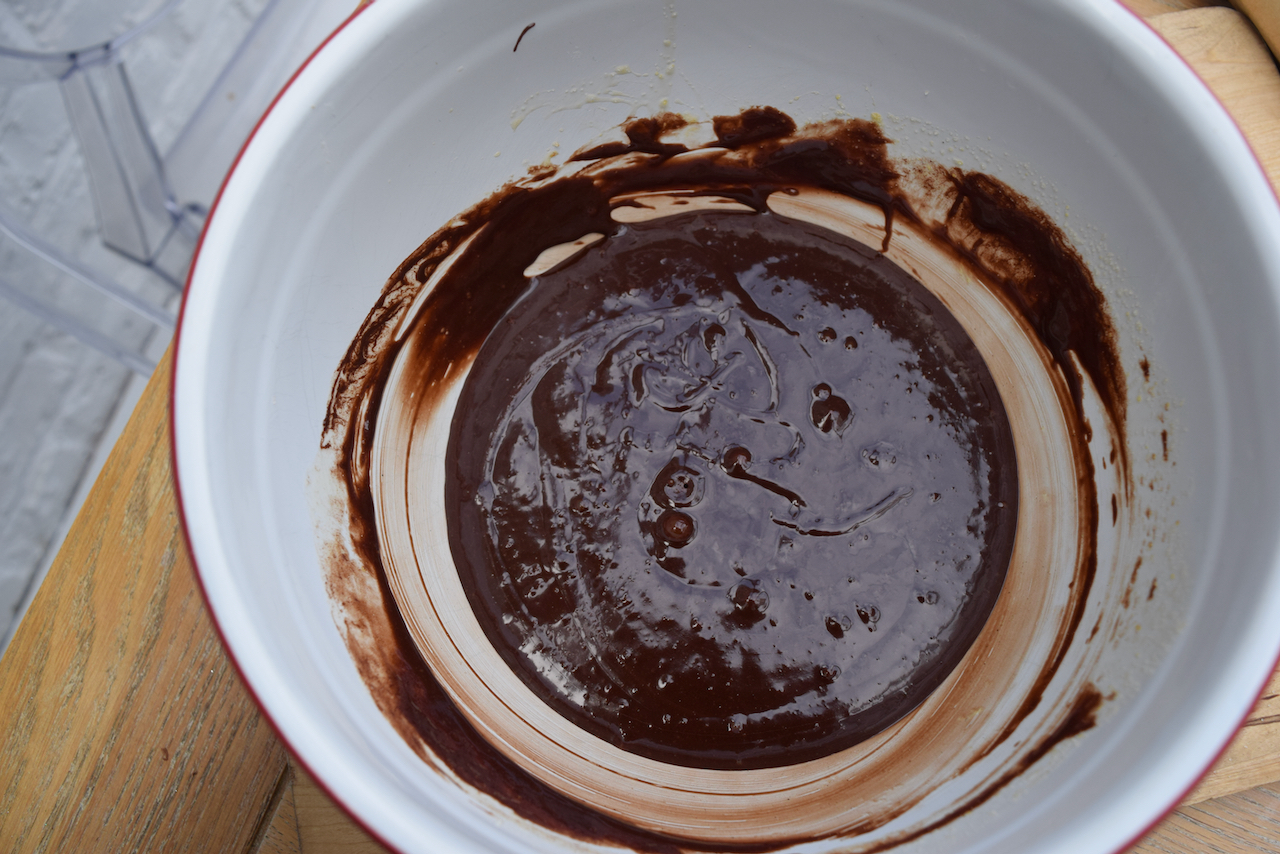 Weigh out the cocoa powder and baking powder then fold this through the mixture until just combined.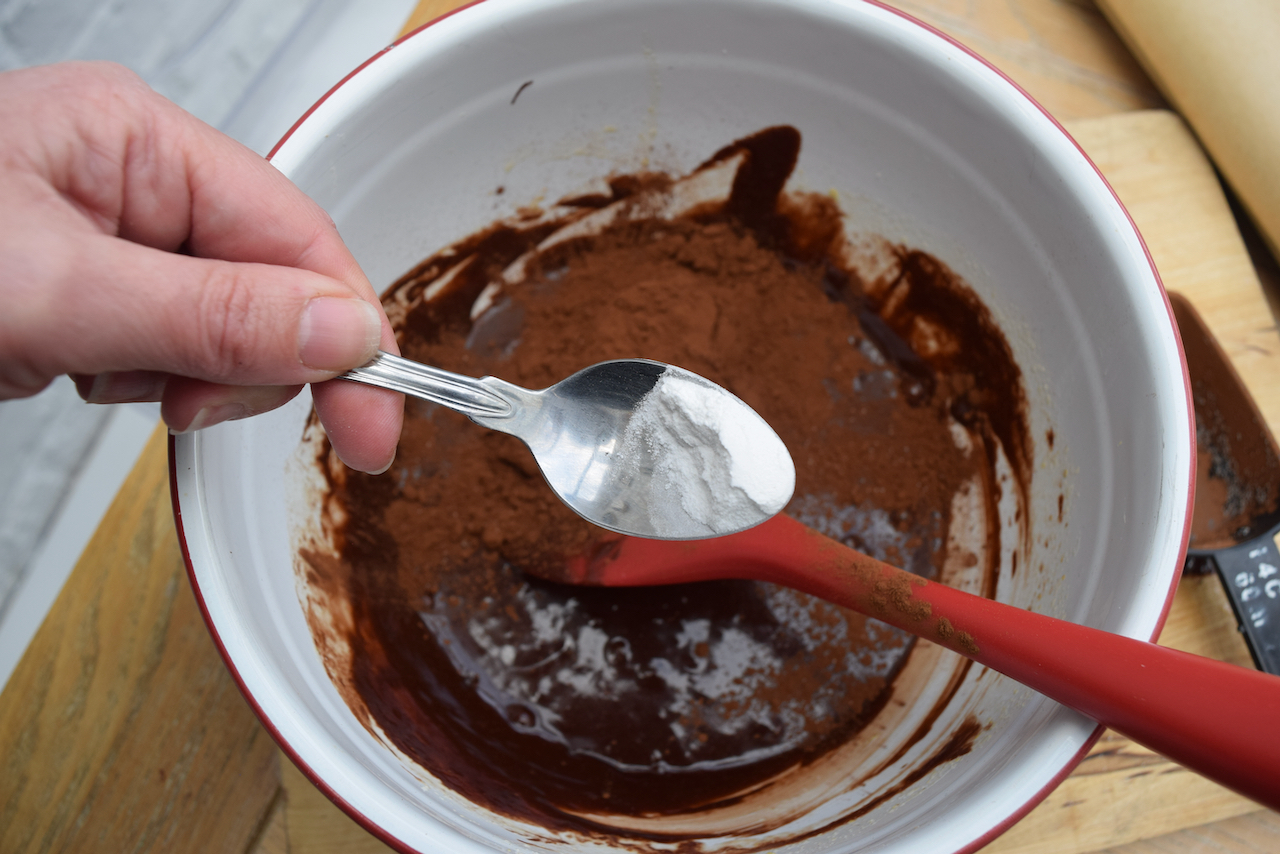 In a final flourish, fold through the chocolate chips of your choice. The batter will be quite thin, but don't panic, it's meant to be like that.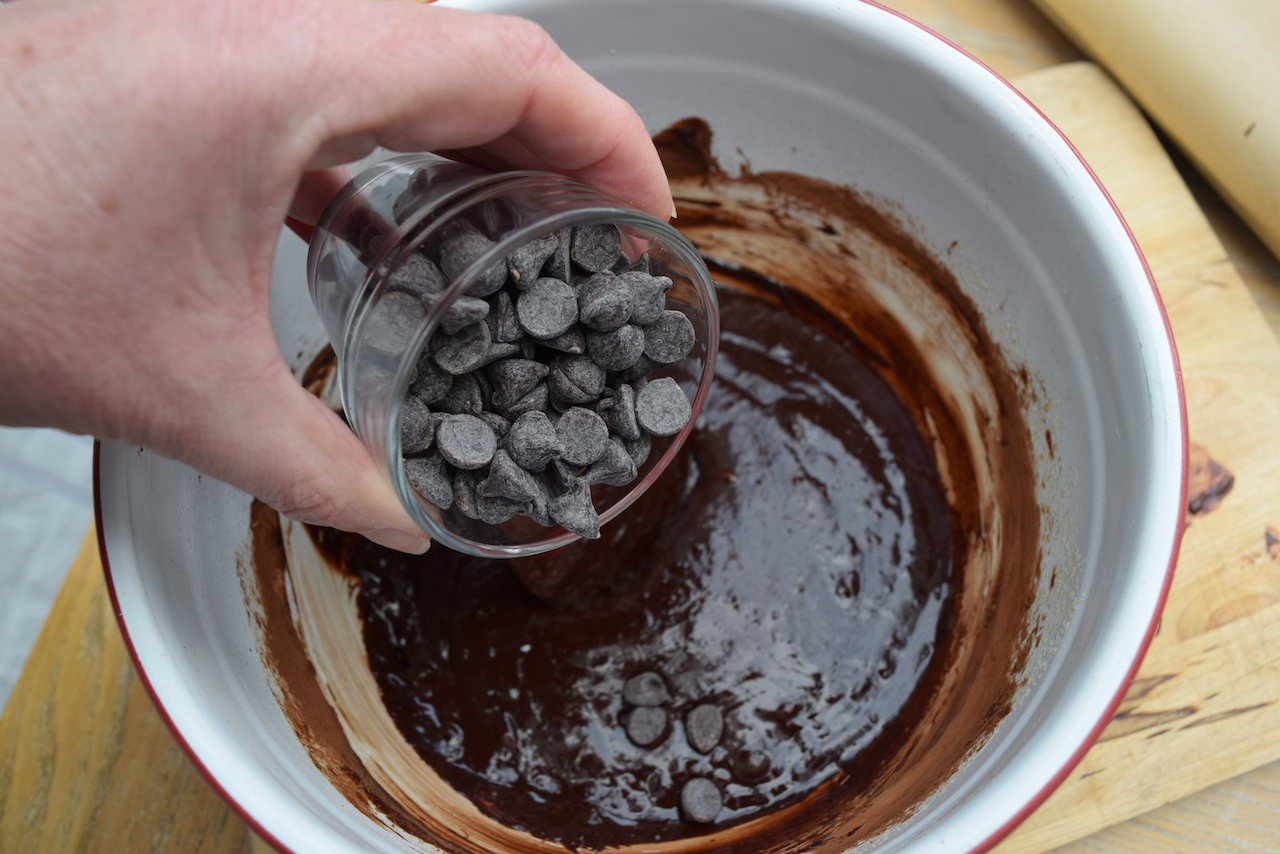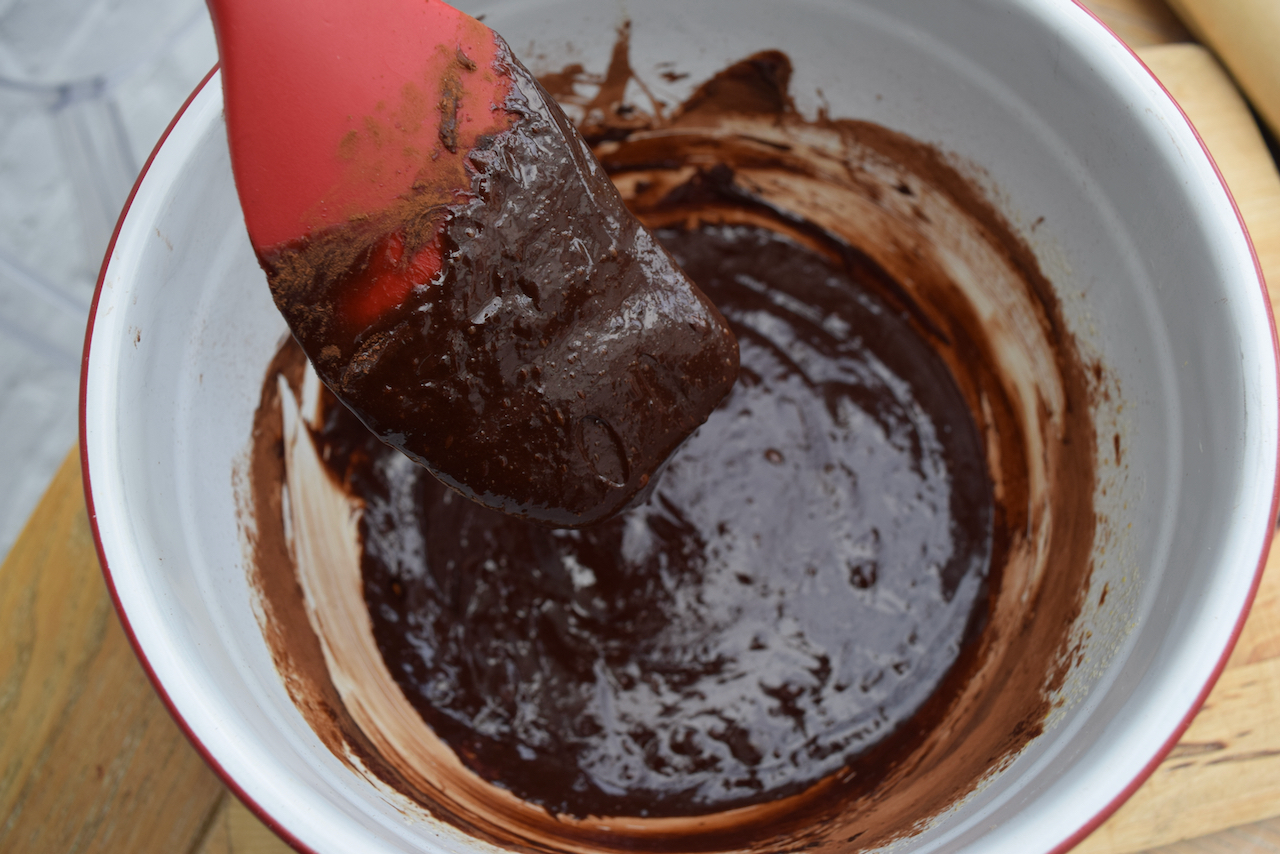 Spoon generous tablespoons of the glossy, chocolate studded mixture onto your lined trays. Leave a decent amount of space between each for a little spreadage.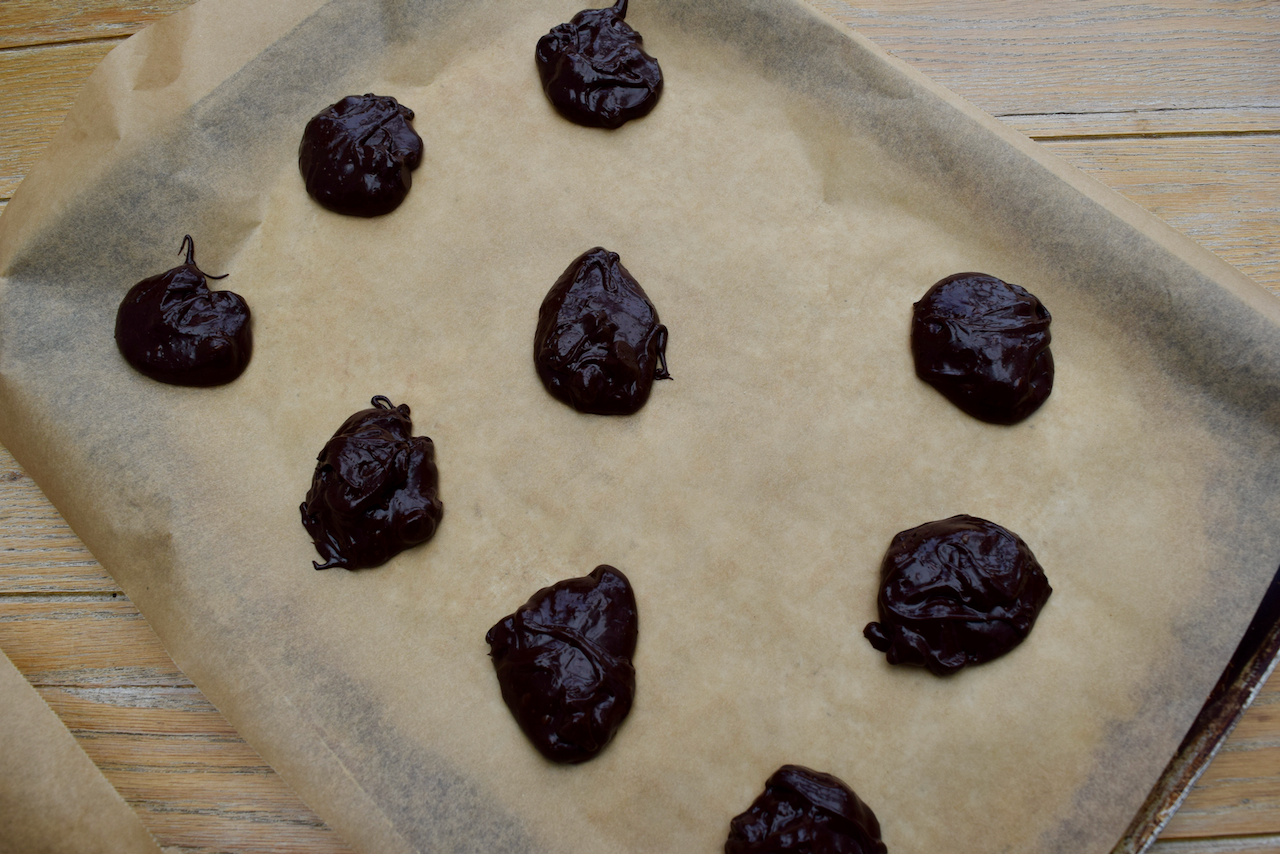 Then pop the trays into the oven for a scant 10 to 12 minutes. The finished morsels will be still soft but set and smelling like chocolate heaven.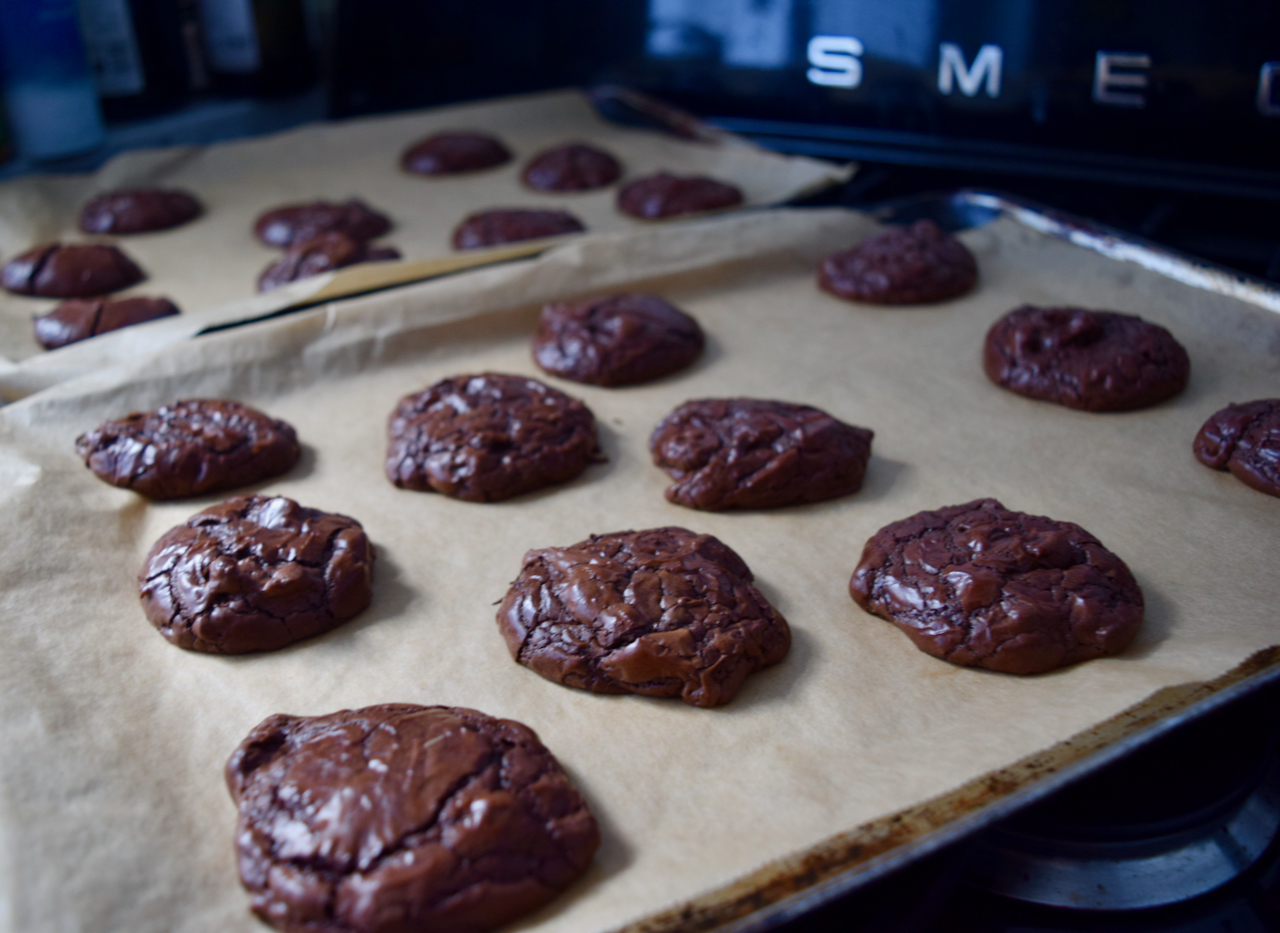 Leave them to cool completely, if you can bear, before storing these Flourless Chocolate Brownie Cookies in an airtight tin for as long as you can hide them from the rest of the family or for up to 4 to 5 days.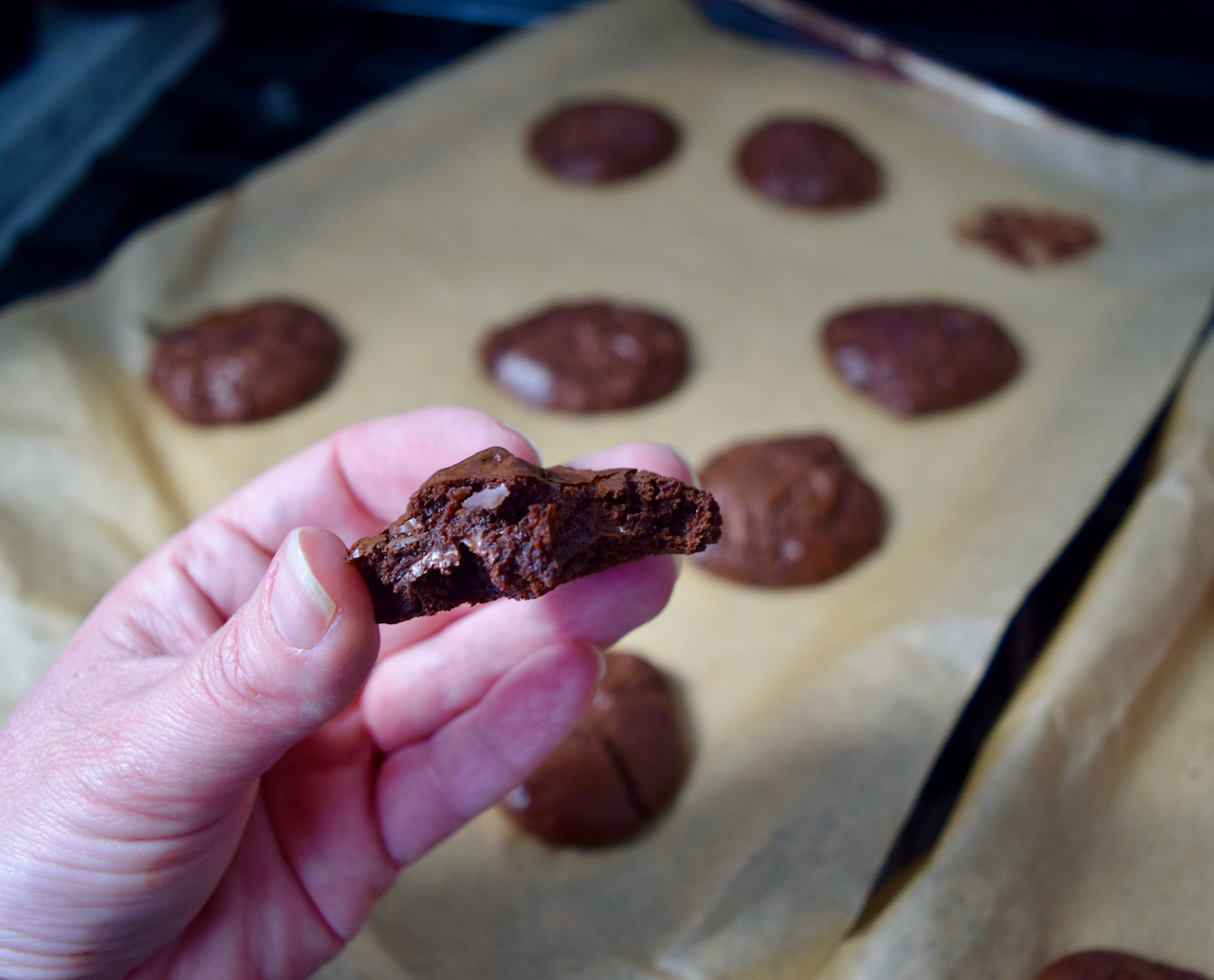 I am not good at waiting.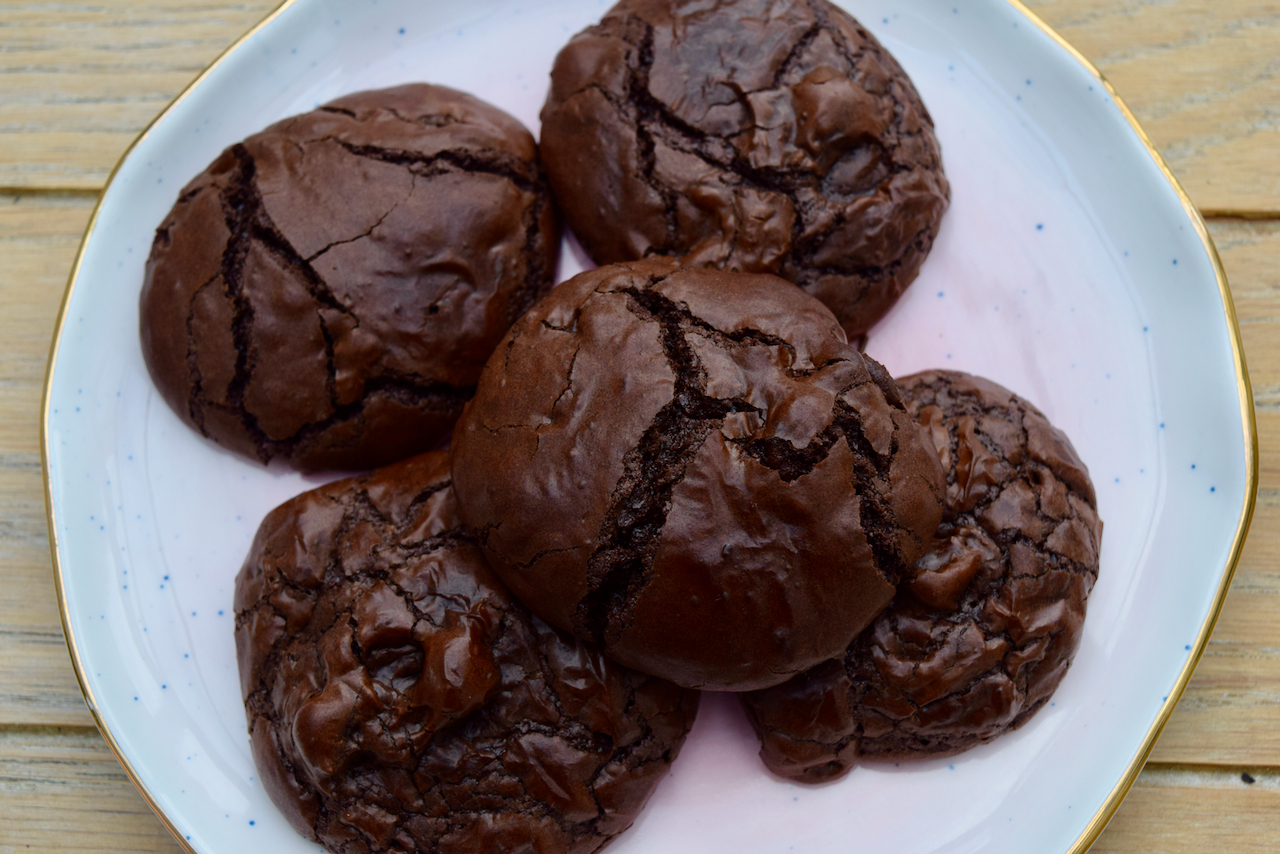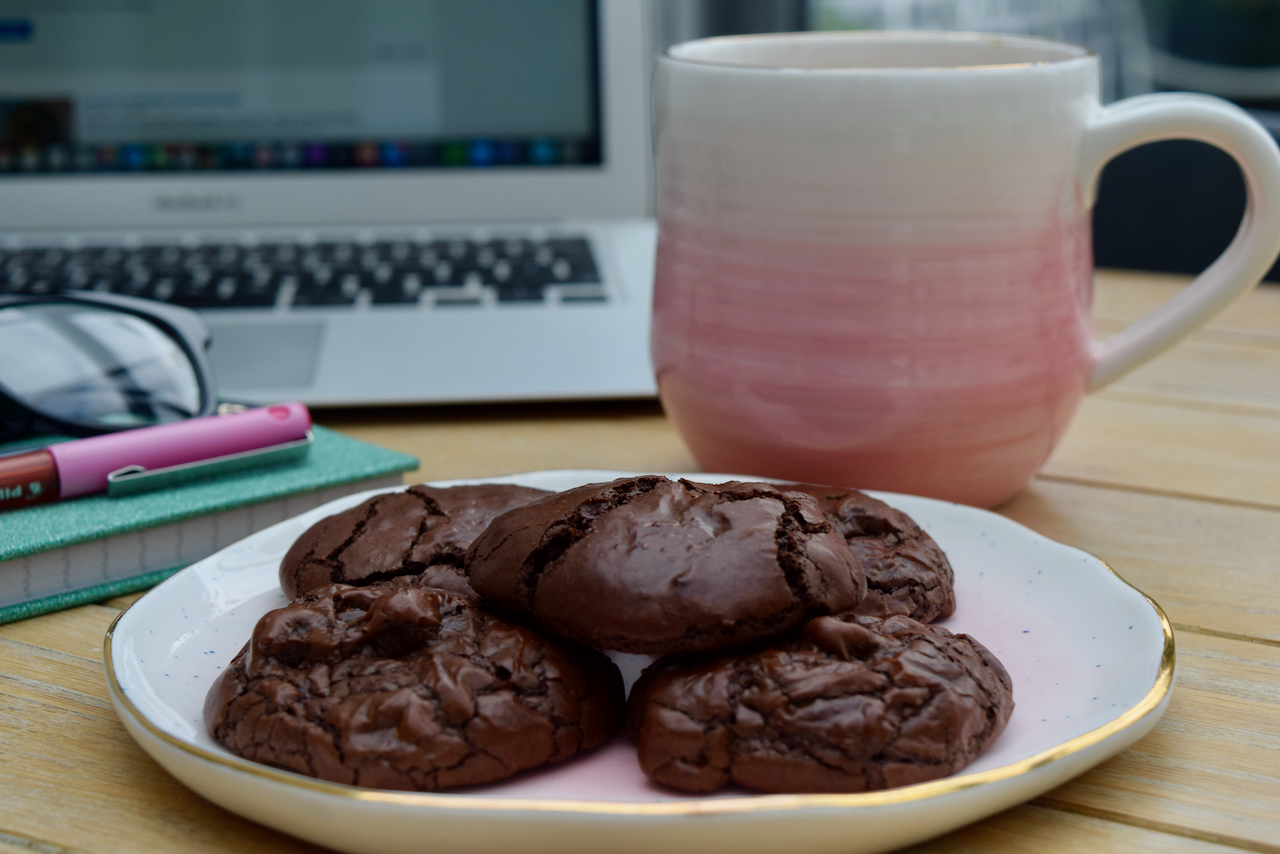 Flourless also means gluten free, so if that's your thing, then these are doubly brilliant. Either way, chocolate treats are the way forward whilst we're all in lockdown. That and the litres of gin and wine, of course.
Lucy x
Flourless Chocolate Brownie Cookies Recipe
Makes 20 to 24 dependent on size
30g butter
225g dark chocolate, with 50% cocoa solids or above
100g caster sugar
2 eggs
1 teaspoon vanilla extract
30g cocoa powder
1/4 teaspoon baking powder
75g chocolate chips, dark, milk or white – you choose
Pre heat your oven to 160 degrees fan assisted and line two large baking sheets.
In a jug or bowl or pan, weigh out the 225g dark chocolate and 30g butter. Melt in the microwave for around a minute and a half or on the stove over a pan of simmering water until the butter has just melted. Stir well until it's all mixed together and is smooth and glossy. Leave to cool a little.
In another bowl whisk the eggs, sugar and vanilla until well blended. Stir in the cooled chocolate and butter mixture until well combined. Weigh out the cocoa and baking powder then fold into the egg and chocolate mixture.
Stir through the 75g chocolate chips then spoon generous tablespoons of the mixture onto your baking sheets. The mixture will seem quite liquid however, don't panic, it's meant to look like that. Leave some space between each cookie for spreadage.
Bake for 10 to 12 minutes, no longer, until the cookies are set but still soft. Leave to cool on the trays then store in an airtight tin for around 4 to 5 days.