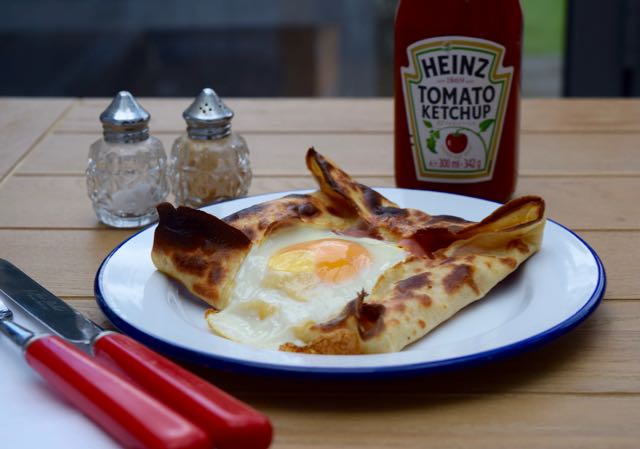 Ham, Egg and Cheese Pancakes Recipe
I love Shrove Tuesday for several reasons – here comes the first list of the week. a) It means spring is not far off and winter is almost *I bloody hope* over b) pancakes and c) more pancakes. I am really superstitious about the fact I have to make pancakes for the family on Shrove Tuesday. If I don't, I feel something terrible will happen, which is just frankly, strange. Even if I am home late, I still end up making a batch, which just results in me eating them all and I am a terrible fiend for slathering them in litres of golden syrup. Of course, the boys make their own pancakes all the time now, thanks to their mother writing a fledgling food blog, so I feel almost *sniff* redundant. So, with this new Shrove Tuesday post, I am hoping to make myself indispensable again. These Ham, Egg and Cheese Pancakes are bloody delicious and a new take on the pancake day staple.
These savoury pancakes are quite irresistible. I can vouch for that as the folding procedure takes some practise and Ben and I ploughed our way through 6 in one sitting. Pure gluttony I know, but the combination of a crisp pancake with ham, melty cheese and a runny egg is really something to be revered. Plus Ben prefers his egg firm so I ended up eating all the ones which were too runny for him. This recipe was inspired by one from Taming Twins, with thanks for the newly acquired spare tyre round my waist. The folding of the pancake is a slight kerfuffle, well not kerfuffle, just fiddly. Just make sure you use a largish frying pan, if your pancake is too small or too thick it makes the folding quite tricky.
We make pancakes all year round in our house, such is our dependence on batter based items. With this Ham, Egg and Cheese Pancake creation, we can now enjoy them for breakfast, lunch and dinner. I can't see my waist line decreasing anytime soon.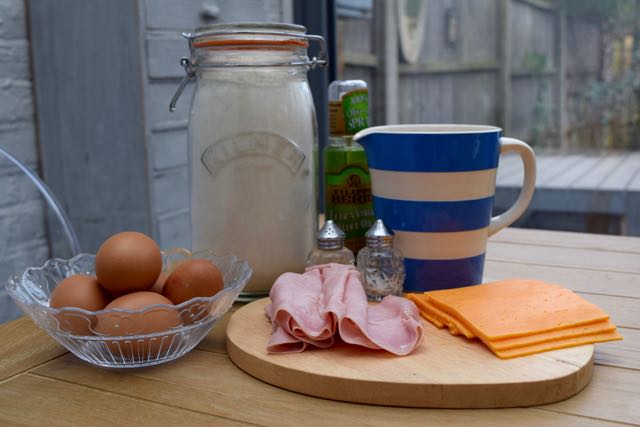 All pretty store cupboardy standard ingredients here. Do vary the fillings to suit your needs, some sautéed spinach or mushrooms would be amazing if you would rather not include the ham.
The pancakes are made using my recipe from a couple of years ago *have I really been doing this that long* and are super simple. I have made these with wholemeal flour for this savoury recipe, and they were extra tasty. So, make a start with the batter as it will need to rest for a bit before you cook them. Take a large bowl and weigh in the flour and salt.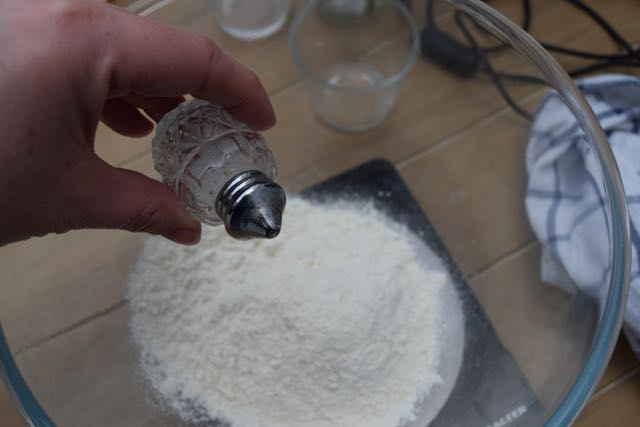 Make a well in the centre of the flour and break in the egg. Gradually start to whisk/beat the mixture, adding the milk as you go.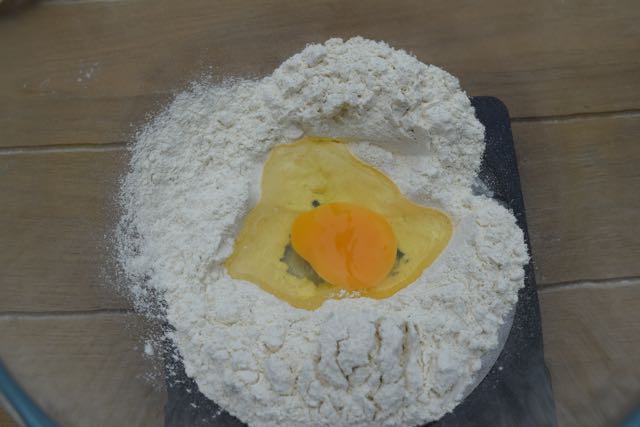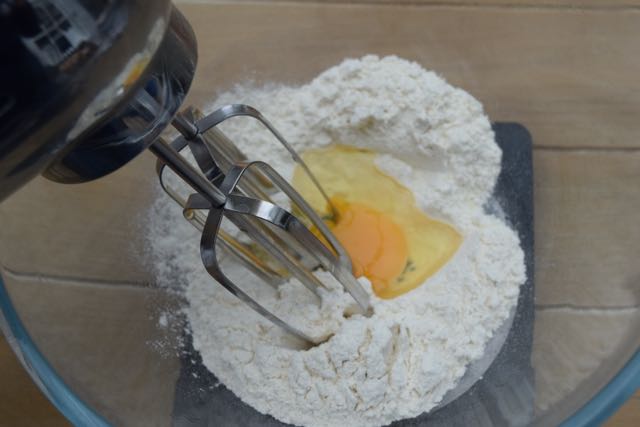 Whisk in enough milk to fashion a single cream-like texture. Then stir in the olive oil.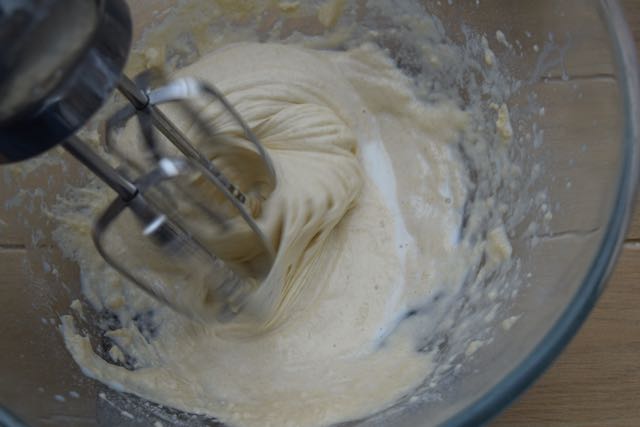 Let the batter rest for around 10 or 20 minutes on the counter while you prepare your filling ingredients. Not too much drama as I had bought pre sliced cheese and wafer thin ham. It's hardly gourmet deli style produce, but well, it's still 3 days away from pay day.
When the resting period is up, take a medium to large frying pan and heat a tiny bit of oil and butter, just to ensure the pancake doesn't stick. Pre heat your grill to medium high.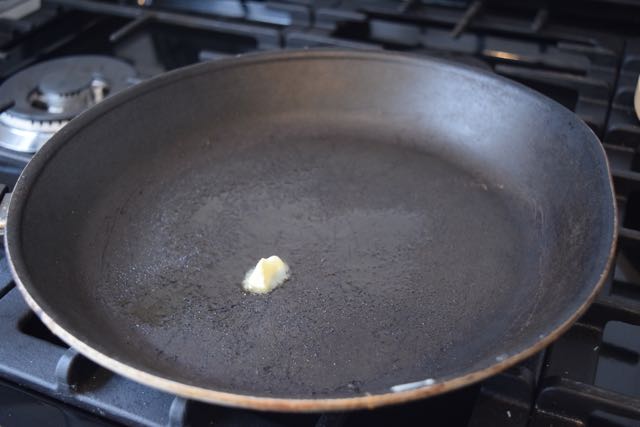 Sorry about the ugly old frying pan. I did ruin half my pancake mixture trying to make pancakes in two slightly more photogenic pans, but they stuck and I ended up scraping them into the bin. Looks aren't everything.
Pour in your pancake batter and swirl around to make an even covering.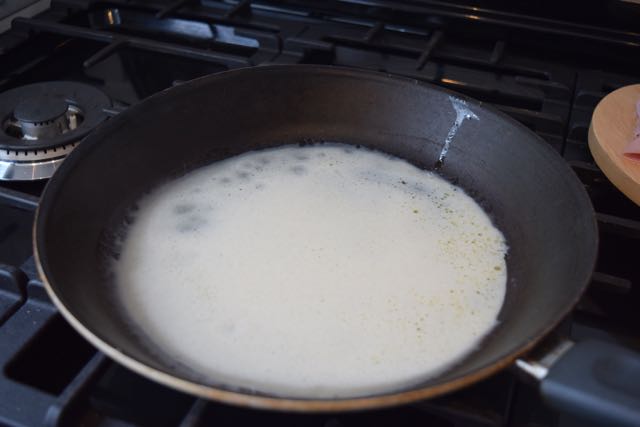 Cook on one side until starting to brown then flip.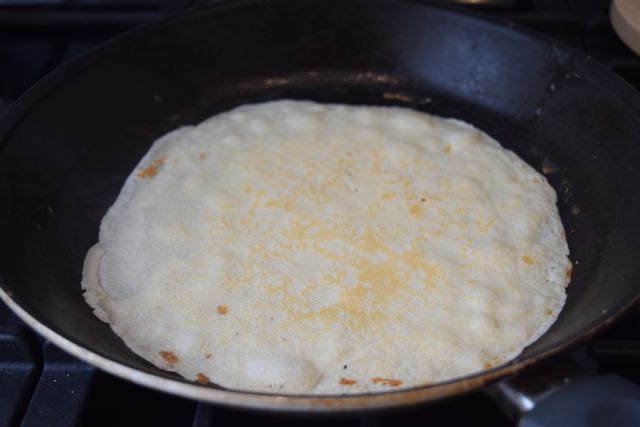 Lay your chosen fillings in the middle of the pancake.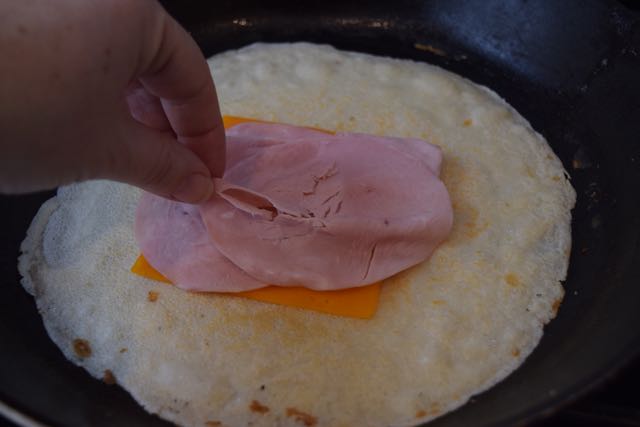 Then let the pancake origami begin. Fold each side in to form a sort of parcel. Use a palette knife or spatula for this, or just use your hands. I have hands of steel, well used to burning hot temperatures. Such a hero.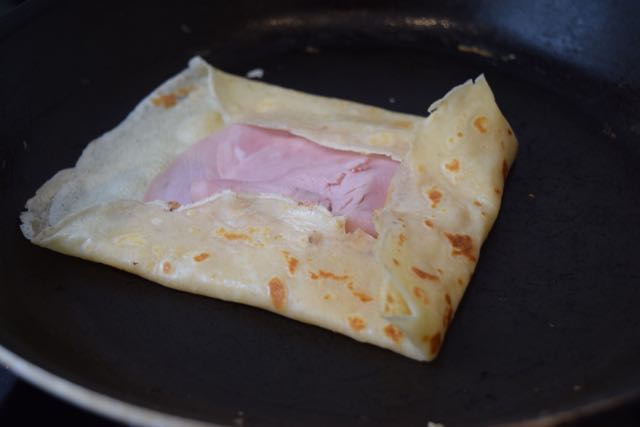 The thinner the pancake the easier it is to fold. Next, crack your egg into a cup for ease of pouring, then pour it into the square in the middle of the pancake parcel.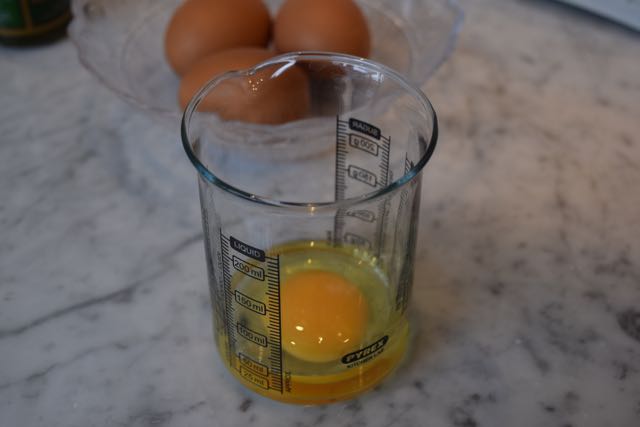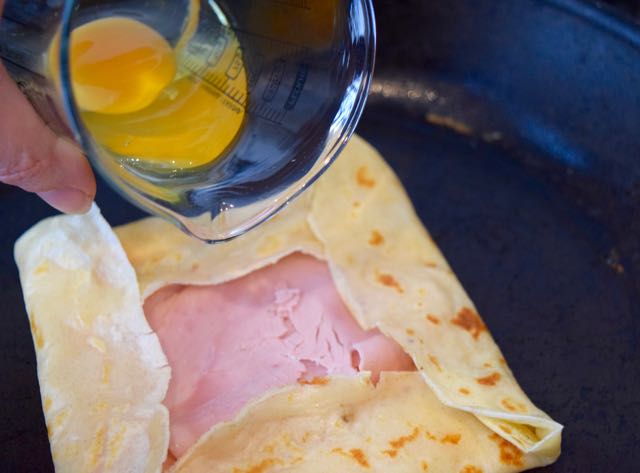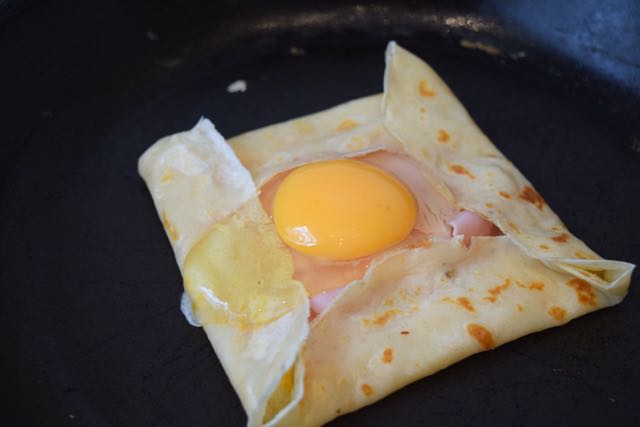 This does take practice, as you can see, even after having made at least 10, the egg still dribbled out the sides, but it doesn't really matter, it still tastes brilliant. Pop this under your hot-ish grill to cook the egg to your requirements. I like a bit of wobble in my yolk.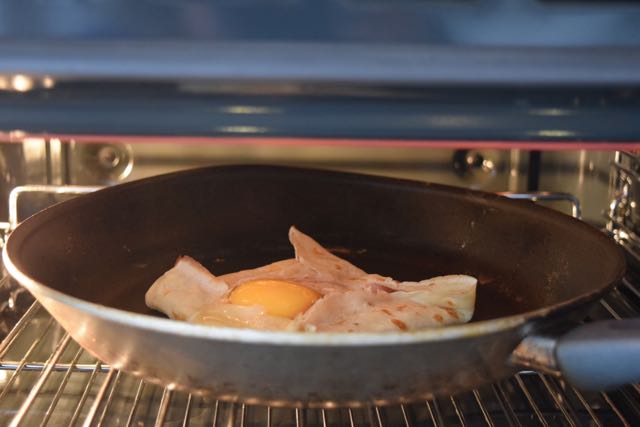 The pancake is crisp, the egg soft and the cheese melty. All my favourite things in one pan.
Inhale immediately, then make another, and another. For your family, of course *or not*.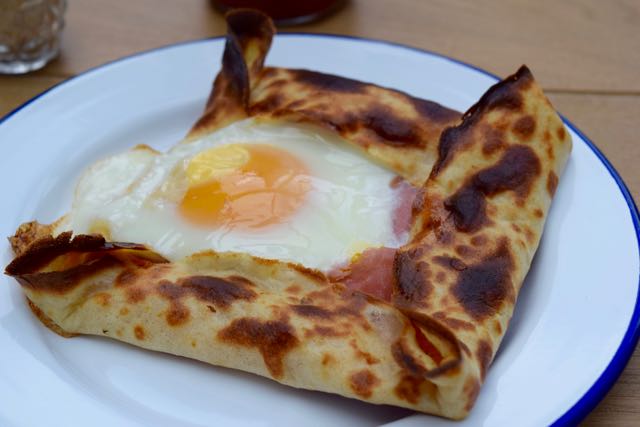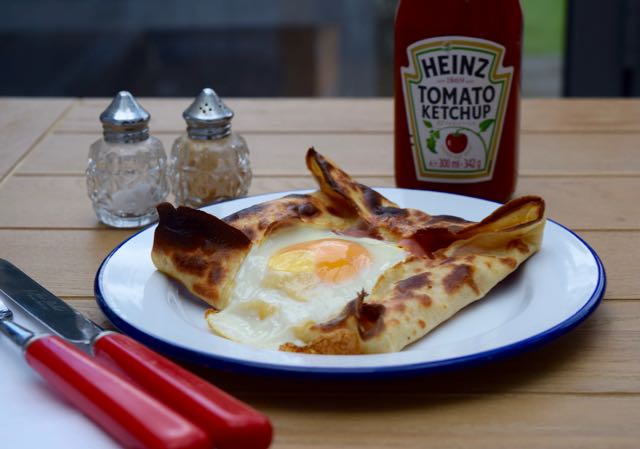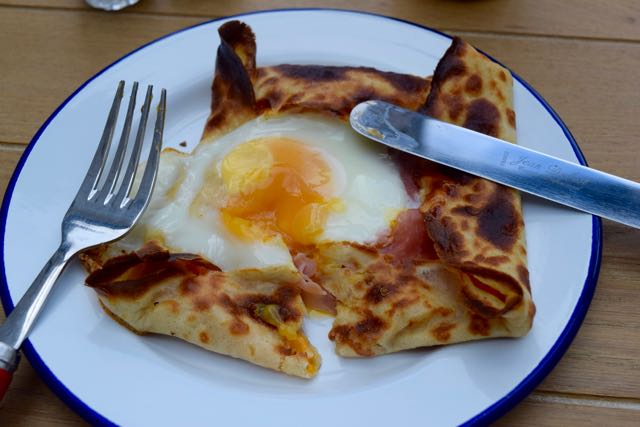 This is a top new twist on the Shrove Tuesday menu. You can have pancakes for every course, and not just once a year. What a time to be alive.
Lucy x
Ham, Egg and Cheese Pancakes Recipe
You will need a whisk and a frying pan
Makes at least 4, size dependent
Pancakes – see also my original post here
125g plain flour
a pinch of salt
1 egg
250ml to 300ml milk
1 tablespoon olive oil
oil and butter for frying
Filling
For each pancake
1 slice cheese, or grated cheese
2 slices ham
1 egg
Extras could include sautéed spinach, mushrooms or chopped cooked bacon
For the pancake batter weigh the flour and salt into a large bowl. Make a well in the centre and add the egg. Start to whisk the egg into the flour then gradually add the milk until you have a thin, single cream like consistency. Stir in the oil then leave to rest for 10 to 20 minutes on the counter.
Pre heat your grill to medium high heat.
Take a medium to large frying pan and add a touch of oil, wipe it around the pan with kitchen paper to ensure coverage and add a tiny knob of butter. Heat the pan to medium high then pour in a ladle full of batter. Swirl around the pan then cook the pancake until it starts to brown a touch and lifts away from the side.
Flip the pancake then add a square of cheese or a little pile of grated cheese into the middle. Lay on a couple of slices of ham. Fold up the sides of the pancake to form a square parcel-like shape with a space in the centre for the egg. Break an egg into a cup then, carefully, pour this into the space left in the middle of the pancake, trying to keep the yolk and white inside the pancake square.
Place the pan under the grill to cook the yolk, for a minute or two or until it is cooked to your liking. Serve immediately, devouring, before making yourself a second or third.