Seeded Brown Loaf Recipe
In our house the bread of choice is crappy white sliced. Not with me, but with the boys, tasteless little types that they are. They will eat other types of bread, but the one which gets inhaled every time is the pappy white stuff. I am not a huge bread eater, but when I do eat it, I want something slightly better quality. It has to be brown, preferably seedy and made with good quality flour. I am not saying I don't eat the odd slice of crap bread, but given the choice, I'll take the good stuff. So, to compensate for the lack of class in our bread bin, I quite often make myself this little Seeded Brown Loaf.
Making your own bread always seems to be shrouded in some sort of mystery. My parents used to use a bread machine for their bread but even that in itself appeared to involve a bit of drama. My recipe is based on one from Davina McCall's Five Weeks to Sugar Free and uses malt extract instead of any refined sugar. This adds a lovely malty flavour, but I am certain you could use black treacle or honey in it's place if you can't find it at your local health food shop. I love the addition of seeds to add a whiff of interest and crunch. I chose sunflower seeds, but choose your favourites and add those. Davina recommends wholemeal flour but I went for spelt which I love. It doesn't rise massively but the finished result is close in texture and huge on flavour.
Bread making is not difficult, it just takes a bit of love, elbow grease and time. I have plenty of the first two, but none spare of the latter. This is why making your own bread is a lovely therapeutic, weekend treat when you have a tiny bit more time on your hands. I love this warm out of the oven with butter and jam, for breakfast with a poached egg or toasted with set honey. In fact, when it's freshly baked I have to wrestle the bread knife away from the boys who, once they smell fresh bread, drop their sliced white like a hot potato. This malty, little Seeded Brown Loaf is almost irresistible to anyone in within a 1 metre fragrance radius, so don't expect to hog the whole thing yourself. You may find yourself having to double the recipe and make one for you and one for the other buggers in your house.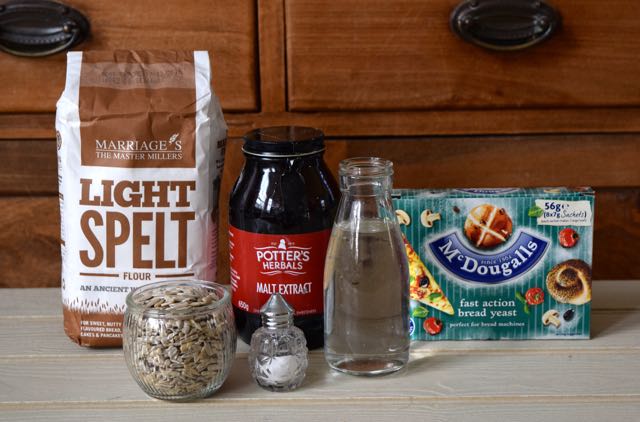 What a beautiful, healthy sight for this weeks ingredients line up. Don't be put off by the malt extract, it's easy to find and worth adding it to keep the refined sugar to a minimum and for maximum flavour.
I was feeling a bit podgy so decided to mix this by hand to burn superfluous calories but do feel free to use your stand mixer for mixing and kneading. Either way, make a start by measuring into a large bowl your chosen brown flour, seeds and yeast.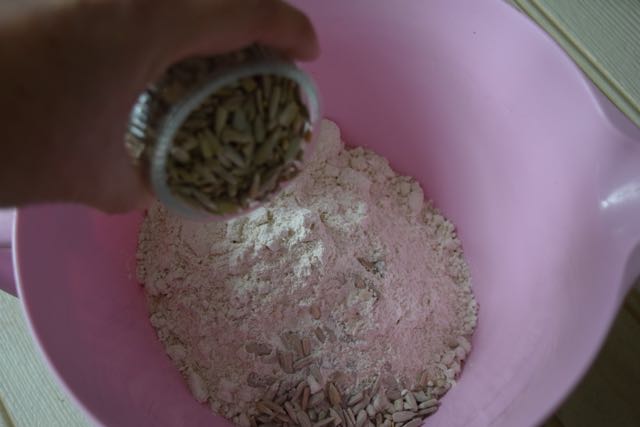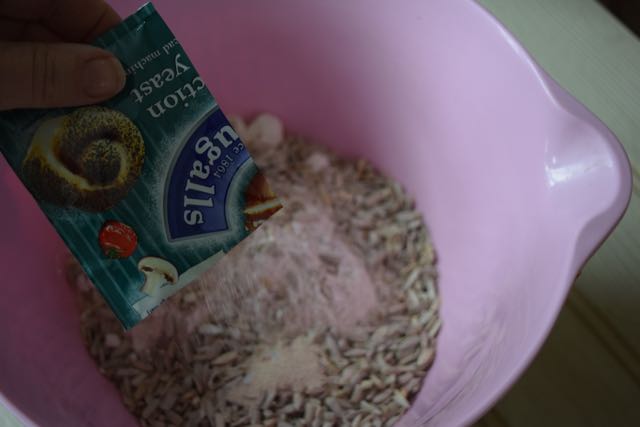 Give this a mix then add the salt. You don't want the salt and yeast to touch directly as the salt may kill the yeast in a cruel turn of events.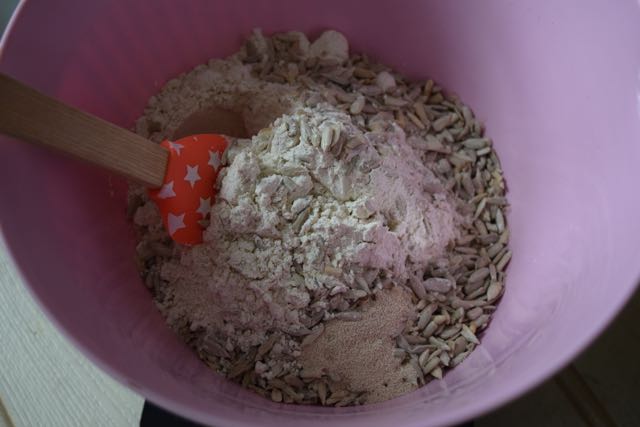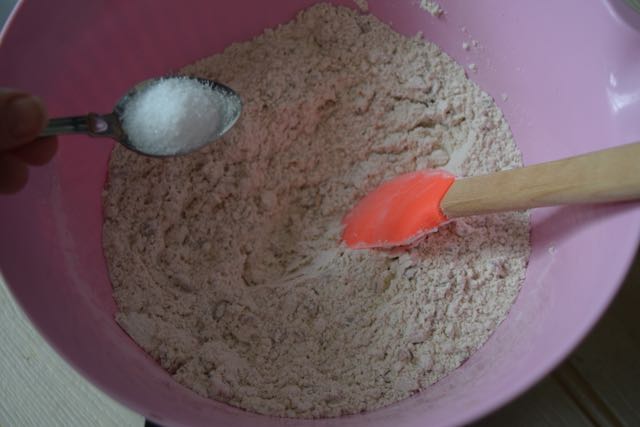 Next, take a jug and measure in your warm water. You don't want it to be hot, just good and warm. Stir in the sticky malt extract, avoiding slopping it down the side of the jug like I did would be good.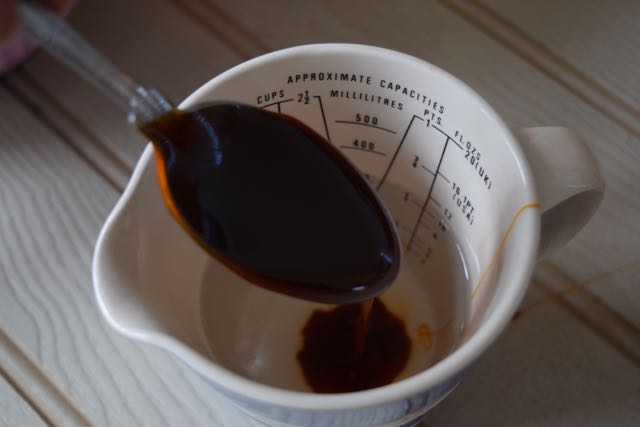 Mix this well then pour into your floury seedy business and stir until you have a shaggy wet mess of a dough.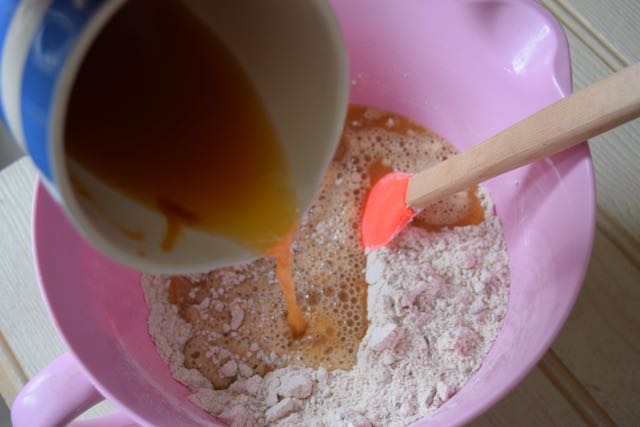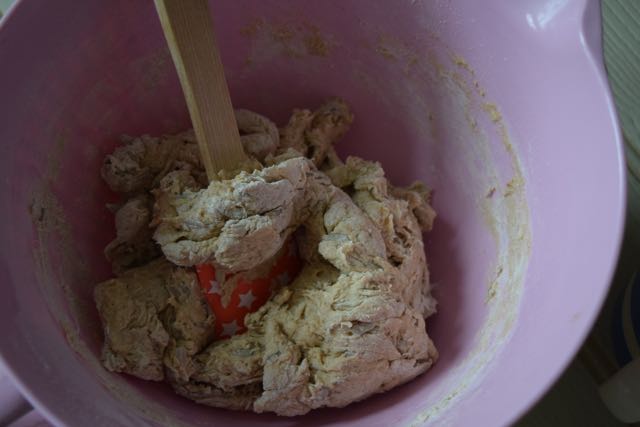 You don't want the dough to be too dry, so do add a touch more water if need be. Turn this out onto a board, or into your stand mixer with the dough hook and give it an initial knead to bring together.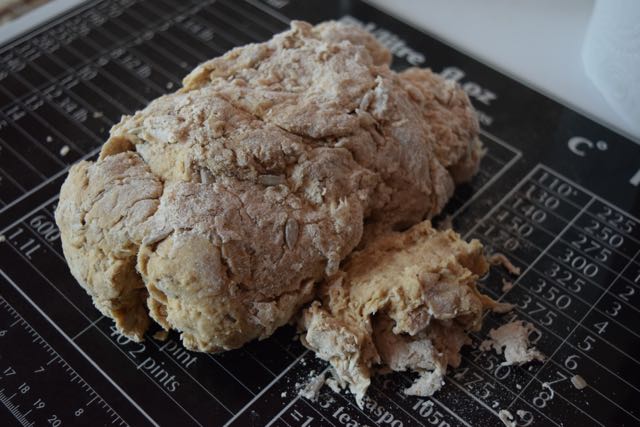 Not promising here.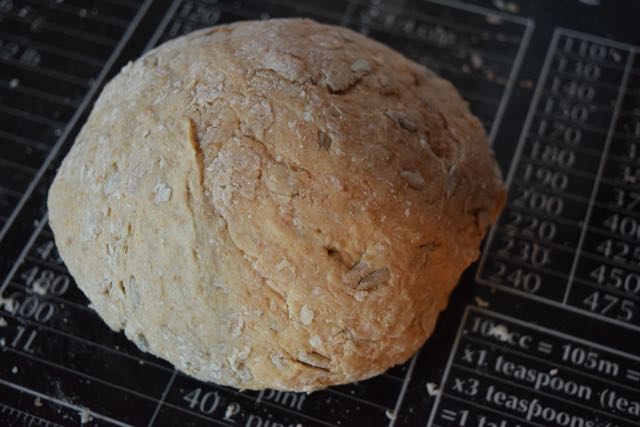 Much better now, with just a little love and attention.
Then continue to knead the dough until it's smooth and elastic and lost the feel of being sticky. This should take about 5 minutes.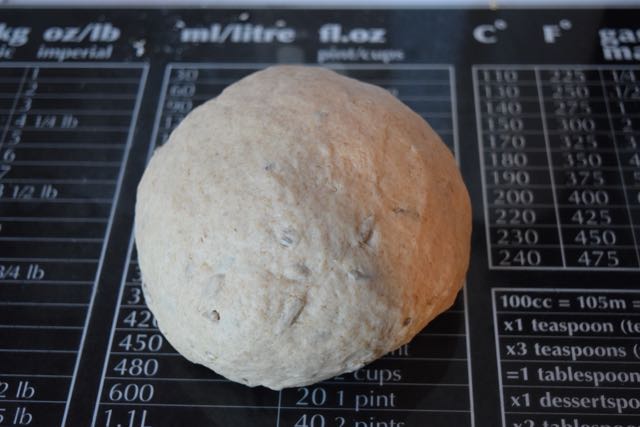 Pop this back in the bowl along with a drizzle of olive oil to stop it sticking, then cover and leave in a warm place for a couple of hours to rise and become spongy.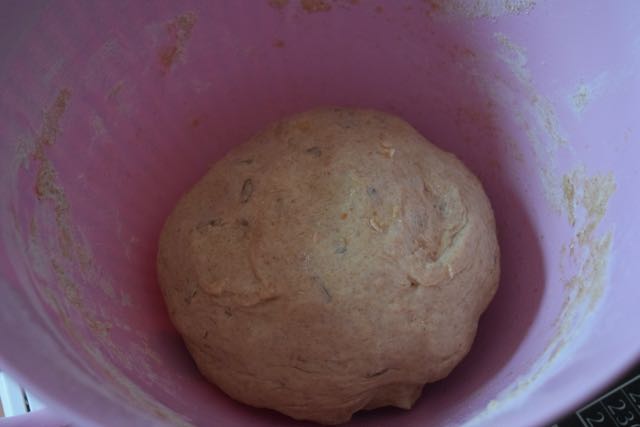 Mine didn't rise hugely, but it was good and spongy, so don't panic if yours isn't huge *Harry Hill sideways glance*.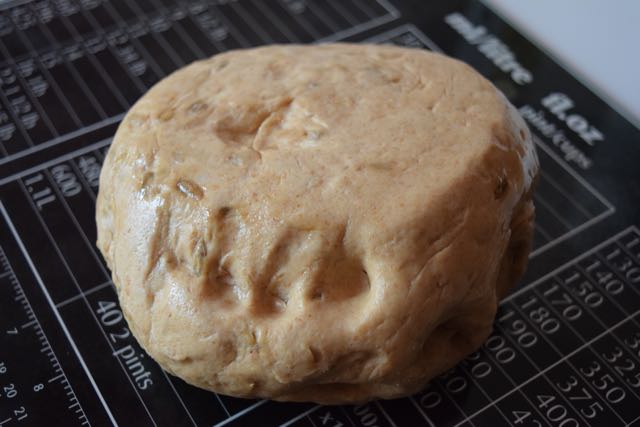 Give this another little knead then fashion it into the shape of your loaf tin or go free hand and just shape it into a random round loaf. Leave for another hour, covered in a warm place, if you have one in this cold snap we are having.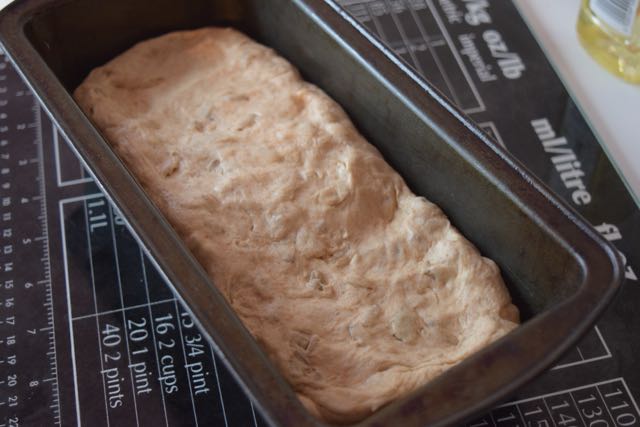 Half an hour before your second rise time is up, pre heat your oven to its highest setting. Then once the full hour is up, put your loaf in the super hot oven and turn it down immediately to 170 degrees fan assisted.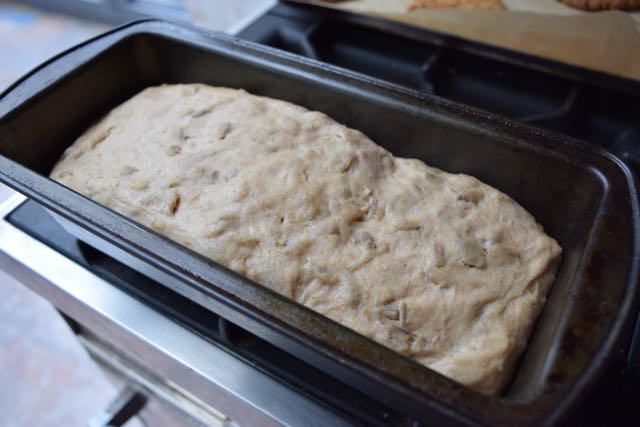 Your lovely little Seeded Brown Loaf is ready after 30 to 40 minutes. The top should be golden brown, and when turned out and tapped on its bottom, the loaf will sound hollow. Mine took around 40 minutes.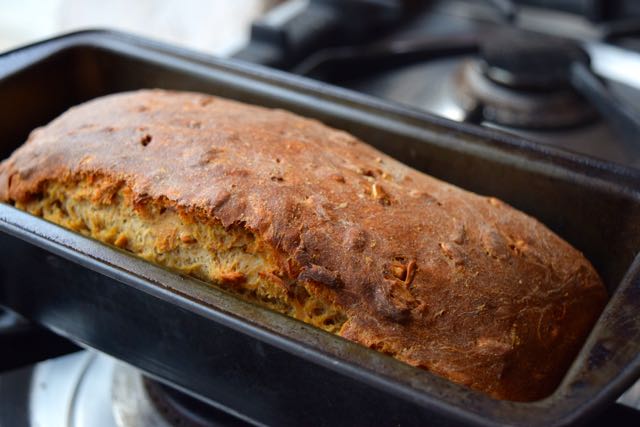 If only there was such a thing as Lucy Loves Smellovision. Any geeky types out there – now would be good time to invent it.
Leave this object of beauty to cool slightly *ha ha* before slicing elegantly or heartily.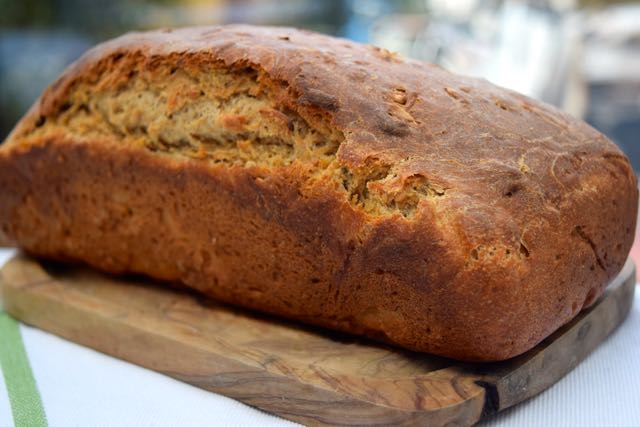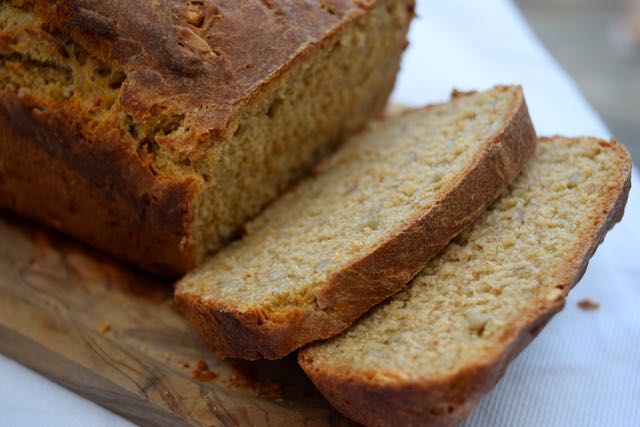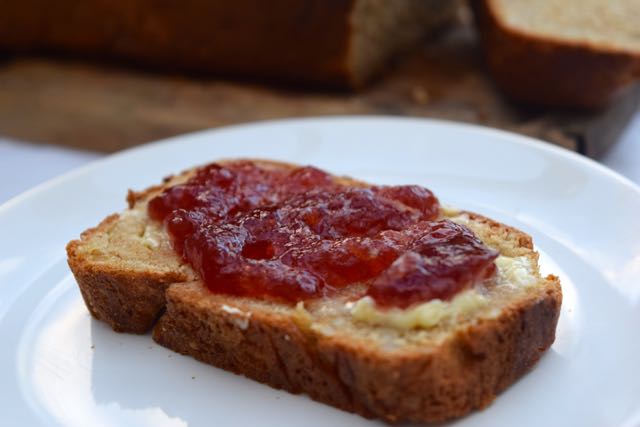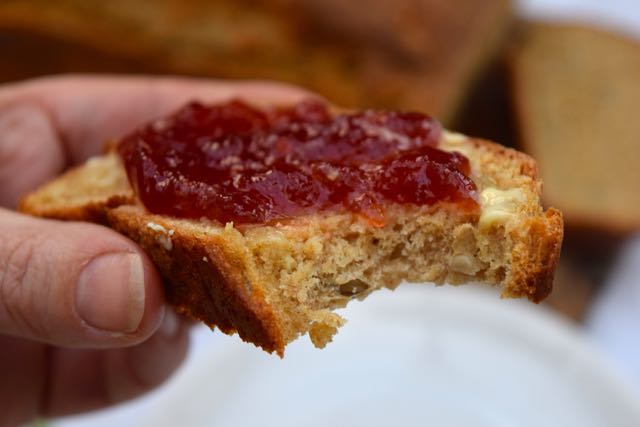 How you enjoy this Seeded Brown Loaf is up to you. Slather it in butter, jam, both, honey, peanut butter, avocado, eggs…..I think you get the point.
Lucy x
Seeded Brown Loaf Recipe
Makes one small loaf
You will need a buttered or oiled 1kg loaf tin
500g wholemeal flour, I used Spelt
100g seeds, sunflower, pumpkin, sesame or use a mixture
7g sachet instant dried yeast
1 teaspoon salt
1 tablespoon malt extract, I expect you could use honey or black treacle too
300ml to 350ml warm water
In a large bowl, measure out the flour, seeds and yeast. Stir, then add the salt as you don't want this directly touching the yeast.
Measure out the warm water and stir in the malt extract. Pour this into the flour mixture and stir until you have a shaggy mess. The mixture should be quite wet, but add the water sparingly. Tip this onto a floured work surface and knead until it comes together. Then, either by hand, or in a stand mixer, knead for around five minutes or until the dough feels smooth and more elastic.
Return to the bowl with a few drops of oil to make sure it doesn't stick. Cover and leave to rise in a warm place for around two hours. The dough will rise and feel springy and spongy.
Once the rising time is up, turn the dough out and knock back or knead again for a minute. Fashion the dough into the correct shape and put in your oiled tin. Cover again with a tea towel and leave for another hour to rise again.
After half an hour of rising time pre heat your oven to the highest temperature it will go. When you are ready to bake your loaf put it into the oven and immediately turn it down to 170 to 180 degrees fan assisted. Bake this for between 30 to 40 minutes. The finished loaf should be browned, and sound hollow when tapped on the bottom.
Leave it to cool for as long as you can bear before cutting into thick slices and serving buttered. This keeps for around 5 days and is wonderful toasted.