Chicken and Cashew Massaman Curry Recipe
We would eat curry every day in our house if left unattended. It's a go-to meal enjoyed by everyone, even fussy George. I am not talking about authentic curries, although this Slow Cooker Korma comes close, we will eat curry in any incarnation. In fact, I have a standby tub of Katsu Curry sauce which can be whipped up at a moments notice and added to any meal in order to get George to eat it. We just love a bit of spice and let's face it, curries are simple and delicious and quick on to the table. Today's post takes a little foray into Thailand with this Chicken and Cashew Massaman Curry recipe for you and yours.
The real reason for sharing this recipe with you is I am sick of Clyde asking me to make him a Massaman curry. He has one regularly at work from a restaurant in Soho, and asks me to recreate it on a weekly basis. So I have caved and fashioned this beyond quick and super tasty Chicken and Cashew Massaman Curry, thanks to the beautiful Donna Hay for the inspiration. It uses a shop bought paste which I got from our local Asian supermarket which adds heat and fragrance. The amount you use depends on the authenticity of your paste, so I would start with less and add more accordingly. The coconut milk adds sweetness and then the curry is garnished with the joys of abundant fresh coriander, chopped red chilli and toasted cashews. One of the biggest draws of this curry for Clyde is the inclusion of potato. He loves a spud in a curry, and the Massaman benefits hugely from it's presence.
As is standard after the first night of a new show I am happy to include a rave review from George for my Massaman Curry, and I quote 'Best Curry Ever'. Fair praise from the fussiest child in the world, although he did include the request not to include any of the greenery as he thought it was a vegetable. You can't bloody win them all.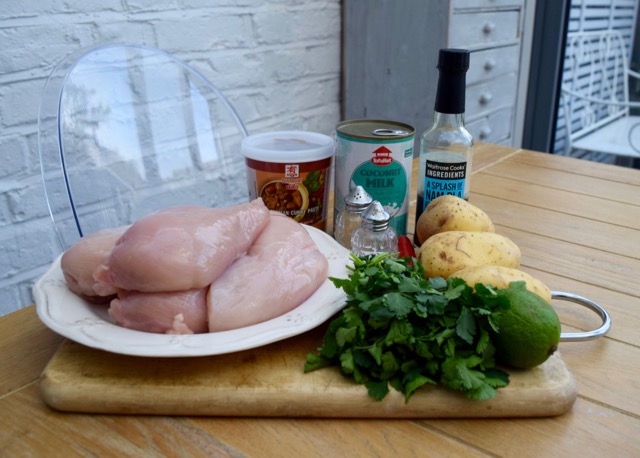 Simple, simple, simple. Hardly any ingredients at all especially as a) I forgot to include the oil and b) I didn't use the fish sauce as my curry paste was quite salty. The Massaman paste I used was an authentic brand and therefore quite ballsy. I used around 100g, but dependent on your brand, perhaps use less to start with as you can always add more later.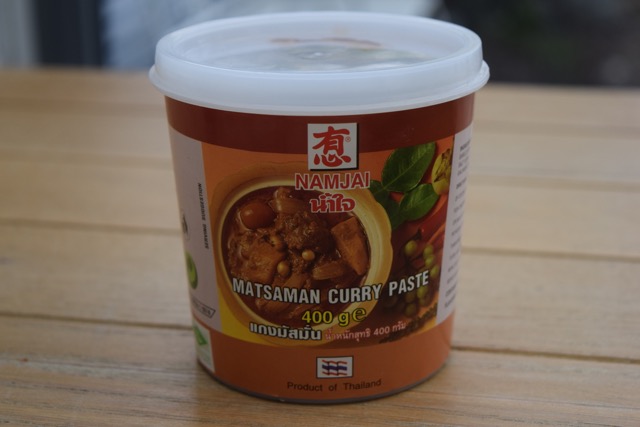 Pre heat your oven for nut toasting later then make a start on this warming, spiced supper dish by cutting your chicken into bite sized pieces, seasoning it and adding it to your hot frying pan with a tablespoon of oil.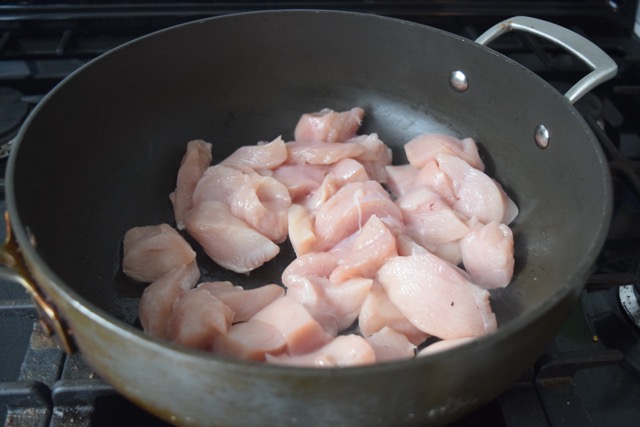 Cook until starting to brown on one side, then turn and cook for another 5 minutes or so on the other side. Next add your sliced potatoes.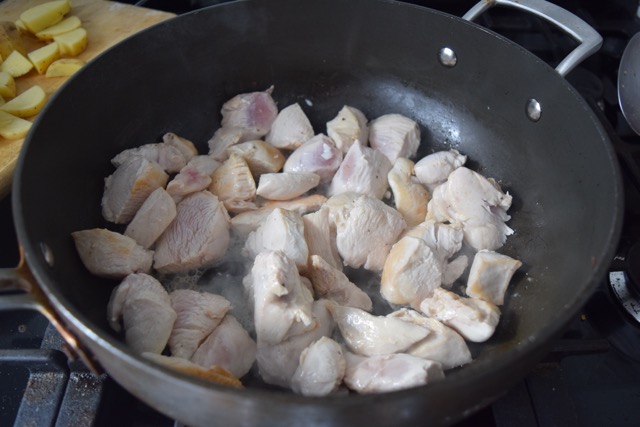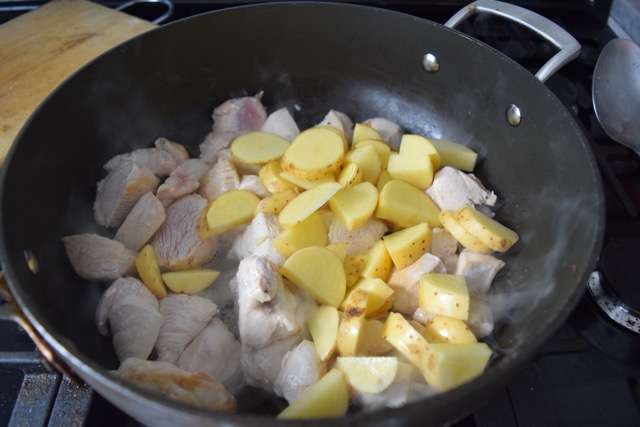 Stir through the Massaman curry paste of your choice then pour in the coconut milk and stir again.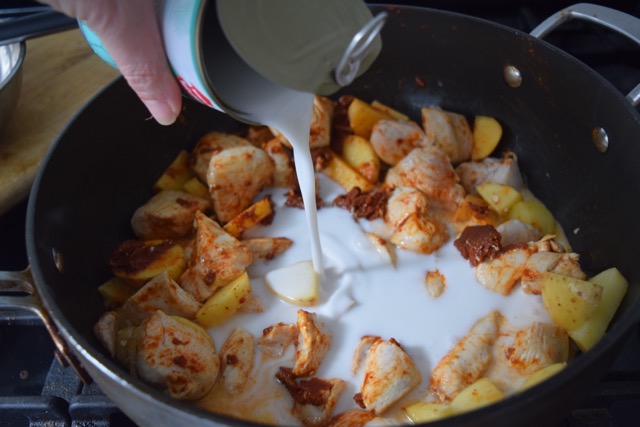 Bring up to the simmer, pop a lid on then turn down the heat and cook for around 10 to 15 minutes or until the potatoes are cooked through.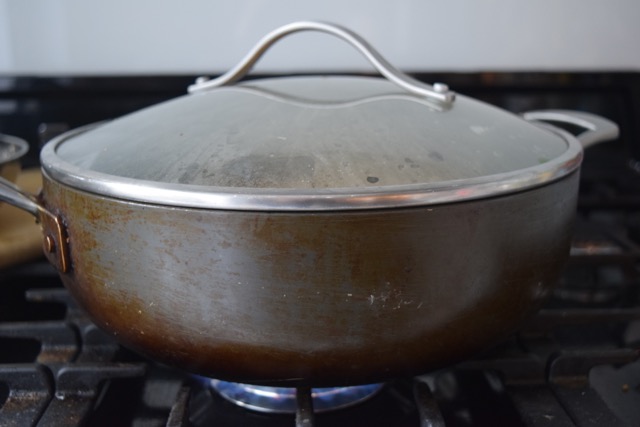 While this is simmering away beautifully, pop your cashews onto a lined baking tray and toast for 5 to 10 minutes or until golden. Be careful they don't burn, they can turn in a second from golden to buggered.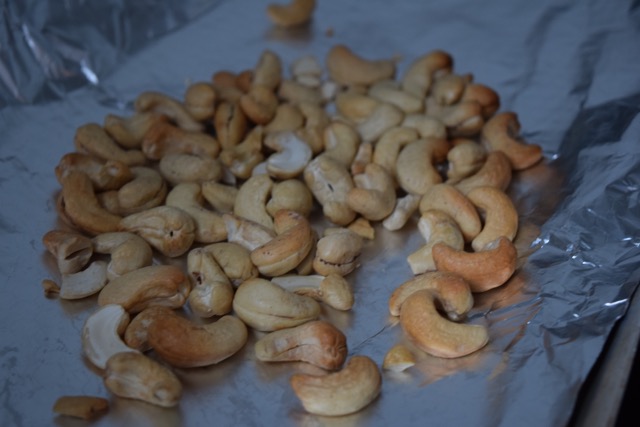 Roughly chop these wonderfully toasty nuts and prepare your other garnishes by thinly slicing your red chilli and chopping the coriander leaves.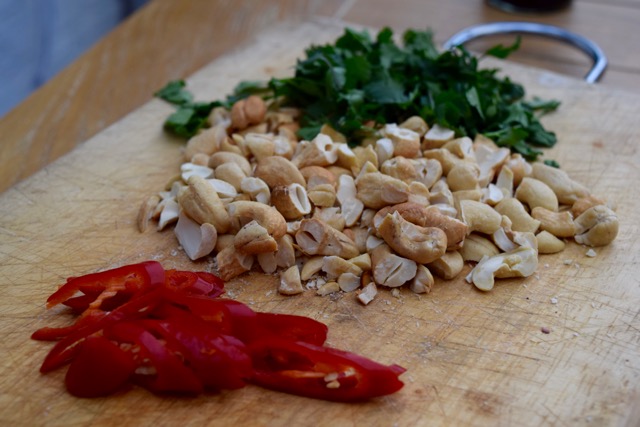 When your potatoes and chicken are cooked through and smelling fragrant, remove the lid and stir through the juice of half a lime and add a dash of fish sauce, if needed, check for saltiness prior to adding. Mine didn't need any, FYI.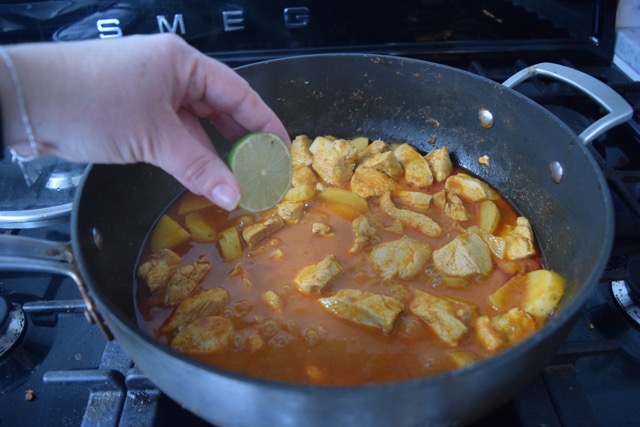 Now you are ready to serve your curry. This is lovely with steamed rice or just as lovely without if you are off the carbs. I went off piste and served with some poppadoms which I know are not authentic, but I just discovered you can cook the unpuffed ones in the microwave and I can't stop making them. If you wish to remain geographically correct, serve with Thai crackers. Enhance your curry, generously, with the cashews, sliced chilli and plenty of coriander.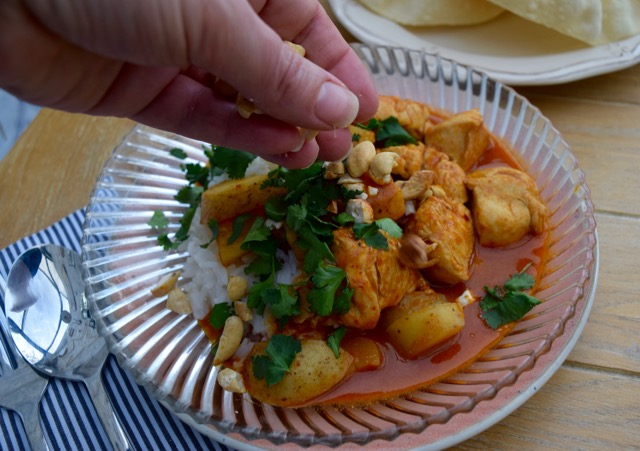 If you are interested, place your raw poppadoms in the microwave on a plate, without oil, and cook for 30 seconds. Genius. Devour mouthfuls of this Chicken and Cashew Massaman at great speed.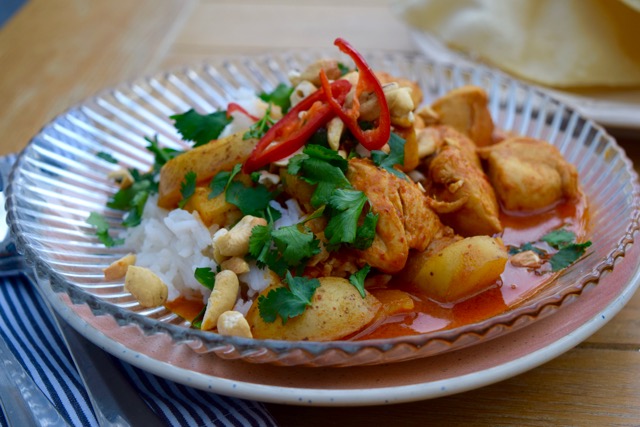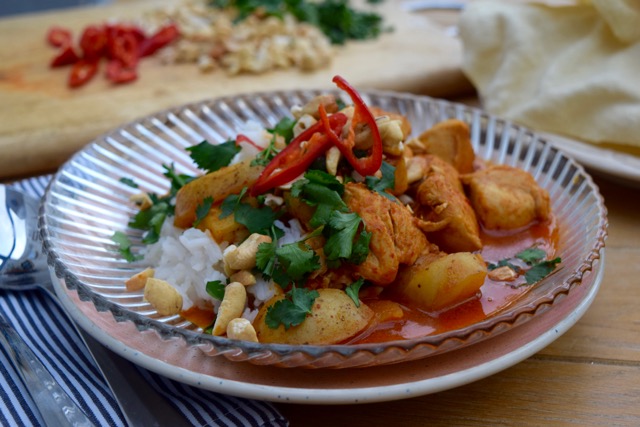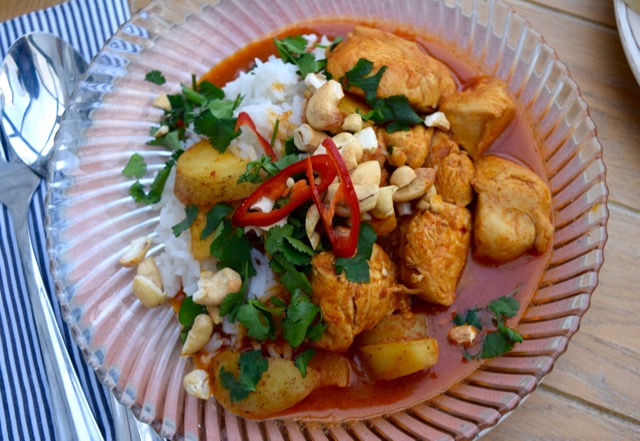 Clyde was thrilled I had finally caved and fashioned his most favourite dish. But not as thrilled as George who is now asking for a Chicken and Cashew Massaman curry at least twice a week. Minus the greenery and with extra poppadoms, as he couldn't care less about being geographically correct.
Lucy x
Chicken and Cashew Massaman Curry Recipe
Serves a generous 4, a less generous 6
You will need a large frying pan only
1 tablespoon oil
1kg chicken, boned thighs or breast, chopped
250g baby new potatoes, sliced thickly
75g to 100g Massaman curry paste, the quantity will depend on your brand so add more or less accordingly
400ml coconut milk
Juice of half a lime
1 tablespoon fish sauce, optional, depending of how salty your curry is
1 small bunch coriander, chopped
1 small red chilli, sliced
100g cashew nuts, toasted and chopped
Rice to serve with thai crackers or poppadoms if you like
Pre heat the oven to 160 degrees fan assisted.
Take a large frying pan and add the tablespoon of oil. Heat over a high heat. Chop the chicken into bite sized pieces and season then add to the hot frying pan. Cook on one side until starting to brown then turn over and cook for a further 5 minutes.
Add the sliced potatoes and curry paste and stir well. Pour in the coconut milk, stir again then turn the heat down to a simmer and put a lid on for 10 to 15 minutes or until the potatoes are cooked through.
While this is simmering place the cashews on a lined baking tray and cook for 5 to 10 minutes or until golden. Keep an eye on them, you don't want them to burn. Chop the warm cashews then slice the chilli and chop the fresh coriander.
Add lime juice and fish sauce, if needed. Stir well and serve with rice. Garnish generously with freshly chopped coriander, chopped toasted nuts and sliced red chilli
SaveSaveSaveSave
SaveSave
SaveSave
SaveSave
SaveSave