Rhubarb Meringue Tray Bake Recipe
What a beautiful marriage, much like Clyde and myself, Rhubarb and Meringue. One tart and one sweet, the dessert that is, not Clyde and I although I may not be too far from the truth. Rhubarb and I are old friends. When I was on the Ducan diet *low carb and low fat and low fun* the only fruit you were allowed to eat was Rhubarb mainly because it is not a fruit, it's a vegetable. Subsequently I reached a point when I didn't care if I never saw another stick of the stuff again. That moment has passed and Rhubarb and I are firm friends again, based on the fact my Rhubarb Gin is one of my most popular Lucy Loves posts and that it's too delicious to fall out of love with for long. So, here in perfect harmony, is a Rhubarb and Meringue Tray Bake recipe.
Meringues had always been a slight failure for me in the past. Falling to pieces, not being chewy and generally just turning out slightly flat. Hooray for mastering them in my mid *to late* 40's and now I love whipping up a batch of meringues or a pavlova at the drop of a hat. This Rhubarb Meringue Tray Bake is a rustic, less fussy version of a pavlova and seems less formal, much more my style with some rougher looking edges. The base is crisp on the outside, soft and chewy in the middle with a cream and fat free yoghurt filling making it lighter and a tiny bit healthier *not really*. This is then crowned with a puddle of poached rhubarb, cooked with some stem ginger and just a touch of orange zest for luck. There's tons of rhubarb spare to serve alongside the dessert  or to accompany some granola for breakfast the next day. You can make the meringue in advance, just don't assemble until the last minute. You don't want a soggy bottom to disappoint your dinner guests. The inspiration for this pud comes via the ever helpful, Jamie Oliver, with huge thanks.
This pudding screams of warm summer lunches, eating in the garden, fuelled by rosé and lasting much longer than you planned. After the warm long weekend just gone, I will feel slightly cheated if every weekend is not like that for the next few months. I do hope I won't be disappointed.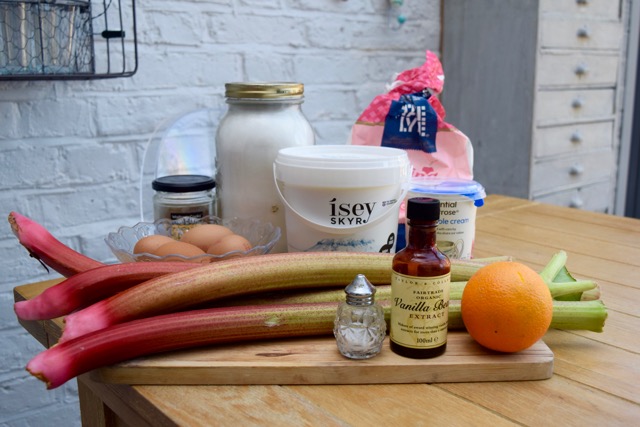 So pretty, and so pink. It's such a shame when I poach my rhubarb it doesn't stay that lovely pink. Poached with a couple of pieces of stem ginger and some orange, this tastes so perfect it doesn't matter what colour it is.
Make a start with the meringue part of this simple dessert. Pre heat your oven to 150 degrees and line a large baking tray with greaseproof paper.  Now take a large bowl and a hand mixer or your stand mixer and add the egg whites. Whisk for several minutes or until they start to hold stiff peaks.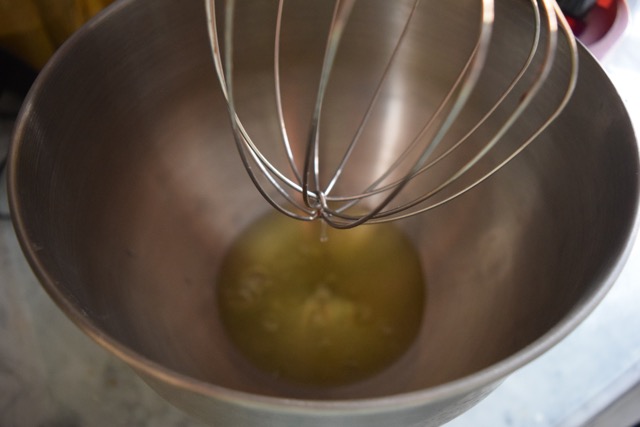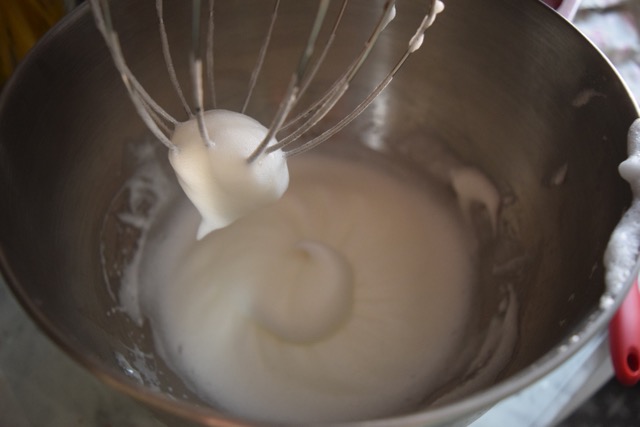 Now, gradually add the sugar, one tablespoon at a time and then when you've added it all continue to whisk for a further 7 to 8 minutes. The meringue will be glossy and thick and when you rub the mixture between your finger and thumb you shouldn't feel any grains of sugar.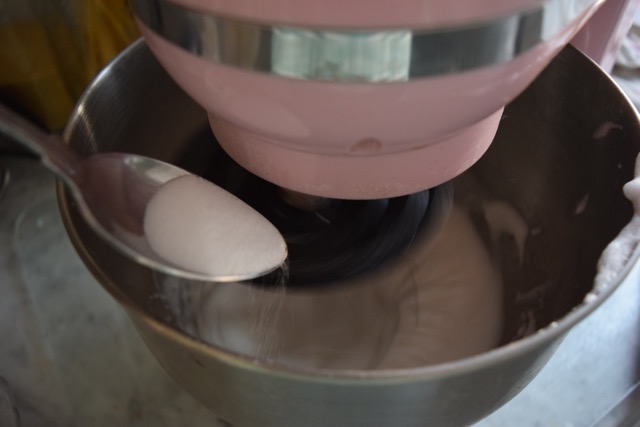 Scrape the meringue from the bowl into the lined tray and spread out into a sort of rough A4 rectangle with a spoon or spatula.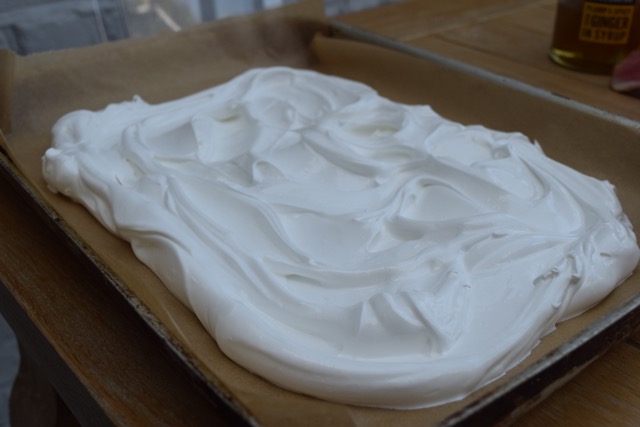 Pop this into your oven for 50 minutes to 1 hour. The finished meringue will be just starting to turn golden whilst being still a little soft and chewy in the middle. Leave to cool in the tray while you crack on with the rhubarb.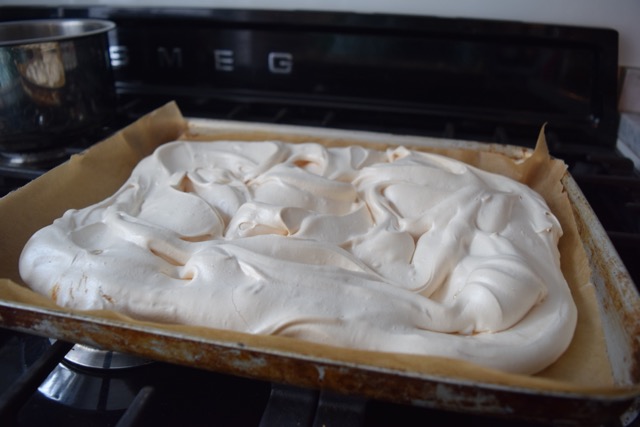 For the wonderful rhubarb, make a start by trimming it and cutting it into rough 1 inch pieces. Add to the pan with the zest and juice from one orange and the two balls of stem ginger, thinly sliced.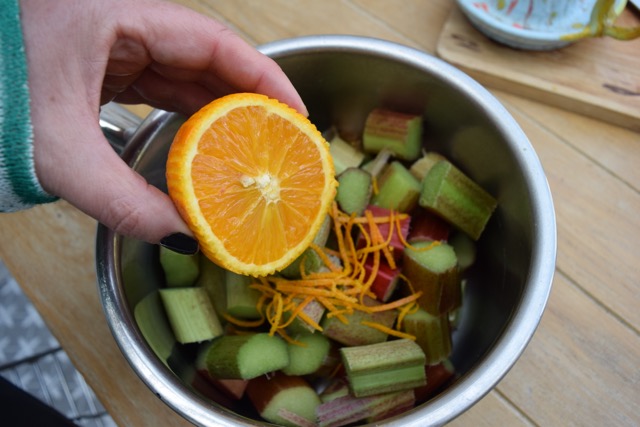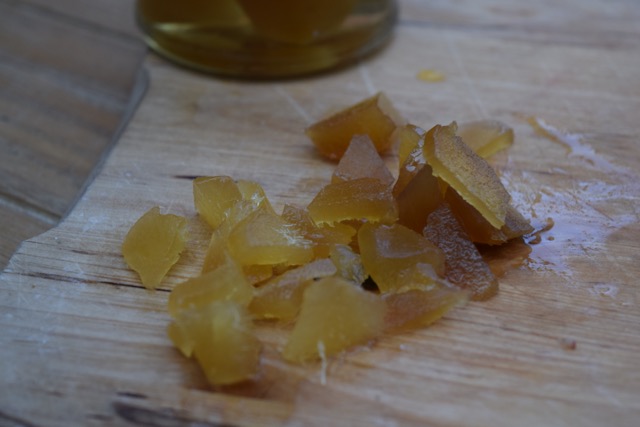 Add 6 to 7 tablespoons of sugar, depending on the tartness of the rhubarb. Bring up to the boil then pop a lid on and simmer for around 10 minutes or until the rhubarb is just cooked.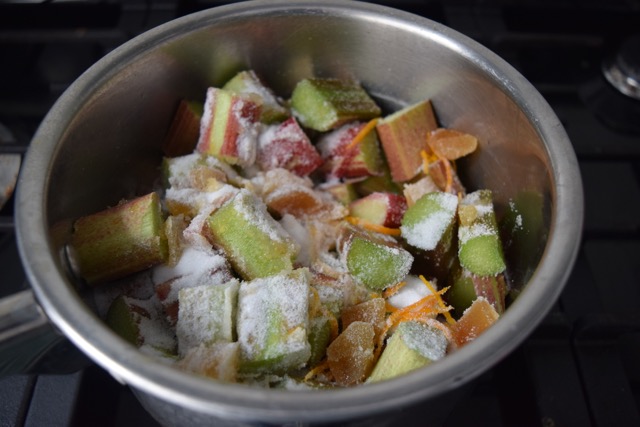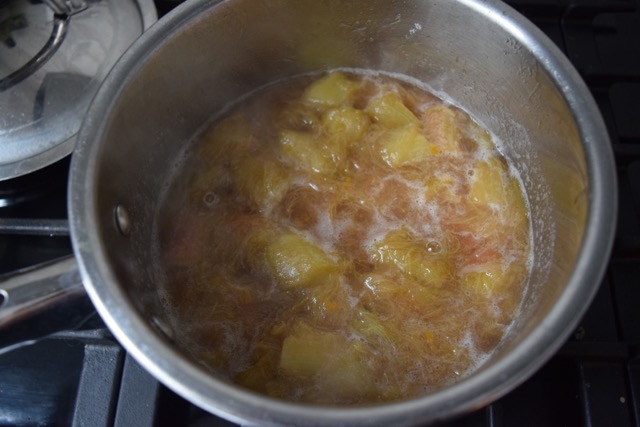 Have a cheeky spoonful to check for sweetness, adding more sugar if necessary, then leave to cool completely.
Now, it's best not to assemble your meringue based affair until just before you are ready to eat it. This is because a) it will go really soggy and a little sloppy and b) if your fridge is anything like mine, pre dinner party, it will be rammed to the gills with no room for the bloody thing anyway. So, when you are ready to serve, and not before, remove the paper from the meringue base and place on your serving board or platter. I was surprised how the paper came away with ease and that it didn't all collapse in my hands, as is often the way with meringue, so this just makes it all the more of a top recipe.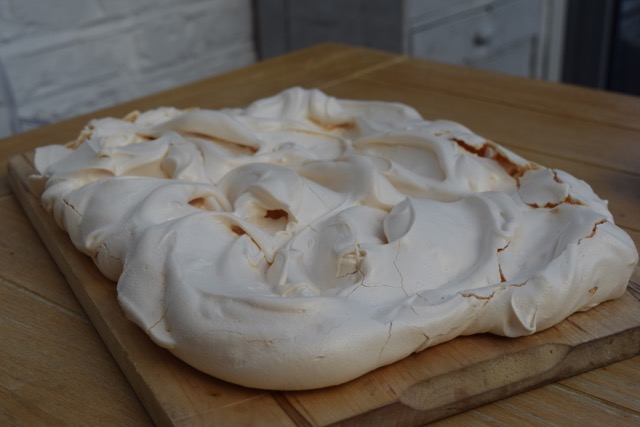 Now, whip the double cream and icing sugar until you have soft, if a little floppy, peaks then fold through the thick, fat free yoghurt.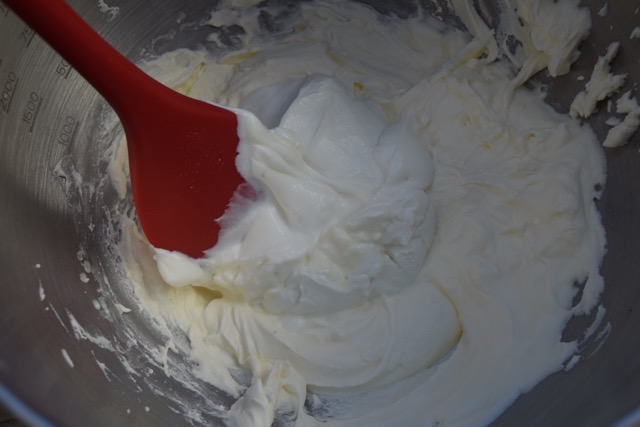 Slather this lovely cream all over the meringue, artistically smoothing with a spoon or palette knife. Then, with as little or as much finesse as you can muster, drizzle on the ginger and orange scented rhubarb.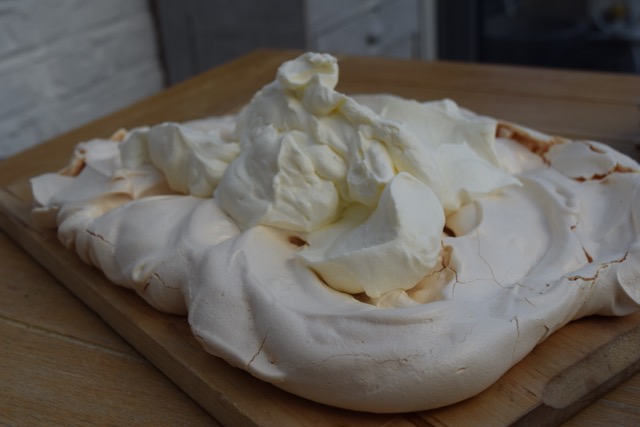 Sprinkle on the garnish of your choice, mine being flaked almonds I had neglected to toast. However you could of course, crumble on biscotti, ginger biscuits or orange zest, it's entirely up to you.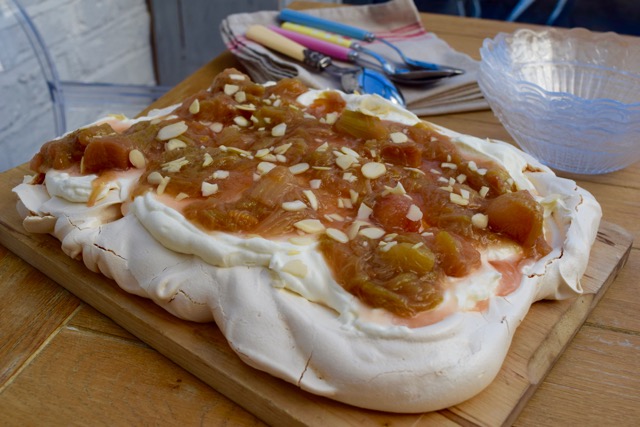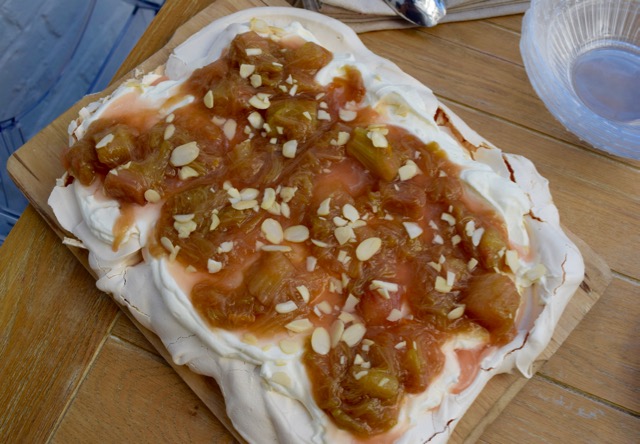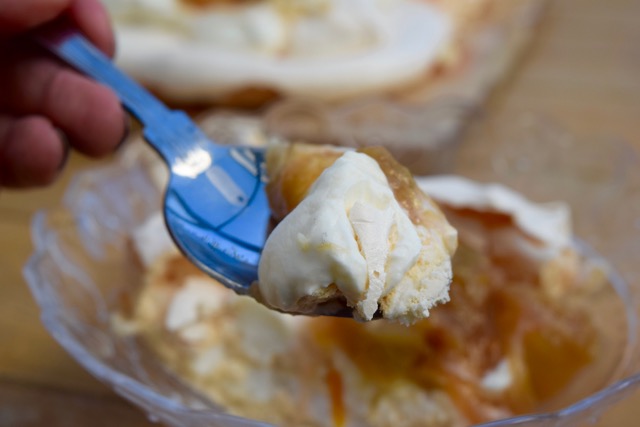 My tummy has grumbled in a mid-week-not-eating-desserts kind of way at the sight of this Rhubarb and Meringue Tray Bake. It's crisp, soft, creamy, sweet, sour, this dessert is everything. It ticks all the pud boxes and looks super impressive to boot. Put this on your menu while the rhubarb is still good.
Lucy x
Rhubarb Meringue Tray Bake Recipe
Serves 6 to 8 hungry types
You will need a lined rectangular baking tray and a hand or stand mixer
Meringue
4 egg whites
200g caster sugar
a pinch salt
Topping
800g rhubarb – this will make enough to have extra poached rhubarb leftover
2 pieces stem ginger, sliced
Zest and juice of an orange
6 to 7 tablespoons caster sugar – this depends on your rhubarb and how sour it is – you may need more or less
1 teaspoon vanilla extract, or 1 vanilla pod
200ml double cream
200ml thick, fat free yoghurt
30g icing suagr
Sprinkling of toasted flaked almonds and extra orange zest to decorate
Make a start by pre heating your oven to 150 degrees fan assisted and lining a large rectangular baking tray with greaseproof paper.
In your stand mixer or in a bowl with a hand mixer whisk the egg whites until they reach the stiff peaks stage. Gradually add the caster sugar whilst whisking, along with the pinch of salt, until all the sugar is added. Keep whisking until the meringue is glossy and when you rub the mixture between your finger tips you can't feel any grains of sugar.
Scrape the meringue into your lined tray and smooth into a rectangle around the size of a sheet of A4 paper. Place into the pre heated oven for around 50 minutes to 1 hour. The tray baked meringue should be just crisp and golden while still be slightly soft in the middle. Remove from the oven and leave to cool completely in the tray.
While this is cooking, prepare the rhubarb. Trim and chop into 1 inch pieces and place into a large saucepan. Add the zest and juice of the orange, the vanilla extract or pod and the caster sugar. Slice the pieces of stem ginger and add to the pan then put onto the hob and bring up to the boil. Turn the heat down, pop a lid on and cook for around 10 minutes or until just cooked through. Leave to cool.
Just before you are ready to serve your dessert, assemble the toppings. Remove the baking paper from the meringue and place onto a board or presentation plate. Whip the double cream and icing sugar until it holds soft peaks. Fold in the yoghurt then spoon this onto the meringue. Drizzle on the cooked rhubarb and reserve the rest for serving alongside the dessert. Garnish with toasted almonds or crumbled ginger or amaretti biscuits then serve, straight away, in large slabs. Any leftovers can be kept in the fridge but will be a little soft, but nonetheless still delicious.