Honey Garlic Beer Can Chicken Recipe
I have been wanting to try a Beer Can Chicken recipe for ages. But just the look of it reminds me of the Sledge Hammer video by Peter Gabriel, which is a reference only old people will understand, and you know how I feel about food being 'fun'. If any recipe looks remotely amusing, I am put off completely hence me being a few years late to the Beer Can Chicken party. Now I have cooked one in this fashion, however, it will be a regular, if slightly bizarre sight in my kitchen because this Honey Garlic Beer Can Chicken is quite the softest, most fragrant roast chicken I have ever cooked.
This bizarre way of roasting a chicken is ingenious, if a little odd looking. The poor chicken has a 3/4 full can of beer or lager put up his bottom then the chicken is cooked upright in your oven creating an all over crispness and flavour. The beer adds a wonderful, and brace yourself because this word will feature a lot in this post, moistness whilst the spice rub flavours the whole bird. In a final flourish you then glaze the chicken in a garlicky honey mustard affair to add a sticky deliciousness and creates the most wonderful roast chicken of all time. Any leftovers, which are unlikely, other than maybe a tiny sliver, tastes divine and can be used to make an all important sandwich on white bread with mayo and a cold roast potato with lots of sea salt on the side. Speaking of roasties, I just tossed some baby new potatoes in garlic salt, black pepper and olive oil then baked them in a hot oven for an hour until golden. These and some salad leaves or buttery broccoli are all the chicken needs for company. My inspiration for this recipe came from Joyful Healthy Eats, with huge thanks.
This posting is perfectly timed to coincide with today's 4th of July celebrations as the crazy beer can chicken phenomena started in Louisiana. See, Lucy Loves is not just thrown together, months of thought and preparation goes into it. Raised eyebrows emoji face.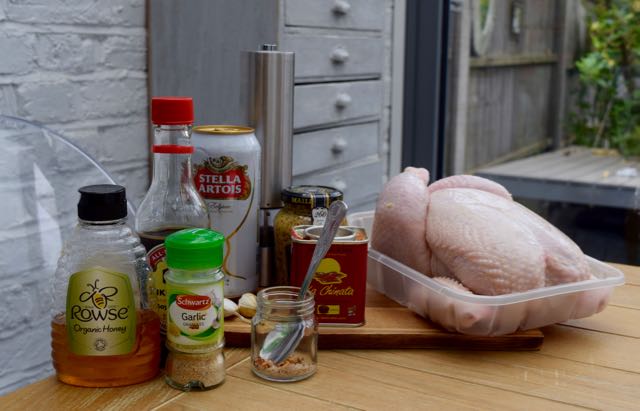 Lovely simple ingredients here for this dish, all of them fragrant and tasty. I decanted the salt and spices into a tiny pot so the photo didn't include lots of packets for you to squint over. You should have most of them in your cupboard, apart from maybe the smoked sea salt, which is my new favourite thing. If you can't get this, just use normal sea salt.
Make a start by pre heating your oven to 170 degrees fan assisted and getting a large baking tray to hand. Remove your chicken from the packaging and dab dry with some kitchen paper. Next add the sea salt, smoked if poss, garlic powder, smoked paprika and black pepper together in a large food bag.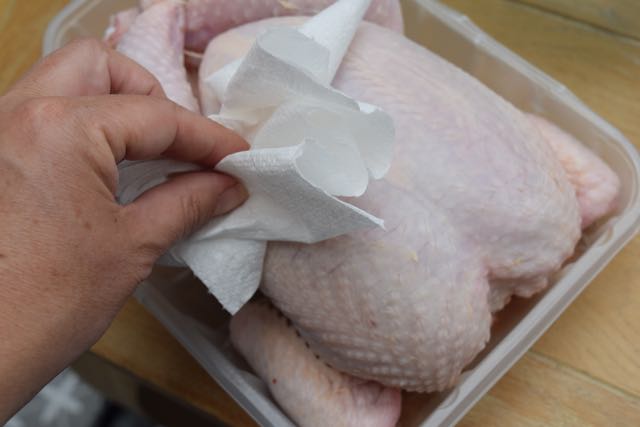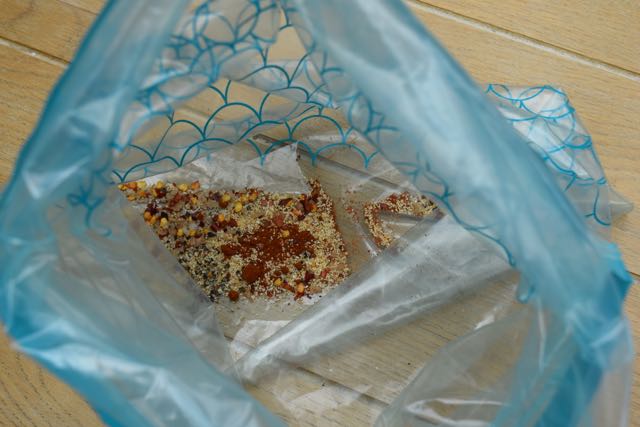 Put the chicken into the bag and toss around ensuring the chicken is coated in all the wonderful flavours. Remove, and pat on any leftover spices that are stuck in the bag.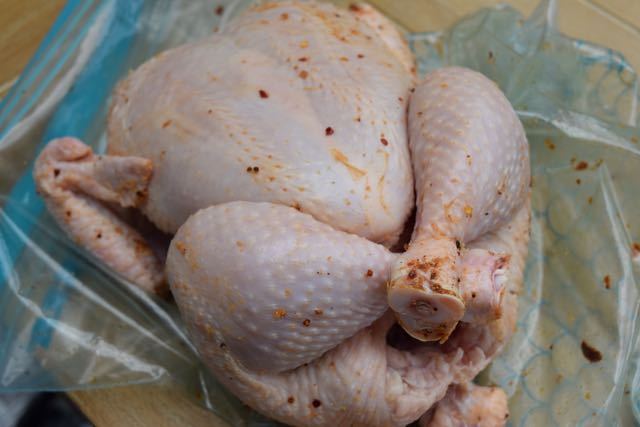 Now for the slightly undignified part. Take your baking tray and pour in around 125ml of the 440ml can of beer or lager. I am certain a smaller can would work here too, however, just tip in around a quarter of the can into the base of the tray.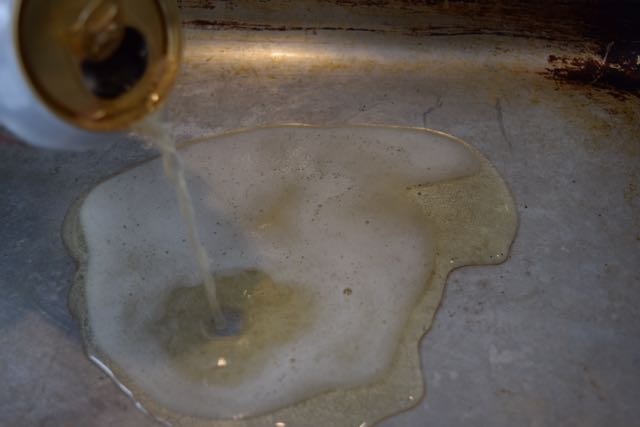 Stand the can of beer, still with it's remaining contents, up in the middle of the tray and then sit the poor chicken on top of it. The chicken should look as if it's sitting down at this point.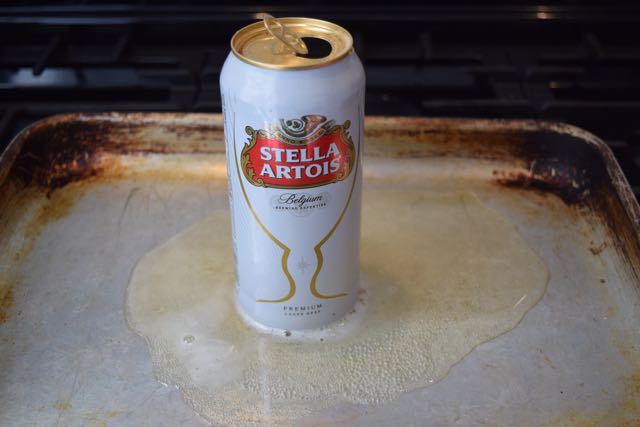 Drizzle or spray with a touch of olive oil then pop the seated bird into the oven allowing 45 minutes per kilo. Mine was in for an hour and 20 minutes.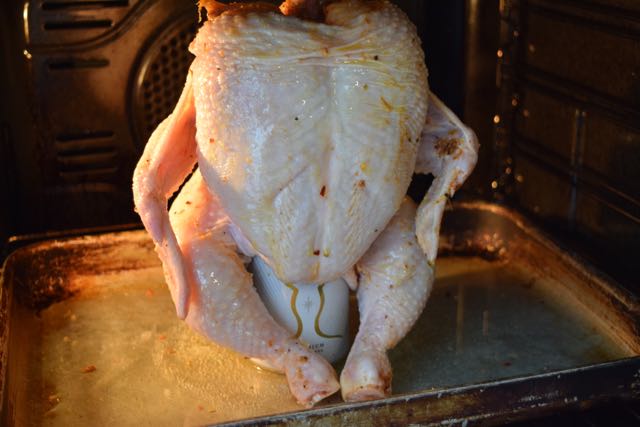 Whilst this is cooking, pop some baby new potatoes in another roasting tray with olive oil, black pepper and garlic salt and roast for an hour until crisp, golden and amazing.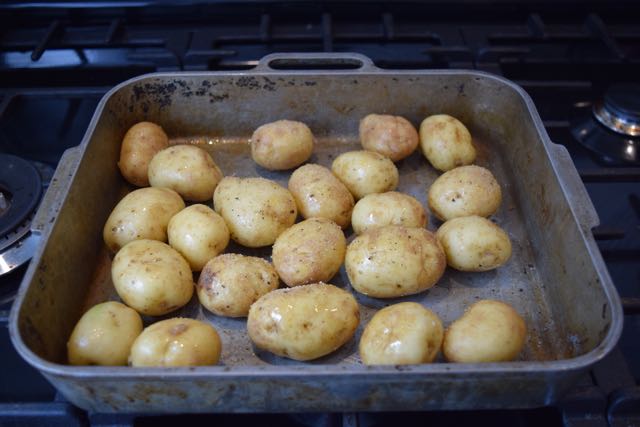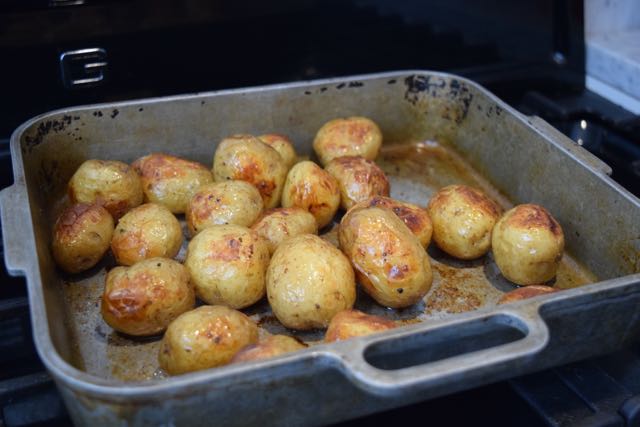 For the glaze, take a small jug or bowl and measure in the honey, soy sauce, grain mustard, crushed garlic and chilli flakes and give them a stir.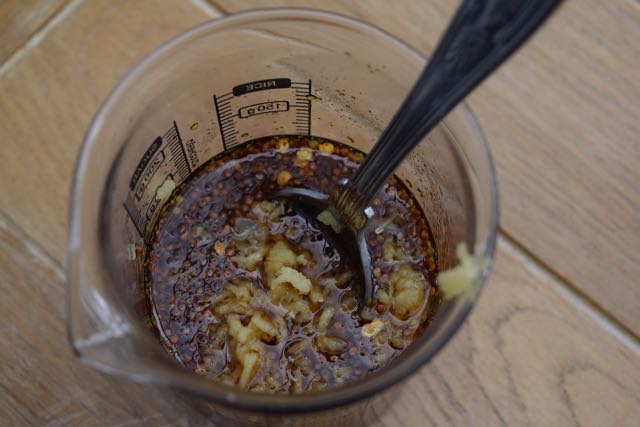 When your first cooking time is up, remove the chicken from the oven and generously spoon over the honey garlic glaze.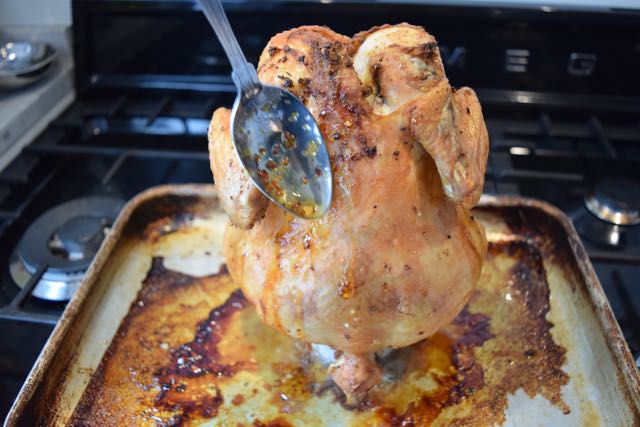 Pop back in the oven for another 15 minutes or until sizzling, golden brown and smelling beyond fragrant.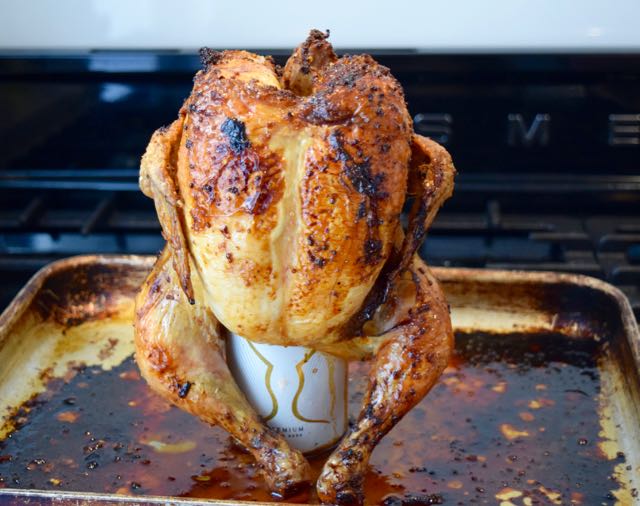 Since making this chicken, I have decided a foil lining may be the way forward for the future, this tray did take a while to scrub up. But it's oh so worth it. This richly flavoured Honey and Garlic Beer Can Chicken recipe is brilliant.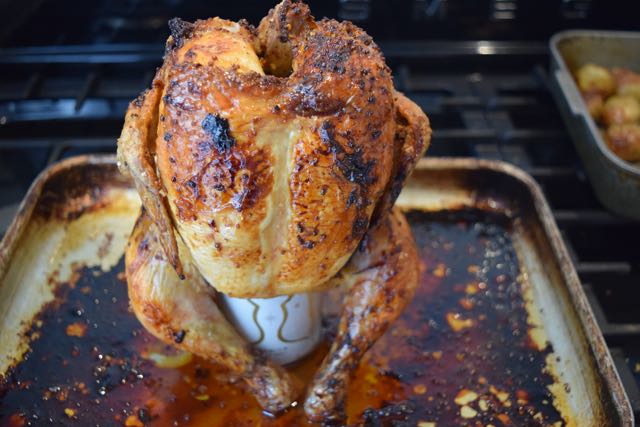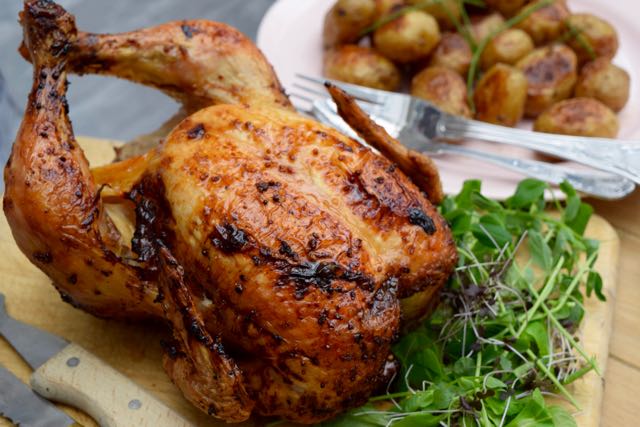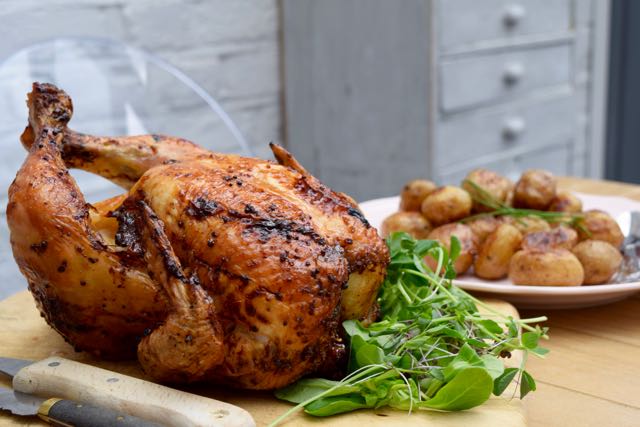 I don't need any excuse to roast a chicken, I find it soothing, comforting and even though my carving skills are woeful, I can just about get one bird to feed all four of us and still have enough for soup or a sandwich. So, celebrate with our American friends today, with this Honey Garlic Beer Can chicken and, although it looks slightly comedy, the end results are seriously good. Apologies for the weak gag, I am horrifyingly overtired.
Lucy x
Honey Garlic Beer Can Chicken Recipe
Serves 4 to 6, portion control permitting
Chicken
1 whole chicken, between 1.5 and 2kg
1 can beer or lager, I had a rogue 440ml can of Stella Artois, but a smaller can would also work
Rub
1/2 teaspoon sea salt, mine was smoked was just perfect
1 1/2 teaspoons garlic powder
1/4 teaspoon chilli flakes
1/2 teaspoon smoked paprika
1/4 teaspoon black pepper
A splash olive oil
Glaze
80ml honey
1 tablespoon soy sauce
1 teaspoon grain mustard
2 cloves garlic, crushed
a large pinch dried chilli flakes
Pre heat your oven to 160 degrees fan assisted and take a large baking tray.
Remove your chicken from the packaging and pat dry with kitchen paper. Take a large food bag and add the sea salt, garlic powder, chilli flakes, smoked paprika and black pepper. Shake the bag to mix the spices then add the whole chicken to the bag and shake to ensure the chicken is evenly coated. Remove the chicken from the bag and pat on any spices left stuck in the bottom of the bag.
Take your can of beer or lager and pour around 125ml of the beer into the base of the baking tray. Place the can, containing the remaining beer, on the baking tray. Sit the spiced chicken on top of the beer can, pushing down so it looks as if the chicken is sitting up. Drizzle or spray the chicken with a little olive oil before placing in the hot oven for 45 minutes per kilo.
In a small jug mix the honey, soy sauce, grain mustard, garlic and chilli flakes. When the first cooking time is up, remove the chicken from the oven, spoon over the honey mustard and return to the oven for a final 15 minutes until crisp, golden brown and bubbling.
Carefully lift the chicken from the can and place on a board to rest for 10 minutes covered in foil. Serve, carved into thick slices, with some roasted baby new potatoes and salad or buttered tender stem broccoli. Leftover chicken will keep in the fridge for a couple of days and makes the most tasty sandwiches.
SaveSave
SaveSave
SaveSave