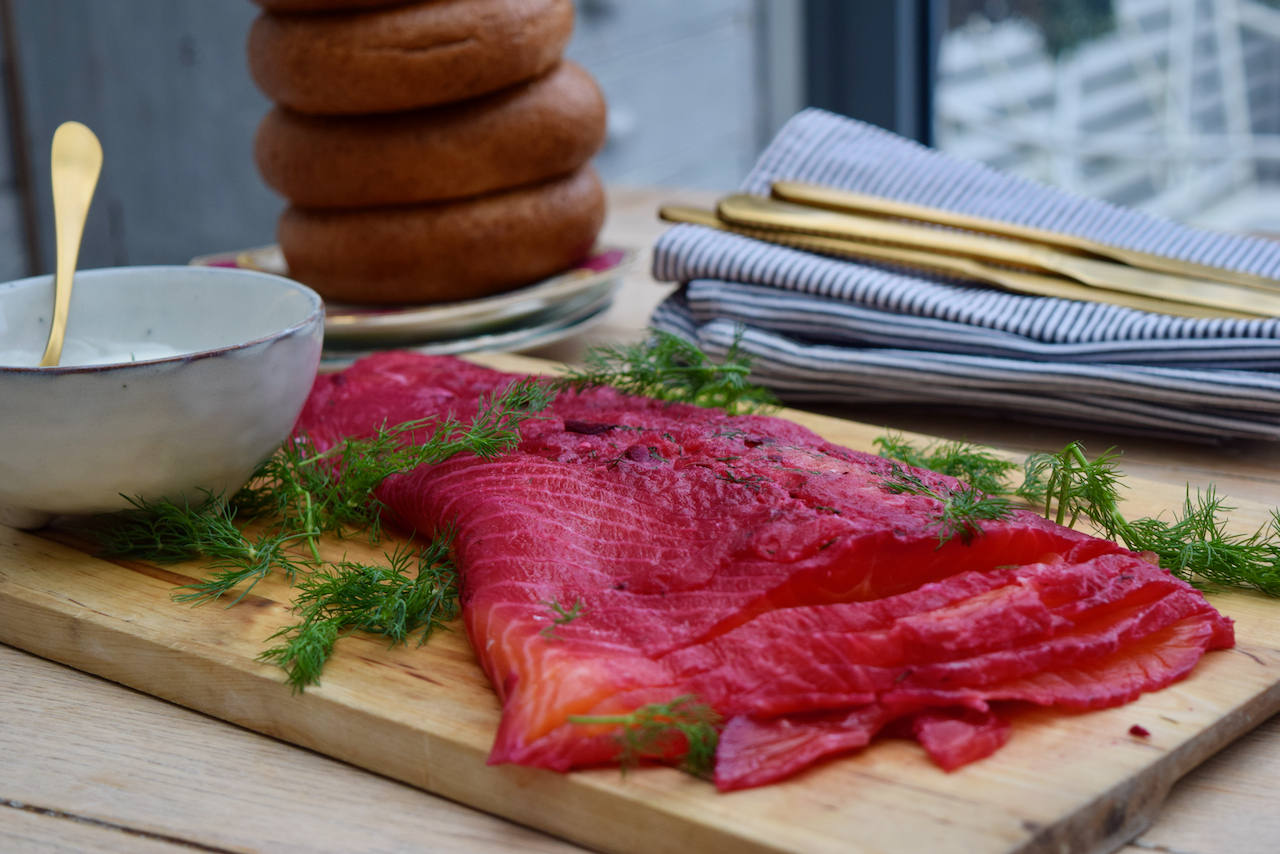 Beetroot Marinated Salmon recipe
Back in the safe and comfortable pre covid days, when I used to work for a party organiser, a side of exquisite smoked salmon was one of my most cherished festive perks. Since then, supermarket salmon has just not tasted the same, so this year, I've made my own. This Beetroot Marinated Salmon doesn't replace the posh fish of yesteryear, but it comes a bloody close second.
Don't be put off by the thought of making your own cured fish, it's nowhere near as complicated as it sounds – if it was I would not have the time or inclination to bother. Start with a lovely boned, skin on side of salmon; mine was on offer and weighed around 850g. The simple marinade is, well, simple. Process or grate raw beetroot – no need to peel and end up with pink hands – mix it with fresh dill, horseradish, flaky salt and sugar, then slathering's all that's left to do. After the slathering, wrap in cling and leave for up to a week so the fish turns pink, sweet and perfect for slicing. Use for a festive brunch on a bagel, top a crostini or buttered brown bread; the horseradish cream is optional, but offers a perfect bit of tang.
Thank you, as always, to Good Food for the colourful inspiration, and thank you to me, for fashioning this elegant Christmas fish course. Not only is it delicious, it's oh so pretty in pink.
Ooh, I love beetroot in anything, but in this marinated fish, it's a whole new level of tastiness. The original recipe called for either fresh or jarred grated horseradish; there was none in the SW14 area, so I went for horseradish sauce which worked perfectly, in my modest opinion. My beetroot was organic and the most beautiful colour, raw is definitely best, don't use the pre cooked variety.
Now, this takes at least two days to cure, so planning ahead is key; if you're ahead of the game, it can sit in the fridge for a week without issue. Start by making the beetroot mix by hand or in your food processor. Chop or process the beetroot with the dill and horseradish until you have a chunky mix.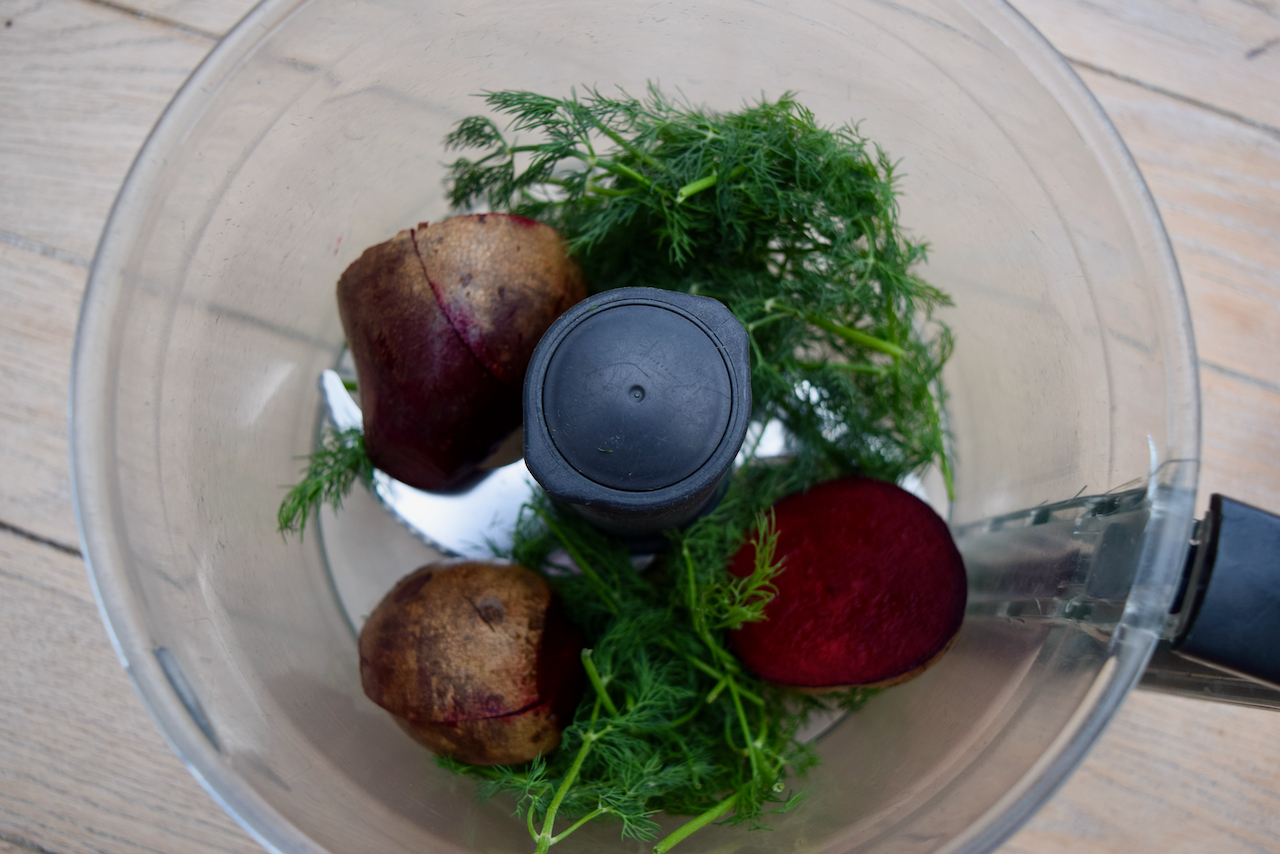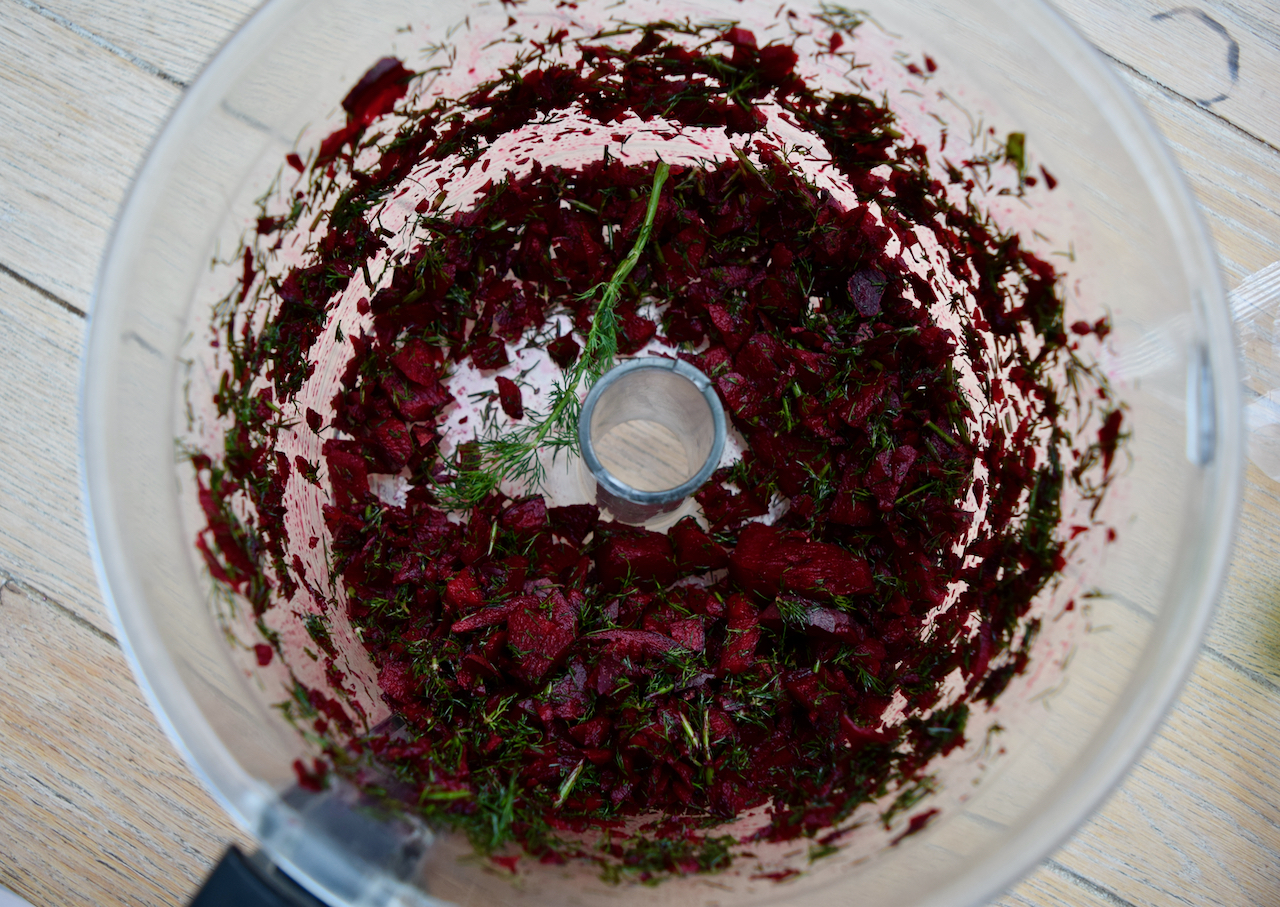 Stir in the sugar and salt until well mixed.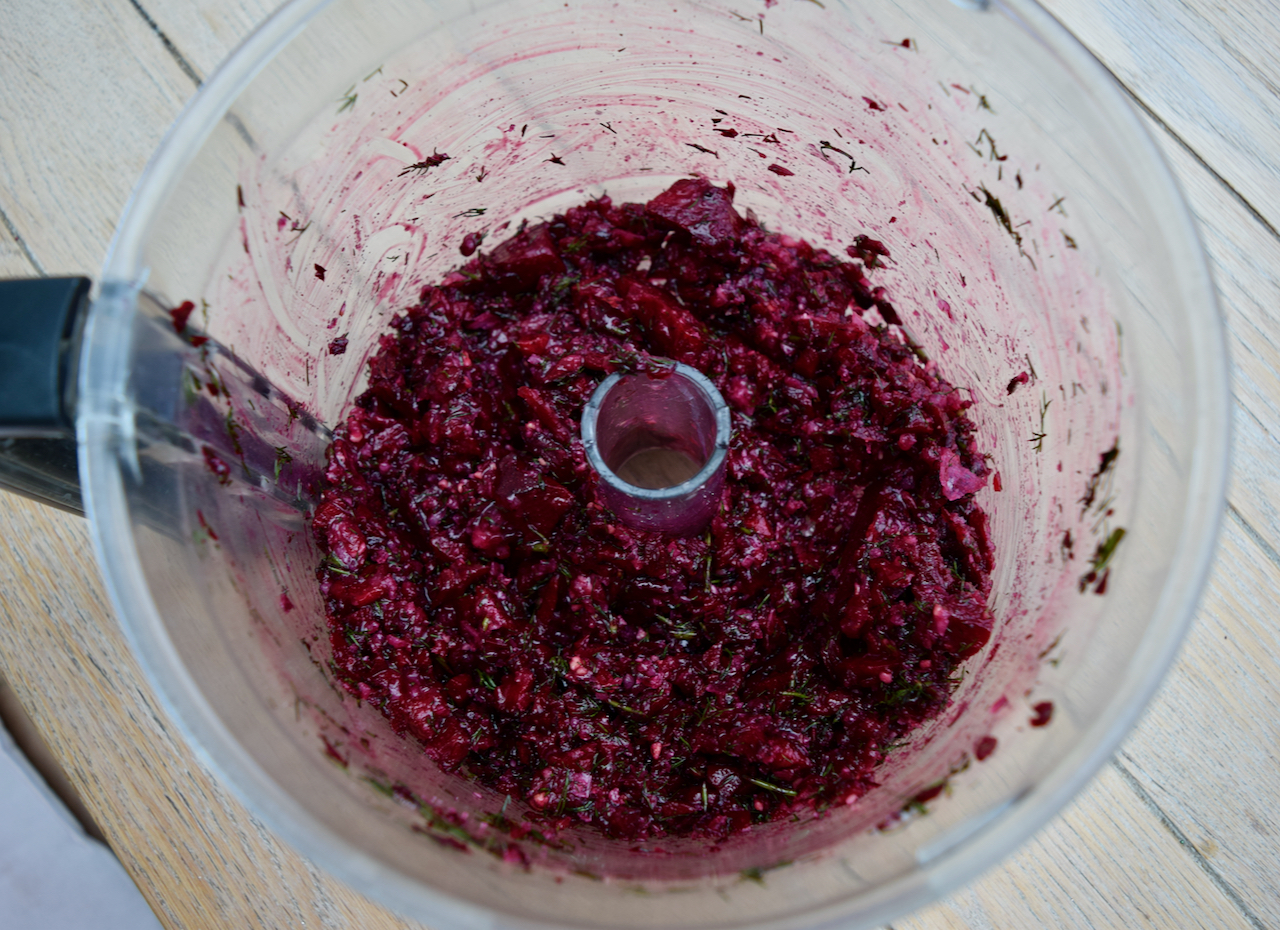 Now, line a large baking tray with cling film. Leave the cling overhanging with a view to wrapping the fish up later. Lay a third of the beetroot mixture onto the clingfilm then place the fish on top, skin side down.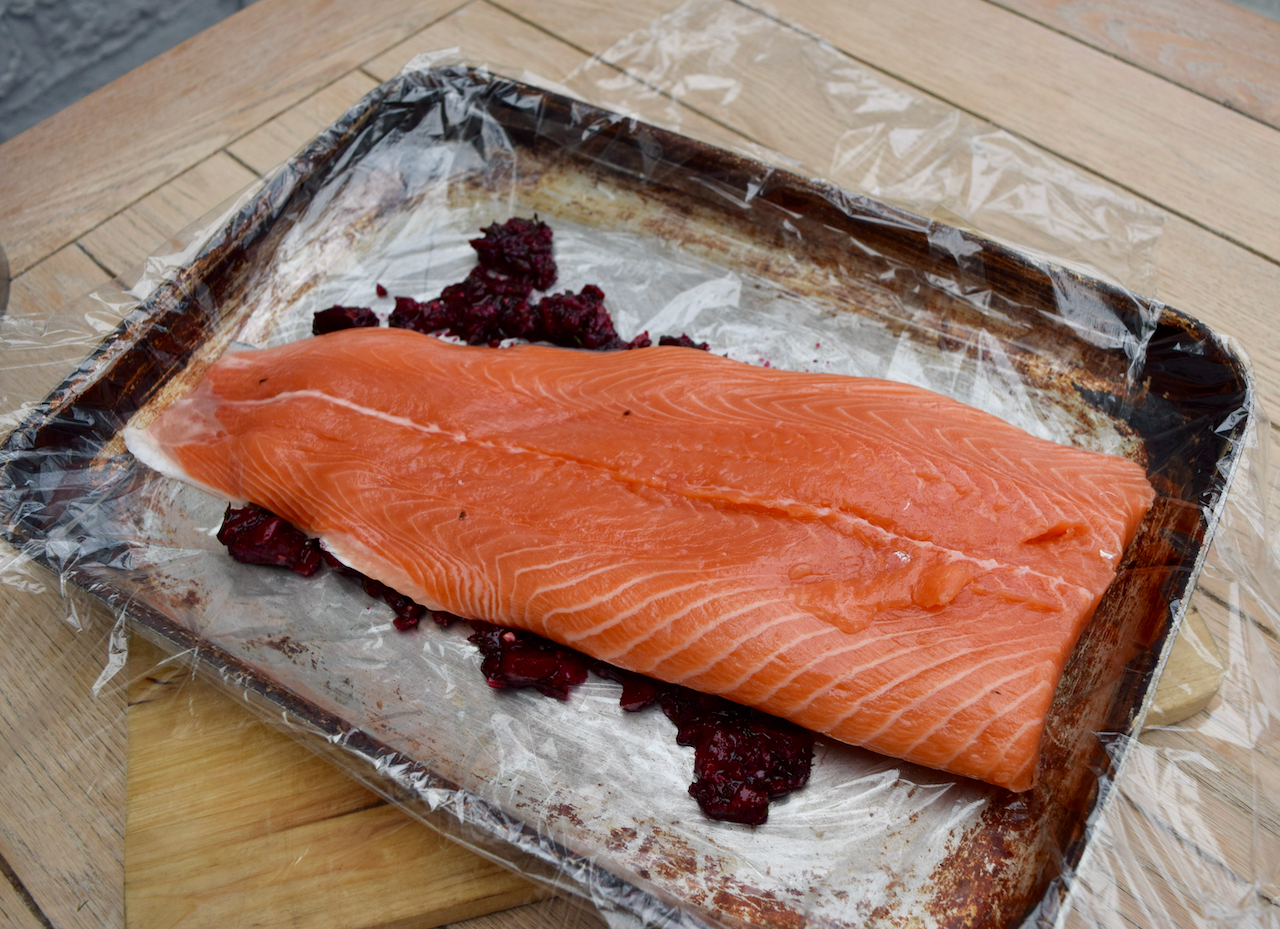 Place the rest of the marinade on top of the salmon and spread over in an even-ish layer.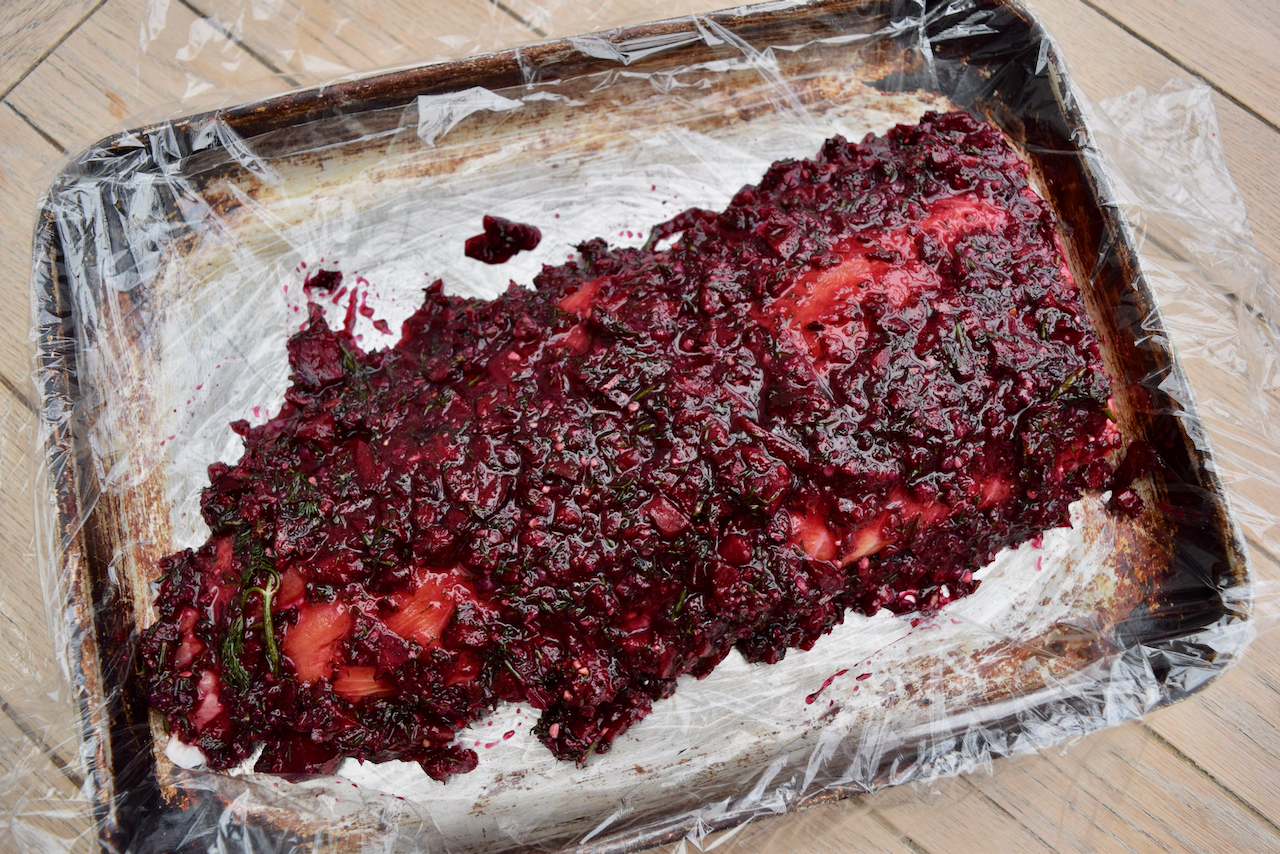 Wrap the fish up in the cling film, fashioning it into a parcel.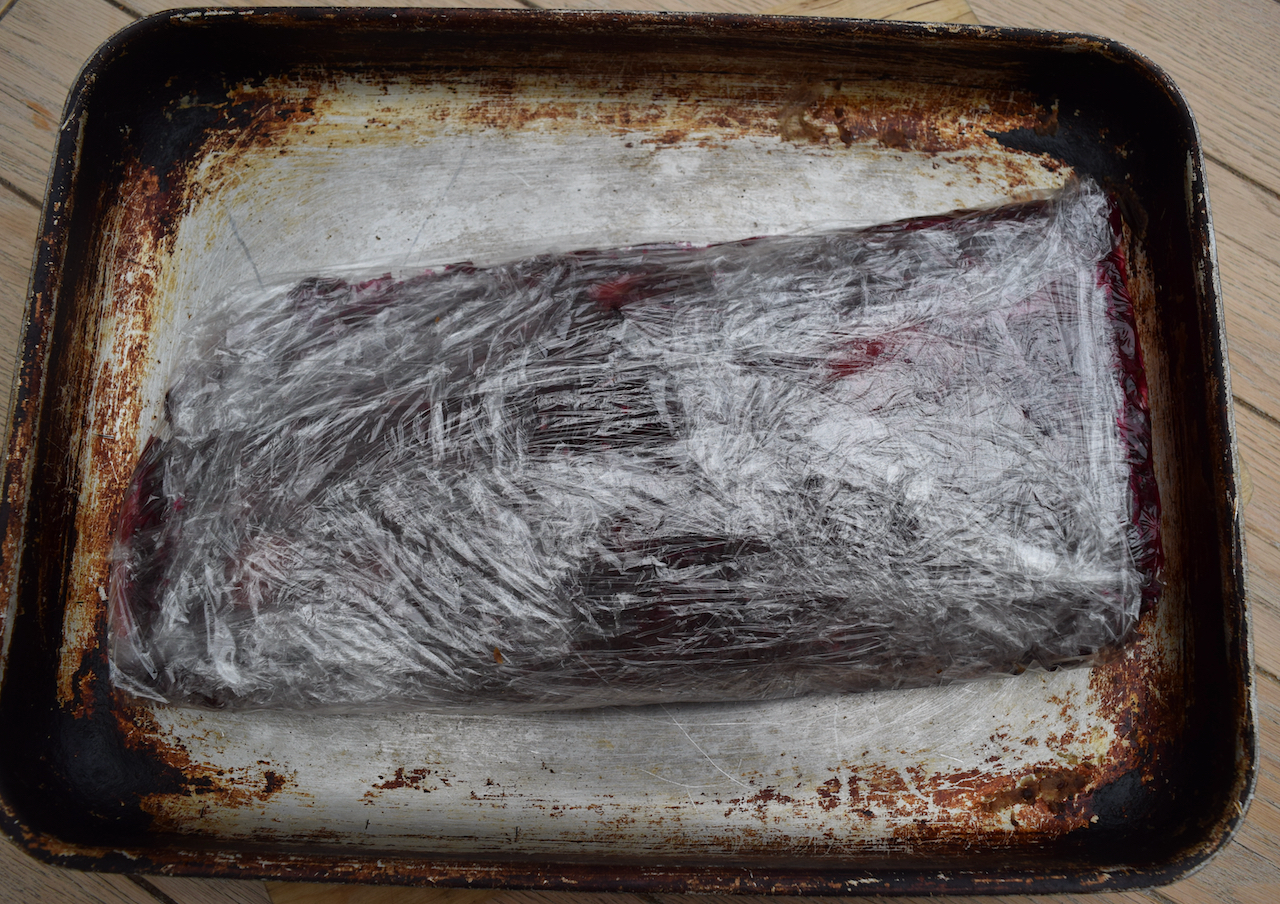 Place another baking tray on top of the fish, then weigh it down with some of the rogue jars you have on the top shelf of your fridge.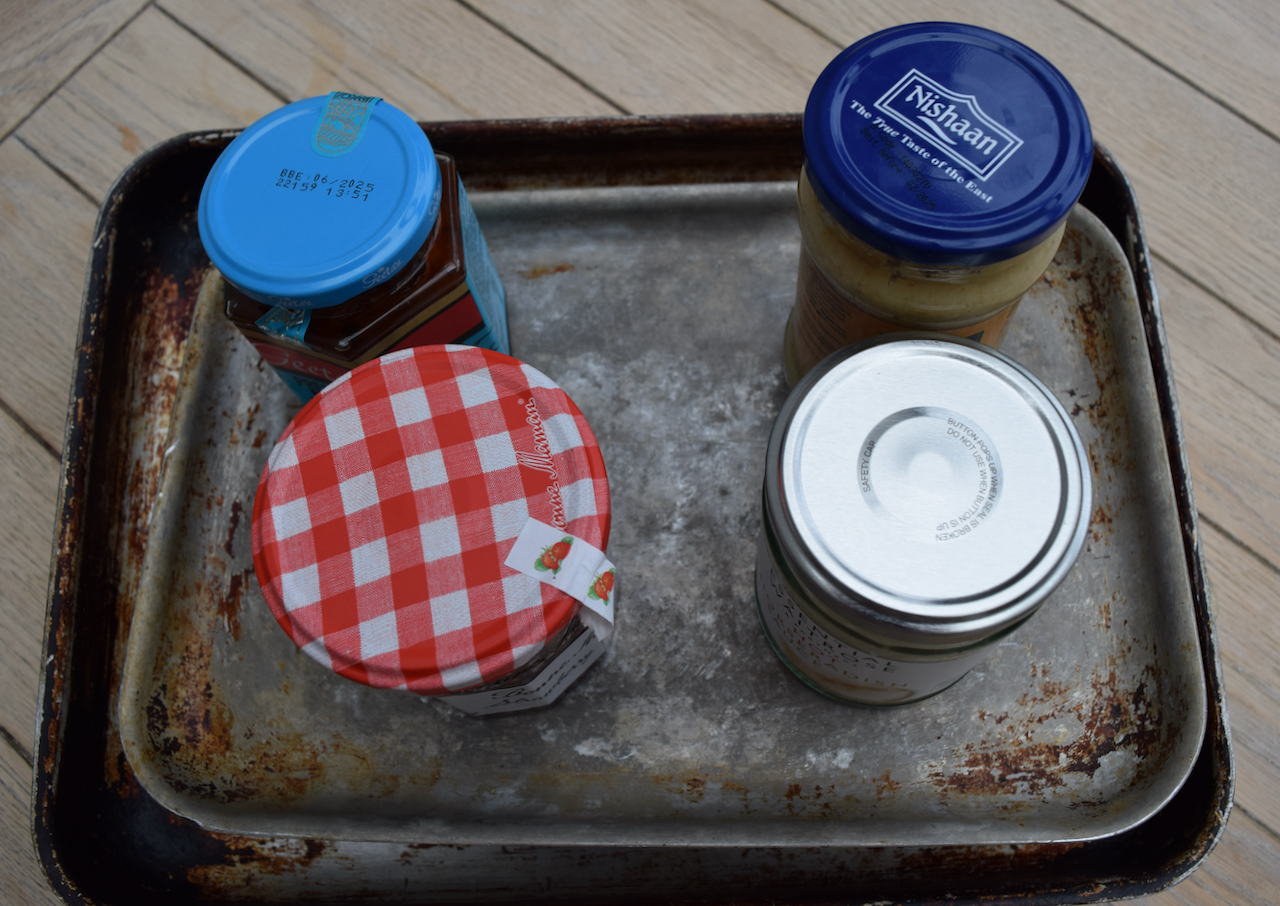 Place the trays into your fridge and leave for 2 to 3 days, or up to a week, time and inclination permitting. Plenty of liquid will come from the fish, pour it away every day.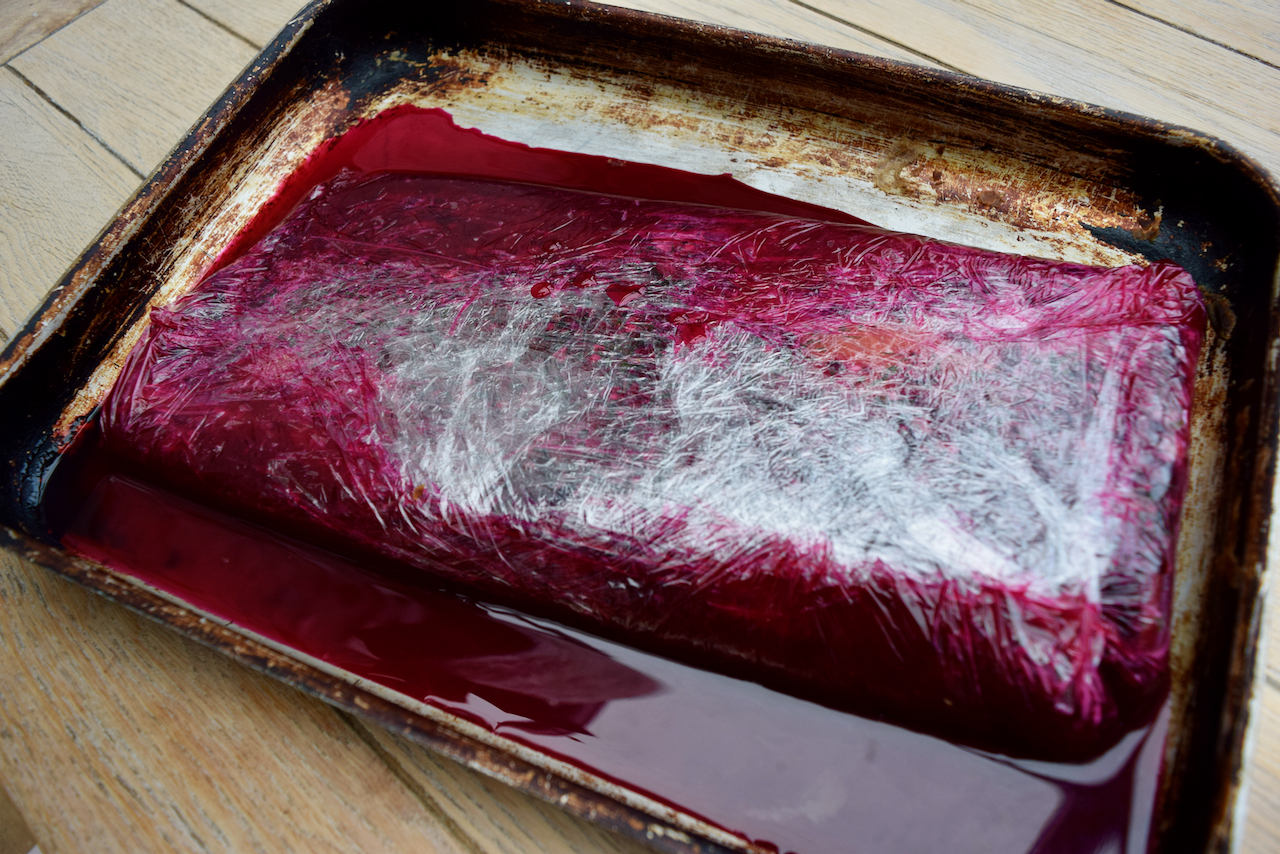 When you're ready to eat your cured salmon, unwrap the fish, scrape off the excess beetroot mixture, then give the fish a gentle rinse under the cold tap. Dry the salmon gently, using kitchen paper.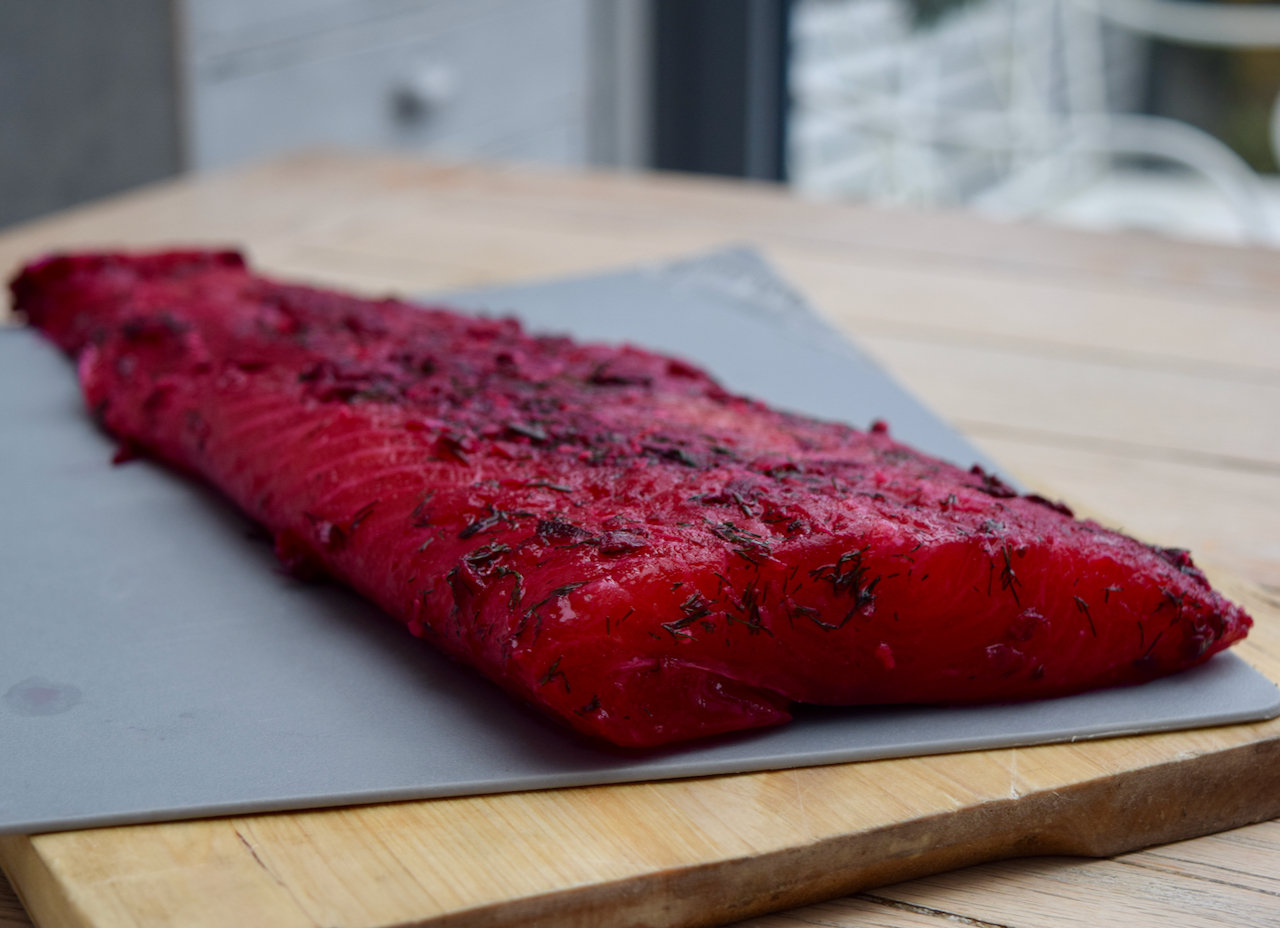 Now, tuck in, thinly slicing the salmon and using it to adorn whichever bread based item you fancy. For a big of extra zing, make some horseradish cream by mixing sour cream, lemon juice, dill and yes, horseradish until smooth. Drizzle or dollop accordingly.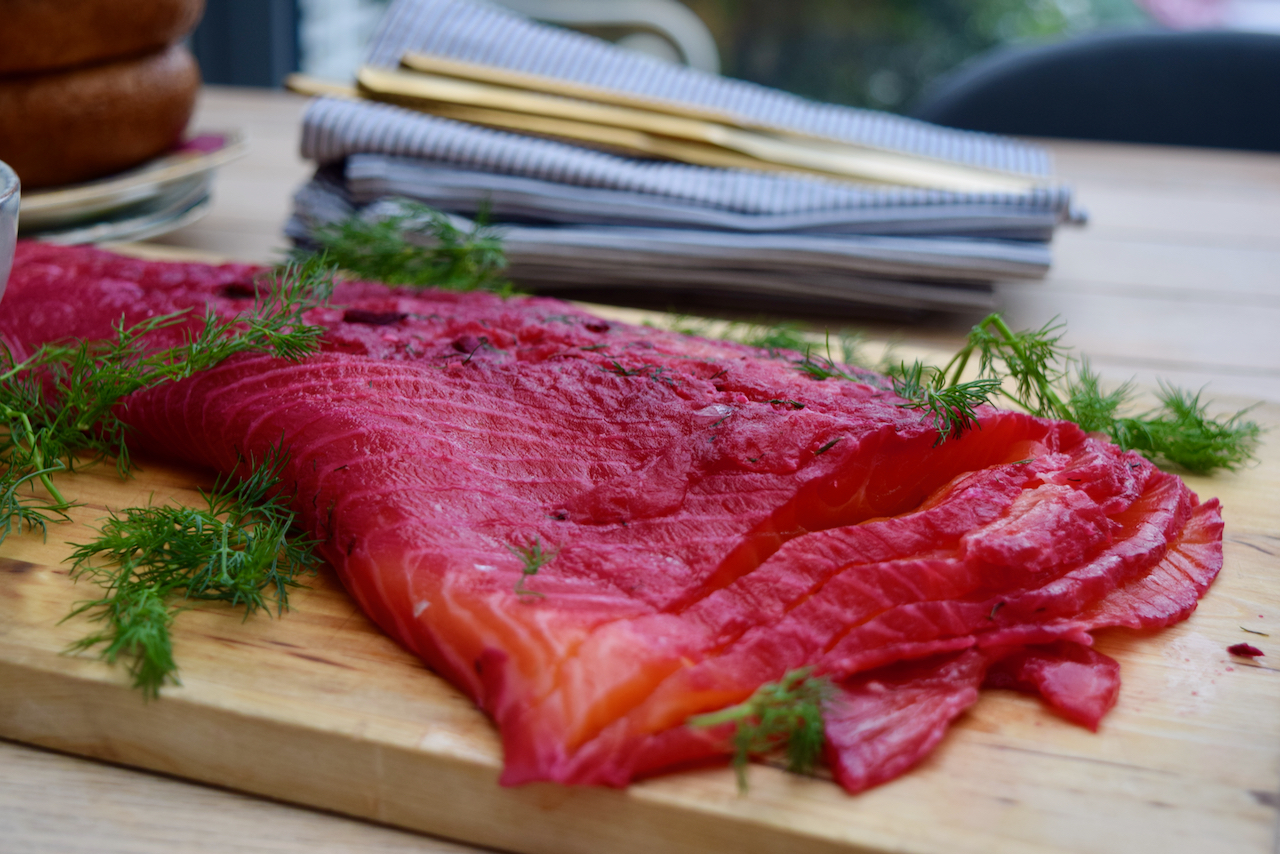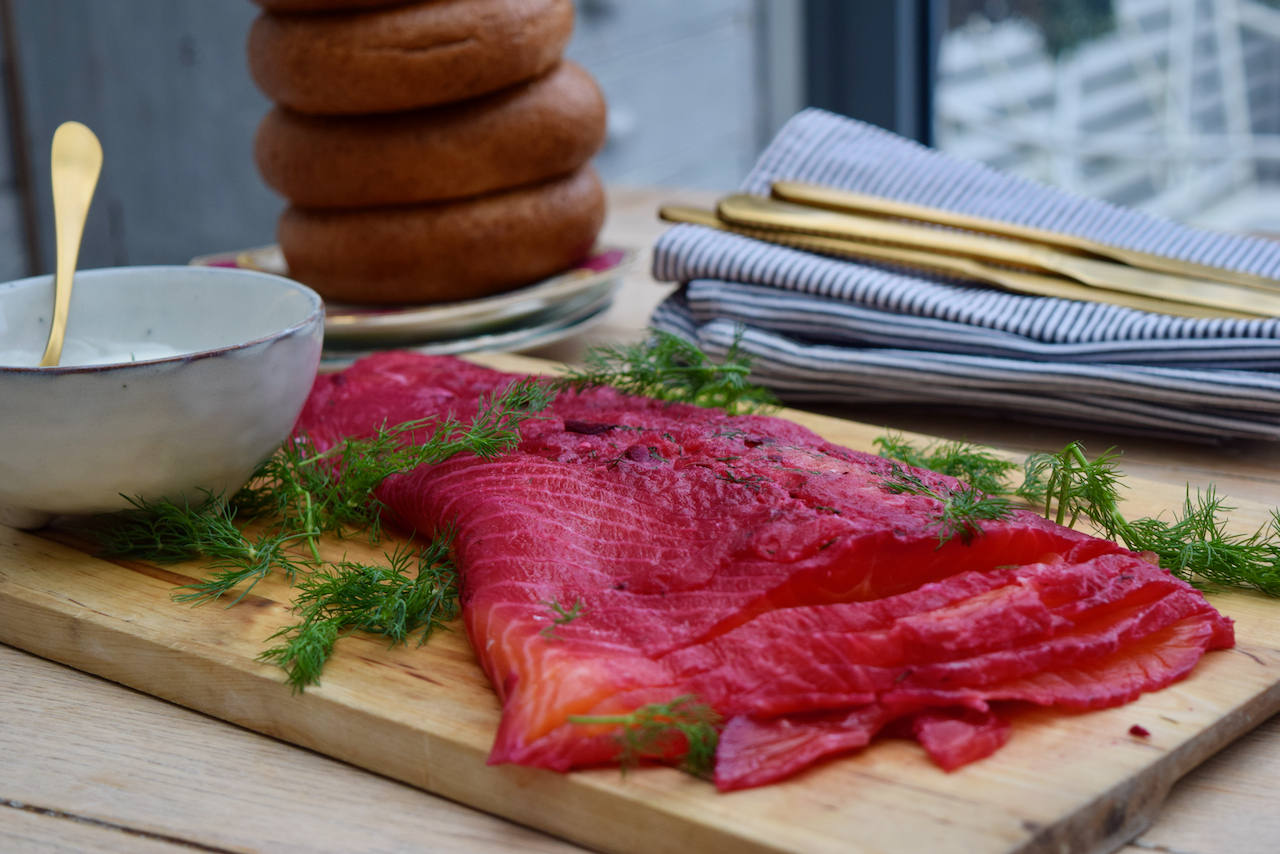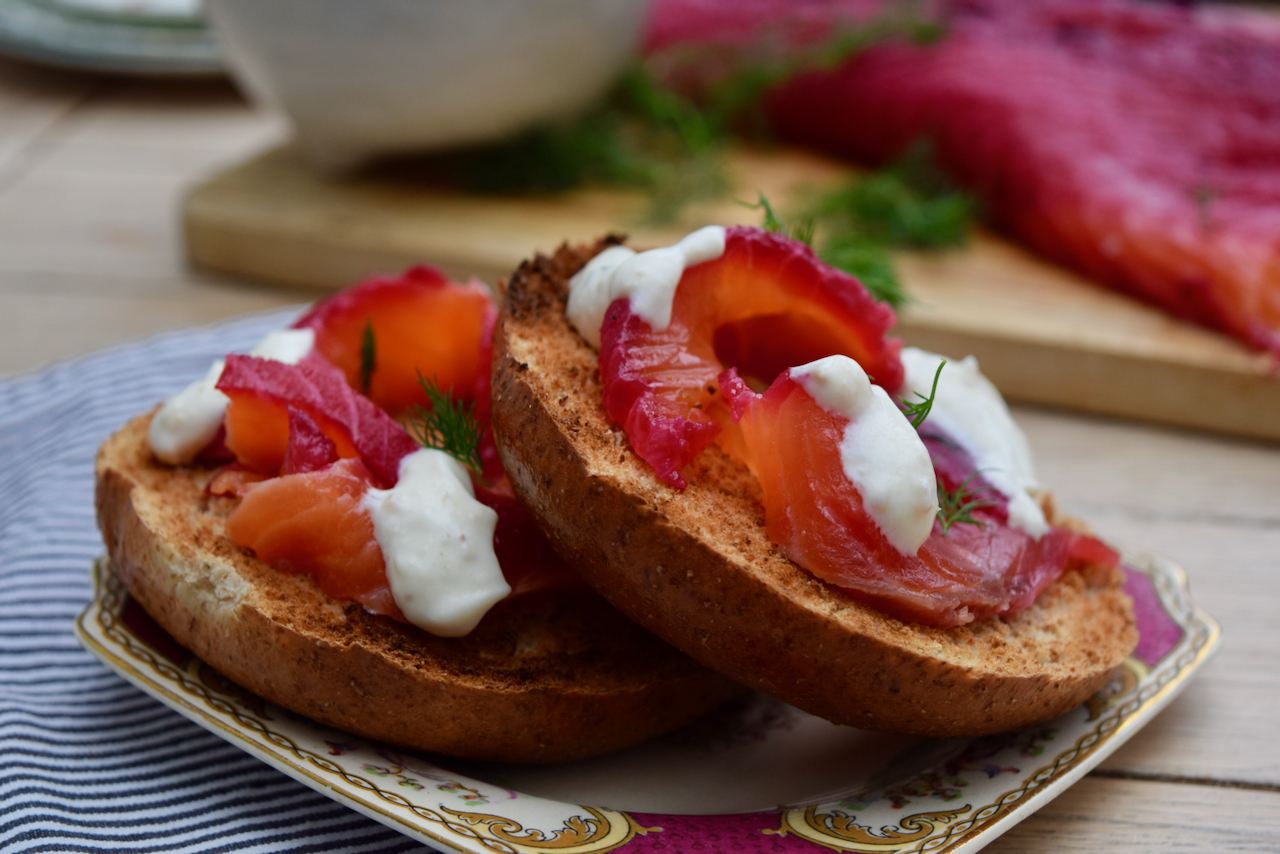 All you need is a bit of processing, slathering and a couple of days and your Christmas salmon is one more thing to tick off your festive to-do list. Only another 99 things to do between now and next Sunday.
Lucy x
Beetroot Marinated Salmon recipe
Makes enough for 6 to 8 people as a first course, more as a nibble
You will just need a tray and a sharp knife for this
Salmon
800g to 1kg side of salmon, skin on, boned
200g raw beetroot, no need to peel, topped and tailed
60g horseradish, fresh, grated or from a jar
1 bunch fresh dill
150g caster sugar
75g maldon or other flaky salt
Horseradish cream
200ml sour cream
2 tablespoons horseradish
1 tablespoon lemon juice
1 tablespoon chopped fresh dill
Bagels, crostini, bread and butter, lemon wedges, more fresh dill, to serve
In your food processor, or by hand, grate/process the beetroot, dill and horseradish until you have a chunky paste. Stir through the salt and sugar until well mixed.
Take your side of salmon and run your fingers over it to ensure there are no small bones in it. Take a large baking tray and line with plenty of cling film, with a view to wrapping the salmon up later. Place a third of the beetroot marinade over the bottom of the cling film then lay the salmon, skin side down, on to the marinade. Spoon over the rest of the beetroot, ensuring it covers the whole of the top of the fish.
Wrap the cling film over the salmon, sealing it. Place another baking sheet on the top and weigh it down with several jars or tins. Place into the fridge and leave for at least 2 to 3 days, or up to a week. Don't be alarmed by the liquid coming from the fish, drain this off once a day during the curing process.
When you're ready to serve your salmon, undo the cling film and scrape off the beetroot marinade. Gently run under a cold tap to remove any excess then pat dry on kitchen paper. For the horseradish cream mix the sour cream, lemon, horseradish and dill until smooth.
Slice the pink hued salmon thinly and serve on bread, a toasted bagel, on crostini, drizzled with the horseradish cream and liberally garnished with more fresh dill.
The salmon will keep, well wrapped in the fridge for up to a week, or freeze for up to a month.