One Pot Jerk Chicken Recipe
As I write, it appears to be November once more. Depressing, depressing, depressing. The forecast for tomorrow is no better and with a Bank Holiday weekend in the offing the sun they are predicting will have disappeared from your weather app before you know it. However, I do like to look on the bright side of things occasionally *well I try to* so let's see the crap weather as an excuse to eat snuggy food and bugger the salads for another week. This One Pot Jerk Chicken recipe is the absolute definition of comfort food and it's light on washing up so this dish is full of tiny victories and I am delighted to share it with you today.
Chicken and rice, two huge staple ingredients in our house and loved by everyone. Sling in some spice and beans and this is simple food at it's finest. The recipe calls for Jerk paste as opposed to powdered seasoning so do look out for it, they sell it in most supermarkets. I love spice, as does Ben, so was slightly heavy handed with my particular paste. So much so it was too spicy for poor Clyde who has a baby like low spice threshold. So keep it one tablespoon until you work out how spicy your Jerk paste is. This whole dish is soft, comforting and the chicken is golden and by no means dry. The beans add some extra bulk so this truly is a one pot dream. You could serve with a green just for sport and to keep up your end of your 5 a day offerings, but it would mean drafting in a second pan to wash up so it's your call. This recipe comes to me via the Kitchn website, with their brilliant ideas, with huge thanks for the inspiration.
So, as I throw another log on the fire and turn the heating back on, you might want to get going on this recipe. You would have thought at nearly the start of May your supper offerings may be starting to lighten up, but no. Take lettuce off your shopping list and pop jerk seasoning paste on, it's November again, summer was so last week.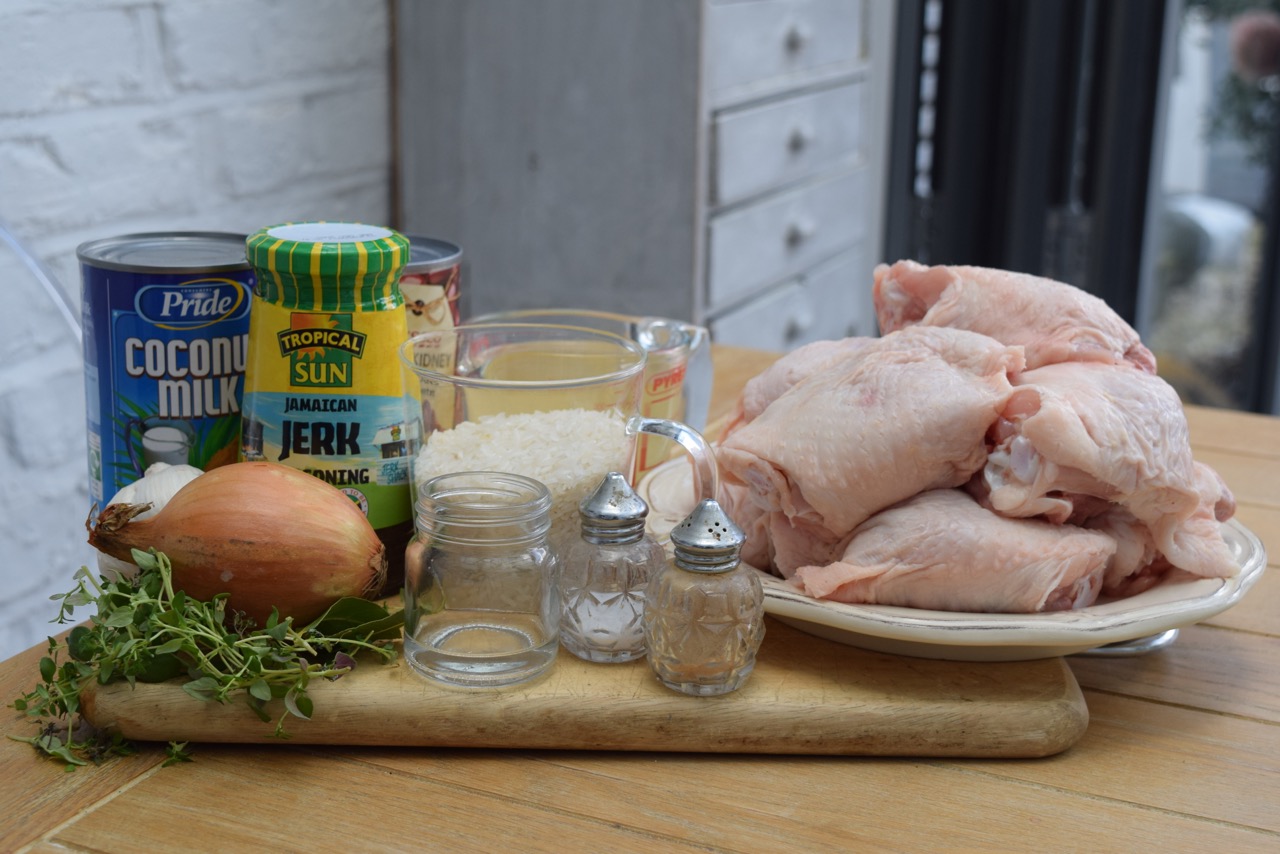 What a tasty looking line up, even though you can"t see the kidney beans behind the big jar of Jerk seasoning. And that's 2 teaspoons of vinegar in the small jar in the front, it's not hiding it's just not particularly self explanatory. Do try and get the Jerk paste, it will be much more ballsy than the powdered type.
Make a start on this simple one pot dish by pre heating the oven to 160 degrees fan assisted and by taking a large bowl and adding your tablespoon of Jerk paste. Add the chicken thighs and ensure each piece is covered with the seasoning.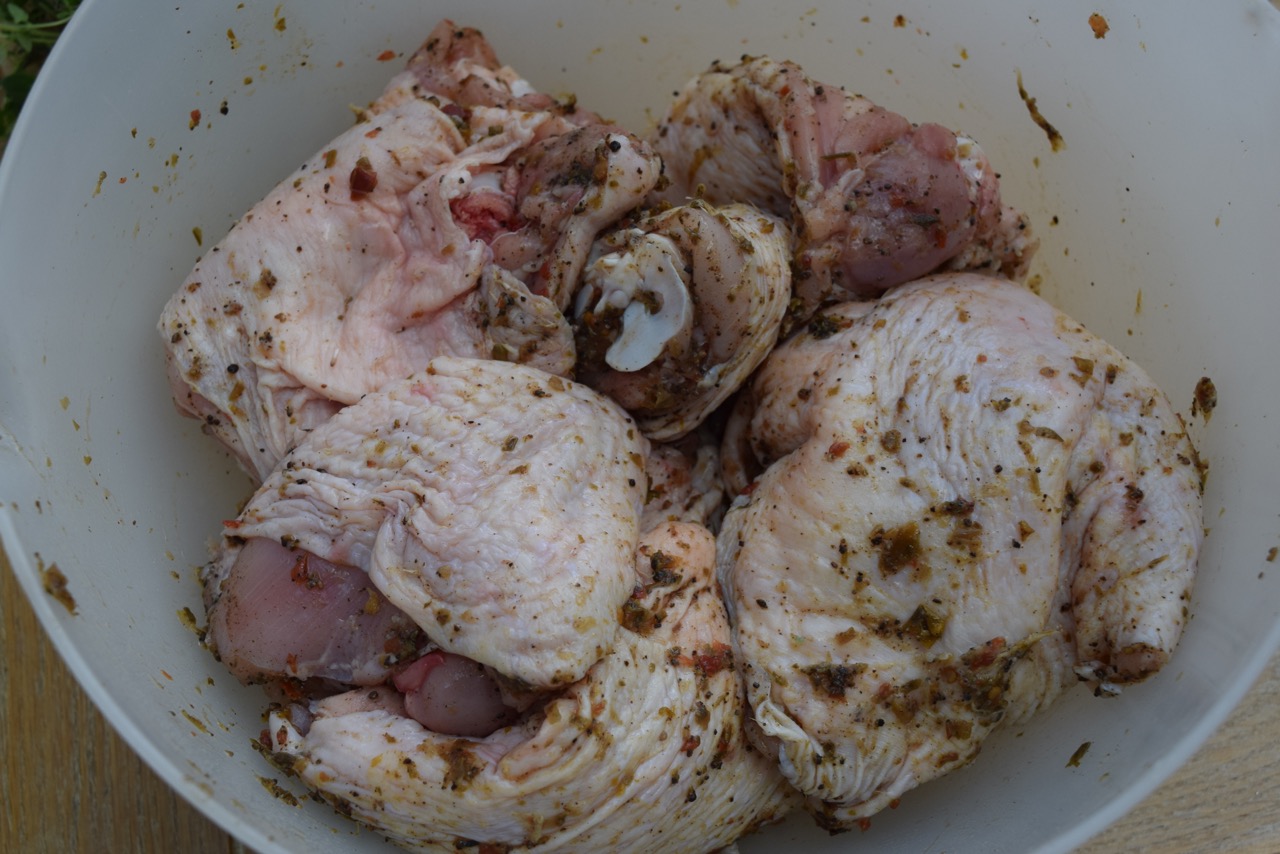 Now, slug a tablespoon of olive oil into your casserole dish and put over a medium high heat on the hob. Place the seasoned chicken skin side down and cook without moving for around 5 to 6 minutes.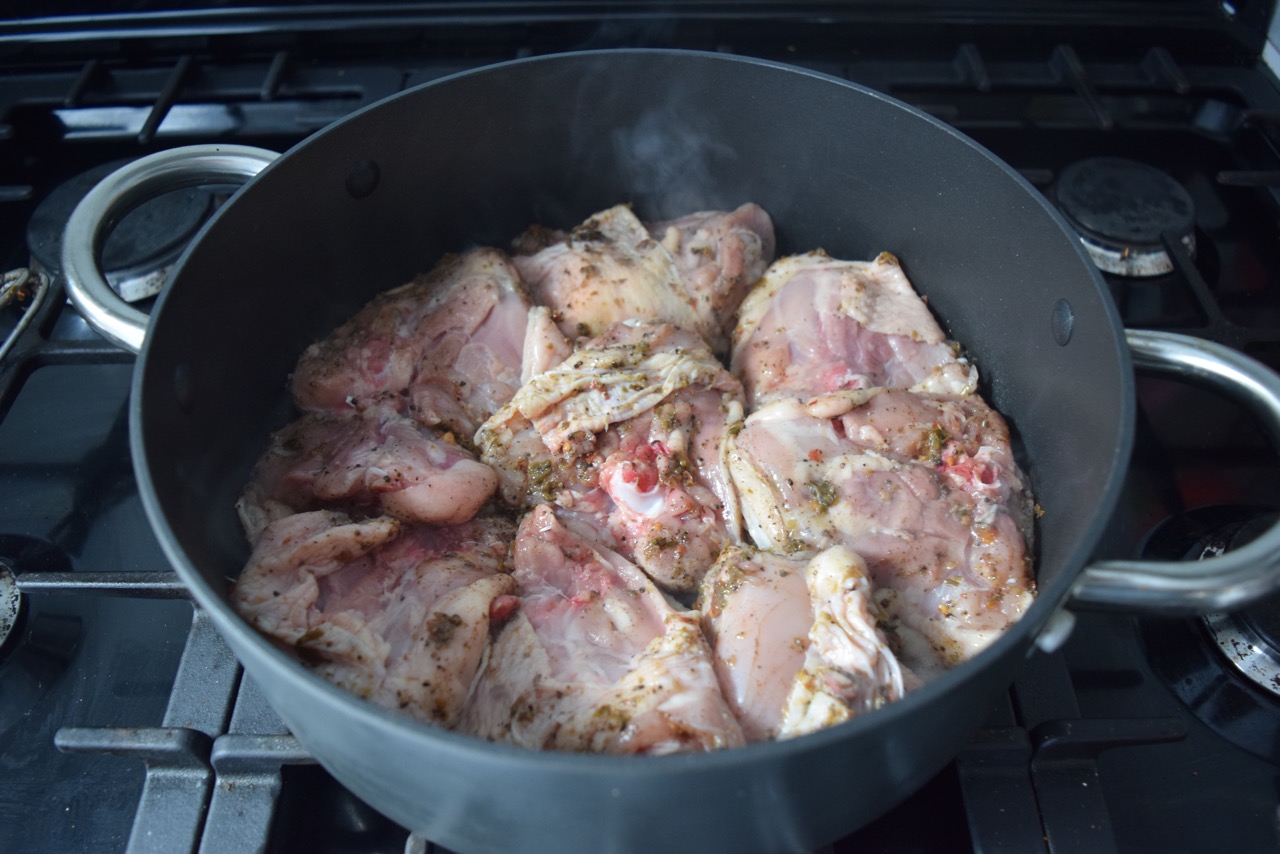 Turn the chicken over once the skin is crisp and golden and cook on the other side for another 2 minutes. Remove to a plate while you crack on with the rest of the dish.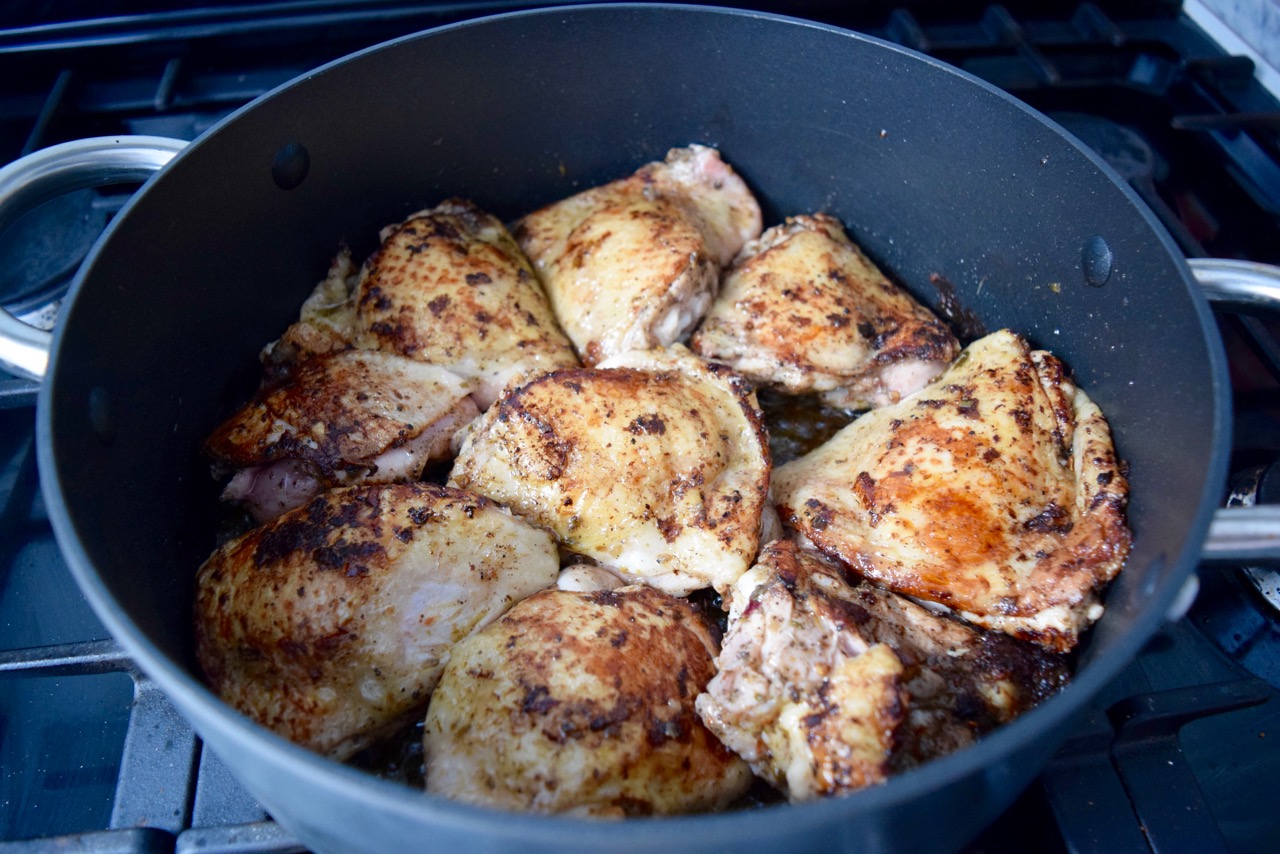 Add the chopped onion into the pan you have cooked the chicken in and cook for around 3 minutes or until it's golden and starting to soften.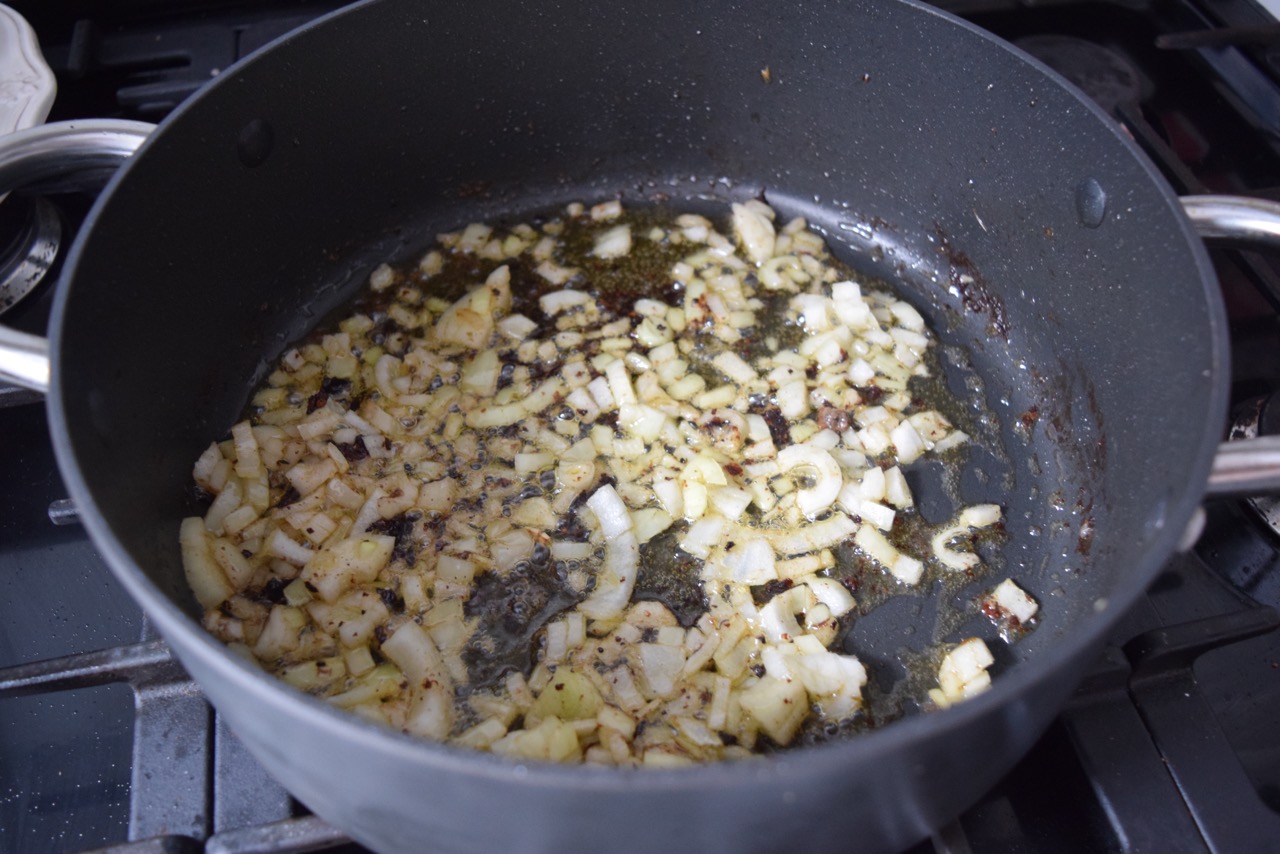 Add the garlic and cook for another minute or two then stir through the rice, kidney beans and half a teaspoon of salt and some generous grindings of black pepper. Stir well and cook for 2 minutes or so.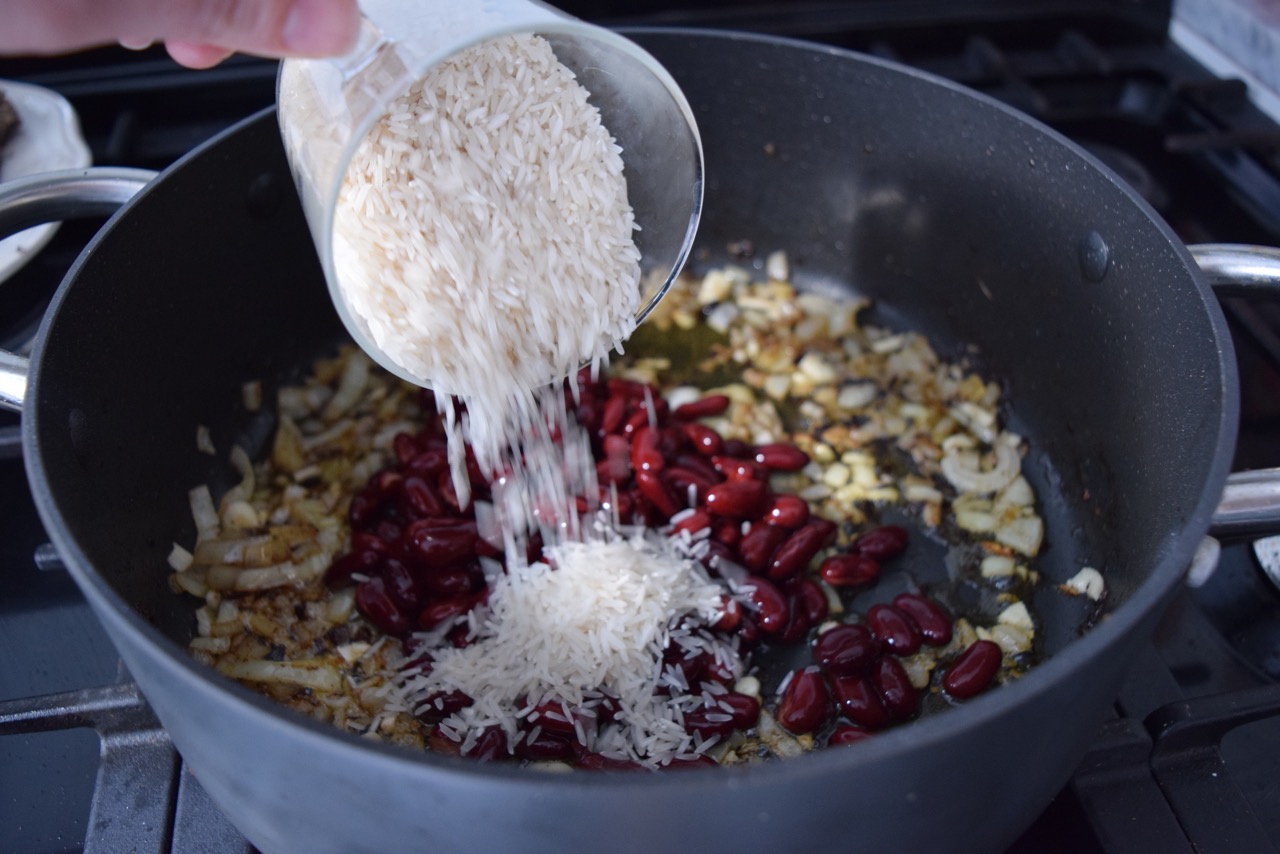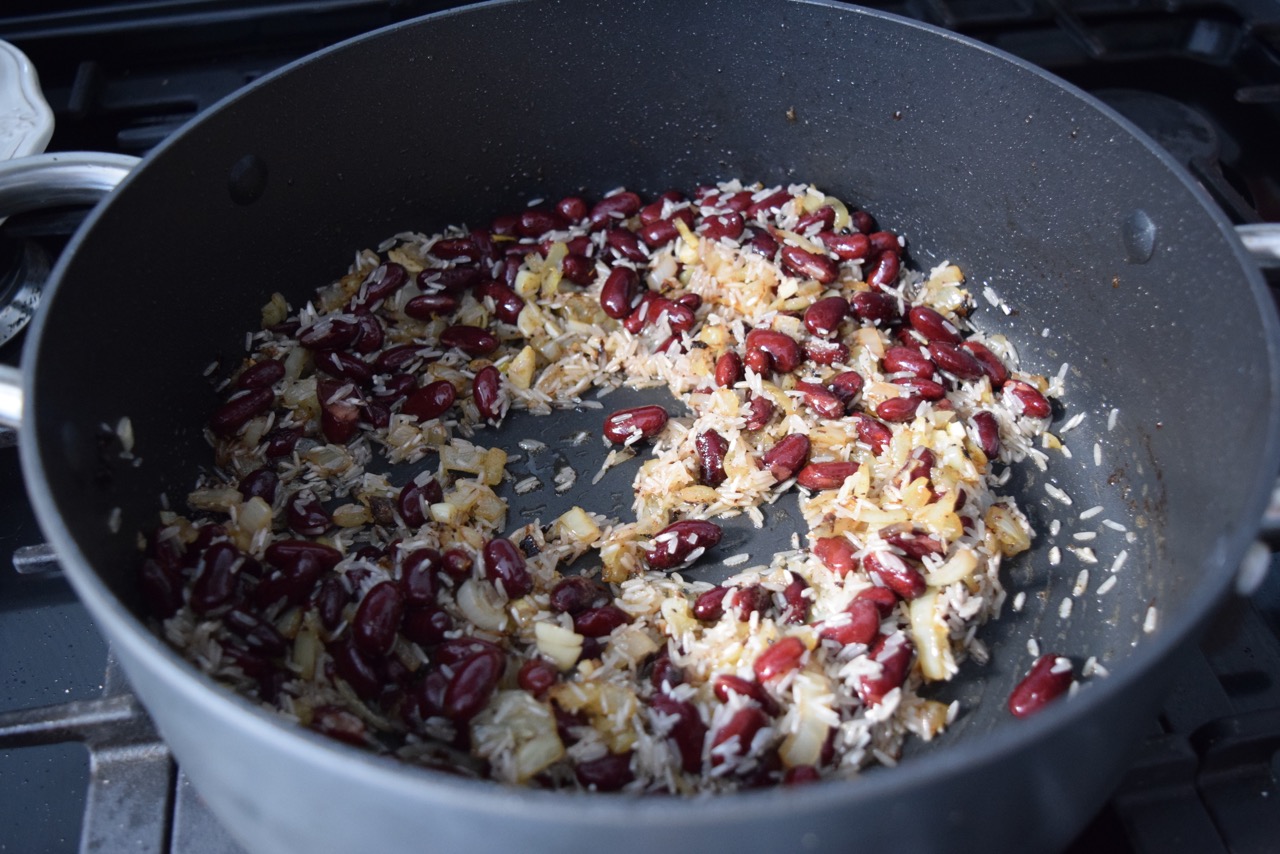 Pour in the chicken stock and coconut milk, add the bay leaves, then bring up to the simmer and remove from the heat.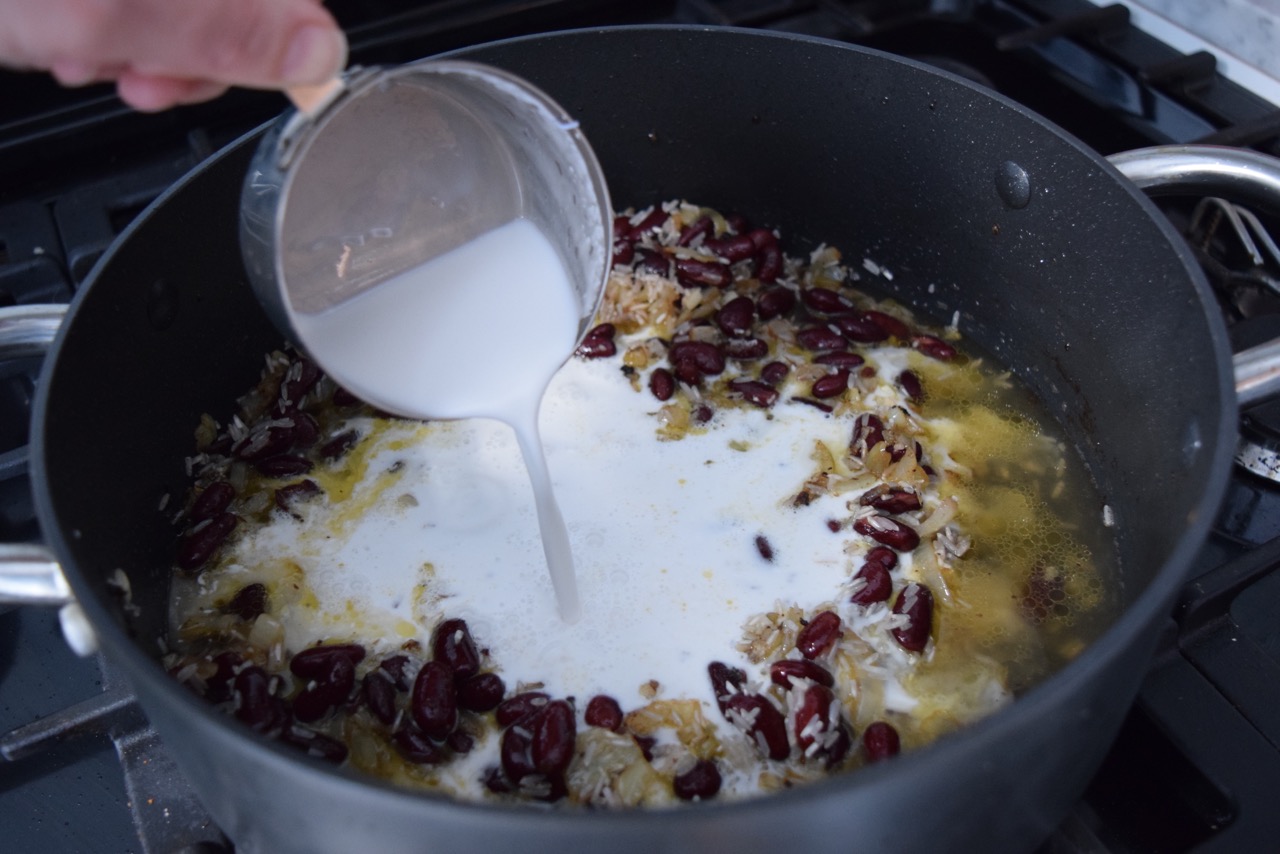 Place the browned, spicy chicken pieces on top of the rice and stock, pouring in any juices from the plate. Pop the sprigs of thyme on the top of the chicken then put the lid on the pan and place in the oven for 20 to 25 minutes.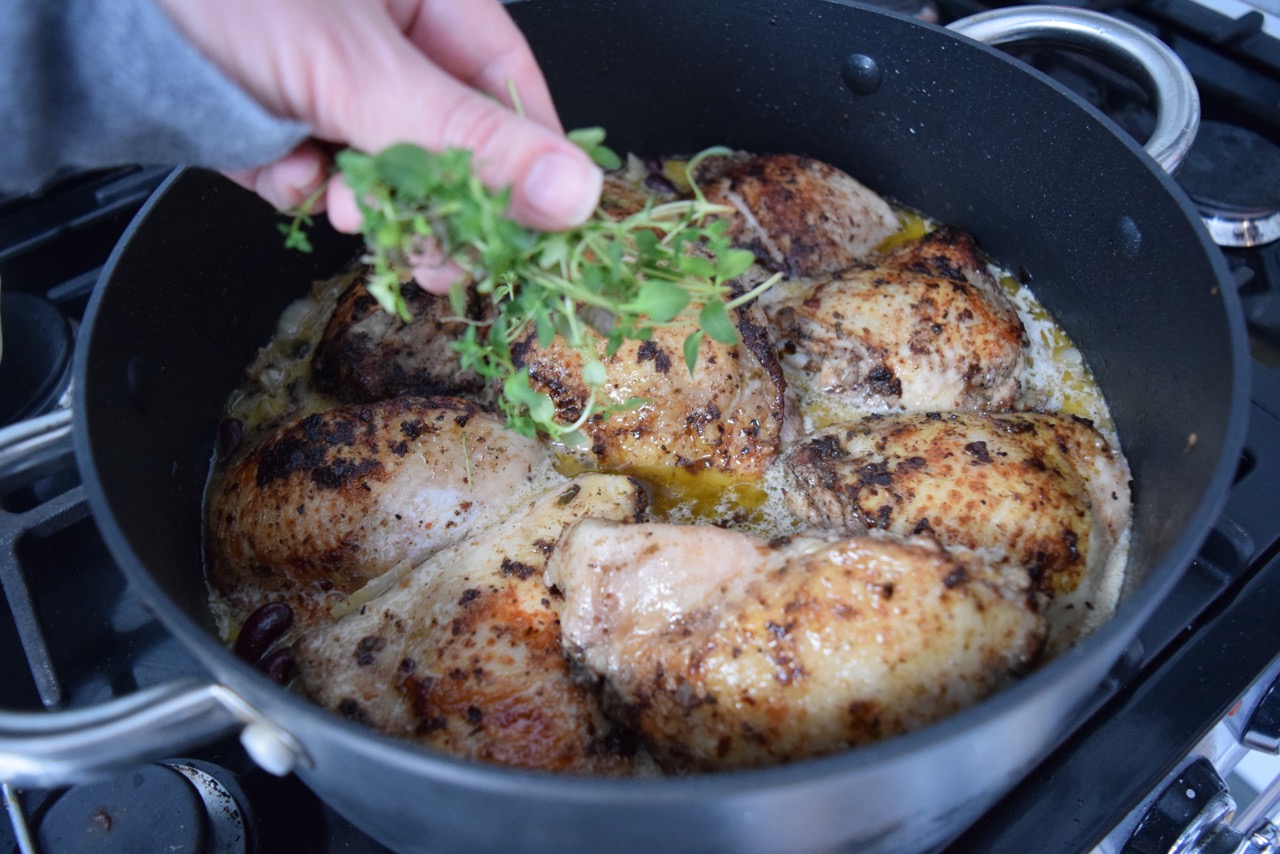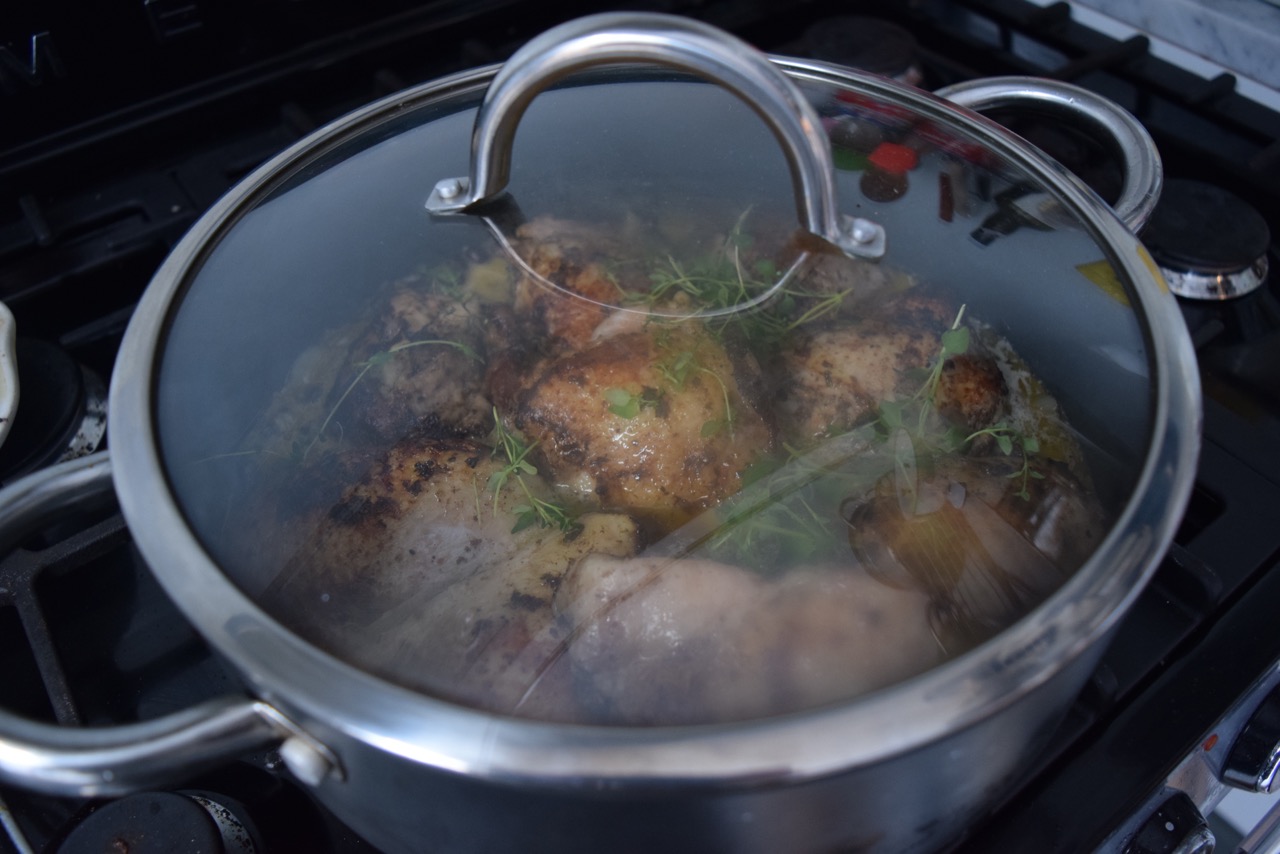 The cooked dish will be smelling amazing with soft rice and tender spiced chicken.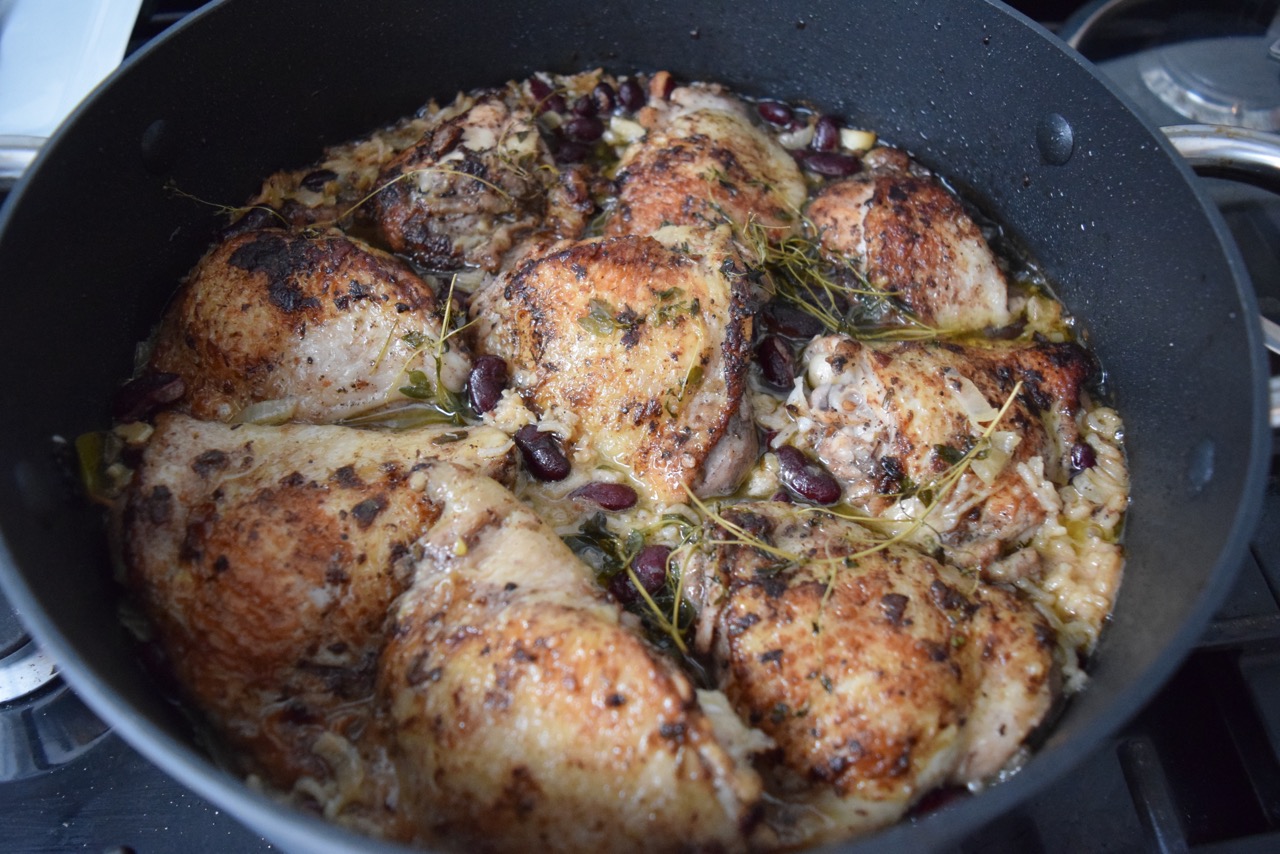 Pop the chicken onto a plate for the moment while you stir the 2 teaspoons of vinegar through the rice for extra seasoning. Remove the bay leaves and thyme sprigs at this point too.
If you would like to present the dish at the table then return the chicken to the pan and serve in front of your friends and family to gasps of great delight. Garnish with some fresh herbs if you like or with a green vegetable of your choice.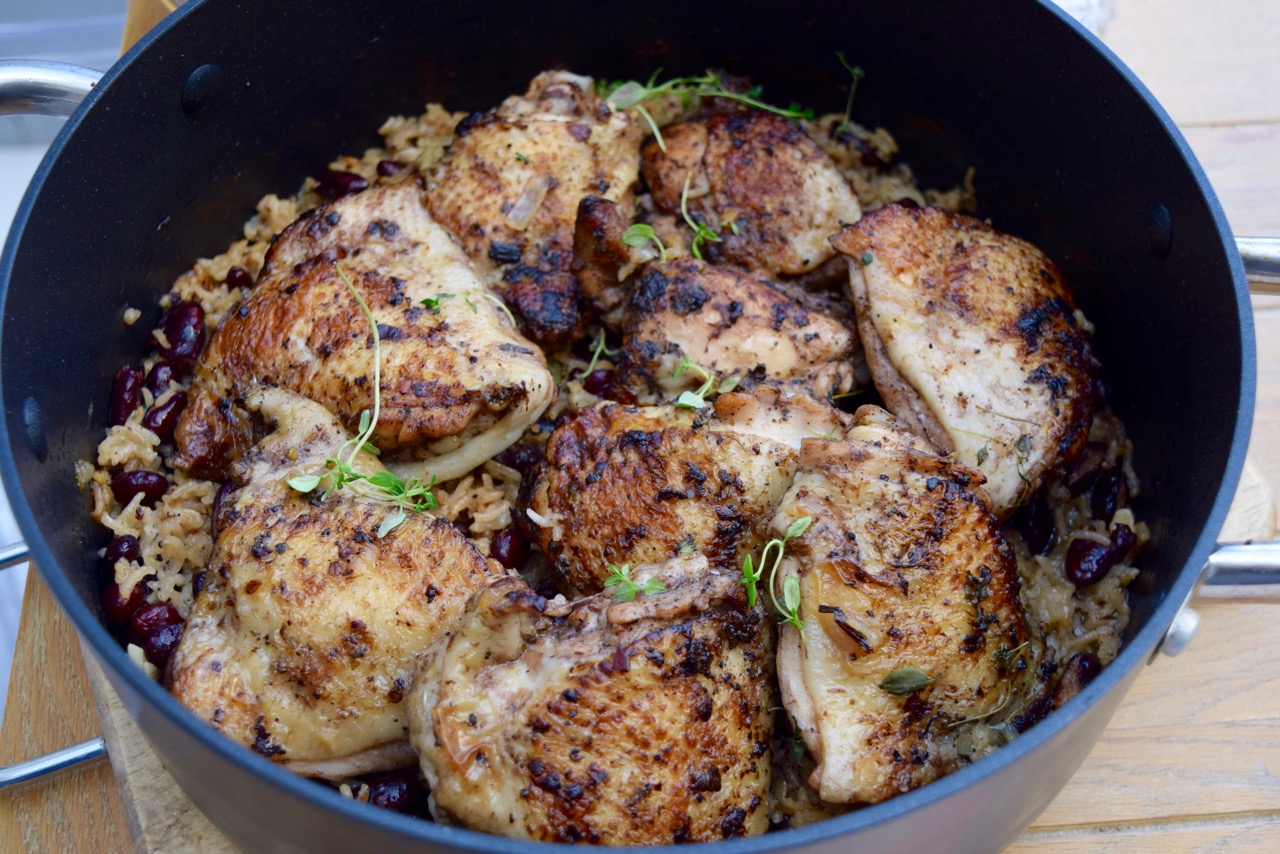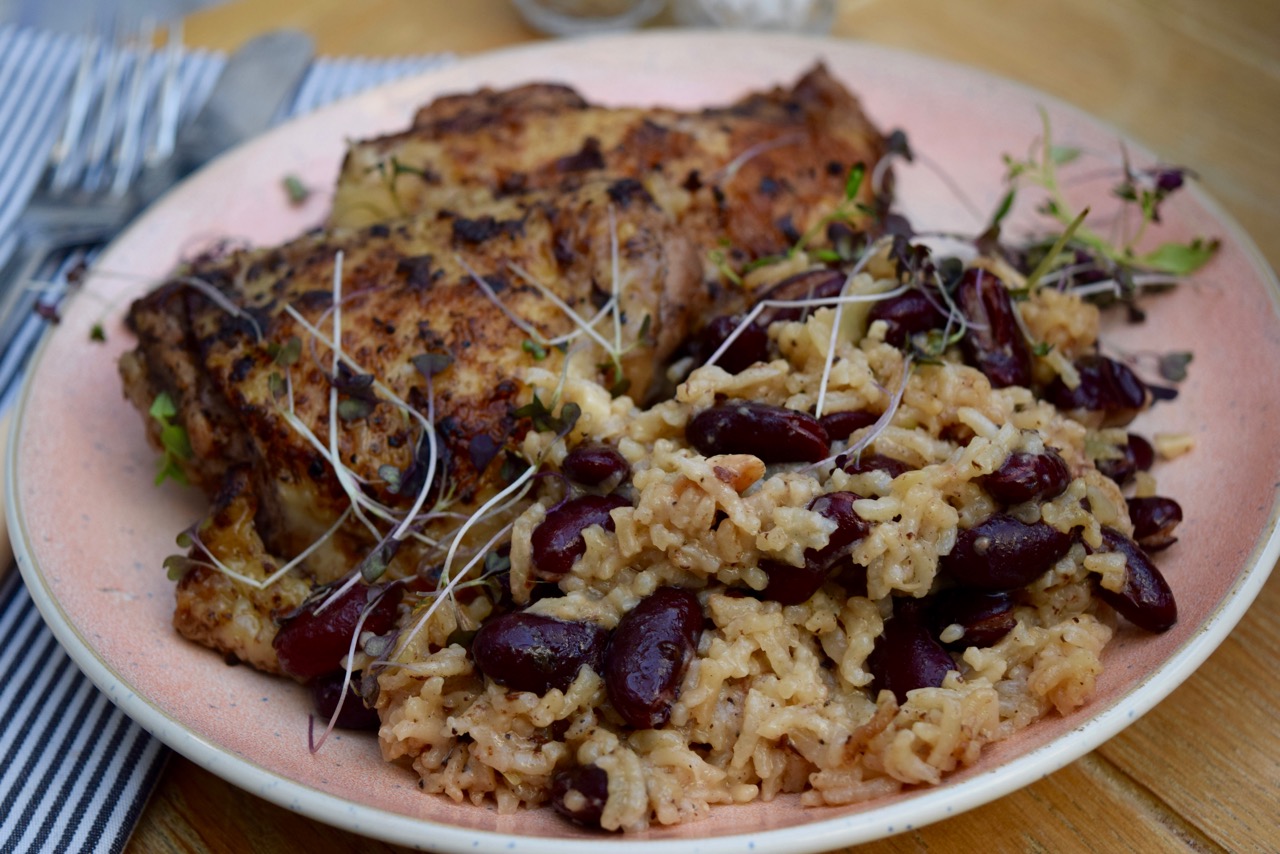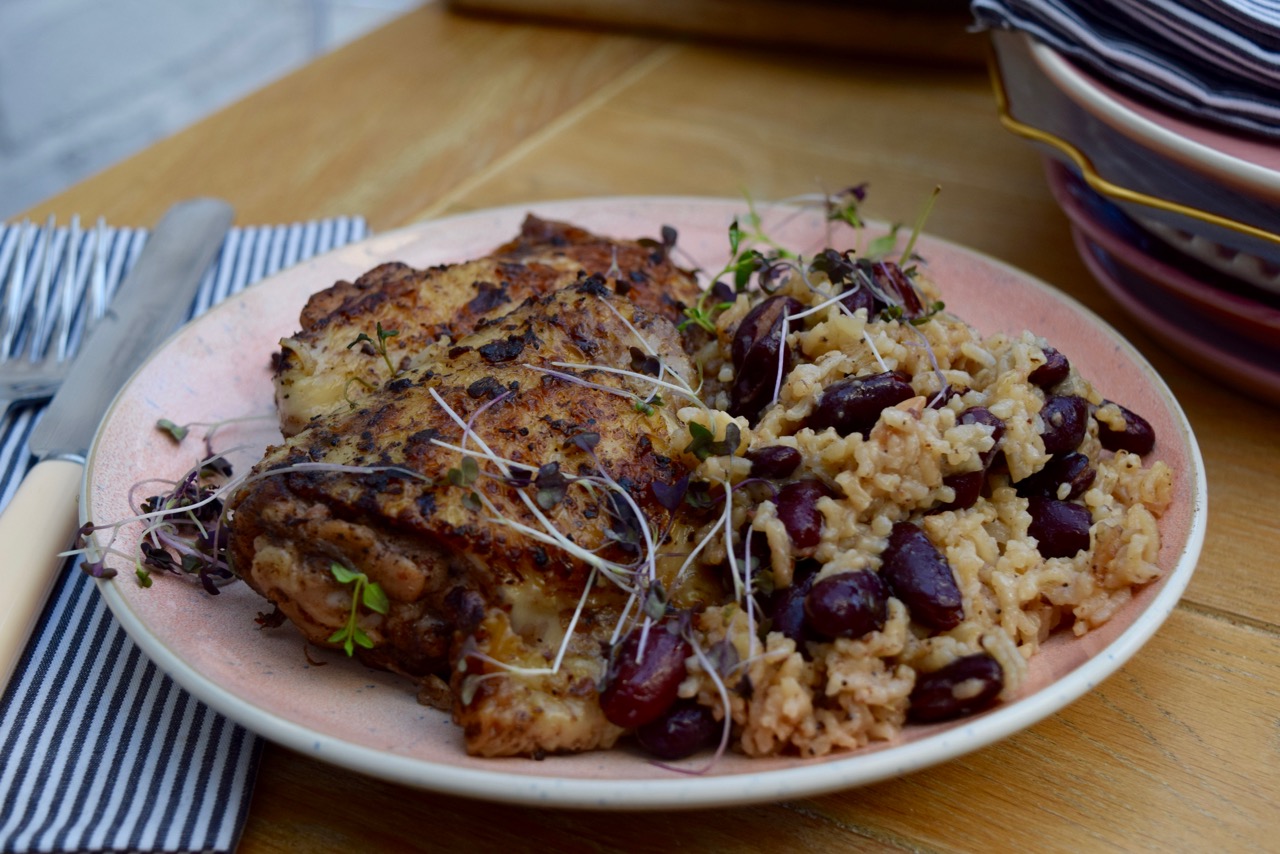 Coconut laced rice, spiced chicken and nourishing beans. This is the complete dish, cooked in one dish and inhaled by one family. Apart from Clyde, who thought it was a bit spicy for him.
Lucy x
One Pot Jerk Chicken Recipe
Serves 4 generously
You will need a lidded hob and oven proof casserole type of dish
1 kg bone-in skin-on chicken thighs
1 tablespoon jerk seasoning paste
Salt and pepper
1 tablespoon olive oil
1 small onion, chopped
2 cloves garlic, chopped or crushed
200g rice, I used white basmati
1 x 400g tin kidney beans, drained and rinsed
250ml coconut milk
250ml chicken stock
2 bay leaves, fresh or dried
3 good sprigs fresh thyme
2 teaspoons vinegar, white if you have it
Fresh thyme to garnish and a green vegetable to serve
Pre heat your oven to 160 degrees fan assisted.
Take your chicken thighs and add to a bowl with the jerk seasoning paste. Mix well ensuring the chicken is well coated. Take your casserole dish and put on the hob with a tablespoon of oil. Heat to medium high and add the jerk chicken thighs to the pan, skin side down in an even layer. Leave untouched to brown for around 5 minutes or until the skin is crisp and brown. Carefully turn over and cook for another 2 to 3 minutes on the other side. Remove from the pan onto a plate.
To the pan juices, add your chopped onion and cook for around 3 minutes until golden and softening. Add the garlic and cook for a further minute or two. Stir in the rice, rinsed and drained beans then season with a generous half teaspoon of salt and plenty of black pepper. Cook for 2 minutes then pour in the coconut milk and chicken stock. Bring to the boil and add the bay leaves then take off the heat. Place the chicken back into the pan on top of the rice and stock, pouring any residual juices back into the pan. Pop the thyme sprigs on top then place the lid on and put into the pre heated oven for 20 to 25 minutes or until the rice is tender and cooked through.
Remove the chicken to a plate and discard the bay leaves and thyme sprigs. Stir the 2 teaspoons of vinegar into the rice, check for seasoning, then serve straight away with the chicken, garnished with some extra fresh thyme leaves and some greens if you like.