Parmesan Chicken with Sweet Potato Chips Recipe
This week I thought I would post a couple of recipes which may or may not soothe any exam sitting children you have at home. Ben did his GCSE's last year and it was a really stressful time for all concerned. I spent at least a month creeping around him, being nice *which doesn't come naturally*, forking up his favourite meals and treats at every given moment. I don't know who was more stressed, me or him. Well this year, we have A Level mocks, which are proving to be just as intense so I thought I would come up with something new and delicious to soothe and comfort revision addled souls.
Take to the stage my Parmesan Chicken with Sweet Potato Chips. These crisp chicken goujons *love that word* have a panko coating flavoured with parmesan cheese and oregano. The chicken is *eek* moist and flavourful and there's no reason this should be exclusively for children. This recipe serves a generous two or a less generous four diners. Or our two boys with Clyde and I mine sweeping as many of the chicken pieces as we can sneak without the boys looking. The Sweet Potato Chips are lightly coated in cornflour and paprika to give a spiced crisp edge with a soft centre. They make a refreshing change to standard chips and I love their sweetness. They also contain great levels of vitamin D and Magnesium which are brilliant for moods, stress levels and heart function, perfect for anyone being studious. Or the parents of anyone being studious whose stress levels are also going through the roof.
I based this recipe on one from Buzz Feed, which is usually only a purveyor of recipes which can be cooked in a waffle machine or involve vast amounts of Oreos. But on this occasion they came up trumps. All together this is a brilliant, delicious, well rounded supper for anyone in your family, regardless of their stress levels.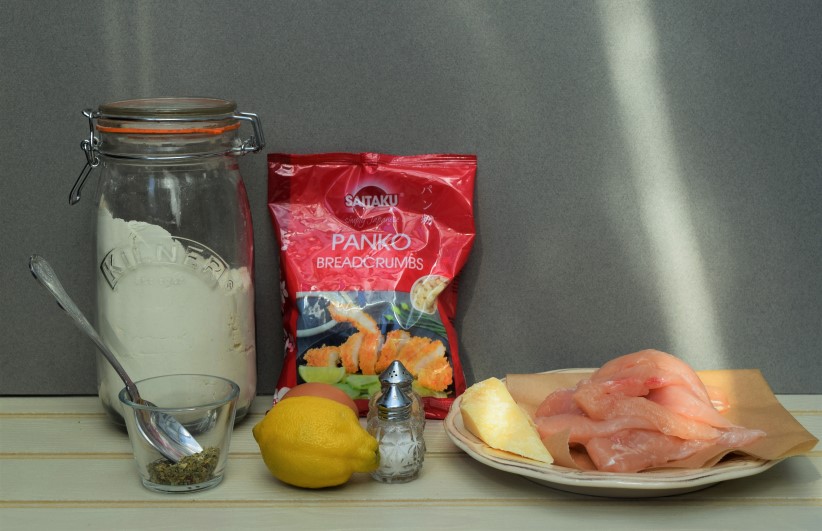 And here's the line up for this tasty supper. Beautifully lit too, although brought to you from On High, rather than via Buzz Feed. I neglected to include the sweet potato chip ingredients because they are almost self explanatory. Yes, yes, I forgot them, guilty as charged.
Make a start with the aforementioned chips, by pre heating your oven to around 170 to 180 degrees fan assisted, then lightly oil a baking tray. Peel the sweet potatoes, cut into chip like shapes then place in a large bowl.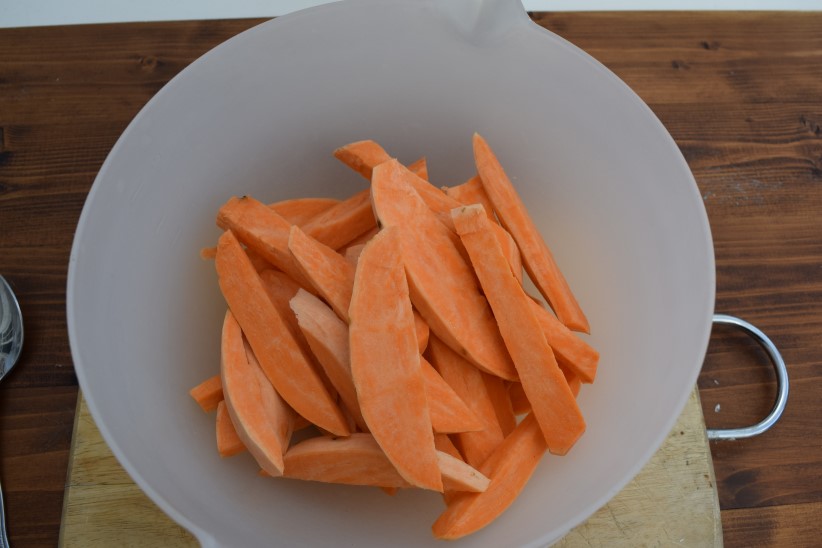 Sprinkle on a tablespoon of cornflour, some paprika and salt and pepper. Toss the chips around and evenly coat them in the flour mixture.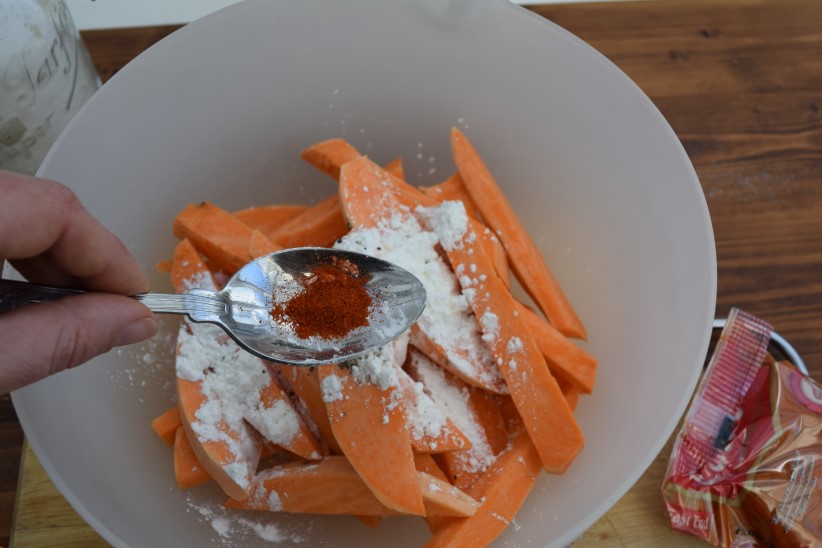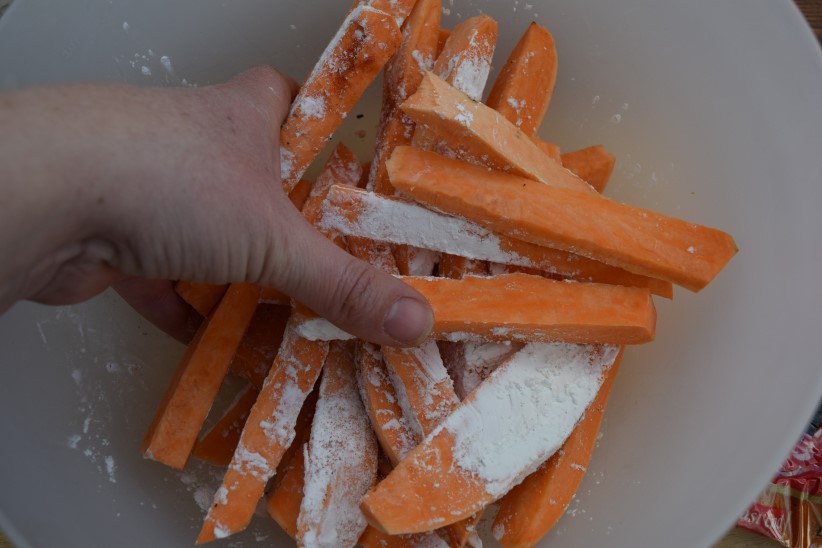 Place the chips in an even layer on the oiled baking tray, lightly drizzle or spray with some olive oil and place in the hot oven for 35 to 40 minutes. The finished sweet potato chips will be golden and crisping at the edges while still soft in the middle.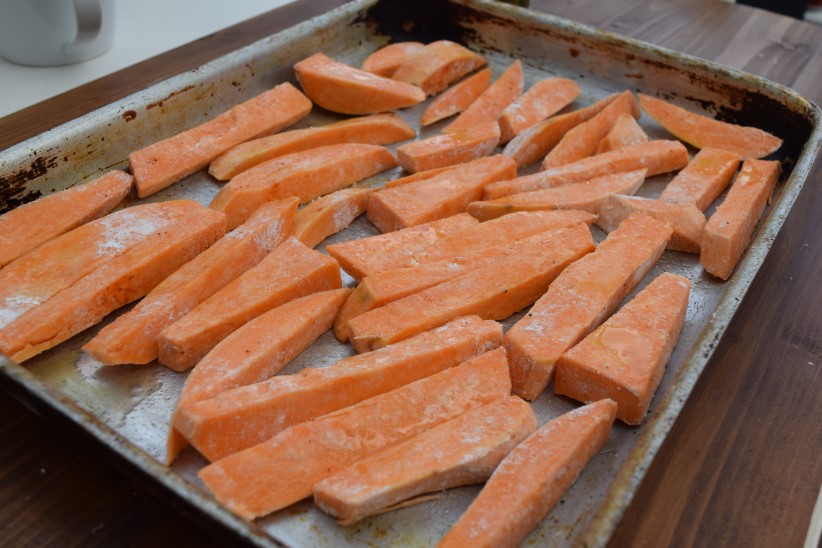 While these are doing their chip thing, make a start on the chicken. Line a large baking tray with grease proof paper or foil. If you don't have chicken mini fillets, cut your chicken breast into strips. Next, take three plates and on the first place the flour and salt and pepper and mix together.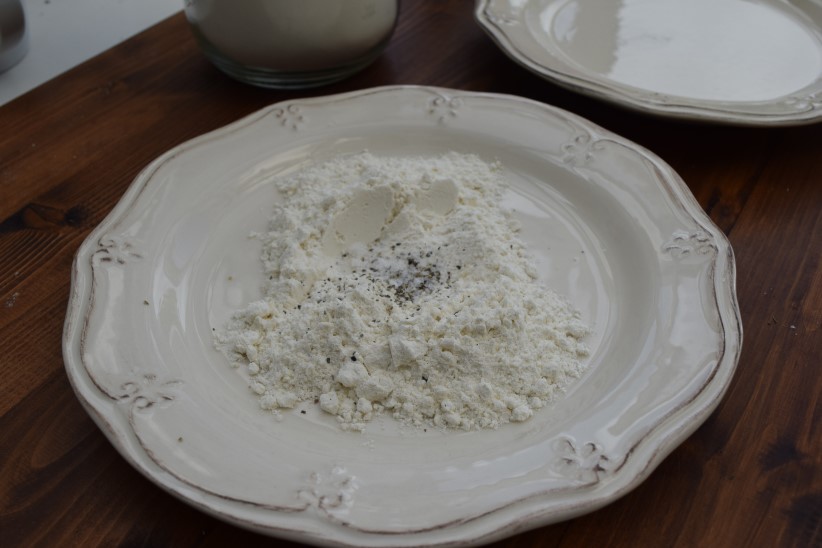 On the second fork together one egg, a splash of water and two tablespoons of lemon juice.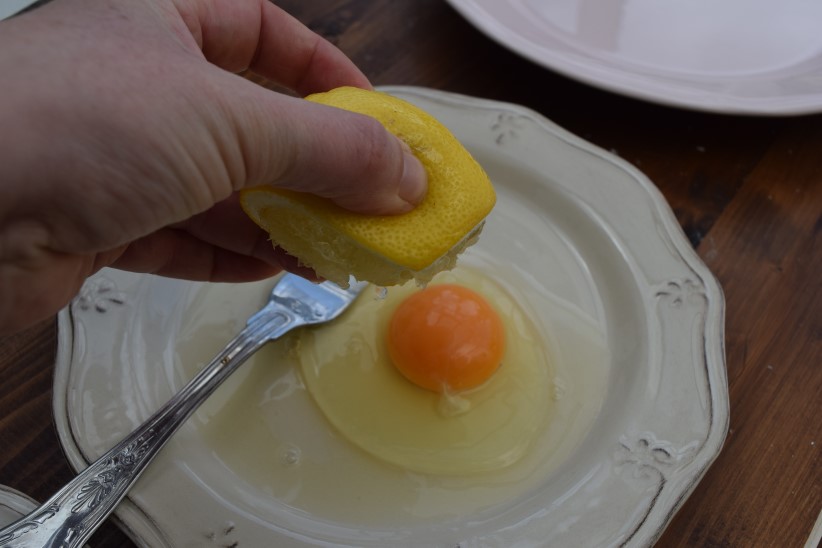 And finally on the third plate, mix together the breadcrumbs, grated parmesan and oregano.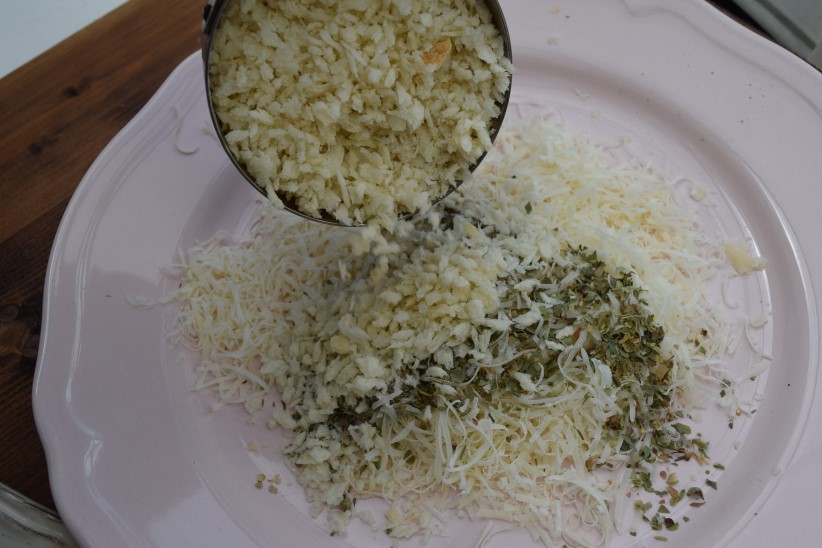 Now take your chicken pieces and dip in the flour, then the egg and finally a good coating of the cheesy crumbs. Make sure each piece is well covered. Place the chicken on your lined tray.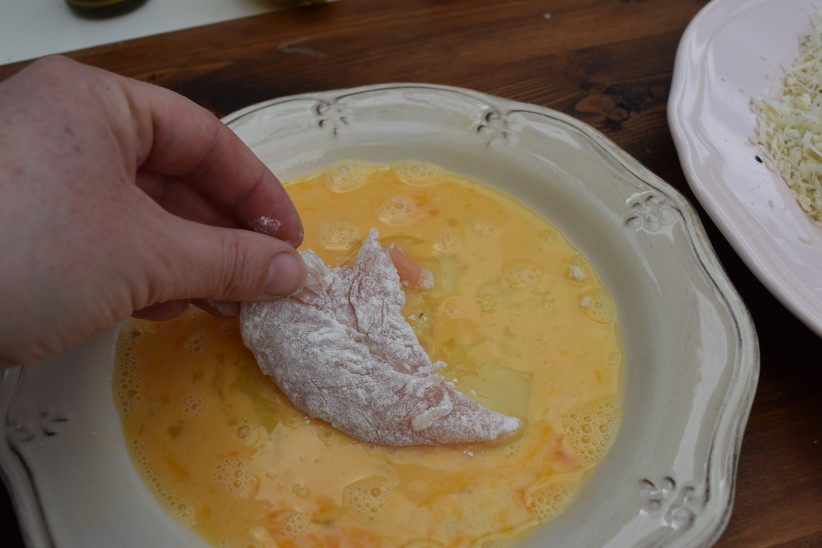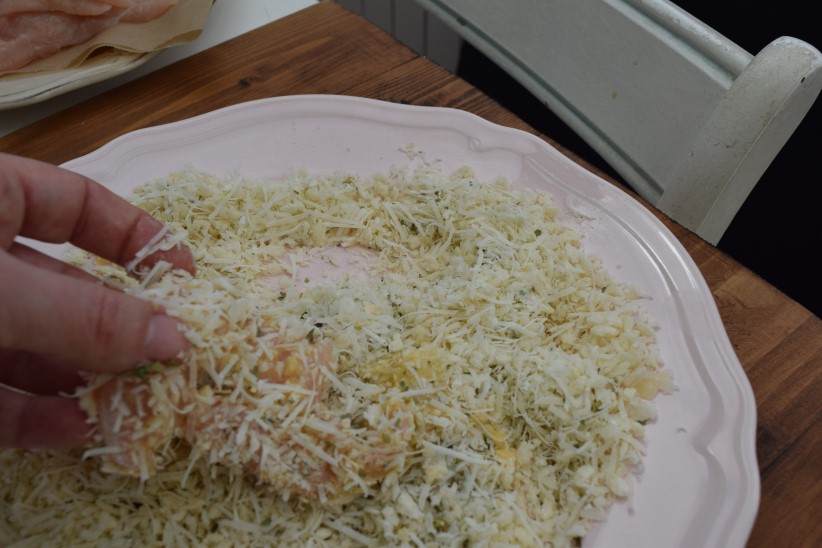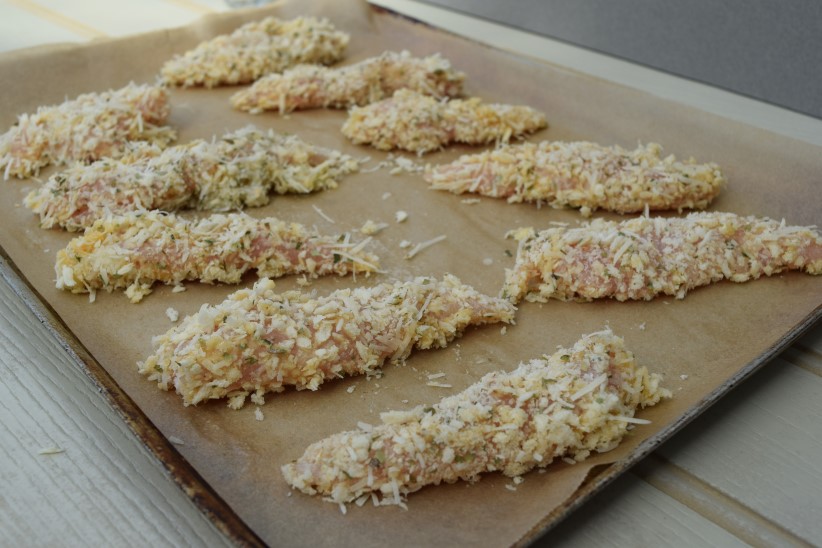 Drizzle or spray oil the chicken before popping into the hot oven for an initial 10 minutes.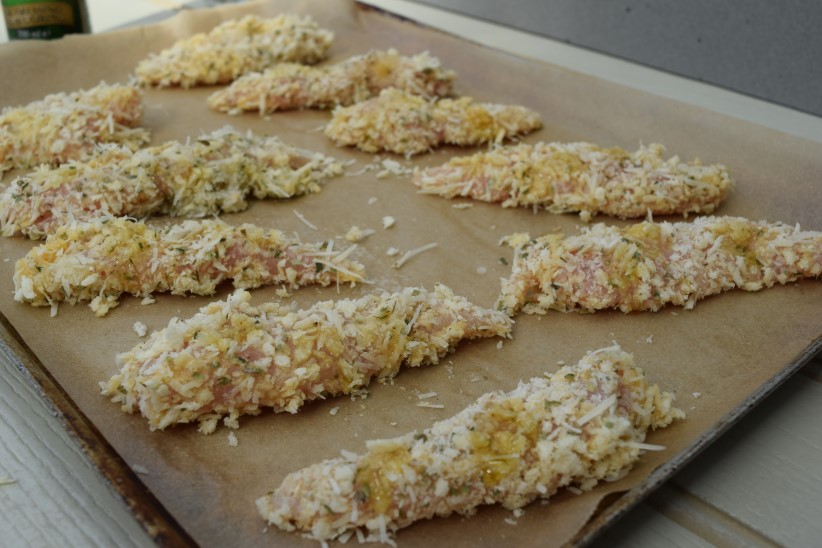 After the first 10 minutes is up, turn the chicken pieces over using your asbestos hands or a fork then put them back in the oven for a final 10 minutes. The chicken will be golden, crisp, fragrant and cooked through.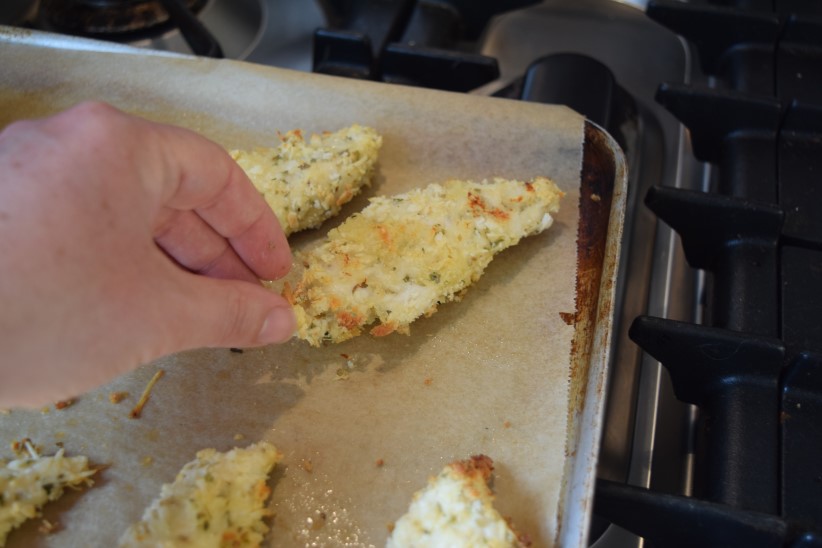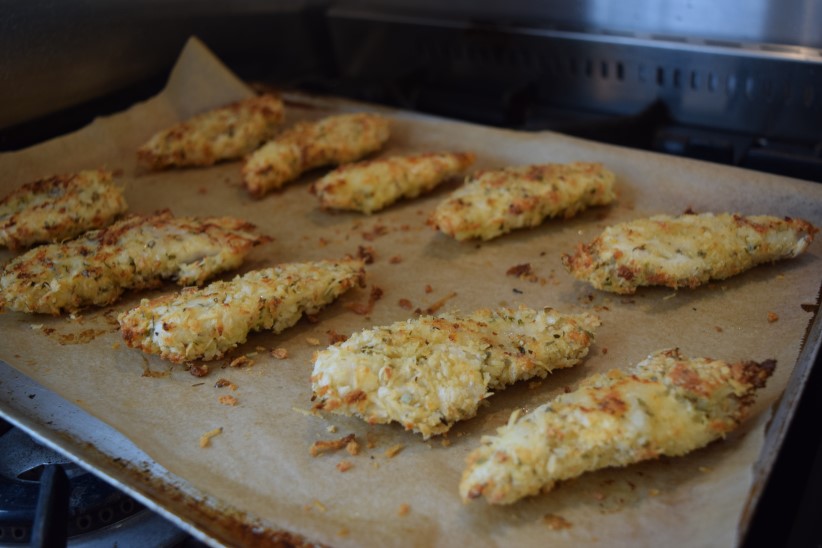 Serve this wonderful cheesy chicken with your crisp, stress relieving sweet potato chips to your awaiting audience.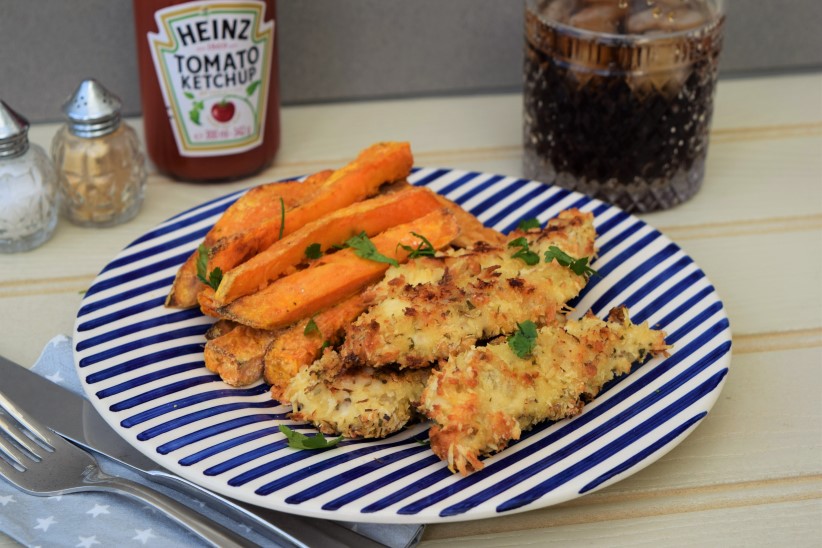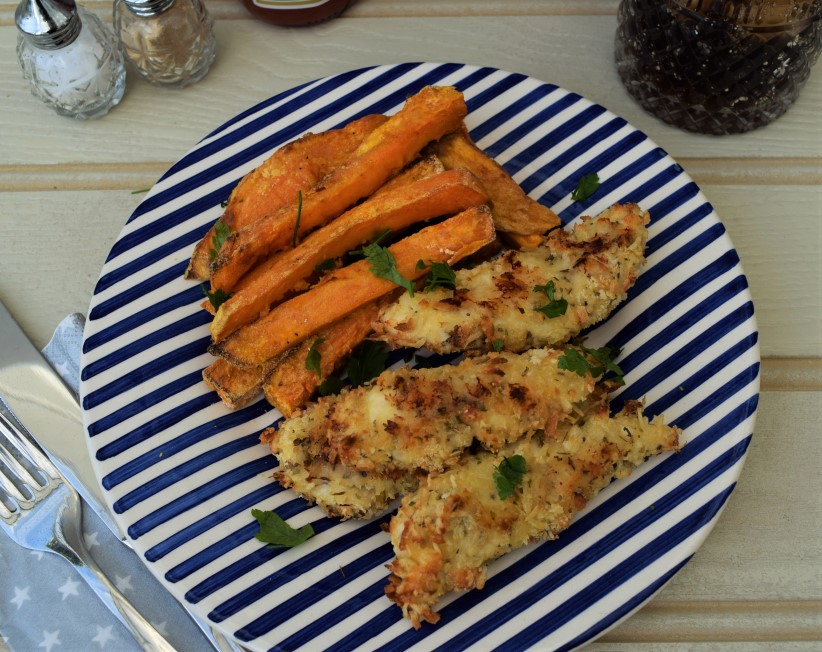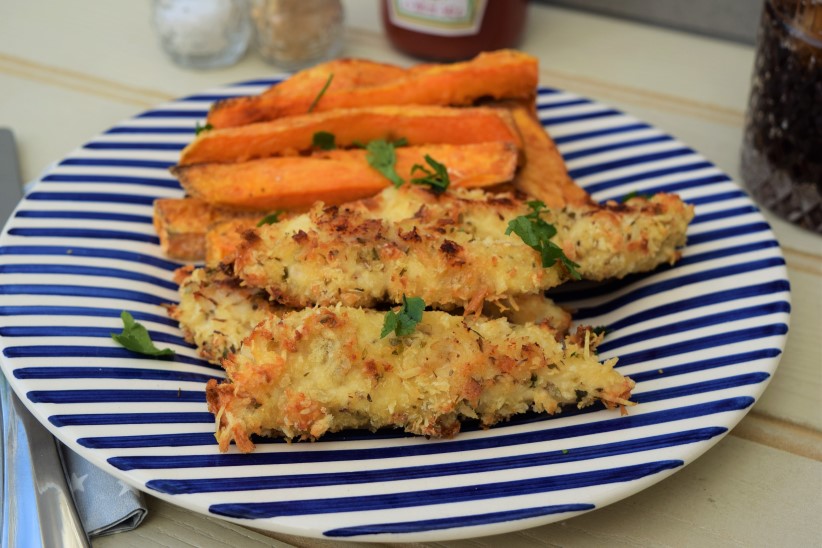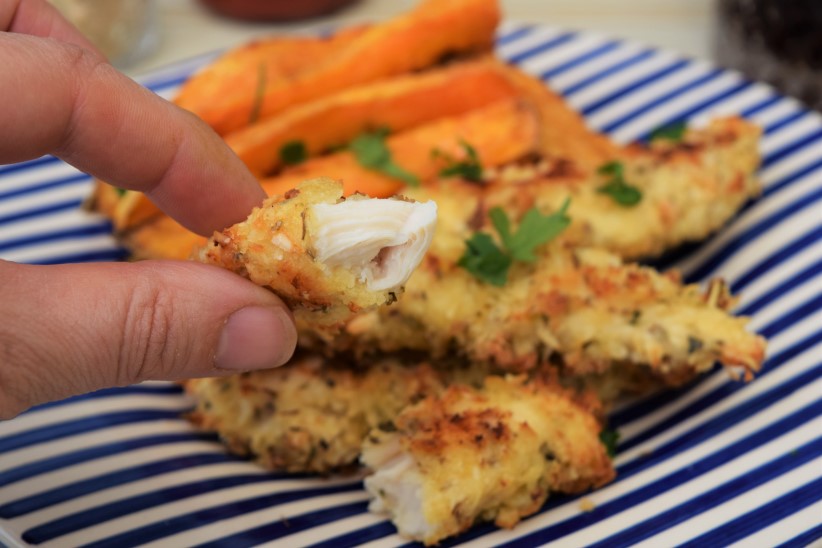 This Parmesan Chicken with Sweet Potato Chips is a lovely pre exam supper dish to soothe your stressed out children. Or sod them, make this for yourself and inhale the whole lot. This chicken is so much more than a nugget, more of a goujon, if you please.
Lucy x
Parmesan Chicken with Sweet Potato Chips Recipe
You will need a couple of good sized baking trays
Serves 2 to 4, dependent on age and appetite
Sweet Potato Chips
2 large sweet potatoes, peeled
1 tablespoon cornflour
1/2 teaspoon to 1 teaspoon paprika
salt and pepper
a couple of sprays of spray olive oil or a good drizzle
Parmesan Chicken
400g chicken mini fillets or chicken breasts cut into strips
2 tablespoons plain flour
salt and pepper
90g breadcrumbs, I used Panko
1 tablespoon oregano
50g parmesan, grated
1 egg, beaten with a splash of water
2 tablespoons lemon juice
Olive oil to spray or drizzle
Parsley garnish and sauces and dips to serve
Pre heat your oven to 170 degrees fan assisted.
Make a start on the chips. Peel the sweet potatoes and cut into chip sized shapes. Put these into a large bowl and sprinkle with the cornflour, paprika and salt and pepper. Toss the sweet potatoes around and make sure they have a light coating. Place the chips in an even layer on an oiled baking tray, spray or drizzle with a little olive oil then place in the hot oven for 35 to 40 minutes. The chips are done when they are crisping, golden brown and cooked through.
While these cook crack on with the chicken. Take a large baking sheet and cover in greaseproof paper or foil. If you are using chicken breast instead of mini fillets, cut the chicken into strips. Taking three plates, add the flour and salt and pepper to the first one, the breadcrumbs, oregano and parmesan to the next then finally whisk the egg, lemon juice and splash of water on the last plate.
Take each small piece of chicken and dip into the flour, then the egg then coat in the cheesy crumbs. Place each coated piece of chicken onto your lined baking sheet. Repeat until all your chicken is coated. Spray or drizzle the chicken with a little more olive oil then place in the oven for 10 minutes. When the time is up, turn over each piece of chicken then pop back in for a further 10 minutes, or until the chicken is golden, fragrant and cooked through.
Serve immediately with the sweet potato chips and a sauce of your choice.