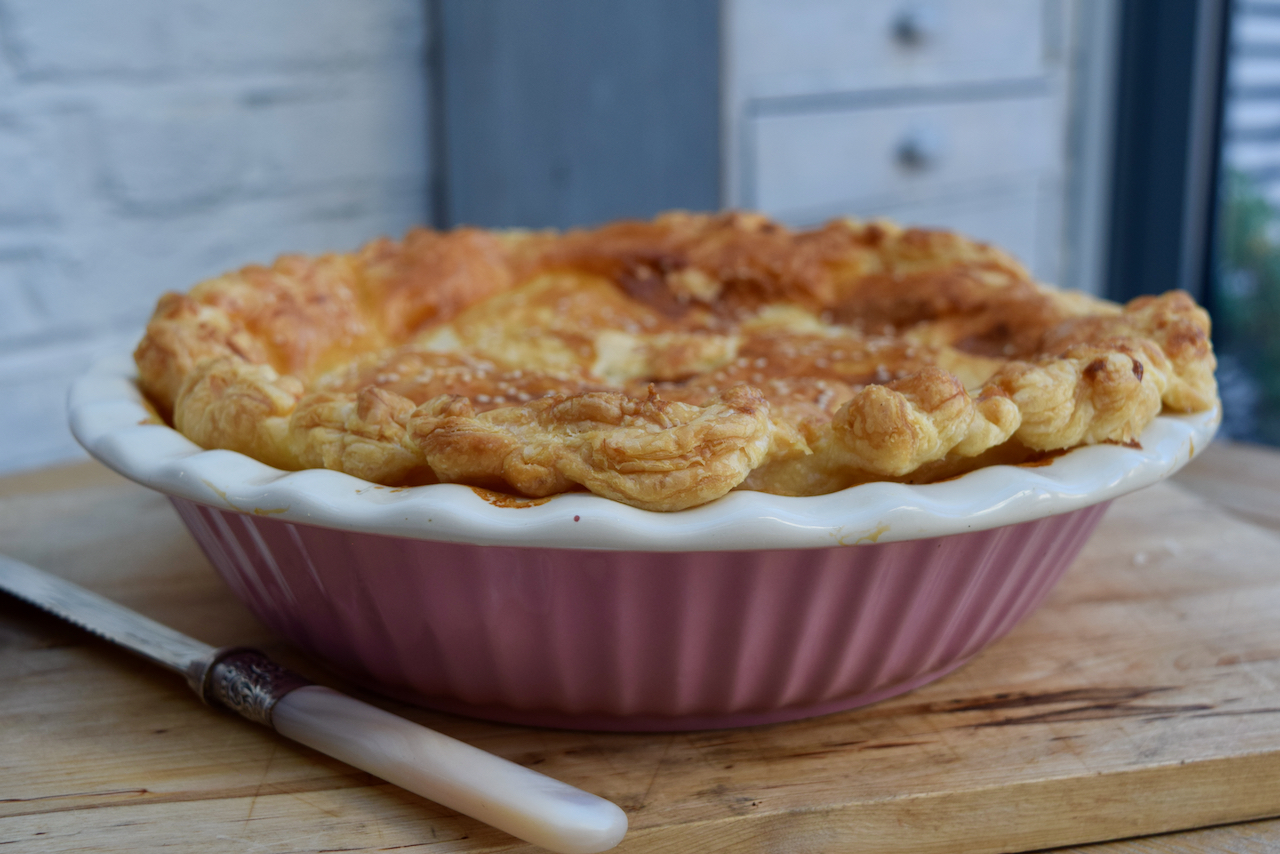 Spring Chicken Pie Recipe
Believe it or not it's Easter this weekend. Usually a time for family get togethers, weekends away and general feasting. Not this year, sadly. We are all staying indoors and saving lives, so this Easter will have to be a very home based affair. If you're looking to feed a smaller crowd than usual then this Spring Chicken pie will be perfect for your feast this weekend.
Not only is this pie completely bloody delicious *I know, I ate a vast portion of this* it's reasonably lockdown friendly. Use chicken thighs if you have them, but breasts are fine too. The pastry was in my freezer and the bacon was hidden from the boys at the back of my fridge. Flavour with any green herbs you have; I loathe tarragon, so went for parsley. This makes a kerfuffle free wholesome dish which I can confirm, was eaten in one sitting by the four of us and without a single complaint. Not even when George accidently has some peas stuck to his broccoli *shoot me now*.
This year the standard Easter leg of lamb may be too much for your reduced, self isolating family situations. This Spring Chicken pie is much more manageable and somehow, only just fed the four hogs in our house.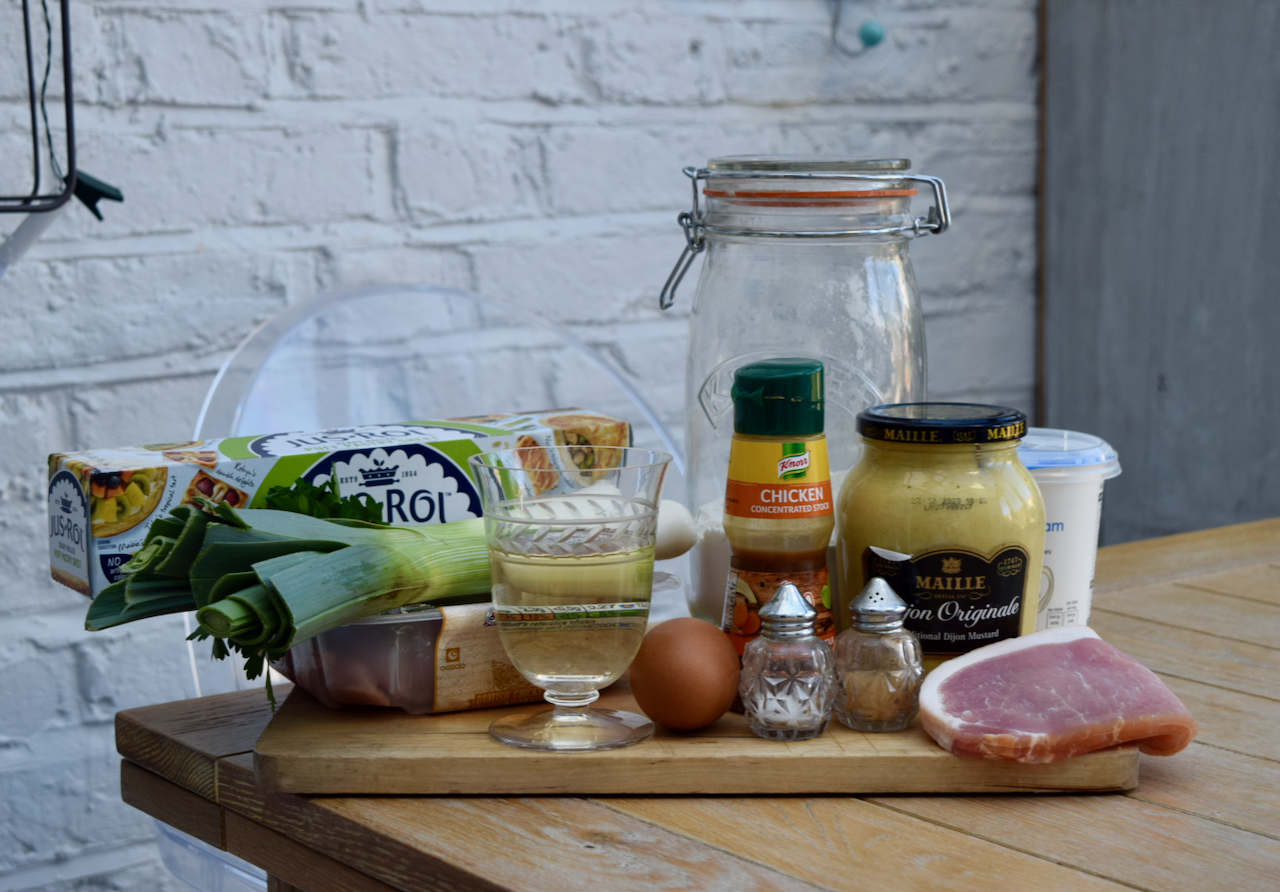 This Spring Chicken Pie is not only simple, it has easy to access ingredients. If you don't have a packet of puff pastry lurking in your freezer, you could contemplate making your own pastry; this ricotta pastry is super simple.
Make a start on your Spring Chicken Pie by buttering your chosen pie or flan dish and pre heating your oven to 160 degrees fan assisted. Next, season your chosen chicken thighs or breasts then add them to a large, hot pan with a couple of tablespoons of olive oil.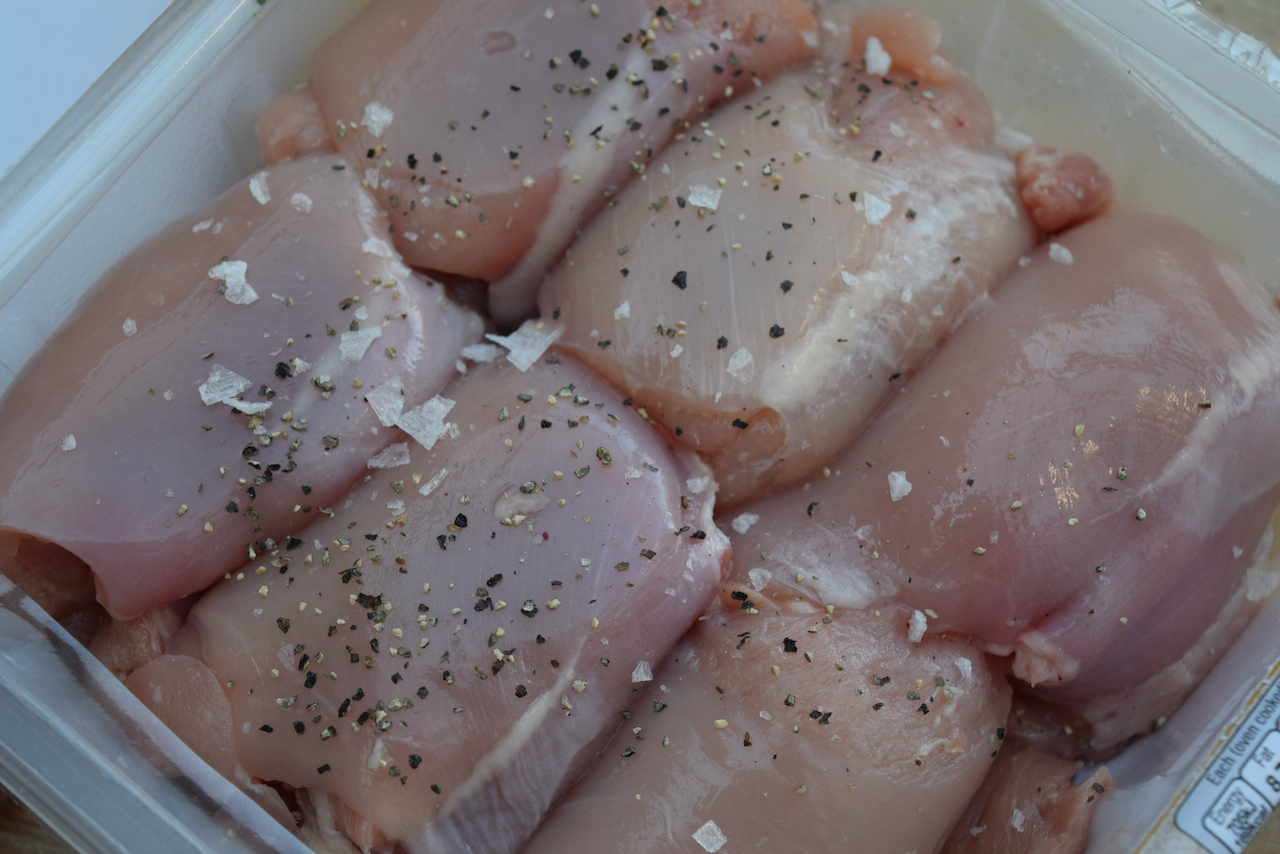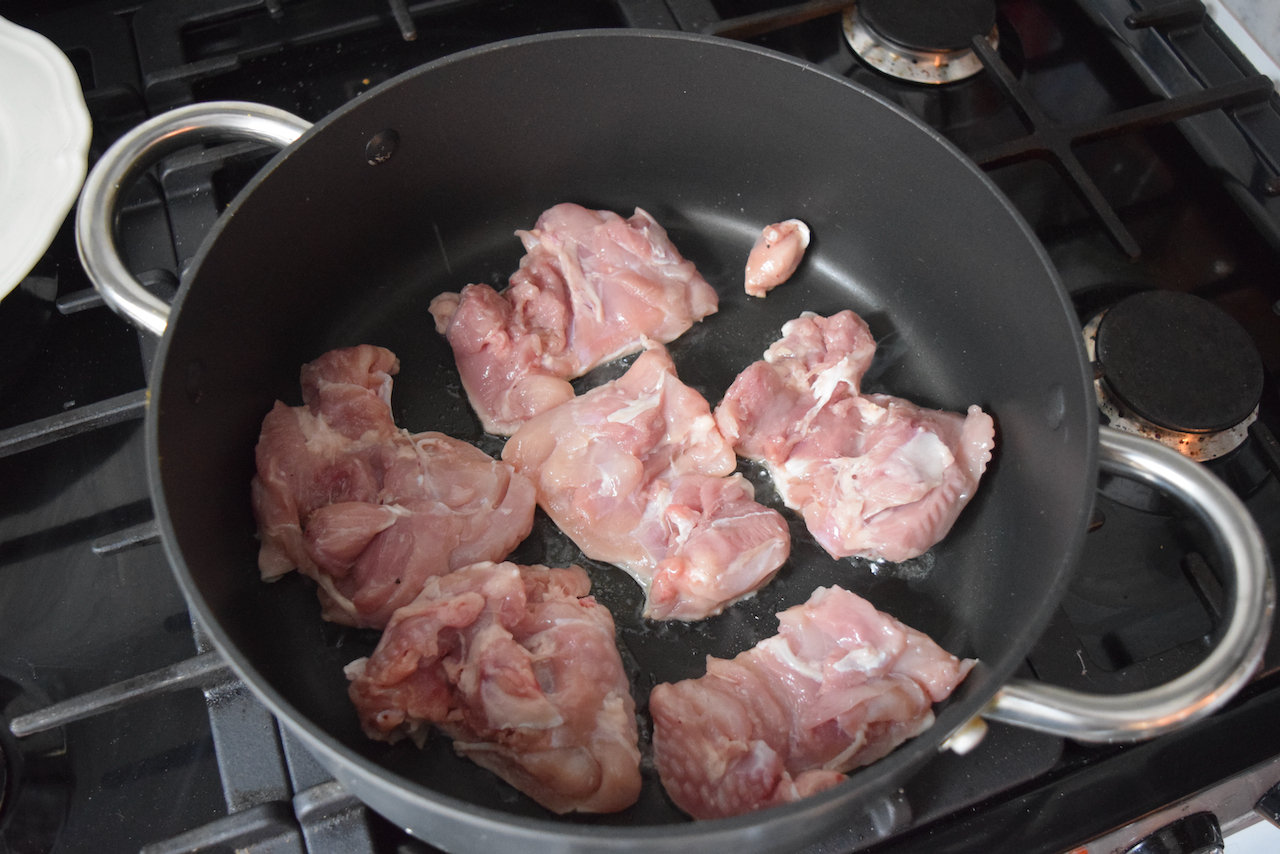 Fry the chicken for 3 to 4 minutes on each side then take out of the pan and pop on a plate for a moment.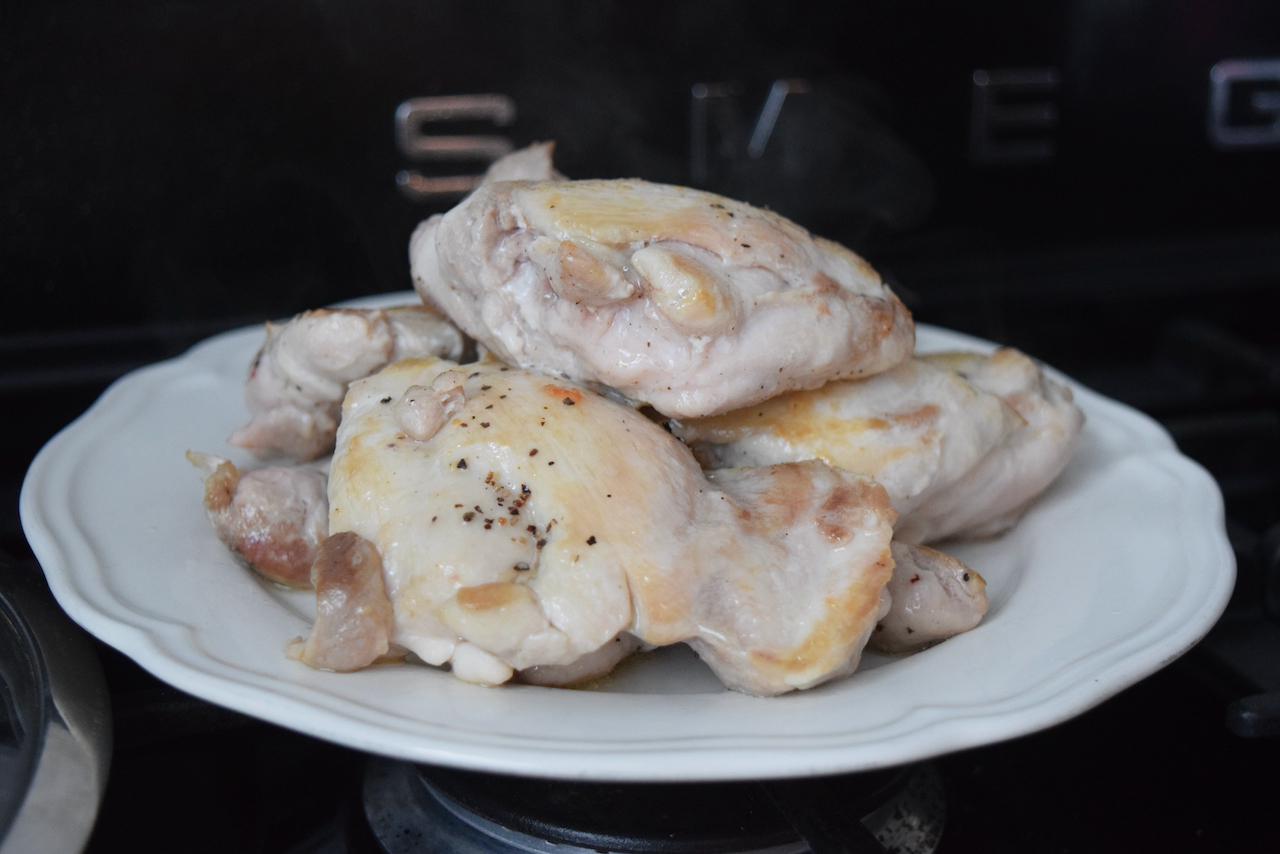 Chop your bacon and wash and slice the leeks. Add the bacon into the pan you used for the chicken and cook for a few minutes or until starting to crisp. Then add the leeks, turn the heat down a little, and cook for a further 5 minutes until they start to soften.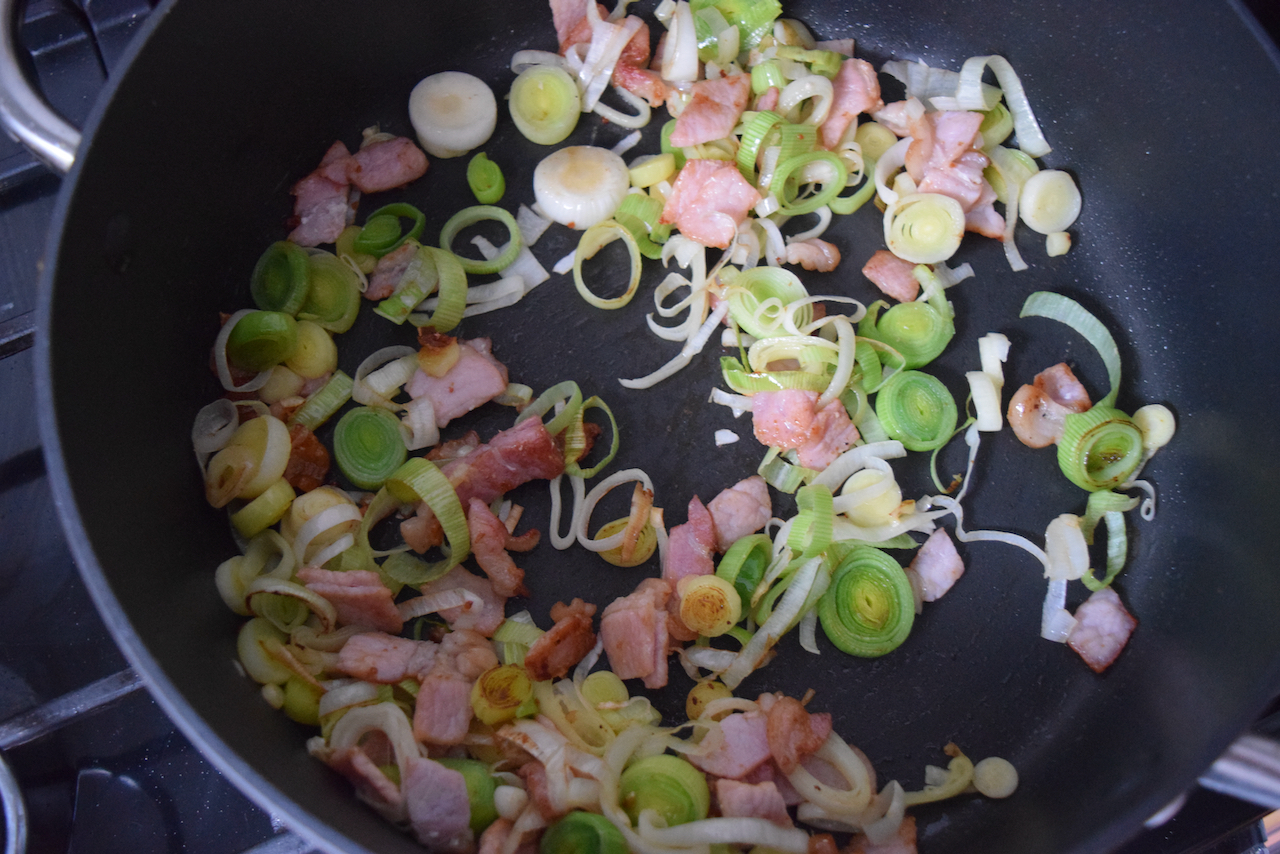 Stir in the 3 tablespoons of flour and cook out for a minute or so.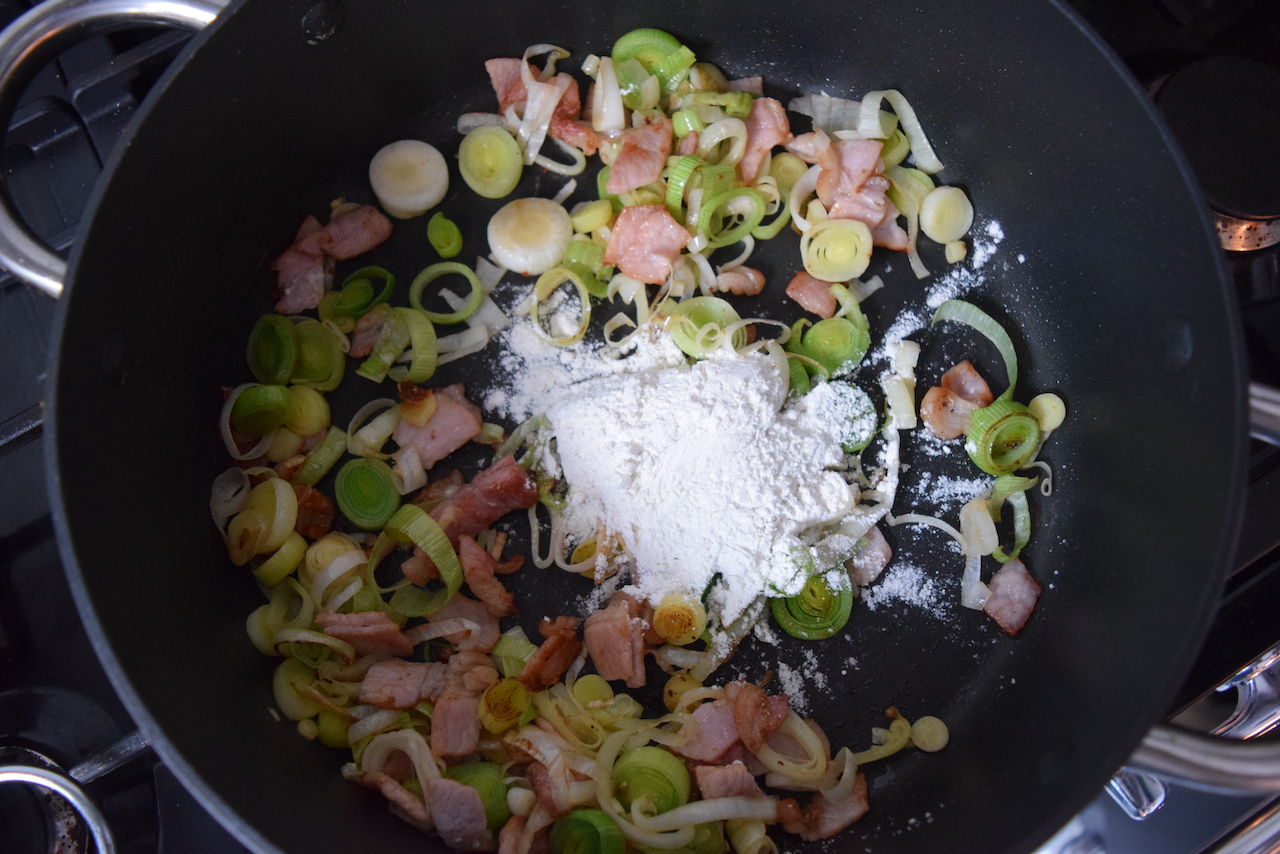 Tip in the wine, let it bubble and absorb into the flour then gradually pour in the stock.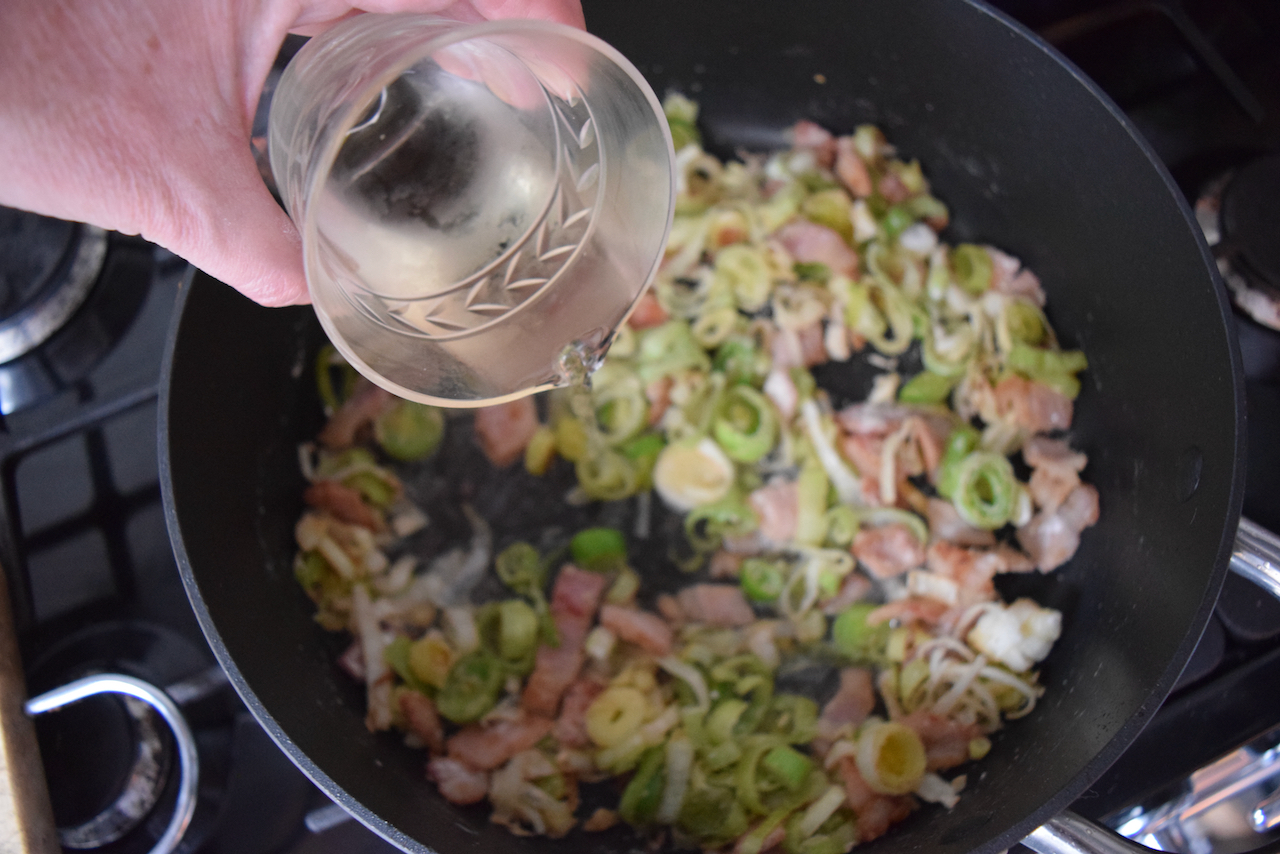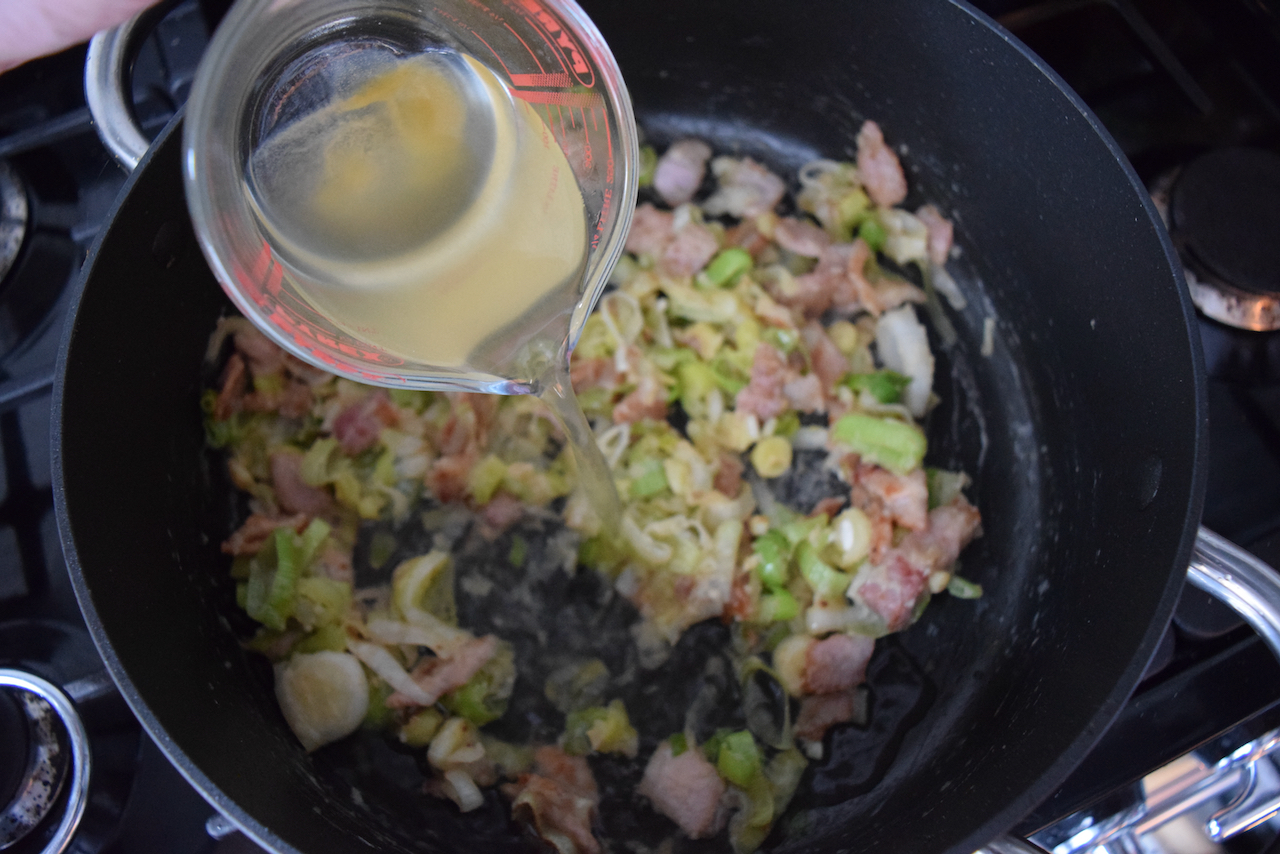 Stir well and let the mixture bubble away. Meanwhile, slice the chicken and chop the fresh herb of your choice. Don't worry if the chicken's not cooked through, it will cook through later in the pie.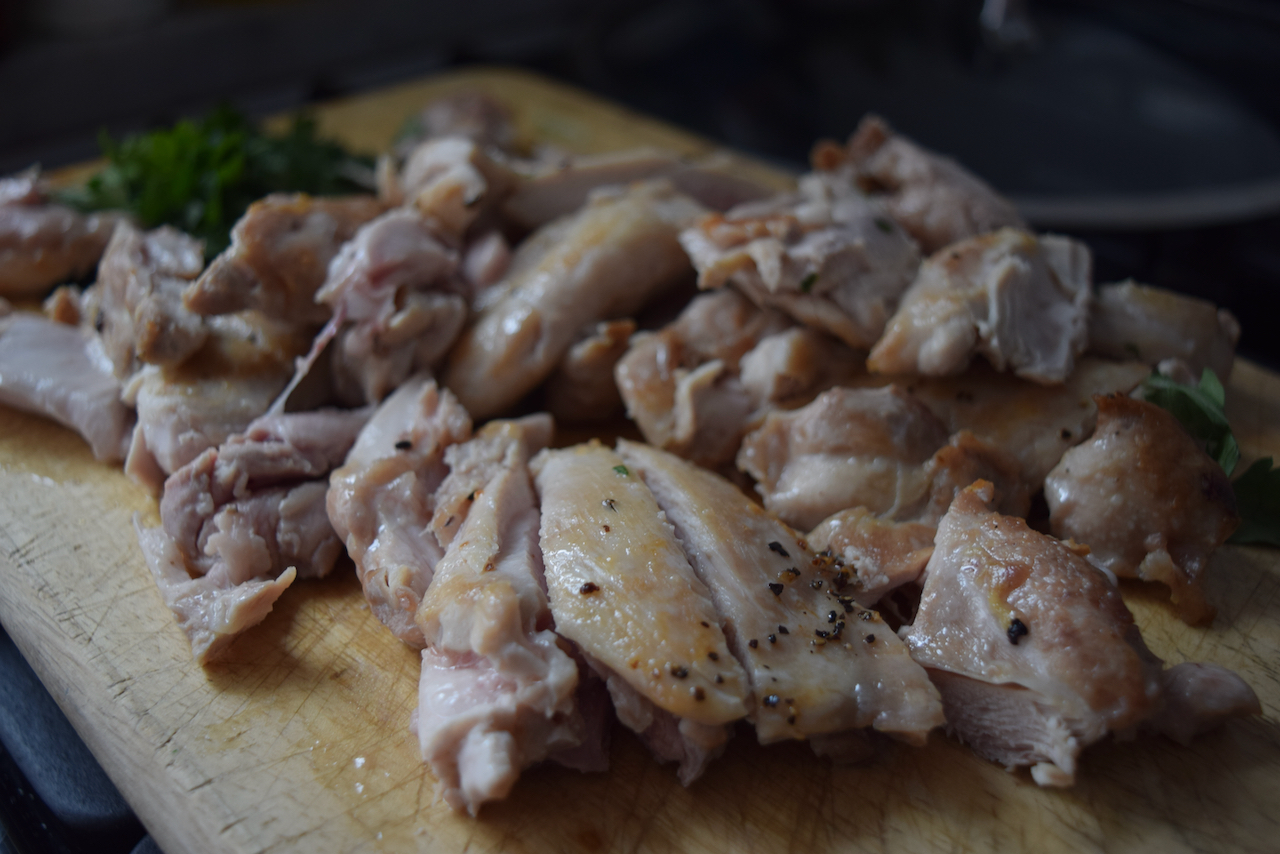 Add the chicken and herbs to the pan, with any juices, then stir in the cream and the Dijon mustard.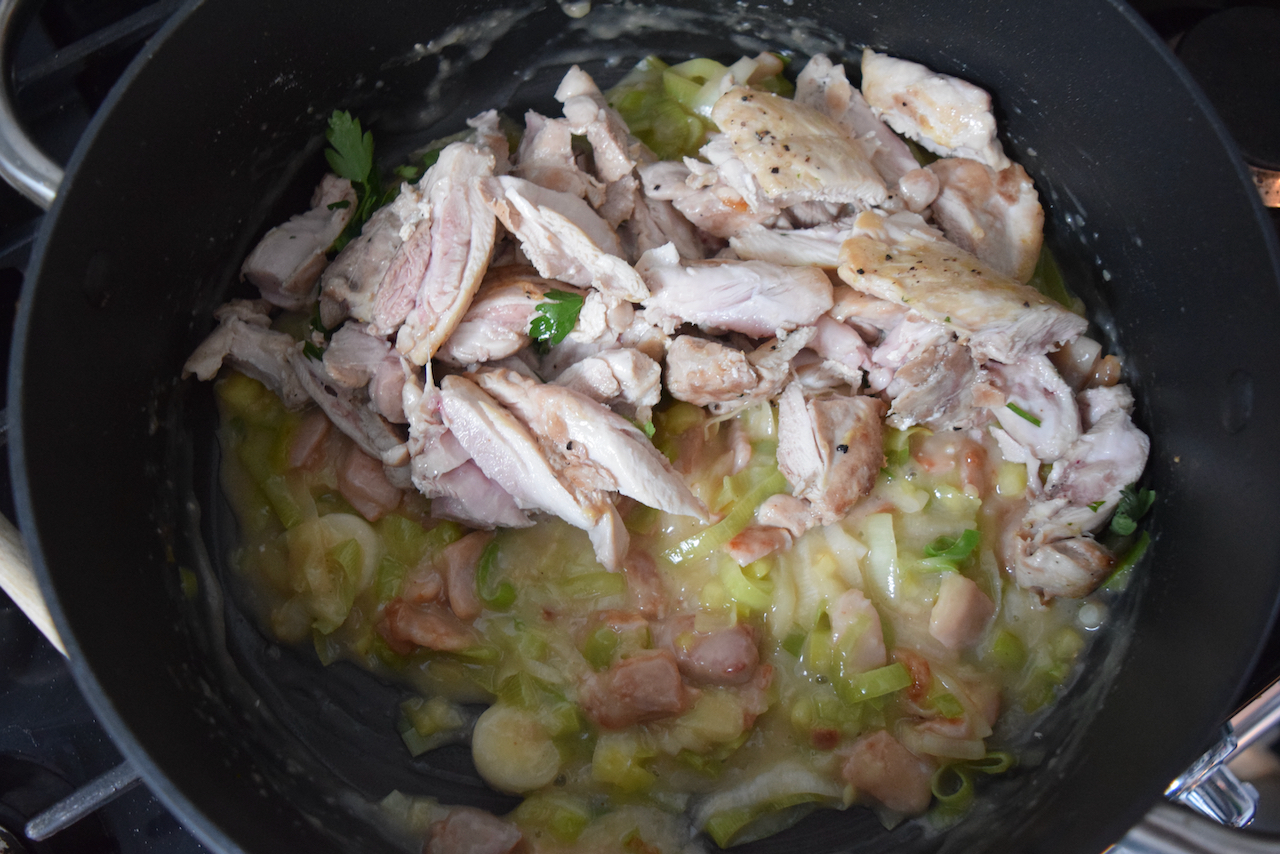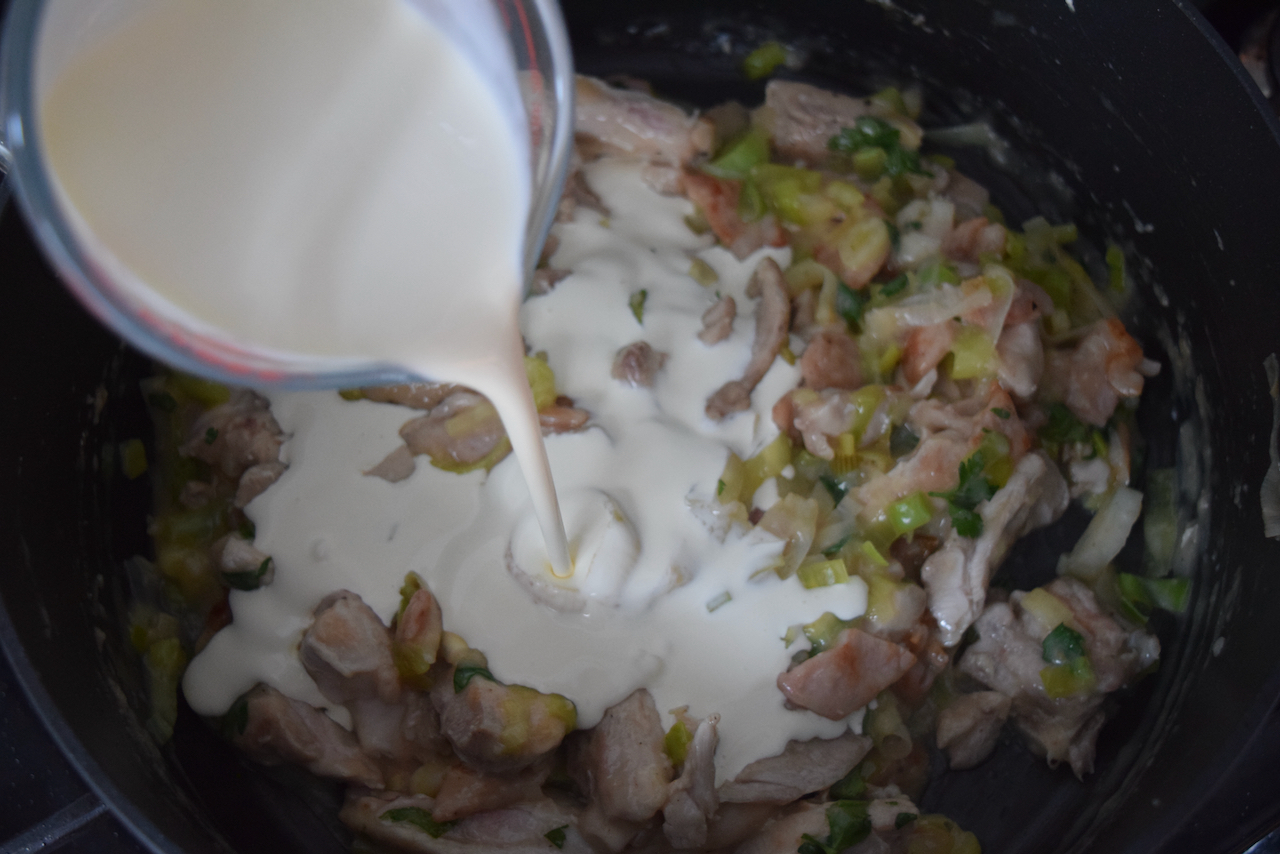 Give the whole lot a good mix and bring up to the simmer. Then turn off and prepare your pastry.
I used a round dish so I gave my bought pastry a bit of a roll with a rolling pin to stretch it out to fit.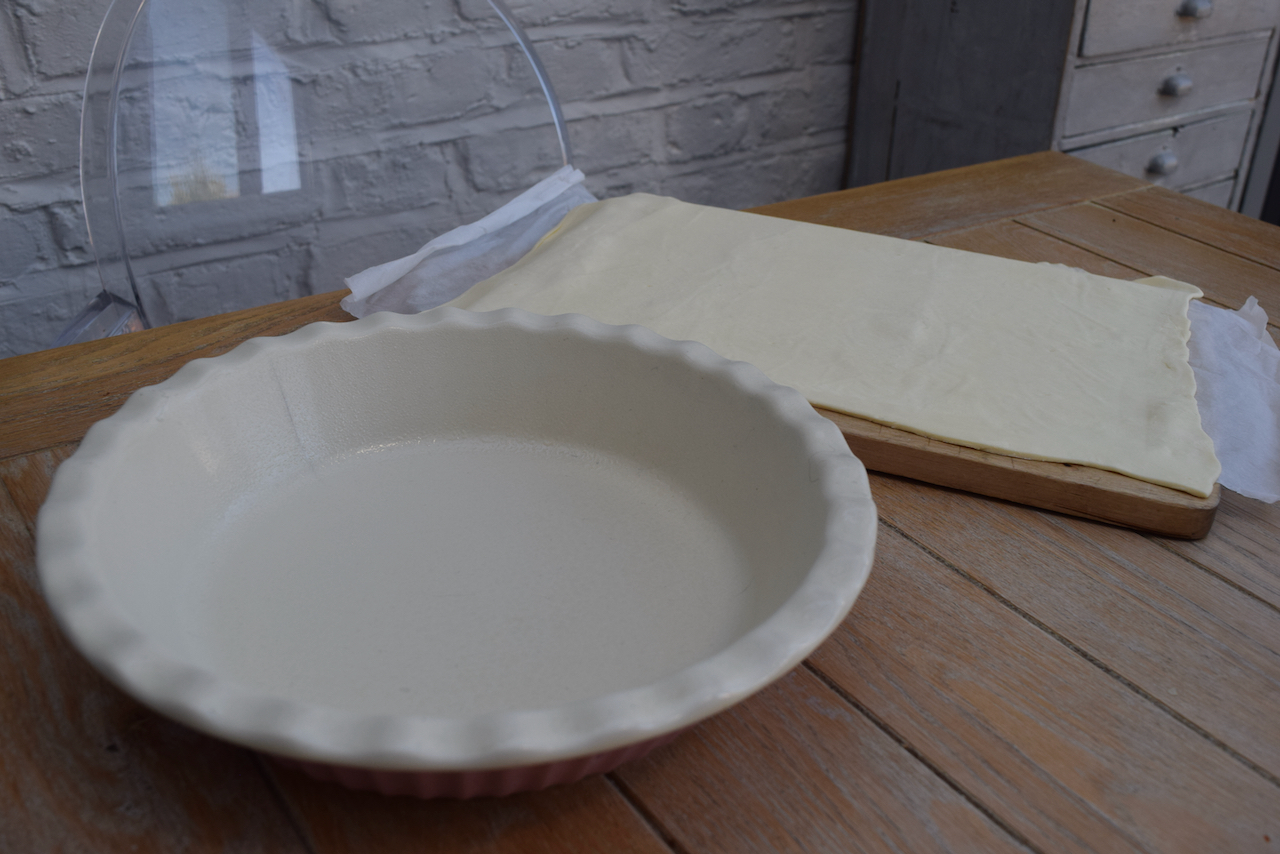 Scrape the filling into the dish and lay the pastry on top of the filling. Trim the excess pastry then crimp the edges.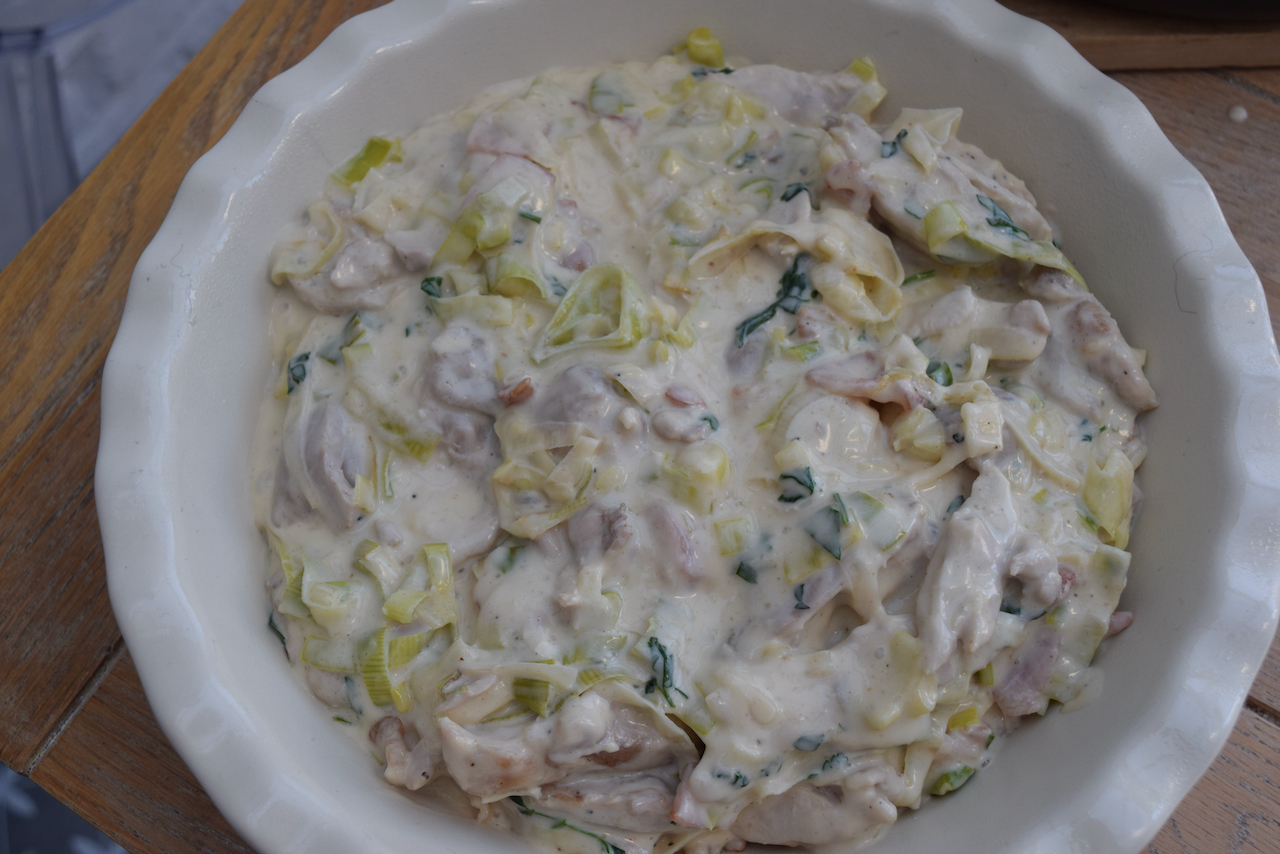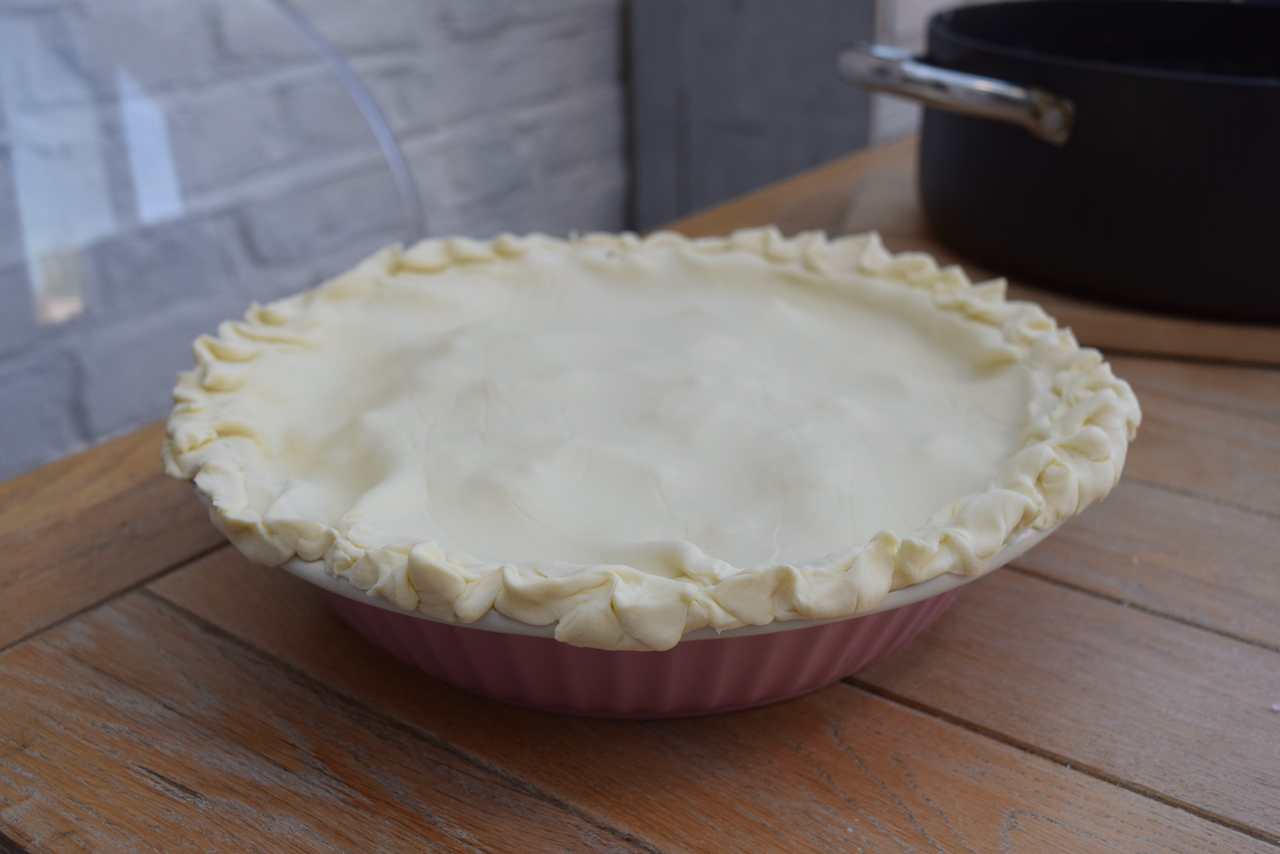 I am quite shit at crimping, but do your best. Cut a couple of slits in the middle of the pie to release the steam then brush with some beaten egg and sprinkle with sesame seeds if that's the way you roll.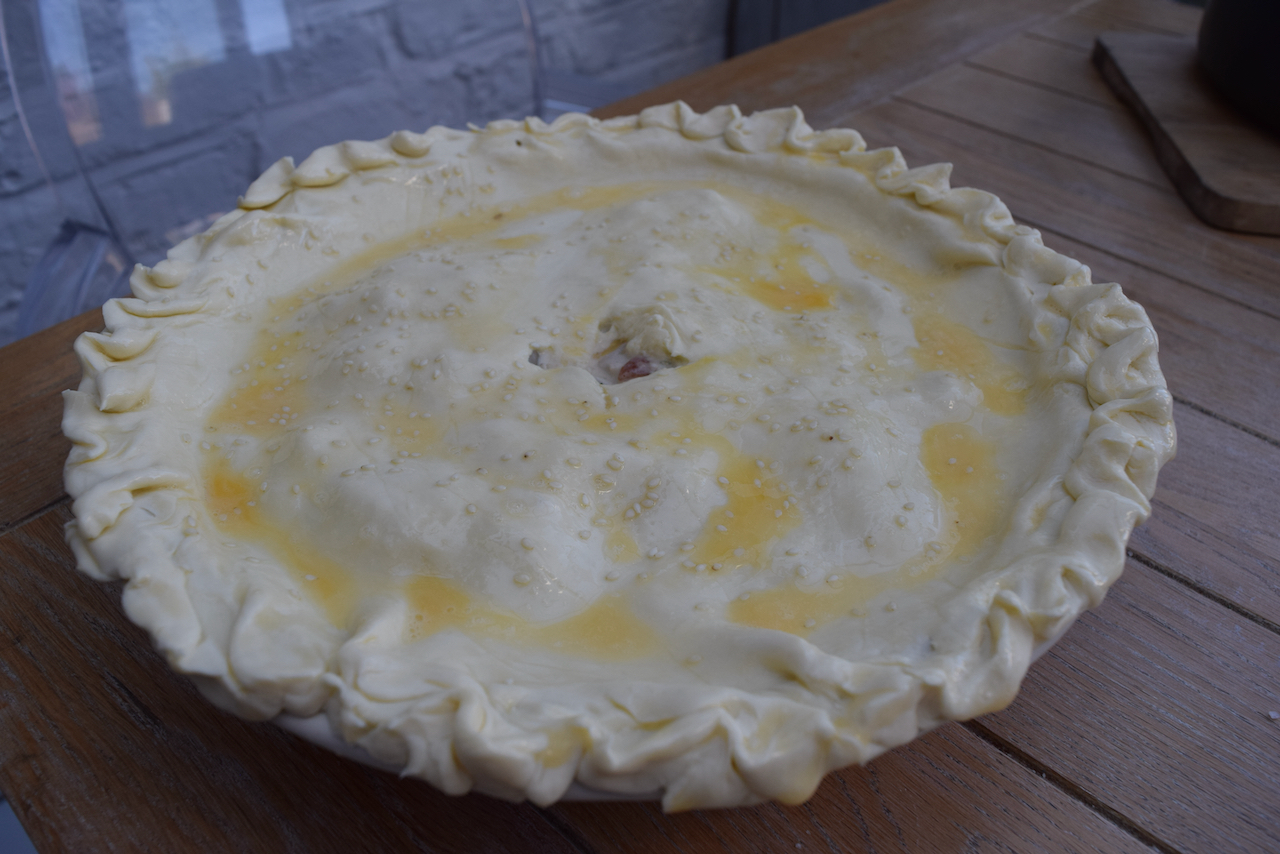 Place the pie on a baking sheet then put into your pre heated oven for around 35 to 40 minutes.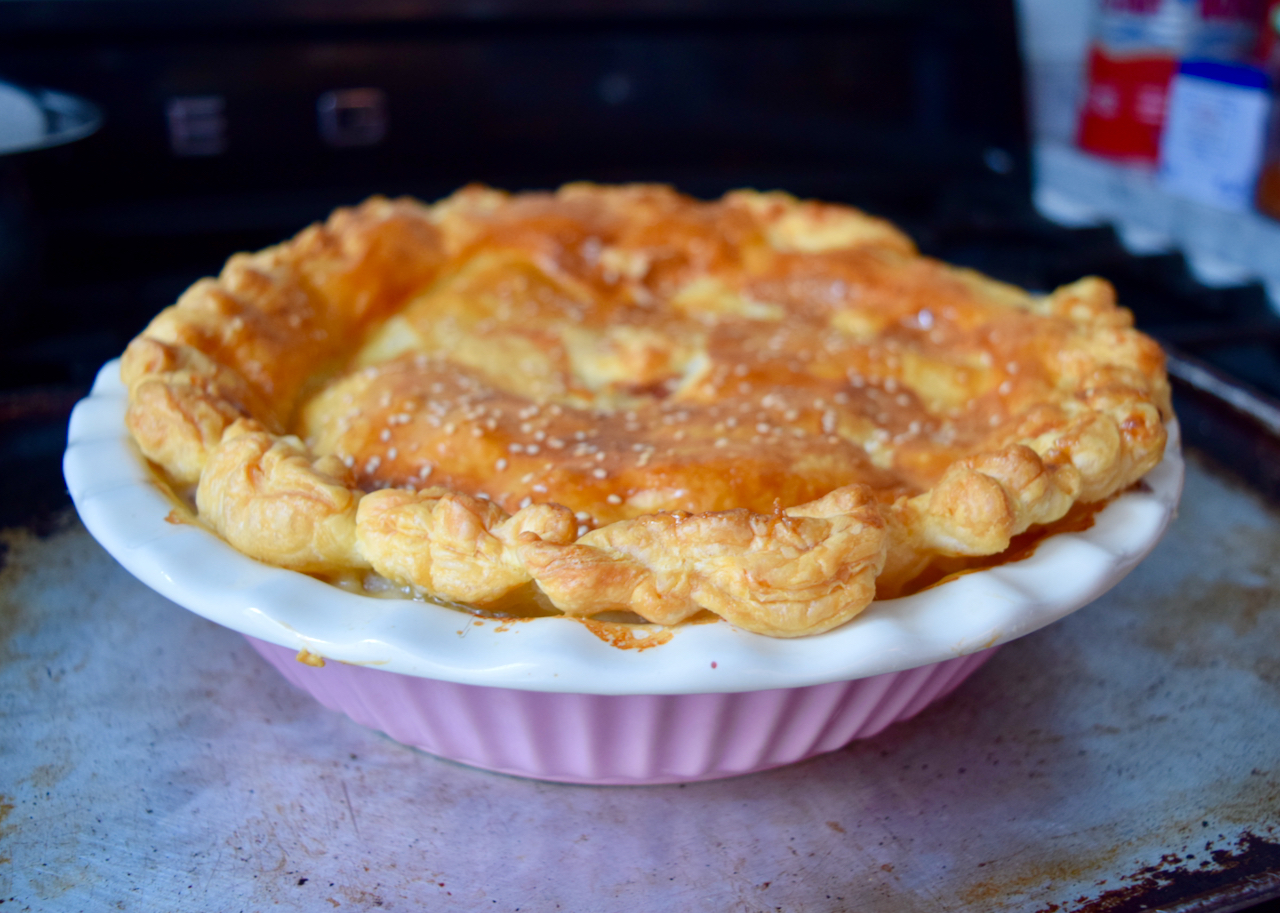 This wholesome offering is ready when it's crisp, golden and bubbling. And smelling simply amazing. Serve in hoofing great big platefuls with mash and peas or some such.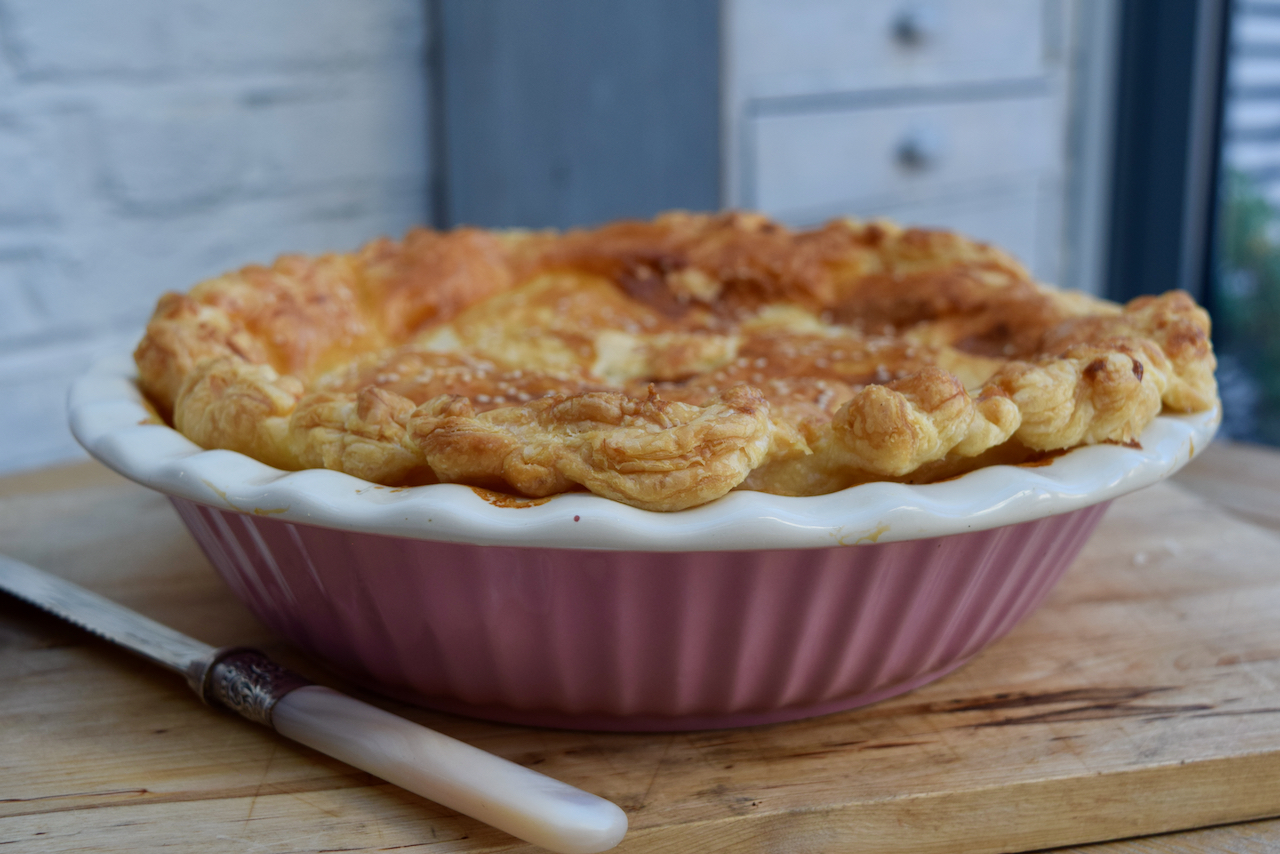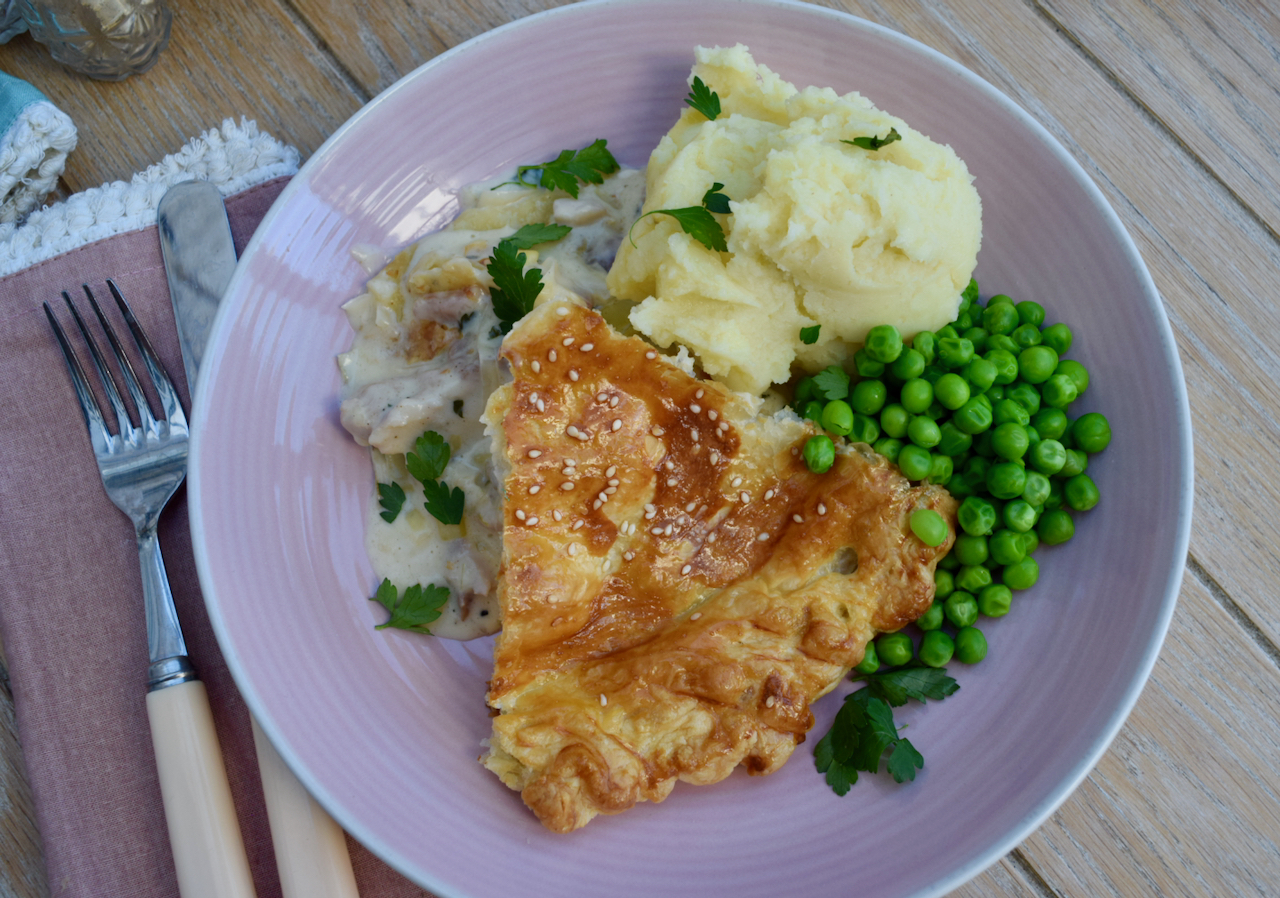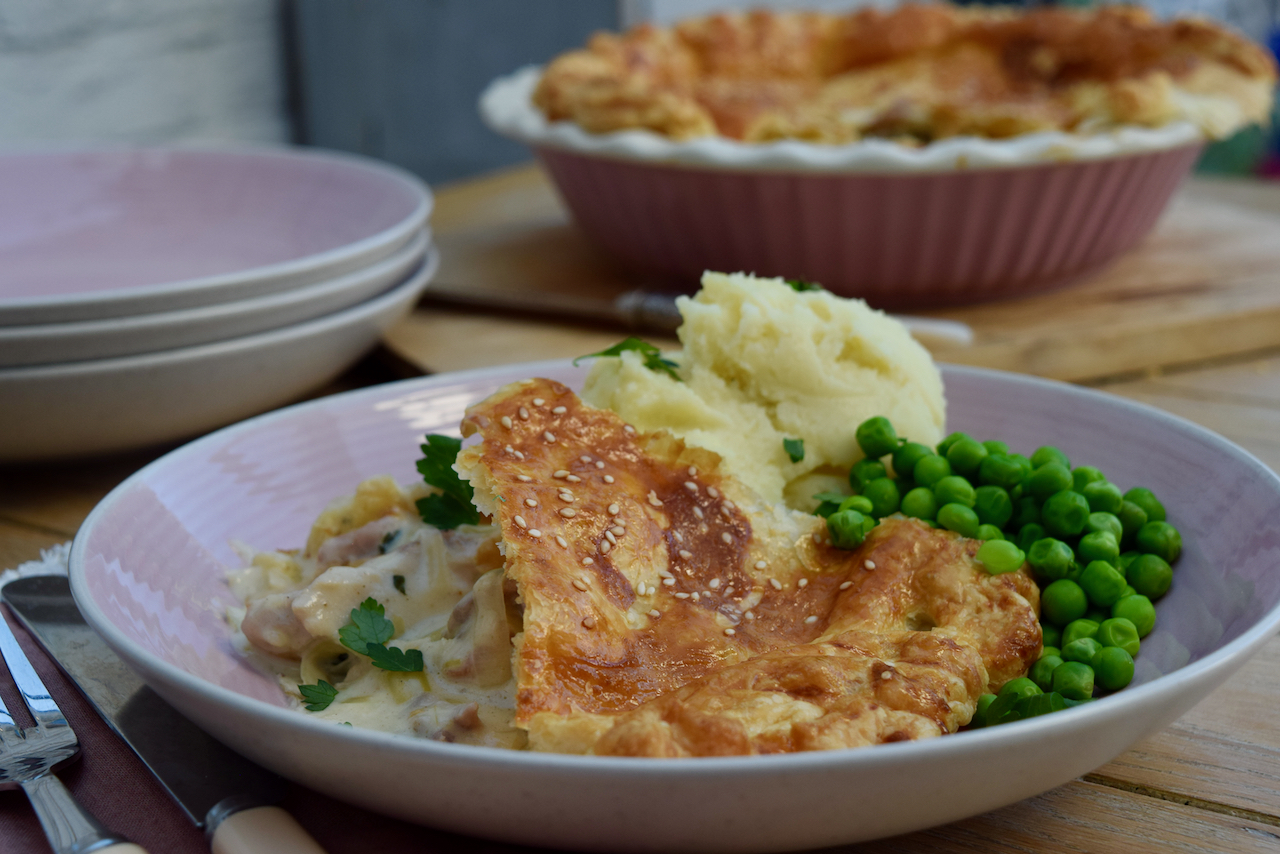 As always, I am finding food and the cooking of it such a comfort and distraction at the moment. I would love nothing more than to cook this pie for my Mum this weekend and to celebrate Easter with her and all the family. But rest assured, when this is all over, I will be spending so much time with her, baking for her and making her cocktails, she'll never miss me again.
Lucy x
Spring Chicken Pie Recipe
You will just need pans and a pie/flan dish for this
Serves 4 to 6, appetite dependent
6 boneless chicken thigh or breasts, around 500g to 600g
2 tablespoons olive oil
100g chopped bacon, smoked, unsmoked, whatever you can get or lardons
2 to 3 leeks, washed and chopped, dependent on their size
3 tablespoons plain flour
100ml white wine, or use extra stock if you'd rather
200ml chicken stock
200ml double cream, or sour cream or creme friache
1 tablespoon dijon mustard
Chopped fresh parsley or tarragon, about 2 tablespoons
Salt and pepper
320g sheet puff pastry, or shortcrust or make your own ricotta pastry
1 egg to glaze
A sprinkling of sesame seeds to decorate, optional
Mash, peas or a carb or green vegetable of your choice
Pre heat your oven to 160 degrees fan assisted and butter your pie or flan dish.
In a large high sided pan, add the olive oil and heat over a high flame. Season the chicken with plenty of salt and pepper then add the chicken to your hot pan and cook for around 3 to 4 minutes on each side. Remove to a plate for the moment.
Turn the heat down slightly then add your chopped bacon and cook for a few minutes or until just crisping. Add the chopped leeks and cook for another 5 minutes. Stir in the 3 tablespoons of flour, cook for around a minute then pour on the white wine, stir, and simmer for a minute until absorbed. Gradually mix in the stock and stir until thickened. Add the cream and Dijon, stir again.
Slice up the chicken, don't worry if it's not cooked through as it will cook in the pie later, then add this to the sauce with any juices and with the freshly chopped parsley or tarragon. Taste to check for seasoning needs.
Unwrap and then give the pastry a bit of a roll out so it fits on top of your pie dish. Scrape the chicken filling into the pie dish then top with your pastry. Trim off any excess then crimp the edges to seal.
Beat the egg and use it to brush the top of your pie. Sprinkle with the sesame seeds if using then put the pie onto a baking tray and bake for around 35 to 40 minutes or until golden, crisp and bubbling.
Serve piping hot with some mash and peas, if you like.