Caramel Rum Hot Chocolate Recipe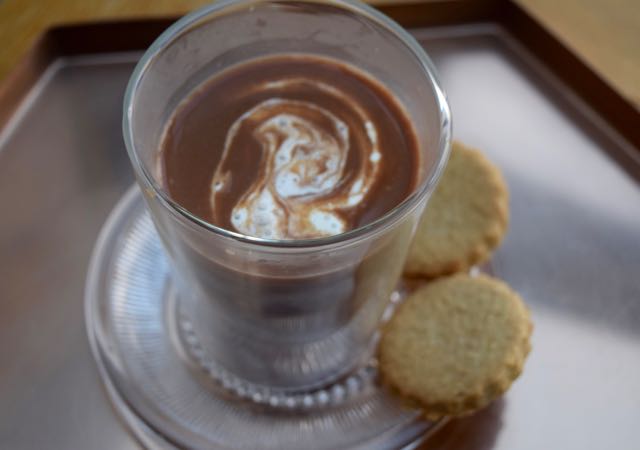 Winter's here and it's time for hot boozy beverages. Cocktail Friday's from here on in are all about the warming flavours and something snuggy to hold in your hands. Be they laced with rum, brandy or even red wine *this is one I am super keen to try asap* hot drinks are amazingly comforting. Many a Sunday after a punishing stint on the football touch line I have made mugfuls of hot chocolate for the boys and I, sans booze on the Lord's day, of course, to defrost our hands and to melt our frozen toes. This Caramel Rum Hot Chocolate has the same warming effect, but with so much added flavour and a lovely kick.
It's Bonfire Night weekend which means standing out in the cold at school or local fireworks displays for hours on end. I love fireworks but they drive the dog mad and he will be a shaking mess for at least the next week. George's school display means a delicious burger and at least two mulled wines, but on our return we will have definitely earned a night cap. And this Caramel Rum Hot Chocolate is the night cap for me. It's a wonderful blend of dulce de leche, rum, spiced or not, with milk chocolate and just a touch of salt. I love my smoked sea salt but a pinch of anything salty is so good with this. This hand and heart warming recipe came to me via the BBC Good Food website, with huge thanks to them.
It's been a long week with a quite a few early starts for me, so whether I make it beyond 9pm this Friday is yet to be seen. Either way, at least I'll have my night cap ready and waiting for me. If I make the slug of rum a little bigger, my Rum Caramel Hot Chocolate will certainly ensure a good nights sleep.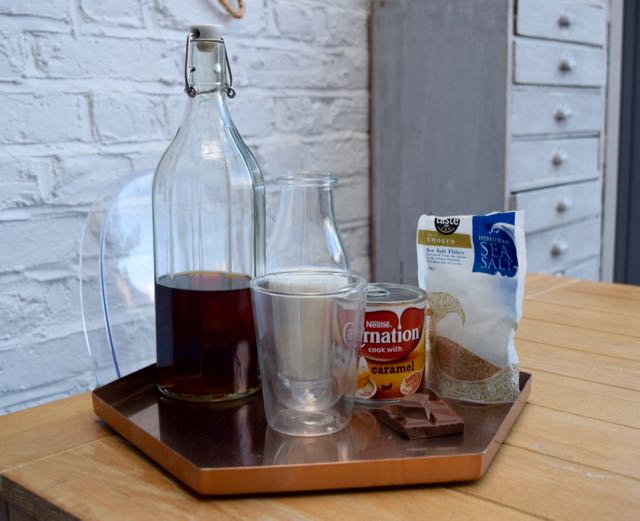 Nothing bad comes from this little collection of goodies. I used my Homemade Spiced Rum for a touch of added flavour and because I was showing off. Feel free to use whatever rum you have to hand.
Take a small bowl or jug and measure in the large shot of rum and the two teaspoons of dulce de leche and give them a good mix until sort of smooth.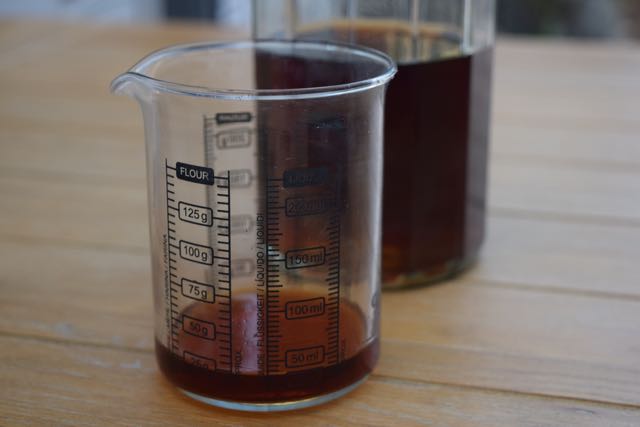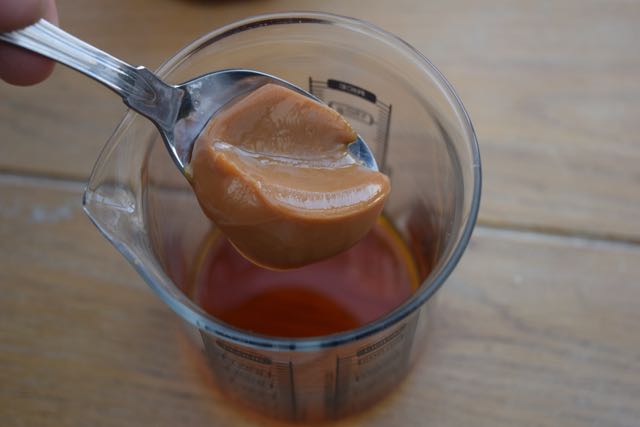 In a small pan or jug measure out the milk and heat on the stove or in the microwave and heat until almost boiling.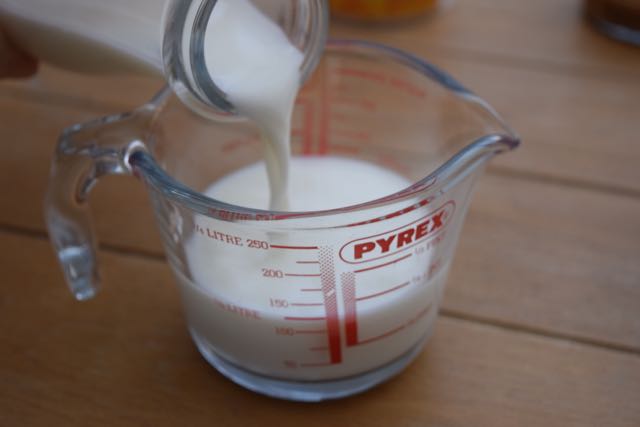 Add the milk chocolate to the hot milk and stir until smooth, melted and chocolatey.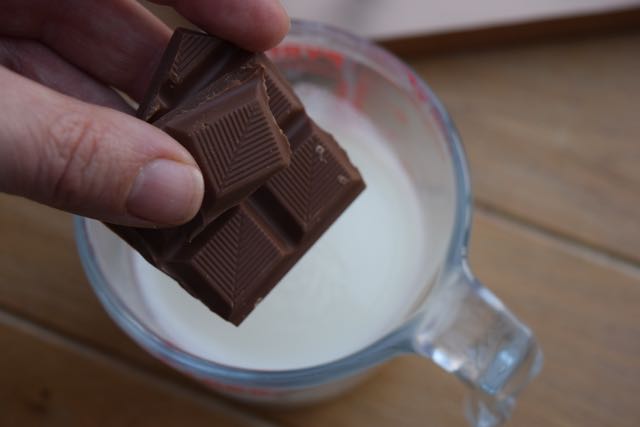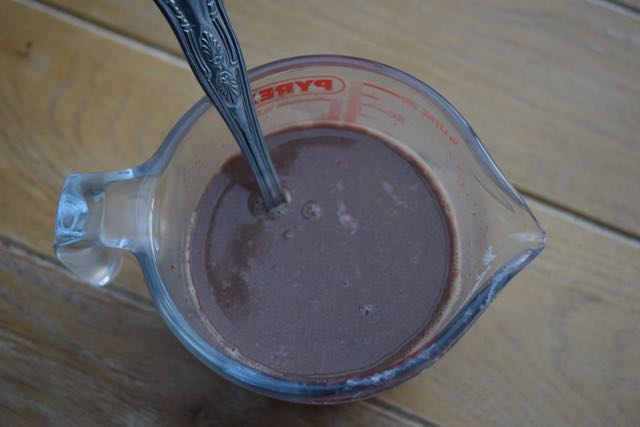 Pour in the rum/caramel combo and stir well. If this cools the mixture down too much, pop it back in the pan or microwave for a minute to bring back up to temperature.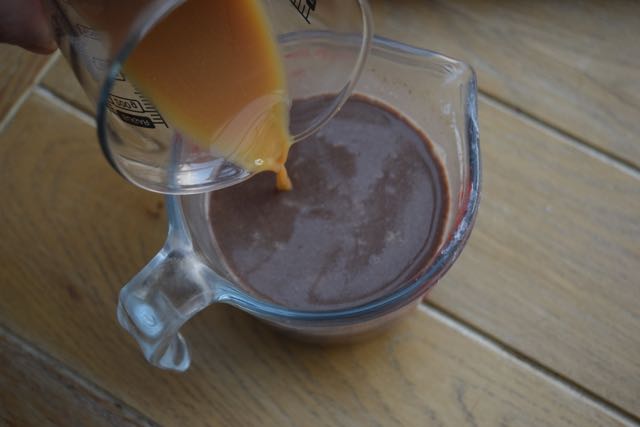 Pour this into a lovely heat proof glass and sprinkle with some sea salt. I had some smoked sea salt and it worked brilliantly. Next, drizzle a teaspoon or two of double cream onto the top of the drink and swirl using a spoon.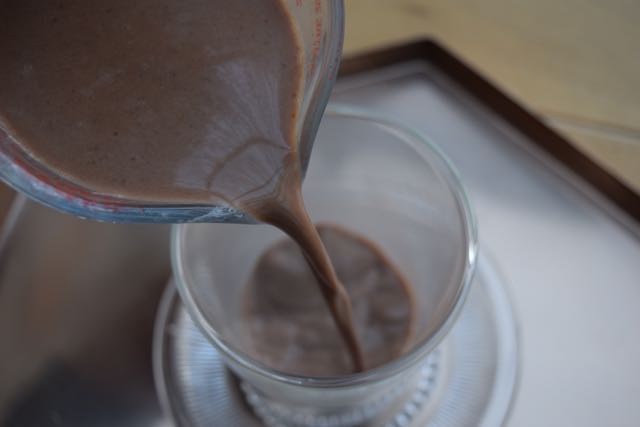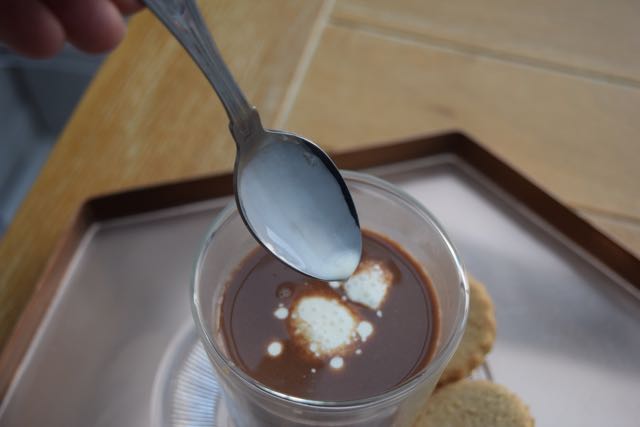 Sip this divine little Caramel Rum Hot Chocolate, because if you swig it, you'll burn your mouth.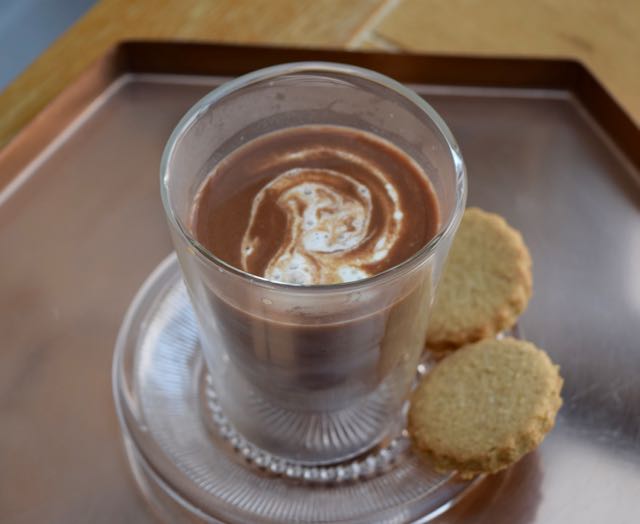 I went for biscuits with this rather than nuts today, but it's your call.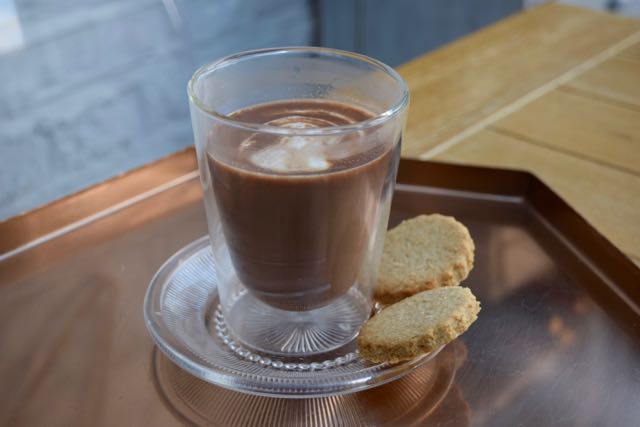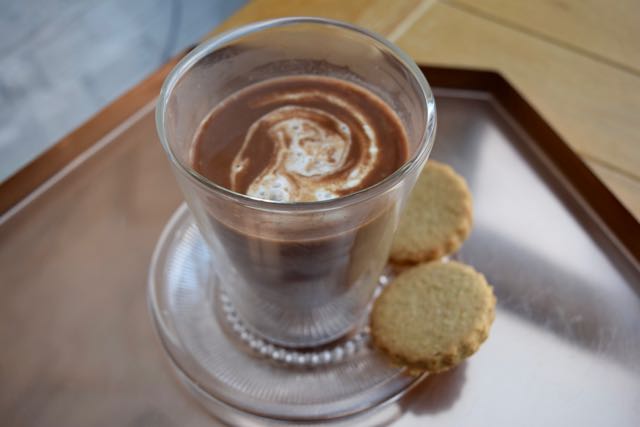 This has become my Lumumba for 2017. Hot chocolate with brandy was my first love, but this Caramel Rum Hot Chocolate is a new flame and I have really fallen for it.
If you are off to stand in the freezing cold and ooh and aah over fireworks this weekend, whip up a batch of my Caramel Rum Hot Chocolate for your return. And, if there are under 18's, this would probably be just as tasty without the rum. At a push.
Lucy x
Caramel Rum Hot Chocolate Recipe
Serves 1
You will need a jug and a heat proof glass
40ml rum, I used my homemade spiced rum
2 teaspoons dulce de leche or caramel sauce
150ml milk
40g milk chocolate
a good pinch sea salt or smoked sea salt
An optional teaspoon or so double cream for swirling
Take a measuring cup or jug and spoon in the caramel and rum then mix together until smooth-ish.
In a jug, measure out the milk and either microwave or heat in a pan until it's just reaching boiling point. Add the milk chocolate and stir until it's melted into the milk and is smooth.
Pour in the rum and caramel mixture and stir well until blended. Reheat slightly at this point if your drink has cooled down. Pour into your heat proof glass and sprinkle the top with some sea or smoked sea salt. Drizzle in the double cream and swirl for decoration. Sip and adore.
SaveSave
SaveSave