White Chocolate Cheesecake Recipe
Can I just talk to you about how food blogging becomes torture when you are on a diet. Today has been a particularly arduous day for me and my thighs.  I decided to make this more than divine White Chocolate Cheesecake to share with you to enjoy over Easter. Sadly, it's creation coincided with my first week of another trip down the Weight Watchers route. My usual cooking style involves plenty of bowl and spoon licking and then more than ample sampling of the final product. Not today, however and I do feel particularly aggrieved. This White Chocolate Cheesecake, created by the gorgeous Nigella, and now by the not so gorgeous me, is despite my not huge love of white chocolate, bloody bloody delicious.
There's no baking involved, just some crushing, beating and whipping to create a crisp ginger based chilled creamy creation. The only unbaked cheesecake I have ever made was a rather 70's, but nonetheless tasty, creation of my Mother's using lots of lemon and orange and some cottage cheese. This White Chocolate Cheesecake is quite a different animal, however. This is creamy, light, not overly sweet, with just a hint of vanilla and lemon juice. I went completely overboard by decorating mine with one or two chocolates from an elegant box sent to me by Aldi, but mainly because it's Easter. Some poached fruit would also be divine with this cheesecake. Plums, cherries, peaches or some compote from a jar, all these things would compliment the white chocolate as beautifully as the box of chocolates.
I treated myself to a tiny sliver of this White Chocolate Cheesecake and allowed 8 Weight Watchers points for it. Based on nothing really scientific, other than my own guilt. It was so worth the points, and actually, I didn't even feel a whiff of guilt.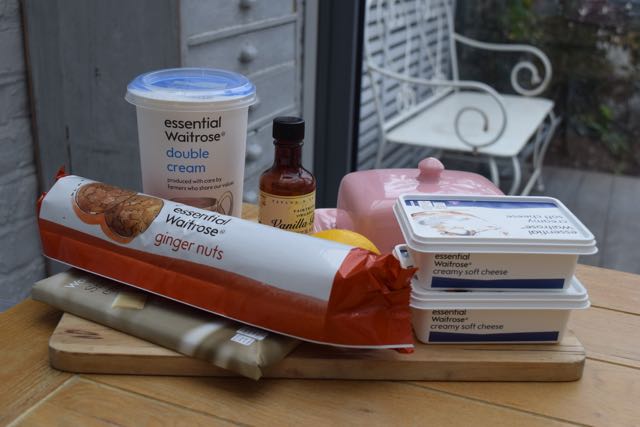 What a mouthwatering line up for this chilled cheesecake. Other than the cottage cheese affair my Mother used to make in the 70's, this is my first foray into the world of a non-baked cheesecake. And what a lovely foray it was too.
Make a start by taking your 8 inch loose bottomed tin or a flan dish and thoroughly oil or butter it. Next, either in a food processor or in a strong food bag crush the ginger nuts to a sort of dusty rubble. Pour in the melted butter.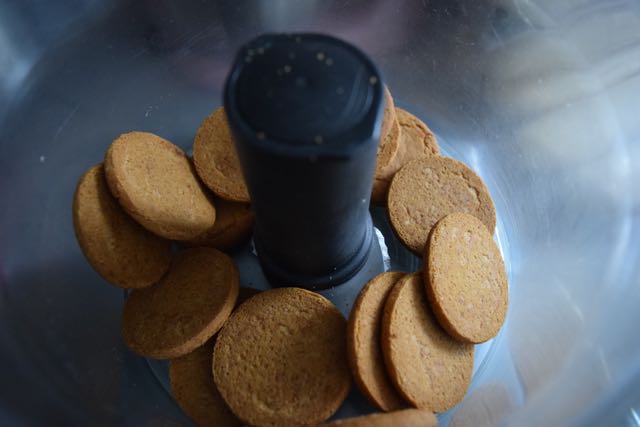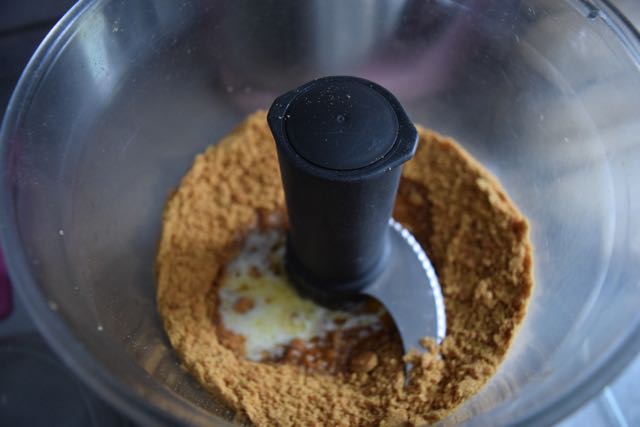 Process again until the crumbs are like wet sand.
Tip the sandy crumbs into your buttered tin then press up the sides and into a level layer along the bottom. I used a cup measure to flatten the base and it worked really well.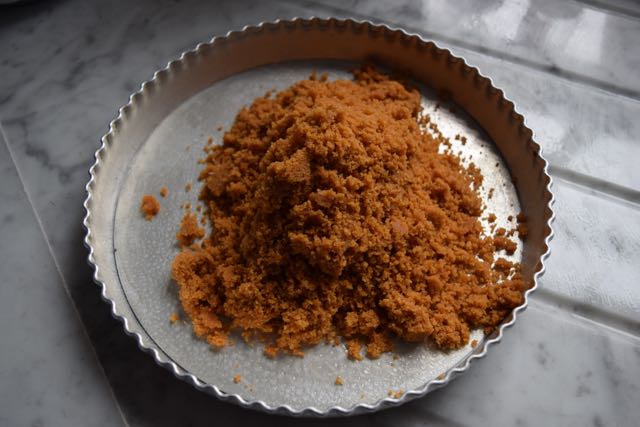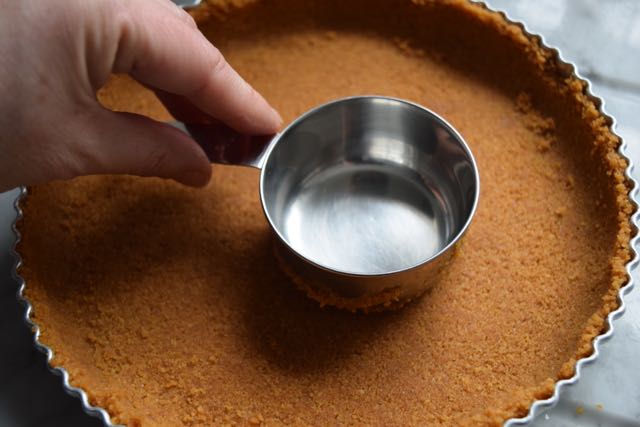 Put the base into the fridge and chill while you get on with the filling. Make a start on this by melting the white chocolate. You can do this either in the microwave or in a bowl over a pan of simmering water. Take it off the heat before it is fully melted, stir together then and allow it cool while you crack on with the cream cheese.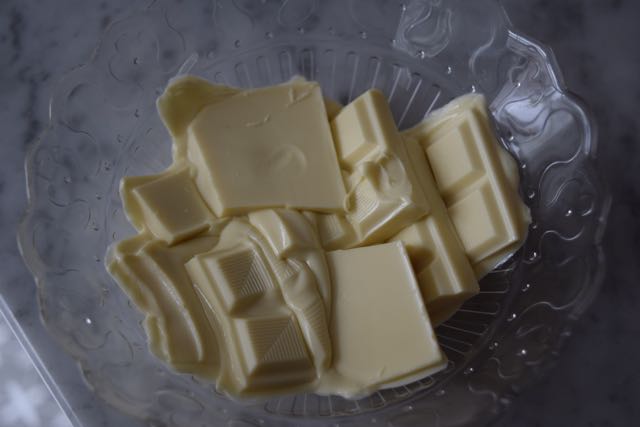 Beat the cheese with a spoon or spatula until it's creamy and smooth. Then, carefully fold in the cooled white chocolate.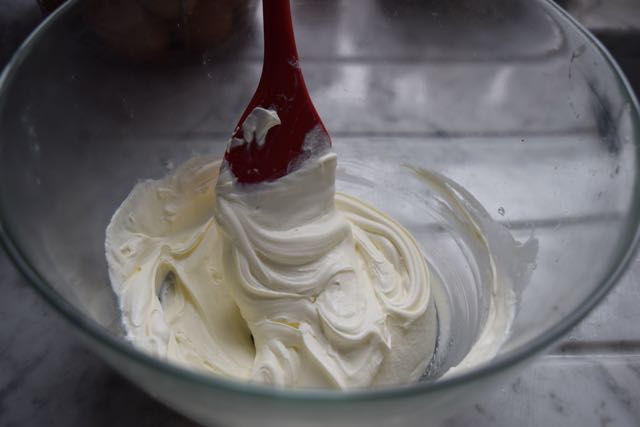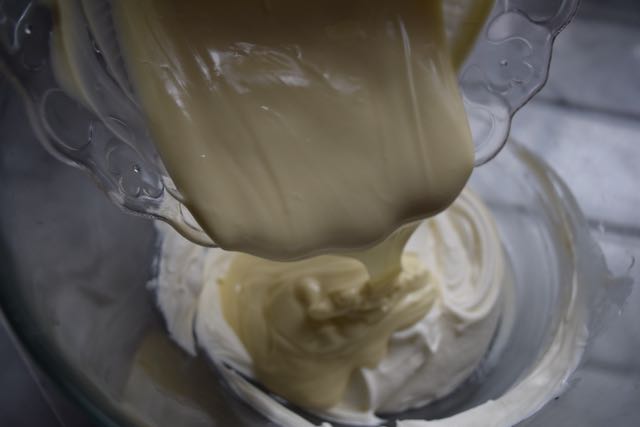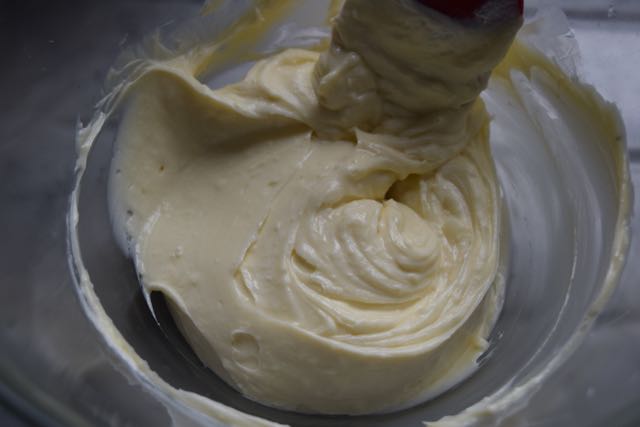 Take your cream and whip to soft peaks. Don't over whip here, you just want it to be floppy. Fold the whipped cream into the white choc and cheese mixture. Do it in 2 or 3 goes, don't tip it all in at once.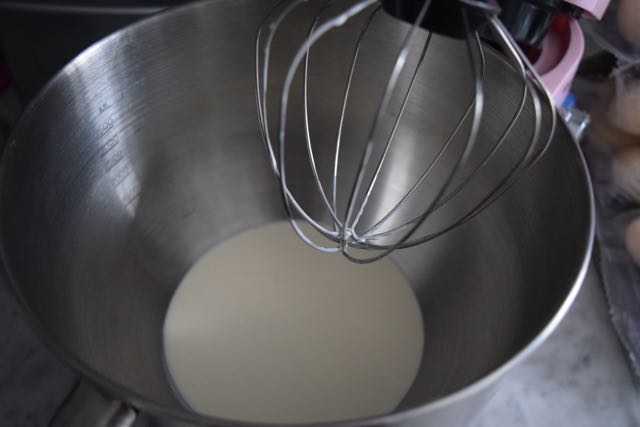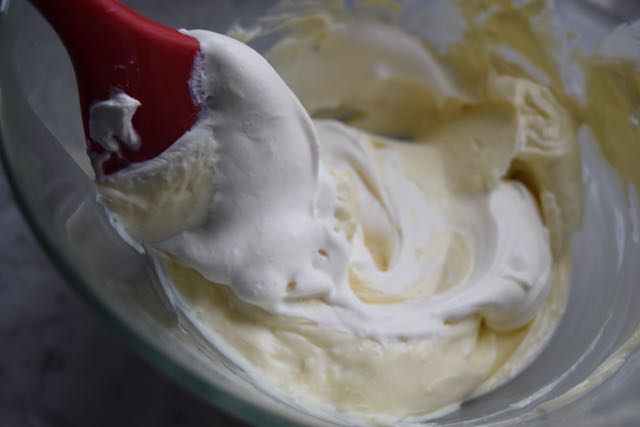 Finally add the teaspoon of vanilla and the teaspoon of lemon juice, fold in then scrape the filling into the chilled cheesecake base.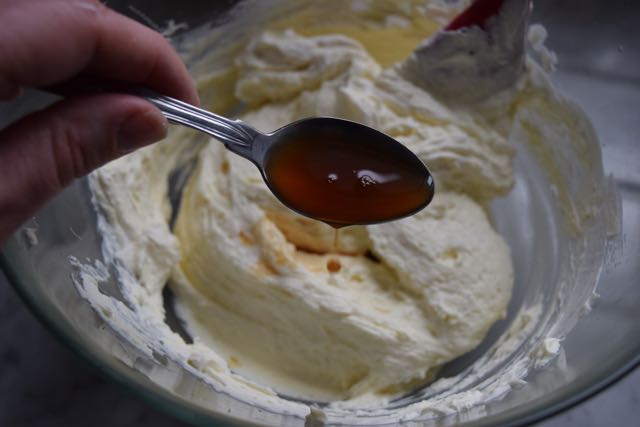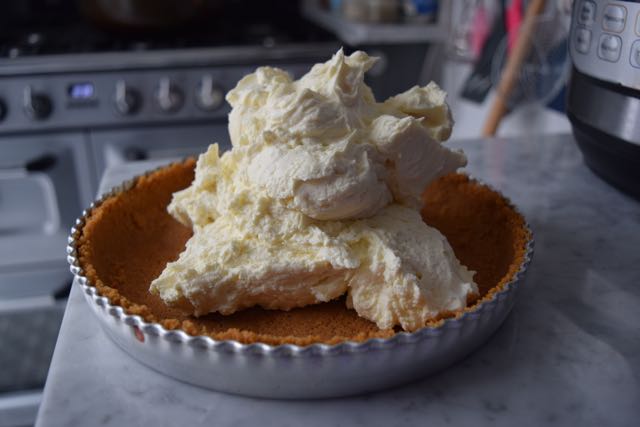 Smooth the top with a palette knife, fashioning a lovely level surface.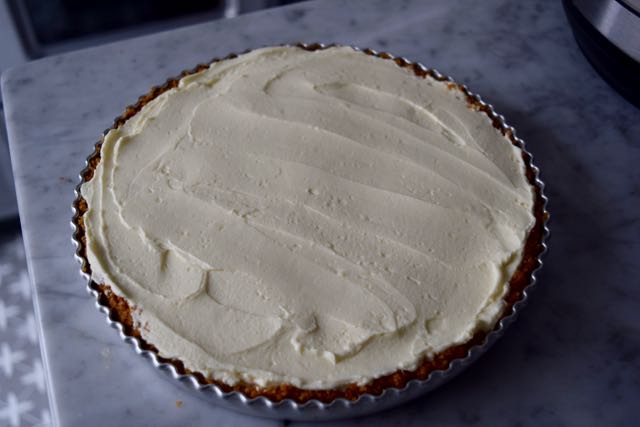 Pop this absolute darling of a dessert into the fridge to chill completely. Overnight is best, but as usual, I was balls to the wall time wise and it was all good after 4 hours.
Decorate the cheesecake according to your own tastes. As it's Easter, my friends at Aldi had sent me a beautiful selection of chocolates, so I decided to decorate mine with these. At other, non chocolate based celebrations, you could try fruit or nuts to decorate.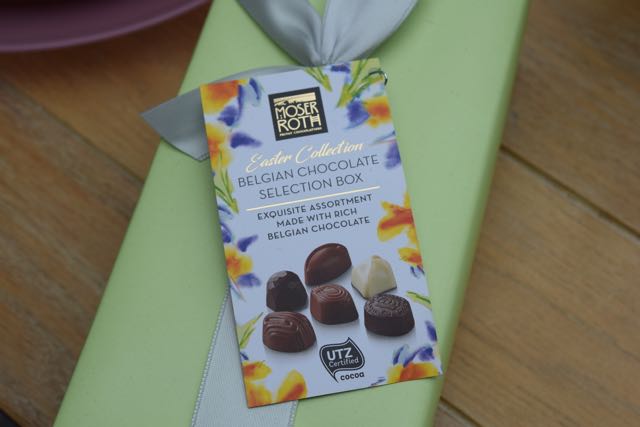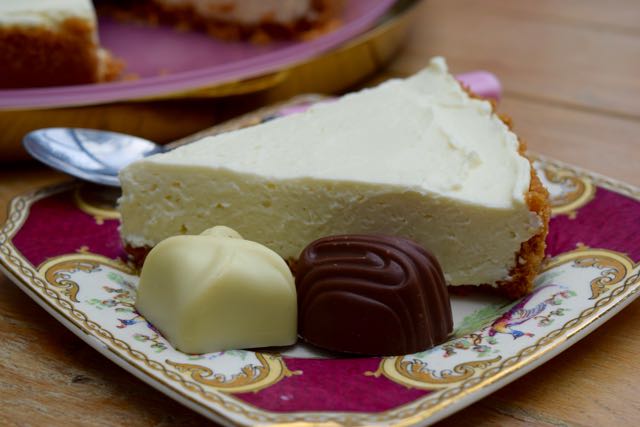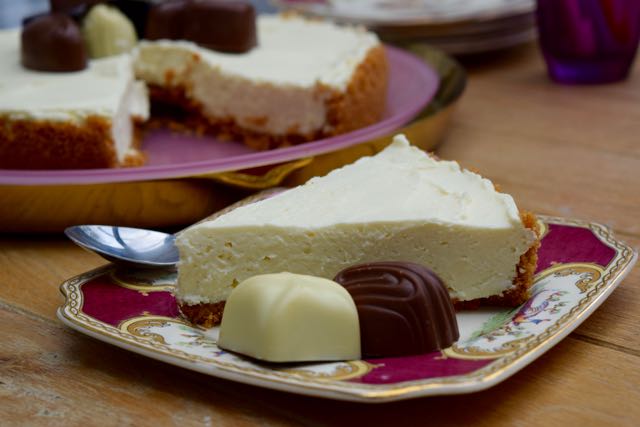 I am not even a huge fan of white chocolate, but this Cheesecake has all it's smoothness and creaminess without any of the cloying sweetness. Add in the ginger biscuit base and this is such a flavour laden, totally winning combination.
Have a restful Easter, with plenty of reflection, oh  and chocolate.
Lots of love
Lucy x
White Chocolate Cheesecake Recipe
Serves 8, or less people if they're white chocolate fans
You will need an 8 inch springform tin or flan dish
Filling
200g white chocolate, chopped
300g cream cheese, I used full fat
300ml double cream, lightly whipped
1 teaspoon vanilla extract
1 teaspoon lemon juice
Base
175g ginger nut biscuits, crushed
50g butter, melted
Butter or spray your 8 inch springform tin or flan dish then pop to one side.
Crush your ginger nuts in a food processor or in a sealed bag with a rolling pin. Pour in the melted butter and mix until you create a sort of biscuit wet sand. Tip into your lined tin and press up the sides and in an even layer over the bottom of the tin. I used a measuring cup to ensure mine was even-ish. Put in the fridge to chill while you make the filling.
Take a small bowl and add the white chocolate, then either in the microwave or over a pan of simmering water melt until just starting to meld together. Leave to one side to cool for around 20 minutes.
In another bowl beat the cream cheese until softened and creamy then fold in the cooled melted chocolate until just blended. Softly whip the double cream until it's just holding loose peaks. Now, fold the cream into the cheese and chocolate mixture, in three goes. Don't over mix, just fold together. Tip into the chilled biscuit base and smooth the top until level using a palette knife.
Chill for at least 4 hours or overnight. Serve in large slices decorated with fruit, chocolates, chopped nuts, it's up to you. Leftovers will keep for a couple of days, well covered, in the fridge.
SaveSave
SaveSave