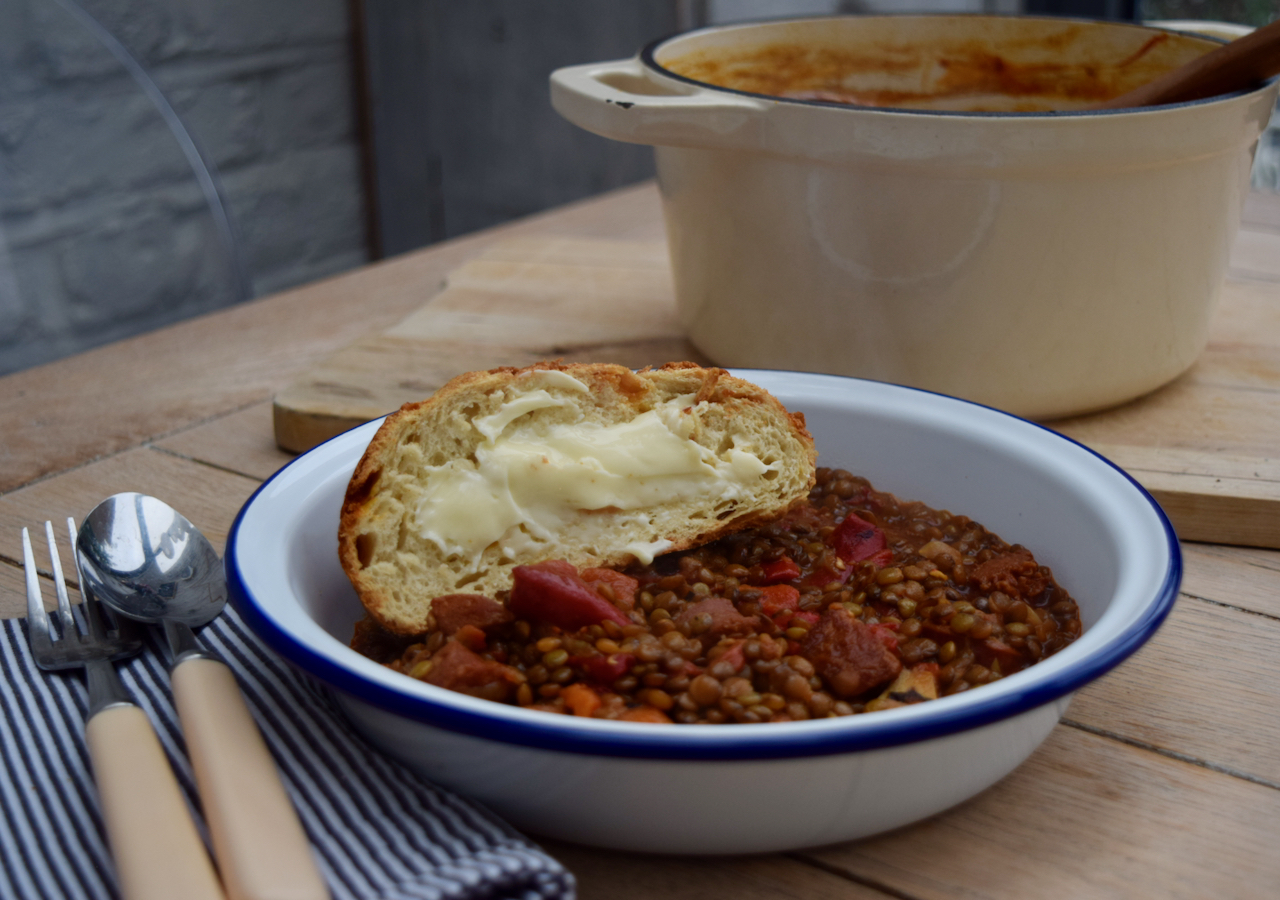 One Pot Lentils with Chorizo recipe
February seems to have lasted nearly as long as bloody January. I'm always fooled into thinking it's a short month which flies by, but sadly we have another grey, windy and skint week to go. Luckily, I'm on hand with a frugal but tempting, piping hot bowl of One Pot Lentils with Chorizo.
Frugal and one pot are 3 of my favourite words. Having been on holiday in January, February has a been a very tight month financially plus I loath washing up, so this lentil dish is an end of the month win. It does feature a whole ring of Chorizo, but mine was on offer, as were the jarred red peppers. These are so much less of a kerfuffle than grilling and peeling your own and work out at less than 70p per head. The resulting one pot dish is rich, filling and so flavoursome. Thank you to the always amazing Mob Kitchen for the inspiration.
This dish generously serves 4 people unless you have a Ben sized appetite in your house. He ate the whole lot in two sittings, which means I'll have to make it again this week; and I'll be hiding it.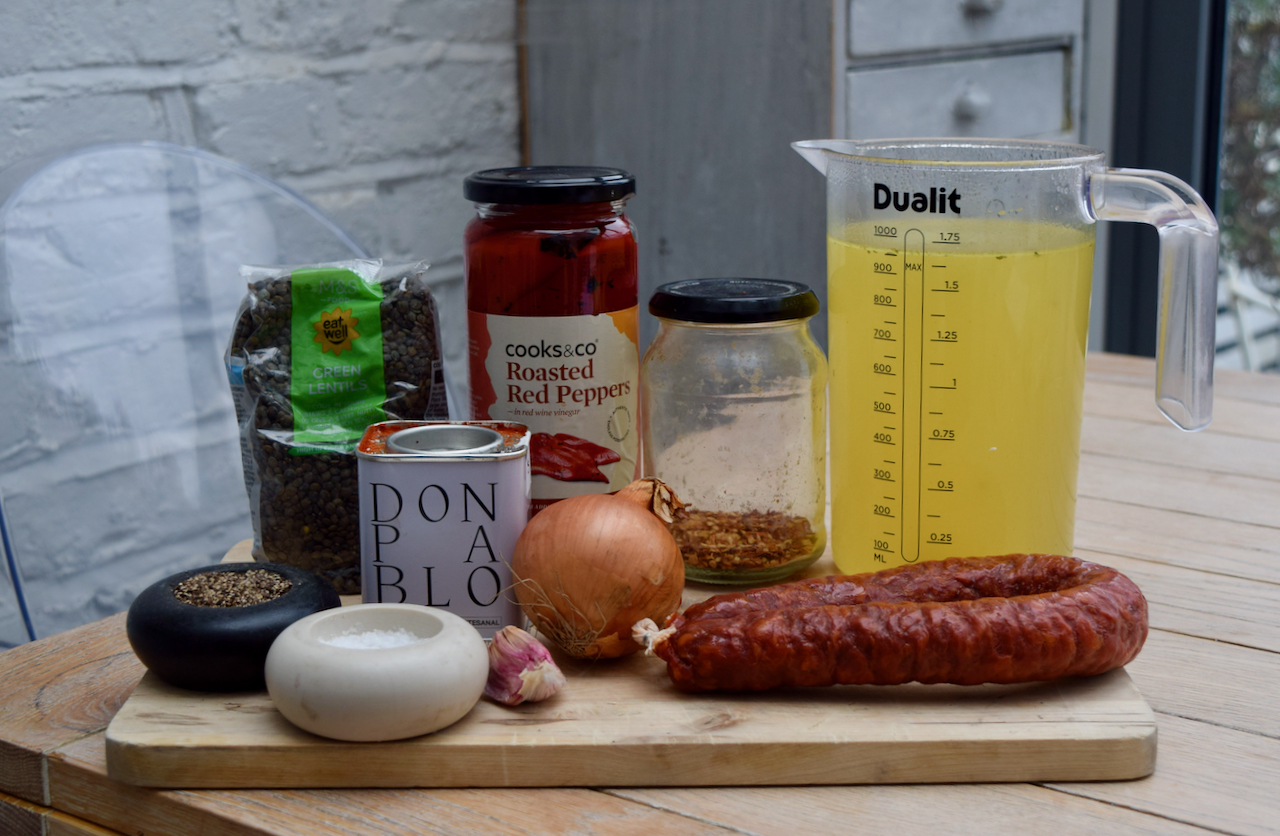 Not only is this recipe frugal, it's also pretty store cupboardy too; most of these things reside in my fridge/disorganised cupboards most of the time. I didn't have a single sprig of rosemary in my sad pot in the garden, so you'll have to imagine there's two sprigs on the board.
Make a start on this by chopping your chorizo and heating a heavy bottomed pan over a medium high heat. Once it's good and hot, tip in the chorizo and cook for a couple of minutes until it's just starting to brown.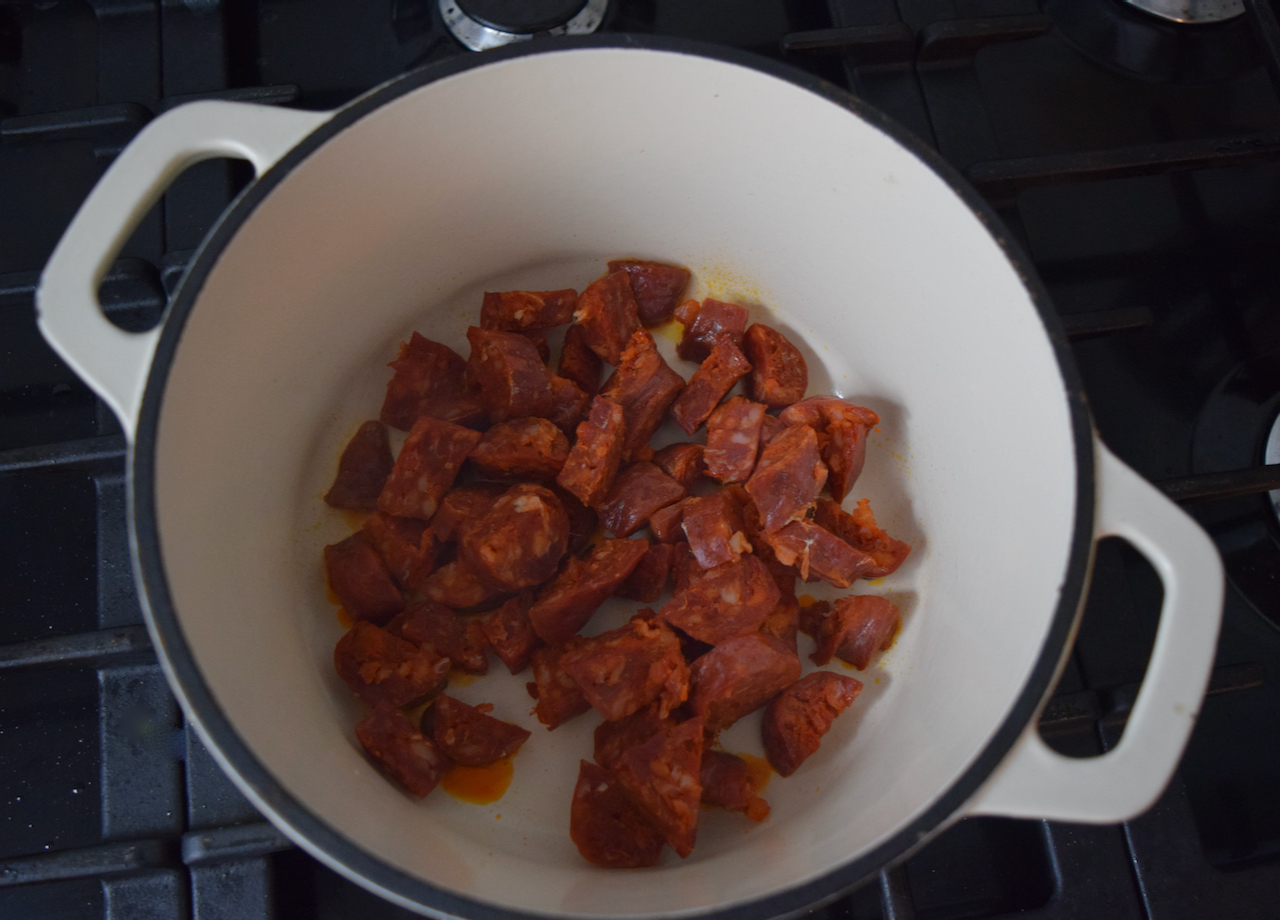 Next, add the sliced onions, turn down the heat and cook for around 5 minutes until the onions have softened.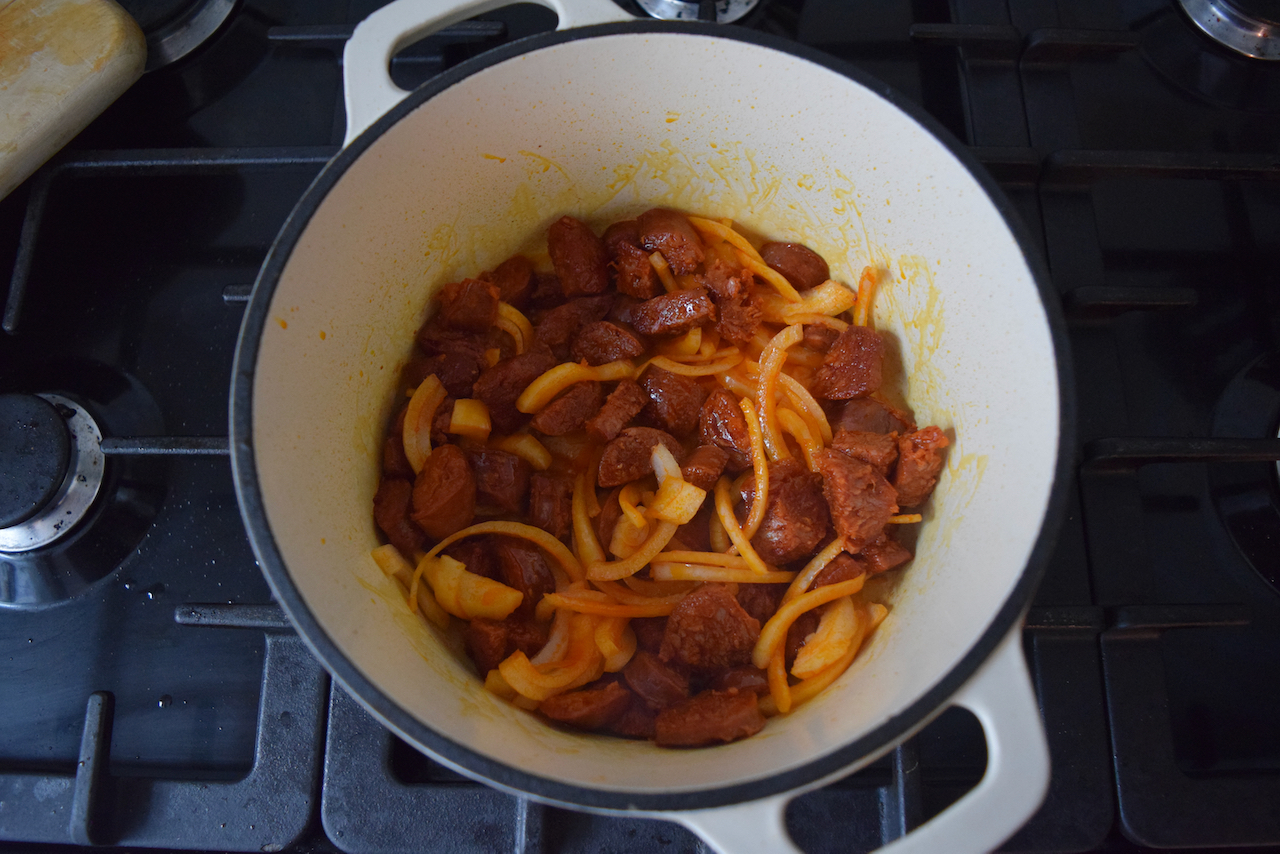 Now it's time for the jarred, sliced peppers, garlic, rosemary, chilli flakes and smoked paprika to join the pot. Stir and cook for a minute.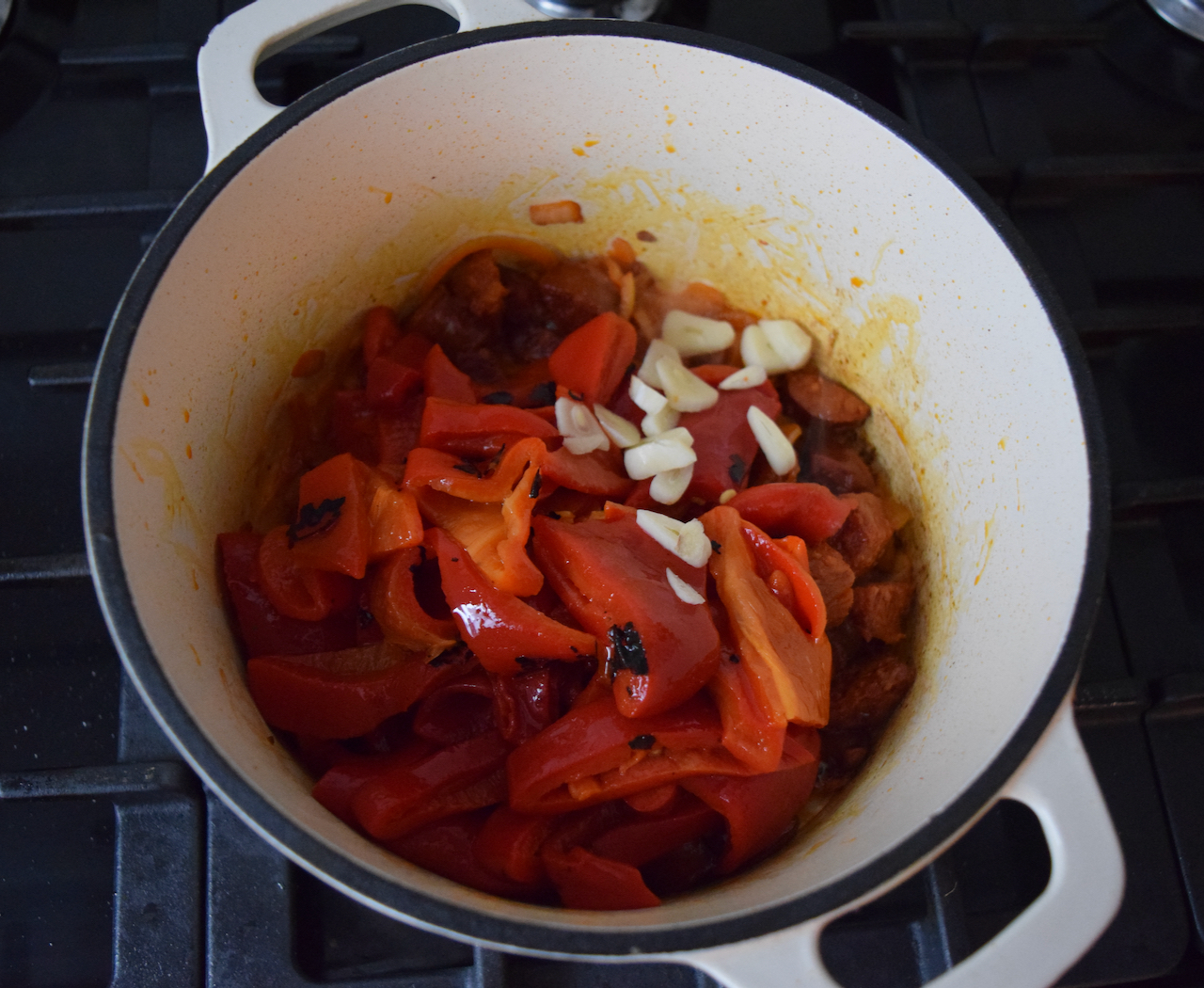 Tip in the lentils, stir well, toast them for a minute then pour on the stock and bring up to a good simmer.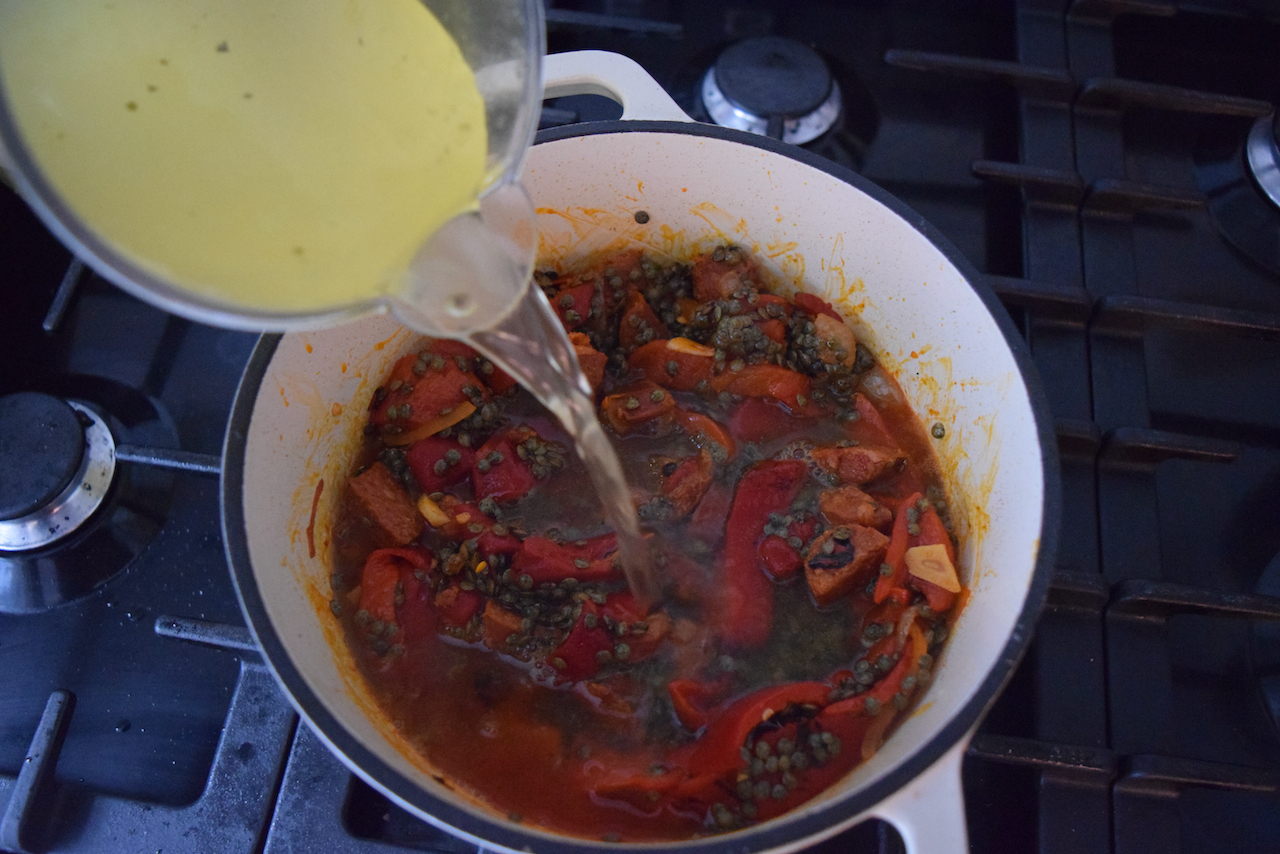 Turn the heat down and cook, lid off, for 35 to 45 minutes. The lentils should be soft and most of the stock reduced, leaving a saucy but not sloppy consistency. Am I rambling?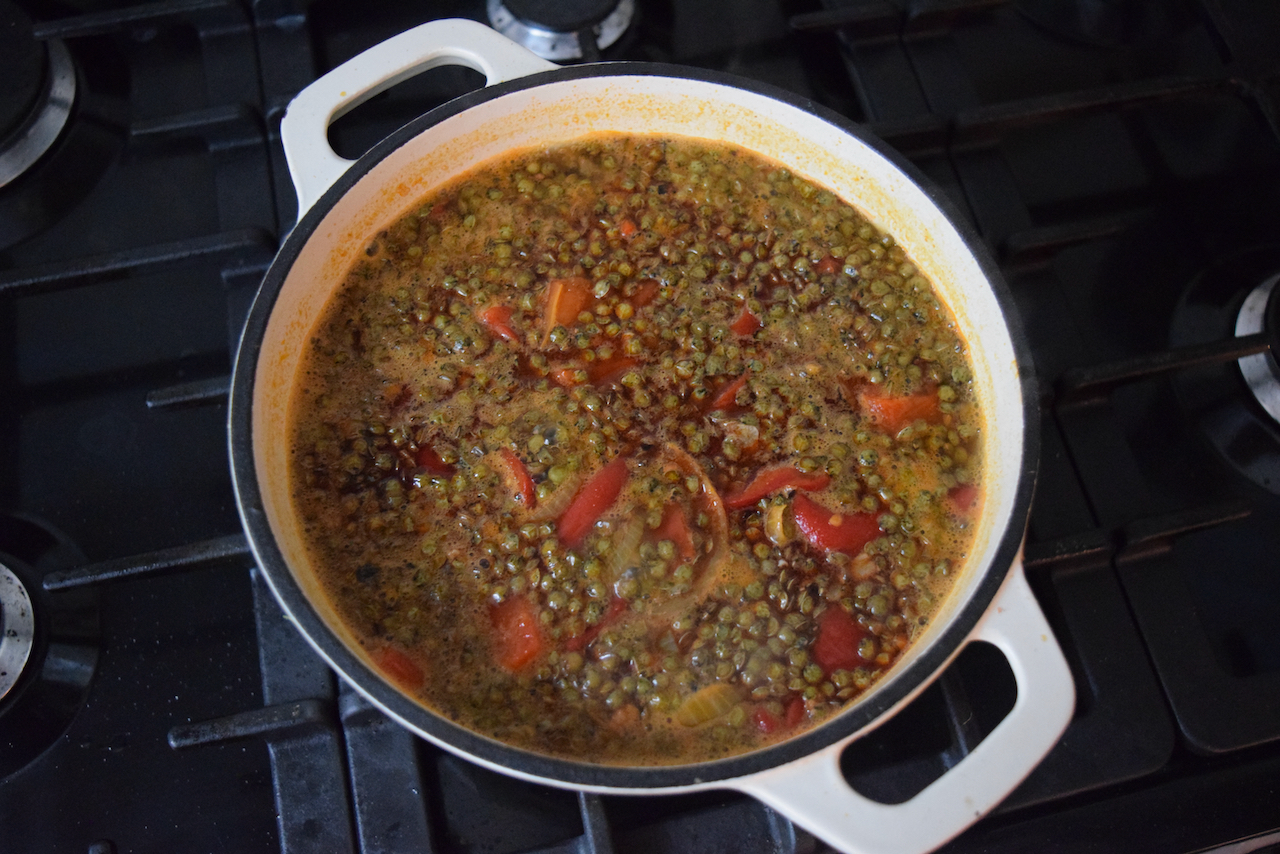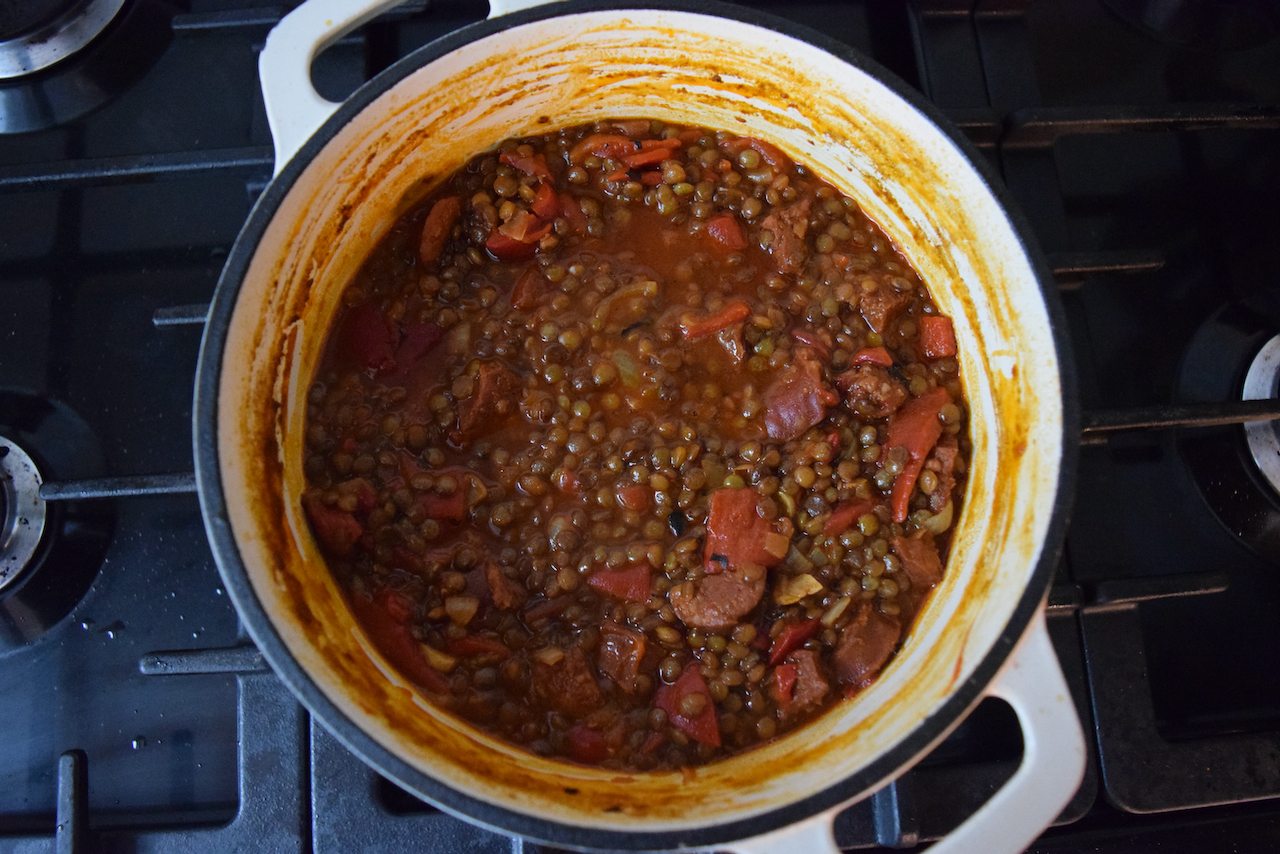 Have a big mouthful of this one pot miracle to check for any seasoning needs. Serve, piping hot, with quite the sizeable chunk of bread; butter optional.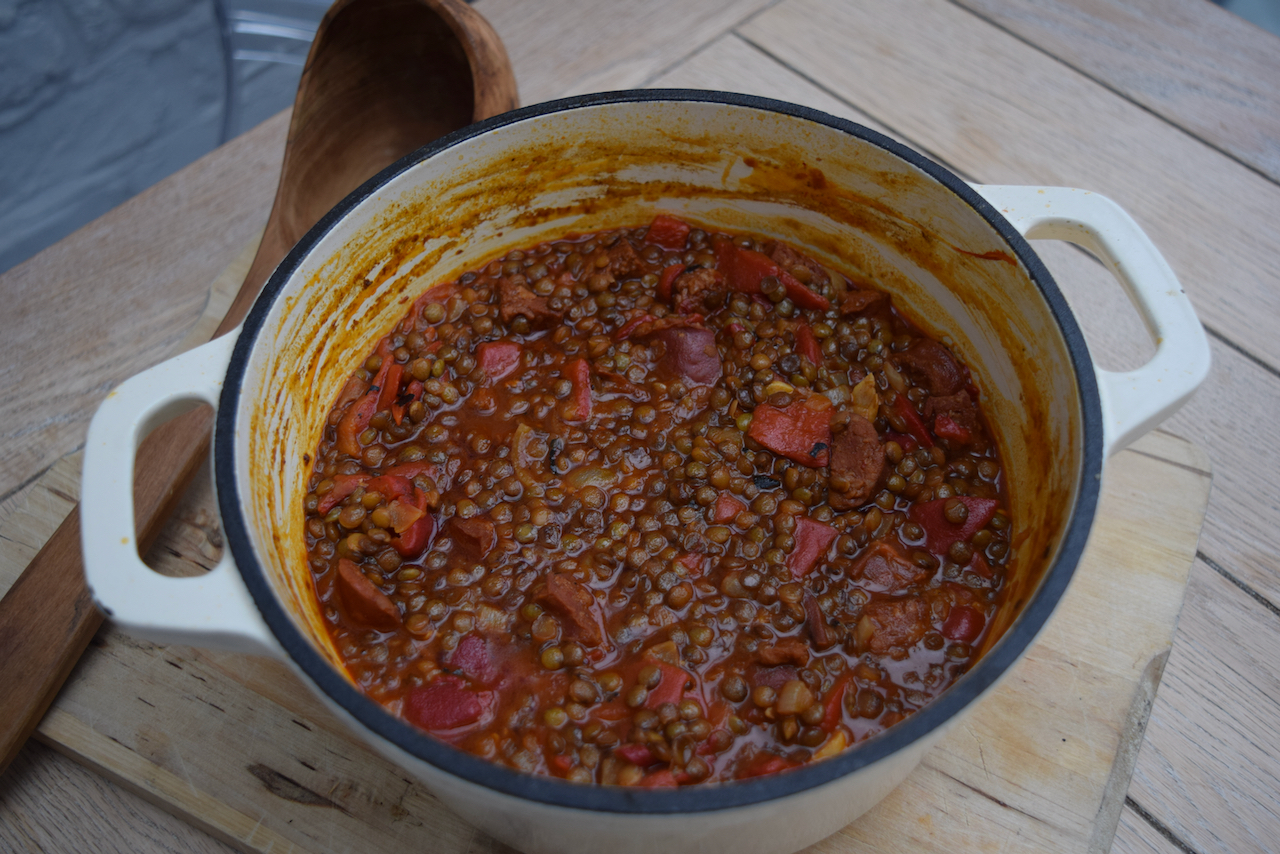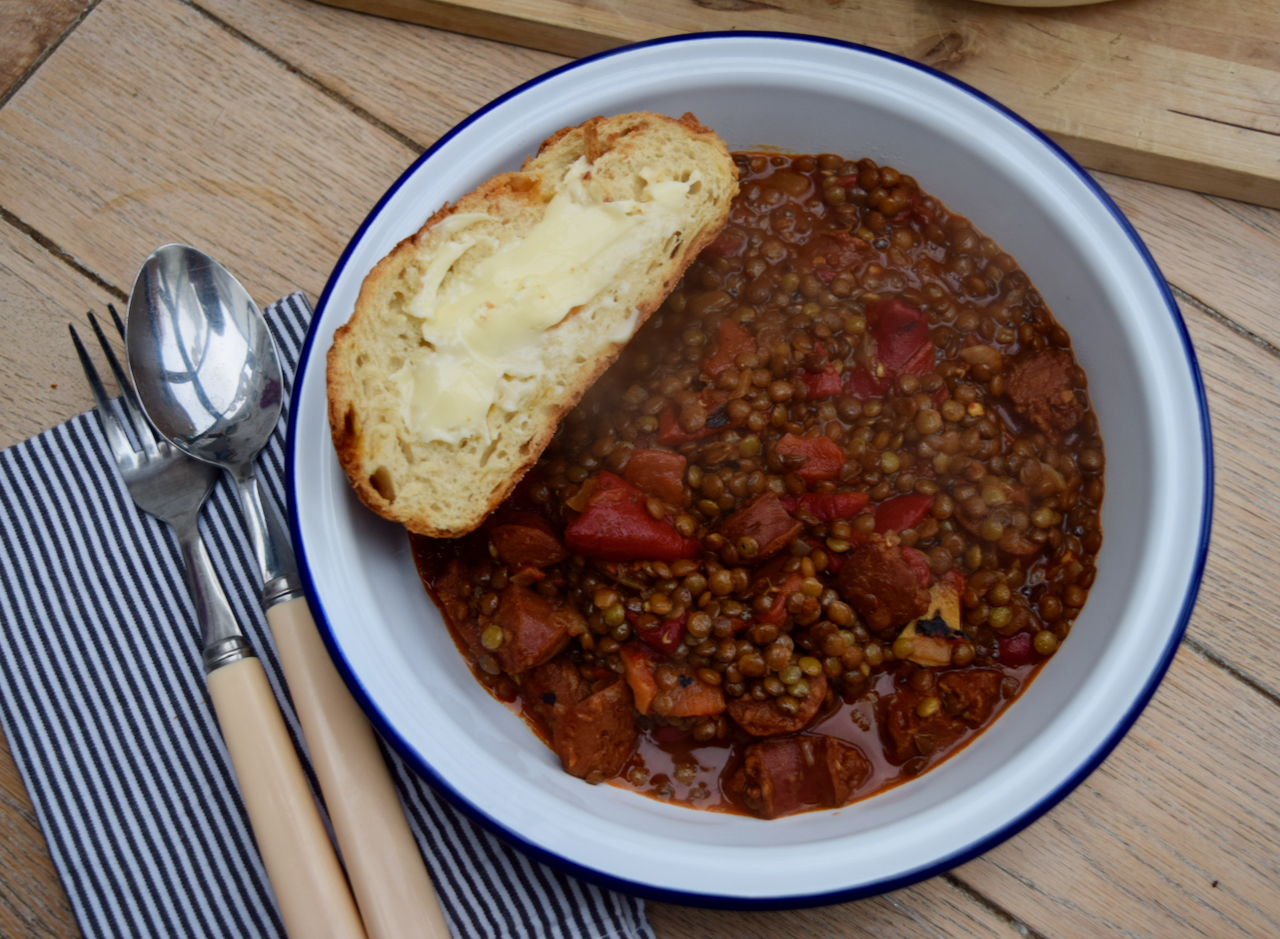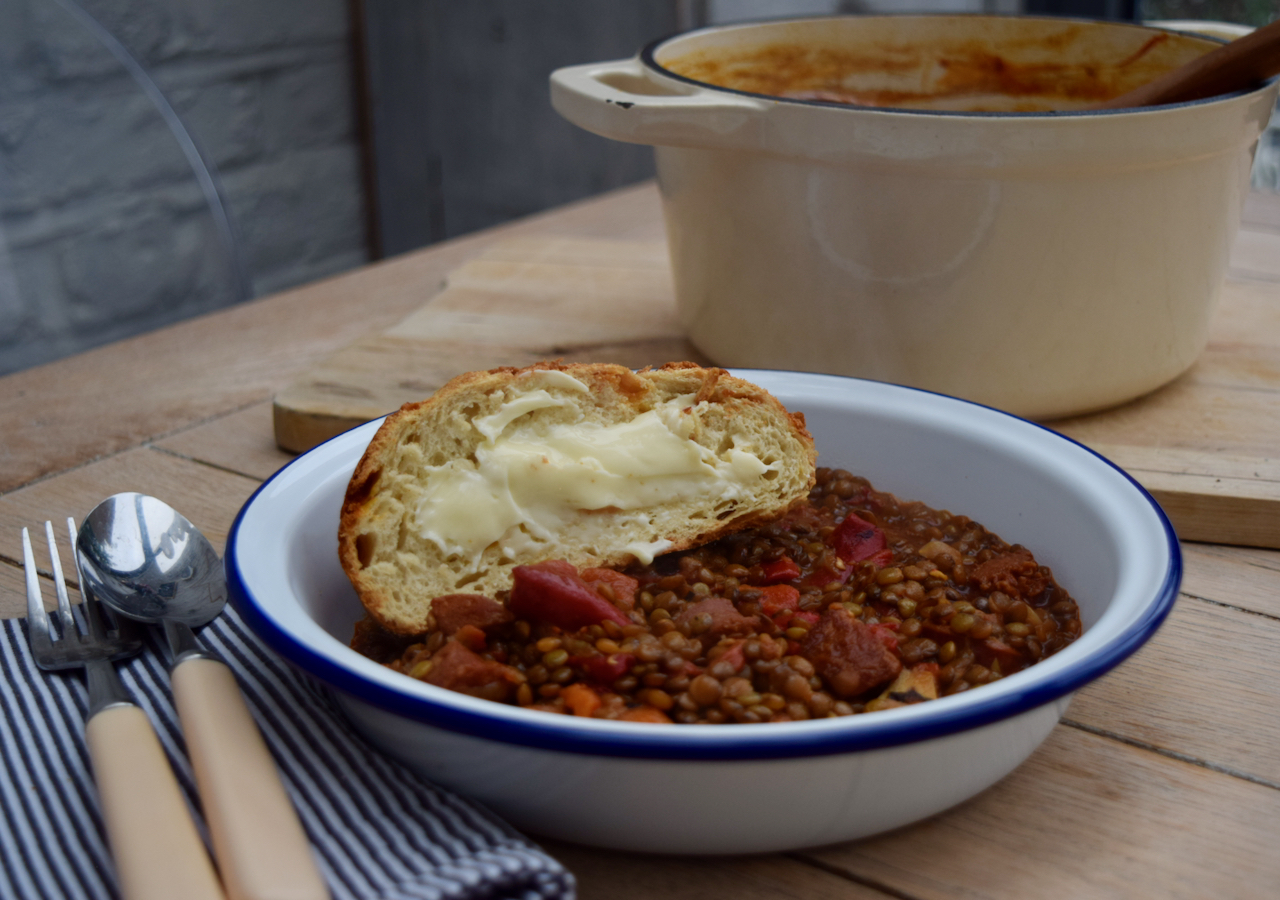 This is comforting, warming and ever so tasty. And it's quick and cheap. End of February food at its best.
Lucy x
One Pot Lentils with Chorizo recipe
Serves 4, or 1 (if you're name's Ben)
You will just need one pot for this, as the name suggests
200g chorizo, roughly chopped
1 onion, sliced
3 cloves garlic, sliced
2 sprigs rosemary, finely chopped, or use a teaspoon dried thyme
1/2 teaspoon chilli flakes
1/2 teaspoon smoked paprika
1 jar grilled red peppers, mine was around 360g drained weight, drained and sliced
250g dried green lentils
1 litre chicken or vegetable stock
Salt and pepper, to taste
Crusty bread, to serve
Take a large heavy bottomed saucepan or casserole dish, heat over a medium high flame until hot then add the chopped chorizo. Cook for 2 minutes until just starting to brown. Turn the heat down to low and tip in the sliced onion and cook for a further 5 minutes, until soft.
Stir in the drained peppers, chopped herbs, garlic, chilli flakes and smoked paprika and cook for a minute. Stir in the dried lentils, cook for another minute then pour on the chicken stock. Bring up to a hearty simmer then turn down and cook, lid off, for around 35 to 40 minutes, or until the lentils are soft, cooked through and most of the stock has been absorbed.
Taste to check for any seasoning needs, then serve, piping hot in a bowl, with a spoon and some crusty buttered bread. Any refrigerated leftovers will reheat nicely over the next 2 to 3 days.