Thai Beef and Pineapple Curry Recipe
If you are a regular reader, and I bloody hope you are, or I will feel extremely stupid rambling away to myself week after week, you will be aware of my love of three particular things. a) a list b) the 70's and c) fruit with meat. My Father always hated fruit with meat when I was growing up so my Mother was only allowed to make her famous pork with apricots when he was away on business. I, however, love a fruit and meat combo and feel it's highly underrated. The sweet and sourness of the two things together fills me with joy and no more so than when a touch of spice is thrown in. Now the clocks have gone back, it's all about the warm, comforting food. I only want to eat the kind of dishes you can serve in a bowl, preferably with rice or mash, and I am not planning to eat a salad again until at the earliest, May next year. Step up to the plate, or bowl, my Thai Beef and Pineapple Curry, fingers crossed you are going to love this as much as I do.
I have been making this curry for years. As have my mother and my sister as we all own the same ancient Marks and Spencer's Thai Cookery book, from which this recipe hails.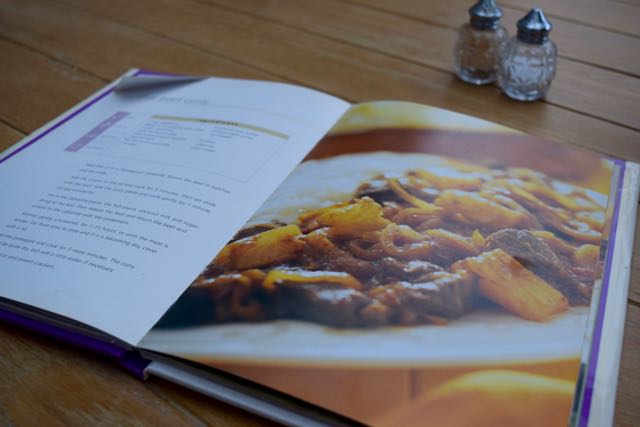 Mine is a well thumbed tome and a lot of the pages stick together now, but I can still just about make out the recipe. This Beef and Pineapple Curry is a coconut, red Thai paste affair with a hint of cardamom for warmth and fragrance. It's a longish cook, but the pan just simmers away without any drama while you get on with something else. The rewards are soft, tender beef, sweet pineapple and with a thick red curry sauce. Serve this piled on top of sticky rice with some coriander and spicy Thai crackers if you have them. I was too lazy to schlep to the Oriental super market in Richmond, but don't let me stop you.
I am embracing the shorter days and longer nights and am going to enjoy the onset of winter, rather than bemoaning it as I have been known to. I am welcoming the need for a bobble hat, spare tyre covering jumpers and food which warms you from head to toe with joy. Well, at least for the next couple of weeks, don't hold your breath for too much positivity after that.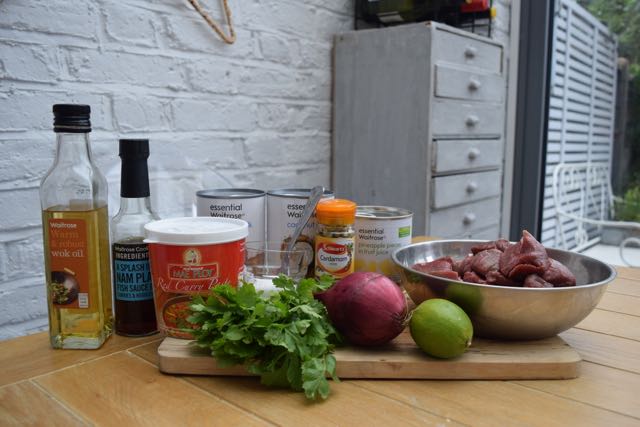 This does look like a large array of ingredients, but it's mostly store cupboard bits and bobs. Two cans of coconut milk looks excessive too, but this wonderful curry simmers down to create a creamy delicious sauce.
Make a start by finding your biggest, sturdiest frying pan or saucepan with a lid and heating two tablespoons of oil over a medium high heat. Add your braising or casserole beef in one or two batches, and cook for a couple of minutes until starting to brown beautifully. Don't overcrowd the pan or it will poach rather than brown.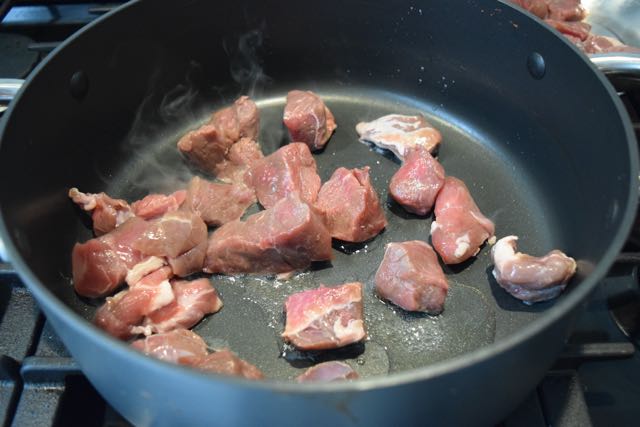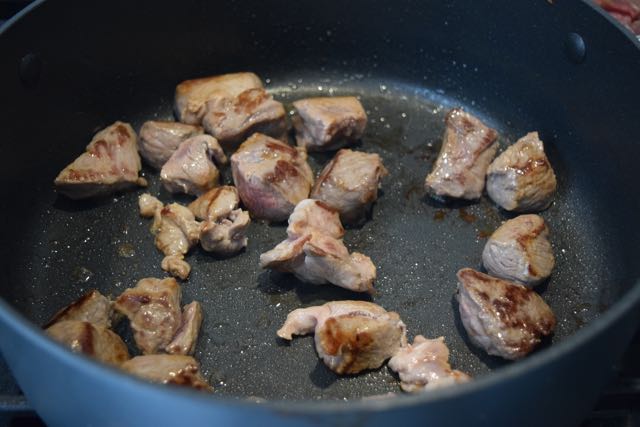 Remove the browned beef to a plate then once you've cooked it all off, add the sliced onions to the pan, along with an extra splash of oil if needed.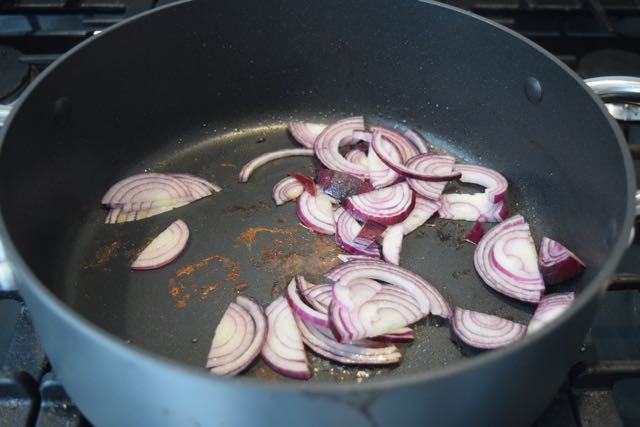 Cook the onions until just starting to soften and take on a little colour, once they're cooked, add them to the plate with the browned beef.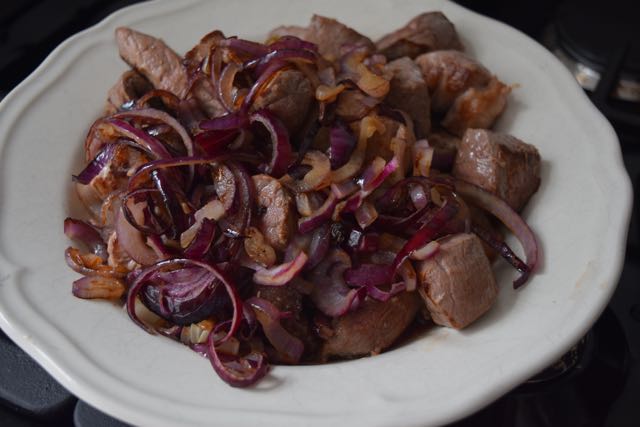 Next into the pan, add the two tablespoons red curry paste and stir for a minute before adding the coconut milk, lime juice, fish sauce and sugar.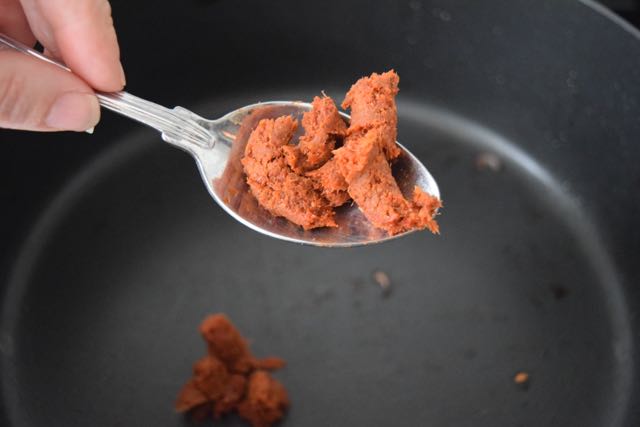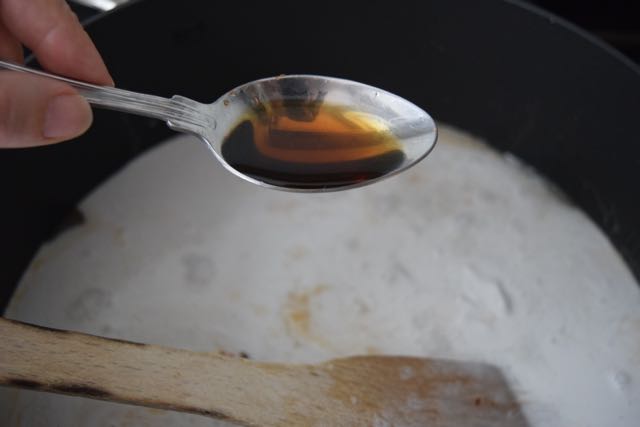 Give the sauce a good stir and then return the beef and onions to the pan. Press down on the cardamom pods with the back of spoon to crush lightly then sling those into the mix too.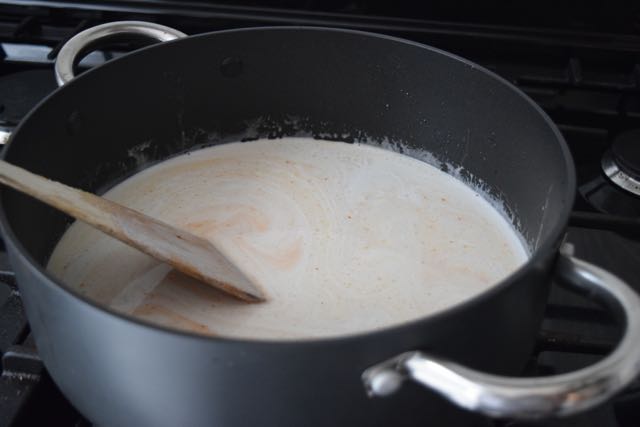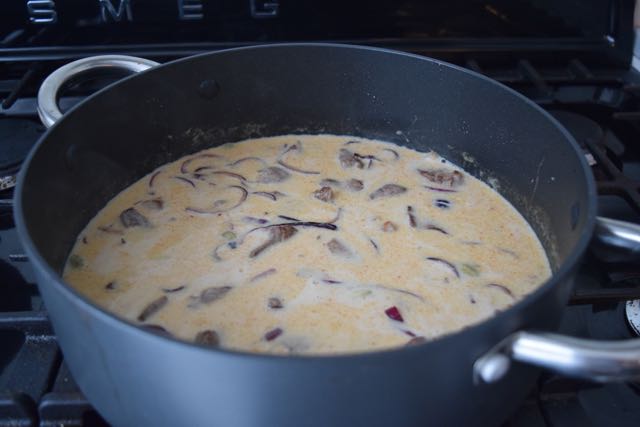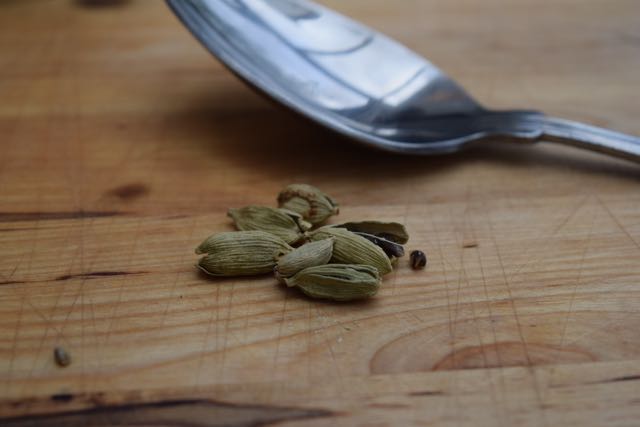 Bring the curry up to the simmer then turn down to a low flame and let the whole thing cook away for around an hour, to an hour and a half without a lid. Stir every so often, and if the curry is looking dry, pop the lid on towards the end.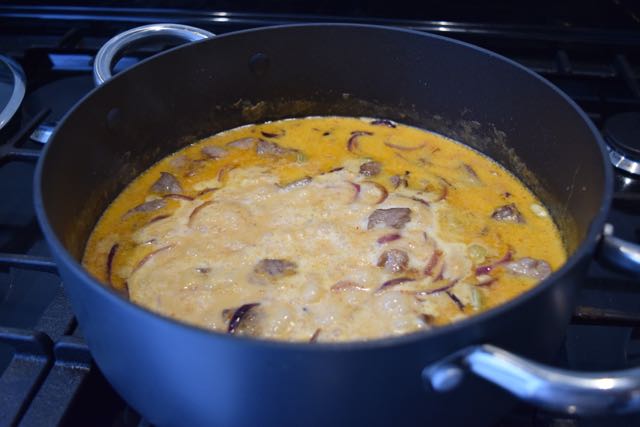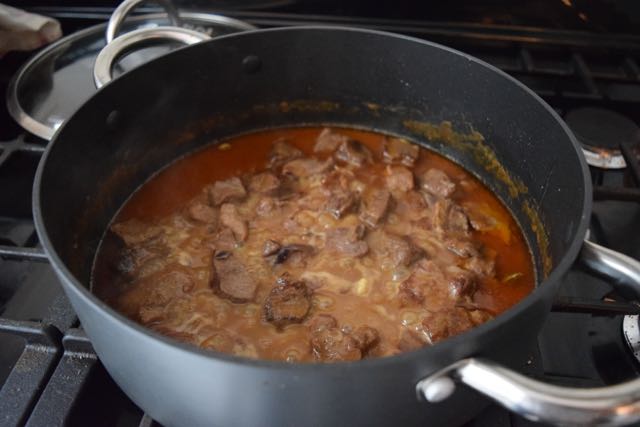 When the beef is soft and meltingly tender, remove the cardamom pods as best you can, drain the pineapple and add to the wonderful thai curry.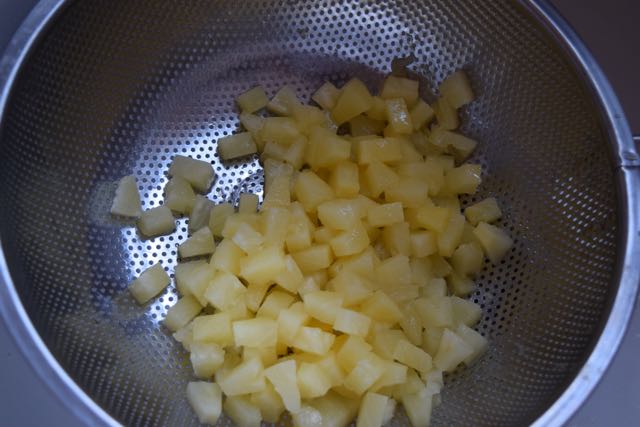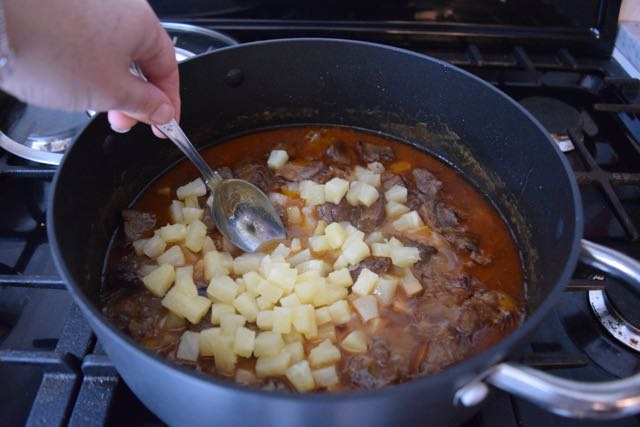 Simmer for another 5 to 10 minutes then your Thai Beef and Pineapple Curry in all it's glory is ready to serve.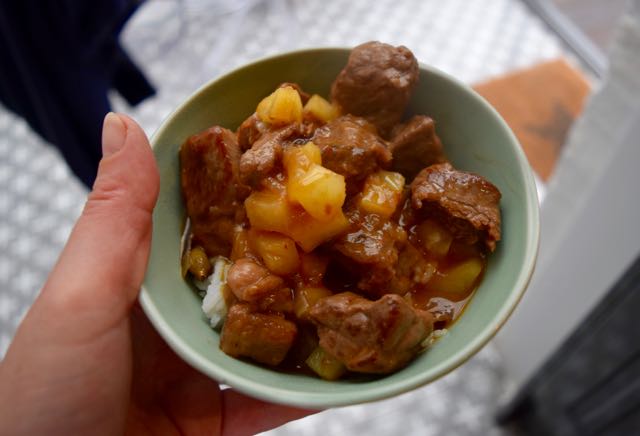 Serve on a bed of sticky rice and garnish with a good handful of coriander. This is so comforting, perfect for the onset of dark, nippy evenings.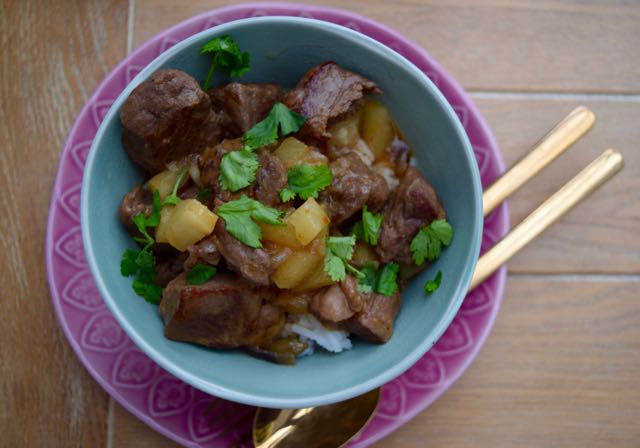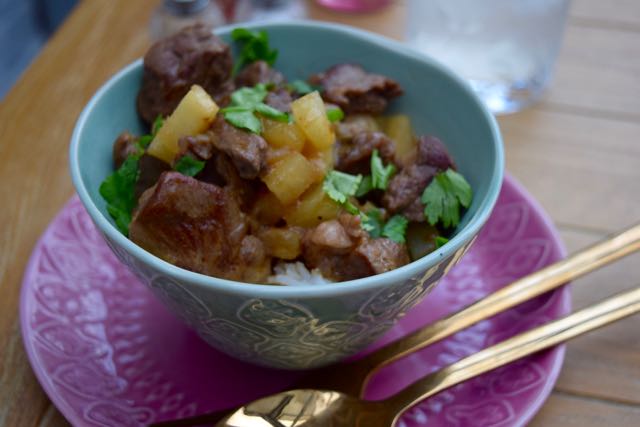 This has been served up at our family table for years now. I always forget about how delicious it is during the summer months then fall in love again as the polo necks appear in my wardrobe. I will be eating this a lot between now and spring to make up for it.
Lucy x
Thai Beef and Pineapple Curry Recipe
Serves 4, generously
You will need a lovely big lidded frying pan or sauce pan
2 tablespoons oil
800g braising beef, cubed
2 small or 1 large red onion, sliced
2 tablespoons red curry paste
1 tablespoon lime juice
2 tablespoons fish sauce
2 x 400ml tins coconut milk
2 teaspoons sugar
6 cardamom pods, crushed with the back of a spoon
1 x 425g tin pineapple pieces
Jasmine rice and chopped coriander to serve and some Thai crackers if you have them
Take a large frying or sauce pan with a lid and add the two tablespoons of oil. Brown your beef in one or two batches, dependent on the size of your pan, don't overcrowd the pan or the beef will not brown properly. Pop the browned meat on a plate while you add the slice onions. Add more oil to the pan if needed then cook the onions until softening and just starting to brown, around 5 minutes. Remove from the pan and add to the plate with the beef.
Add the red Thai paste, cook on a low heat for around a minute then stir in the lime juice, fish sauce, coconut milk and sugar. Bring up to the simmer then return the beef and onions and throw in the cardamom pods.
Simmer on a very low heat, without the lid, for 1 to 1 and a half hours, or until the meat is tender and cooked through. Stir occasionally and if the curry is becoming too dry, pop the lid on.
When the meat is cooked, pick out the cardamom pods, then add the drained pineapple and bring up to the simmer again and cook for another 5 to 10 minutes. Serve in bowls with jasmine rice, garnished with coriander.
SaveSave
SaveSave
SaveSave
SaveSave