Eggs with Lentils and Spinach Recipe
Not only is Eggs with Lentils and Spinach a title for this recipe, it's also a list of some of my most favourite foods. Eggs – delicious. We go through so many in our house, they are filling and are the ultimate in quick foods. Lentils – love. So cheap, easy to make, a great source of fibre and so tasty. Spinach – the embodiment of healthy eating. It takes seconds to cook and adds iron and rich flavour to any dish. Put them together and you get a quick main course, packed with protein, vitamins and all my favourite ingredients. You can't fail to feel good eating this; Ben and I can vouch for this as we inhaled the whole panful in one sitting.
This is a brilliant January dish. January, the time for a) less chocolate b) less alcohol and c) less money. Eggs with Lentils and Spinach is the very definition of frugal food. The tin of lentils was less than 60p and this forms the main bulk of the meal, so you won't even have to pilfer your children's Christmas money to pay for it. The base, along with the lentils, consists of tomatoes, spiced with cumin and the ever fashionable turmeric, with some iron rich spinach stirred through at the end. In a similar style to a Shakshuka, eggs are then poached in this mixture and served with a large dollop of yoghurt and a sprinkling of chilli flakes for winter warmth. The lovely Able and Cole came up with this recipe and for this, I, and my waistline, thank them.
Warming, spiced, vitamin rich and protein laden. What dish this is. I enjoyed mine with some crusty bread and butter, slightly negating the half chance this was going to be a healthy option for me. Perhaps you will be able to resist the lure of a fresh, lightly floured loaf of white bread. Good luck.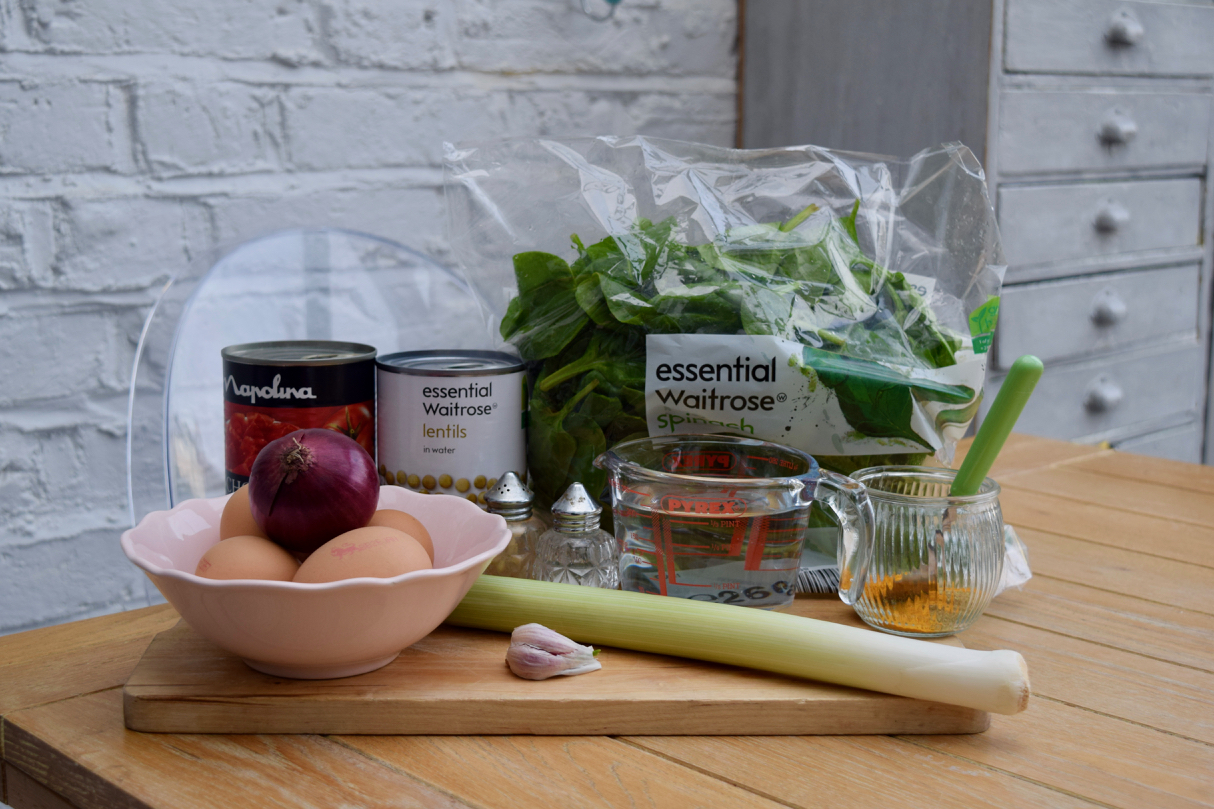 What a vitamin rich line up this recipe has. And the whole recipe costs less than £4 to make. Utter bargain given the state of my bank account; yet it tastes like a million dollars.
Make a start on this wonderful new year recipe with a large pan with a lid. Heat this over a low flame then add the chopped leek and onion along with two tablespoons of water.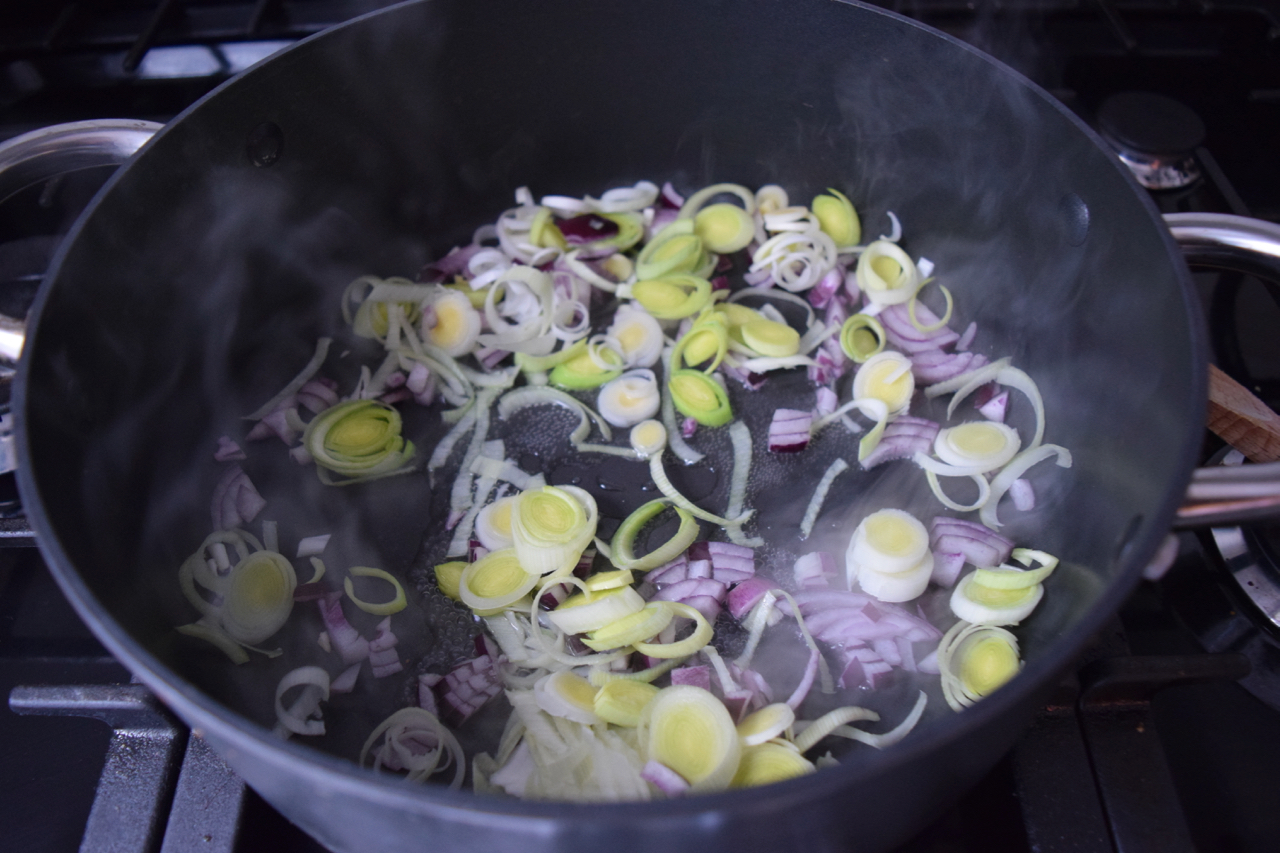 Cook for around 5 minutes or until the vegetables have softened, adding an extra tablespoon or two of water if it gets too dry. Don't panic about the lack of oil here, it's unnecessary calories in this recipe. Next add the chopped garlic with the cumin and turmeric and stir well, cooking for a minute until fragrant.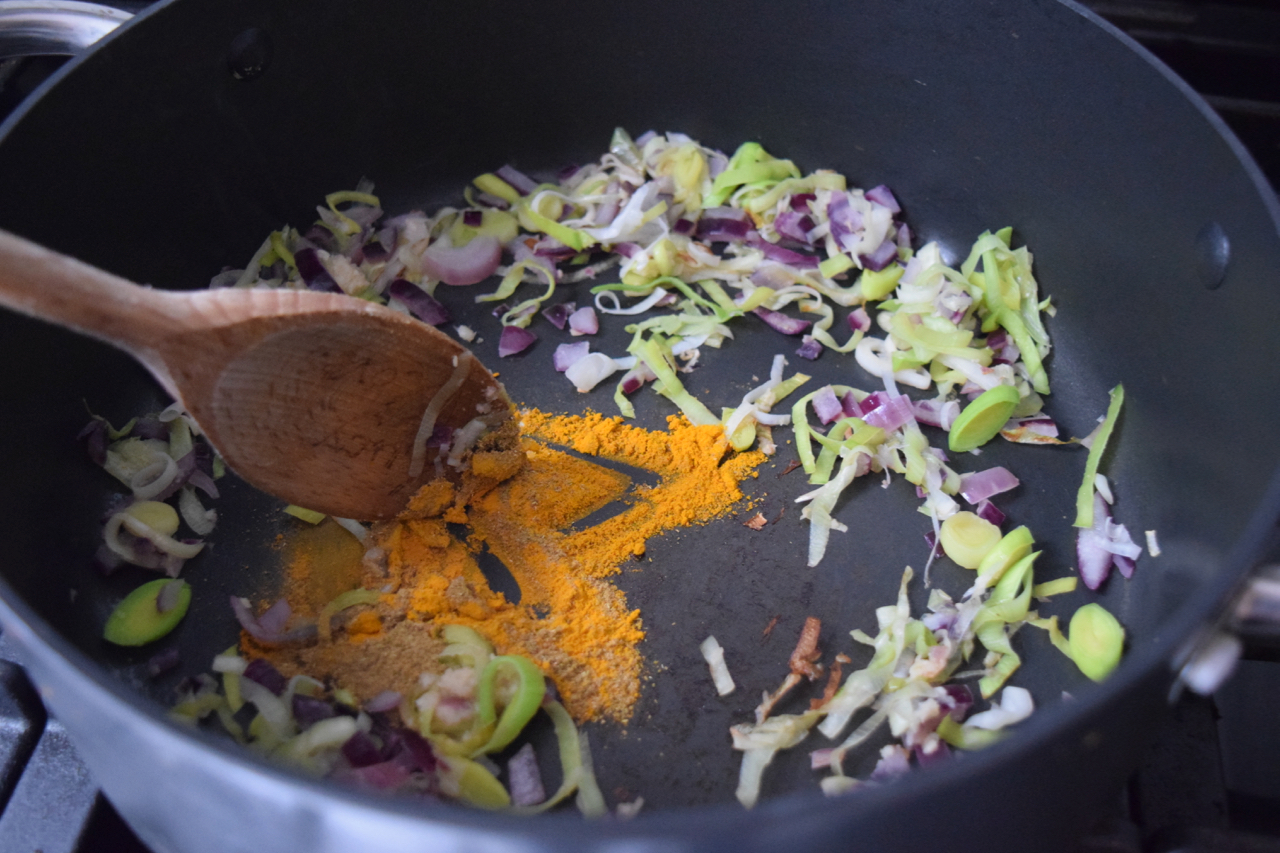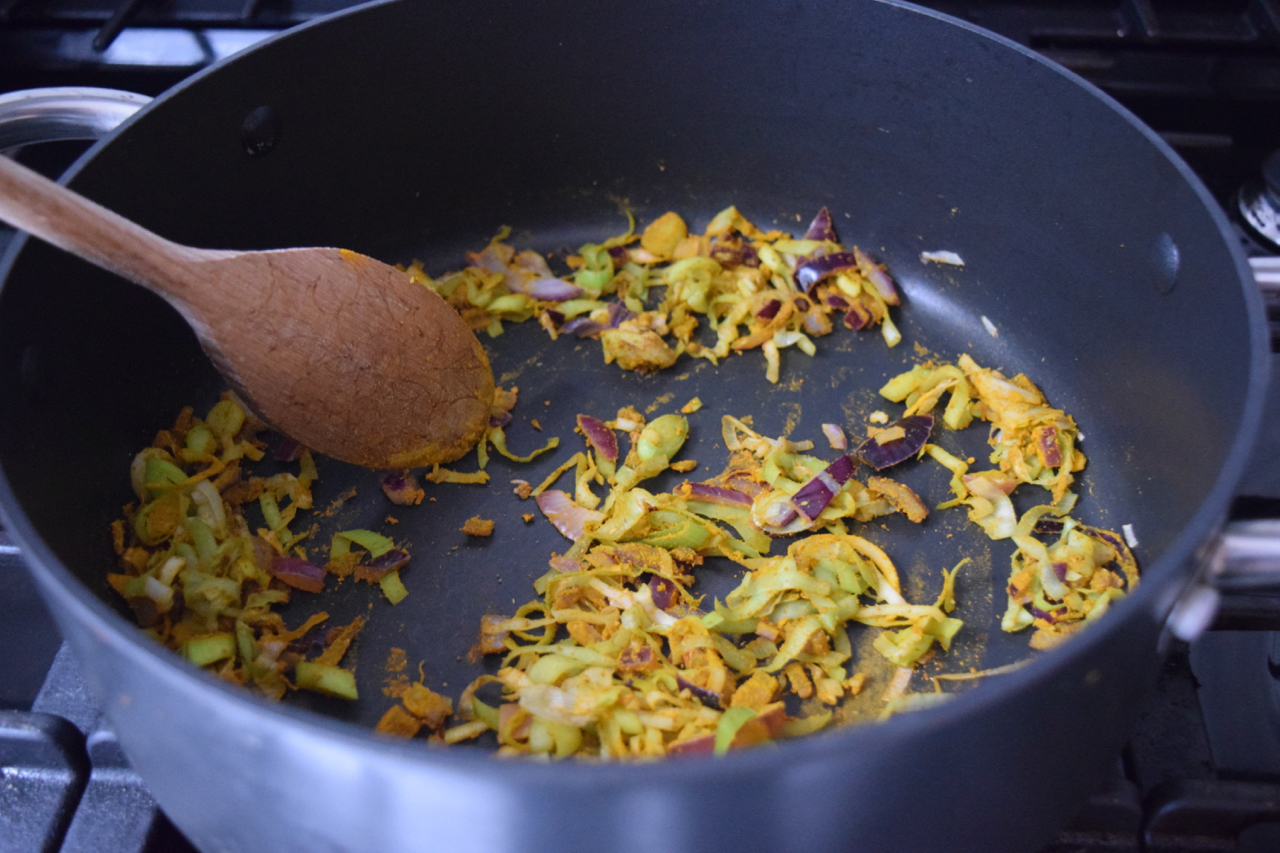 Drain and rinse the lentils in a colander then add these to the spiced bits in the pan.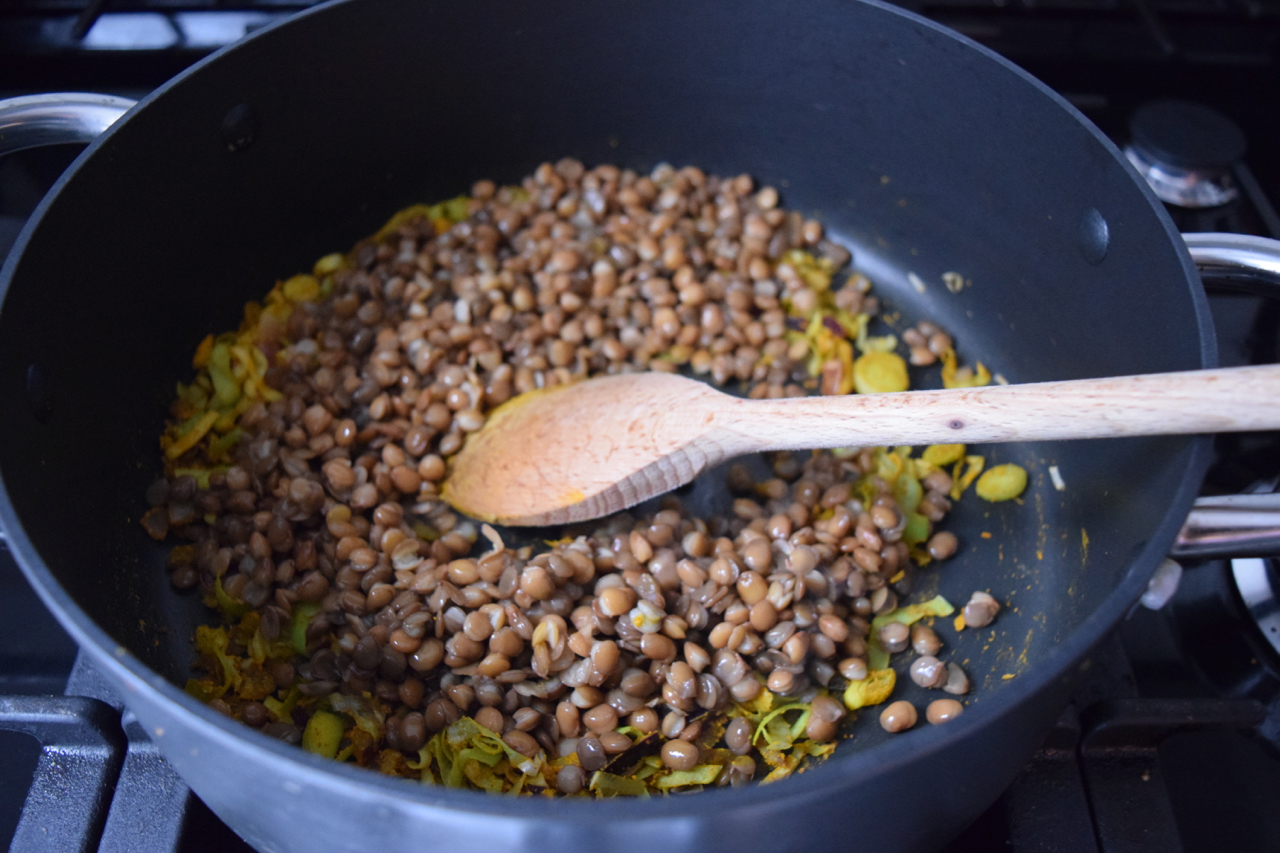 Empty the tin of chopped tomatoes into the pan, along with a pinch of caster sugar to remove any acidity, stir well. Half fill the tomato tin with water, swill it around a little then pour this into the pan too.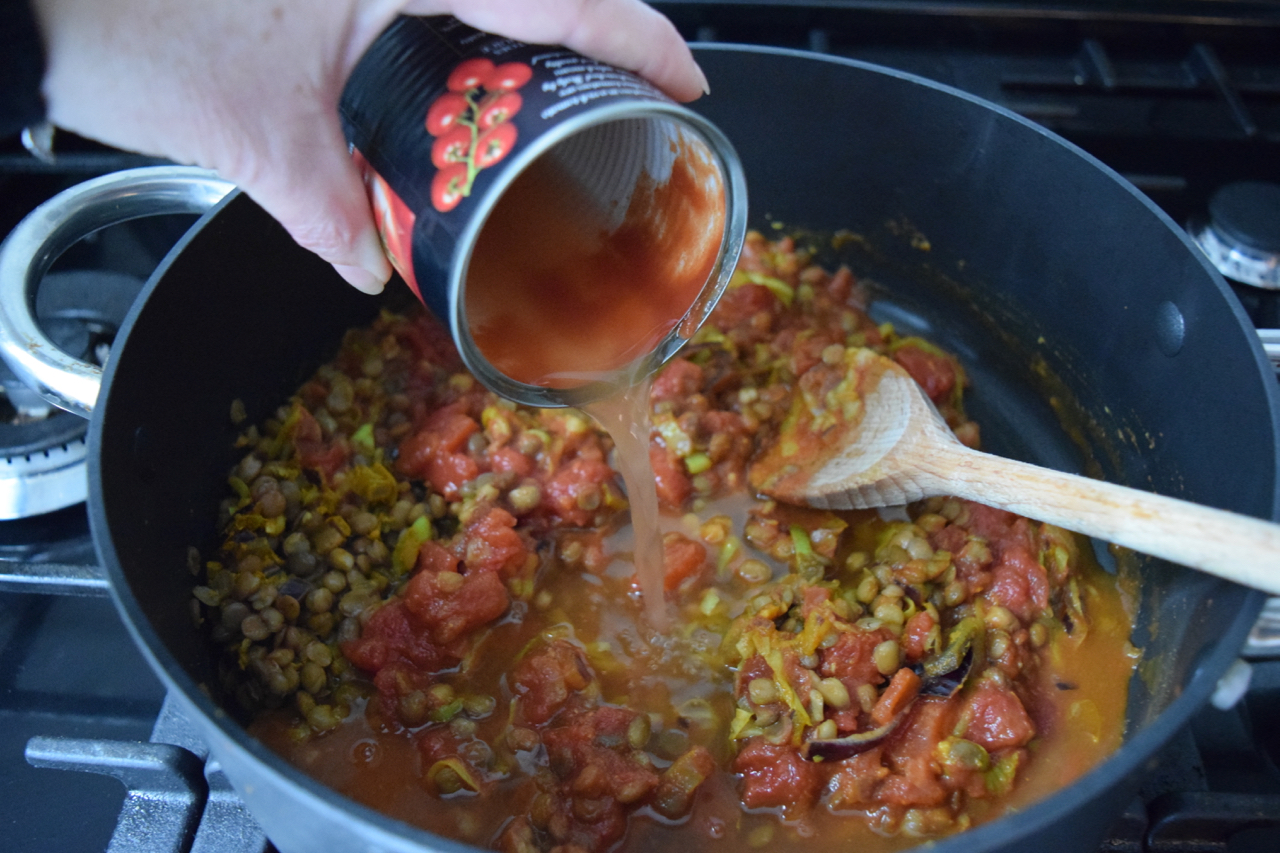 Give the whole lot another stir, bring up to the simmer, then turn down the heat and pop a lid on for 10 to 15 minutes or until the sauce has thickened.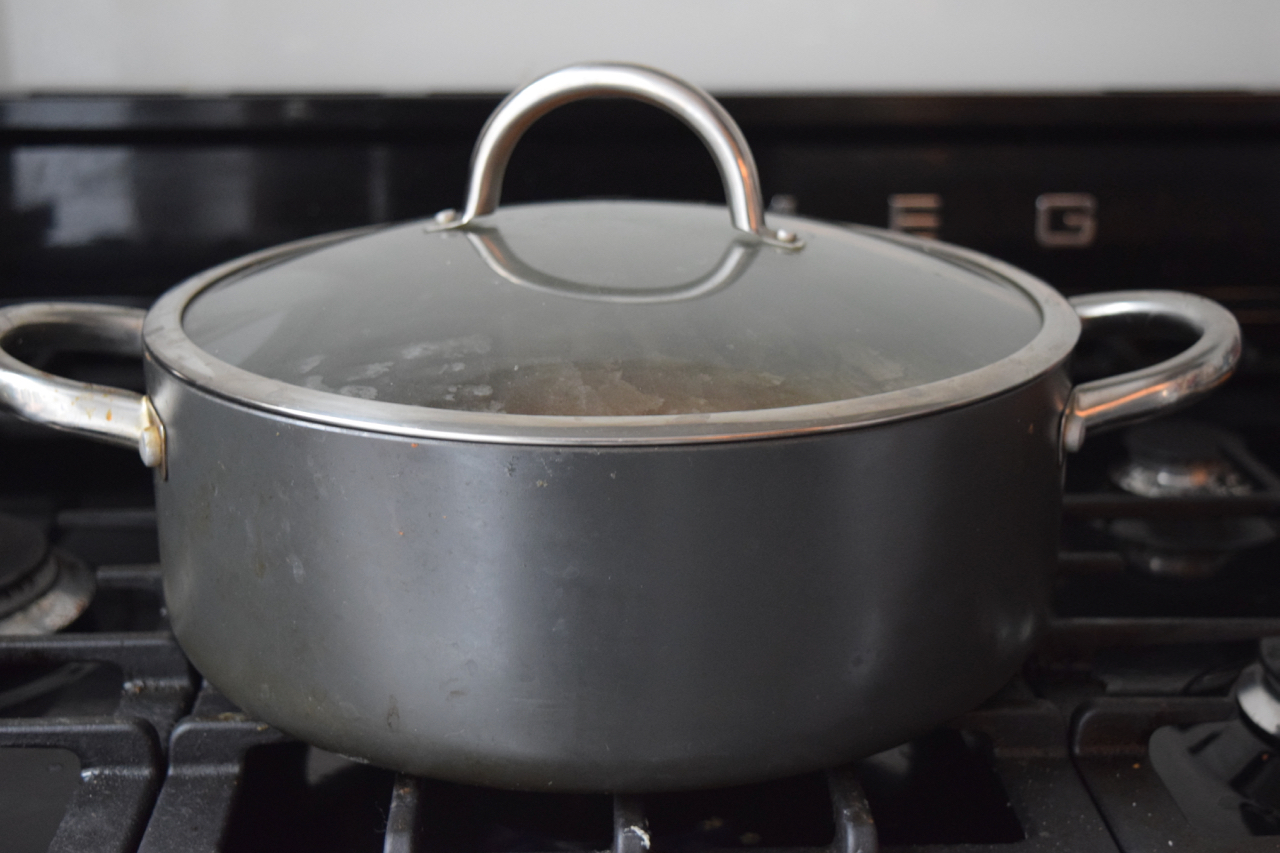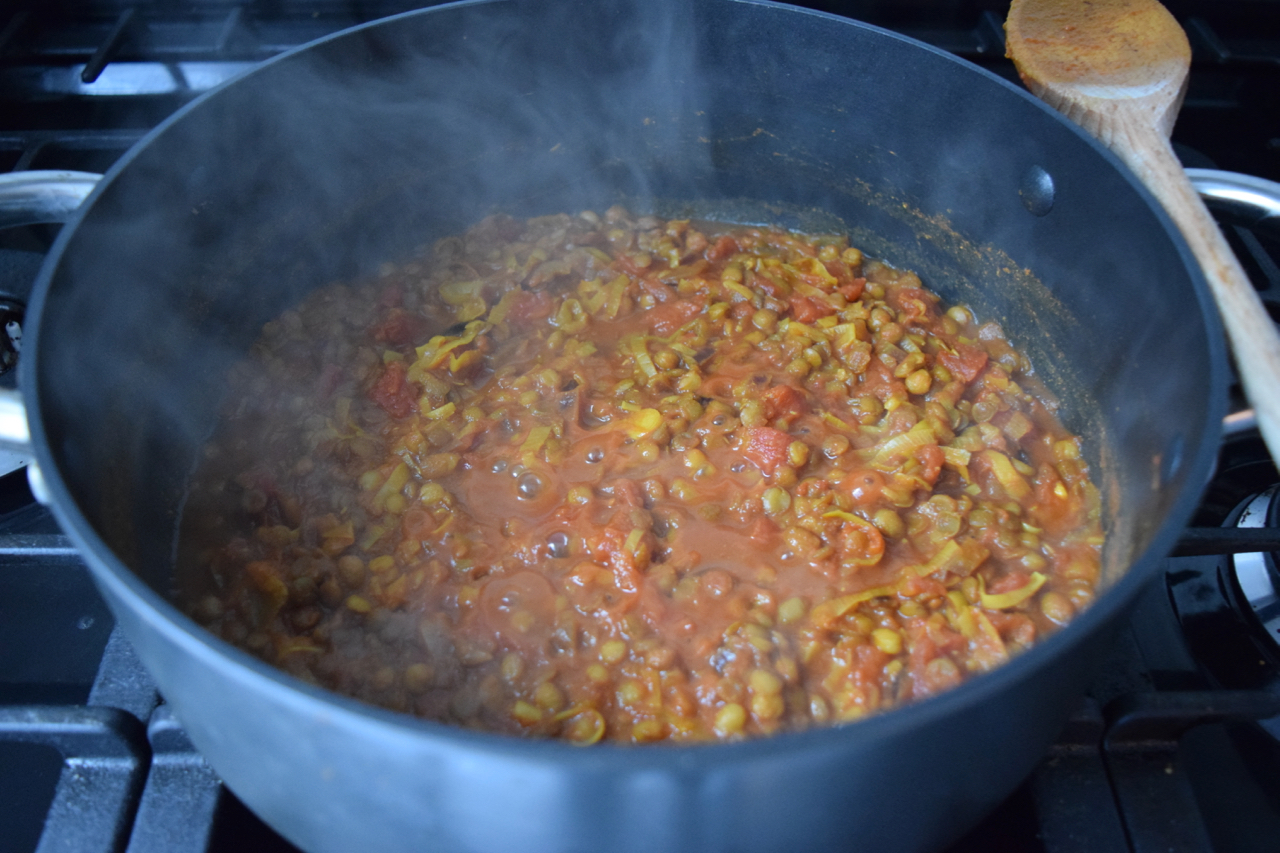 Stir the spinach leaves into the now thickened sauce until they have wilted slightly then give the whole lot a good season with salt and pepper.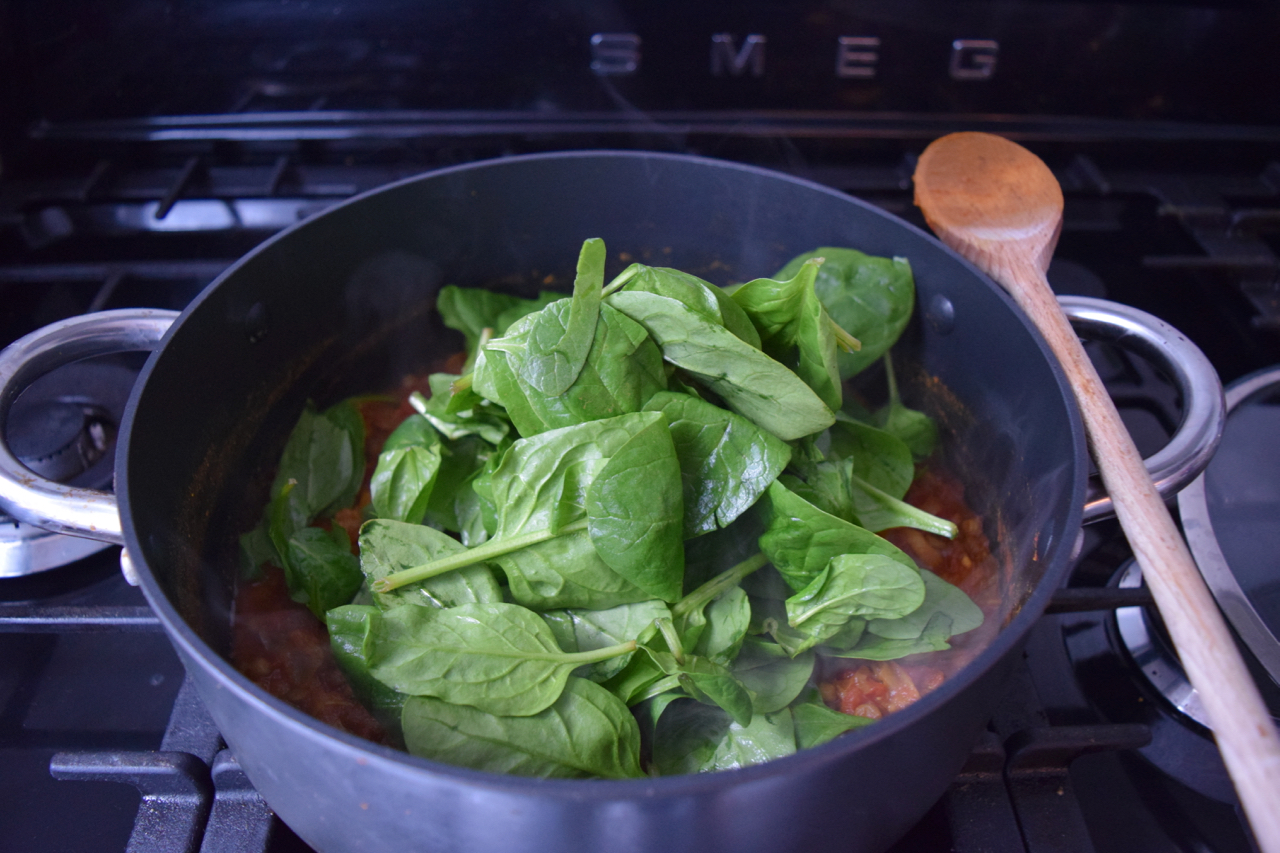 Make four indents in the sauce with a spoon ready to pour in the eggs. Then, that's right, pour in the eggs, one into each recess.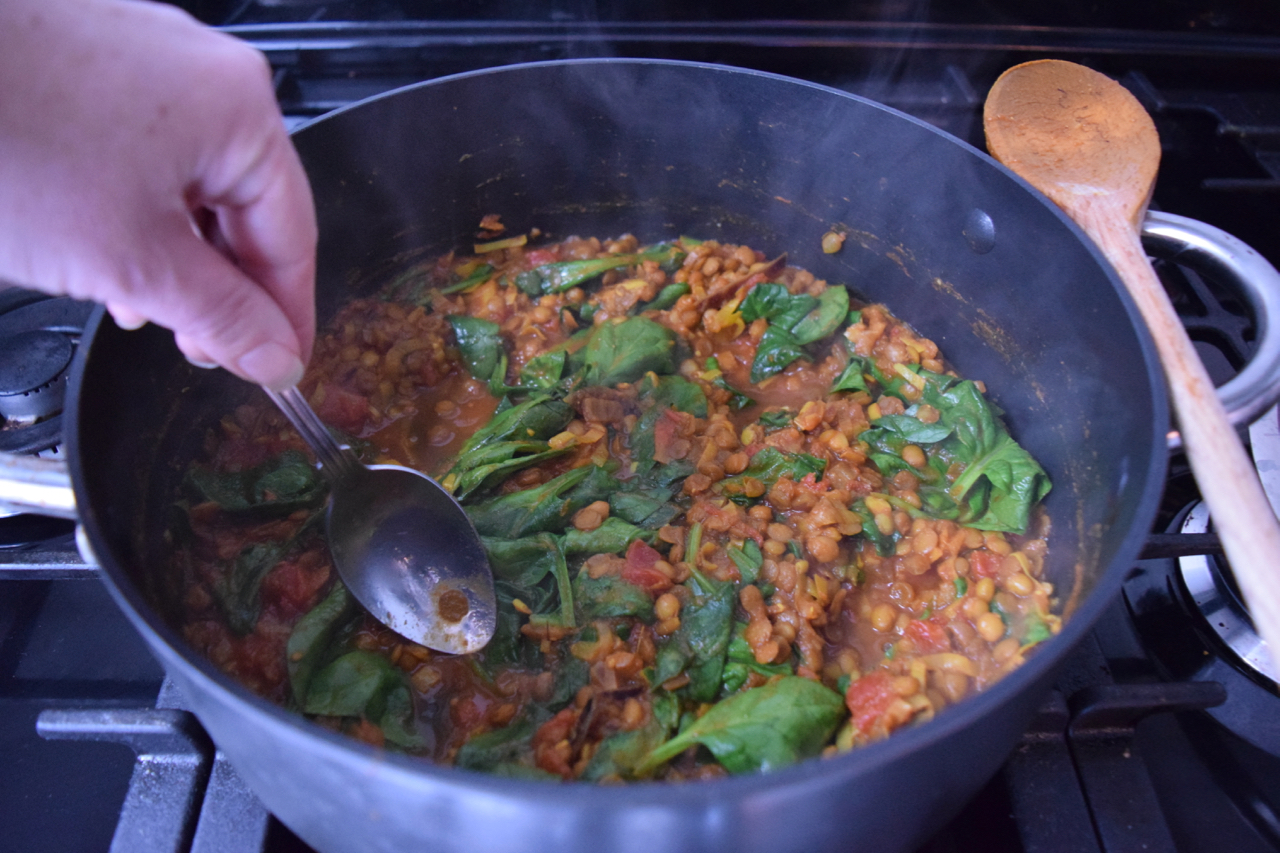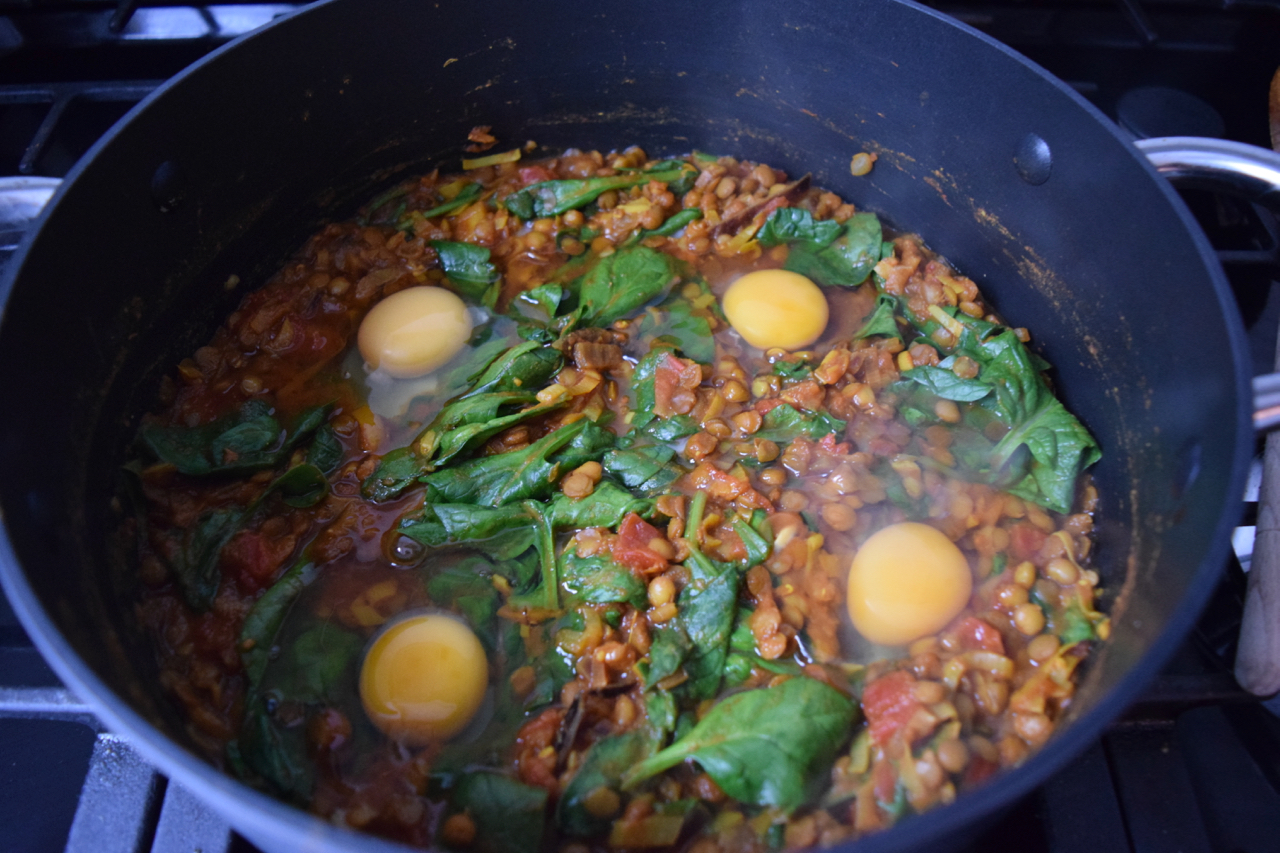 Place the lid back on and cook for 5 to 10 minutes, dependent on how you like your eggs cooked. I went over 10 minutes as Ben cannot bear under cooked egg whites.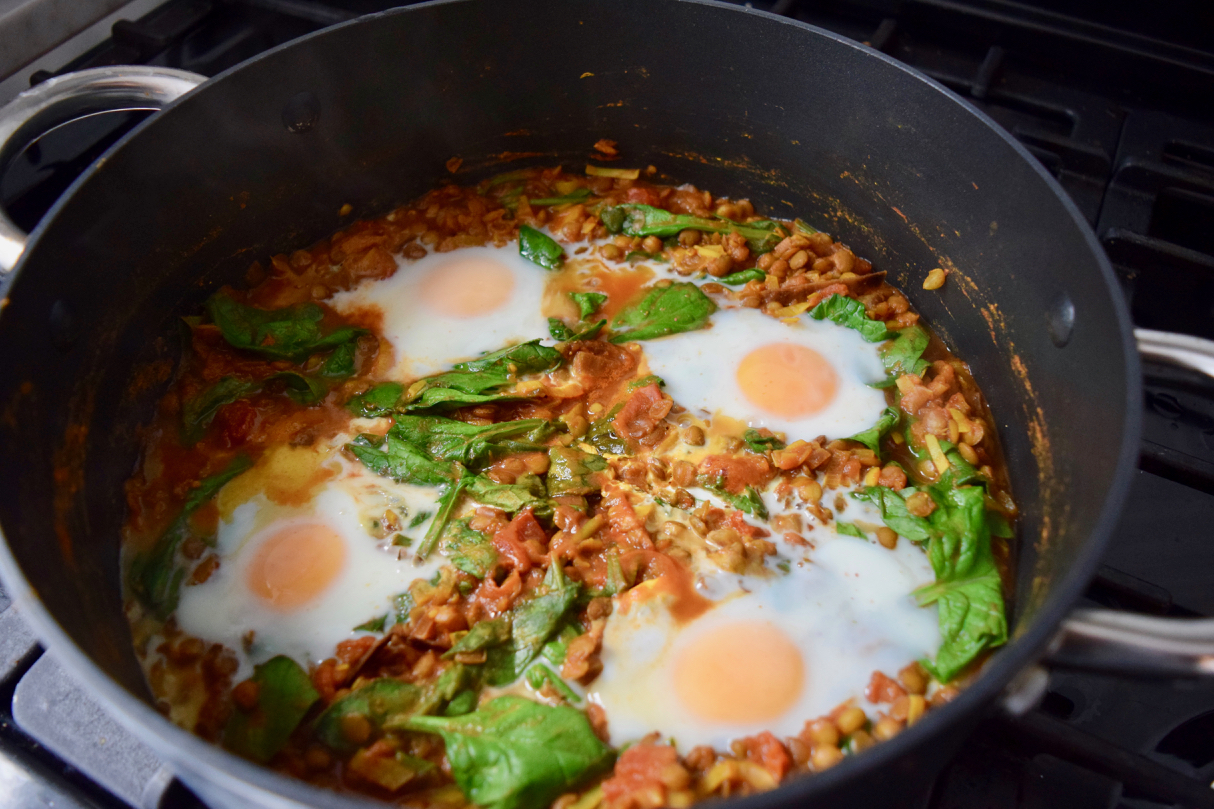 This beautifully wholesome dish is now ready to serve. I loved mine with a big spoonful of thick yoghurt sprinkled with some chilli flakes. I hope you'll love this too.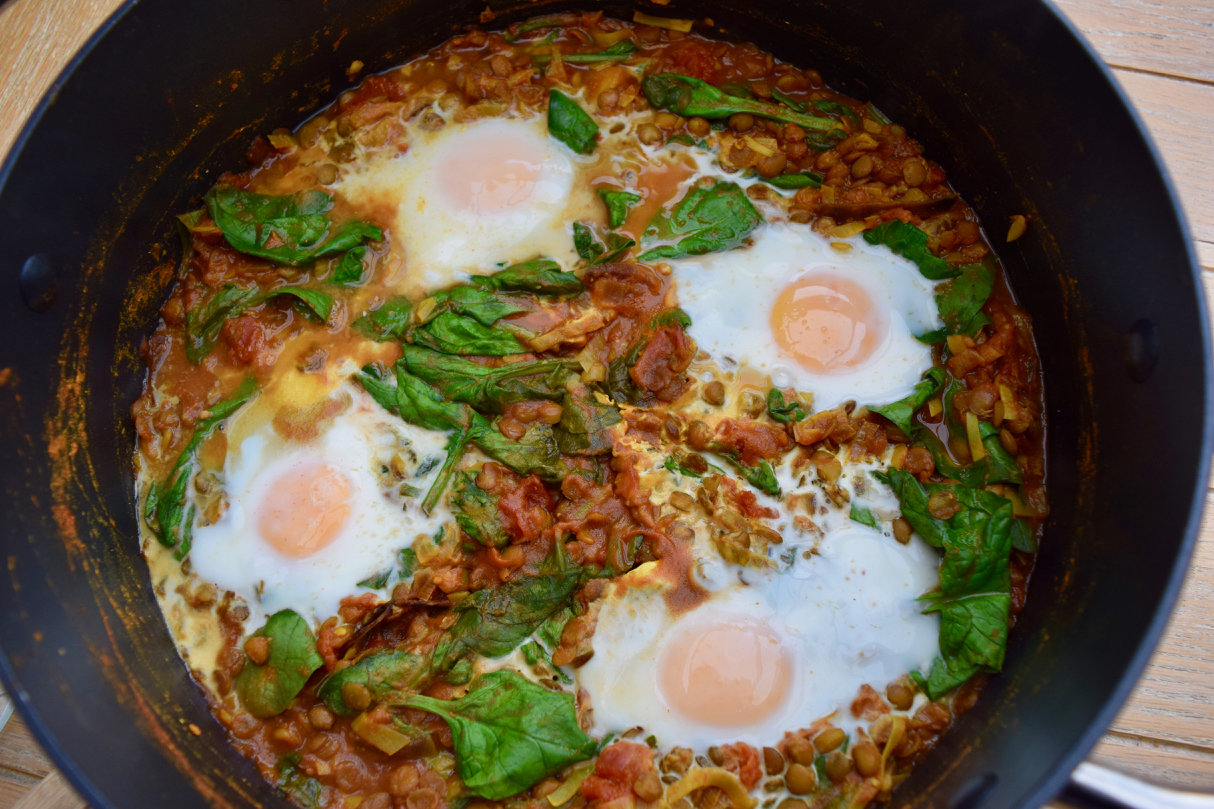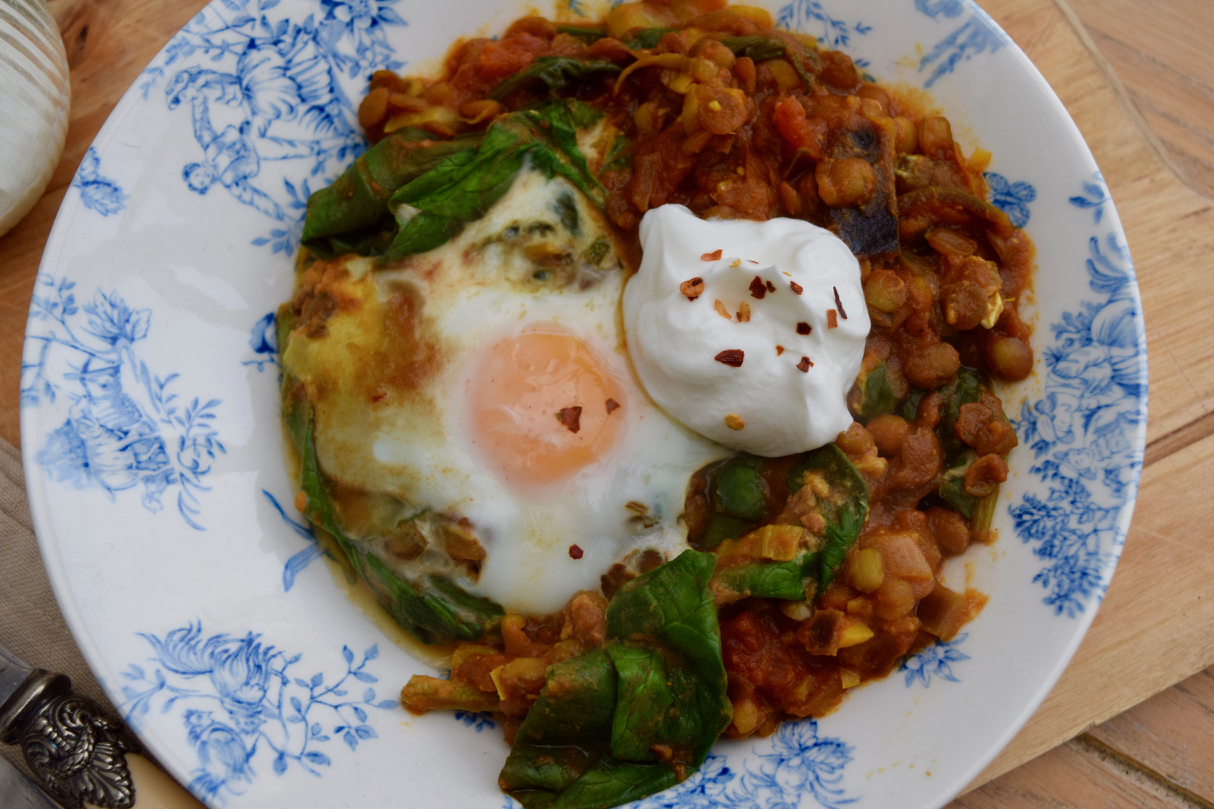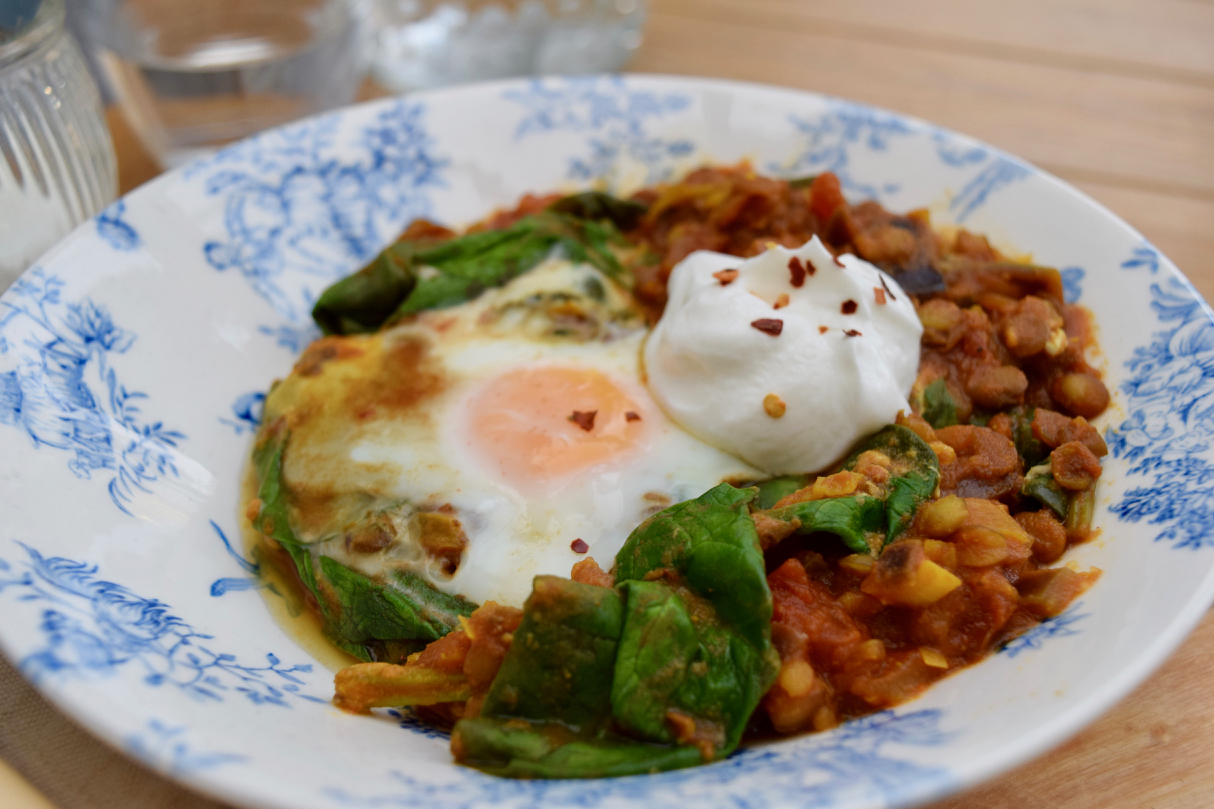 This makes such a wholemeal lunch or supper dish, you can't help but feel wonderful having eaten it. And full, you feel full, which is such good thing, especially for me and my incessant snacking. Anything to keep my hands away from the treats is a blessing.
Lucy x
Eggs with Lentils and Spinach Recipe
Serves 2 to 4 as a light lunch or supper, appetite dependent. I ate one egg, but Ben ate 3
1 leek, finely chopped
1 onion, finely chopped
2 tablespoons water
2 garlic cloves, chopped or use a heaped teaspoon of garlic from a jar
400g tin green lentils
1 heaped teaspoon ground cumin
1 teaspoon ground turmeric
400g tin chopped tomatoes
A pinch caster sugar
200ml water
100g baby leaf spinach
4 eggs
Salt and pepper
Greek yogurt and chilli flakes to serve and some crusty bread, if you like
Take a large high sided pan with a lid and heat over a low flame. Add two tablespoons water then tip in the chopped leek and onion. Cook for around 5 minutes or until the vegetables have started to soften, adding another tablespoon of water or two if they look dry.
Add the chopped garlic, cumin and turmeric and cook for a minute or until fragrant. Drain the lentils in a colander and rinse. Add the lentils to the pan along with the chopped tinned tomatoes. Half fill the tomato tin with around 200ml water, swill, then add this to the pan too. Stir well, bring up to the simmer then turn down the heat,  put a lid on and cook for around 10 to 15 minutes by which time the sauce will have thickened.
Remove the lid and stir in the spinach, allowing it to wilt into the sauce. Season well with salt and pepper. Make 4 indents in the mixture with a spoon then crack in an egg into each recess.  Pop the lid back on for 5 to 10 minutes, dependent on how you like your eggs cooked. Once the whites are firm with the yolk still a little wobbly, serve in warmed bowls with a dollop of yoghurt and a pinch of dried chilli flakes. Have bread and butter on hand to mop up if you like.